Selamat Datang, travellers! Welcome to Singapore (Singapura, as it is referred to by the locals)! This island makes for an excellent holiday for the entire family, especially if you have kids.

Every family vacation rides on a lot of expectations, and Singapore is sure to meet all of them, without hurting your wallet as well. If you're a first-timer to this Lion City and don't know where to take your little ones, you've come to the right place. Go through our list of things to do in Singapore with kids, and embark on a great journey! Here is your comprehensive guide to visiting Singapore with kids.
Things to Do in Singapore With Kids

Sentosa island is every traveller's dream come true, with attractions for the entire family! Accessible by bus, car, cable (this is highly recommended!) and the Sentosa Express, Sentosa is an adventure island located off the Singapore coast. From aquariums, water parks and beaches to the world-famous
Madame Tussauds Wax Museum
, this island houses it all. One day is indeed not enough to visit all the attractions it has to offer, but you can get off to a great start by travelling to the island via cable. If you're lucky, you may even be served lunch in the sky! Visit this attraction in Singapore with kids, they are sure to love this. The Wax Museum houses famous Indian and international stars. See if you can spot Jackie Chan here!
Timings: From 9:00 AM
Cost for cable ride: SGD 29.50 for adults, SGD 21 for children
Budget: SGD 48 - SGD 185


Step aside Disneyland, for the Universal Studios is here! With seven unique zones and a variety of rides, this attraction at Sentosa Island promises a treat for your children. From Jurassic World to Madagascar, from Ancient Egypt to fairytale castles, from Transformers to Hollywood, this wonderland has it all. Attractions for everyone in the family, amazing souvenirs, theatres, live events and other showstoppers make Universal Studios, truly universal.
Timings: 10:00 AM - 7:00 PM
Entry fee: SGD 76 for adults, SGD 56 for children

Watch the island of Singapore like no other, from the sky! This magnificent Ferris wheel lies at a whopping 541 feet above sea level. Spot three counties at once - Singapore, Malaysia and Indonesia with a panoramic vista, and enjoy the scenic beauty with your children. They are sure to love this joyride! And don't worry about motion sickness - the Flyer moves very slowly, and the ride lasts a half-hour; there is no need to panic about dizzying heights.
Timings: 8:30 AM - 10:00 PM
Entry fee: SGD 33 for adults, SGD 21 for children

A trip to Sentosa is incomplete without the Wings of Time show! Transport your kids to a mythical dimension and watch as their eyes go wide in wonder, as they enjoy the magnificent spectacle. Join Felix and Rachel, two inquisitive and adventurous kids, as they embark on an epic journey across time. This light, sound, laser, fire and water show is set against the Siloso Beach at Sentosa and is a must-watch for anyone visiting Singapore with kids. We won't give out spoilers here, but prepare to be blown away by the magic!
Timings: 7:40 PM - 8:40 PM
Entry fee: SGD 23 for premium seats, SGD 18 for standard seats


Singapore isn't called the Garden City for anything! The star attraction which takes the meaning of 'Urban Jungle' to the next level with its breathtaking futuristic concept garden. Located across
Marina Bay Sands
, Gardens by the Bay adds to the distinct Singapore skyline. The indoor gardens house exotic plants, and even have an ecosystem of their own, with lime exhibits as well. The
Cloud Forest Conservatory
houses the world's tallest indoor waterfall, masked by clouds. Signifying a beautiful union of modern technology and nature, the climate-controlled greenhouses complement the Supertree structures, which will take your children's imagination to new heights. Try to catch the lighting at night, for a sight, your kids will remember forever.
Timings:
Outdoor Gardens: 5:00 AM - 2:00 AM
Conservatories: 9:00 AM - 9:00 PM

Spread over a 70-acre area, Singapore Zoo is every animal lover's dream! Ranked among the top zoos in the world, there is no better place to begin your kid's journey into the fascinating world of animals. More than 3600 species of mammals, reptiles, birds and others are housed in this extensive facility. Animals are well-cared for, and exclusive zones within the zoo distinctly mark the habitat, habits and behaviour of the animals. Forget the movie: if your kids ask you about Fantastic Beasts and Where to Find Them, take them here! What better thing to do in Singapore with kids than spot elusive tigers, lions, bears, kangaroos and other exotic animals!
Timings: 8:00 AM - 6:00 PM
Entry fee: SGD 33 for adults, SGD 22 for children

Explore the deep seas with your loved ones in the SEA Aquarium, a must-visit attraction when travelling to Singapore with kids. This immersive experience entails a visit to the deep waters, as you enter a revolutionary aquarium that mimics the ocean floor. Home to more than 100,000 marine species, the South East Asia Aquarium boasts of an eclectic ecology, complete with manta rays, bottlenose dolphins, hammerhead and nurse sharks, octopi, and the guitarfish. Teach your kids a valuable lesson about conservation as they have the time of their lives. Peek into the Open Ocean Tank which is home to the giant oceanic manta ray, and try to feel starfishes and friendly fish at the entrance. If you're lucky, you may be able to hold a giant python at the entrance!
Timings: 10:00 AM - 7:00 PM
Entry fee: SGD 22 - SGD 34 for Singaporeans, SGD 29 - SGD 39 for foreign nationals

Nothing can prepare your children for the wonder that is the Trickeye Museum! Prepare to have their world turned upside down as they fight dragons, visit enchanted castles and embark on an adventure, all within a building! The Trickeye Museum houses an incredible array of art pieces which use 2D, 3D and even 4D art to enchant the visitors completely. This seamless blend of art and architecture uses AR technology to transport patrons to the world of their dreams. Give flight to your children's imagination with this visual treat! PS: This museum in Singapore for kids is perfect because has an exclusive 'Please Touch' policy, so you don't have to worry if your kids tend to get handsy!
Timings: 10:00 AM - 9:00 PM
Entry fee: SGD 21.25 (online) or SGD 25 (onsite) for adults, SGD 17 (online) or SGD 20 (onsite) for children and senior citizens

Wild Wild Wet, Singapore's largest water park, opened with a big splash in 2004. Since then, it has been a huge hit amongst the locals. This park is home to some of the best water rides that Singapore, or in some cases Asia, has to offer. The waterpark is therefore known for its water rides and the number of thrill-seekers it attracts. It is family-friendly and even known for having incredible safety procedures. It provides floats, life jackets and even baby water carriers.
Timings: Weekdays - 1:00 PM - 7:00 PM, Weekends - 10:00 AM - 7:00 PM
Entry Fee:
Adult (13 years and above): SGD 32
Child (3-12 years)/ Senior Citizen (55 years and above): SGD 24
U Live Member/ Pioneer Generation/ Toddler (below 3 years): Free
Family Package (2 adults and 2 children): SGD 102

This water wonderland is home to thrilling rides, adventurous attractions, and exciting animal interactions that make it one of the best places to visit with kids in Singapore. Featuring roller coasters and wave pools for kids of all ages, sea trekking, water slides, challenging mazes and obstacle courses, snorkelling, and interactive experiences with dolphins, sharks, manta rays, and fish, Adventure Cove is a marine powerhouse for the entire family.
Timings: 10:00 AM – 6:00 PM
Entry fee: Adult (between 13 and 59 years): SGD 38
Child (between 4 and 12 years): SGD 30
Senior (aged 60 and higher): SGD 30
11. Garden Rhapsody Light and Sound Show

Gape in wonder at this breathtaking light show and get transported to a new world at
Supertree Grove
, where solar-powered tree-like towers glow, shine, and change colours. Get dazzled by the music and lights and give the children something to talk about for years to come at the Rhapsody Light and Sound Show, featuring an LED light show against the 16-storey Supertrees. This is one of the best free things to do in Singapore with kids.
Timings: 7:45 PM – 8:45 PM
Entry fee: Free
12. DUCKTour

Live the bird life and embark on an adventure of a lifetime with a DUCKTour. Built on a remodelled World War II Vietnamese amphibious war craft machine, this award-winning tour takes visitors on a splash into Marina Bay, passing through the iconic
Marina Bay Sands
,
Esplanade Theatres on the Bay
,
Gardens by the Bay
,
Singapore Flyer
and the
Merlion Park
. Back on land, patrons are driven through the Civic District to see the old Supreme Court, National Gallery, Cenotaph war memorial, Padang, and the Fountain of Wealth. This is a great history and culture lesson!
Timings: English guided tour - daily hourly departure from 10:00 AM to 6:00 PM
Mandarin guided tour – daily departure at 10:30 AM, 11:30 AM, 12:30 PM, 3:30 PM, 4:30 PM, 5:30 PM
Entry fee: Adult: SGD 43, Child: SGD 33, Toddler below 3 years of age: SGD 10

Give the kids a taste of history and culture at the famous Singapore Chinatown, one of the world's safest and cleanest Chinatowns. Sample delicious east-Asian delicacies and fruit (the kids are bound to love the Durian ice cream!), take a walk through the historic streets and watch Chinese hawkers in action, marvel at the brightly coloured shophouses and lanterns, take in the various sounds and smells of the street markets, shop for handcrafted toys, and end with a tour of the Chinatown Heritage Centre where the whole family can learn about the history of the region!
Timings: 7:00 AM – midnight
Entry fee: Free
14. Marina Bay

Take a leisurely stroll along Marina Bay and enjoy the best of Singapore's iconic skyline here. After a day's worth of adventure and excitement, Marina Bay offers a comfortable walkway to relax and take in the cosmopolitan culture of the country. Enjoy a picnic in Merlion Park while gazing at the Singapore Flyer, Marina Bay Sands Hotel, Esplanade – Theatres by the Bay, and the ArtScience Museum; if you're up for it, treat the kids to the nightly laser show at the Marina Bay Sands Hotel from this vantage point!
Timings: Open 24 hours
Laser show: 8:00 PM, 9:30 PM
Entry fee: Free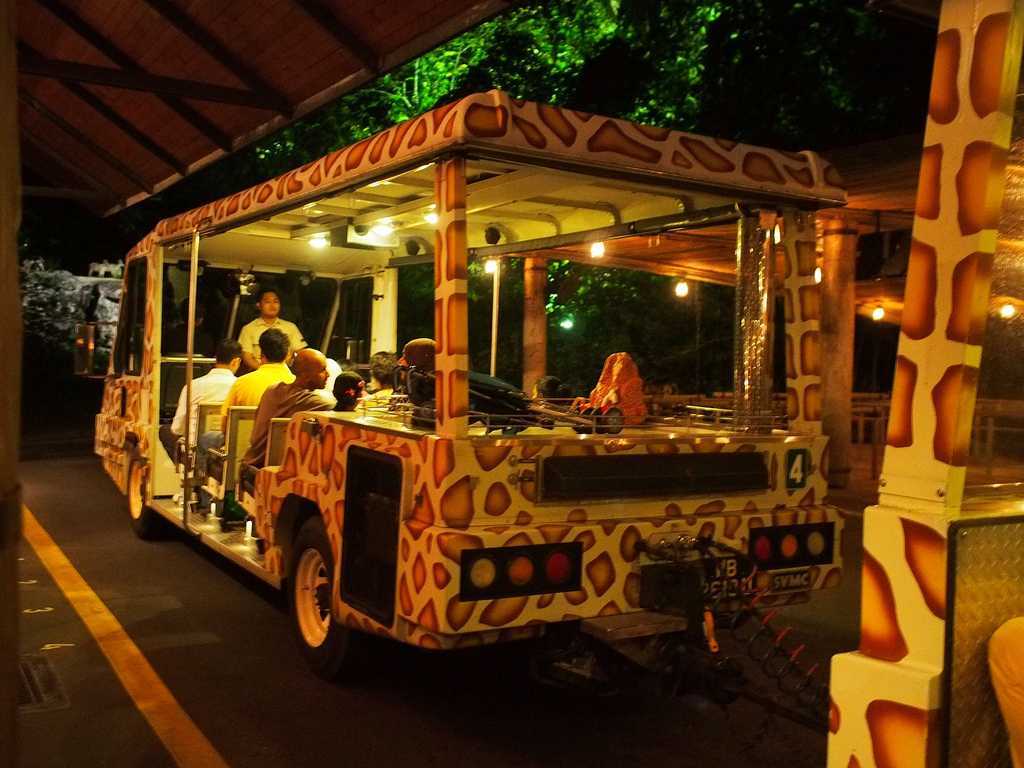 Give the children an interactive biology lesson at the Singapore Night Safari, a fun place to visit in Singapore with kids. An exciting tram adventure takes patrons through seven different regions – like the savannah, rainforest, and desert – and gives a glimpse of nocturnal animals from all over the world. Watch the fascinating behaviour of endangered animals in the jungle after dusk, get up-and-close with exotic species, and enjoy a traditional tribal performance in this one-of-a-kind safari! Keep in mind that this safari may not be suitable for very young children, as it begins only at 7:15 PM.
Timings: 7:15 PM – 12:00 AM (daily)
Admission slots: 7:15 PM, 8:15 PM, 9:15 PM, 10:15 PM, 11:15 PM
Ticket counter: 5:30 PM – 11:00 PM
Entry fee: Adult: SGD 55, Child (aged between 3 and 12): SGD 39
16. KidZania Singapore
This indoor edutainment centre takes child's play to a whole new level – KidZania is a fully functioning city run for, and by, kids. Let children have free reign in this wonder city where they take on all the roles of society – from police, chefs, pilots, scientists, shopkeepers, shoppers, doctors, nurses, DJs, firefighters, and even mountaineers. KidZania even has its own currency and banking system! This is the perfect role-play environment for children of all ages to learn about the economy and the workings of the adult world – prepare to spend a whole day here!
Timings: 10:00 AM - 6:00 PM
Entry fee: Adult (between 18 and 59 years): SGD 25
Child (between 3 and 17 years): SGD 62
Toddler (aged 2 years and below): Free (access to designated toddler areas only)
Senior citizen (aged 60 and above): SGD 24

A haven for budding scientists and architects, the ArtScience Museum is a masterpiece that juxtaposes the arts and sciences in beautiful ways, making it a great place to visit with kids in Singapore. The cutting-edge exhibits are futuristic and tastefully designed to give children a glimpse into the fascinating world of science, technology, and nature. The permanent collections and galleries hold digital and interactive exhibits, while the current touring exhibitions on Disney: Magic of Animation is a must-watch for children. We recommend purchasing tickets online as the exhibitions are in great demand.
Timings: 10:00 AM – 10:00 PM
Last admission: 9:00 PM
Entry fee:
Single exhibition ticket: Adult: SGD 19, Senior/student/person with disabilities/child (between 2 and 12 years old): SGD 14
Double exhibition ticket: Adult: SGD 32, Senior/student/person with disabilities/child (between 2 and 12 years old): SGD 24
Give in to every child's wildest fantasy at the Mint Museum of Toys, home to more than 50,000 playthings, games, and toys from 40 countries. Take a walk down memory lane and learn about the intriguing history of toys from yore – be prepared to spot a few childhood favourites from the '90s too. Watch out for vintage Mickey Mouse and Pooh toys here!
Timings: Monday – Sunday: 9:30 AM – 6:30 PM, last admission at 6:00 PM
Every last Saturday of each quarter-end: 9:30 AM – 9:30 PM
Entry fee: Adult: SGD 20, Child (between 2 and 12 years): SGD 10, Senior citizen (aged 60 and above): SGD 10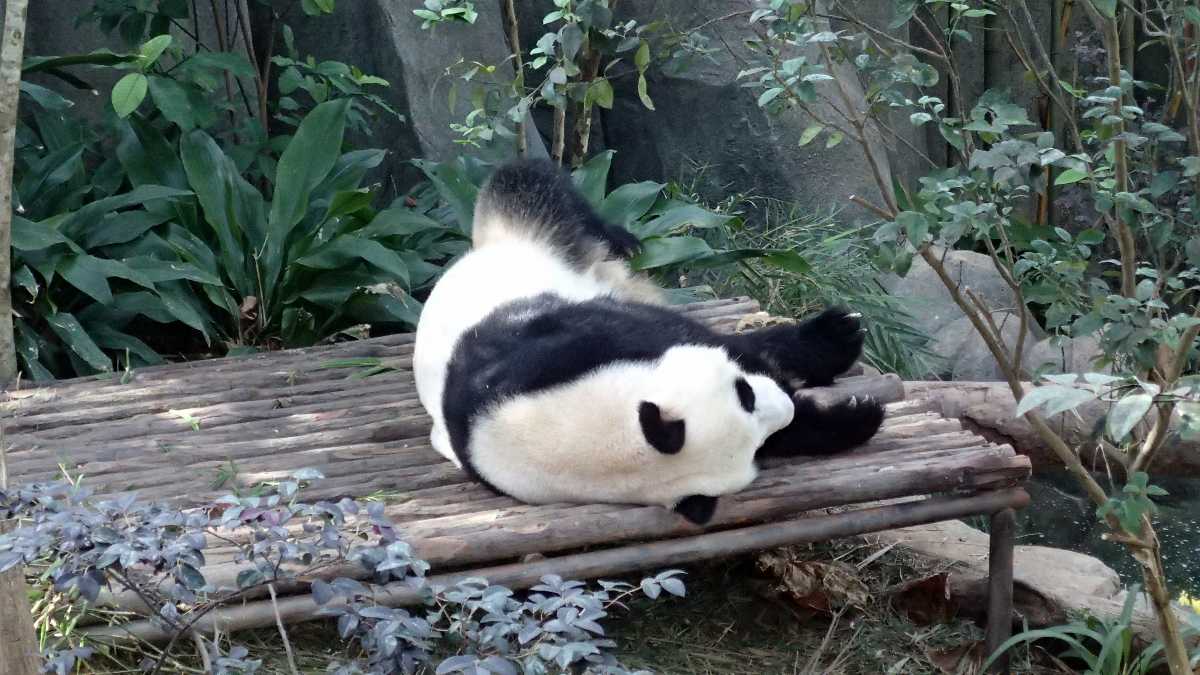 Explore all the major rivers of the world in one trip to Singapore River Safari, an aquatic adventure that is Asia's only river-themed wildlife park. With 240 animal species and 400 plant varieties, the safari experience is built around 10 river habitats from the Mississippi and the Amazon to the Nile and the Ganges. Spot giant pandas along the Yangtze River, watch spider monkeys scuffle for cover on trees, and take a canoe ride along a slow river and watch crocodiles in this unique safari!
Timings: 10:00 AM – 7:00 PM (daily)
Entry fee: Adult: SGD 30.60, Child (between 3 and 12 years): SGD 20.70
The first garden in Asia dedicated specially for children, the Jacob Ballas Children's Garden is a haven for parents and kids alike – parents can enjoy a moment of peace and solitude while their tiny tots play and explore the park. An orchard, farm, and forest ecosystem set up within the garden give children a great insight into the wonders of nature. Ponds, streams, a suspension bridge, and treehouses await children in this paradise. Trails designed for 'Naturalists,' 'Adventurers,' and 'Gardeners' encourage kids to explore and understand the environment in unique ways making it a favourite place to visit in Singapore with kids.
Timings: Tuesday – Sunday: 8:00 AM – 7:00 PM, last entry at 6:30 PM, Monday: closed
Entry fee: Free


This huge coastal park is ideal for a charming day out in Singapore with kids. Pack a picnic, visit Pasir Ris Park, and indulge in water sports, pony rides, skating, cycling, and even bird watching – a three-storey watchtower in the Mangrove Zone is a delight for budding ornithologists. The Mangrove Boardwalk is a comfortable hike, while the other trails are adventurous for older children. The play area boasts of state-of-the-art equipment too!
Timings: Lighting hours: 7:00 AM – 7:00 PM
Entry fee: Free
22. Snow City
Experience chill winter in the middle of Singapore's tropical summer at Snow City, an indoor winter wonderland that boasts of a permanent snow chamber that brings winter every day of the year. Perfect for children of different ages, Snow City has a host of activities for children of all ages, accompanied by Inuit, husky, and polar bear mascots. Build snowmen, chill inside igloos, make snow angels, whiz down snow slides, go skiing or snowboarding down a hill, or declare a snow fight – the possibilities are endless!
Timings: 10:00 AM – 8:00 PM everyday
Entry fee:
1 hour snow play + 1 bumper car ride: SGD 24
2 hours snow play + 1 bumper car ride: SGD 79
1 bumper car ride: SGD 5
2 bumper car rides: SGD 9
3 bumper car rides: SGD 12
Rental rates for winter gear are extra.
Ideal for a calm weekend in Singapore with kids, the Marine Cove Playground offers 3500 square metres of play space for children. A three-storey miniature lighthouse tower equipped with slides and rope bridges promises hours of fun. A secret escape route and crows' nests set up at periodic intervals makes for an Indiana Jones-esque adventure. Parents and caregivers can relax in the dining area or beachside cabanas and take in the calm coastal air.
Timings: Open 24 hours
Entry fee: Free
Where to Eat in Singapore with Kids
While most budget places to eat in Singapore are centred around the Central Area, there are many offbeat dining destinations around the city that are attractions too – choose from chic cafés to equestrian diners and take your pick – the children are sure to enjoy these foodie adventures! Keep in mind that we do not recommend purchasing street food for kids.
Central Area
1. Slappy Cakes

Allow the kids to don little chefs' hats at Slappy Cakes, where patrons can make their own pancakes to perfection. Children can choose the base of the batter, sweet and savoury toppings, and even the drink to go with it – sneak in some healthy fruit and protein for a wholesome, hearty meal here.
Location: The Grandstand, 200 Turf Club Road/26 Sentosa Gateway, Resort World Sentosa/Plaza Singapura, Orchard Road
Cuisine: All-American fusion
Timings: Monday – Friday: 10:00 AM – 9:30 PM, Saturday, Sunday: 8:00 AM – 9:30 PM
Must-try: Buttermilk pancakes with fruit, nuts, and whipped cream
2. Arteastiq Boutique Tea House
Live the exquisite, luxurious British life at this artisan tea house. This one of the best places to eat in Singapore with kids as they have an extensive kids' menu featuring hot chocolate, milkshakes, an array of non-caffeinated teas, pasta, and sandwiches. The highlight here is the art studio, where children are welcome to try their hand at painting and pottery.
Location: 333A, Orchard Road
Cuisine: Continental
Timings: Monday – Friday: 11:00 AM – 10:00 PM, Saturday, Sunday: 10:00 AM – 10:00 PM
Must-try: Chocolate truffle tea, chestnut Mont Blanc tartlet, Panan Kaya lava cake
3. DC Comics Superhero Café
This themed café is a must-visit if looking for a fun place to eat in Singapore with kids, especially for the comic book fans. With dishes named after favourite DC superheroes like Batman, Superman, Wonder Woman, The Flash, and many more, the café also sells official Justice League merchandise and collectables. This diner offers an immersive experience into the world of these heroes. Tastefully decorated to resemble a comic book, patrons are bound to be star-struck here!
Location: 2 Bayfront Avenue, The Shoppes at Marina Bay Sands
Cuisine: Continental
Timings: Monday – Thursday: 11:30 AM – 11:00 PM, Friday: 11:30 AM – 11:30 PM, Saturday: 11:00 AM – 11:30 PM, Sunday: 11:00 AM – 11:00 PM
Must-try: Red Krypton Big Box Breakfast, Bat Girl Mini Salmon Burger
Tanglin
4. Tiong Bahru Bakery Safari
Explore the wild side at Tiong Bahru, where an edible garden, trails, and rustic dining greet patrons. The chicken farm, bunny enclosure, and herb garden are sure to excite children – the little gardeners are welcome to pick their own produce here! The farm-fresh organic produce makes for healthy, light meals set in a lush, cosy, green ambience away from the bustle of the city and one of the healthiest places to eat with kids in Singapore.
Location: 130E Minden Road
Cuisine: French, continental
Timings: 8:00 AM – 6:00 PM
Must-try: Quinoa farmer's plate, almond croissant
5. Open Farm Community
A beacon of sustainable living and farming practices, the Open Farm Community restaurant is a cosy picnic option for the whole family. With an open edible garden, a huge lawn with a bowling area, a cow-themed playground, and a roasted coffee shop, the area is a recreational wonderland to relax and unwind with kids in Singapore. The kids' menu is wholesome and healthy, while the selection of wines for adults is exquisite.
Location: 130E Minden Road
Cuisine: Farm-to-table continental
Timings: Monday – Thursday: noon – 4:00 PM, 6:00 PM – 11:00 PM, Friday: noon – 4:00 PM, 6:00 PM – midnight, Saturday, public holidays: 11:00 AM – 5:00 PM, 6:00 PM – midnight, Sunday: 11:00 AM – 5:00 PM, 6:00 PM – 11:00 PM
Must-try: Singa'Smore, Garden Gnudi pasta, customizable local luncheon
Chinatown
6. Maxwell Food Centre

The best place to experiment with local cuisine, Maxwell Food Centre is a pocket-friendly option for families on a budget. This hawker centre is replete with food stalls selling Chinese and Peranakan favourites, so there are a host of options to choose from. This is the best place to sample local street food, from porridge and dim sums to the world-famous chicken rice. We recommend telling the chef beforehand to go easy on the spice, especially for younger children.
Location: 1 Kadayanallur Street, Chinatown
Cuisine: Singaporean, Chinese
Timings: 8:00 AM – 2:00 AM
Must-try: Dim sum, Hainanese chicken rice
Telok Blangah
7. Bayswater Kitchen
Perfect for a laid-back morning, Bayswater Kitchen has an impressive kids' menu with foolproof options like fish-n-chips, sandwiches, burgers, and shakes. The foosball table is a great way to engage the tiny tots while parents can relax and kick back with an enormous seafood platter fresh from the bay. The live band plays grooving jazz and blues numbers that go well with the nautical ambience.
Location: 2 Keppel Bay Vista, Keppel Bay
Cuisine: American, continental
Timings: Tuesday – Friday: 11:30 AM – 3:00 PM, 6:00 PM – 10:30 PM, Saturday: 6:00 PM – 11:00 PM, Sunday, public holidays: 11:00 AM – 4:00 PM, 6:00 PM – 10:30 PM, Monday: Closed
Must-try: Clams in a Pot, Sunday roast
East Coast Park
8. SandBank
The highlight of this coastal diner is the plunge pool that welcomes people of all ages. For younger children, the .5 metre deep kids' pool is ideal, while the older ones can take a dip in the 15-metre diving pool. The location is equipped with lifeguards and safety equipment, so parents can rest assured of safety. The Sunday brunch menu features all-American delicacies like bacon toast and hash browns – a fun weekend is guaranteed here!
Location: 920 East Coast Parkway, Parkland Green
Cuisine: Continental
Timings: Monday: 5:00 PM – 11:00 PM, Tuesday – Thursday: noon – 11:00 PM, Friday: noon – midnight, Saturday, public holidays: 9:00 AM – midnight, Sunday: 9:00 AM – 11:00 AM
Plunge pool timings: opening – 7:00 PM
Must-try: Cheese quesadilla, French toast, Australian lamb grill
9. Zaffron Kitchen
Treat the kids to the best of Indian cuisine at Zaffron, an elegant restaurant that serves mouthwatering Punjabi food. With a great play area for children with a ball pit and a wooden house, Zaffron offers the best of fine dining with the comfort of childcare. The ambience is charming and cosy, with exposed brick walls and an open kitchen. This restaurant is Michelin-recommended too!
Location: 135-137 East Coast Road
Cuisine: Indian
Timings: 11:30 AM – 2:30 PM, 5:00 PM – 9:30 PM
Must-try: Dahi puri bites, Tandoori chicken, Palak paneer
Bukit Timah
10. Rider's Café
Let the kids take a ride to the wild side at Rider's Café, an equestrian-themed diner that serves delectable comfort food, making it one of the top places to eat in Singapore with kids. With fresh, organic ingredients and succulent meats, Rider's Café boasts of a wide menu that appeals to different palettes. Set in a colonial house, the ambience is Victorian and rustic. The highlight, however, is the stable located a short walk away – kids are allowed to pet and even ride ponies every weekend!
Location: 51 Fairways Drive
Cuisine: Continental
Timings: Sunday – Thursday: 8:00 AM – 9:00 PM, Friday, Saturday: 8:00 AM – 10:00 PM, Monday: Closed
Must-try: Homemade banana bread, croque madame, kabocha and kale
Where to Stay in Singapore with Kids

Marina Bay Sands: One of the most luxurious hotels in Singapore, it is home to the Sky Observation Deck where one can get unmatched views of the city. The kid-friendly pool in the rooftop is perfect for children to lounge while parents relax in the infinity pool.
Village Hotel Bugis: The most attractive feature of this comfortable hotel is the kid-themed room option. Patrons can choose from fun themes like Cars, Princess Sofia, and Toy Story; the rooms come with brightly painted walls, kids' channels on TV, a complimentary colouring book, baby bathtub, and special kid-sized bathroom amenities.
York Hotel: Ideal for families for four, York Hotel offers comfortable rooms located close to Singapore's main entertainment, shopping, and sightseeing areas.
Fullerton Hotel: Stay in style at this colonial building of historical importance – soak up the culture and grace of Fullerton Hotel in one of its child-friendly suites, with luxurious bedding, a rooftop swimming pool lined by Doric columns, stroller-friendly walking areas, complimentary colouring books, and ice cream vouchers.
Wanderlust Hotel: This whimsical boutique hotel is a surreal masterpiece – each room in this quirky hotel is styled uniquely, and no two rooms are the same. Choose from a range of monochromatic suites, black-and-white rooms, origami and pop-art themed décor, or surreal spaces. From spaceships and tree houses to giant typewriters and arcade-esque pixels, each room holds a special surprise at Wanderlust – this is a haven for the eccentric!
Shangri-La Rasa on Sentosa: Named one of Singapore's best family resorts, Shangri-La's Rasa is a beachfront paradise that has a host of family-friendly activities. The huge children's pool has water slides and special play areas, kids' bikes, kayaks, and an exclusive kids' club with a huge treehouse, slides, ball pits, and a soft play area. Parents can also avail the crèche service to enjoy a quality time together.
Carlton Hotel: Located in the centre of Singapore, the Carlton is a comfortable bet for families – children below 12 years of age stay free when they share beds. The children's pool overlooking the garden and sundeck is perfect for a relaxing evening after a day of sightseeing.

Getting Around Singapore with Kids

Singapore is well connected by rail and road. The MRT (Mass Rapid Transit) is the fastest mode available on land, which connects all major tourist attractions, within walking distance of an MRT Station. Daily tickets are available for one-time users, but tourists can also avail the Singapore Tourist Pass which allowed unlimited travel for a specified duration. The cards are to be bought at the Transit Link Ticket Office at the MRT Stations at
Orchard
,
City Hall
, Changi Airpot,
Bugis
, Bayfront,
Chinatown
, Woodlands, Ang Mo Kio, Jurong East, Kranji,
Raffles Place
, Farrer Park, Tanjong Pagar, Harbourfront, or Somerset Station. The trains are absolutely safe to travel at night and are stroller-friendly as well.

Cost: SGD 10 (single day), SGD 16 (two days), SGD 20 (three days)

Bus: Buses are the cheapest and most beautiful way to explore the city, and your children are sure to enjoy the experience. Most buses are air-conditioned as well. A Singapore Tourist Pass can be availed, for later payment.

Trishaw: A fun way to travel in Singapore with kids, a characteristic part of the Singapore experience. For a cost of SGD 40 for half an hour, trishaws can comfortably carry a family of three around major attractions.

It is advisable to avail an E-Z Link card at the MRT Station for SGD 12 to facilitate easy payment, especially when travelling in Singapore with kids.
Doctors in Singapore
It is always better to prepare for any medical emergency while travelling to Singapore with kids.
The first thing to remember is to not panic if your child is injured.
General Practitioners are available in most neighbourhoods, and appointments are usually not necessary for consultation.
Prescribed medication can be purchased at the clinic.
Public hospitals like Singapore General Hospital and the Tan Tock Seng Hospital offer quality health care, while private hospitals like Mount Elizabeth Hospital are also available.
Emergency ambulance services of the Singapore Civil Defence Force can be reached at 995.
Pharmacies are available at malls and shopping centres.
It is better to have sunscreen and mosquito repellants on your person since Singapore is a tropical country.
Things to Keep in Mind When Travelling to Singapore with Kids

It is essential to keep the children safe, secure and healthy while on vacation. Here are a few tips to keep in mind.
Keep a close watch on children while in heights, water or other adventure sports areas, and lookout for signs of discomfort or ill health
Chewing gum in Singapore is illegal. Keep this in mind, as chewing gum attracts a huge penalty
It is unlawful to litter. Keep a bag where your children can throw waste, like food wrappers or other plastics. Dispose of in bins
Always carry an umbrella because the climate is humid, and may rain
Clothe children in light, breathable fabric because of the tropical climate
Which places do you plan on visiting in Singapore with kids? What was your most unforgettable experience? Comment below and let us know!