Bird Watching
Pasir Ris Park houses the mangrove forest and the Mangrove Boardwalk for those looking to explore the area. This unique opportunity is made even better as bird enthusiasts can also enjoy the three-storey bird watching tower inside this very Mangrove forest. The variety of unique birds found in the forest and the beautiful sites are perfect for clicking captivating pictures. The secret kitchen gardens are also fantastic for getting up close and personal with a large array of fresh plants and flowers.
Cycling
Pasir Ris is extremely friendly to cyclists looking to have a challenging course with its multiple cycling and in line cycling trails. The park also has bicycles available on rent. The outlets for renting the cycles are as follows-
Coastline Leisure
-SGD 10
Weekdays- 9:00 AM to 7:00 PM,Weekends- 8:00 AM to 8:00 PM
Venue- Car Park

CBikes @ Pasir Ris Beach
SGD 4 to SGD 12
Monday to Thursday- 9:00 AM to 8:00 PM, Friday, Weekends and Public Holidays- 9:00 AM to 9:00 PM
Venue- Car Park D

Bike Rental Kiosk @ Rainforest D' Resort
Daily- 9:00 AM to 6:00 PM
Overnight rentals start from 5:30 PM
Venue- Car Park D
Overnight Camping
Pasir Ris Park is an ideal location to camp under the stars. The camping grounds at the park offer ample space to visitors to experience the outdoors in a bold new light with a breathtaking view and surrounded by family and friends. However, a camping permit has to be obtained National Parks Board's official website. The tents are allowed to be pitched only as Area 1 and Area 3 of the park.
Horse Riding
The Gallop Stable, one of the two-horse riding camps in Singapore is also located at Pasir Ris Park. The place has an enriching program that allows visitors to achieve excellence in horse riding. It also has ponies and activities which include feeding the horses, trail rides and riding camps.
Barbecuing
The park has 65 barbecue pits spread across its boundaries. These pits are bookable and payable on the website, costing SGD 12 to SGD 20
Water Sports
As Pasir Ris is located close to the waters, there are diverse water sport activities to engage in.
Have Fun at the Playground
The Pasir Ris Playground has swings, slides, a bridge, a mini maze and much more for the young ones. Being one of the largest playgrounds in Singapore, it attracts hordes of visitors, especially on the weekend.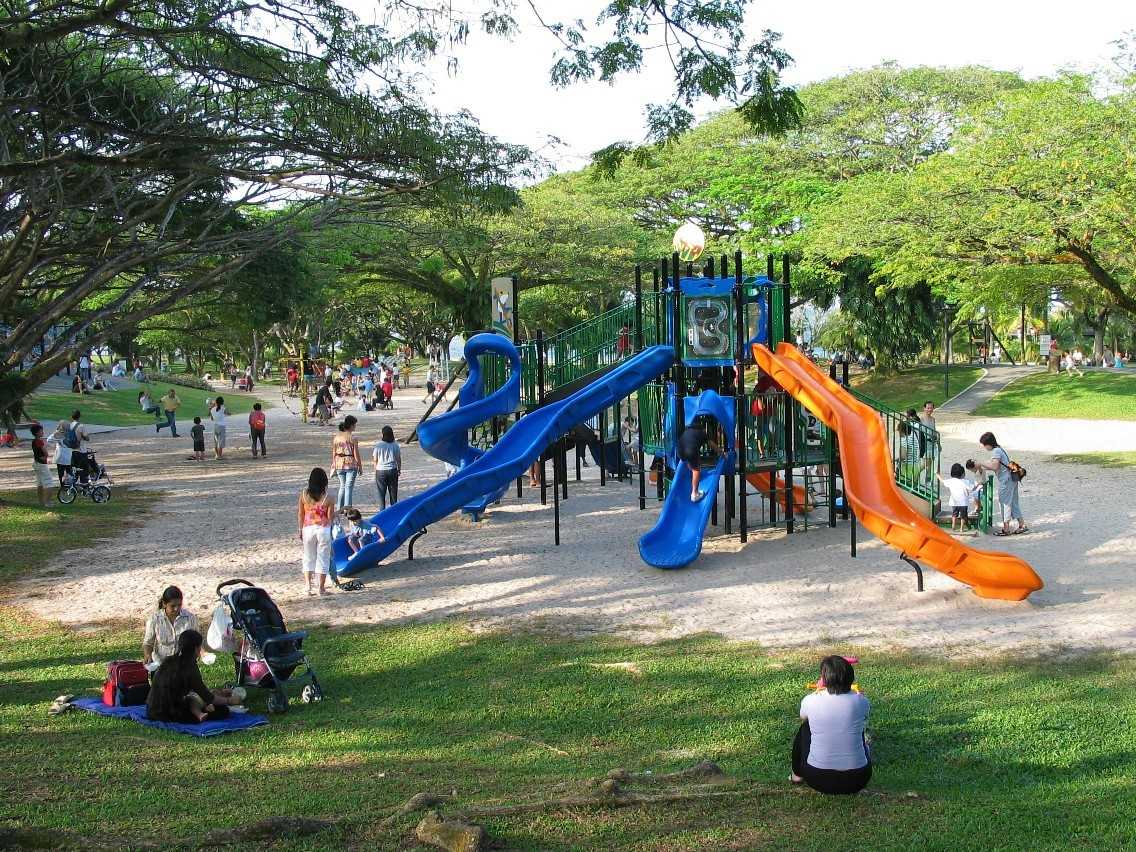 Visit the Kitchen Garden
The park is home to a secret garden or the kitchen garden which enables visitors to get up close to the diverse herbs and plants. Maintained by dedicated volunteers, it houses plants such as lemongrass, mint, guava, tapioca among other varieties.
Dining at Pasir Ris
Pasir Ris Park offers its guests an opportunity to relax and eat delicious meals after a hectic day. The park is home to three food outlets that are entirely unique and different from each other. These outlets provide meals that may include fast food as well as sophisticated dishes with a stunning ambience. The restaurants are-
Five Rabbits Bistro and Bar
Georges @ the Cove (car park E)
Ohana Beach House (car park E)