Lost World
Situated in the highest level of the mountain, the plants in the Lost World are typically those found in an elevation of around 2000 metres above the sea level. Mosses and ferns thrive here along with carnivorous plants such as Venus flytrap and Pitcher Plant. This area also provides a fantastic view of the Marina Bay waterfront.
Cloud Walk
The Cloud Walk is a cantilevered walkway from the Lost World to the world below it. This is the perfect place to have a close-up of the various Epiphytes growing on the extensive mountainside. Counted among their ranks are mosses and orchids, commonly found growing in the moist environments.
The Cavern
The descent from the Cloud Walk takes one into the Cavern which is an educational site for the visitors. One can get more information about the various cloud forests around the world and the different life forms found in them.
Waterfall View
The Cavern leads one to the back of the Waterfall. This is the coldest part of the conservatory where the visitors are prompted to consider the importance of freshwater in a rainforest, and learn how the epiphytes absorb water from the mist.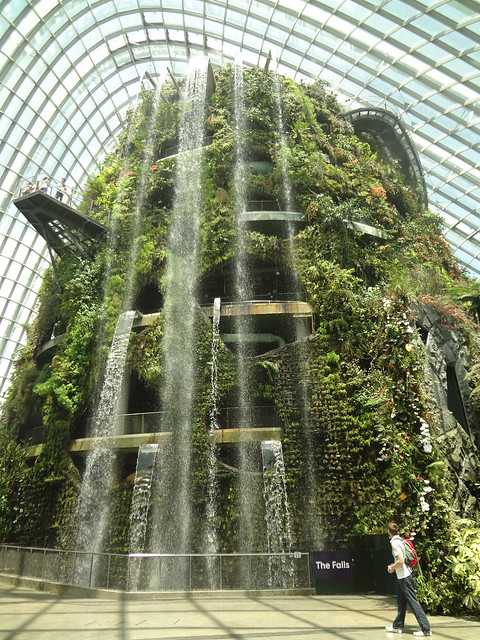 Crystal Mountain
In the Crystal Mountain, one is surrounded by various Stalactites and Stalagmites- a typical feature found in caves. Another educational section, this area helps one understand the geology of our planet, like how the continents were formed, and why fossils are essential as a means of rediscovering the earth's past.
Tree Top View

As the name suggests, Tree Top View is a walkway which takes its visitors closer to the canopy of trees for a mesmerising bird's eye view of the forest below.
Secret Garden

Secret Garden is a gentle ravine walk at the foot of the mountain through a narrow gorge that provides visitors with the opportunity to discover more than 7,000 plants of more than 135 species and hybrids in a representation of limestone forests and caves. Most of these plants were once abundant, but are now rare. There is also an instalment of tiny orchids only visible with a magnifying glass!
Cloud Forest Gallery
Enhanced with modular graphics, the Cloud Forest Gallery is an educational section where one can learn about the impact of population growth and the subsequent overuse of natural resources on the environment, and how these factors are causing the rapid extinction of species across the planet. Short films aimed towards the introduction of sustainable energy and environmental preservation are also shown here.
Cloud Forest Theatre
One can discover how the Gardens by the Bay were built with a carefully planned approach keeping the environment in mind. A short film with a strong message is shown in the auditorium as well. Named "+5 Degrees", this shows how climate change could affect the planet if the temperature increases by just around 5 degrees.