Today,
Singapore
stands as the global financial hub. It excels in commerce, transportation, Human Development Index, and GDP. Singapore was founded as a colonial trading post and gained its sovereignty in 1965. It has a rich and varied culture and is home to people of various communities. This is reflected in its diverse architecture.
The architecture of Singapore incorporates the rich history of the island country as well as global trends. The styles range from colonial and gothic to more contemporary modern styles. So here are few of Singapore's architectural marvels.
1. Gardens by the bay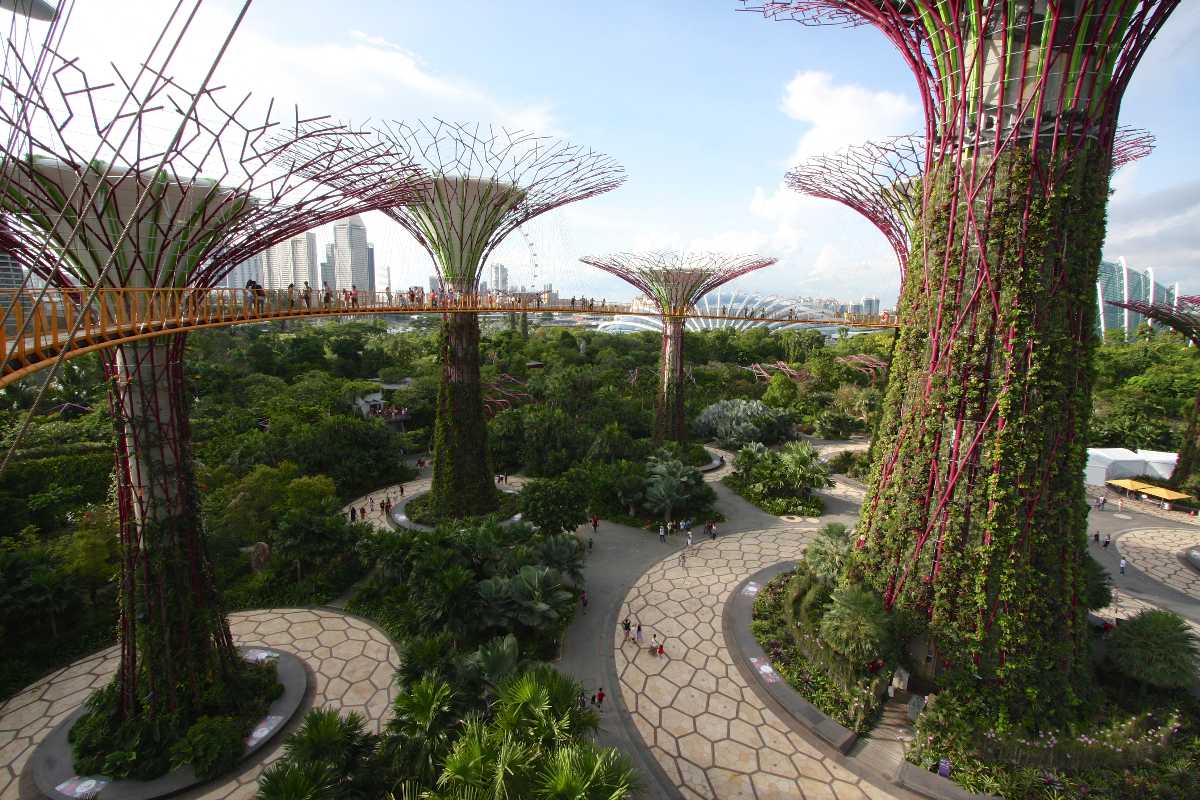 Gardens by the Bay has been a part of Singapore's national plan to convert its "Garden City" into a "City of Gardens." These prestigious gardens were designed by an exceptional team of two firms – the landscape architects, Grant Associates and the architects, Wilkinson Eyre Architects. Comprising of three waterfront gardens across 250 acres of reclaimed land, Gardens by the Bay has won tons of awards for its design and beauty.

Bay South, the largest of the three gardens, consists of eighteen majestic "Supertrees" reaching up to 50 meters high, acting as a vertical garden and home to thousands of plants from around the world. Eleven of these trees are embedded with solar cells to generate electricity, powering themselves for the night lights. They also collect rainwater to cool themselves, and the greenhouses next to them. Bay South comprises of two conservatories as well – the Cloud Dome (cool moist biome) and the Flower Dome (cool dry biome).


Bay East has many intrinsically designed leaf-shaped gardens with multifarious landscape design, character, and theme. The bay provides a vast waterfront green space for visitors to enjoy at their leisure, a peaceful spot to relax with stunning views of the city skyline.

Bay Central is a garden that serves as a link between the other two, with a 3km promenade boasting astonishing views of the city.

Location: 18 Marina Gardens Dr, Singapore 018953
2. Pearl Bank Apartments

Pearl Bank Apartments are considered a significant work of modern architecture. These represent the Brutalist style of architecture, characterised by its functionality and lack of pretentiousness. This style was quite popular in Singapore in the 1970s.
Pearl Bank Apartments are high rise private residences consisting of 38 floors. It was designed by Singaporean architect Tan Cheng Siong in 1976 and back in the day, was the tallest residential building having the most number of apartments in a single block. It is truly an architectural marvel and stands tall even today.
Location: Pearl's Hill in Outram, close to Chinatown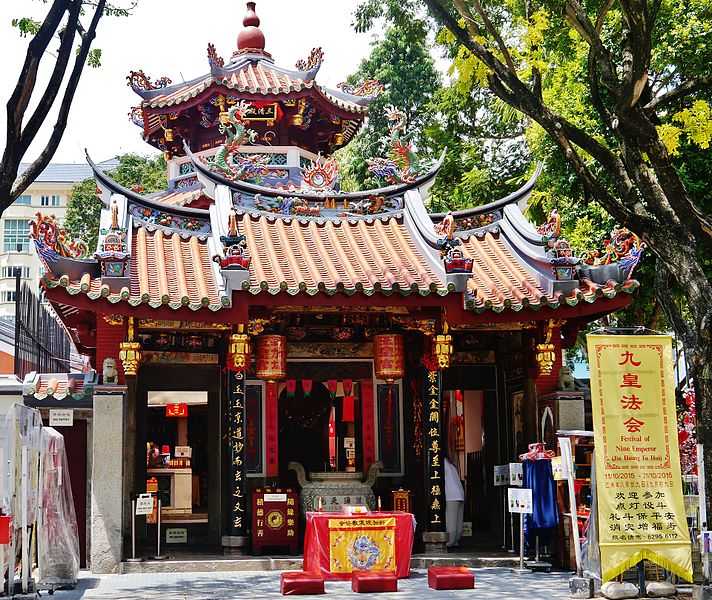 Being home to various religious communities, Singapore also has some breathtakingly beautiful place of worship, regarding architecture. One of these is Thian Hock Keng Temple.
Thian Hock Keng Temple is the oldest Chinese temple in Singapore and is dedicated to the Goddess of Sea, Mazu. The temple is built on the lines of the Fujian style of architecture, a Southern Chinese style. The temple was constructed without using concrete or nails but using stones, tiles, broken pieces of pottery, and timber. It is filled with sculptures of dragons and the local deities. Today, it is revered by the locals and considered an important part of their nation.
Location: Telok Ayer St, 158, Singapore

National Museum of Singapore is the oldest museum of Singapore and can be traced back to 1849. Since its construction, the museum has undergone redevelopments like the restoration of windows, dome, coating to prevent oxidation, etc.
The museum is a relic in Singapore's architecture and displays the history of the country through zoological and archaeological artefacts. It was built along the lines of Neo-Palladian and Renaissance style of architecture, characterised by very symmetrical outer appearance and use of pediments above large windows. The most distinct feature is the structure's rotunda with a dome with coloured glass panels and fish scale tiles which make the building stand apart.
Location: 3 Stamford Rd, Singapore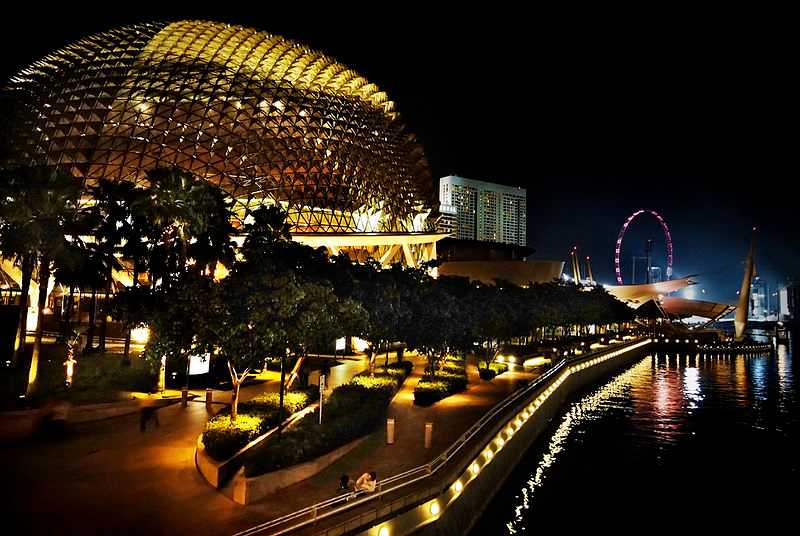 The Esplanade is a performing arts theatre consisting of a concert hall and a theatre which opened its doors in 2002. It is situated in Downtown Core near the Singapore River.
It is spread across an area of 6000 square meters and resembles a durian, the Southeast Asian "king of fruits". It has an eye-catching spiky exterior and equally enthralling interior. It is an example of the modern style of architecture in Singapore. This is a hub for entertainment and hosts a variety of shows all around the year.
Location: 1 Esplanade Dr, Singapore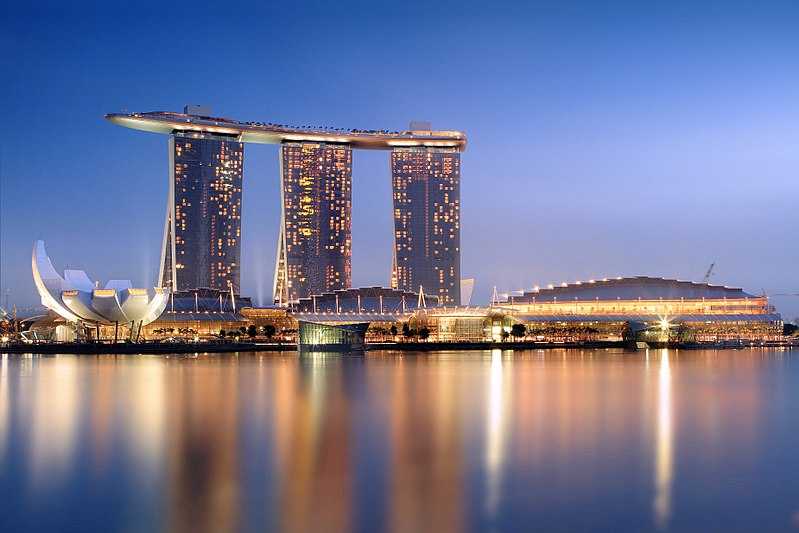 Marina Bay Sands is a luxurious resort which houses a casino, shopping complex, theatres, a museum, the world's most extended infinity pool and restaurants. Being an icon of Singapore, even the architecture of the place exudes luxury.
The complex is spread across an area of 20 hectares and was designed by a Canadian architect Moshe Safdie who said that the inspiration behind it was a deck of cards. It was also built along the lines of Chinese Feng Shui. The main attraction of the hotel is the SkyPark which is a three-acre long park on top of the three towers. It opened its doors to the public in 2010.
Location: 10 Bayfront Ave, Singapore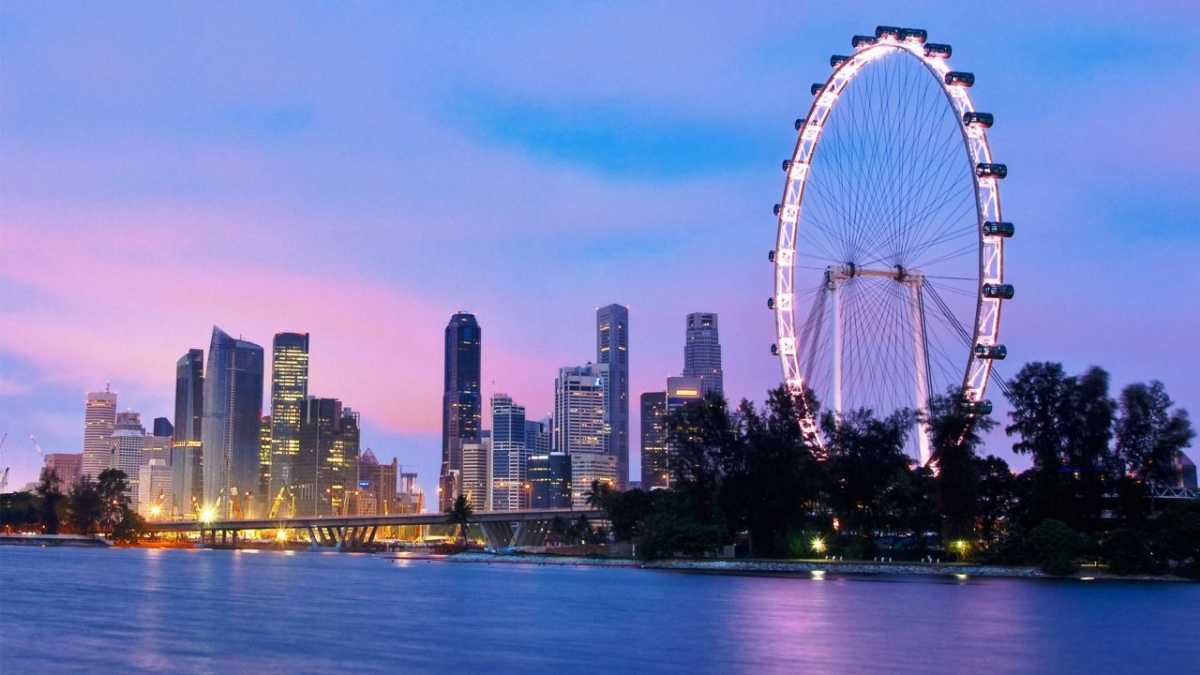 Singapore Flyer is another iconic structure exhibiting the prowess of the architecture of Singapore. It is a giant Ferris wheel which was designed as an observational wheel and was opened to the public in 2008, being the world's tallest Ferris wheel at that time.
The wheel has 28 air-conditioned capsules and being 165 metres tall; it offers a magnificent view of the city. The capsules protrude out of the wheel's rim to provide an unobstructed view and even has provisions for the differently-abled.
Location: 30 Raffles Ave, Singapore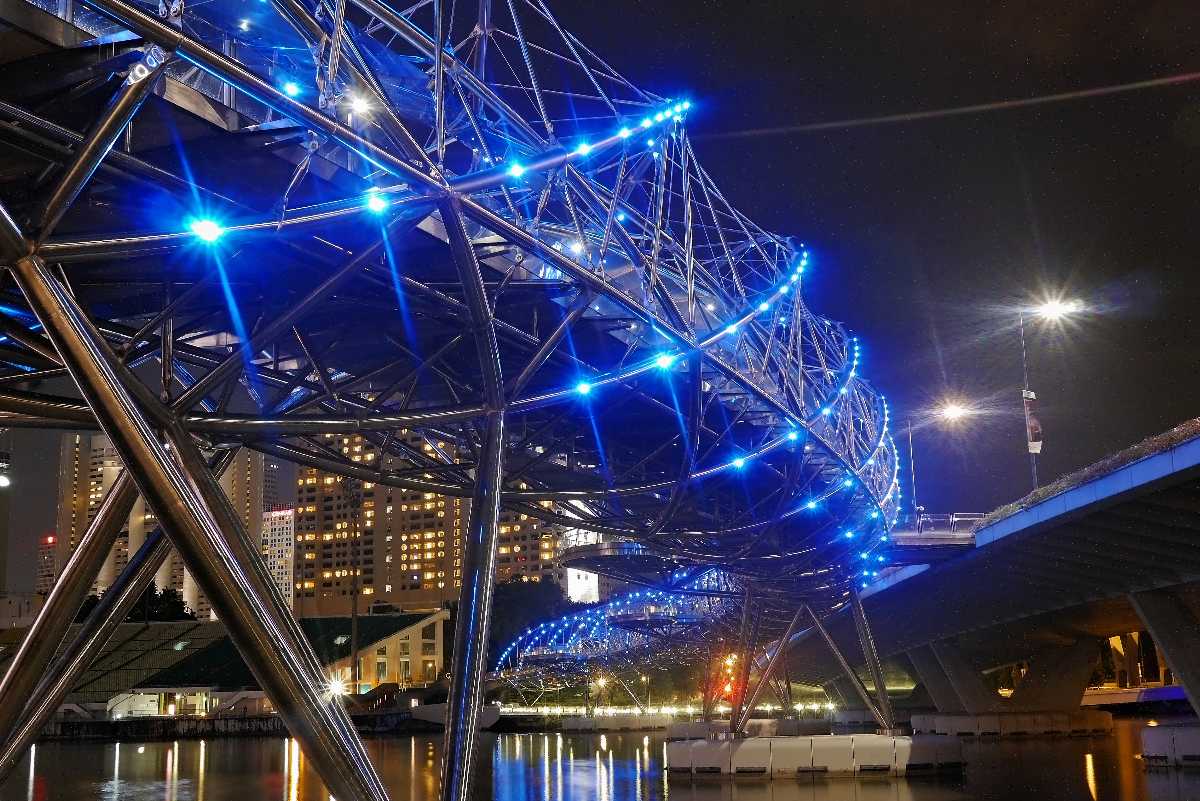 Helix Bridge connecting Marina Centre with Marina South is a pedestrian bridge that floats over the Singapore River and runs along the Benjamin Sheares Bridge. It is a walkway which was opened in 2010.
The structure was designed by a group of architects and engineers of Arup and Cox Architecture in Singapore. The bridge resembles a DNA and even has words c, g, a, and t on it which stand for the four bases of DNA. The arc-shaped bridge is fitted with glass and steel canopy which provides shade to the pedestrians from Singapore's heat. It is truly a marvel in the current situation of architecture in Singapore, a one of a kind structure that displays the brilliance and variety of the architecture in Singapore.
Location: Downtown Core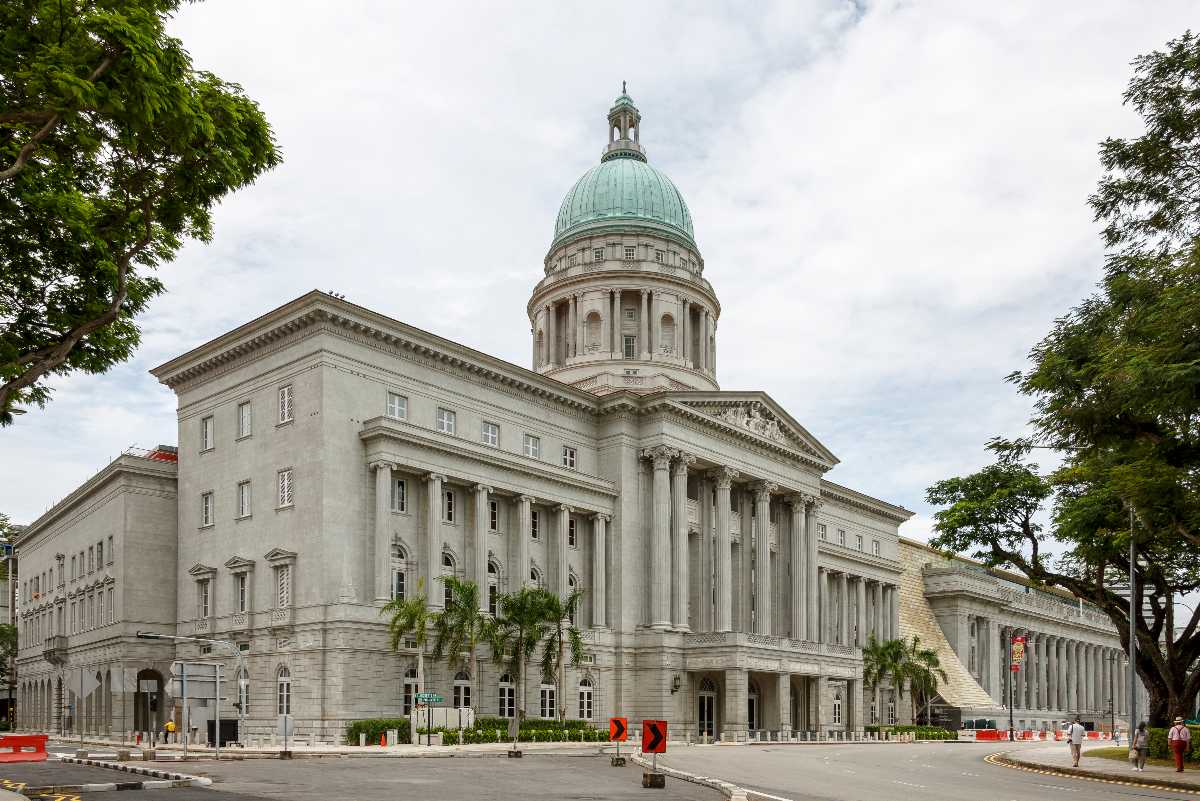 The National Gallery of Singapore houses the former Supreme Court of Singapore and the former City Hall. Situated in Downtown Core in Singapore's Civic District, the gallery is a cultural space which displays contemporary and modern pieces of art. The buildings too are a marvel as they were the last colonial structures to be built in the country in the 1920s and 30s. Today, they stand as national monuments and are visited by many to witness the historic architecture of Singapore.
Location: 1 St Andrew's Rd, Singapore
10. Golden Mile Complex

Built in 1973, the Golden Mile Complex is a 16 storey commercial and residential building. It houses various shops, parking spaces, eateries and even the Korean embassy. It is a modern architectural structure, designed by architects from the DO Architects firm. It is built along the lines of Brutalism style and was meant to initiate step terracing development along the Beach Road. Despite being overly commercialised, it still stands today as a unique piece of architecture in Singapore.
Location: 5001 Beach Rd, Singapore
11. The Interlace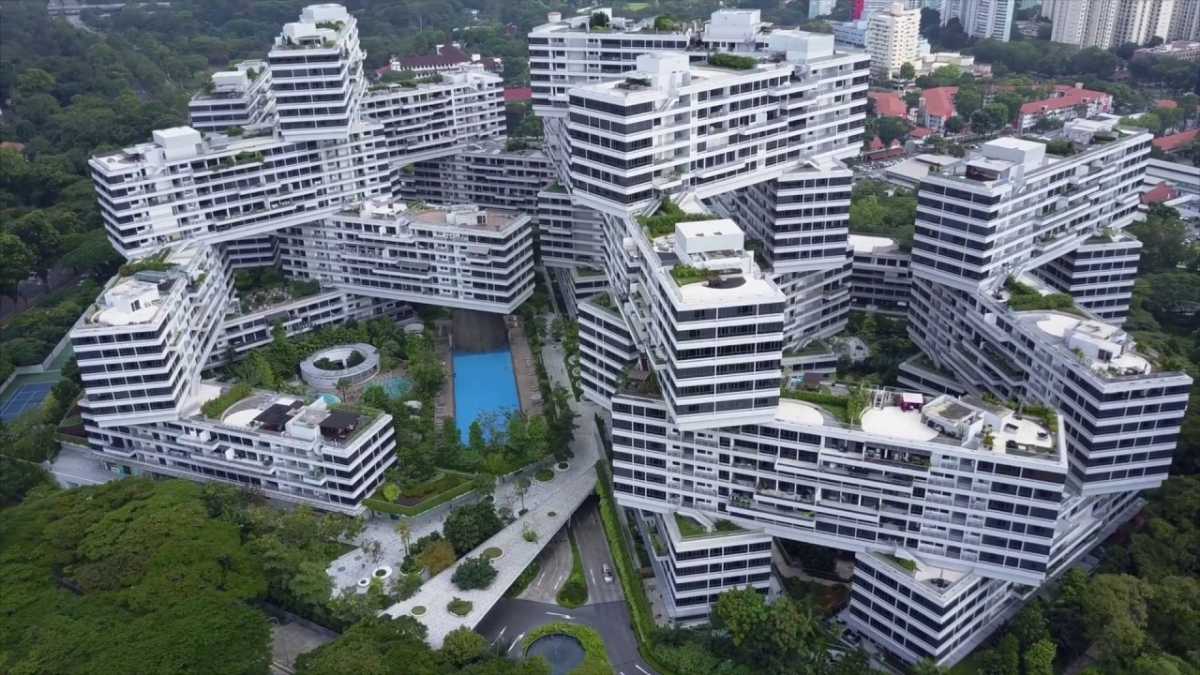 Completed in 2013, the Interlace is a residential complex which is known for its unique architecture of Singapore. It resembles blocks stacked on top of one another in a hexagonal manner, a lot like Jenga blocks. It was designed by OMA and Ole Scheeren, a German architect.
The complex consists of 31 apartment blocks and a gym, tennis courts, swimming pools, playgrounds and other recreational facilities. The structure has won the World Building of the Year in 2015 and has also been praised globally.
Location: 180 Depot Rd, Singapore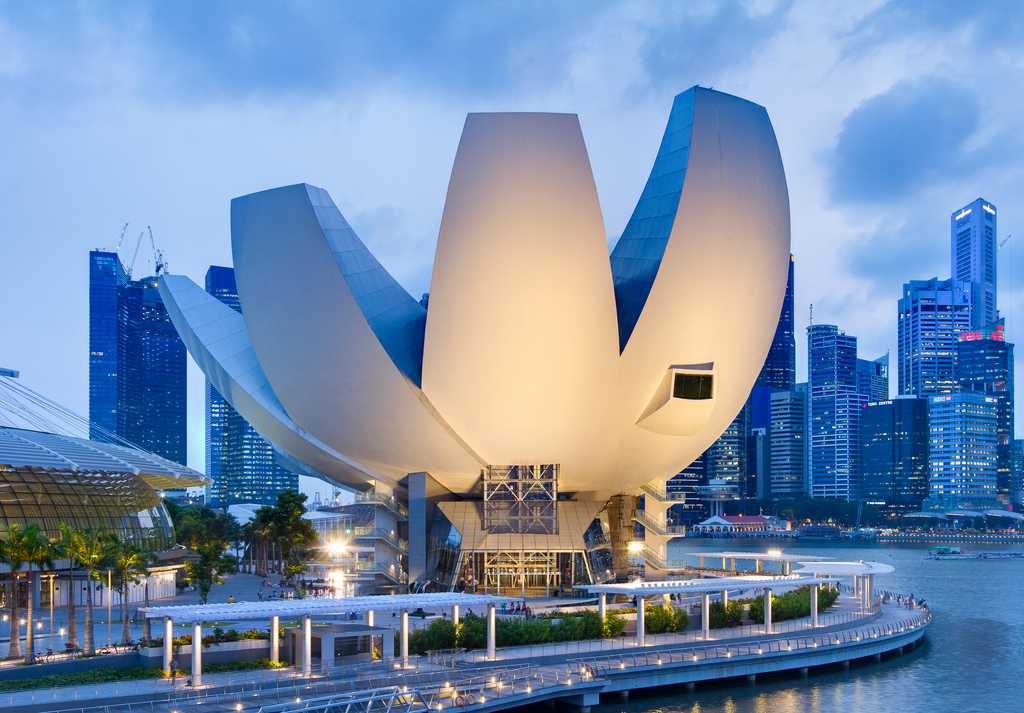 The lotus-shaped marvel of architecture in Singapore houses 21 huge gallery spaces and specialises in international touring exhibitions which cover popular artists like Vincent Van Gogh and Leonardo Da Vinci. To dodge monotony, the ArtScience Museum keeps people engaged with various themes which explore scientific subjects such as Cosmology, Marine Biology and Palaeontology as well as the art, culture and sustainability of the current scenario like Harry Potter and the Marvel Universe. Here, technology fuses with culture, and art mingles with science in a way that is so extraordinary that it will leave you speechless.
Location: 6 Bayfront Ave, Singapore

Standing The extraordinary feature that makes the splendid Henderson Waves Bridge stand out are its seven undulating curved ribs which form an artistic wave-like structure and seem to flow above and below the deck in the form of alternative crests and troughs. These decks, which weave through the steel curves, are made of the indigenous yellow balau timber, and not only do they enhance the appearance of the bridge but also double as shelters with seats made of timber within them. height of thirty-six metres above the Henderson Road, the Henderson Waves Bridge is a gentle reminder that even though our lives have been made easier with the advent of two-wheelers and four-wheelers, nothing beats the immense peace that one receives after taking a walk along the streets illuminated with city lights.
Location: Henderson Rd, Singapore
14. The Hive at NTU

Designed by the renowned British architect Thomas Heatherwick, The Hive is an SGD 45 million spectacle completed in 2015. Also known as the "Dim Sum Basket building" in vernacular terms due to its resemblance to stacked steamer baskets used to serve dim sums, The Hive is a masterpiece in terms of architecture in Singapore and was awarded the Green Mark Platinum Award by BCA and shortlisted as a finalist in one of the categories under World Architecture Festival.

The Hive was posed to create a new kind of learning environment for the digital age. It aimed to do away with the age-old systems of dingy classrooms and long corridors, and have a corridor-less building combined with social spaces like balconies and gardens, to encourage interactions among students and teachers. The structure of the building consists of twelve towers surrounding an atrium, each tapered towards the base - and hosts 56 oval classrooms. The concrete walls around the staircase and elevators have been embossed with over 700 drawings depicting illustrations from science, art, and literature!
Location: Nanyang Technological University, Singapore
15. Old Hill Street Police Station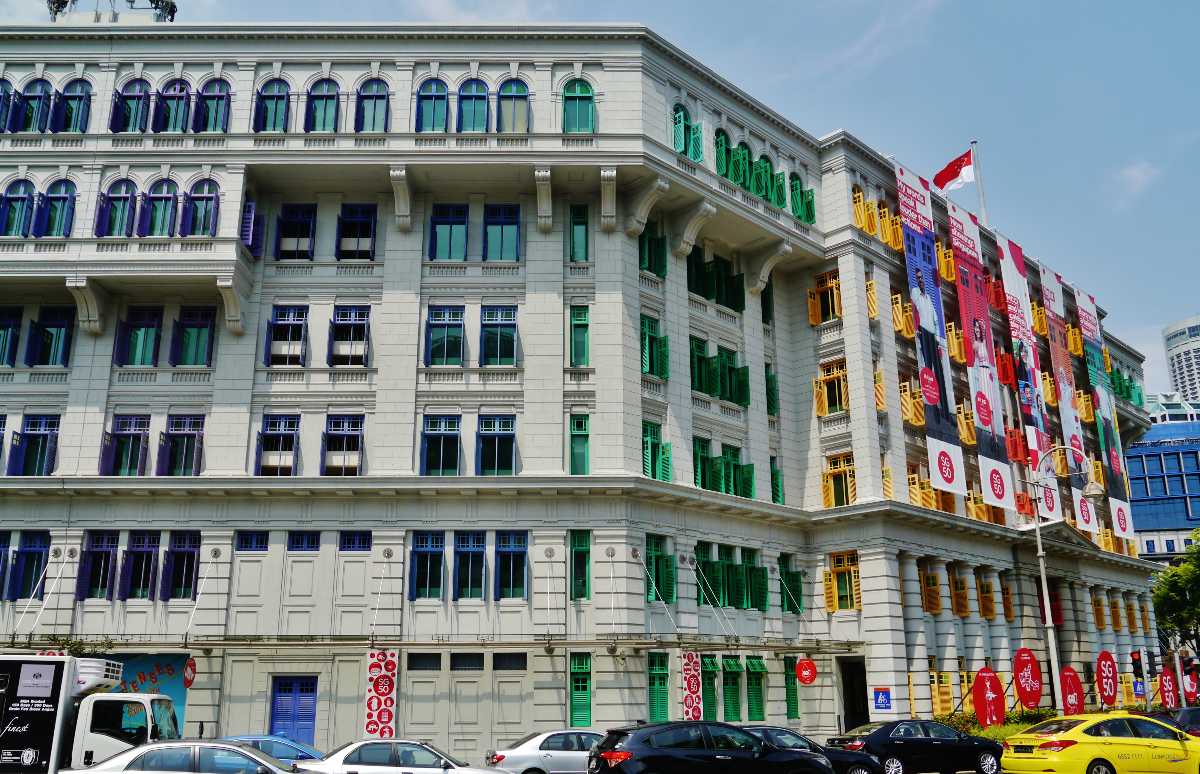 Designed by Frank Dorrington Wad of the PWD, Old Hill Street Police Station was hailed as the "police skyscraper" back in 1934. During WW2, the Kempetei (Japanese Military Police) painted the building in a white grey and brown camouflage scheme. Suspects were held and interrogated here, giving the building a sinister history, and leading some to believe that it is haunted. However, the police gradually shifted away from the building and the Board of Film Censors, Oral History and Archives Department, among others, moved in. The building then came to be known as the Hill Street Building.

By the turn of the millennium, the building had been refurbished and was gazetted as a national monument. The 927 windows were painted in cheerful rainbow hues. The internal facades of the courtyard were renovated, given a glass roof and converted into an air-conditioned exhibition space. The sombre historical monument is now a vibrant icon of the civic district!
Location: 140 Hill Street, Singapore 179369
16. Heritage Shophouses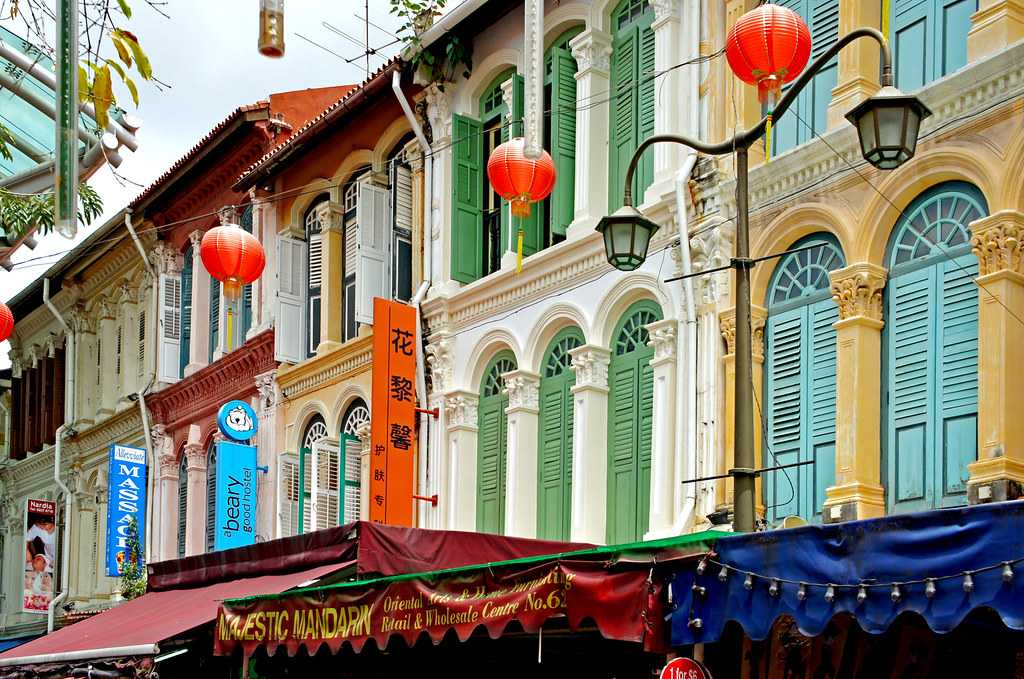 Heritage Shophouses is a quintessential example of a canvas portraying the multicultural influences of the architecture of Singapore over the years. The origins of these flamboyant shophouses trace back to China, where the majority of early immigrants came from - in the mid-1840s. They were built along the north-south axis whenever possible, according to the ancient Chinese system of universal balance. The archetypal shophouse is a two or three-floored building with shops on the ground floor and living accommodations above.

Over the years, shophouses have been built with very distinct architectural styles. In the early 1900s, shophouses had relatively restrained ornamentation. By the 1940s, it was striking and eclectic with decorative wall tiles and vibrant windows. Today, a majority of shophouses have strict conservation rules, but many have been converted into temples, boutiques, and coffee shops, albeit with modern decorations that suit their intended audience.
Location: 60 Kim Yam Rd, Singapore 239361
17. Reflections at Keppel Bay

Located at the ingress of Singapore's historic Keppel Harbor, Reflections at Keppel Bay is an exquisite 99-year leasehold luxury waterfront residential complex. Stretching across two-million-square-foot of land, this veritable masterpiece comprises of six sky-towers undulating between 24 and 41 stories, and eleven fan-shaped, low-rise villa apartment blocks with breathtaking panoramic views of the sea and city skyline. Designed by Daniel Libeskind, former creator of World Trade Centre Memorial masterplan, this development has won several awards for its world-class designs.


The unique and scrupulous design of the sleek sky-towers allows for gentle openings to spectacular, unobstructed 360-degree views of Sentosa and Mount Faber – a concept rarely found in high-rise complexes. These glazed towers are featured with lush green rooftop gardens and are interconnected via elevated bridges. The low-rise villas along the waterfront are accoutred in anodized aluminium, which creates a luminous surface and provides supplemental insulation.

With a 100,000 square feet reflecting pool at the heart of the complex, a state-of-the-art gymnasium, and aesthetic settings for leisure and social gatherings, Reflections at Keppel Bay proves to be a host to splendid lifestyle amenities.
Location: 29 Keppel Bay View, Singapore 098417
The architecture of Singapore, like its people, is diverse and has structures from every era. It is home to various architectural marvels, some of which have been mentioned above.