Speakeasy cocktail bars, boutique beer stalls and artisan coffee artists - Singapore nightlife has unearthed the gems of fine drinking. The nightlife in Singapore is fast developing, with futuristic clubs coming up on every corner. The beer scene is not far behind with more bars, cafes and restaurants jumping on the craft beer-bandwagon. 

Here is a list of places to enjoy the best of the nightlife in Singapore: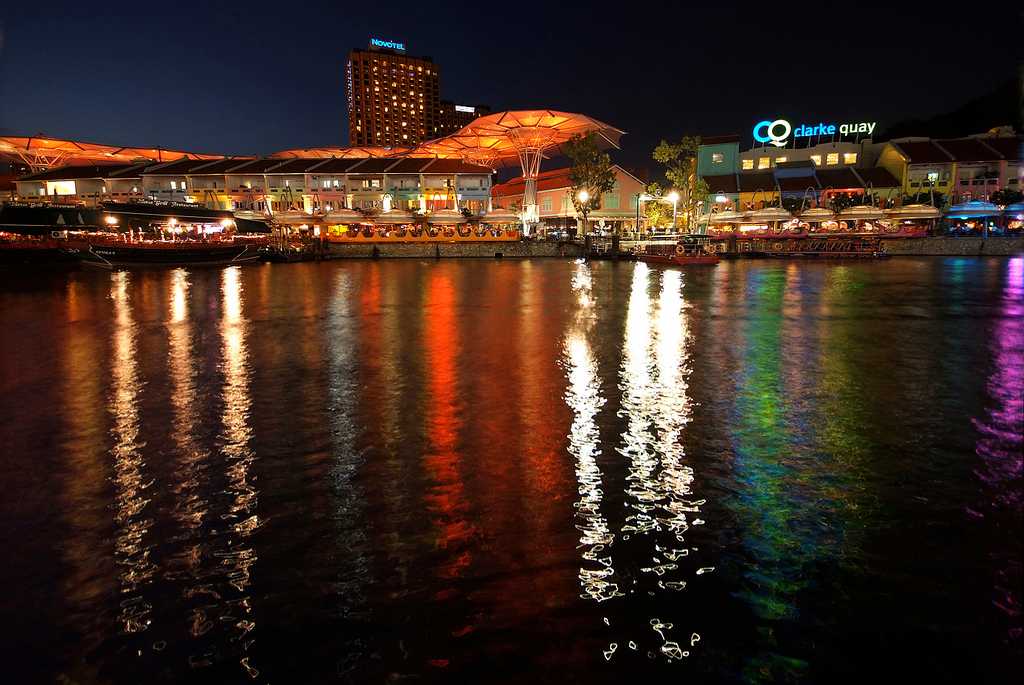 Clarke Quay is the bayside area of Singapore, located on the Singapore River. Clarke Quay and Boat Quay are one of the best places to enjoy the nightlife of Singapore. The entire area is a beauty in itself and would leave any first-time visitor admiring the colourful lights and beautiful people as they go about. Clarke Quay has the best clubs of Singapore - Zouk, Attica and Canvas. Apart from clubs, the Quay also has many top-notch restaurants and concept bars.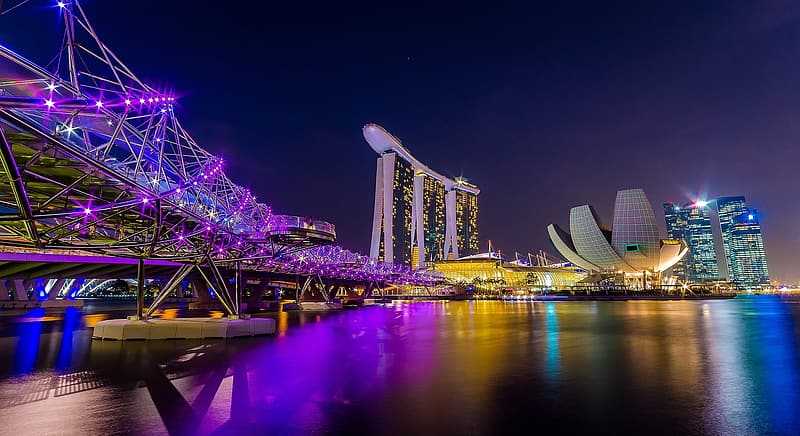 3. Sentosa Beach Bars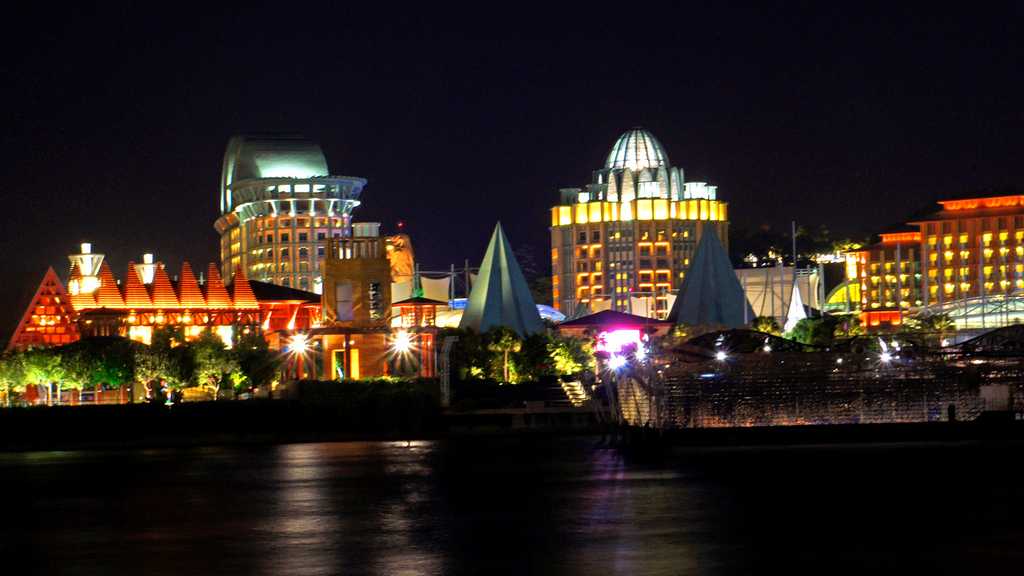 Beach and bars are two things that a man admires. Both put together, is simply a heavenly combination. Sentosa, a resort island of Singapore, has a number of beach bars, perfect to let go and just enjoy the nightlife of Singapore.
Tanjong Beach Club
is one of the most famous and lively beach bars on the island. This beach bar comes into most action during the weekends. They hold certain parties like 'Smack my beach up' quite often.
4. Club Street, Chinatown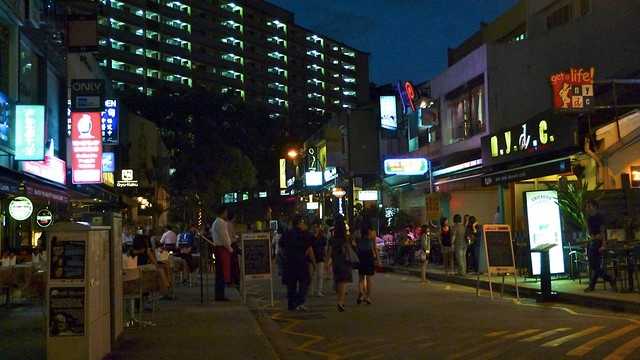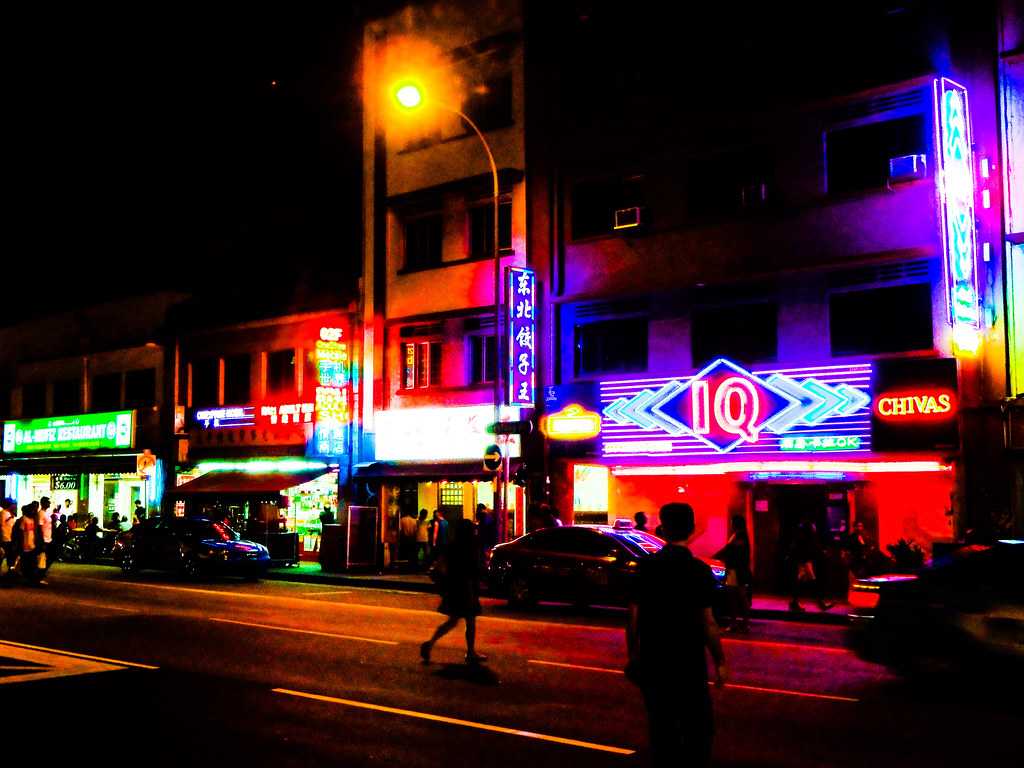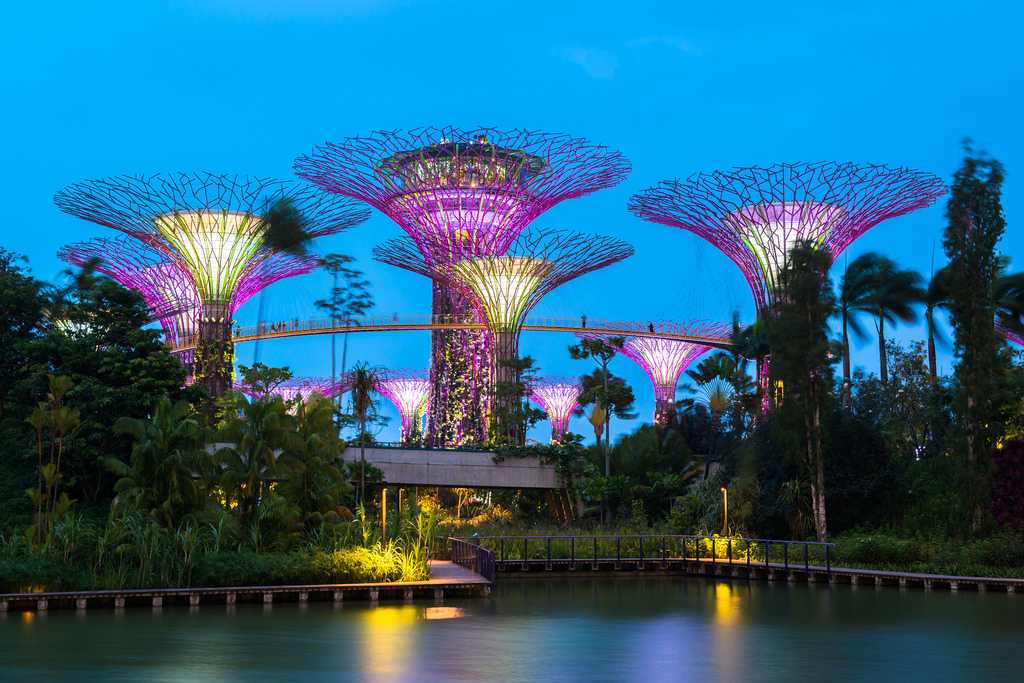 Opening hours - The light show starts at around 8:00 PM 
Cost - Free of cost (except for those who want to use the Skywalk)
8. Zouk Club
Opening Hours: Wednesday, Friday, Saturday and Public Holidays: 11:00 PM onwards

Cost
SGD 30 for men and SGD 25 for ladies (inclusive of 2 house drinks)
Free admission for Wine Bar
9. 1 Altitude
Opening Hours
Sunday- Thursday: 06:00 AM- 02:00 AM
Friday- Saturday and public holidays: 06:00 PM- 04:00 AM
Sunday- Tuesday: 06:00 PM- 02:00AM
Thursday: 06:00PM- 03:00AM.

Cost
06:00 PM - 09:00 PM: SGD30 inclusive of one drink; After 09:00 PM: SGD35 inclusive of one drink. 
The Bar is situated on the top of One Raffles Place and has an entry fee of around SGD 30-35 for which they offer one free drink.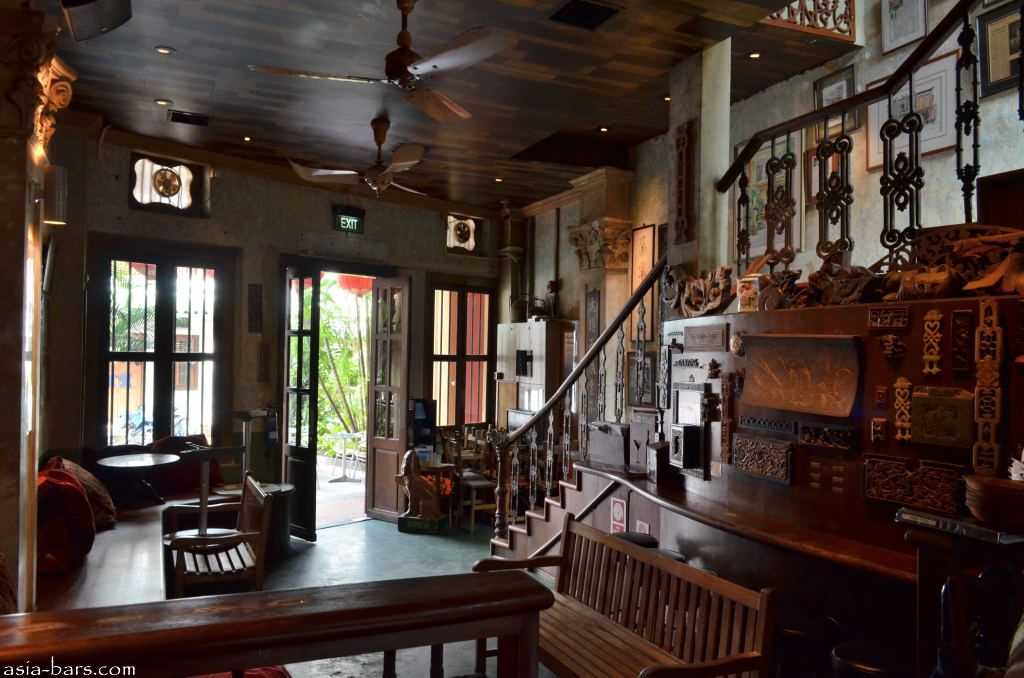 As the shopping buzz dies down, others come out to enjoy the nightlife of Singapore at Orchard road. Emerald Hill will make you think you've reached an entirely different place. Most of the buildings here were constructed in the early 1900s. It's great to just walk down the street, taking everything in. There are a few bars along the way where you may grab a drink. No.5 Emerald Hill Bar is one of the famous bars in the area, especially for its cocktails. It gives you a friendly vibe and makes you feel relaxed.

Live band and a sophisticated bar, Brix is located at Grand Hyatt hotel. The entry fee to this basement bar costs SGD 10. TAB Club Sonar is a bar for the music lovers. Many DJs have performed here. The first level is where the DJs or bands perform. If you do not wish to stand there and enjoy the music, you may simply climb the stairs and sit above while enjoying your cocktail!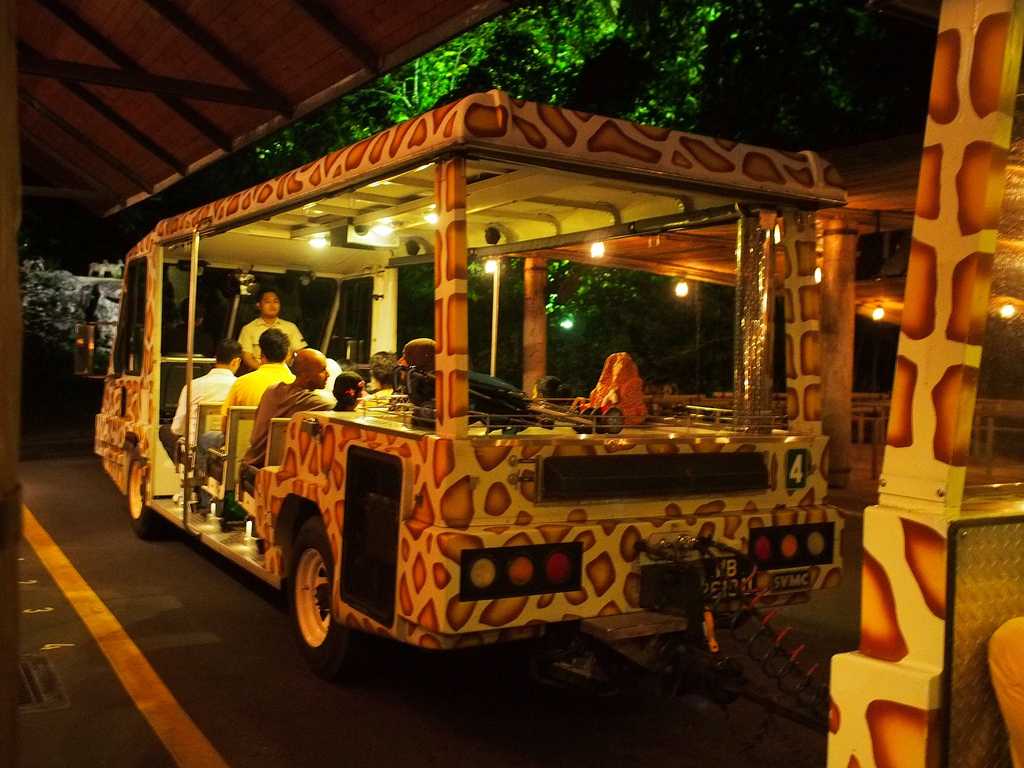 Located next to the Singapore Zoo, the Singapore Night Safari is one of its kind in the world, allowing tourists a tete-a-tete with the nocturnal animals. This is the world's first place that takes you into the world of animals at night without causing them any kind of discomfort. More like a wildlife reserve than a safari, the facility is well-managed, offering an insight into the natural habitat of about 2500 animals residing here. 

The fierce animals such as tigers and leopards are behind the barriers but the friendly ones like deer roam freely around. While you explore the 35 hectares of dense forest, it will take some time to adjust to the dim lights. You can either take a tram, a 40-minute ride with live commentary or explore the facility on foot exploring the various geographical zones of the world from rugged Himalayan topography to Africa's swampy banks.
Opening Hours:
7:15 PM - 12:00 AM,
Last ticket sale at 11:15 PM

Cost: 
Adults: SGD 47,
Children: SGD 31,
Seniors: SGD 20,
Parkhopper Plus: SGD 68 - SGD 88
Acclaimed as one of the most entertaining attractions in Sentosa, Wings of Time is a multi-sensory presentation of water and fireworks, throwing in fountains of water, brilliantly lit with lasers and LED lights keeping in sync with the captivating music. The 30-minute show puts up a story about Shahbaaz, a bird from the prehistoric times, full of magic and mysticism that keeps one on the edge of their seats. It is an excellent place for photographers too. The experience is not complete without shopping at the Fun Shop Beach plaza for cool merchandise and dining at the various popular restaurants.
Opening hours - Daily 7:40 PM and 8:40 PM 
13. Night Markets of Singapore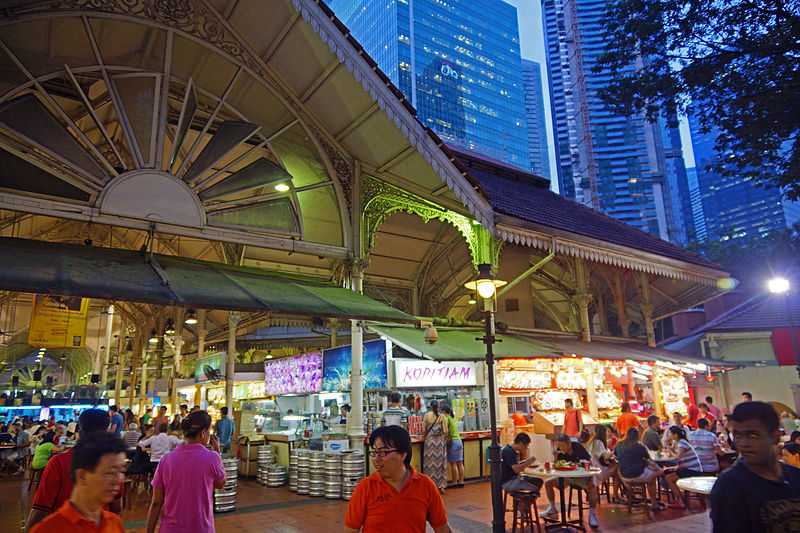 Opening hours - 10:00 AM to 2:00 AM
14. Changi Airport
While one may perceive the airport as just entering and leaving gateway, Changi Airport stands out different, because of its elegant architecture and narrow streets. There are several dining and drinking options at Changi Airport making it a great place to visit in Singapore at night. Harry's at Changi Airport T3 is a 24/7 attractive and functional bar at the airport and one can quench their thirst while waiting for or after a long flight. The entire airport is a grand lifestyle, dining and shopping destination for passengers as well as locals. There are free movie theatres for transit passengers, gaming stations, sports bars for watching sports over a pint, kid's play areas, souvenir shops, massage chairs around the transit area, butterfly garden sunflower garden, snoozing areas, business lounges and a lot of restaurants and food courts.