Speakeasy cocktail bars, boutique beer stalls and artisan coffee artists - Singapore Nightlife has unearthed the gems of fine drinking. The clubbing scene in Singapore is fast developing, with futuristic clubs coming up on every corner. The beer scene is not far behind with more bars, cafes and restaurants jumping on the craft beer-bandwagon. While coffee is Singapore is not new, its speciality coffee scene is definitely a recent phenomenon. Inspired by artisanal coffee culture, the voguish cafes are brewing ethically sourced beans.
Here is a list of 25 places to enjoy the best of the Nightlife in Singapore:
1. Zouk

Zouk is one of Singapore's most popular clubs and has gained humongous recognition internationally. The club is the place for the dancers to be, filled to its capacity with young folks who enjoy house music. For those who like different styles of music, Zouk has sister discos, playing different genres. Velvet Underground is where they play soul and garage music. You will usually find a relatively older crowd here. Many international DJs like David Guetta and Steve Aoki have performed at Zouk. Ladies, grab your girl pals on Wednesdays as Zouk has free entry for women on that day. Wednesday is also the Mambo Jambo night when the club plays popular music of the 70s, 80s and 90s.

Opening Hours
Zouk- Wednesday, Friday, Saturday and Public Holidays: 11:00 PM onwards
Velvet Underground Lounge- Wednesday, Friday, Saturday and Public Holidays: 10:00 PM onwards
Velvet Underground Dance- Friday, Saturday and Public Holidays: 11:00 AM onwards
Phuture- Wednesday: 10:00 AM onwards; Friday, Saturday and Public Holidays: 10:00 AM onwards
Wine Bar- Tuesday 06:00 AM - 02:00 AM, Wednesday and Thursday 06:00 AM- 03:00 AM, Friday and Saturday: 06:00AM - 04:00 AM

Cost
SGD 30 for men and SGD 25 for ladies (inclusive of 2 house drinks)
Free admission for Wine Bar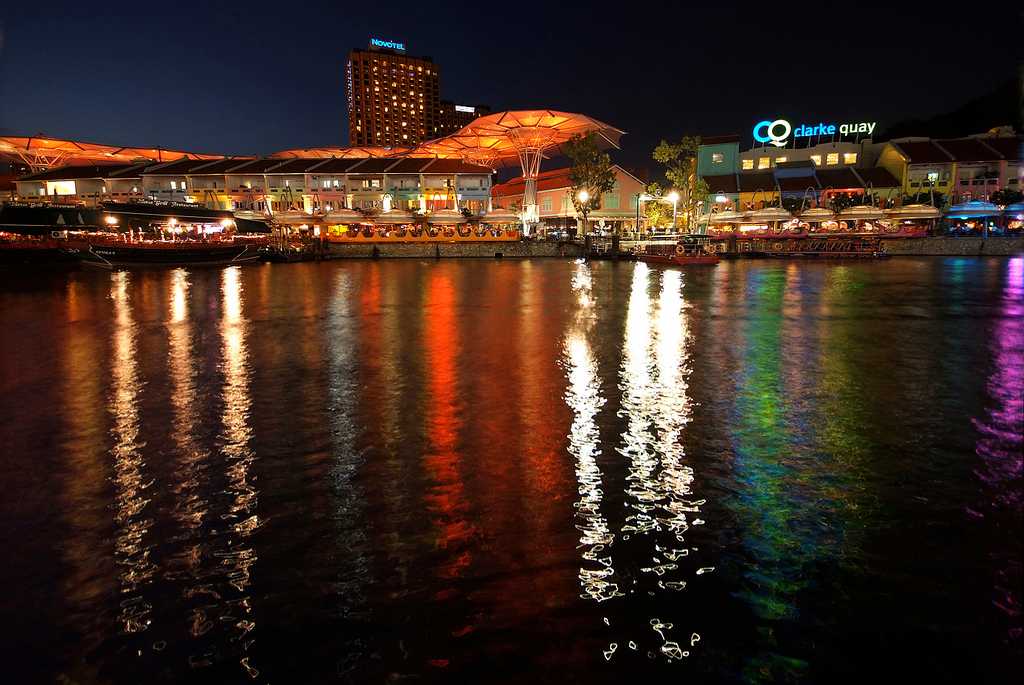 Clarke Quay is the bayside area of Singapore, located on the Singapore River. Clarke Quay and Boat Quay are one of the best places to enjoy the Singapore nightlife, once the sun is set. The entire area is a beauty in itself and would leave any first-time visitor admiring the colourful lights and beautiful people as they go about. Clarke Quay has the best clubs of Singapore - Zouk, Attica and Canvas. Apart from clubs, the Quay also has many top-notch restaurants and concept bars.
3. Sentosa Beach Bars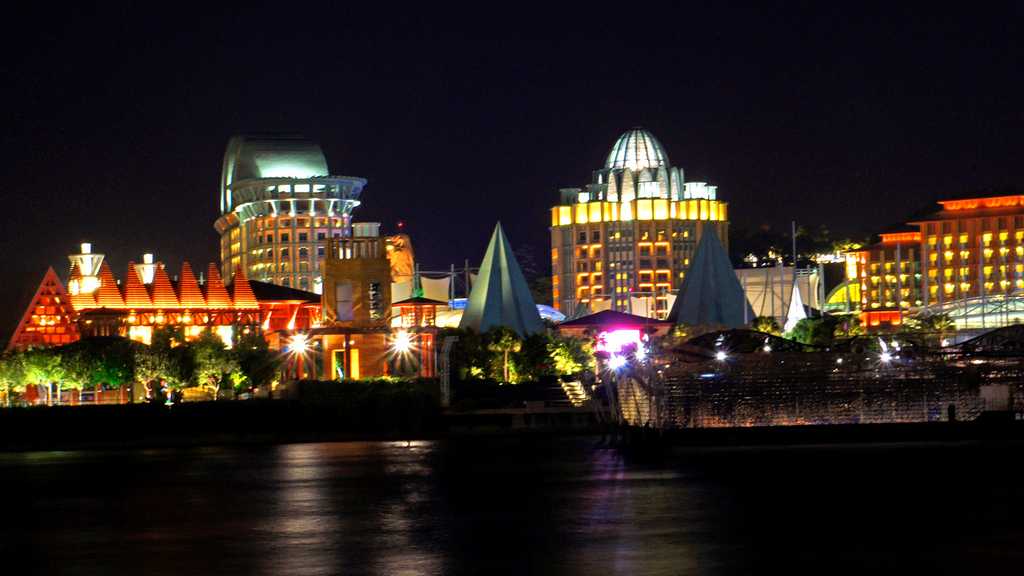 Beach and bars are two things that a man admires. Both put together, is simply a heavenly combination. Sentosa, a resort island of Singapore, has a number of beach bars, perfect to let go and just enjoy the nightlife of Singapore.
Tanjong Beach Club
is one of the most famous and lively beach bars on the island. This beach bar comes into most action during the weekends. They hold certain parties like 'Smack my beach up' quite often.
Rooftop Bars
Rooftop bars are the new place to be in Singapore. Each of the bars gives a different scenic view and is unique in its own way.
4. 1 Altitude

Located on the 63rd floor, 1 Altitude is the highest rooftop bar in Singapore. It offers a great view and a dance floor as well. The rooftop bar is just lined with glass parapet, giving the guests a true rooftop experience and a spectacular view of night in Singapore.
Opening Hours
Sunday- Thursday: 06:00 AM- 02:00 AM
Friday- Saturday and public holidays: 06:00 PM- 04:00 AM
Sunday- Tuesday: 06:00 PM- 02:00AM
Thursday: 06:00PM- 03:00AM.

Cost
06:00 PM - 09:00 PM: SGD30 inclusive of one drink; After 09:00 PM: SGD35 inclusive of one drink.
The Bar is situated on the top of One Raffles Place and has an entry fee of around SGD 30-35 for which they offer one free drink.


5. Ce La Vi

Ce La Vi (formerly Ku de ta) is situated at Marina Bay Sands' rooftop. The bar is the hot new spot and is buzzing with the young crowd. Ce La Vi also has a club lounge and a restaurant. Cover Charges are applicable to the visitors from outside but are redeemable.
Opening Hours
12:00 PM -04:00 AM

Club Lounge:
Monday- Friday: 12:00 PM onwards
Saturday and Sunday: 11:00 AM onwards

Cost
Entry is free for the MBS hotel guests. SGD 131 for 4 admissions; SGD20 SGD entry voucher

6. SuperTree by IndoChine

It is a restaurant, bar and a lounge situated on top of one of the man-made trees at
Gardens by the Bay
. The location of the bar itself is so beautiful, especially the lighting around the Supertree Grove. This bar is where the couples may retreat to, as it is more intimate than the others. It offers a 360-degree view from the rooftop.
Opening Hours
Lunch: Monday - Sunday: 12:00 PM- 05:00 PM
Dinner: Sunday - Thursday: 05:00 PM - 11:30 PM; Friday - Saturday: 05:00 PM -12:30 AM
Cover Charge: The entry fee is SGD80 per person with a complimentary drink.


7. LeVel 33


LeVel 33 is a perfect place to retreat to if you prefer abundant quality to quantity. The bar has its own microbrewery, highest in the world. While its prices for pints of beer are expensive, they are most definitely worth it. If you are not sure which drink to order, go their sample set, which contains five of the finest ales.
Opening Hours
Monday - Saturday: 11:30PM - 02:00 PM
Sunday: 12:00 PM- 12:00 AM

Cost
SGD68 for 86 submissions


8. New Asia Bar

New Asia Bar is ironically one of the oldest bars in Singapore. It is situated at the top of Swissotel in Singapore and has made into the list of Top 50 bars in the world. The bar is 71 floors above and gives a spectacular view. The bar has promotional offers on drinks during the initial hours of opening.
Opening Hours
Sunday: 02:00 PM - 01:00 AM
Friday- Saturday: 07:00 PM- 03:00 AM
Wednesday - Thursday: 07:00 PM- 02:00 AM
Tuesday- 07:00 PM- 01:00 AM
Mondays are closed.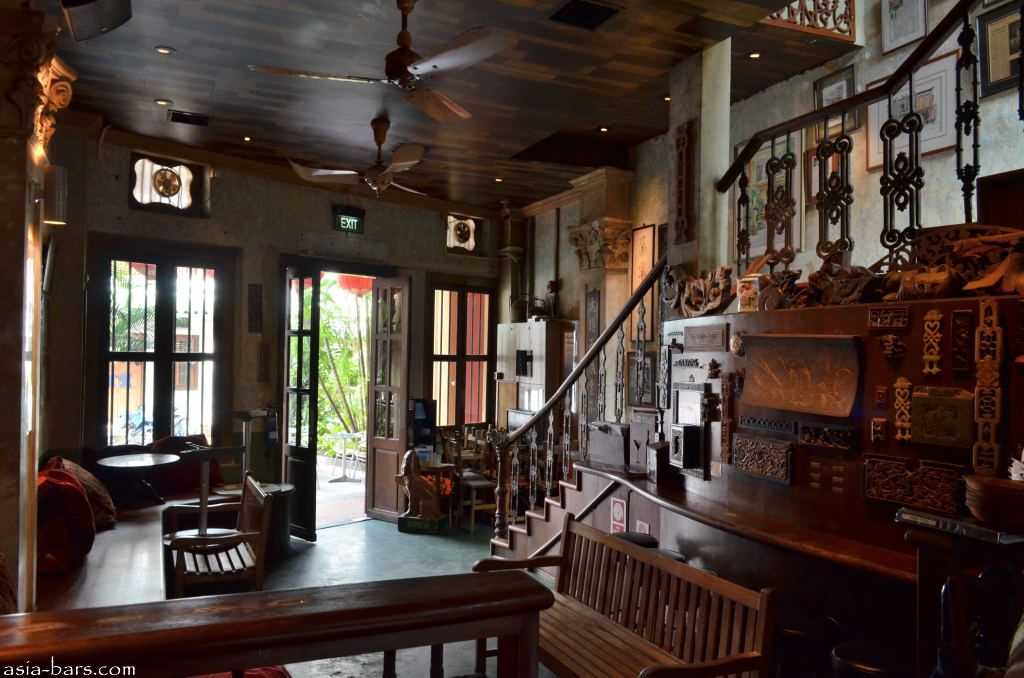 As the shopping buzz dies down, others come out to enjoy the Singapore nightlife at Orchard road. Emerald Hill will make you think you've reached an entirely different place. Most of the buildings here were constructed in the early 1900s. It's great to just walk down the street, taking everything in. There are a few bars along the way where you may grab a drink. No.5 Emerald Hill Bar is one of the famous bars in the area, especially for its cocktails. It gives you a friendly vibe and makes you feel relaxed.

Live band and a sophisticated bar, Brix is located at Grand Hyatt hotel. The entry fee to this basement bar costs SGD 10. TAB Club Sonar is a bar for the music lovers. Many DJs have performed here. The first level is where the DJs or bands perform. If you do not wish to stand there and enjoy the music, you may simply climb the stairs and sit above while enjoying your cocktail!
Hidden gems of Nightlife in Singapore
10. Blu Jaz Cafe

Blu Jaz Café is one of the most popular bars in Singapore with Live bands every Monday, Wednesday, Friday and Saturday. For a DJ night, hop onto the second level once you're done with your food. The café has a dance floor, which is filled with people of all ages.

Often, open mic comedy nights are also held at the Blu Jaz Café. The lively yet intimate ambience of the café is one of the other things that attract the crowd. The Café dress code is relaxed and they have both, indoor and outdoor seating.
Opening Hours
Monday - Thursday: 12:00 PM - 01:00 AM
Friday: 12:00 PM - 02:00 AM
Saturday: 04:00 PM - 02:00 AM
Closed on Sunday and Public Holidays


Cost
SGD 26 for 56 admissions
11. Cable Car 1890s Saloon
Cable Car 1890s Saloon is a Japanese whiskey bar that is a branch of the one of the oldest bar in Yokohama
Chinatown
. The bar offers an array of drinks and some great malts. The interior is similar to that of the
San Francisco
joint. It is a great place to grab a drink with your friends and coworkers.
12. Artistry


This cafe - bar is an absolute favourite for most of the people. The bar has a relaxed and hip vibe that attracts many. It is a place for creative minds to come together. The place showcases the artwork of upcoming artists. Artistry holds live music tributes and concerts and also gives a platform for musicians to show their talent.
13. Colbar

A vintage bar in a completely urbanised city, now who wouldn't love that? Colbar is a bar in a shed like setting. Even though the bar prices are similar to that of the town, it is the rustic appeal that attracts the customers.
14. Kyo
Club Kyo is fairly new but is definitely one of the best clubs. The club is situated in the basement of a skyscraper in Singapore's financial centre. Feel every beat as you shake it off on the dance floor and if not, you may just hang out with your friends or sit aside relishing your drink and admiring the interiors.
15. Arena by Neverland


A Thai-themed disco, Arena by Neverland is a live music club with pretty singers interacting with the enthusiastic guests between sets in the streets of Singapore. The place offers a vibrant vibe and is an excellent place to chill with your friends on a Friday night coming all tired from work. The beats of music vary from Thai pop to English pop and a number of famous hip-hop along with classic rock performed by various talented live groups.
Opening Hours
Monday - Thursday: 9:30 PM - 4:00 AM
Friday - Saturday: 9:30 PM - 5:30 PM
Special Ladies Night on Wednesday

16. Canvas

Formerly Home Club, the Canvas Club is known for its multiple roles - operates as an art gallery during daytime and manages to transform itself in a nightclub during the night, retaining the underground feeling and attracting quality locals. The club specializes in tech, drum and bass, and various other genres of music and has a loyal following. Despite being a newbie in the town, it exhibits a highly progressive nature and seems to be a potential one to become one of the best clubs to enjoy Nightlife in Singapore in the coming few years.
Opening Hours
3:00 PM - 3:00 AM
17. Trace Club


This Club cum lounge is located next to the Central mall and has everything in store for a die-hard EDM fan. From EDM to hip-hop and topnotch lighting effects including the green lasers beams as the most impressive feature, to an unmatchable sound system, this place is the hub of Singapore's after-dark action. Taking into account the considerable investment, this club has come a long way since its opening in 2015 establishing its name amidst the likes of other popular clubs in Singapore.
Opening Hours
Wednesday: 10:00 PM - 3:00 AM
Friday - Saturday: 10:00 PM - 4:00 AM
Popular for couples

18. The Other Room


Snuggle up with your partner with a drink in your hand. The Other Room, situated at The Marriott. The place is cosy and soft, playing slow, romantic music in the background. The bar is unique as it offers daring cocktails for you to try.
19. Smoke & Mirrors

Situated on top of the
National Gallery
is the bar, 'Smoke & Mirrors'. The bar has great interiors, boasting of sophistication but what makes it even more beautiful is the exterior view. It's great to sit near the balcony while sipping perfect blended cocktails with your special someone.
20. LongPlay
Both your partner and you have an exquisite taste in music? LongPlay awaits you. LongPlay had over 3000 vinyl records of music ranging from jazz to rock. Enjoy great music with some flavoursome drinks that the bar has to offer.
21. Attica Nightclub

Attica Nightclub is the hottest and the most happening nightclub in Clarke Quay. Its two levels of different characteristics attract party-goers. Level 1 is a world of flashy lights, immersing beats, sprawling couches with top 40 hits of R&B. The levels can host up to 800 clubbers. The Courtyard which is a cosy alfresco area is perfect for breaks between dances to mingle with friends. The nightclub is incomplete without the Bar Rose that's overlooking the Singapore River. The club follows a trend of dress to impress and has excellent dance and music, exciting crowds, fabulous cocktails and fun-filled atmosphere.
Opening Hours
Attica Level 1- Wednesday: 11:00 PM - 04:00 AM; Friday, Saturday, Public Holidays: 10:30 PM - 04:00 AM
Attica Level 2- Wednesday: 11:00 PM - 05:00 AM; Friday, Saturday, Public Holidays: 11:00 PM -05:30 AM
Bar Rose- Tuesday - Saturday, Public Holidays: 06:00 PM onwards

Cost: Wednesday: Ladies night (free for ladies; includes special weekly dessert and complimentary drinks.
For men: SGD30 (inclusive of two drinks)
Fridays and Saturdays: SGD30 (inclusive of two drinks)
22. Gibson

Gibson's carefully crafted cocktails and the cosy interiors attract the couples. Gibson has won many awards - Asia's 50 Best Bars, Best New Cocktail Bar 2016 and Top 4 Best New International Cocktail Bar 2016.
Gibson has All Day Happy Hours on Oysters on Tuesdays.
Opening Hours
Monday- Thursday: 6:00 PM - 01:00 AM;
Friday and Saturday: 6:00 PM - 2:00 AM


23. Mr Punch Public House

Mr Punch Public House plays soft music in the background making it possible to have conversations with your partner or date instead of shouting in their ears. The place is known for the puppet show, 'Punch and Judy'. It has great indoor and outdoor dining areas. The bar menu offers a variety of drinks and cocktails. The food menu is also good and features a 'sharing menu', a fusion of cuisines.
24. Singapore Night Festivals

Every year for two weekends during August, Singapore Night Festival is hosted. American Street becomes a pedestrian-only area. Art forms spill on the street as soon as the sun sets. Every year, the Singapore Night Festival has a different theme. Many international musicians, DJs and performers perform during this festival. Bras Basah/Bugis, an art enclave, brims with celebration.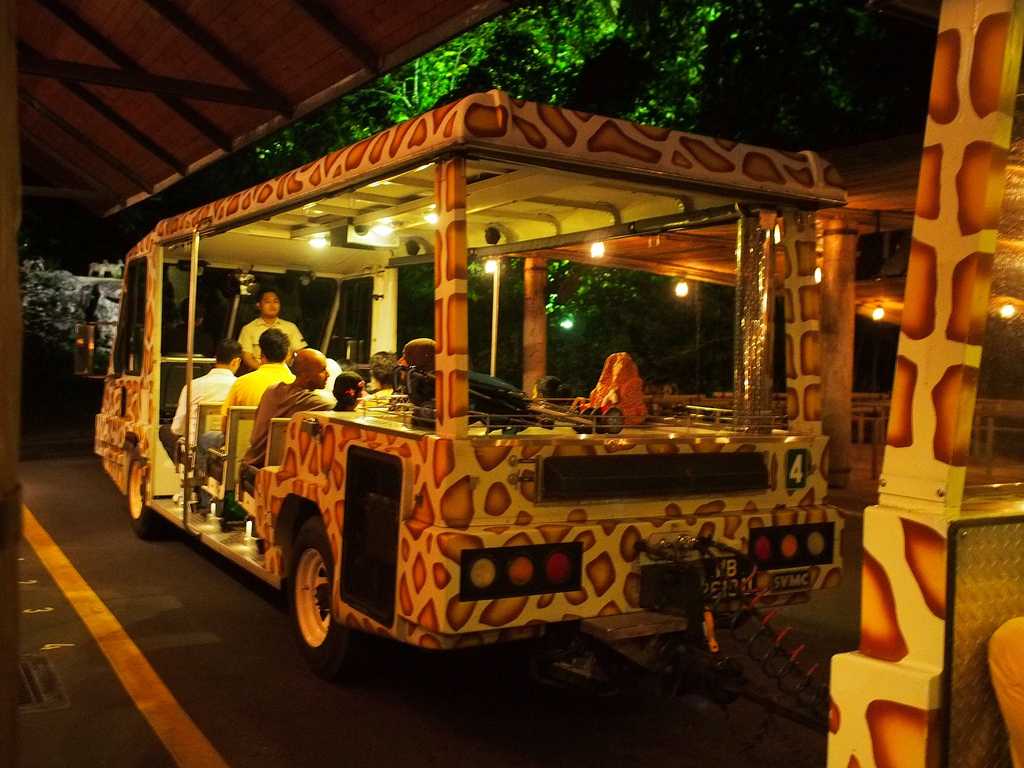 Located next to the Singapore Zoo, the Night Safari is a one of its kind in the world, allowing tourists a tete-a-tete with the nocturnal animals. This is the world's first place that takes you into the world of animals at night without causing them any kind of discomfort. More like a wildlife reserve than a safari, the facility is well-managed, offering an insight of the natural habitat of about 2500 animals residing here.

The fierce animals such as tigers and leopards are behind the barriers but the friendly ones like deer roam freely around. While you explore the 35 hectares of dense forest, it will take some time to adjust to the dim lights. You can either take a tram, a 40-minute ride with live commentary or explore the facility on foot exploring the various geographical zones of the world from rugged Himalayan topography to Africa's swampy banks.
Opening Hours:
7:15 PM - 12:00 AM,
Last ticket sale at 11:15 PM

Cost:
Adults: SGD 47,
Children: SGD 31,
Seniors: SGD 20,
Parkhopper Plus: SGD 68 - SGD 88
So many options to explore from, Singapore's nightlife has just the right place for everybody to be at. Most clubs have ladies night on Wednesdays and promotional offers before nine on weekdays.

Dress Code

One thing you need to remember is to dress in smart casual attire to get into most of these places. Men are usually required to wear long pants in most restaurants.

The Nightlife of Singapore, in general, is worldly famous and people visit Singapore especially to be a part of it. The city comes to light at night, letting you have unlimited fun.