Singapore in August is characterised as 'hot' and 'humid', while its tropical location, 1 degree north of the Equator causes the weather to be stable throughout the year. The temperature in August, thus, does not change much, though rainfall increases slightly from 155 mm in July to 171 mm in August. This month also falls in the Southwest monsoon period. Hence, you will experience windy weather, frequent but average rainfall, and some thunderstorms. Keep in mind that escaping rains in Singapore is quite tough as it showers almost every day, throughout the year.


Singapore in August experiences an average of 9 hours of sunshine per day. Daytime temperature can go as high as 31 degrees Celsius, while at night, it rarely drops below 24 degrees Celcius; while the relative humidity ranges between an average maximum of 95 per cent to an average minimum of 65 per cent.
Is it a good time to travel?
There are some reasons that make August one of the best months to visit Singapore. Let's start off with the average temperature and rainfall. Apart from that, no major holidays this month means less tourist traffic and more affordable prices. The first half of August is a shopaholic's dream as the Great Singapore Sale will be going on at that time. It doesn't end here, as a lot of festivals and events are celebrated and organized this month, which will not only give you a glimpse of the vibrant culture of Singapore but will also provide you with a chance to experience it yourself! Fascinating isn't it?!
Places to Visit in Singapore in August

Located on the island of Sentosa, the Tanjong Beach is a quiet and private beach, ideal for honeymooners as well as those looking for solace. The warm seawater (at around 29 degrees Celcius) is just perfect to enjoy a dip and to simply laze around on the sun loungers by the beach. Adults can even enjoy games like volleyball, swimming, board surfing, and kayaking; and towels and swimwear are easily available on rent at the beach itself. At night, the beach becomes even prettier and romantic, with the lights of the nearby ships casting a warm glow on the sands. The Tanjong Beach Club nearby is also a good place to drop by for some food and drinks.

Sunshine is a perfect friend when planning to visit this most popular attraction in Singapore. Featuring over 300 species of animals, exotic birds, reptiles and mammals, the zoo is spread over eleven zones with distinct wildlife in each. The Rainforest Lumia, a recent addition to the zoo, is an interesting night walk which makes excellent use of multimedia to make it even more interactive with sights, sounds, and smell; and all in all, the zoo is a must-visit place, especially for those traveling with kids, to make the most of your day in Singapore in August.

Universal Studios is usually bustling with people in the months of April, May, and June, who take advantage of the beginning of the off-season to explore some of the best places in Singapore, but minus the crowd and the waiting time. This means that they get more time to explore and experience this themed park, and the 28 thrilling and fun rides that await them. The park is divided into seven different themed zones, and other than the rides and thrill, you will also get to meet famous characters like Po the Panda and the Minions, and get clicked with them.

On a hot day in August, spending a day at the Adventure Cove Water Park is actually an excellent idea. The water park is home to a myriad of high-speed water slides, as well as fun adventure activities like swimming and snorkelling, which people of all ages are bound to enjoy. The park also boasts of having the Riptide Ride, Southeast Asia's first hydro-magnetic coaster, as well as the rainbow reef, where over 20,000 multihued tropical fish and sharks live in their natural surroundings.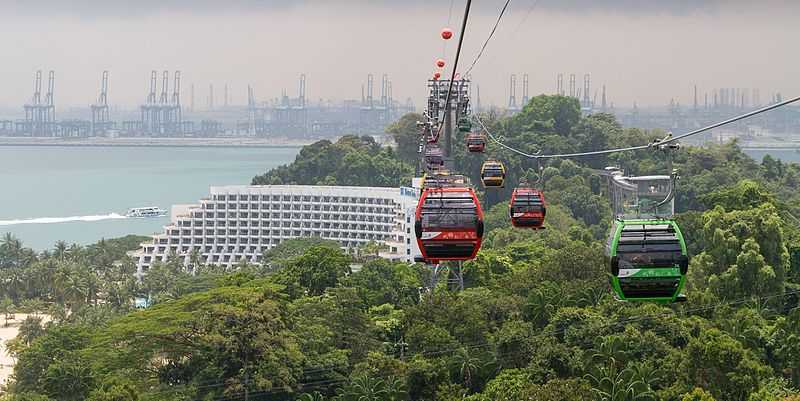 Connecting Mount Faber on the main island of Singapore and the Sentosa Island across the Keppel Harbour, the Singapore Cable Car offers an altogether unique and exciting experience to its visitors, who get the chance to simply sit back and enjoy a good cable car ride, while overlooking the mesmerizing skyline and the hustle-bustle beneath. August is a perfect time to enjoy a 30-minute ride in the cable car, and get a bird's eye view of the fantastic Singapore infrastructure, the scenic beaches as well as the renowned attractions and theme parks.
Events & Festivals in Singapore in August

9th August is the day when the entire country comes to life to commemorate its independence from
Malaysia
in 1965. Hear the glorious national narrative and witness this dazzling celebration of the country's victory, unity and much more through spectacular military parades, multicultural dance and song performances, and breathtaking fireworks. The spectators of the national celebration also get a fun pack - an interesting goodie bag with some useful things!
The celebrations for the Independence Day in Singapore are not limited to just parades and holidays, but are also synonymous with exploring the history and past of the state. During the Independence Day celebrations, you can also access up to twelve of Singapore's museums as well as heritage galleries absolutely free of cost or at discounted rates, and enjoy the special exhibitions that are put up there.
2. Hari Raya Haji

Lasting four days, this festival is celebrated by the Muslims of Singapore to commemorate Prophet Ibrahim's complete faith in God who commanded Ibrahim to sacrifice his son, and Ibrahim obediently followed what his God told him to do. This festival is also known as The Festival of Sacrifice, for its important ritual called 'korbari' - animals like lamb, sheep, etc., are sacrificed to God. Visitors can witness the colourful festivities at
Geylang Serai
. A number of Bazaars are also set up and cultural programmes are held.

Those who are going to Singapore in early August, rejoice! If you are a shopaholic or not, does not matter, because who doesn't shop their hearts out when you get such amazing discounts?! There is no other country in the world that offers such an event and attractive bargains. Orchard Road remains the favourite shopping destination throughout the period and locations like ION Orchard, Tanglin Mall and Orchard Central offer good deals!
Little India
and
Chinatown
are perfect options for cultural street shopping in this period. Be it clothes, jewellery, bags, accessories or even delicious food, Singapore is THE place, and The Great Singapore Sale is the best time.

The best thing about Singapore is that one truly witnesses the fusion of vibrant cultures here. This unique festival - The Hungry Ghost Festival is mostly observed by the Chinese residing in Singapore. Streets come alive during the festive season. It is believed that during this time, the gates of the netherworld are opened for the spirits to roam around in the living world. You will spot large tents in open fields in HDB estates, community centres, and in Chinatown hosting elaborate dinners, organising cultural performances and holding auctions. A number of beliefs and superstitions are attached to this festival, you will also get to hear mysterious and tragic stories; while some people find it scary, a lot of people are fascinated and enjoy this unusual festival!
5. Singapore Night Festival
Held for over two weekends every August, the Singapore Night Festival is the unofficial midsummer celebration for the country, meant to celebrate the art and culture of Singapore and to let people relax and enjoy in the revelry. Stunning light projects, night lights, and performances are also a part of the night festival, and the days are lined up with cultural and heritage events for the merriment of the guests.
What to Pack
If visiting Singapore in August, pack light cotton clothes as the temperature is going to be high.
Do not forget your beachwear and sunscreen lotion.
An umbrella or a raincoat is a must.
Do not forget to bring an extra bag for all the shopping you are going to do during the Great Singapore Sale!
With all these events and cultural activities going on, August become one of the best months to witness and experience the cultural fusion Singapore is famous for. Walk on the paths of Singapore's world-famous gardens amid fresh breeze and beautiful greenery. Not just that, visit museums, spend time on the beach and shop your hearts out because the vibe of Singapore in August can only be felt once a year.


~This article is written by Pranjali Kureel and Muskan Ahuja~