Singapore
is one of the most expensive countries, and this fact can be a little stressful as a tourist destination. Singapore is beautiful with its endless attractions and meticulous city plan that will make the trip hassle-free otherwise. But there are quite a few nuances regarding currency exchanges and the exchange rates of the Singapore Dollar (SGD). It's understandable that dealing with money exchange and searching for the best prices can be stressful. The wide range of payment options may also be confusing at times. To help in solving this problem, this article provides all the information regarding the currency exchange in Singapore.
Singapore Dollars (SGD) Exchange Rate
The following are the rates for currency exchange in Singapore (as on 13 August 2020):
| | |
| --- | --- |
| | SGD |
| 1 US Dollar | 1.37 |
| 1 Euro | 1.63 |
| 1 Indian Rupee | 0.019 |
| 1 Pound Sterling | 1.80 |
| 1 Swiss Franc | 1.51 |
| 1 Canadian Dollar | 1.04 |
| 1 Australian Dollar | 0.99 |
| 1 Japanese Yen | 0.013 |
| 1 Malaysian Ringgit | 0.33 |
| 1 Chinese Yuan | 0.20 |
Local Currency of Singapore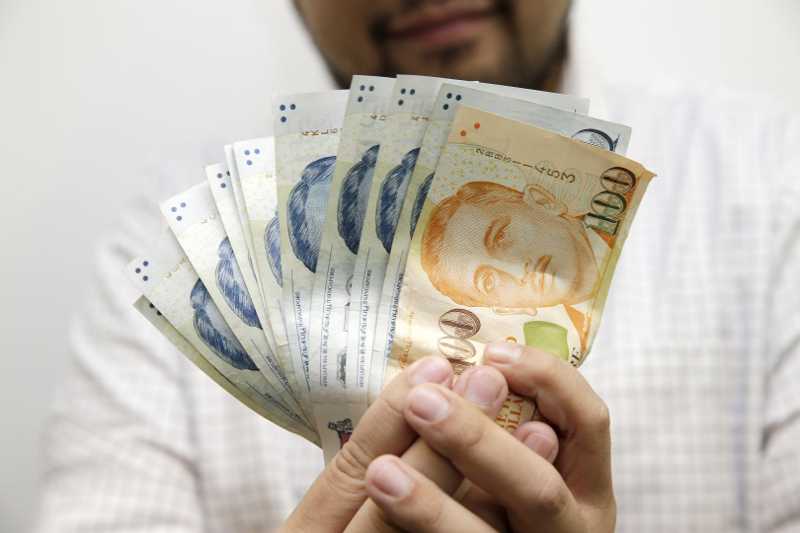 The
Singapore Dollar
is the local currency of Singapore, and as of 2016, it is the 12th highest traded currency in the world. It is divided into 100 cents. It is usually written as $ or SGD to distinguish it from the average dollar. The frequently used denominations of SGD in the form of paper notes are SGD 2, SGD 5, SGD 10, SGD 50, SGD 100 and SGD 1000. The rarely used denominations are SGD 1, SGD 20, SGD 25, SGD 500, and SGD 10000. Among the frequently used coins are 5 cents, 10 cents, 20 cents 50 cents and SGD 1, while those rarely used are 1 cent, SGD 5, SGD 10.
Other Currencies Accepted in Singapore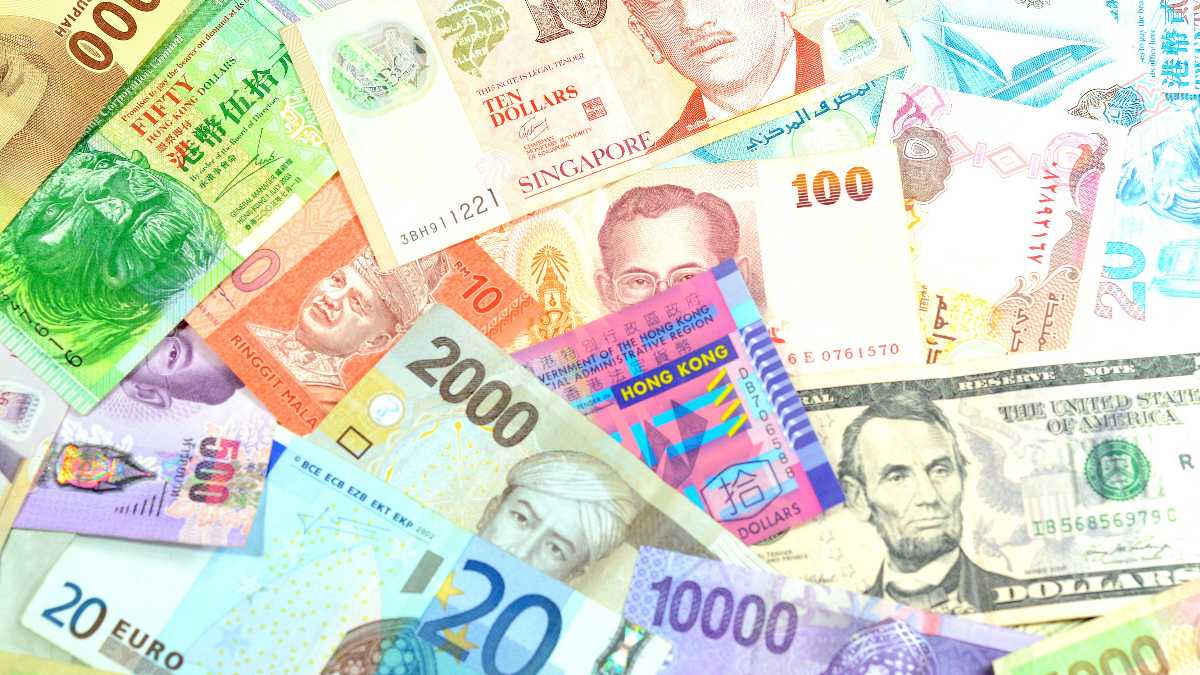 There are a few complicated regulations about currency exchange in Singapore. There is no limit on local and foreign currencies. However, amounts exceeding SGD 20000 or equivalent in forms of traveller cheques, bearer cheque, bill of exchange or promissory note should be declared on arrival. One should also carry the receipt of money exchange with them and report if the cash is more than 5000 USD. Other currencies as the US Dollar are not routinely usable in Singapore. Hence upon arrival, native currencies should be exchanged in any of the existing money exchange centres, including Changi airport or local ATMs.
Credit Cards and ATMs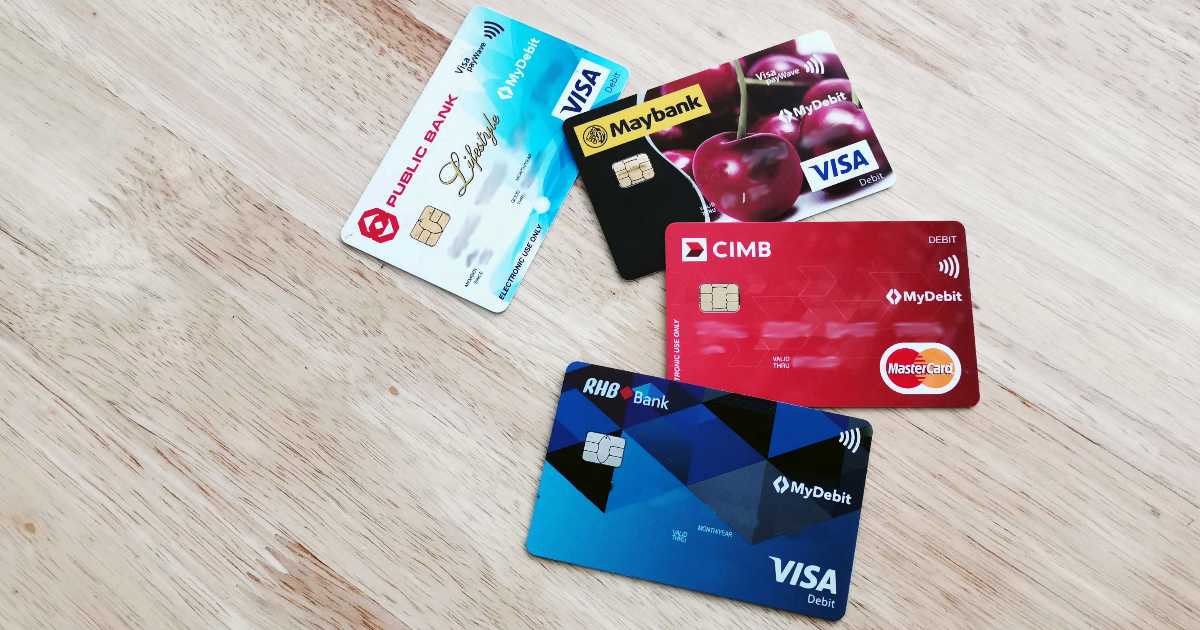 The standard methods of making small transactions for currency exchange in Singapore include cash, cheques, interbank GIRO debit and credit transfers as well as payment cards. Debit and credit cards are readily accepted everywhere in Singapore. Most credit cards are accepted in shopping centres, hotels, and other facilities. Cash is the most accepted means of payment in Singapore. Cheques are also commonly used methods of payments for bills and small-value payments.
A lot of ATMs are spread across Singapore, which makes the withdrawal of cash a handy option. All ATMs allow the user to withdraw their money through a Visa or a MasterCard. A credit card used by the tourist of his home country charges an overseas fee and a fee for foreign currency conversion.
Top Currency Exchange Centres in Singapore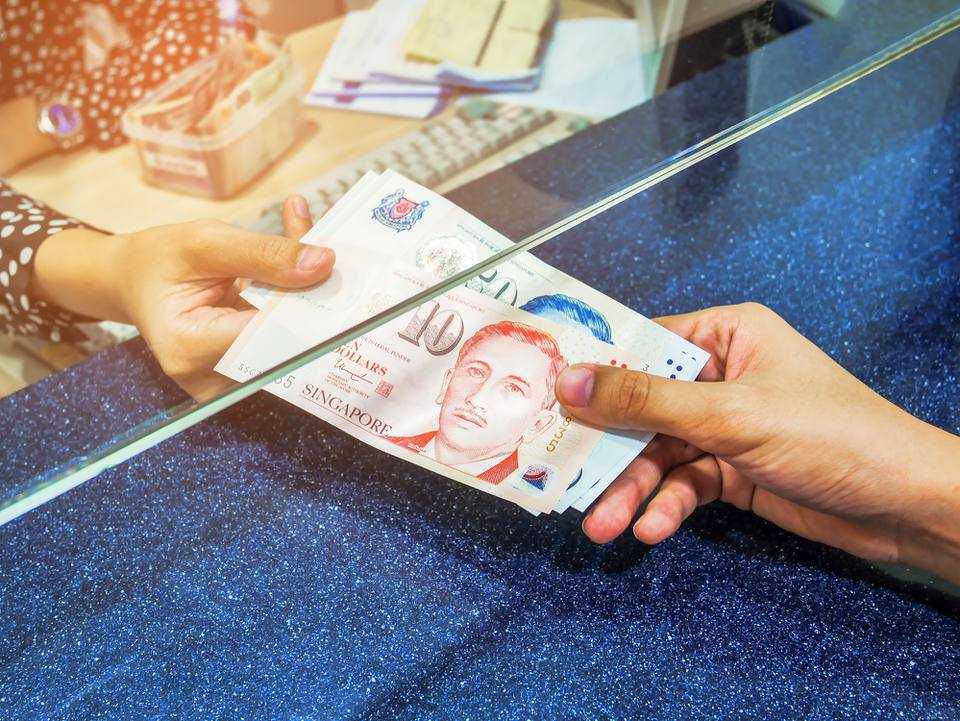 1. The Arcade
The Arcade's convenient location in the Central Business District makes it perfect for quick money exchange, as most of the famous tourist attractions can be found close by. Situated in one of the more upscale neighbourhoods of the city, one can be assured of trustworthy transactions here. Keep in mind that it is advisable to avoid the lunch hour here as it can get quite crowded.
Location: 11 Collyer Quay, Raffles Place
Timings: 10:00 AM – 7:00 PM
Nearest MRT Station: Raffles Place MRT Station
Best Rates: EUR, USD, GBP, MYR, TWD, JPY
Recommended Money Changers: Sheen International Exchange, Hassan & Sons, Arcade Money Changers, People's Corner Money Changers, Arcade Plaza Traders Pvt. Ltd.
2. Lucky Plaza
Located in Orchard Street where upscale, hipster stores are found, Lucky Plaza offers attractive rates for Asian currencies. Perfect for tourists on their way to Thailand, the Philippines, or Malaysia, Lucky Plaza is home to more than 15 money changers where customers can bargain for the best rates. Keep in mind that there aren't many electronic boards that display exchange rates here, so feel free to engage with the staff.
Location: 304 Orchard Road
Timings: 10:00 AM – 9:00 PM
Nearest MRT Station: Orchard MRT Station
Best Rates: PHP, THB, MYR
Recommended Money Changers: Rabi Trading, True Blue Money Changers, Rahiman Trading, Europe Fancy Store, Fajar Money Trading
3. Parkway Parade
One of the oldest and most trusted money exchange centres in Singapore, Parkway Parade is a convenient option for tourists near the East Coast Park area looking to explore offbeat destinations – one can avoid travelling to more crowded business areas in search of money changers and use the services at Parkway Parade instead. The shopping centre also boasts of more than 300 lifestyle stores to splurge in some bargains.
Location: 80 Marine Parade Road
Timings: 10:00 AM – 10:00 PM
Nearest MRT Station: Dakota MRT Station
Best Rates: USD, HKD, JPY, MYR, THB
Recommended Money Changers: Sino Money Changer, Yakadir Enterprises, Everpeace Money Changer
4. Toa Payoh Hub
This popular local shopping hub has many flea markets, convenience stores, salons, and fashion stores that are conveniently located next to the exchange centres. With charming nineteenth-century shophouses lining the streets, shopping here is a sightseeing spree in itself; one can find great rates for Asian currency here.
Location: Toa Payoh Lor 6, HDB Hub
Timings: 10:00 AM – 9:00 PM
Nearest MRT Station: Toa Payoh MRT Station
Best Rates: MYR
Recommended Money Changers: Mayura Money Changer, Golden City Foreign Exchange
5. Sun Plaza
Located close to the Malaysia Causeway, the money changers in Sun Plaza mall offer decent rates for Asian currencies. While the mall is small and not that impressive, the centres here are priced much more reasonably than those in Northpoint City – the short trip to Sembawang is worth it.
Location: 30 Sembawang Drive
Timings: 10:00 AM – 10:00 PM
Nearest MRT Station: Sembawang MRT Station
Best Rates: MYR
Recommended Money Changers: Ahnaaf Money Exchange, Al0Najib Enterprise
6. Bugis Street
Located close to the Queen Street Bus Terminal where cross-country buses to Malaysia ply regularly, this is a comfortable place to exchange currency in Singapore before setting out to Malaysia. While there are money changers within Bugis Junction, it is recommended to visit the centre in the Bugis Street market to get the best rates.
Location: 14A, 2 New Bugis Street
Timings: 10:00 AM – 8:00 PM
Nearest MRT Station: Bugis MRT Station
Best Rates: GBP, AUD, MYR
Recommended Money Changers: Beauty Trading, KSSN Foreign Exchange
7. Mustafa Centre
This shopping centre is open 24 hours, making it a convenient option to exchange currency even during unconventional hours. Mustafa Centre offers great rates for Asian currencies, and the shopping mall within the complex is perfect to spend a few dollars to stock up on souvenirs and essentials even at the last minute. Remember that travellers' cheques are not accepted here.
Location: 145 Syed Alwi Road, Mustafa Centre, Little India
Timings: Open 24 hours
Nearest MRT Station: Farrer Park MRT Station
Best Rates: HKD, IDR, INR, MYR, CNY, PHP, RMB
Recommended Money Changers: Mustafa Foreign Exchange
8. Jurong Point
Located away from the city centre, the exchange centre in Jurong Point is easily accessible to tourists travelling to the heartlands and less-explored areas of Singapore. Be it for a visit to Jurong Bird Park or shopping for woodwork, Jurong Point is perfect for a quick exchange.
Location: #01-18 Jurong Point, 63 Jurong West Central 3, JLP 2
Timings: 10:00 AM – 9:30 PM
Nearest MRT Station: Boon Lay MRT Station
Best Rates: MYR
Recommended Money Changers: Dollar Exchange Pvt. Ltd
9. People's Park Complex
Located in one of the busiest shopping areas in Singapore, People's Park Complex offers good rates for most Asian currencies. With more than 20 money changers in the same building, one can be assured of competitive pricing – don't hesitate to haggle and bargain. Use the newly exchanged currency to shop for souvenirs, handmade toys, clothes, accessories, and many more wonders from Chinatown. Keep in mind that this location is always crowded, so take care of belongings.
Location: 1 Park Road, Chinatown
Timings: 9:00 AM – 9:00 PM
Nearest MRT Station: Chinatown MRT Station
Best Rates: HKD, THB, CNY, MYR, PHP
Recommended Money Changers: Today's Money Exchange, AK Money Changer and Department Store, Crante Money Exchange, Emerald Money Changers
10. Online Money Changers
Singapore has seen a surge in online money changing services – these websites don't charge an extra commission, and provide standard market exchange rates. Patrons can choose the currency at hand, pay online, and choose the delivery place and time.
Recommended Money Changers: www.thinmargin.com, www.marcopolee.com
How Much Currency to Carry to Singapore?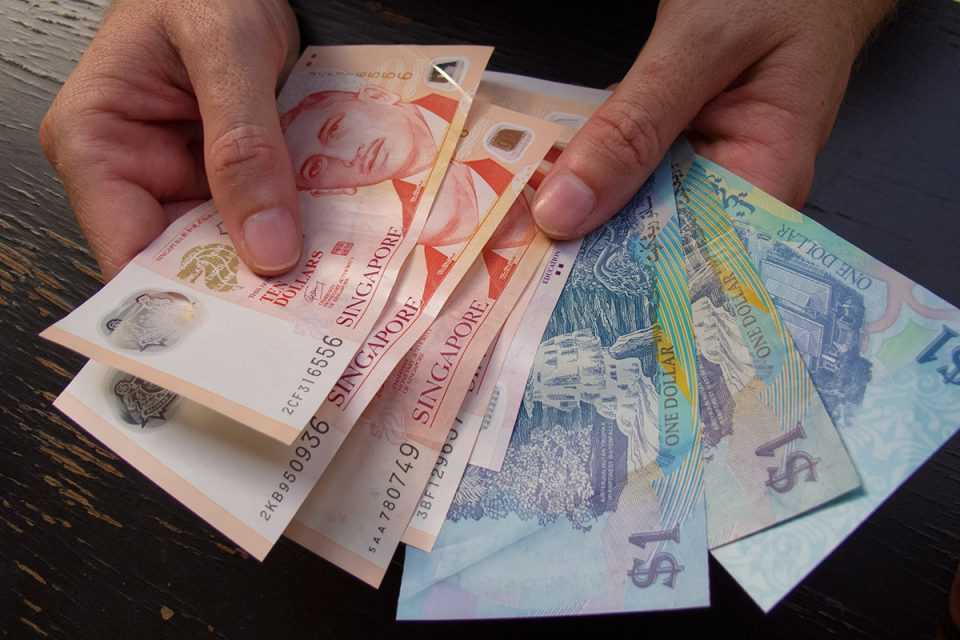 Singapore, unlike other tourist destinations, is an expensive country to be in. The standard rate for a single person per day is about 100 SGD, which would allow him to eat, drink and enter some attractions sufficiently. To give a notion about the expenses of some typical items of Singapore:
An average can or a bottle of beer of 330ml would cost around SGD 11.40, but purchasing it at the supermarkets would cost around SGD 2.60.
A bottle of one litre of drinking water in places like the Fairprice or Sheng Shong would cost between 1.8 to 2 SGD. However, the same bottle would be charged SGD 4 to 6 in tourist hubs like Sensota or Night Safari.
An average meal would cost from 6SGD-10SGD at hawker's centre to 120SGD at the Equinox.
Keeping the above tips about the currency exchange in Singapore, make sure to keep your currency matters planned and sorted before visiting. Restrict yourself from complicated means of transactions and instead, go for the simpler ones which have been mentioned, and we can assure you that the trip will be an easy one.
~This article is written by Saptorshi Gupta and Nivedha Narayanaswamy~