Singapore
, like other parts of the world, is already swayed by the magnificence of Yoga. This ancient practice has generated an increasing base of yogis and yoga studios in the country. It doesn't matter if you are an expert practitioner or just a novice looking for some indulging yoga sessions, here are the top 10 yoga studios in Singapore to suit your needs.
1. The Yoga Collective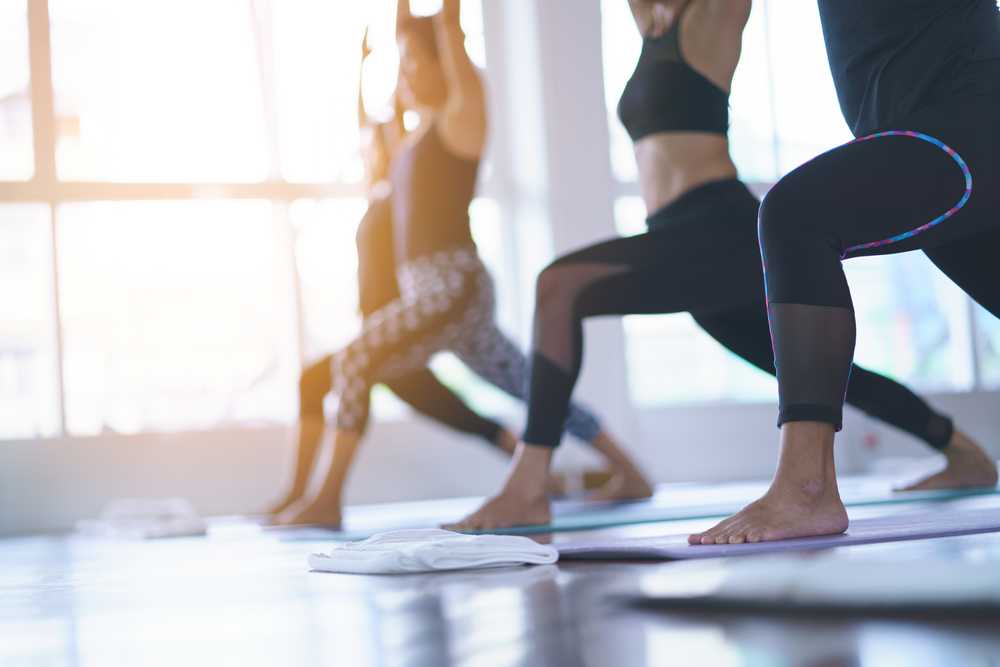 The Yoga Collective believes in traditional yoga practices and philosophies to heal its students. Apart from yoga, its classes also incorporate some other form of exercises like HIIT (high-intensity interval training) and callisthenics to build flexibility, stamina and strength. These exercises also help in conditioning and toning the muscles through full-body workout sessions.
Location: Rochor
Class Type: It incorporates 9 different classes of yoga: Flow, Hatha, Back to Basics, Inversions and Arm Balance, Yin Yang, Yin, Triple Threat Bootcamp and Core
Pricing: (per person)
Day Pass - SGD 35
Monthly Pass - SGD 220
2. Yoga Movement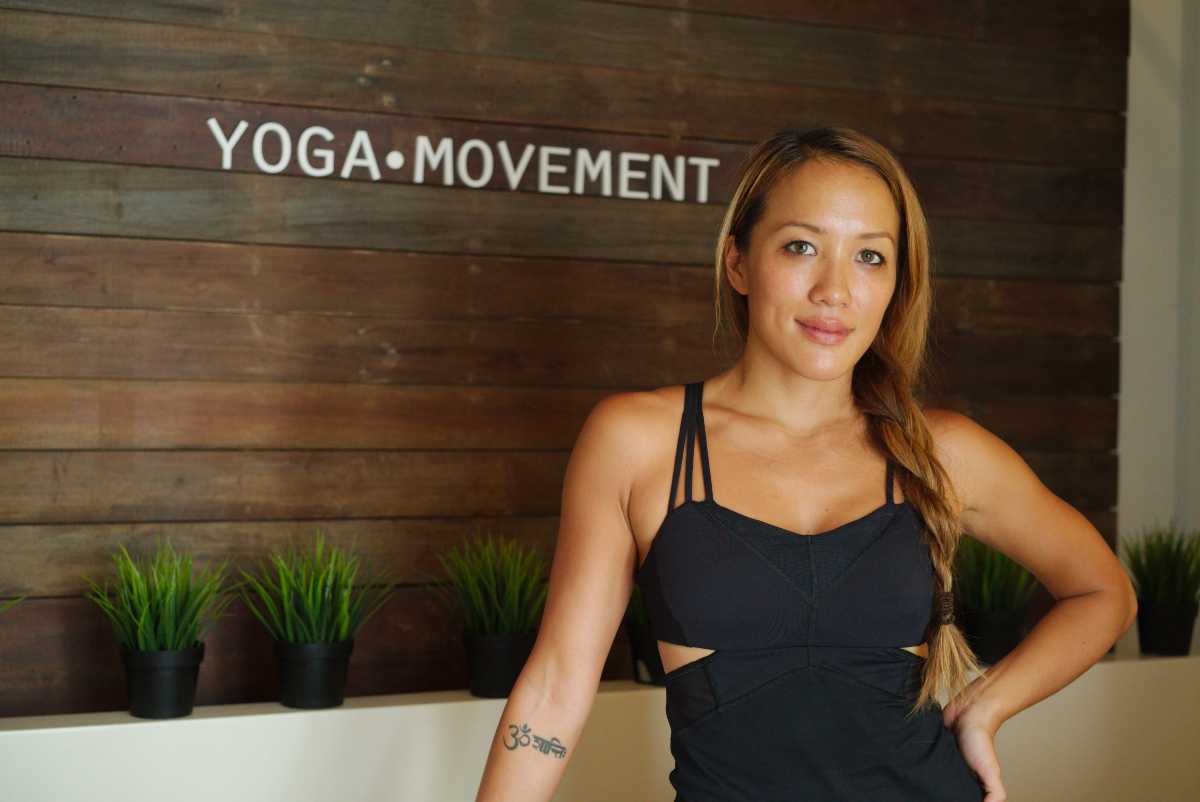 This one started as a small concept at the Carpenter Street but soon expanded to six more studios in Singapore. It offers more than 300 classes per week, and each one of them provides multi-level practice sessions, which makes it accessible to everyone, irrespective of their skillset. The USP of this studio is that it offers a reward for the ones who attend classes frequently.
Location: 6 outlets at Raffles Place, East Coast, Orchard 22, Robertson Quay, Tanjong Pagar and Tiong Bahru.
Class Type: Basic and Advanced level yoga sessions.
Pricing: (per person)
Day Pass - SGD 35
Monthly Packages - SGD 130 onwards
3. Upside Motion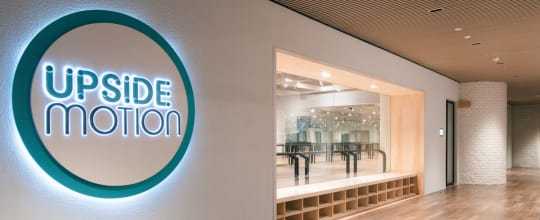 Upside Motion offers three different classes for building lean muscle, increasing flexibility and training the core, which includes daily yoga sessions as well. You can even indulge in some mentally awakening asanas, learn different breathing techniques and correct your mind & body alignment. All three classes range from slow-paced workout styles to dynamic ones.
Location: Orchard, Shenton Way and Armenian St.
Class Type: Yoga for beginners, yoga vinyasa and yin yoga
Pricing: (per person)
Single Class - SGD 49
Monthly Packages - SGD 355 onwards
4. Yoga Inc.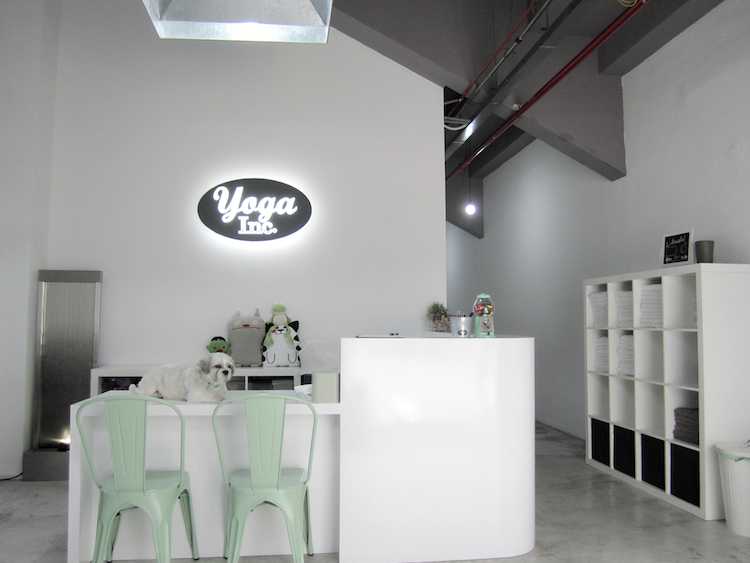 Yoga Inc. is all about 'low-key' yoga practice studio. It takes pride in calling itself a 'very local studio'. The main attraction of Yoga Inc. studio is Ah Bui, the in-house PR manager. Ah Bui is a rescue dog, whose age and breed is unknown to the owner, Ashly Lou. The instructors here are not well-versed in English, the studios aren't even air-conditioned, and they take not more than 20 students for practice at one go.
Location: Tiong Bahru
Class Type: It offers 12 different classes of yoga: Basics, Hot Classic, Hatha, Hatha 2, Hatha 3, Flow, Warm Stretch, Yin, Restorative, Core, and also Prenatal and Kids Yoga during the school holiday season.
Pricing: (per person)
Single Day Class - SGD 30
Monthly Packages - SGD 250 onwards(10 classes a month)
5. Freedom Yoga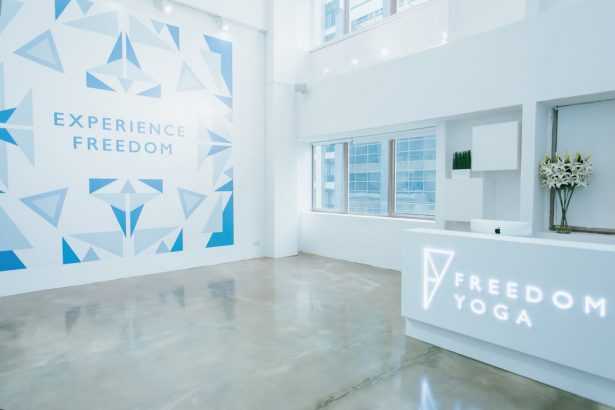 It is situated at a quiet corner of the Holland Village in Singapore and offers both hot and non-hot yoga classes. Here, you can let yourself loose in a specially choreographed yoga flow, known as Flo-ga, with the beats of the latest music numbers. Their main aim is to make you flexible by bending, twisting and balancing through the triangles, warriors, lunges, and different half-moon poses. If you think you have two left feet, do not worry! The instructors here will start the sessions with a warm-up and some simple routines before proceeding towards the last 15 minutes of the final song.
Location: Bukit Timah, Cecil Street and Amoy Street.
Class Type: It offers 12 different classes of Basics and Basics II, Power Up 75, Power Up, Crunch Time, Freedom Flow, Upside Down, Yin Yang, Freedom Blaze, Time Out, Yogahour and Flo-ga.
Pricing: (per person)
Single Class - SGD 30
Monthly Packages - SGD 250 onwards(10 classes a month)
6. Yoga+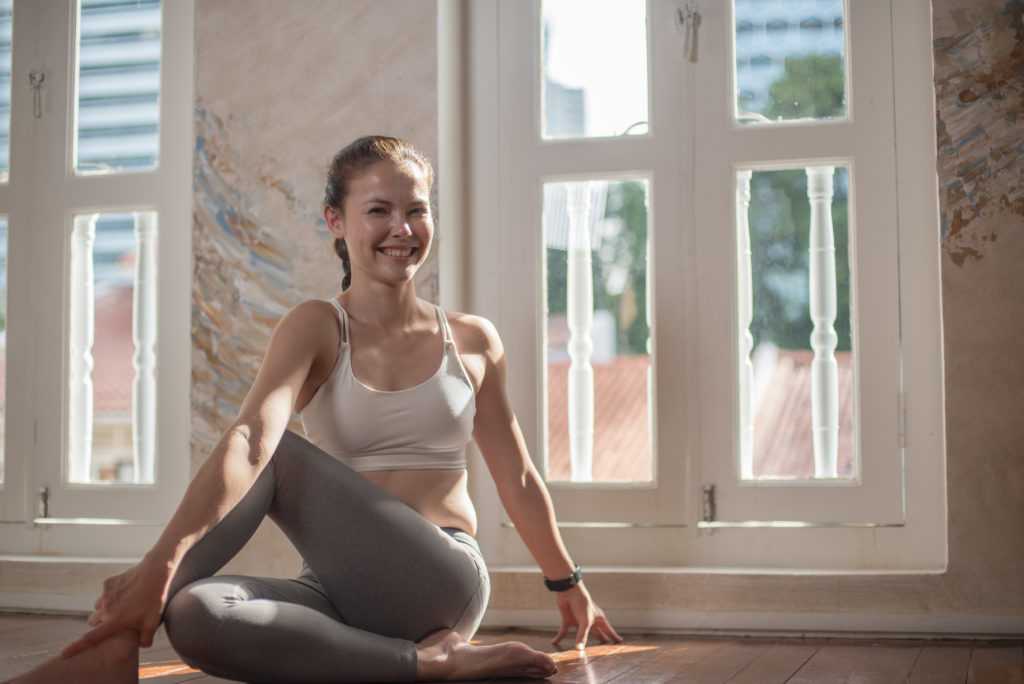 It is one of the most photogenic studios in Singapore and here, the classes are generally vinyasa-based which caters to a wide range of abilities. Here, you will not just learn yoga but also be able to focus on your health and wellness to instil mindful living. You will get to be a part of regular art jams, book clubs and much more. One class can fit around 15 students at a time.
Location: Chinatown
Class Type: It offers 12 different yoga classes: Basic, Flow, Power, Power+, Invert, Invert+, Stretch, Revitalise, Prenatal, Yoga Dance, CardioFlow (yoga and HIIT) and Yogasthenics (yoga and callisthenics).
Pricing: (per person)
Single Class - SGD 30
Monthly Packages - SGD 140 onwards (five classes a month)
7. Hom Yoga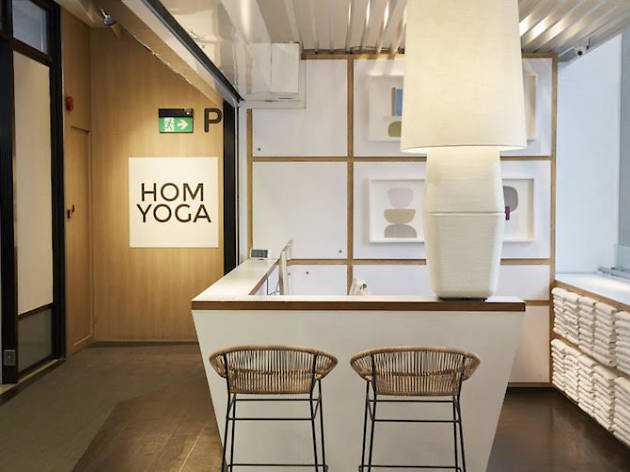 Hom Yoga is a 'socially conscious yoga studio', according to Malvina Kang, its owner. She works closely with several non-profit brands as well as the local community to 'inspire a more inclusive future for all'. You can participate in the community classes, carried out graduates in training. The proceeds from these classes are donated to the Singapore Committee for UN Women, its long-term charity partner.
Location: Raffles Place
Class Type: Hom Yoga offers 13 different forms of yoga classes: Basics, Vinyasa Flow, Hot Hatha, Classical Hatha, Yin, Hot Flow, Ashtanga, Ashtanga Fundamentals, Yin Yang, Anusara, Universal Yoga, Prenatal and Community Class.
Pricing: (per person)
Per Class - SGD 32
Monthly Memberships - SGD 190 onwards
8. Pure Yoga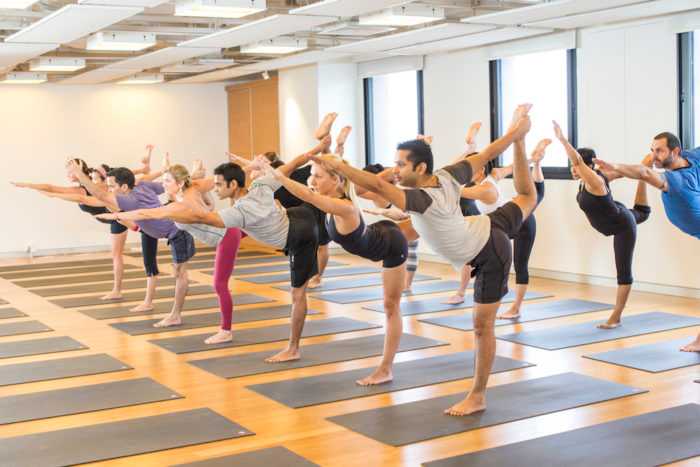 This yoga studio's rooms are well-equipped with the things that are needed for a perfect yoga session. There are heaters for hot yoga and aerial yoga equipment and wall ropes. If you are a member of this, you can learn from a various range of yoga classes in both traditional and contemporary styles. There are prenatal and postnatal yoga sessions also, along with special yoga classes for kids. You can get your yoga gear from the in-house store or grab a quick healthy bite after the session from their in-house café.
Location: Raffles Place
Class Type: There are advanced and aerial yoga classes along with all basic forms of normal and hot yoga
Pricing: SGD 140 to SGD 190 (per month/person)
9. Yoga Lab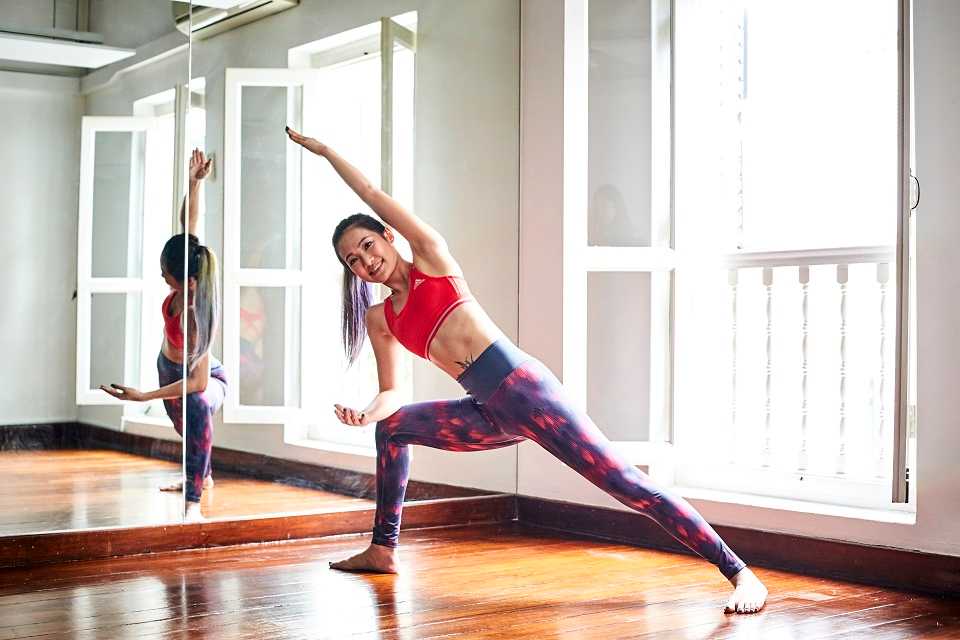 Yoga Lab has yoga classes which are best suited for all kinds of yoga practitioners – amateurs and experts. Each of the courses has a duration of 45 to 90 minutes. Here, you will learn hot yoga and also a different form of Stretch which will help you to build flexibility and proper postures. You also get to choose two out of different classes from the Yoga Lab's Chemistry chart and get the kind of practice that you want.
Location: Tanjong Pagar, Boon Tat Street and East Coast Road
Class Type: Classes are split into Biology and Physics. The biology part focusses into physical wellness, while the physics classes are all about exploring various poses and postures through yoga.
Pricing: (per person)
Single Class - SGD 30
Monthly Packages - SGD 250 onwards (10 classes a month)
10. Art of Yoga
You can easily find your zen in this boutique yoga studio, which is located in a cosy place of the East Coast. It runs a total of 69 classes and has a maximum number of 20 learners per class. When you are a regular at this place, you can also pick up some artisanal products from their in-house brands like The Mala Company and Homemade Handmade.
Location: Bedok
Class Type: Various forms of yoga classes ranging from ashtanga Mysore program to vinyasa yoga
Pricing: (per person)
Single Class - SGD 30
Monthly Packages - SGD 260 onwards (10 classes a month)
11. The Yoga Space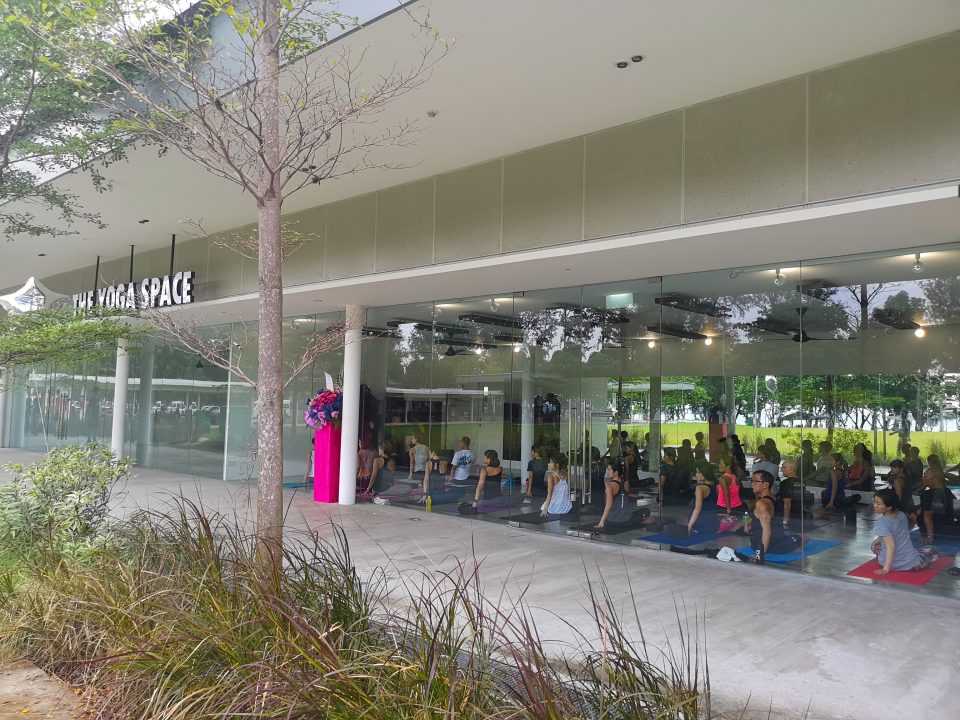 This sea view yoga class is one of the best ones to rewind while you take care of your health as well. Here, you will need to bring your towels and mats. One yoga session here after work will rejuvenate you from within.
Location: Parkland Green
Class Type: Basic yoga, which is perfect for beginners. Flow, Hatha, Hot 26, Stretch and cardio-based Bootcamp
Pricing: SGD 18 (per person for a single class)
12. Sweatbox Yoga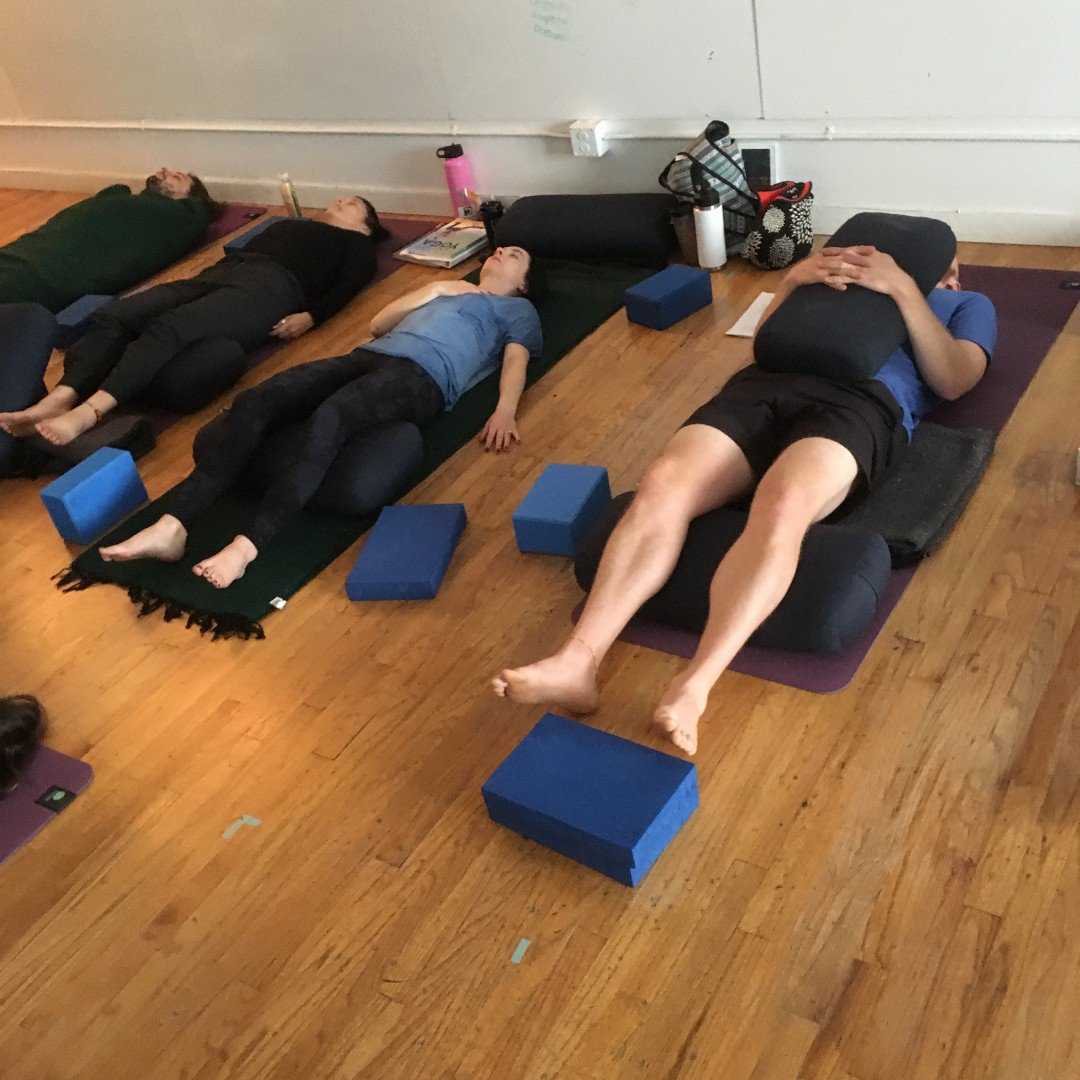 This one provides high-intensity yoga classes, and if you are ready to sweat bucket loads, then this is the place for you! And it doesn't matter whether you are an amateur in yoga or an expert in the same, Sweatbox Yoga is perfect for you.
Location: The Grandstand and OUE Downtown Gallery.
Class Type: Hot Yoga, Yin Yoga, Core Yoga and HIIT.
Pricing: (per person)
Single class - SGD 20
15 classes per person - SGD 15.30 (valid for a year)
13. The Yoga School
Here, you will get to practice yoga against the stunning backdrop of the beautiful city's skyline. The stylish in-house lounge is perfect for hanging out after a yoga session. They will offer all sorts of yoga asanas, and you will like to be a part of them.
Location: Raffles Place
Class Type: Hatha Radja, Flow, Meditate, Prenatal, Begin, Kundalini, Lyengar Yoga, Core, Build and Yin.
Pricing: (per person)
Single Class - SGD 38
Monthly Packages - SGD 280 onwards (10 classes a month)
14. Jal Yoga
The most exclusive form of yoga imparted here is infrared yoga. And it is a lot different from hot yoga. Infrared yoga is more refreshing than hot yoga, and it is best experienced here in this place. So, unlike hot yoga, you will not have to deal with an excessively hot room and a stuffy nose. This one is comfortable, and you will soon get used to it.
Location: Labrador Park
Class Type: They provide 18 different yoga classes which include Pilates, Kinetic Yoga, Laughing Yoga, and Bhakti Yoga.
Pricing: (per person)
Single Class - SGD 45
Monthly Packages - SGD 155 to SGD 159 onwards 
15. Platinum Yoga
This is one award-winning yoga studio in Singapore, where you can learn different forms of yoga and take your next step towards leading a healthy life. If you need a personal trainer, you will get it too, over here. Just get in touch with the yoga gurus and get ready for a perfect one-on-one session which will be tailored to your demands.
Location: City Hall
Class Type: HIIT, Therapeutic Yoga, Vinyasa Yoga, Aerial Yoga, and much more
Pricing: SGD 100 to SGD 130 (per person per month)
So, aren't you all set get enrolled in one of these already? Just pick one which you think is the best for you and go ahead. This one simple step will motivate you towards leading the fittest and healthiest life.