With expensive cars and well-planned roads,
Singapore
will tempt you to get to the steering and drive off. However, as a tourist, instead of a smooth ride, you might end up in jail as there are stringent rules and regulations related to driving in Singapore. The tourists need to get an International Driving License in Singapore and other permits to drive legally. So, make sure before zooming off with a dreamy car, you know about all the rules and regulations of driving in Singapore.
What is an International Driving Permit?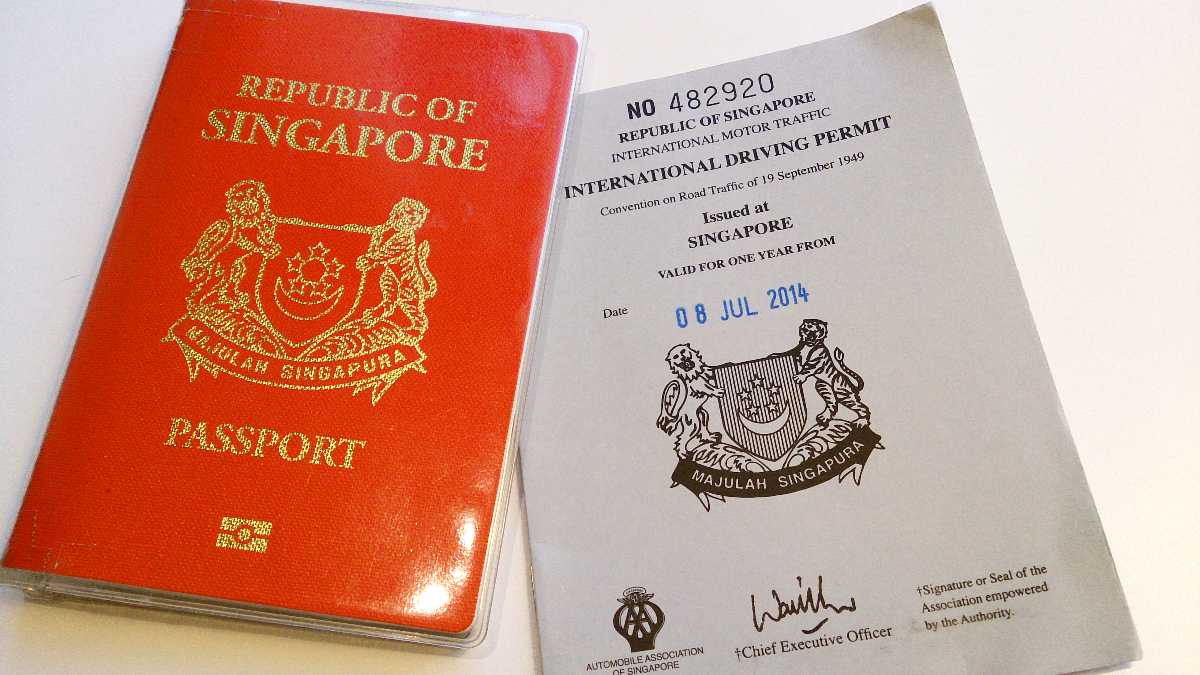 The International Driving License or Permit is a translation of your National Driving License which essentially allows foreigners to drive motor vehicles in a foreign country. It usually enlists the name, photograph and other essential details in multiple languages so that it is understandable to most of the local officials of the countries. International Driving License also certifies that you are authorised to drive a specific category of vehicles in that country and also ensures road safety. The International Driving Permit is valid for one year. If you are planning to stay in a country for more than three months, you must contact their embassy to make arrangements for a valid driving license.
International Driving License (IDL) can come in handy in situations like:
Traffic violations
Car rental
Traffic accidents
Verifying driver with photo identification
Motor insurance claims
What are the International Driving Permit Conditions of Issue and Validity?
Conditions of Issue
The IDP cannot be issued the people holding foreign driving licenses. The driving permit must be applied in the country where the original driving license was issued
The driving permit needs to have a photograph of the applicant. Those applying online can submit the passport-sized photograph in JPG format. For the walk-in applicants, the photo is taken on-site, without any extra charge.
The driving license should not be defaced or damaged in any way.
Validity
The International Driving Licence is valid for a period of one year from the date of issue and is non-renewable.
When driving in Singapore, make sure that you always carry your driving license along with the international driving permit.
The international driving permit is not valid in the home country
Can Tourists Drive Freely in Singapore?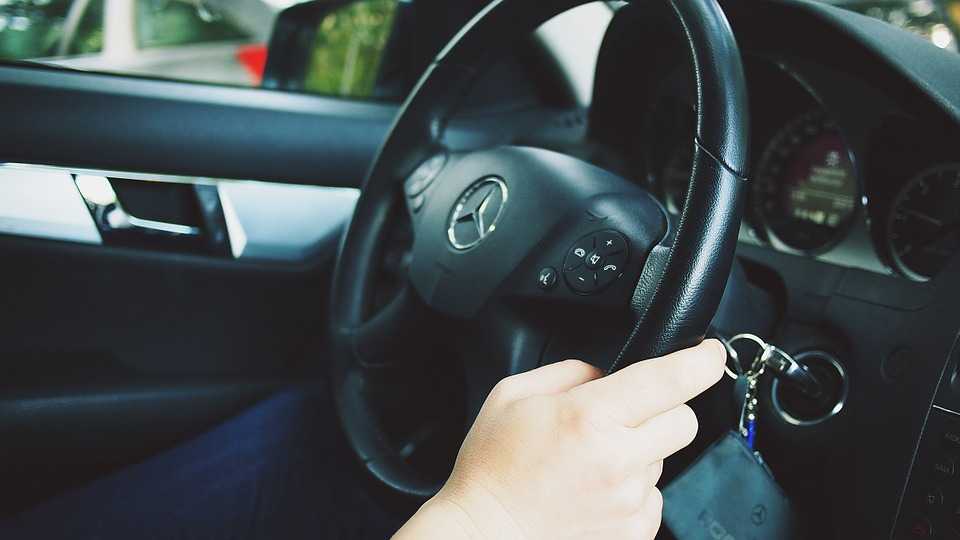 Driving eligibility in Singapore varies for short term and long term visitors. Possession of an International Driving License in Singapore makes the entire process very easy and hassle-free. So, you should know when you are required to possess one.
Driving in Singapore for Short Term Visitors (less than 12 months):
As tourists, above the age of 18 years, willing to drive in Singapore, you will need a valid driving license in English and an International Driving License.
International Driving License is usually issued by your home country, where your driving license was issued. If it is not available, an official translation of your foreign driving license in English is required.
Driving in Singapore for Long Term Visitors (more than 12 months):
Long term visitors like Permanent Residents, Long term residents and students, must possess a valid Singapore Driving License, to drive legally in Singapore. They can convert their Foreign Driving License to a Singapore Driving License by following two simple steps:
How to Get an International Driving Permit in Singapore?
Step 1

You need to pass the Singapore Basic Theory Test (BTT). Overseas tests are not valid in Singapore. It can be done by creating an account with any of the three driving centres listed below before. You can book your BTT either in person or via online mode.
The three centres are:
1. Bukit Batok Driving Centre

Address:815 Bukit Batok West Ave 5, Singapore 659085
Contact: 1800 666 8888
2. ComfortDelGro Driving Centre

Address:205 Ubi Ave 4, Singapore 408805
Contact: 6841 8900, 6848 0617
3. Singapore Safety Driving Centre

Address: 2 Woodlands Industrial Park E4, Singapore 757387
Contact: 6482 6060
Step 2

After the test, you need to apply for conversion of the license at the Traffic Police Headquarters in 10 Ubi Ave 3, Singapore 408865.
What are the Documents Required to Obtain an International Driving License in Singapore?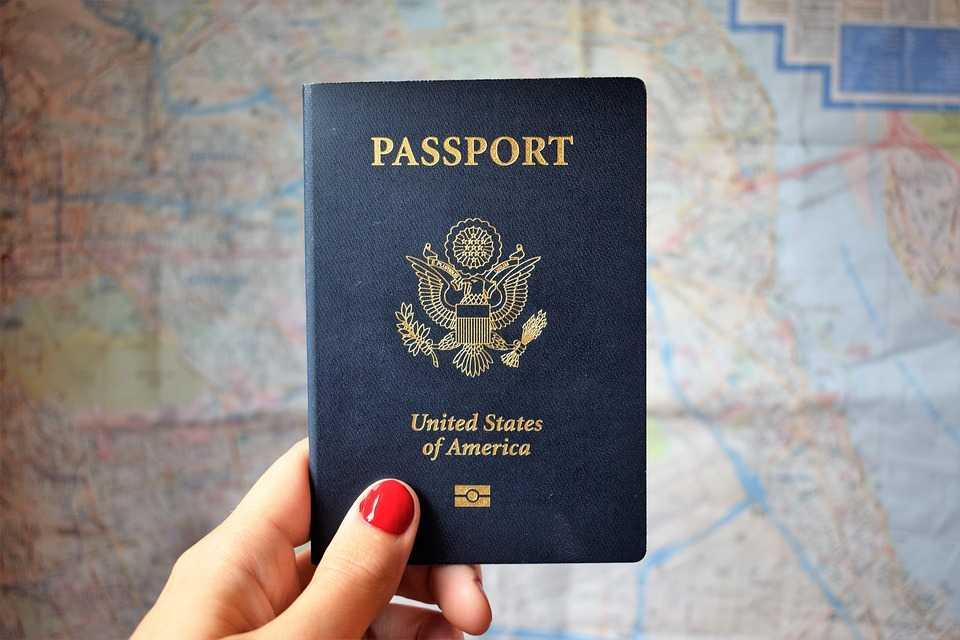 Original and a photocopied version of your passport and NRIC/entry permit/employment pass/dependent pass/social visit pass/work permit, to prove authenticity.
Original and a photocopy of the applicant's valid foreign driving licence needs to be produced.
A recent matte passport-sized colour photograph with the following specifications- a white background, eyes straight, and both ears and eyebrows should be visible. No headgear should be visible unless generally worn for religious purposes.
The foreign driving licence should be in English. If not, you must have an international driving permit or an official translation of your driving licence in English. Interpretation of the license would not be a necessity if Brunei, Indonesia and Malaysian embassies issued the applicant's permission.
If your foreign driving licence does not contain the initial date of issue, you are required to obtain an extract of the record from the Licensing Authority of the authorities that processed your foreign driving licence.
The foreign driving licence should be obtained before the issuance of the long term visitor passes like work pass, student pass etc.
Note: A fee of $50 (payment by CashCard and NETS only) will be charged per application.
For citizens and permanent residents, this license needs no renewal, but for foreigners, the international driving license in Singapore is valid for five years and needs to be renewed a month before expiry. New citizens and permanent residents should convert their foreign driving license within the first three months after obtaining the status.
Those long term visitors with a Singapore Driving License, who wish to apply for an International Driving License in Singapore; it can be done via the Automobile Association of Singapore. It is the only authorised issuer in Singapore.
The Singaporean Automobile Association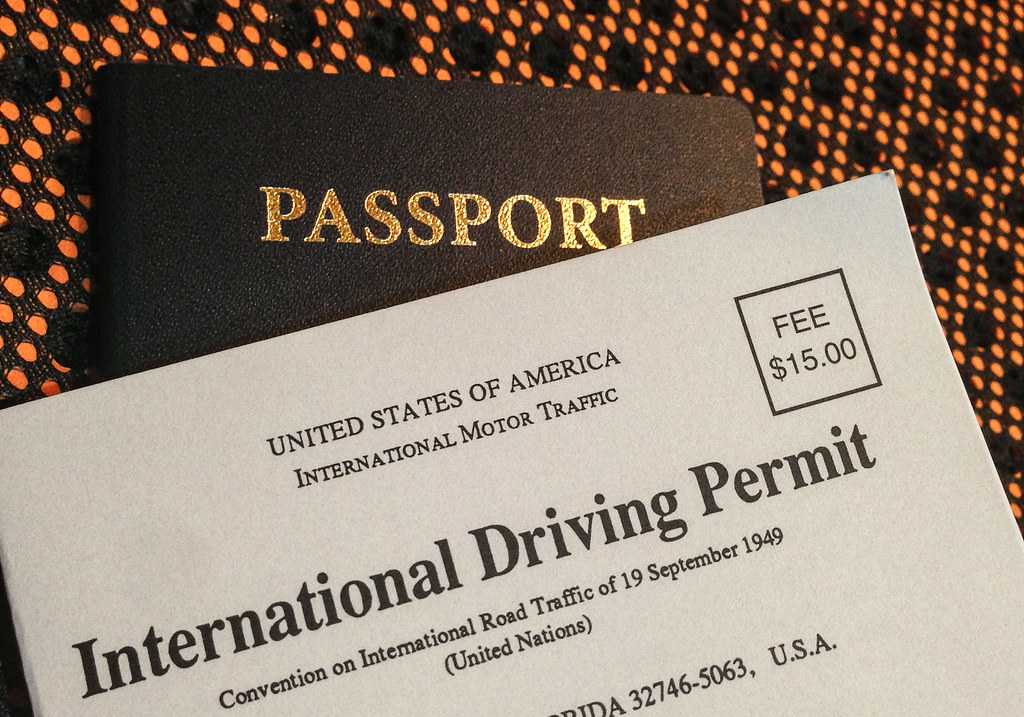 Only the Automobile Association of Singapore is authorised to issue International Driving License in Singapore. You can either apply online or opt for the walk-in option at their office. It usually takes seven working days to get issued via local delivery; however, if you want it urgently, you can submit a walk-in application at their office in Kallang Bahru and Ang Mo Kio to receive your License on the spot.
It only takes an hour with a cost of $20 for a validity of one year.
Note: An additional fee of $5.50 is charged as courier fee for online applications.
Necessities for Walk-in Applications
1. A valid Singapore Driving License(for Singapore citizens, Permanent Residents and foreigners)
2. Applicants must have both their Singaporean Driving License and NRIC at the time of applying.
There are two offices which you can go to for walk-in application-
GB Point at Kallang Bahru
51 AMK at Ang Mo Kio
Requirements for Online Applications
A copy of your Singapore driving licence must be scanned and uploaded (both sides)
Singaporeans must upload a scanned copy of their NRIC (both sides)
Permanent Residents and foreigners must upload a scanned copy of the employment pass/FIN Card (both sides).
A coloured passport size photograph of the applicant in a plain light background. It should be taken within the last two years and have sharp image resolution, without any watermark. Photos with watermark (like those on your passport or NRIC) will be rejected.
Driving Rules in Singapore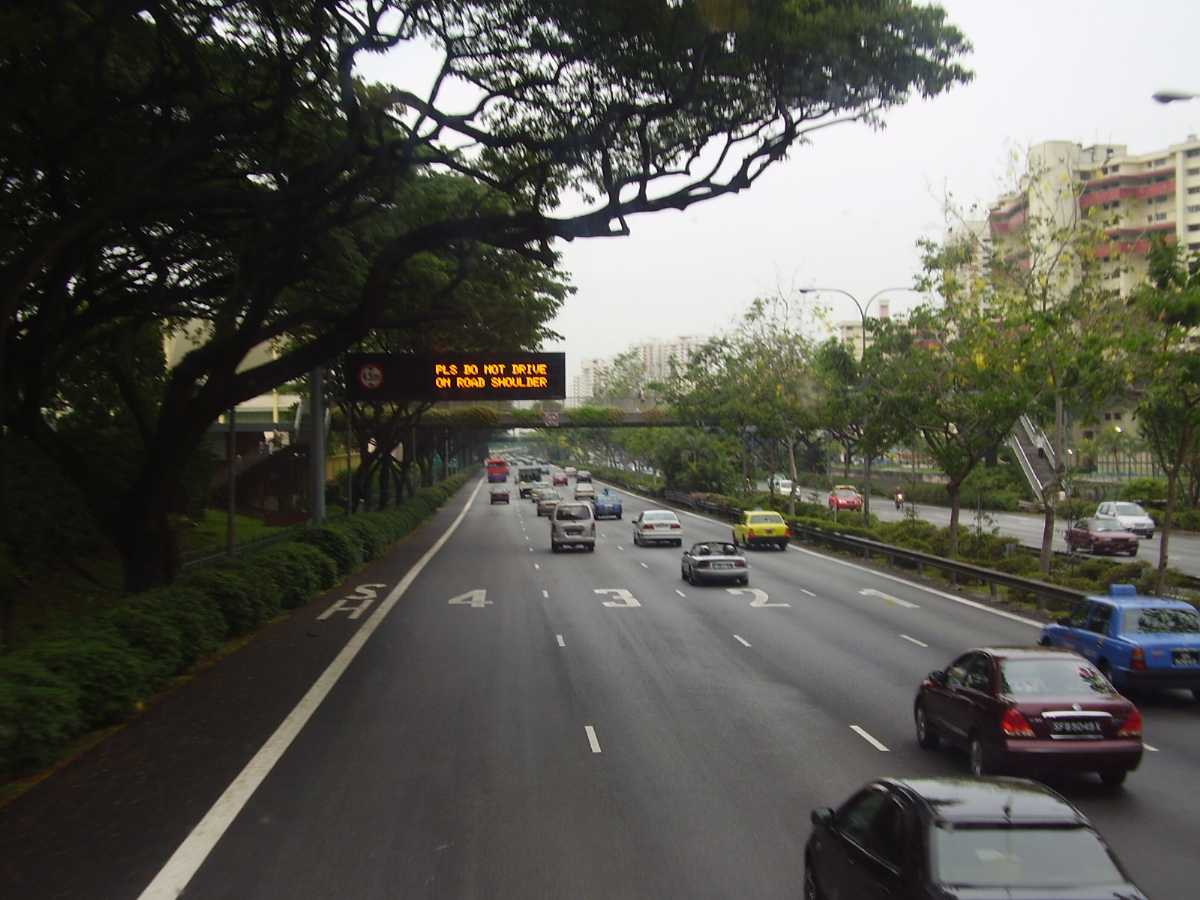 In Singapore, motor vehicles drive on the left side of the road.
Like most countries, drinking and driving is an offence, in Singapore. 0.80 mg of alcohol per 100 ml of blood is the legal Blood Alcohol Content (BAC) limit.
Seat belts and child seats are mandatory. Anyone below 1.35m should be secured with a child restraint appropriate for a person of that height and weight. Use a booster seat to supplement the seat belt or an adjustable seat belt.
Reckless driving is a severe offence in Singapore and can result in a fine and demerit points on one's driving licence.
If you're driving between 7:00 AM and 7:00 AM, your car's headlights must be turned on.
Regulatory signs are usually in red or blue and are compulsory. They help to regulate the movement of traffic and not abiding by the rules is considered an offence in Singapore.
Tips for Driving in Singapore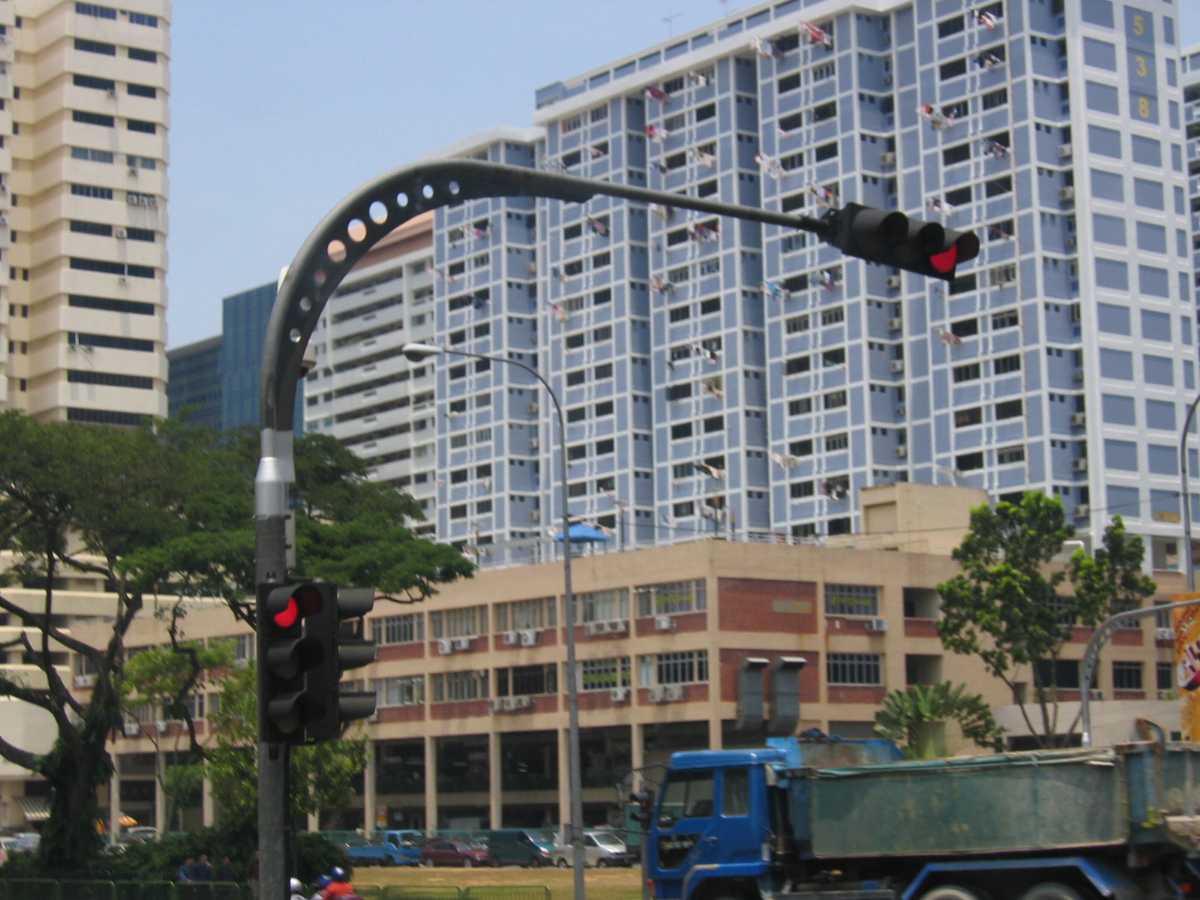 1.
Speed limit
-You should abide by the speed limits enforced by the Land Authority of Singapore to ensure safety in Singapore. Here is a table on speed limits for your reference.
| | | |
| --- | --- | --- |
| Vehicle Type | Road | Expressway |
| Cars and motorcycles | 50 km/h | 70-90km/h |
| Light commercial vehicles | 50 km/h | 60-70 km/h |
2.
Illegal parking-
In Singapore, it is illegal to park your car anywhere on the road. It might lead to an issue of a Parking Notice. The land authority of Singapore has very stringent parking regulations to ensure smooth traffic and safety for the people.
3.
Bus lane schemes-
Buses are given priority at specific times of the day to provide faster journeys for commuters. You can be fined up to SGD 1000 or even have to serve 3-months imprisonment if you drive on the bus lanes during restricted hours.
4.
Be extra cautious-
Whenever you enter a school area or a silver zone while passing by a crowded bus stop or a taxi bay, approach a crossing etc.
5.
Signal in advance
- Alert pedestrians of your intentions of lane changing to avoid accidents.
6.
Follow safe distance
- Do not tailgate while driving. It gives you little time to react to the actions of the car in front of you and might be dangerous.
Public transportation in Singapore is very continent and cheap, but a self-driven vacation allows you to explore the unexplored. However, it is never safe to drive off without knowing the rules and regulations that ensure road safety and Singapore happens to be a country, very particular about this. This is a good sign as it has reduced the road mishaps considerably.
So, whether you will resort to public transportation or an International Driving License in Singapore is totally up to you; however, possession of such a license will ensure a hassle-free trip to Singapore.