The 
rich culture of Vietnam
is not hidden from anyone in this world. Everyone who visits the country can't help but appreciate the cultural and spiritual values which are prevalent in every nook and corner of
Vietnam
. Naturally, there is no dearth of temples, places of worship that are overflowing with peace and serenity. Here are ten temples in Vietnam, each one of them with its own unique tale about the country, its people, its history and its culture:
Hindu Temples in Vietnam
1. Mariamman Temple
Address: 45 Truong Dinh, Phuong Ben Thành, Quan 1, Ho Chí Minh City, Vietnam
Timings: 7:00 AM - 12:00 PM and 2:00 PM - 7:00 PM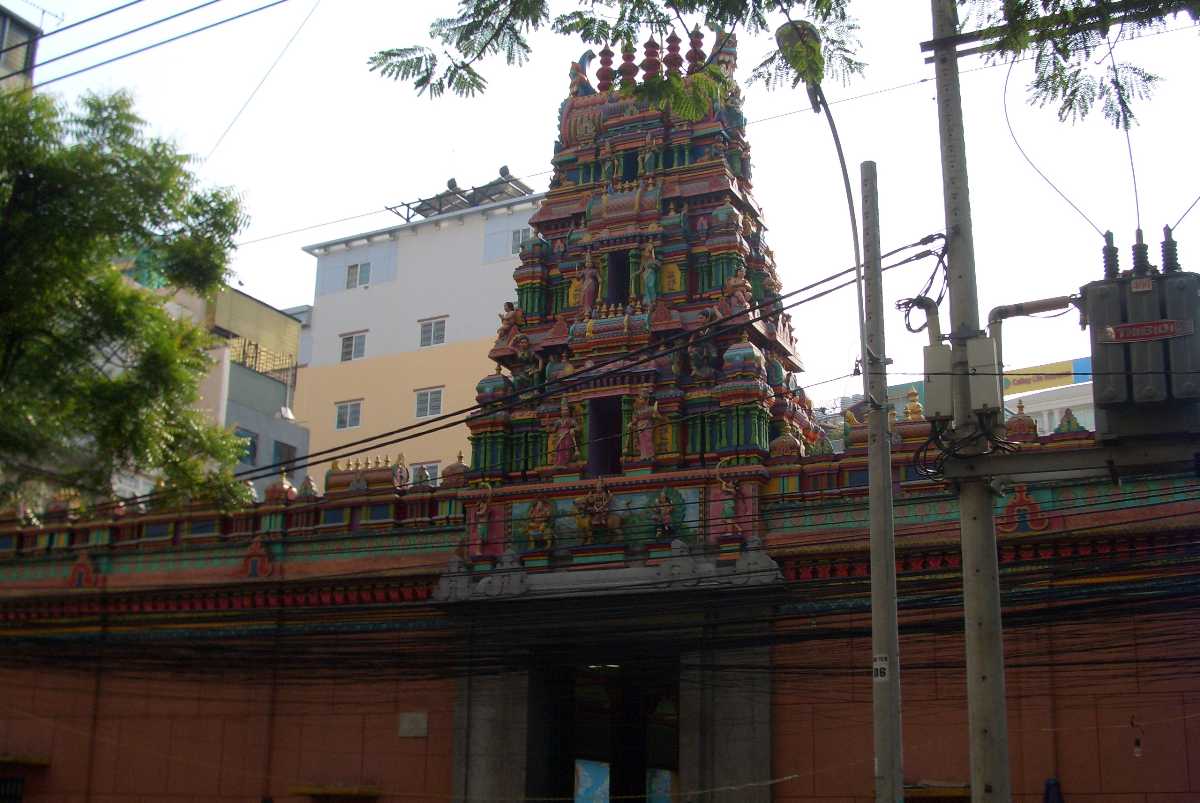 Established by Tamil merchants in late 19th century, who came here for trade purposes in Vietnam, the
Mariamman Temple in Ho Chi Minh City
is dedicated to the Hindu Goddess Mariamman. It is called Chua Ba Mariamman in Vietnamese. More than a temple, it reflects south Indian traditions within its walls and hence, it is very popular among Indians. However, due to its intricate stone work, even foreign nationals find this temple in Vietnam exquisite. There are statues of all major Hindu gods and goddesses, such as Brahma, Vishnu, Shiva, Ganesha,  Krishna, Laxmi, Saraswati and Maryam. Thanks to the peaceful environment, it is an ideal place for meditation. It is very well-maintained and is a fine example of a Hindu temple. The fact that it is located very close to
Ben Thanh market
, in the heart of 
Ho Chi Minh City
, makes it easily accessible too.
2. Po Nagar Tower
Address: 2 Tháng 4, Vinh Phuoc, Thành pho Nha Trang, Khánh Hòa 650000, Vietnam
Timings: 8:00 AM - 6:00 PM
Entry Fee: VND 22000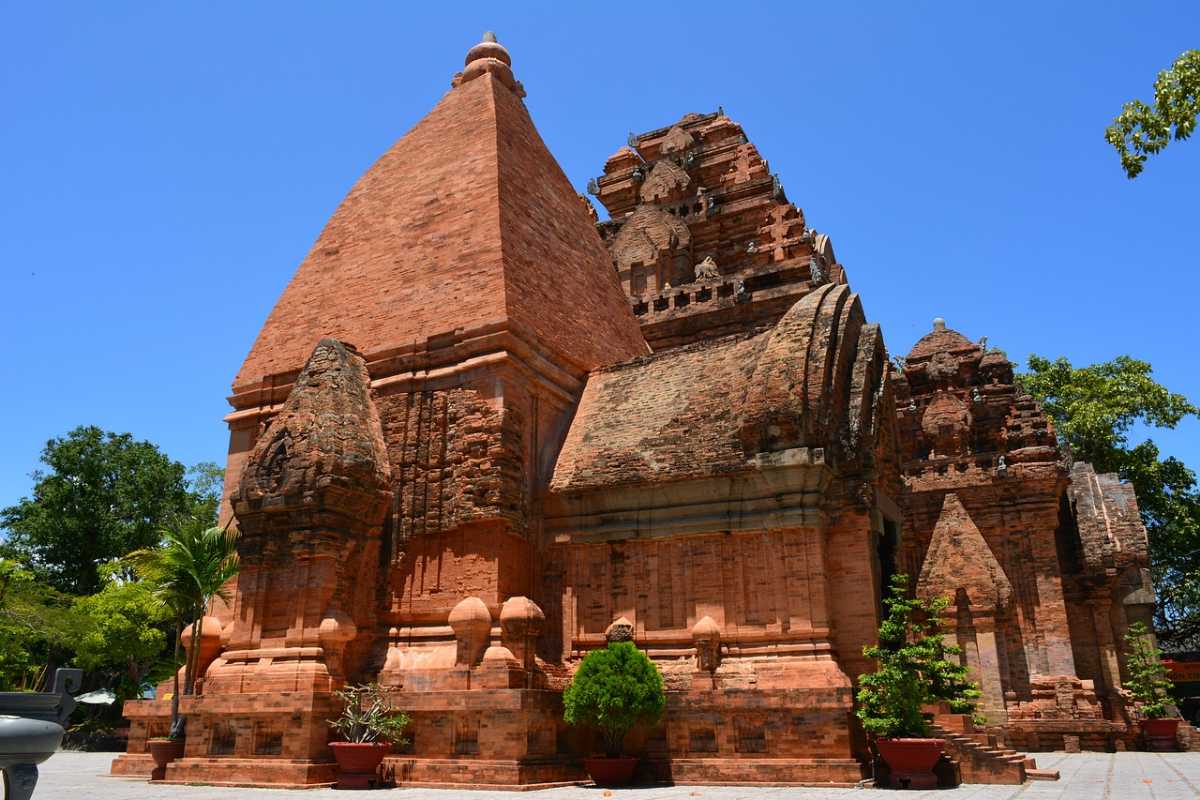 Believed to be a sacred worshipping site from as early as the 2nd century AD, the present structure of the
Po Nagar Cham Towers
was constructed under the rule of Cham King Satyavarman in 784 AD. It is dedicated to the Goddess Yan Po Nagar, the 'mother of the country', who is identified with the Hindu goddesses Bhagavati and Mahishasuramardini. A cham temple in
Nha Trang
, it is a worshipping site for Buddhists, Chinese and Hindus. This ancient temple of Vietnam is a storehouse of information about Champa, a kingdom in South East Asia. Originally, there were 10 towers, but now only 4 stand erect. The fascinating stone and brick work amazes people and makes it one of the most iconic temples in the country.
At 25 metres, Po Nagar Kalan, where the Goddess Po Nagar was worshipped, is the most fascinating of all. A visit to this temple is believed to bless women with a baby, as there is a separate tower of Cri Cambhu, the goddess of fertility.The other two towers are dedicated to Lord Shiva and Lord Ganesha respectively. Thap Ba, the annual religious fesival, where Cham people worship their gods here, is the best time to visit these towers.
3. My Son Sanctuary
Address: Duy Phu Commune, Duy Xuyen District, Duy Xuyen, Vietnam
Timings: 6:00 AM - 5:00 PM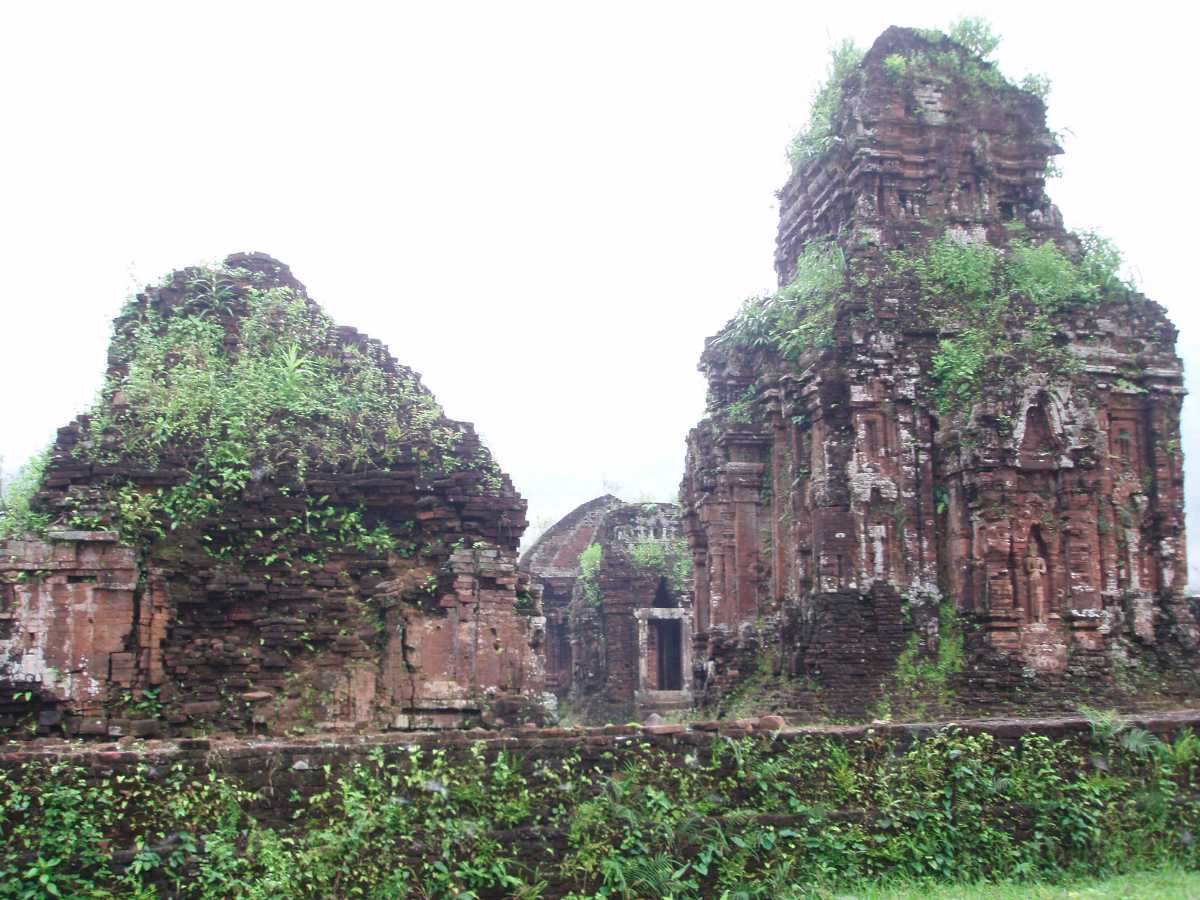 An echo of the past and a cluster of abandoned and partially ruined Hindu Temples,
My Son Sanctuary
is one of the most famous temples of Vietnam. Constructed somewhere between the 4th and 14th century AD, these ancient Vietnamese temples are dedicated to Lord Shiva and his various manifestations. The original structure, built in 4th century, was made out of wood. But after it was destroyed in a fire, the king of Champa kingdom built it with stone.
A UNESCO World Heritage site, it was destroyed when Americans bombed this region and hence everything is almost in ruins now. However, even in its partially ruined state, it never fails to amaze people with its stone work. There were around 70 temples here. In earlier times, it was also a burial site for Cham royals and national heroes. Located in a lush valley of Hon Quap, My Son is believed to be the longest inhabited archaeological site in Indo-China.
4. Subramaniam Temple
Address:
98, Nam Ky Khor Nglina Street, District 1, Ho Chi Minh City, Vietnam
Timings:
7:00 AM - 6:00 PM
Located in the heart of Saigon, this was set up by Indian merchants who came to Saigon for trade purposes in 19th century. Originally, there were 4 temples dedicated to Mariamman, Sri Thenday Yutthapani, Subramanian Swamy and Ganesha respectively. However, the temple of Ganesha does not exist anymore. The most fascinating feature of Subramaniam temple is the presence of navagrahas, each of them dressed in different coloured silk robes. There are pictures of Lord Shiva, Krishna, Shiva and Goddess Laxmi, Saraswati etc. The temple survived through the years of neglect and is now one of the most beautiful Hindu temples of Vietnam.  
Buddhist Temples in Vietnam
5. Tran Quoc Pagoda
Address: Thanh Nien, Truc Bach, Ba Dình, Hanoi
Timings: 7:30 AM - 6:00 PM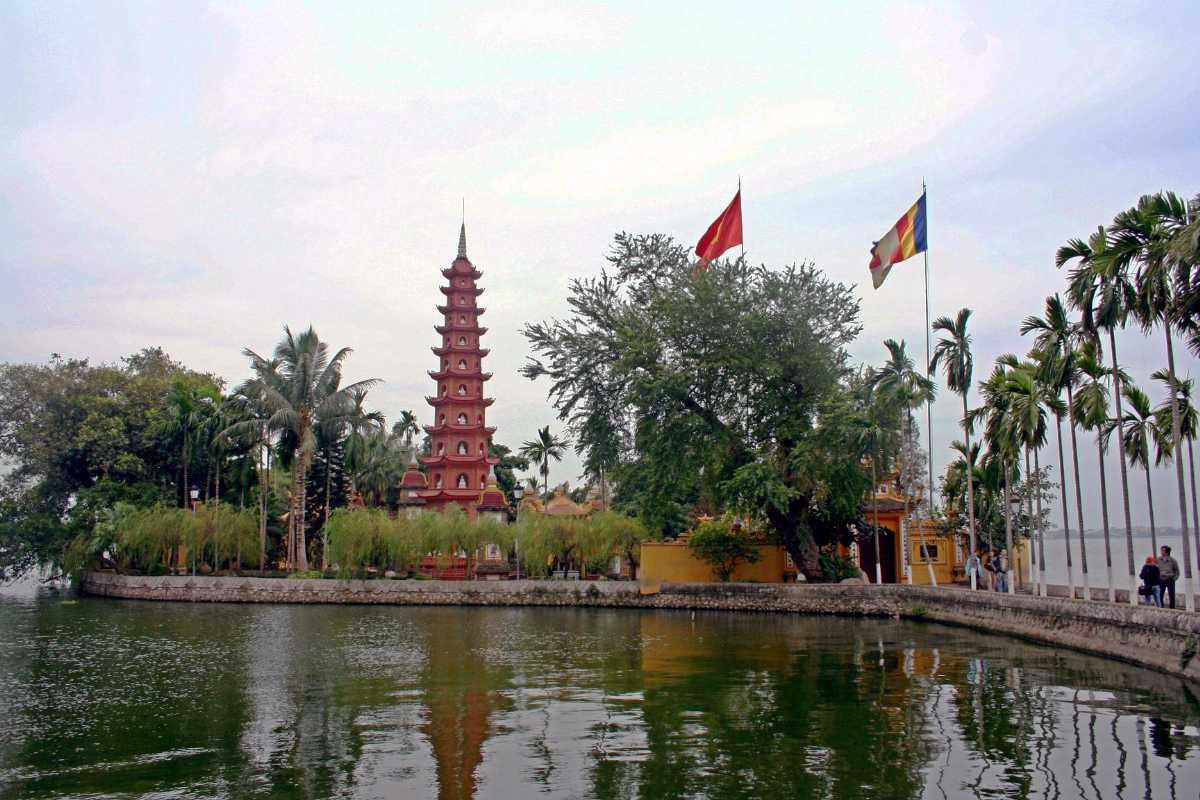 Established in 6th century, Tran Quoc Pagoda was earlier referred to as 'An Quoc' and was renamed in the 17th century. Standing erect on an islet in
the West Lake of Hanoi
, this buddhist temple in Vietnam witnesses mass celebrations on annual festivals such as Buddha's birthday and Tet Festival. Once popular among the royalty, hundreds of devotees gather here to pay their respects and worship. The 15 meters tall pagoda has 11 levels, and the architecture is just marvellous. There is a museum and an incense burning house surrounding the pagoda. The museum houses historical relics and ancient statues, which are intricately carved and preserved.
6. Thien Mu Pagoda
Address: Kim Long, Huong Long Ward, Hue, Vietnam
Timings: 7:00 AM - 5:00 PM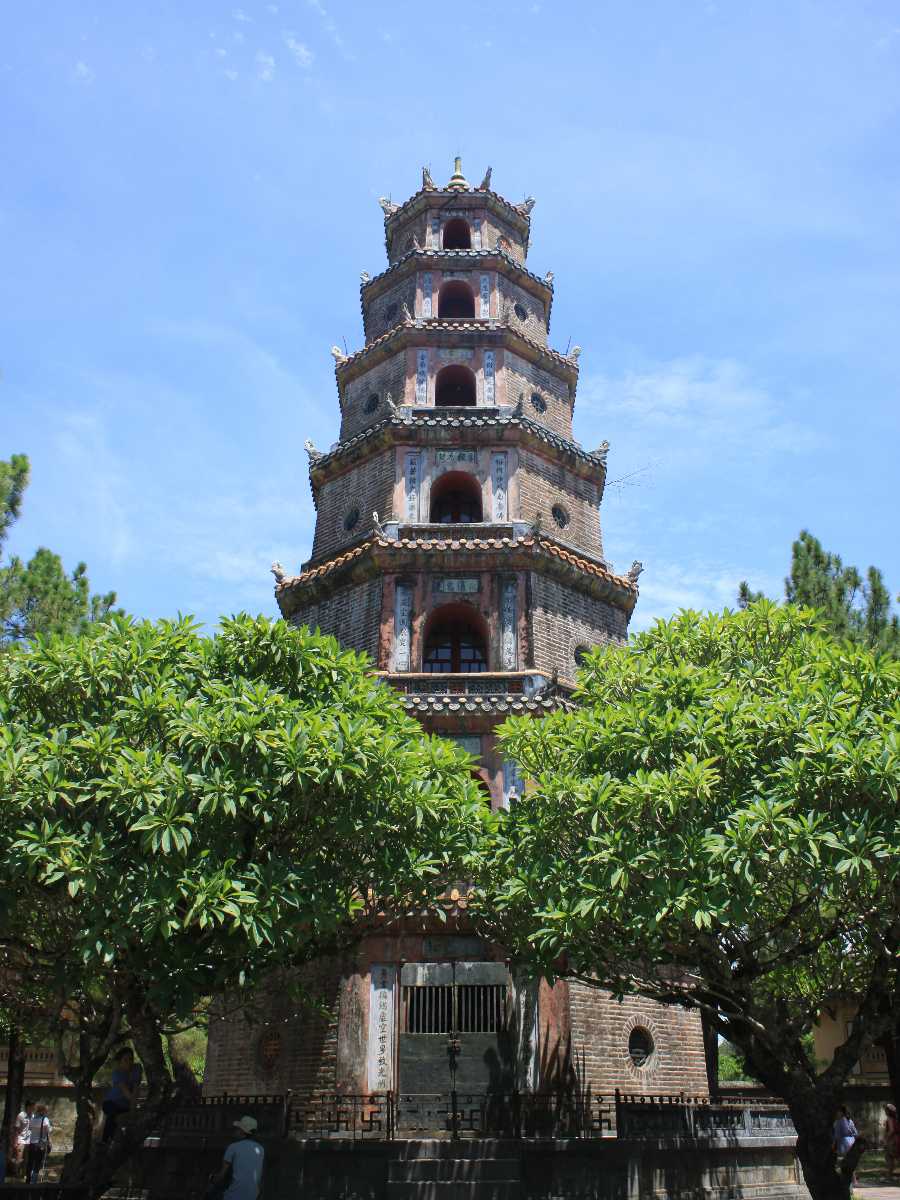 Thien Mu Pagoda, translating to 'heavenly lady', does not look anything less than heaven. It is located five kilometres outside from the center of
Hue
, on the Ha Khe Hill in Huong Long Village. According to legends, an elderly lady told locals that a lord from Nguyen Dynasty would build a pagoda on this site, thus granting this Vietnamese buddhist temple the nickname 'Pagoda of the Celestial Lady'. The pagoda also served as a home to Buddhist monk, Thich Quang Duc, who killed himself in 1963 to show resistance against the persecution of Buddhists by the South Vietnamese government.
7. Perfume Pagoda
Address: Huong Son, My Duc, Hanoi
Timings: 6:30 AM - 5:00 PM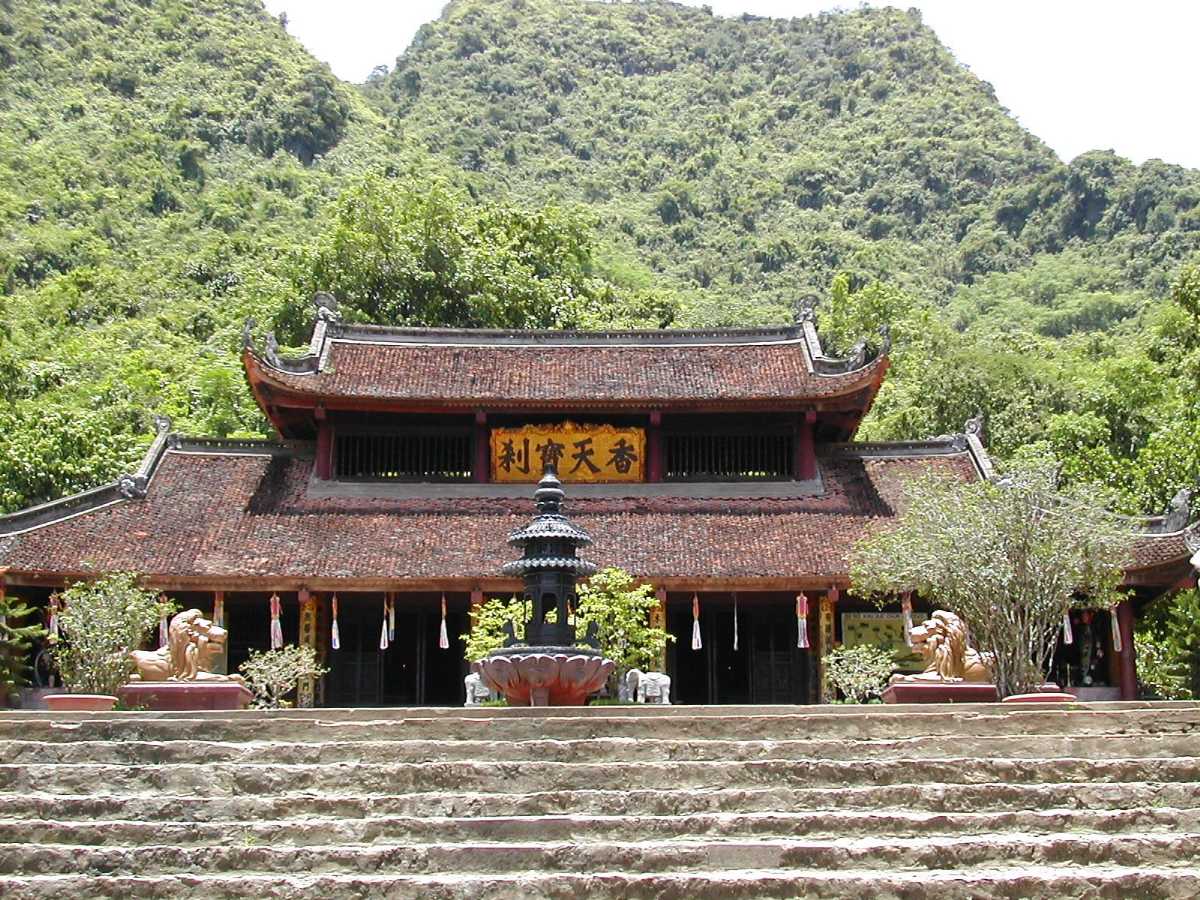 One of the largest temples in Vietnam,
the Perfume Pagoda
is surrounded by lush forests and freshwater streams. Located 75 kilometres south of Hanoi, in the Son Mountains, the Perfume Temple is the most famous temple in this Vietnamese temple complex. It is believed that the site where the temple complex is situated was discovered 2000 years ago by a Buddhist monk. The entrance to Perfume Pagoda resembles a dragon's open mouth and inside the complex, there are green stone statues of many gods, including one of Lord Buddha. Touching the stalactites and stalagmites in the cave are believed to bless the pilgrims with good fortune.
8. Bai Dinh Pagoda
Address: Gia Sinh Commune, Gia Vien District, Ninh Binh Province
Timings: 7:00 AM - 6:00 PM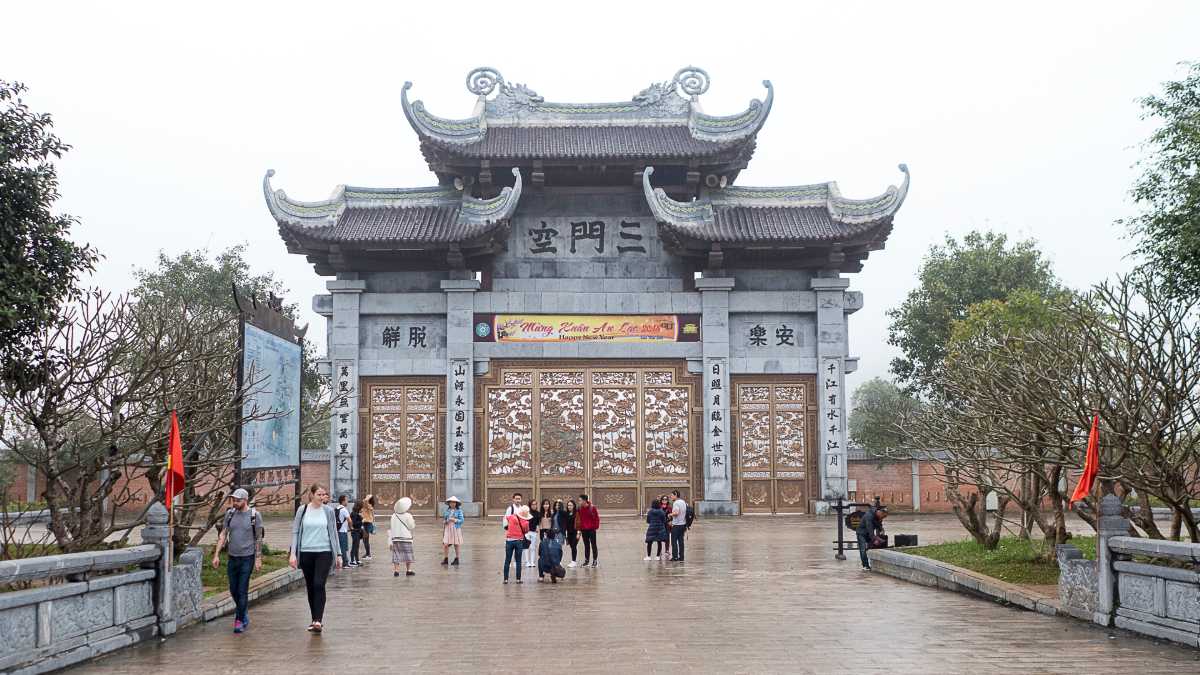 Located in the Gia Sinh Commune,
Bai Dinh Pagoda
is famous for housing 500 intricate statues of Buddha. Surrounded by mountains, it is one of the most famous Buddhist temples in Vietnam and pilgrims visit here to worship their gods. Monks here tell people their fortune. The pagoda witnesses blessing ceremonies, ritual processions and dances on the sixth day of the Lunar New Year. That is when people from all around gather together harmoniously out of faith and celebrate their religion.
Other Religious Temples in Vietnam
Apart from Hinduism and Buddhism, Confucianism and Christianity are also the predominant religions in Vietnam. So naturally there are spectacular temples dedicated to these religions as well.
9. Temple of Literature
Address: 58 Quoc Tu Giam, Van Mieu, Dong Da, Hanoi
Timings: 8:00 AM - 6:00 PM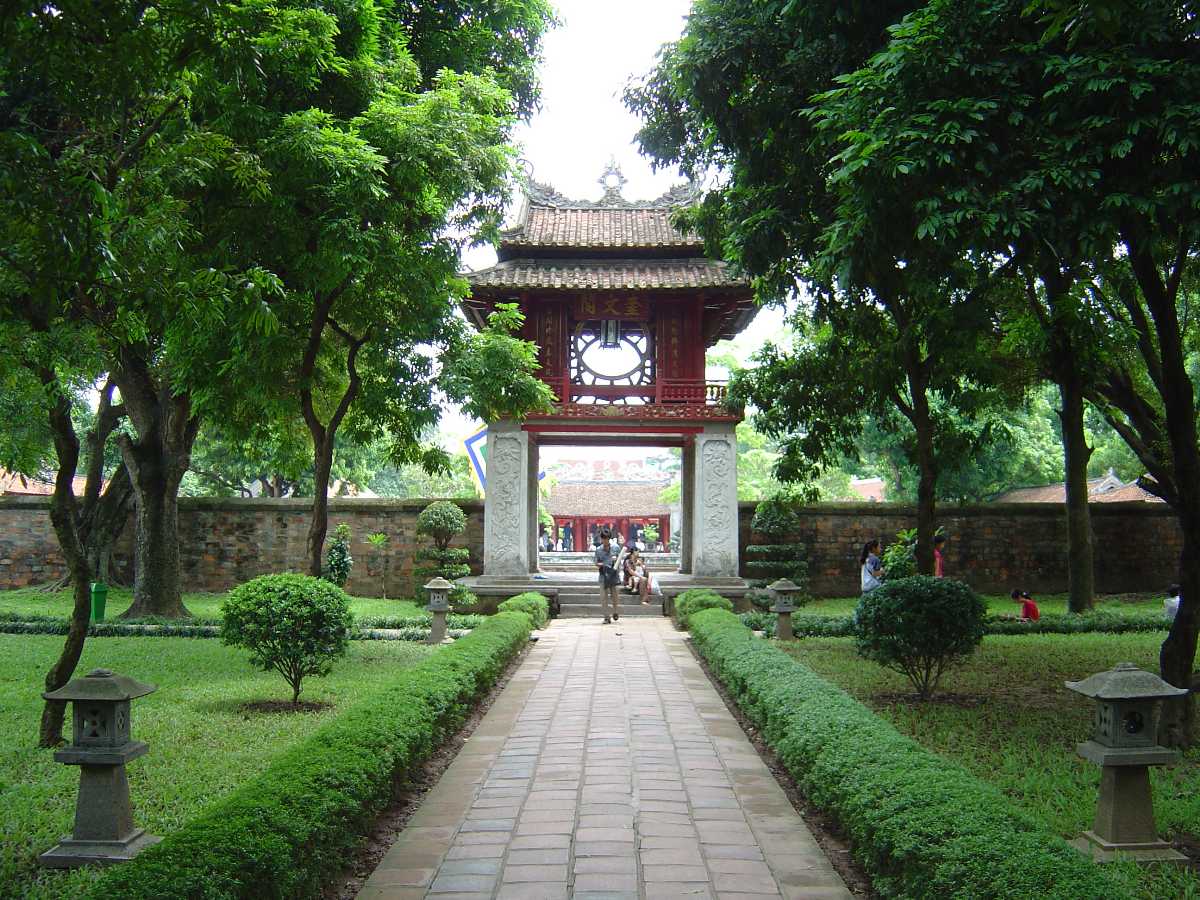 Dating back to 11th century,
Temple of Literature
is a Confucian temple in Vietnam. It also houses the first national university of Vietnam. In fact, it is also featured on the back of the 100,000 VND note. Located in the heart of city, there are five courtyards in the temple, all of them having a unique feature. Some of them house monks and resident scholars. The architecture is from the time of Ly and Tran dynasties rule.
10. Cao Dai Temple
Address:
Long Hoa Village, which is 100 kms northwest of Ho Chi Minh City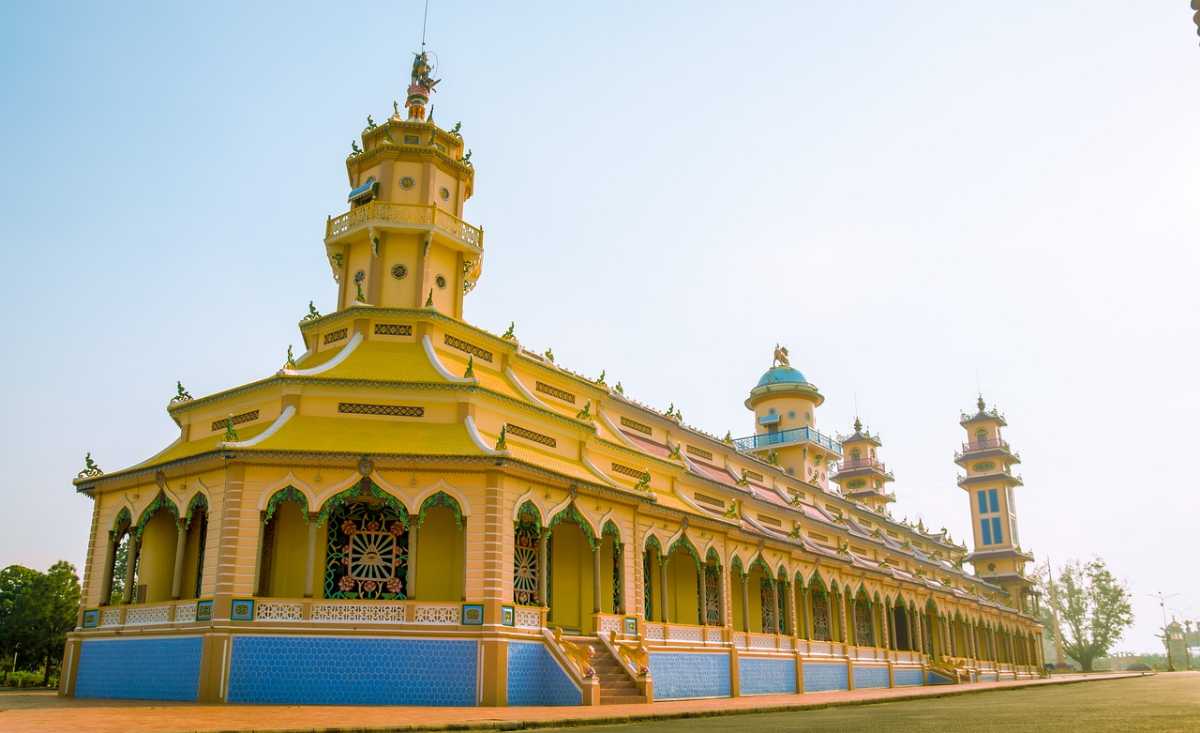 A Caodaist temple in Ho Chi Minh City, Cao Dai temple was constructed in 1930s and was open to public in 1955. A major feature of this temple, which distinguishes it from the rest of the temples of Vietnam is that every religion is considered equal. People from all the religions, let it be Christianity, Buddhism, Taoism, Islam etc, come here to participate in the worshipping ceremonies. The architecture is marvellous and awe-inspiring. Sky-blue ceilings and pillars hugged by dragons make it look exquisite.
All these temples in Vietnam are beyond beautiful and no amount of words can do justice with the ocean of spirituality and beauty they exude. Visiting them fills one's mind with peace and devotion. Nonetheless it is safe to say that these temples are the country's soul, which reflect the goodness and heart of Vietnam.