When you are travelling long distances, from city to city or country to country, aeroplanes, trains and long distance buses are a practical option. However, when you are travelling locally within a particular city, the previously mentioned options aren't feasible. Travellers to Vietnam can breathe a sigh of relief because Vietnam has a multitude of options for local travel within cities. Some famous and economical means of local transport include Taxi, Buses, Cyclo and Xe Om.
1. Cyclo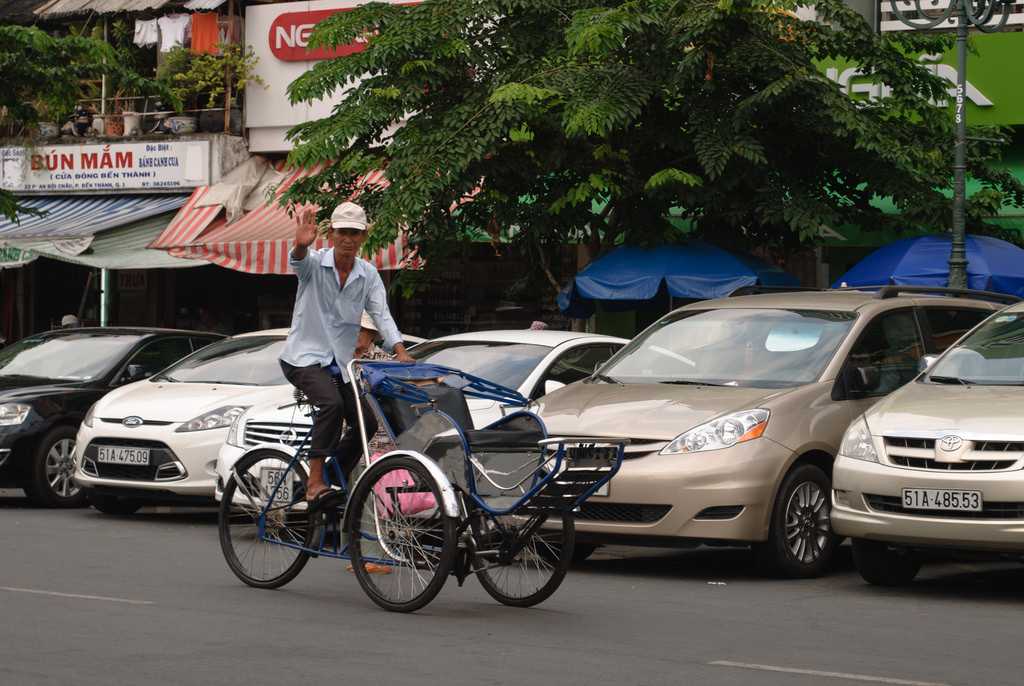 The Cyclo is a three-wheeled bicycle taxi. It consists of a double seat (by Vietnamese standards) supported by two larger wheels in front and a smaller bicycle seat behind, supported by one wheel. They aren't commonly used as transport by the locals but serve as a major crowd pleaser amongst tourists.
The snail-pace of the Cyclo gives you ample time to absorb your surroundings, and capture your memories in photographs. Cyclos are prevented from entering main traffic clad roads, and so they often are forced to take narrow, untrodden streets, and this inevitably gives you a glimpse into local life - scaffolding, street stalls, live pigs waddling around. Cyclo drivers are found quickly, as they are always hanging around hotels, restaurants, markets and other places frequented by tourists. Cyclo drivers are often known to quote exorbitant prices, and so as a general rule, start off with haggling for one-third of the amount and then go up to half, but not more. Cyclo drivers are also notorious for quoting an unreasonably high price at the end of the journey and blackmailing you into paying it by making a huge fuss on the road. Hence it is a smart option to negotiate the price even before the short journey. 
Using the Cyclo at night is a risky idea as there have been numerous mugging and theft cases. Cyclo is an excellent option for a relaxed tour around the 'real' city.
Cost:
 Cyclo rides usually cost around 10000 - 20000 VND, and for a more extended tour, it will be about 20000 - 30000 VND.
2. Xe Om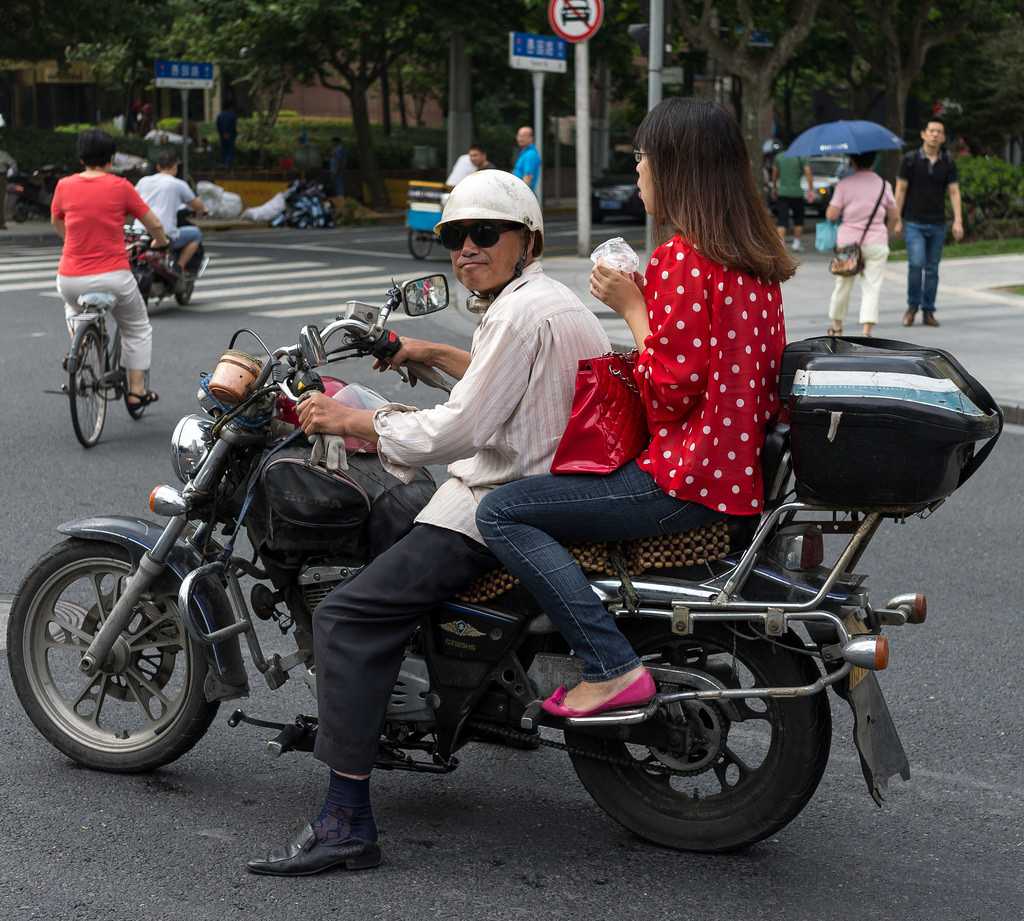 Xe Om is a motorcycle taxi that is a prominent means of tourist transport in Vietnam. 'Xe Om' literally means 'hug the driver', an act you don't have to indulge in unless you want to. Xe Om drivers can be found practically everywhere, but they are concentrated in areas with strong tourist density and can be identified by the large 'Xe Om' the board across the front. Xe Om prices are often negotiable and depend largely on the terrain, distance and traffic conditions of the area. A range of 10,000 - 15,000 VND per kilometre is acceptable. All Xe Om are fully equipped with Helmets, and there is no need to bring your own.
Besides the inexpensive price, another great reason to use Xe Om is to skip through the traffic. Vietnamese traffic can be a real blot on your vacation, but a Xe Om driver can push and trudge through the traffic saving you lots of time. Another fun fact of Xe Om drivers is how proficient they are with their knowledge of the city. They know every nook and cranny of the city, and it often comes in handy when you are travelling on busy roads.
Whether it's in the far North or the South of Vietnam, Xe Om is an excellent way to not only navigate through the Vietnamese traffic but also experience the thrill of riding downhill or along the beach on the back of a motorcycle.
Cost: 10,000 - 15,000 VND per kilometre
3. Local Buses
Local Buses offer great connectivity within the city. Coupled with economic rates, buses are a great bargain for a tourist on a budget. Public bus services are popular mostly in Ho Chi Minh City and Hanoi. Bus connectivity in Hanoi is excellent, with routes plying very close to popular destinations, but Ho Chi Minh City fares poorly in comparison.
Buses in Ho Chi Minh City are green and white, and buses in Hanoi are red, white and yellow. Ticket prices range from 5,000 - 10,000 VND, and you have to pay the conductor in cash bills. So it is advisable to carry around some loose bills if you choose to travel by bus.
Hanoi recently launched a new bus system - bus rapid transit system (BRT) where special buses travel on specially designed lanes and hence reach destinations quicker. These buses have been a rapid success, and plans for extending it are underway.
Buses may be extremely light in the pocket, but they are not very comfortable to travel in. During peak hours, there is a highly negligent chance that you will have space to stand comfortably on the bus, nevertheless sit down. Pickpocketing is not unheard of, and it is a good idea to keep your wallet or purse in the front where you can carefully watch it. Another problem is that the drivers stop barely for a minute at each stop, which gives you almost no time to board or de-board. In Ho Chi Minh City, the buses are ratty and unkept, the insides rusty. Also, the points of pickup and drop off are quite far from actual tourist destinations, and this makes bus travel a tad bit impractical.
Cost
- 5,000 - 10,000 VND
4. Taxi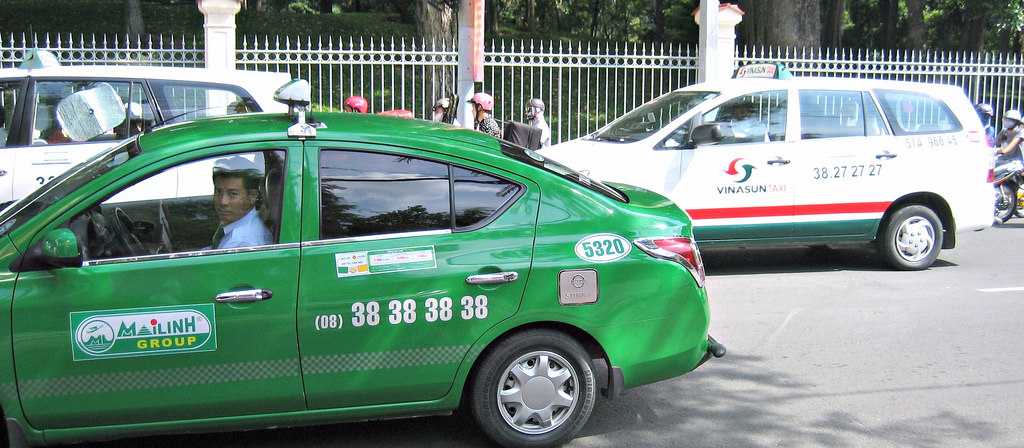 A sure, safe and reasonable way to travel within the City is a local metered taxi. A Taxi from a reputed agency runs on a fixed meter, and it is great for beginners who do not know about the area. However, if you choose to travel by some brands, you may find the meter running in an odd fashion and may end up paying double the price. Taxi prices range from 12,000 - 15,000 VND.
Some good Taxi companies include:
i.
Vinasun
 - They have large, cool, spacious cars.  Their meters start low, at around 12,000 VND
ii.
Mai Linh
 - Smaller cars but excellent, efficient service and fair, honest pricing of services have resulted in the growth of the company.
iii.
VinaTaxi
 - First Taxi Company in Vietnam. The taxis are bright yellow and exude a cheerful appearance. Meters start at 9,000 VND
Taxis are great ways to travel, especially after partying at night. When you leave major cities, make sure you look for great cars and official logos and company names before you hire a taxi.
Vietnam has a great variety of local transport for you to choose from. To experience the true flavour of the region, it is best to taste a little of all of these local ways of transport and to enjoy the Vietnamese way of life to the fullest.