What's a visit to a new country without immersing yourself in the local cuisine? The fantastic street food of 
Vietnam
 is a great way to do this, as well as understand the various cultural influences have come together to create this gastronomic extravaganza. From the lip-smacking Pho (that everyone struggles to pronounce) to the French-inspired Banh Mi,
Vietnamese food
continues to be exciting, colourful, and packed with flavours. And having it cooked fresh in the streets at unbelievable prices is what lends the extra zing to Vietnamese street food.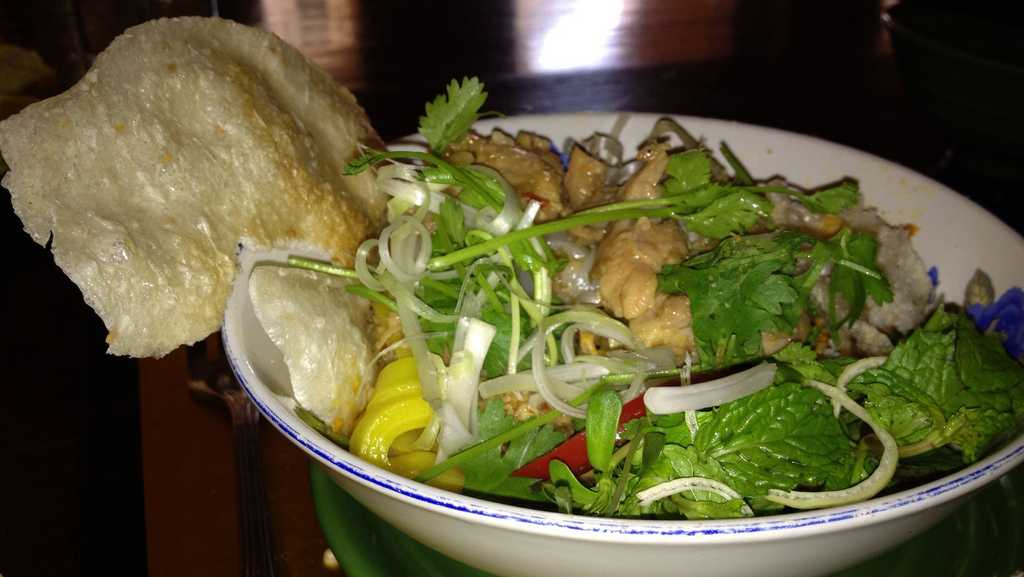 On your next visit to this Southeast Asian country, take your adventures to the streets and explore these 12 amazing dishes of Vietnamese street food:
1. Pho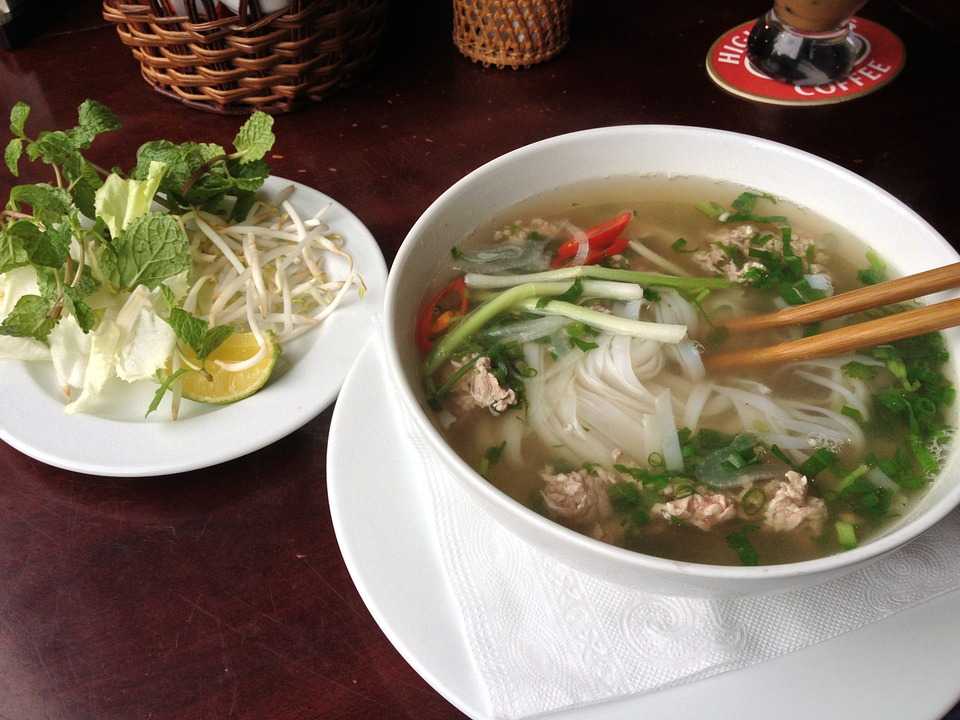 For those who struggle to pronounce the name, let's put all doubts to rest - it's pronounced 'fuh'. Practically the national dish of Vietnam, pho is a salty broth made with flat rice noodles. It is full of delicious herbs, ginger, blanched vegetables, and usually a meat-base like chicken or beef. Because of the many makeshift stands found in every city, the pho is a tasty yet affordable dish, and probably the most common street food of Vietnam. In fact, you can buy one bowl for a cool VND 12,000 - VND 15,000. We'd recommend trying the pho at Gia Truyen in Hanoi and Pho Vu Phuong in Ho Chi Minh City.
2. Bun Cha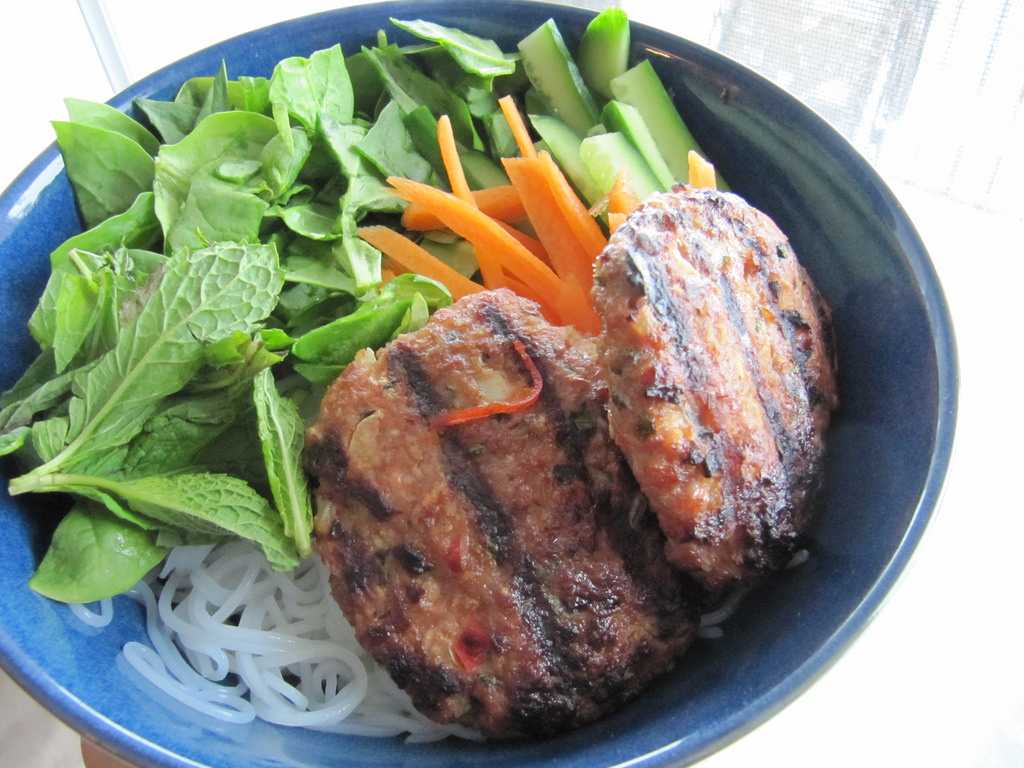 Similar to the American burger patty, bun cha are char-grilled pork patties served with rice vermicelli noodles and herbs. The primary taste comes from a fish sauce broth which is admittedly an acquired taste. It is often joined by a side dish called nem cua be (crab spring rolls). Bun cha is believed to be a Vietnamese street food originating in Hanoi. The restaurants Bun Cha 34 and Dac Kim in Hanoi are particularly popular. Outside this city, a variant meat dish called bun thit nuong or bun bon am bo is made with beef, peanuts and shallots. This dish reached international popularity when it was eaten by former US President Barack Obama and renowned chef Anthony Bourdain during a trip to Vietnam.

Read more about Street Food in Hanoi. 
3. Banh Xeo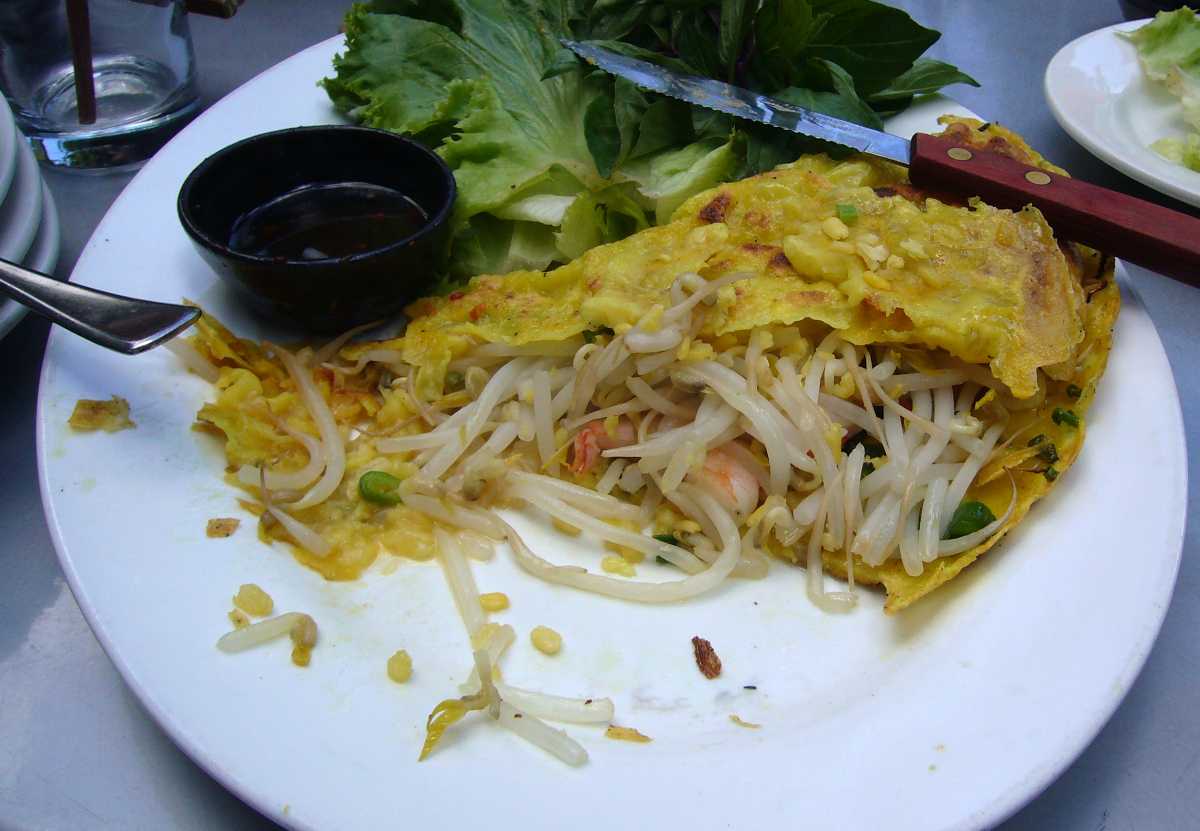 This dish is Vietnam's answer to the French crepe. A savoury dish that is made in front of you at Vietnamese street food stalls, it is a thin, rich batter-based dish made with pork, shrimps, herbs and spices. The most distinct spice used for Banh Xeo, surprisingly, is turmeric. Once cooked, the crepe is rolled with rice paper or lettuce, cut into slices, and served as small bites. It usually comes with a side serving of Vietnam's popular fish sauce. The dish earns its name for the sizzling sound of the pan when made. 
4. Banh tet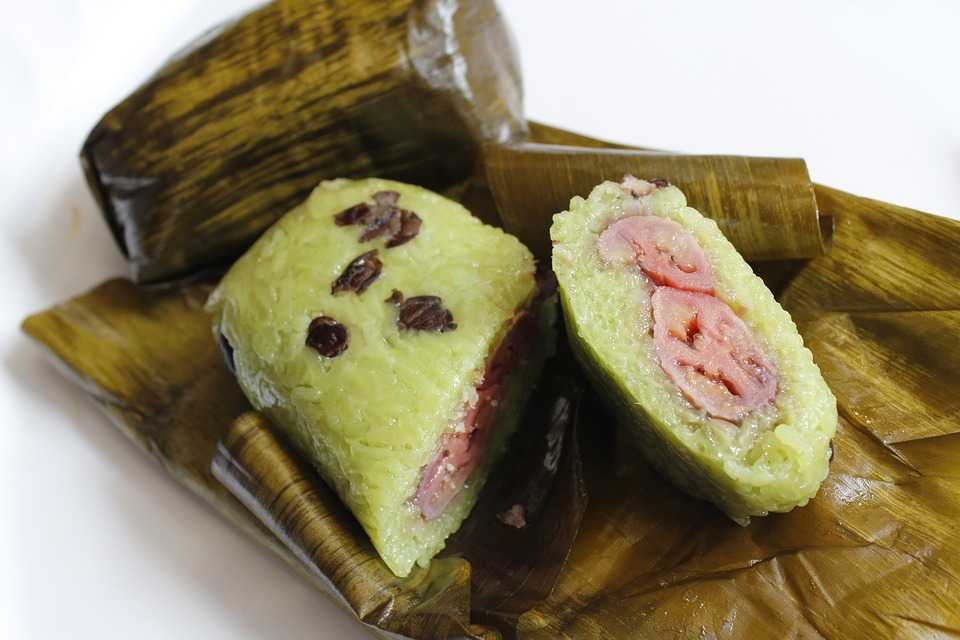 This Vietnamese dish earns its name from the occasion of Tet Nguyen Dan or the Vietnamese New Year. It is a dish of glutinous sticky rice wrapped in banana leaves along with mung bean or pork (for the savoury preparation) or bananas (for the sweet preparation). It is rolled into a log-like shape, boiled, then cut into wheel-shaped servings. The savoury dish is typically served with fish sauce or chili sauce while the sweet dish is served with coconut milk and sesame seeds. Preparations for making Banh Tet begin a day before Tet. On the day of Tet, it can easily be found at various street food stalls in Vietnam, though it is most popular in south Vietnam. 
5. Cao Lau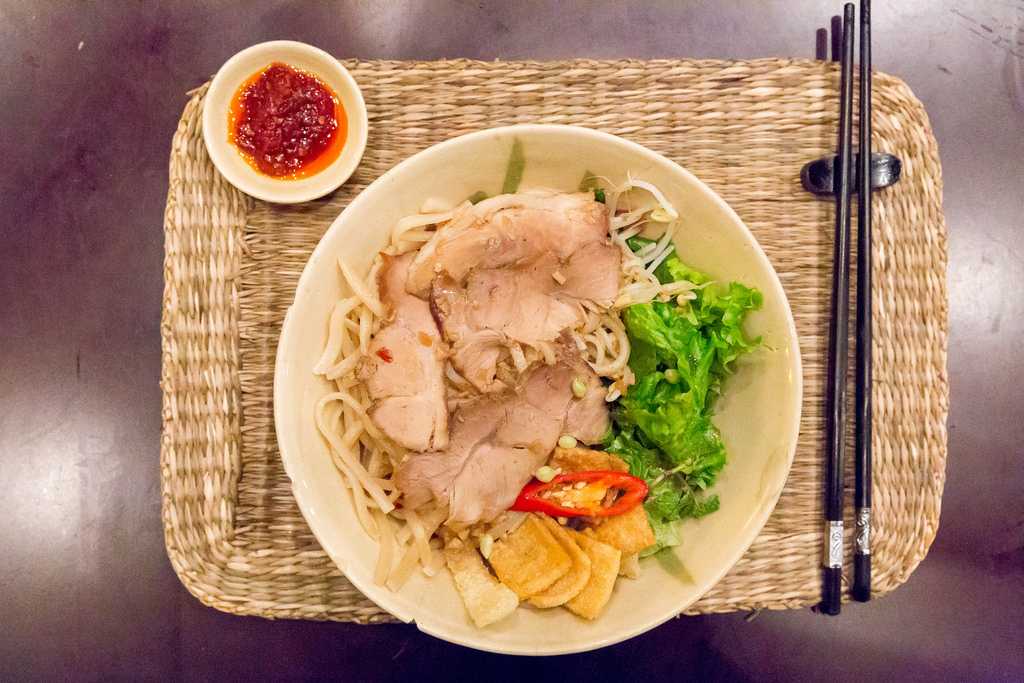 Best known as a pork noodle dish, the regional dish Cao Lau finds a vegetarian variant in tofu too. It comes from the town of Hoi An in Quang Nam Province, central Vietnam. In fact, many consider 'authentic' cao lau to be made from the water of the Ba Le well. It uses thick noodles like the Japanese udon as well as Chinese wontons, but it is wholly Vietnamese for its herb palette and memorable clear broth. The noodles are made from ground rice with ash and water. Cao lau combines flavours like sour, sweet, bitter and pungent, signature flavours of the street food in Vietnam. 
6. Rau Cang Cua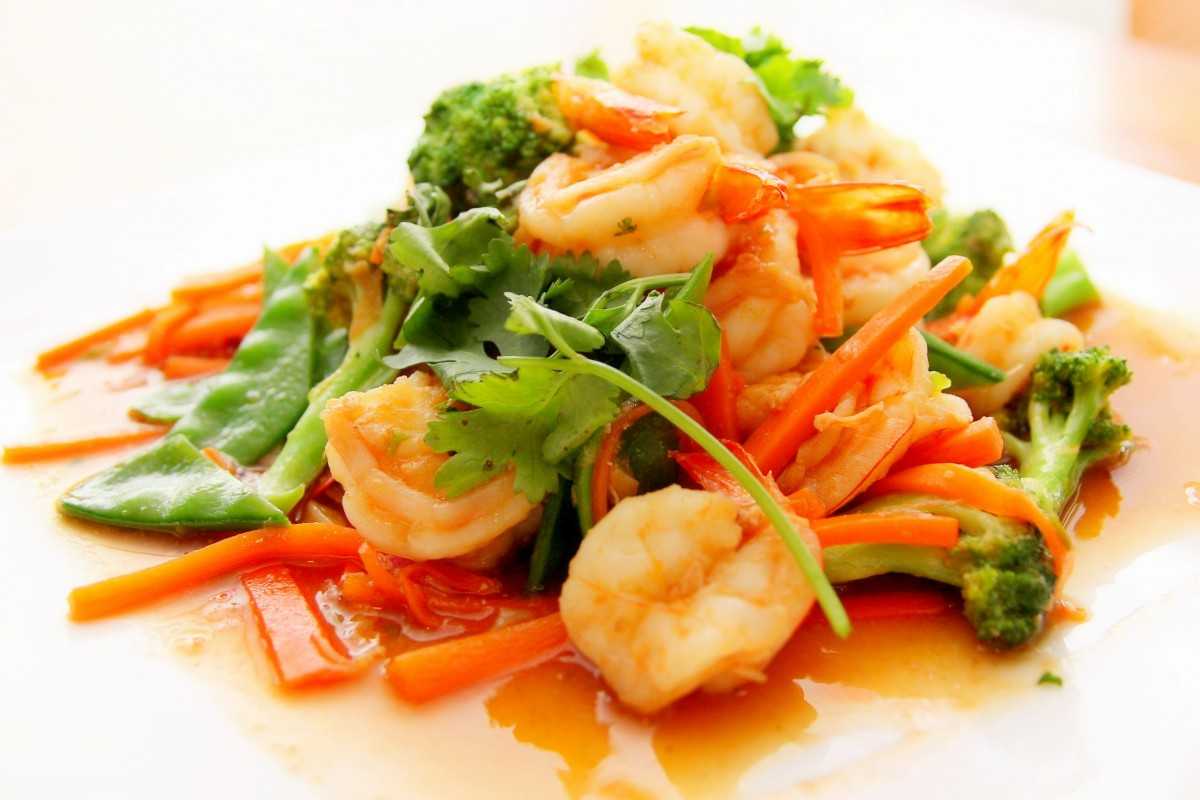 Because of Vietnam's location near the South China Sea and the Gulf of Thailand, shellfish is a prominent feature of Vietnamese cuisine. Rau Cang Cua is a dish made of crabs or sometimes snails. They are grilled over a barbeque, salted, sprinkled with lime and chilli, and sometimes served with a caramelisation of pork fat. The dish has a peppery taste from the claw herb plant that is prominent in this leafy salad. Rau Cang Cua is one of the easiest and quickest preparations among the street food in Vietnam, and is an explosion of flavour on your taste buds.
7. Goi Cuon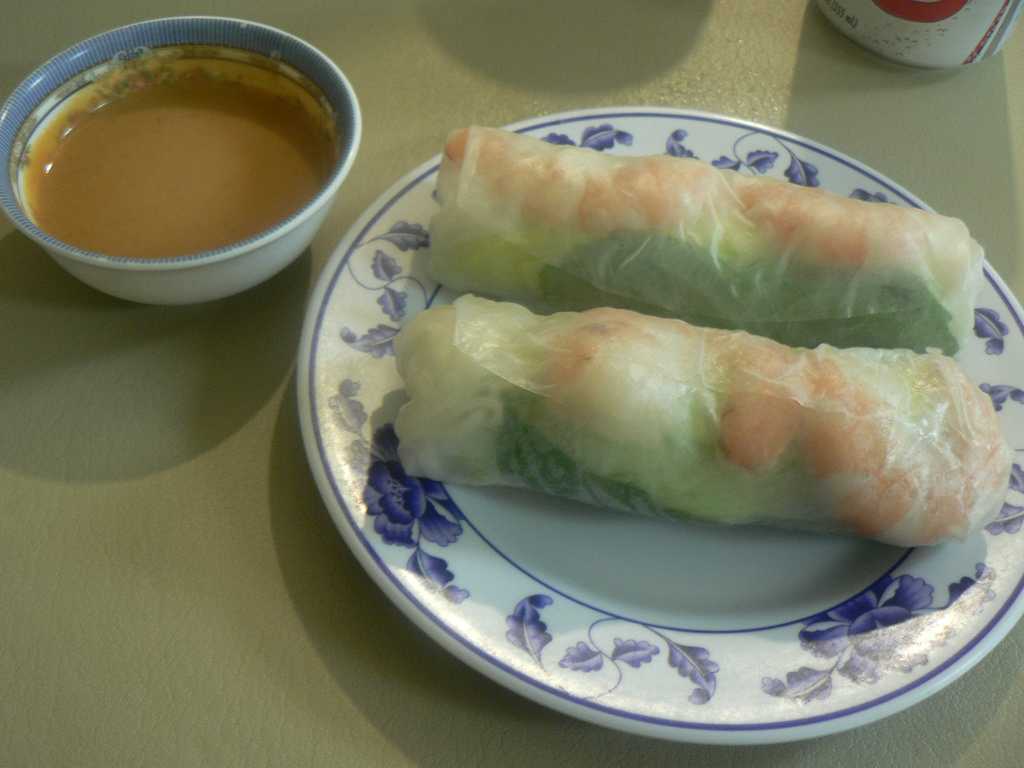 Translating to 'salad rolls' or 'summer rolls', Goi Cuon are essentially translucent Vietnamese spring rolls. They are made with Vietnamese rice paper called Banh Trang. They come in vegetarian and non-vegetarian variations with fillings like mung bean, tofu, egg, squid, fish, crab, beef or pork. They are fried in the north and are called nem ran while they are slow-boiled in the south and are called cha gio. Goi cuon is eaten with a fish or peanut sauce. It is usually an appetizer at Vietnamese restaurants but can be found as a quick snack in Vietnamese street food stalls as well.
8. Bo La Lot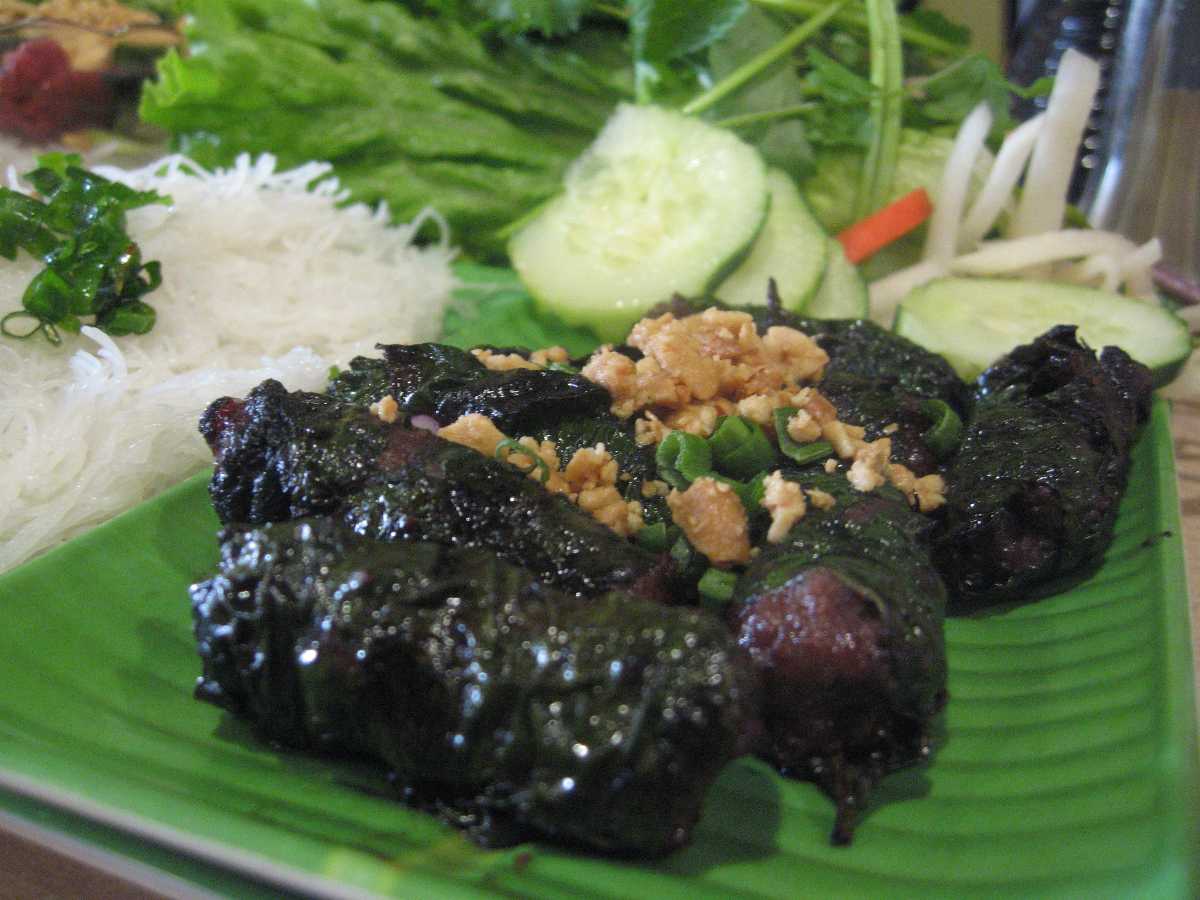 Fully known as Thit Bo Nuong La Lot, Bo La Lot is a delicious beef dish popularly found in Ho Chi Minh City. It is made of minced beef patties wrapped in betel or 'piper lolot' leaves before they are grilled over charcoal. Because of the use of betel leaves, it often has a peppery or bitter taste. Side-dishes include grilled vegetables and rice noodles, along with fresh chilli and shallots. However, bo la lot can be eaten with a wrapping of Vietnamese rice paper or lettuce leaves too. It tastes best with sweet chili fish sauce. You can find delicious Vietnamese street food stalls serving this along Ton Duc Thang Road in Saigon, but do keep in mind that they are mostly open at night.
Read more about
Street Food in Ho Chi Minh City
. 
9. Banh Bot Chien
This Vietnamese dish consists of fried rice flour cakes. Immensely popular in south Vietnam, especially Ho Chi Minh City, it is considered an after-school or light midnight snack. Fried until crispy, these flour cakes most commonly include an egg filling, although they can also feature vegetable or duck fillings. Banh bot chien is served with papaya shavings, shallots, vinegar, chili sauce or sometimes a tangy soy sauce. This Vietnamese street food is believed to be Chinese-influenced and can be bought at street stalls in Ho Chi Minh City's Chinatownn called Cho Lon Street.
10. Banh Mi Op La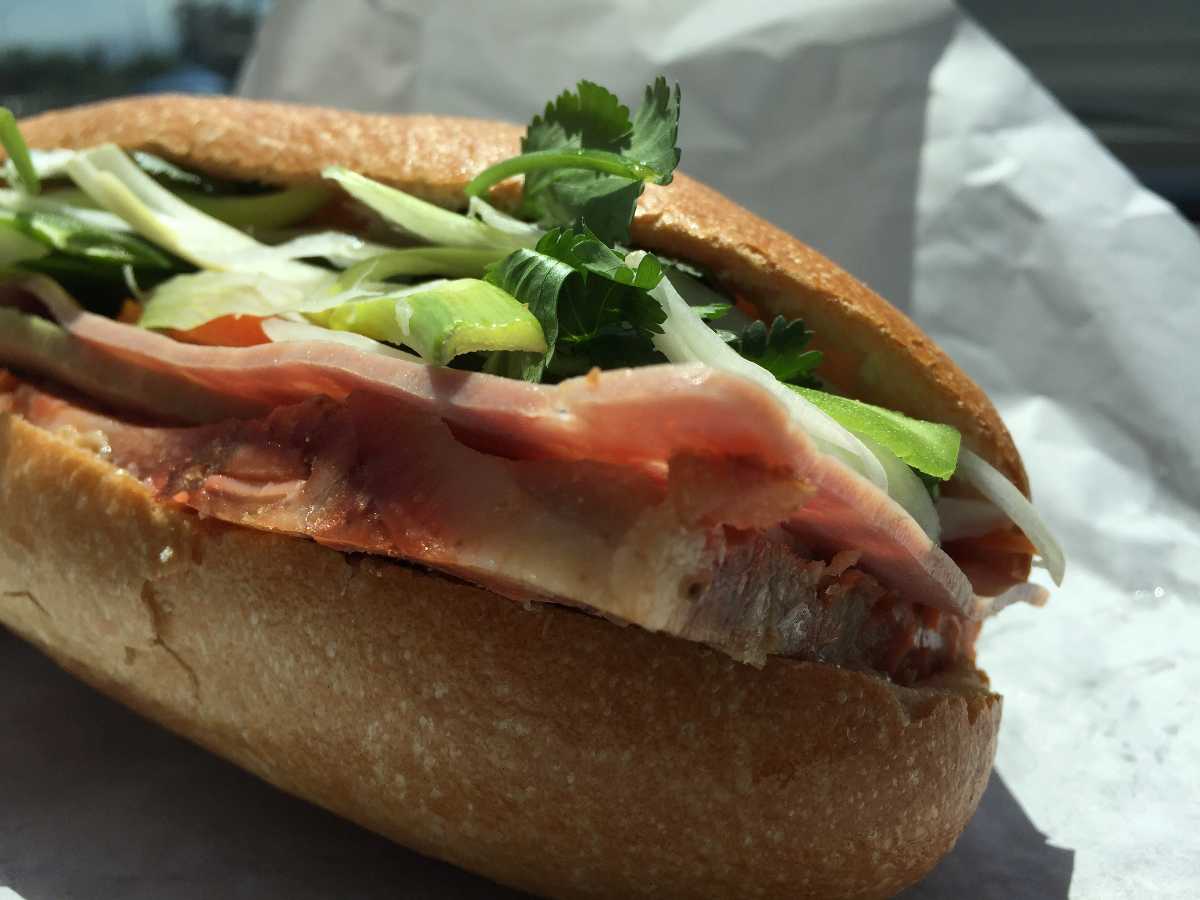 Another call back to French colonization, Banh Mi is akin to a baguette sandwich. It is made with beautifully light wheat baguette that is cooked to crispy perfection. Then, it is cut length-wise and filled with a delicious meat stuffing. While Vietnamese street food vendors commonly use pork and egg, Vietnamese restaurants use a bacon or beef stuffing. Then, the dish is topped with Vietnam's popular chili fish sauce. The constant companion of this sandwich is the op la or egg preparation with sausages. This complete dish is fairly affordable at around VND 12,000 - VND 15,000 but in the 1970s, banh mi was seen as a luxury dish. Today, it is considered a breakfast dish or a light snack in Vietnam.
11. Che Khuc Bach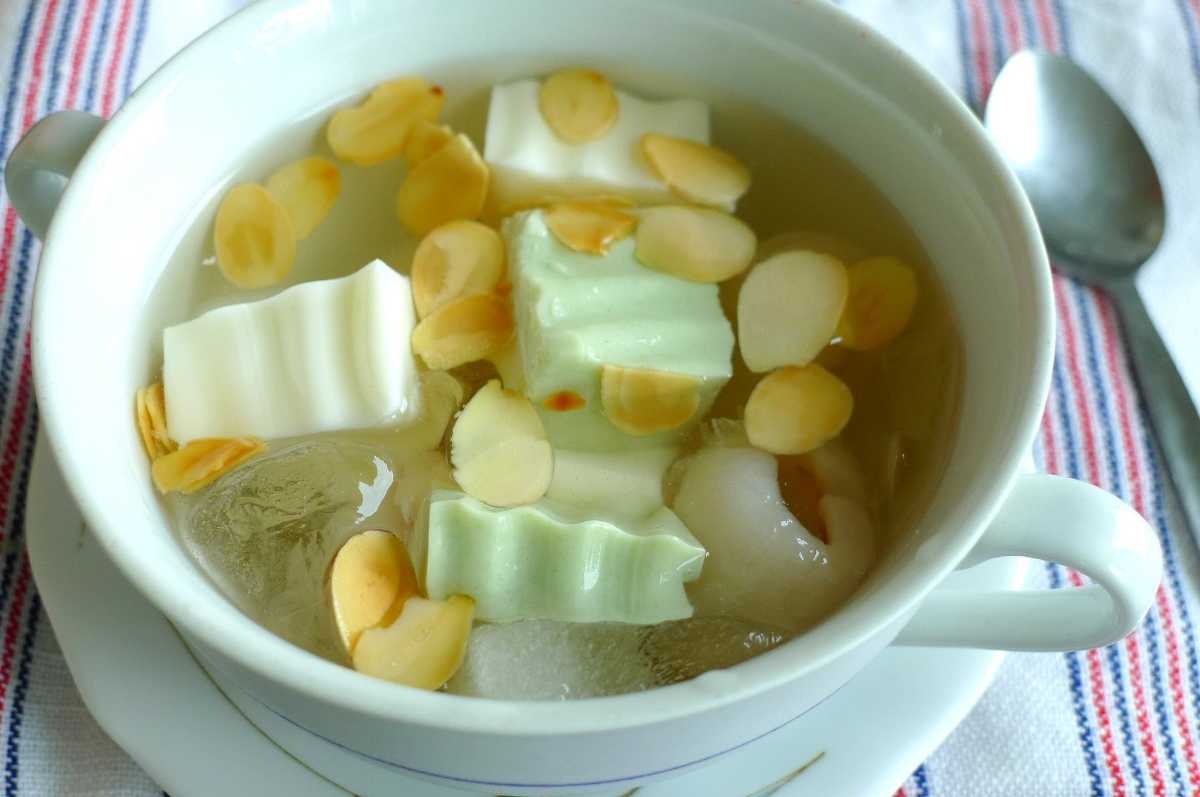 This Vietnamese sweet dish is an almond pudding with generous servings of lychee syrups. It earns its name from the primary ingredients of fresh cream and ice cream and 'che', sugary water made of traditional Vietnamese sugar. Some Vietnamese street food stalls choose to garnish the dish with shavings of watermelon and strawberry, and sliced fruits. It's an incredibly refreshing dish to combat the humid temperatures of the country. You can buy it for anywhere between VND 20,000 and VND 28,000.
12. Ca Phe Da/ Ca Phe Chon (Vietnamese Coffee)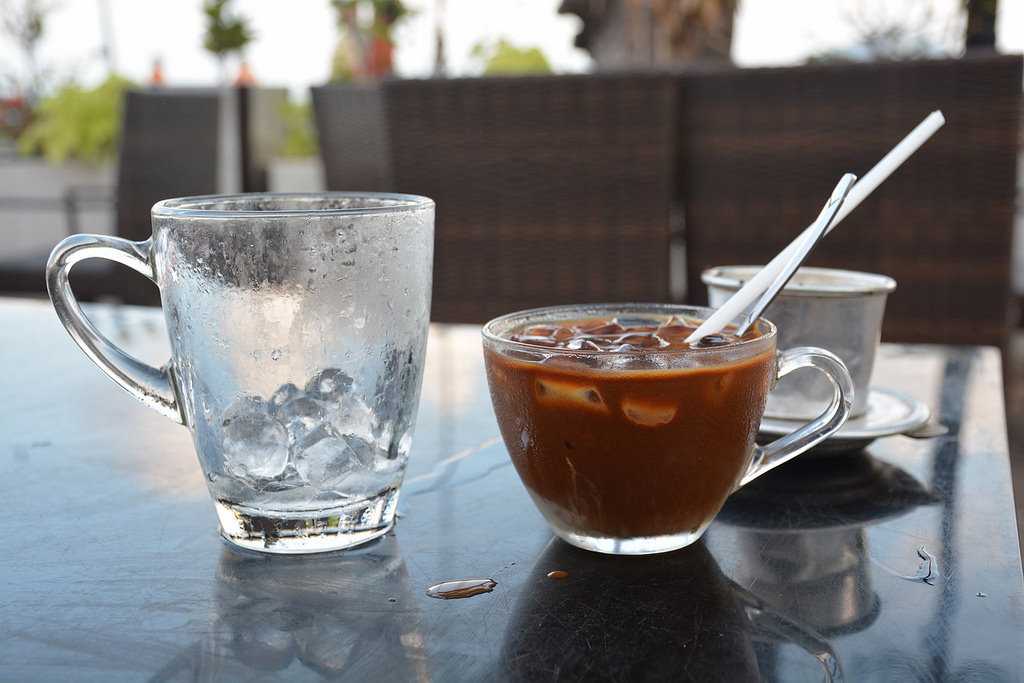 Essentially iced Vietnamese coffee, Ca Phe Da is the perfect end to any meal in Vietnam. Coffee culture is huge here, primarily due to the country's cultivation of rich robusta beans. Not only is the coffee cold and enjoyable, the most traditional Vietnamese coffee is thick enough to be scooped with a spoon! It is mixed with condensed milk and sometimes other flavours, but we'd recommend that you try the authentic version. Vietnamese street food stalls present various variations of Ca Phe Da - there is a Vietnamese egg coffee called Ca Phe Trung which includes egg yolk in the brewed coffee, with a texture similar to tiramisu or eggnog. For adventurous foodies, we'd recommend Ca Phe Chon, the Vietnamese answer to Indonesia's Kopi Luwak wherein the coffee beans are harvested from cat faeces.
What more could a foodie want? From delicious pork patties to spicy broths and a scrumptious almond pudding, the street food of Vietnam is packed with culinary treasures for every kind of traveller. So take the plunge and go on a gastronomic adventure you'll never forget!