With over six million Catholics living in
Vietnam
, the churches are not an uncommon sight in this country. Not only important in the lives of Christianity believers, but churches in Vietnam have also become a great opportunity for tourists from all over the world explore a different side of South-East Asia, not seen commonly in the neighbouring countries.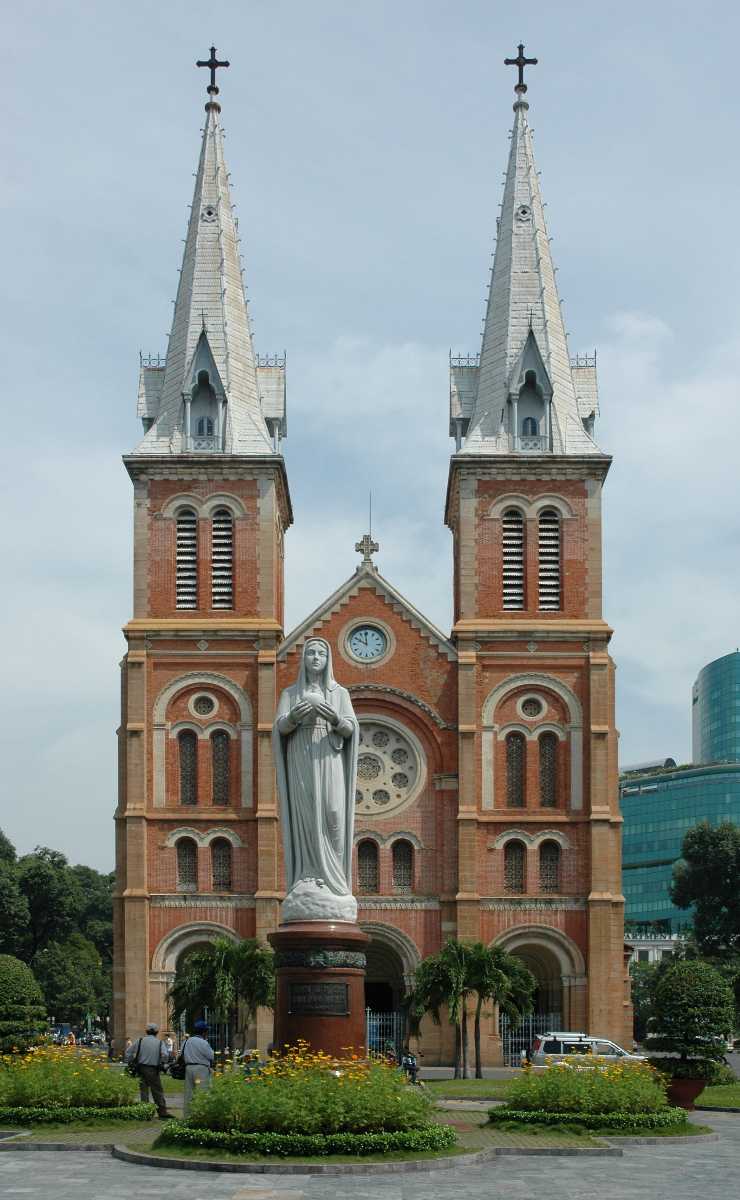 From neo-gothic style stone cathedrals to gorgeously pink coloured churches, you can find a wide variety of architectural styles. Let's check out the top 10 beautiful churches in Vietnam (in no particular order):
1. Phat Diem Cathedral, Ninh Binh
Address:
Phat Diem, Kim Son district, Ninh Binh province, Vietnam
Timings:
9:00 AM - 5:00 PM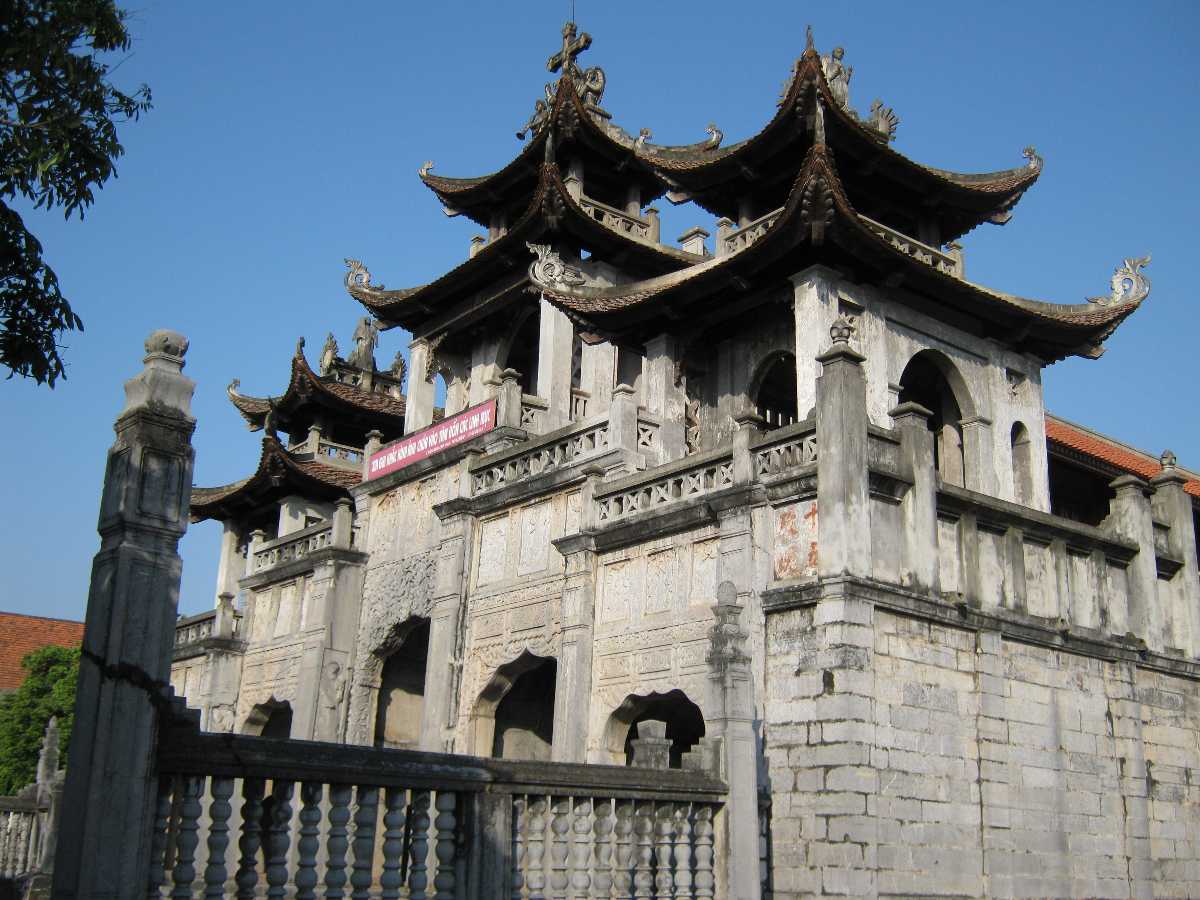 A combination of Vietnamese and European architecture, the Phat Diem Cathedral in
Ninh Binh
was carved in 1892 entirely out of natural stone. This serene Vietnamese church consists of the main cathedral, five small chapels, one bell house and three man-made caves. It is said that the preparation phase itself took 10 years, and the whole cathedral complex covering 22 hectares took 30 years in total to be built. The roof of the church is designed in form of a Buddhist pagoda, and its unique architectural style attracts locals and tourists from all over.
2. Tan Dinh Church, Ho Chi Minh City
Address:
Tan Dinh, Hai Ba Trung, District 3, Ho Chi Minh city, Vietnam
Timings:
 5:00 AM - 5:30 PM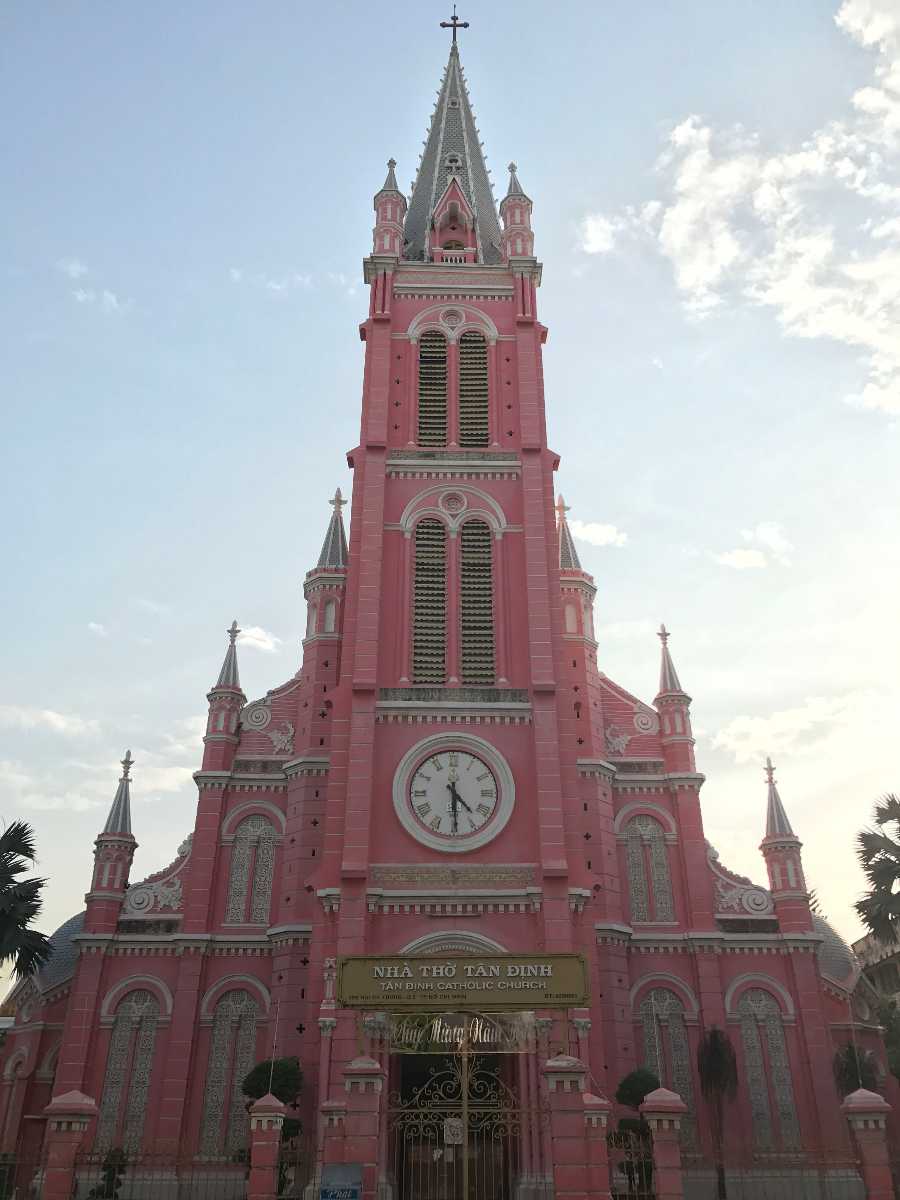 One of the most underrated spots of 
Ho Chi Minh City
,
Tan Dinh church
is a gothic-inspired, hot pink Romanian style church in Vietnam. Built in 1876, the intense colour, renaissance elements, two bell towers and three Italian marble altars makes this church one of the most elegant and culturally beautiful sights in the city. The founder of the church, Father Donatien Eveillard died in 1883, and to honour his contributions, he was buried beneath the nave of the church. This picturesque church should definitely be on your to-do list when you visit Vietnam.
3. St. Joseph's Cathedral, Hanoi
Address:
Nha Chung, Old Quarter, Hoan Kiem district, Hanoi, Vietnam
Timings:
 5:30 AM - 6:00 PM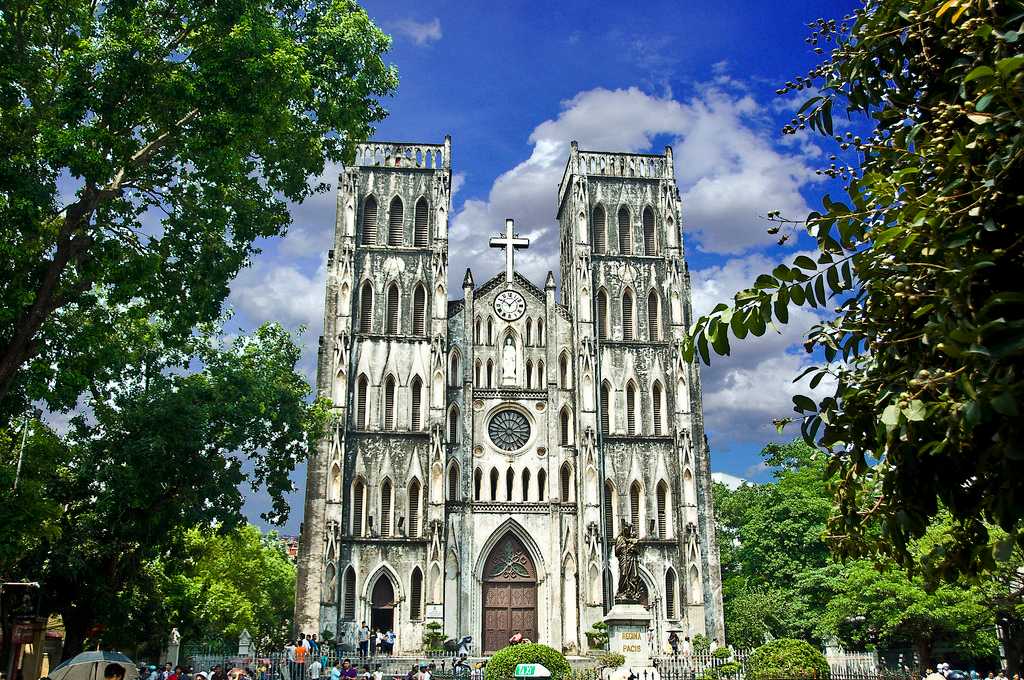 Constructed in 1888,
St. Joseph's Cathedral
is the oldest and the largest church in
Hanoi
. Built in a gothic style, the cathedral has some Parisian inspiration in its architecture, two bell towers, alluring interiors consisting of gorgeous stained glass windows shipped all the way from France and an image of St. Joseph in the middle. It's one of the most busiest tourist spots in Hanoi, majorly because of its location, and also because it holds mass several times per day, attracting visitors from everywhere.
4. Notre-Dame Basilica, Ho Chi Minh City
Address:
1 Cong Xa Paris, District 1, Ho Chi Minh city, Vietnam
Timings:
 5:30 AM - 5:00 PM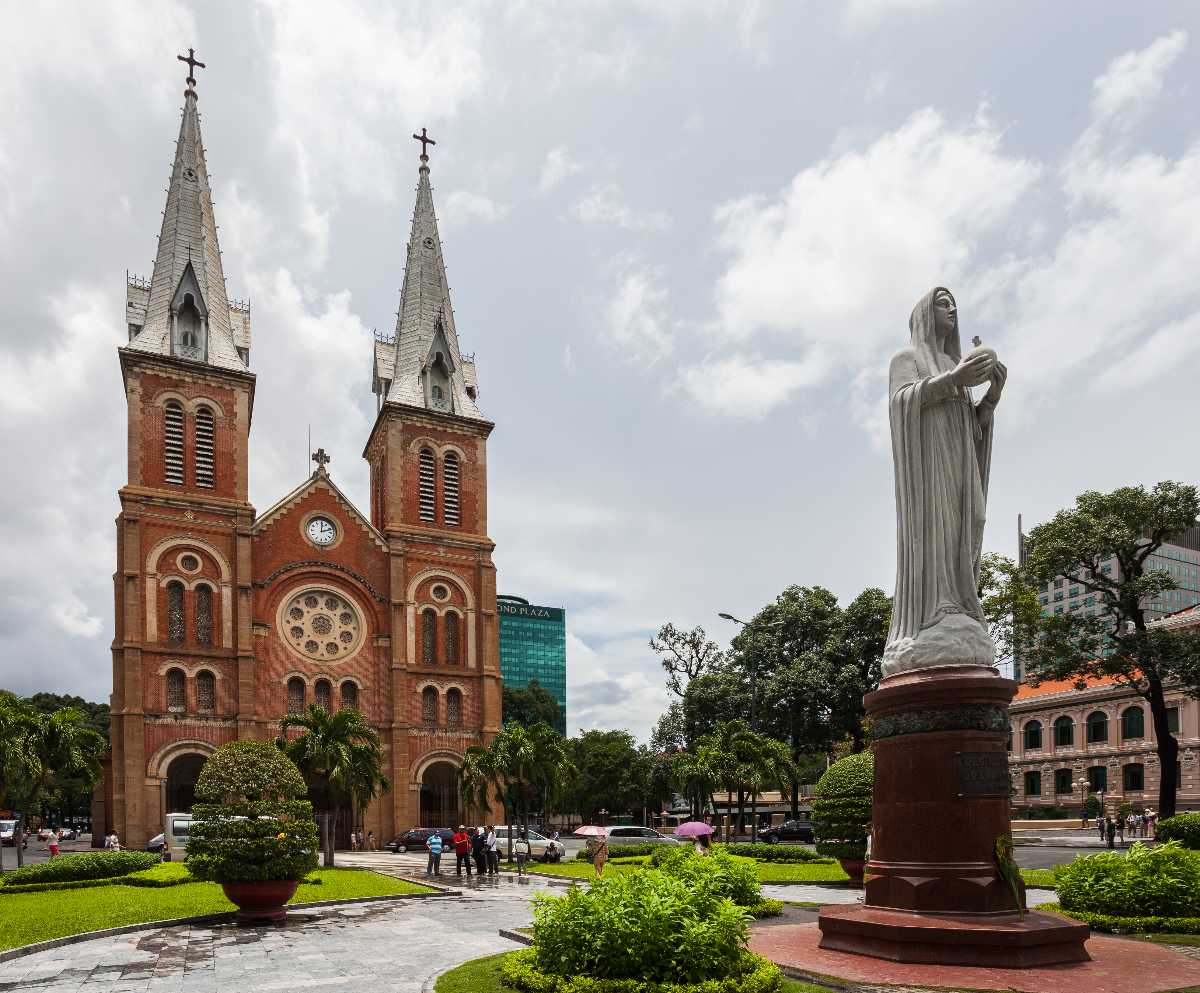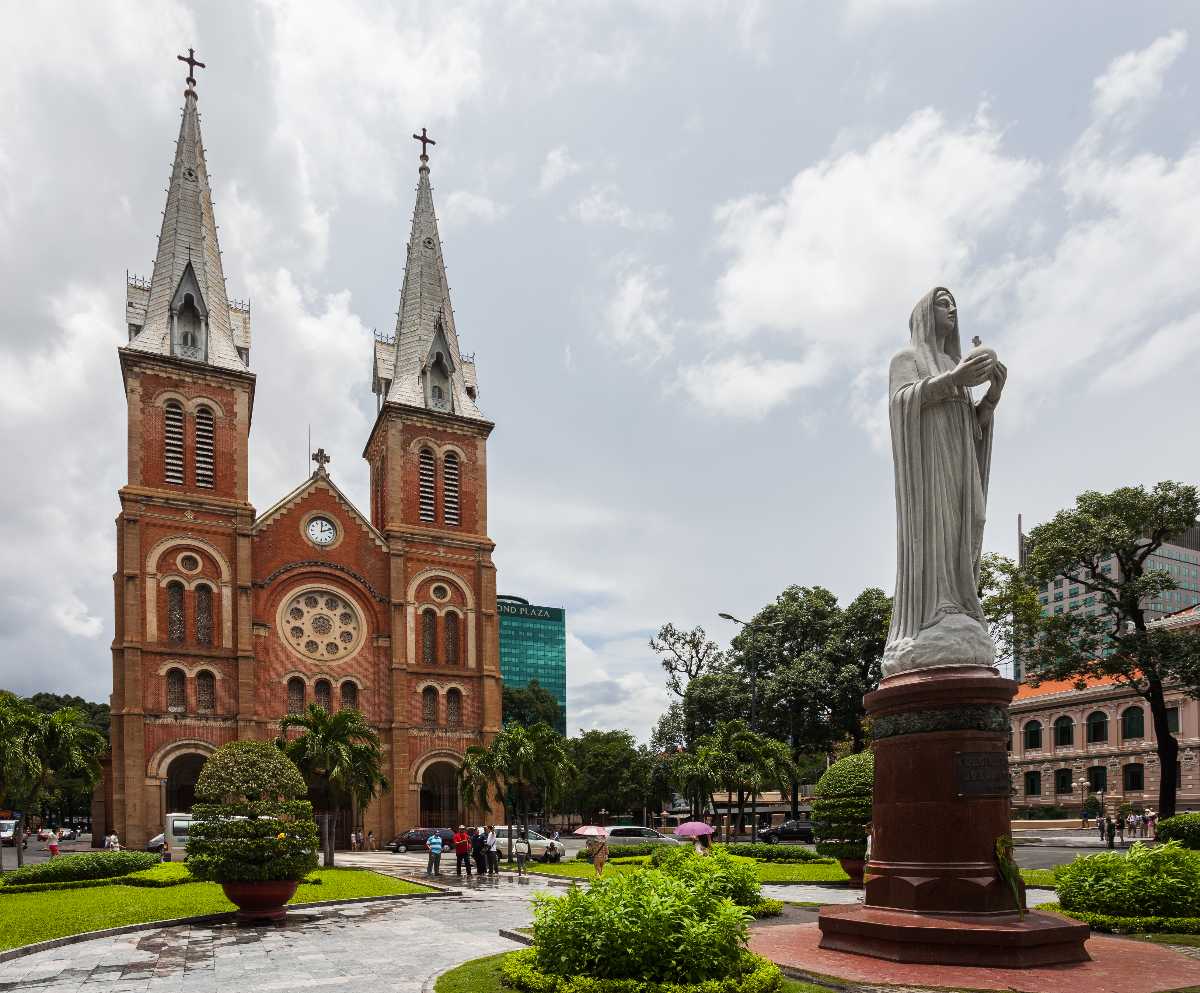 One of the most popular churches of Vietnam, the
Notre-Dame Basilica of Ho Chi Minh City
has a unique stunning architecture with every brick imported from Marseilles, France. It has an ancient exterior appearance, and a calm and peaceful interior where mass is held on every Sunday. This huge structure is standing in the center of Vietnam's busiest city, therefore, you'll see many tourists flocking here to capture the church in all its glory. The church is undergoing renovation and will not be open to tourists till 2019.
5. Buon Ho Church, Dak Lak
Address:
155 Nguyen Trai street, Buon Ho, Dak Lak province, Vietnam
Timings:
 9:00 AM - 5:30 PM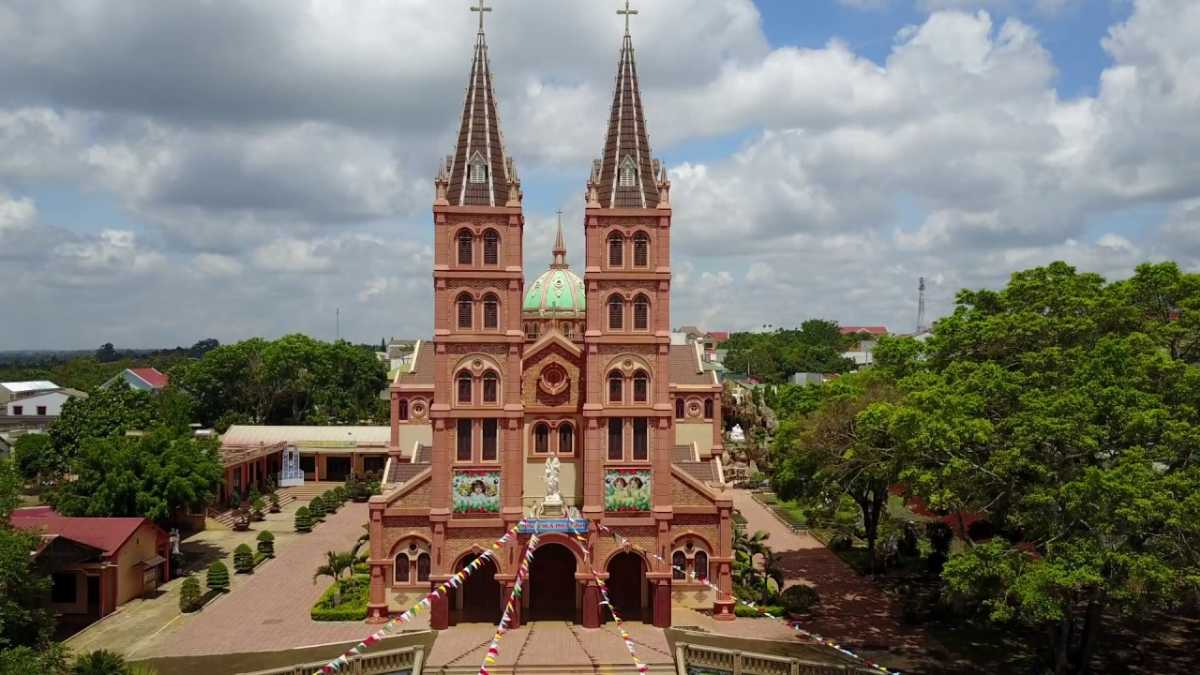 With neo-gothic style architecture, the Buon Ho Church is situated on the slope of a hill in the small town of Buon Ho. It's one of the biggest and most beautiful churches in the central highlands of Vietnam. A pastel orange hue and entirely built out of stone, the impressive architecture of the church is popular among tourists, especially photography lovers. First built in 1970 and later renovated in 2008, the church has a resemblance to the famous Notre-Dame cathedral of Ho Chi Minh city.
6. Saint Nicolas Cathedral, Da Lat
Address:
15 Tran Phu street, Da Lat city, Vietnam
Timings:
 9:00 AM - 6:00 PM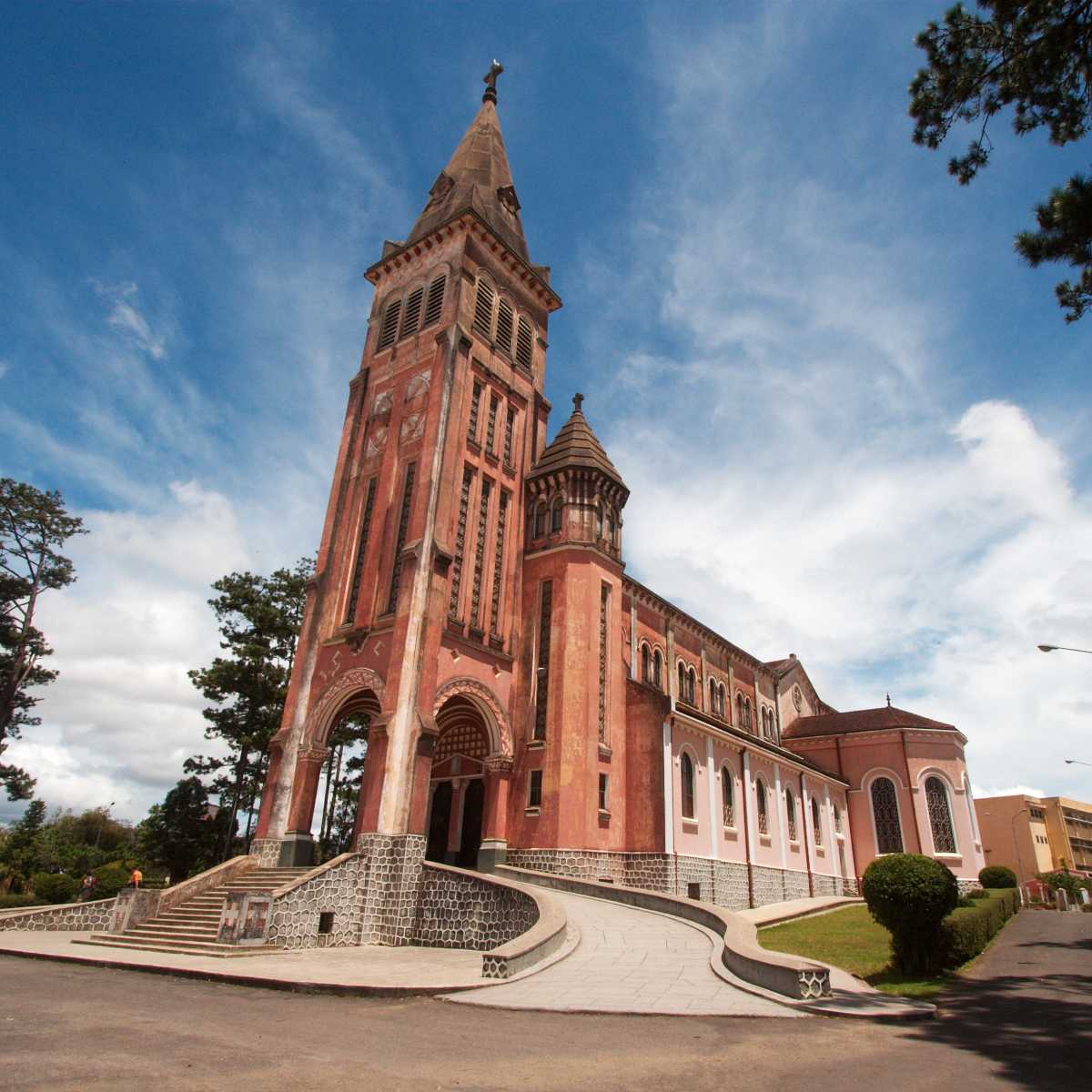 The biggest and most impressive structure in
Da Lat
is the Saint Nicolas cathedral, popularly known as Cock or Rooster church. This is due to the big rooster statue standing on top of the 47 metre bell tower. Built in the Romanesque style over a period of 11 years, this is a major tourist spot in the resort town of Da Lat. There are 70 stained glass windows inside the cathedral that were imported from France, the roof is covered in tiles, and the walls are built out of rocks. With a picturesque architecture like this, tourists are seen here very often.
7. King Cathedral, Nha Trang
Address:
31 Thai Nguyen, Phuoc Tan, Nha Trang, Vietnam
Timings:
 9:00 AM - 6:00 PM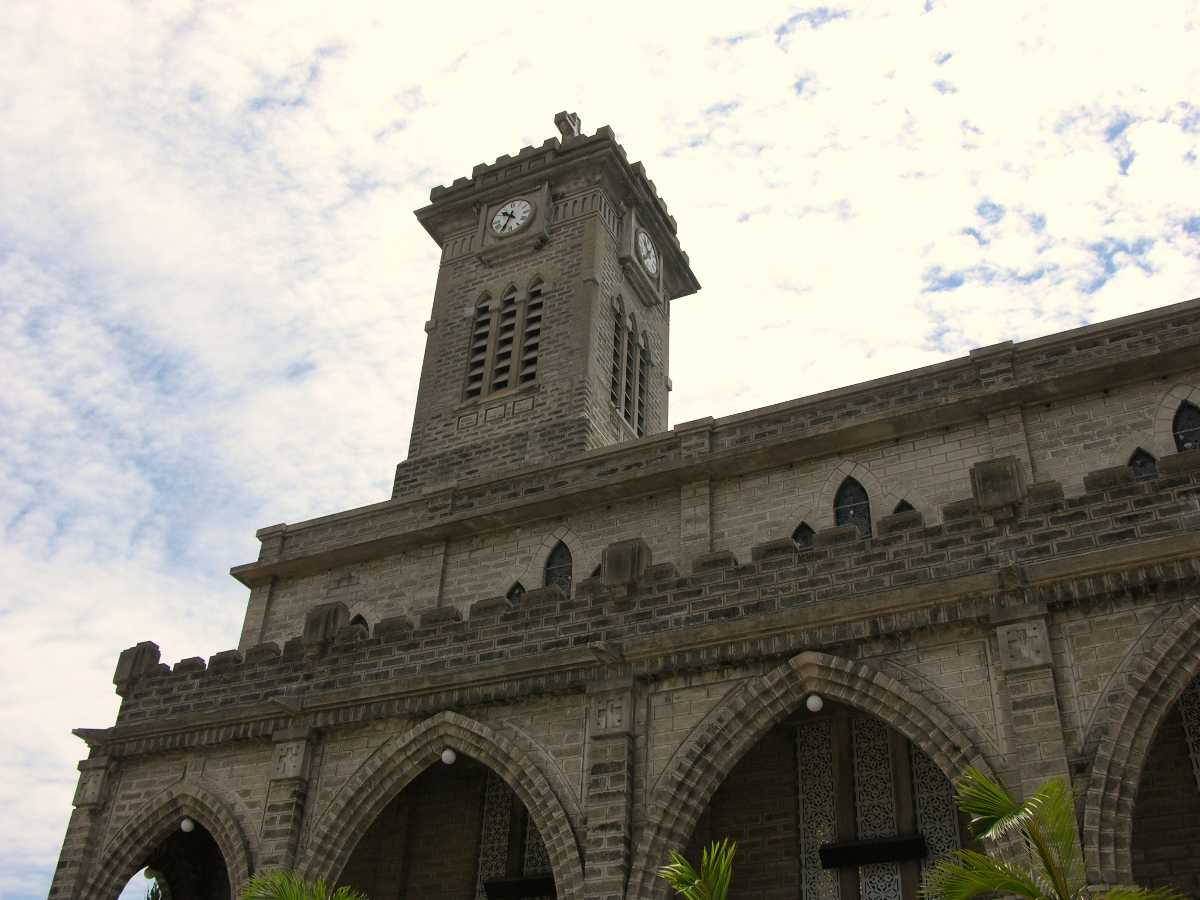 Commonly known as the Mountain Cathedral, the Church of Christ the King is located in the upper part of coastal
Nha Trang
. Built using bricks made from cement and gravel, this Vietnamese church is commonly mistaken for a stone church. As stunning the exterior looks, the interior of the church is ten times more marvelous with rose doors and incredibly beautiful stained glass windows. The gothic style architecture with a 28 meter tall bell tower, the Mountain church was built between the years 1928 and 1941.
8. Basilica of Immaculate Conception, Nam Dinh
Address:
Xuan Phuong, Xuan Truong district, Nam Dinh province, Vietnam
Timings:
 9:00 AM - 6:00 PM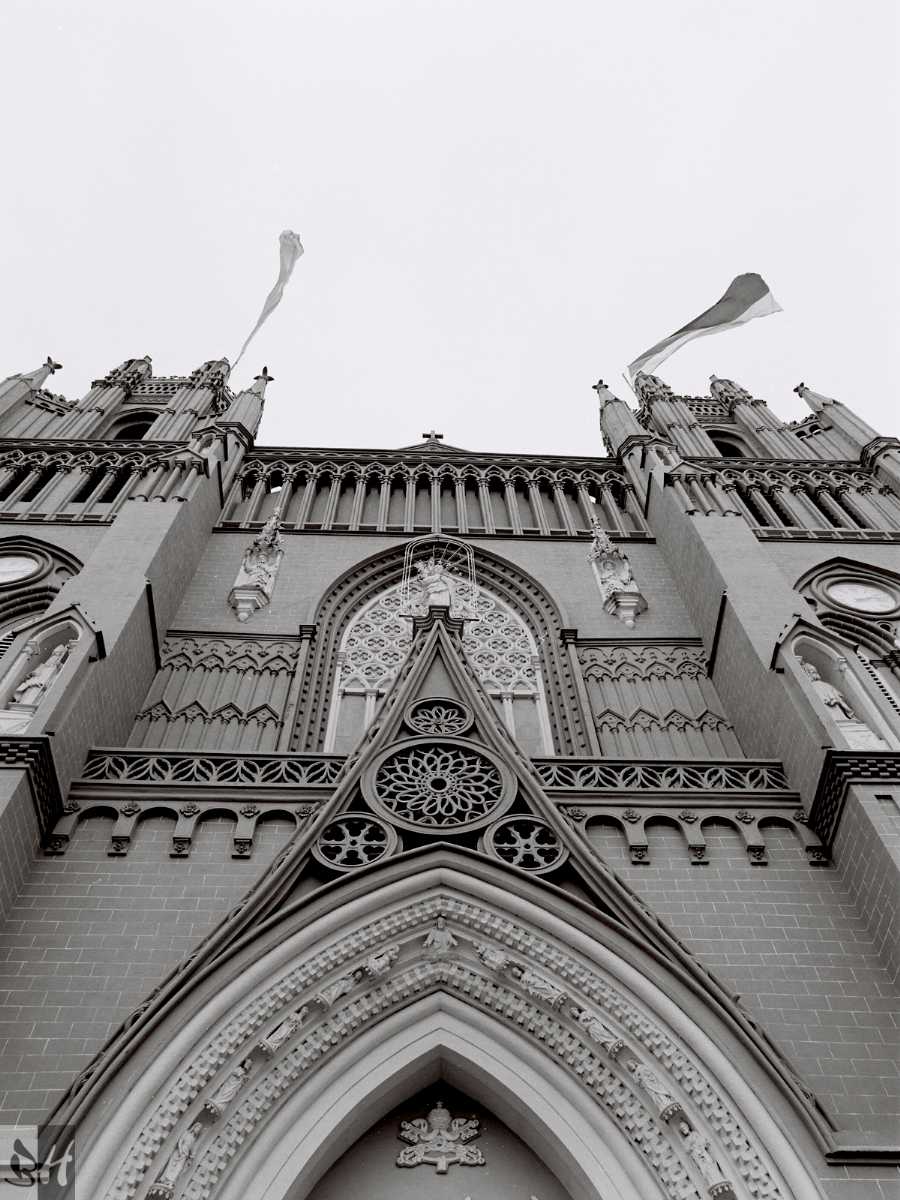 Originally built in 1866, the Basilica of Immaculate Conception, commonly known as Phu Nhai church, is the largest Gothic church in Vietnam with a height of 30 meters. On top of that, there are two 40 meter bell towers weighing two tons each. This breathtaking structure has a mixture of Spanish and French architecture. The interior is as gorgeous as the outside, with the domed ceiling painted in a beautiful yellow and many stained glass windows depicting scenes from the Bible.
9. Kon Tum Church, Gia Lai
Address:
Nguyen Hue road, Kon Tum city, Vietnam
Timings:
 9:00 AM - 6:00 PM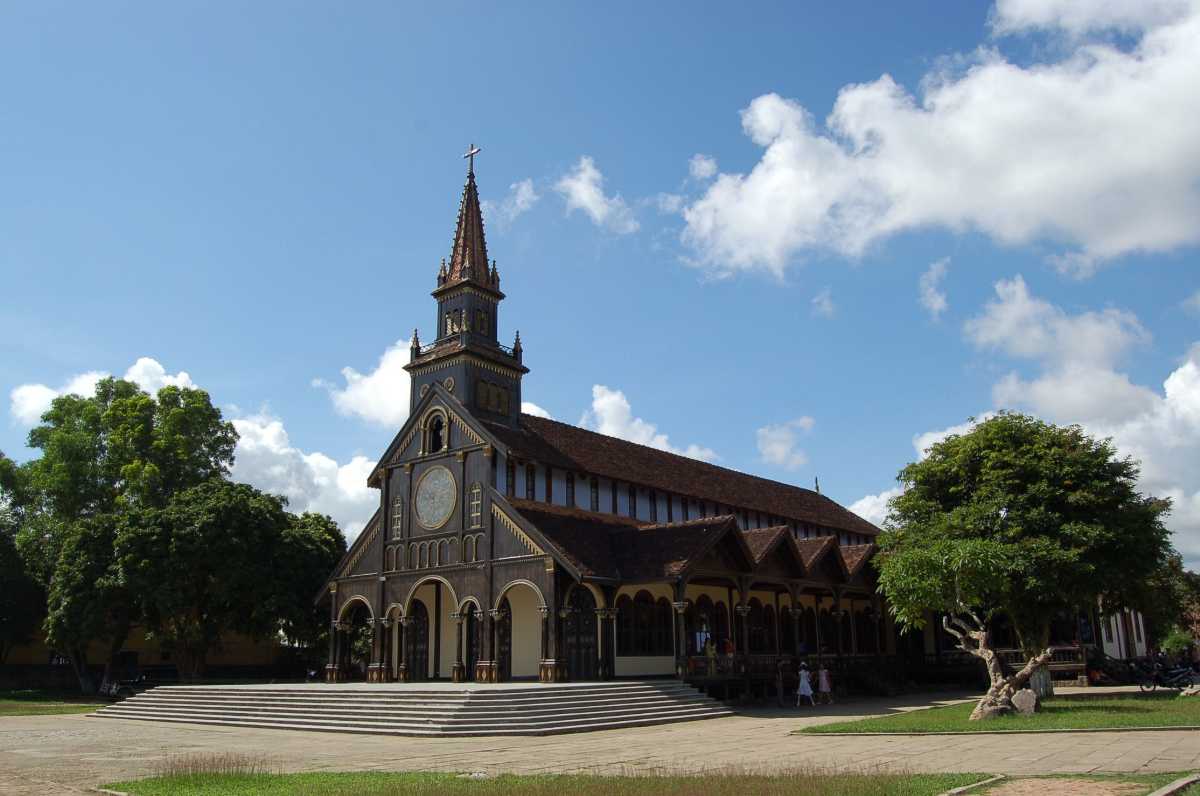 Kon Tum church is considered to be the largest wooden church in all of Vietnam. This century old cathedral's architecture is a combination of Romanesque European style on the outside, mixed with the Vietnamese central highlands style used for the inside decoration. The church has a front elevated floor which is one meter higher than the surrounding corridor, representing the Ba Na tribe's traditional stilt houses. The entire complex includes the main church, exhibition centre, communal houses, orphanage and workshop space.
10. Mang Lang Church, Phu Yen
Address:
Tuy An district, Phu Yen province, Vietnam
Timings:
 9:00 AM - 6:00 PM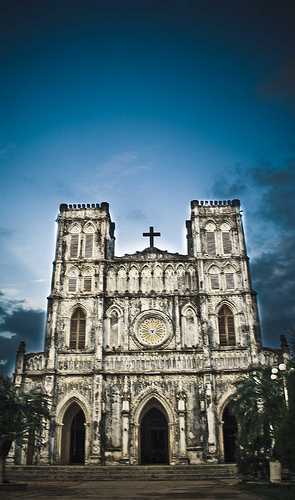 Built in 1892, the Mang Lang Church is one of the oldest churches in Vietnam. The facade of the cathedral is a gothic architectural style overlooking the beautiful Ky Lo river. Originally painted white, the outside of the church now has turned into a rustic grey, creating a great photo opportunity. Inside, the yellow brown walls, wooden ceiling, colorful stained glass windows and ancient lanterns add to the beauty. Tourists are often mesmerized by this church, not only because of its impressive architecture, but also because of a historical significance attached to it. The first book to be printed in modern Vietnamese script can be found here, written by Alexandre de Rhodes, a French Jesuit missionary and lexicographer.
Whether you want to experience the breathtaking architecture, participate in communal activities, learn about the history of catholicism in Vietnam or just sit in the calmness, these Vietnamese churches are a must on your to-do list.