Hanoi
is a city that takes the word 'street food' seriously. A stroll through the heart of the city will quickly draw your attention to the numerous food stalls littered practically everywhere throughout the city. During the day, it may seem like there is an uncountable number of food stalls but that pales in comparison to the number of food stalls that crop up after the sun sets. The phenomenon of street food in Hanoi comes alive at night when the chaotic streets spill out with street-side meat, bicycles laden with fruit and vegetables, simmering pots of stock on doorsteps, boiling kettles, tipping teapots and sacks overflowing with rice. The streets play host to a wide variety of exotic, mouthwatering yet inexpensive food which you should definitely not miss out on. Here is a list of the best street food in Hanoi:
1. Pho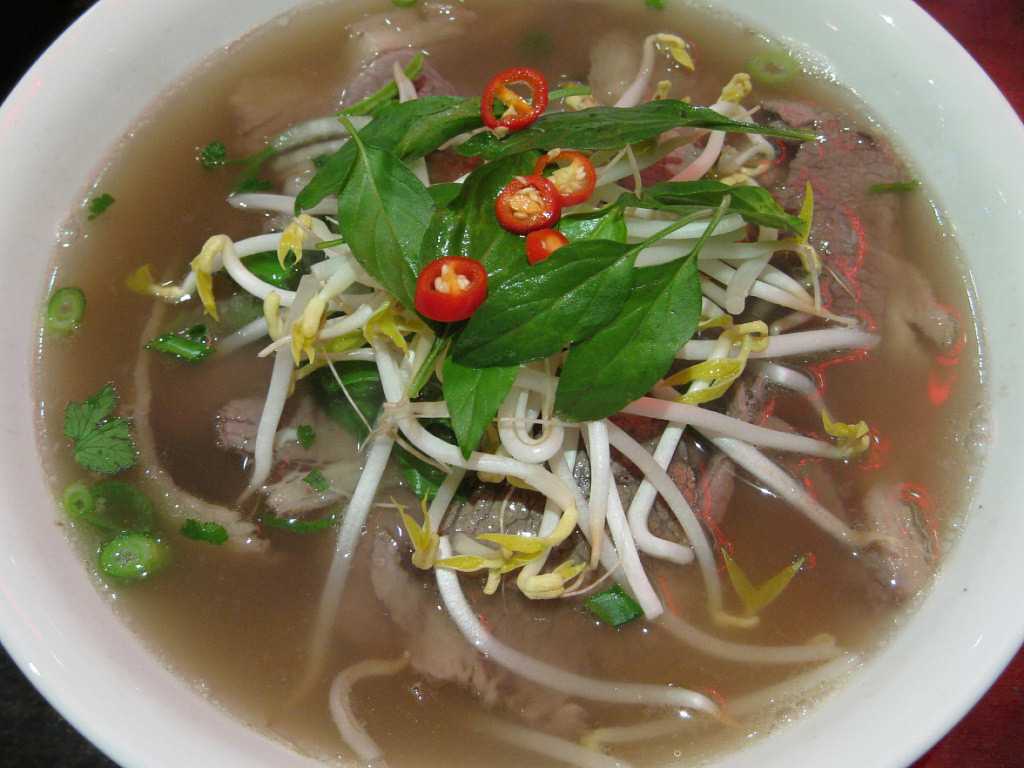 Pho is
Vietnam
's favourite street food. When you walk through any Vietnamese city, you cannot help but notice the people holding onto steaming bowls of pho and savouring the delicacy, chopsticks in hand. Fun fact: Pho originated in Hanoi. Undoubtedly, Hanoi must have the best pho in the country and it does not disappoint. The city is scattered with street shops selling the delectable rice noodle soup with a choice of either chicken (pho ga) or beef (pho bo).
Price for a Bowl: VND 50,000 i.e INR 150 and USD 2
Places to Try Pho in Hanoi:
- Beef Pho at Pho Bat Dan in Hoan Kiem
- Chicken Pho at Pho Lam Nam Ngu near the Hanoi Hilton
- Pho Gia Truyen (49 Bat Dan)
- Pho Thin (13 Lo Duc)
2. Xoi

Xoi is classic street food in Hanoi that is also Vietnamese comfort food. Xoi or sticky rice is so well moulded by Vietnamese chefs into a variety of dishes that it can be compared to a work of art. Xoi Yen, a particularly popular version of Xoi, is made up of glutinous rice layered on top with green mung bean paste and chicken fat. Xoi may also be served with hard boiled eggs, pork, beef or fish. A warm dish of Xoi along with some fresh Hanoi beer is perfect for a chilly day.
Price for a Bowl: VND 10,000. i.e INR 30 and USD 0.5
Places to Try Xoi in Hanoi:
- Xoi Yen (35b Nguyen Huu Huan)
3. Bun Cha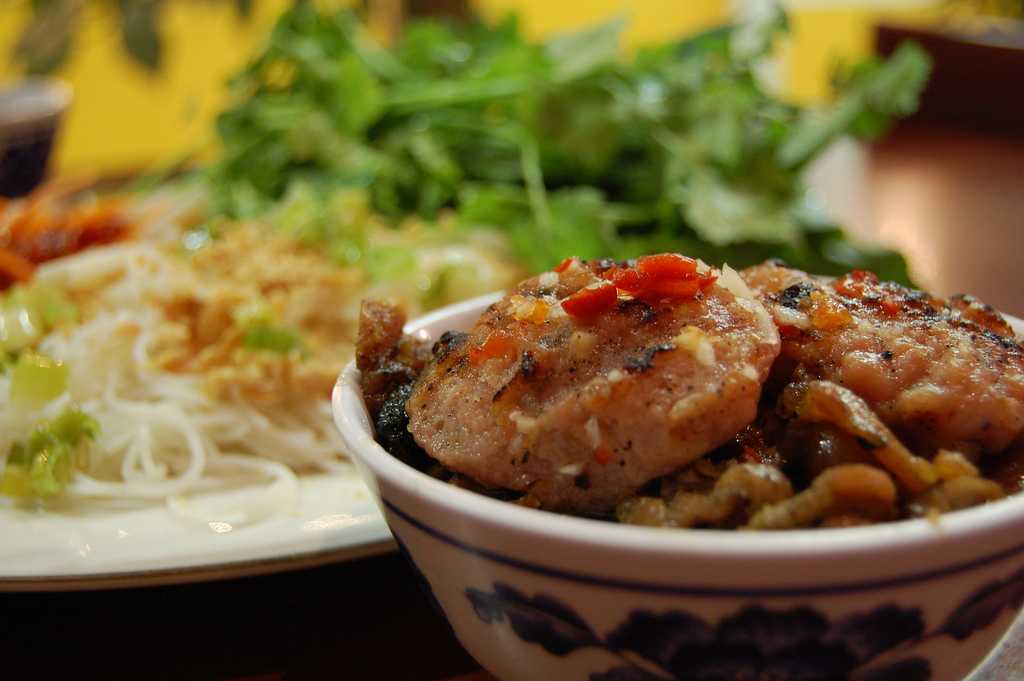 While Pho is considered to be the favourite food of Hanoi, Bun Cha comes in a close second. This mouthwatering medley of grilled pork and steamed sticky rice is seasoned with fresh herbs, papaya slices, red chillies and garlic. Deep fried spring rolls are added to this mix to provide a crispy taste. In fact, Bun Cha was eaten by the former President of the United States, Barack Obama during his visit to Vietnam!
Price for a Bowl: VND 10,000. i.e INR 30 and USD 0.5
Places to Try Bun Cha in Hanoi:
- Obama Combo from Bun Cha Huong Lien at 24 Le Van Huu
- Nha Hang Thanh Hop (12 Dinh Liet)
- 34 Hang Than
4. Bun Bo Nam Bo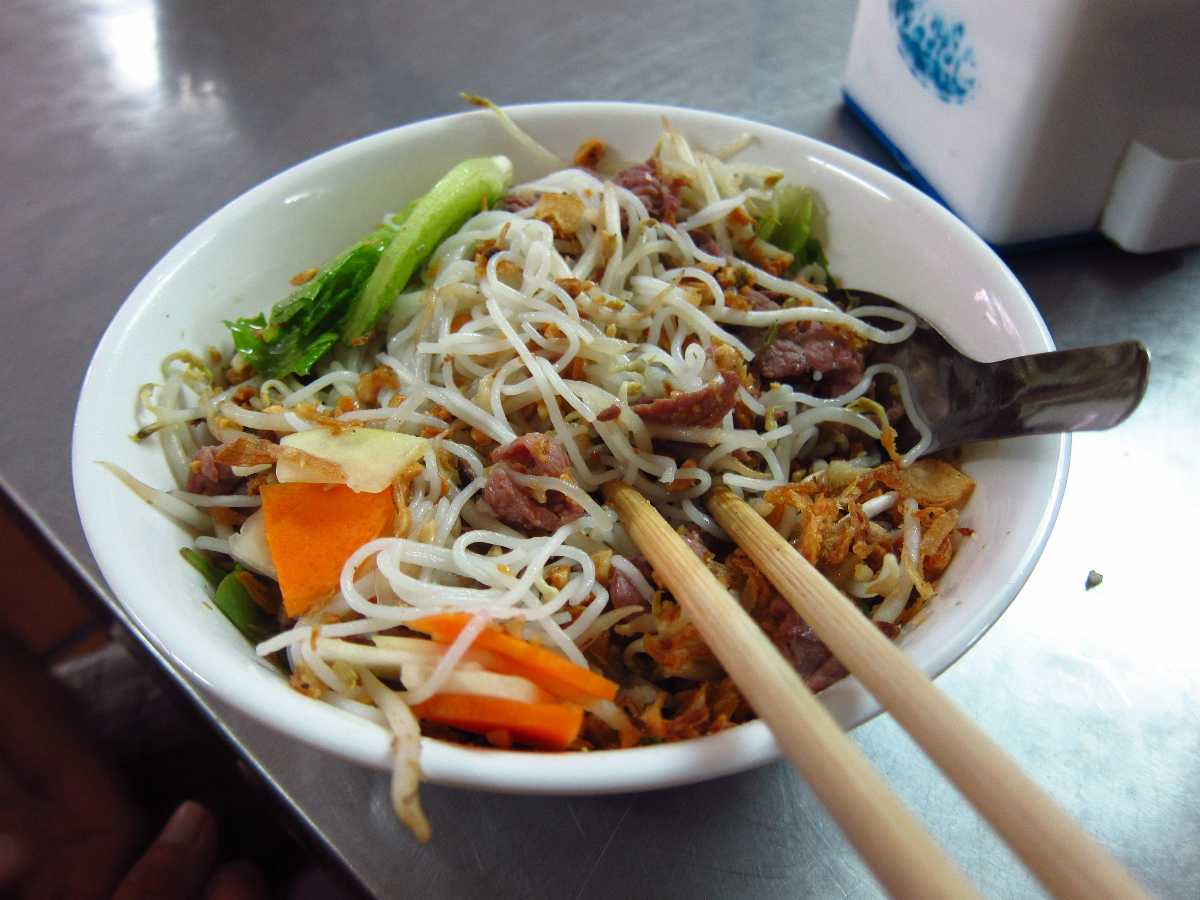 Bun Bo Nam Bo may not originally be from Hanoi, but Hanoi has adopted it as its own and added its own swirl of flavour to enhance the already tasty creation. This mélange of grilled beef, vegetables, herbs, crispy onions and rice noodles, served in a large bowl and garnished with fresh lime juice and chilli sauce offers an exotic burst of flavours in your mouth, satisfying the need of seeking out street food in Hanoi.
Price for a Bowl: VND 30,000. i.e INR 90 and USD 1.2
Places to Try Bun Bo Nam Bo in Hanoi:
- 67 Hang Dieu
- 89 Hàng
5. Pho Cuon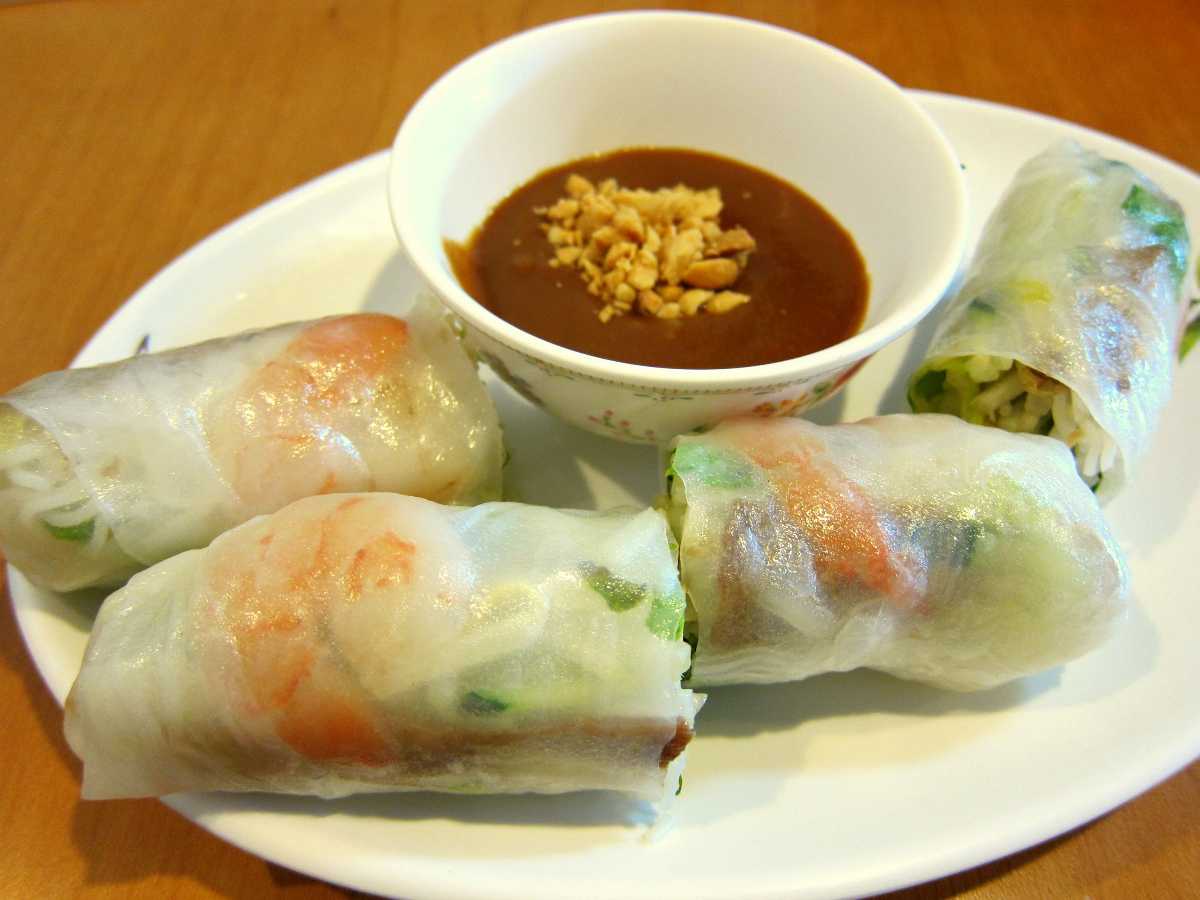 Pho Cuon is the tastiest finger food you can consume of all the street food in Hanoi. Pho Cuon consists of large rice noodles delicately and skillfully rolled around beef and green herbs to create an intricately made wrap. The delicate flavours of this dish can be spiced up by a side serving of Nuoc Cham - a mixture of fish sauce, sugar, vinegar and chilli.
Price for a Bowl: VND 40,000. i.e INR 110 and USD 2
Places to Try Pho Cuon in Hanoi:
- Pho Cuon Huong Son (19 Ngu Xa)
6. Banh Cuon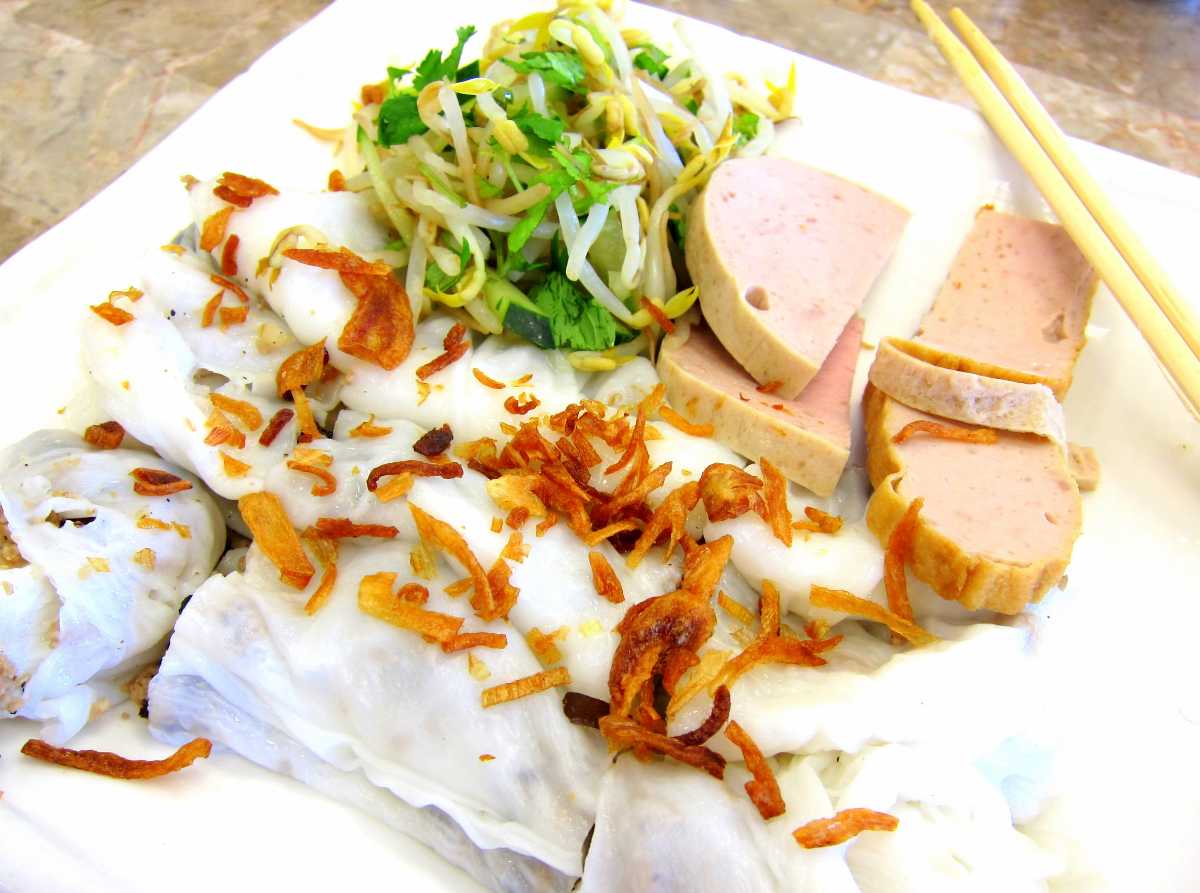 Banh Cuon is an odd looking dish. Comprising of large misshapen bits of fermented rice noodles served with fresh herbs and bowls of pork, mushroom and minced shallots, this dish has a unique taste of its own. For the adventurous few who wish to get a more in-depth taste of the local street food in Hanoi, the Banh Cuon may be flavoured with a bold dipping sauce made from ca cuona, the essence of a giant water bug. This light treat is a perfect snack as you stroll around the
Old Quarter
. Banh Cuon can be found everywhere along the Old Quarter, usually at small family-run shops or carts.
Price for a Bowl: VND 20,000. i.e INR 55 and USD 1
Places to Try Banh Cuon in Hanoi:
- 14 Hang Ga
7. Che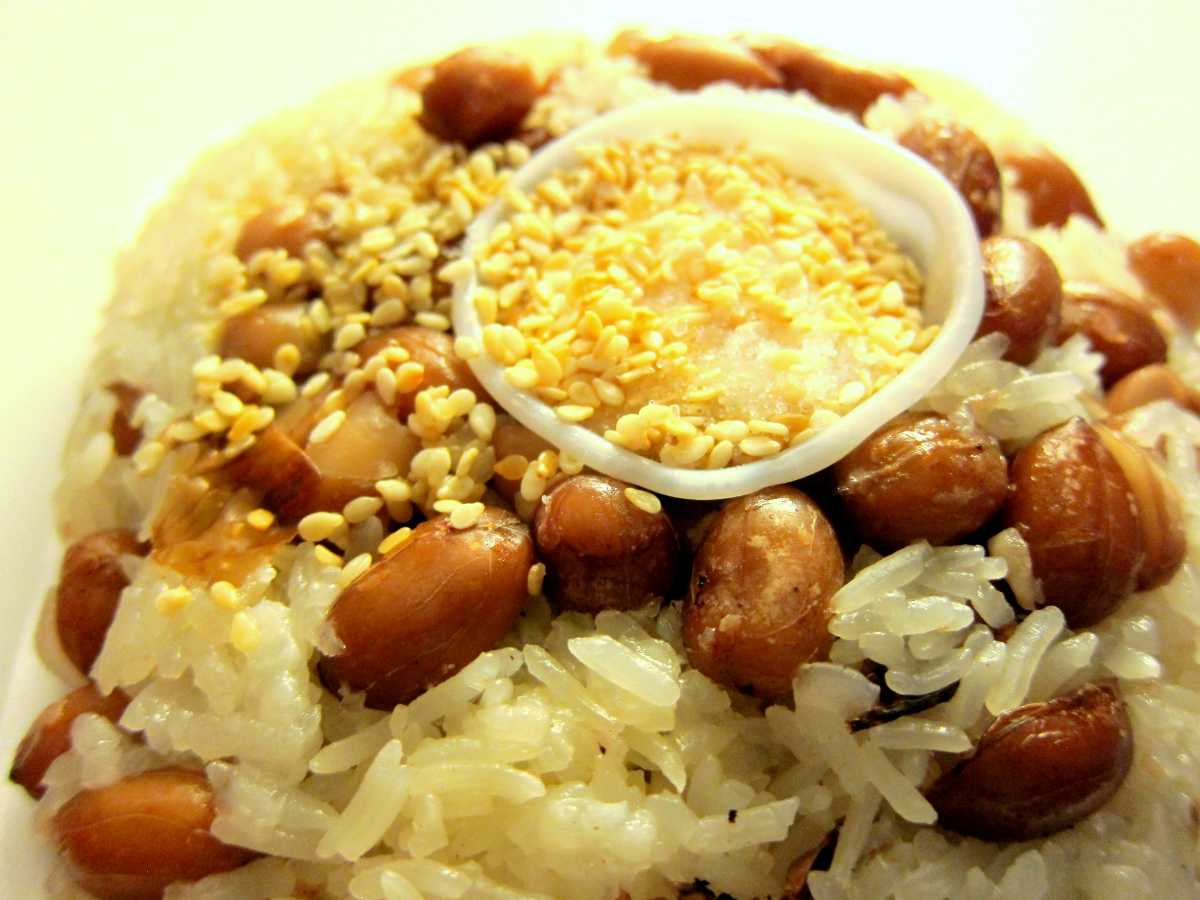 Che is a very versatile Vietnamese dessert. In fact, Che is a word associated with any kind of sweet Vietnamese and comprises a vast number of sweet dishes under its umbrella. Che can be either hot or cold, and it can have a wide range of ingredients like mung beans, red beans, fruits, tapioca beans and even sugarcane and porridge. At some shops, you can sample the different kinds of Che and take your pick out of them!
Price for a Bowl: VND 10,000. i.e INR 30 and USD 1
Places to Try Che in Hanoi:
- Che Ba Thin (1 Bat Dan)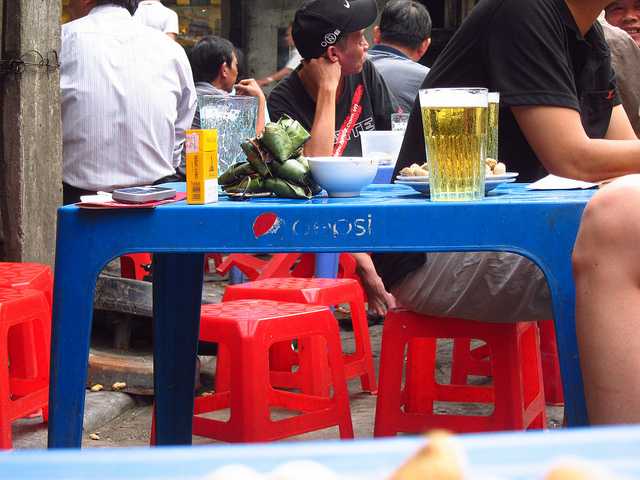 When indulging in some scrumptious street food in Hanoi, it will remain incomplete without a taste of the local beer. After sunset, the entire Old Quarter area wakes up and numerous stalls open up, placing their respective plastic stools outside on the sidewalk. This is the perfect time to grab a locally brewed Bia Hoi and strike up a conversation. This locally brewed fresh beer will leave you craving for more and the best part is that it is dirt cheap! The beer is also very light (about three per cent alcohol) and will not leave you too tipsy.
Price for a Bowl: VND 5,000. i.e INR 15 and USD 1
Places to Try Bia Hoi in Hanoi:
- Old Quarter
9. Ice Cream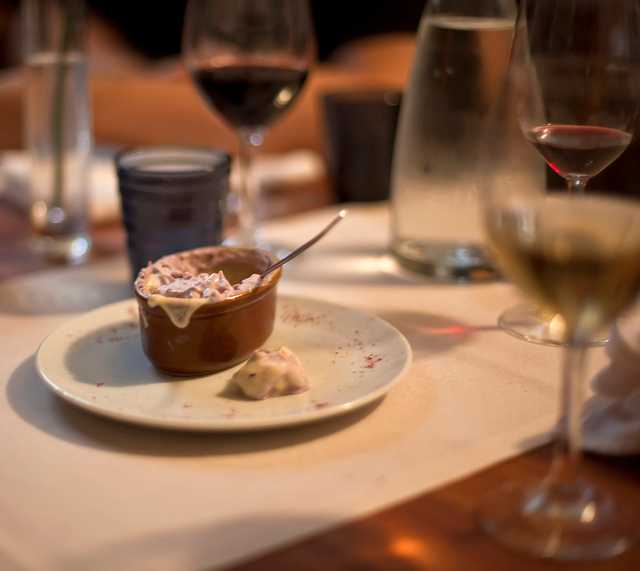 Ice Cream seems odd, almost out of place on this list. Ice Cream here does not refer to the mundane everyday ice cream we consume. The street food scene of Hanoi has modified Ice cream too and added its own touch to it! Vietnamese ice cream is a light treat that will cool you down on a particularly sultry day. This bizarre creation consists of a coconut filled with ice cream and topped with coconut meat, peanuts, chocolate sauce and a tube of cinnamon. This dish consists of creamy ice cream encased by a crispy outer layer.
Price for a Bowl: VND 5,000. i.e INR 15 and USD 1
Places to Try Ice Cream in Hanoi:
- Flan or baked ice cream at 60 Hang Trong
- Coconut ice cream served at 29 Hang Than
10. Egg Coffee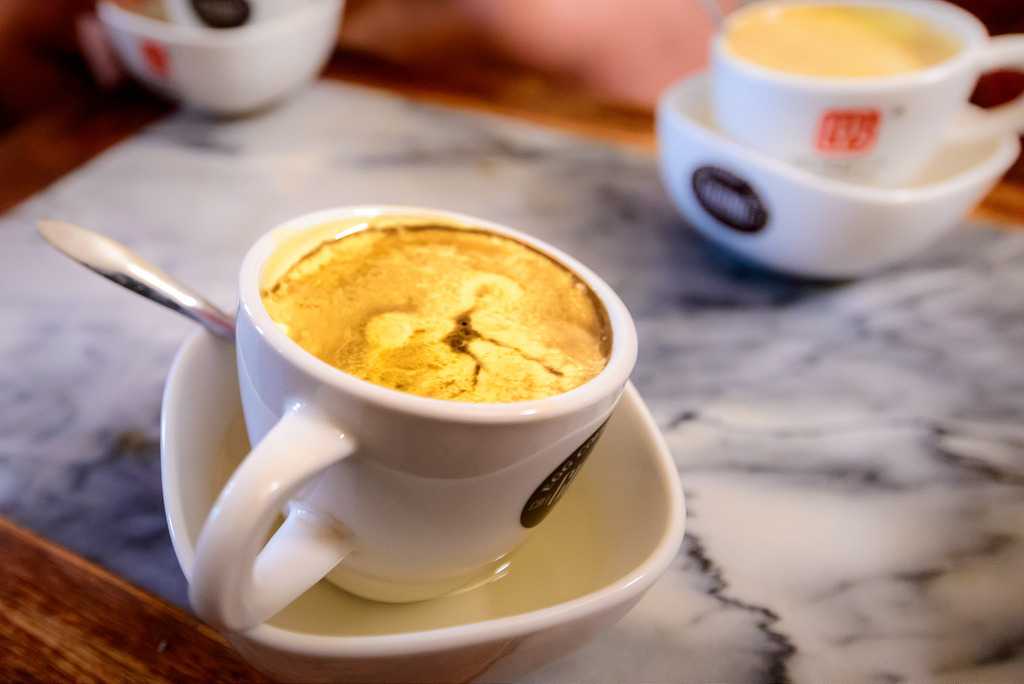 The people of Hanoi enjoy their daily dose of caffeine. In fact, the Hanoians are connoisseurs of brewing coffee in multiple distinctive kinds of ways. One particularly remarkable caffeinated drink is Egg Coffee, locally known as Café Trung. The decadent beverage is made by adding a sweet topping of whisked chicken egg yolk, Vietnamese powder, sweetened condensed milk, butter and cheese over a base of strong coffee, making it feel more like a dessert than coffee, thus landing it a spot in the directory of must-have street food in Hanoi. This brew comes either steaming hot or iced. Though a little pricey compared to the standard coffee, this brew is worth it.
Places to Try Egg Coffee in Hanoi:
- Giang Cafe (39 Nguyen Huu Huan)
- Coconut ice cream served at 29 Hang Than
Often, you may find it slightly difficult to find all the food you want to try out. So, Hanoi has made your job easy for you. There are multiple private agencies that offer street food tours both during the day and at night, and if you are inclined to be indecisive, this is a great option for you. There are also food trips on Xe Om for those who do not wish to walk. A food trip may cost between VND 450,000 - VND 1,500,000 based on the timing, the mode of transportation and the area covered.

The Hanoi street food weaves its magic on you. One single bite of these delicious dishes will leave you spellbound and wanting more. Missing out on the street food in Hanoi during your trip to the city is definitely going to leave you feeling half-finished.