From time immemorial, India is known for its customs. As far as art and culture are concerned, India features amongst the topmost rated culturally rich countries in the world. The handicrafts of India have been loved and respected worldwide and have left everyone awestruck. Many rural people still earn their livelihood from their creative pieces of art and India has still managed to preserve its artisans, its art and its handicrafts.
List of 12 Most Amazing Handicrafts of India:
1. Pashmina Shawls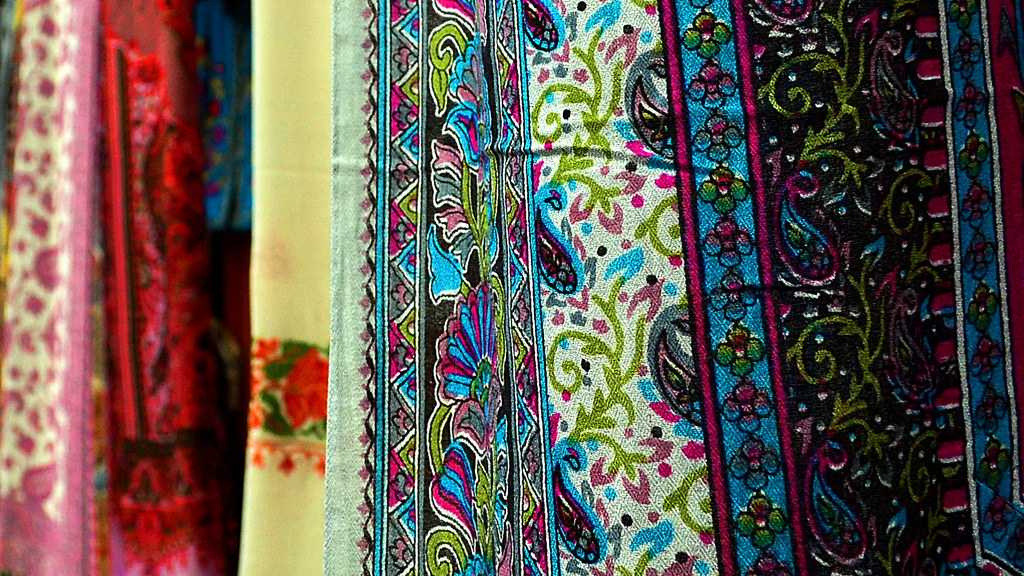 Pashmina is a fine type of wool. Its textiles are first woven in Kashmir. These shawls are made from a fine type of cashmere wool and are then transported to the valley of Kashmir in northern India, where it is entirely hand processed. All steps from combing and spinning, to weaving and finishing, is entirely carried out by hand by dedicated craftsmen and women. The major centre of Pashmina fabric production is the old district of Srinagar. The approximate craft time put into producing a single Pashmina shawl is 180 hours. They come in beautiful vibrant colours and have exquisite embroidery on them and at the same time can keep you warm and are also known for their softness.
2. Woodwork

The northern states of India have a rich tradition of the woodwork. Regions in Punjab are famous for its exquisite wooden furniture. Kashmir is famous for its artefacts made from the walnut trees. The artisans of Chhattisgarh specialise in wooden crafts like masks, doors, window frames and sculptures. Jharkhand is famous for its wooden toys which are always in a pair. The woodcarvings of Goa are an aesthetic blend of Portuguese and Indian cultures, and the designs are primarily floral, animal and human figures.

Endowed with abundant forests, woodwork is a popular craft in South India. It is mainly done on rosewood and sandalwood. Red sandalwood from Andhra Pradesh is used to make cutlery, dainty boxes and paper knives in various designs. Madurai (a city in Tamil Nadu), is popular for its rosewood carvings. Karnataka is famous for beautiful elephants, images and furniture made from rosewood. Sandalwood is also used to make utility and decorative items, which are etched with designs of flowers, creepers, birds and animals. Magnificent figurines of females are carved out of Kumbli wood in Kerala.
3. Pottery

Pottery is considered to be the most sensual form of all arts. The tradition of handmade pottery is prevailing in India since the time of Harappan Civilisation. North India is also known for various kinds of pottery designs, ranging from colours like orange, brown and light red in
Uttar Pradesh
to black and dark red in
Himachal Pradesh
. In
Rajasthan
,
Bikaner
is famous for its painted pottery, Pokhran for its pottery with geometrical patterns and
Alwar
for its
Kagzi
pottery. The blue pottery of
Jaipur
is also very famous. The potter occupies a unique position in the craft traditions of India.
4. Leather

The age-old convention of leather skill in India is proved by ancient sages and ascetics. In the past, leather was not only used in making clothes and footwear but also in making caps, bags, saddles, shield etc. India is famous worldwide for its leather products. Madhya Pradesh is also known for its leathercraft. Various leather items are produced like shoes, bags and garments. Maharashtra is also famous for its leather shoes called Kolhapuri chappals.
5. Jute

Jute craftsmen have created a worldwide position in the field of jute handicrafts. The huge range of jute crafts includes bags, office stationeries, bangles and other jewellery, footwear, wall-hangings and many more. India is a centre for jute handicrafts and people all over from the globe visit the jute handicrafts fairs to buy these works of perfection. West Bengal, Assam and Bihar, being the leading jute producers, pilot the jute handicrafts market in India.
6. Shell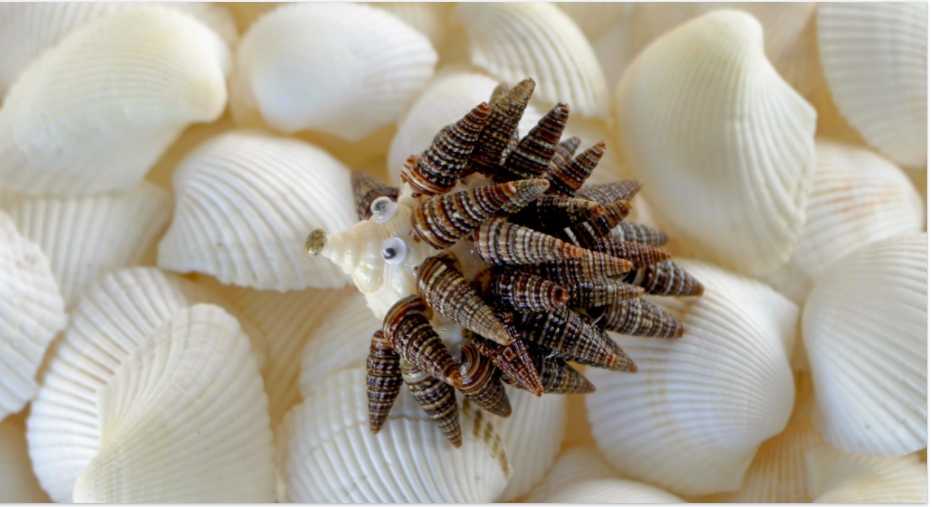 There are three kinds of shell from which shell handicrafts are made in India - conch shells, tortoiseshell and seashell. Different kinds of goods like bangles, forks, decorative bowls, lockets, curtains, chandeliers, mirror frames, table mats, etc. are the products of shell handicrafts. In general, the places located on the seashore like
Gulf of Mannar
, Goa,
Odisha
, etc. are the places for shell handicraft and these art pieces are found in abundance here at a lower price.
7. Brass Handicrafts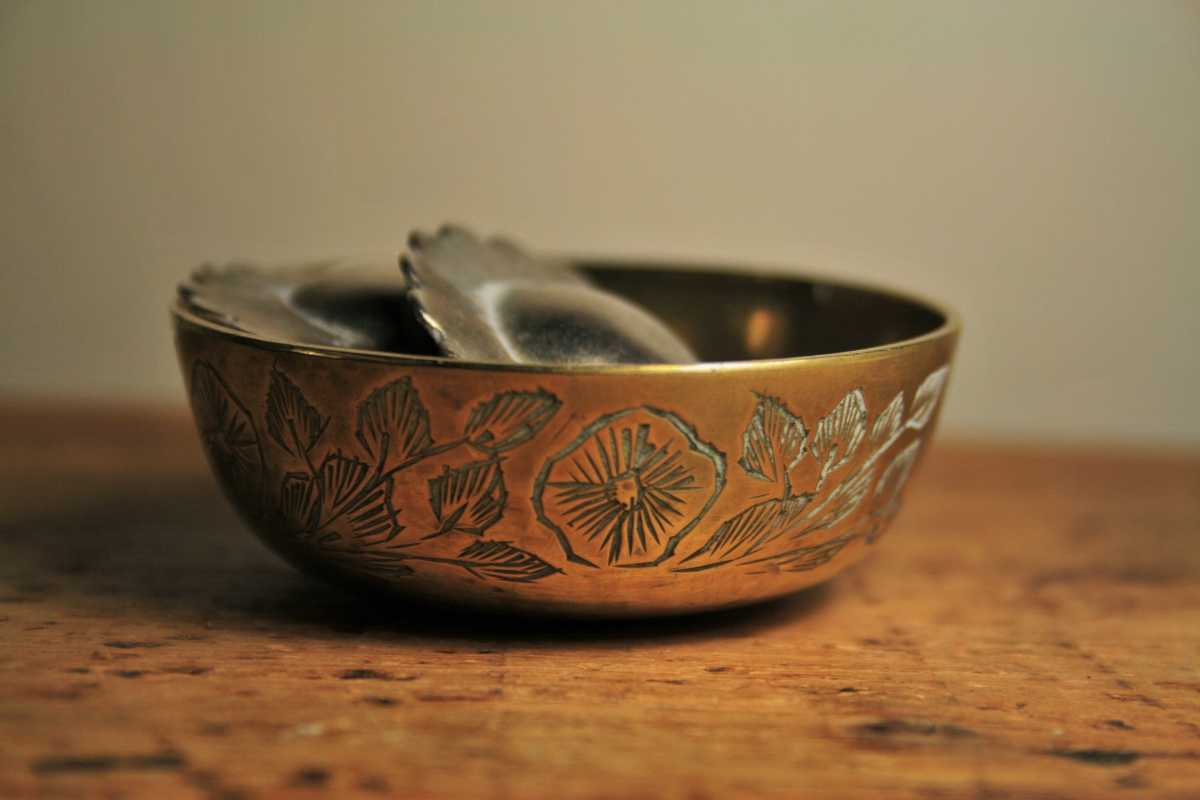 Brass is known for its durability, and this feature adds to its advantage when used as handicrafts. Different items made of brass like Lord Ganesha's figure in different postures, vases, tabletops, perforated lamps, ornament boxes, wine glasses, and many more are widely used in many Indian houses even today. These artisans dealing with brass handicrafts are distinctively known as "Kansaris". The manufacturing of brass handicrafts is mainly done in Rajasthan.
8. Bamboo Handicrafts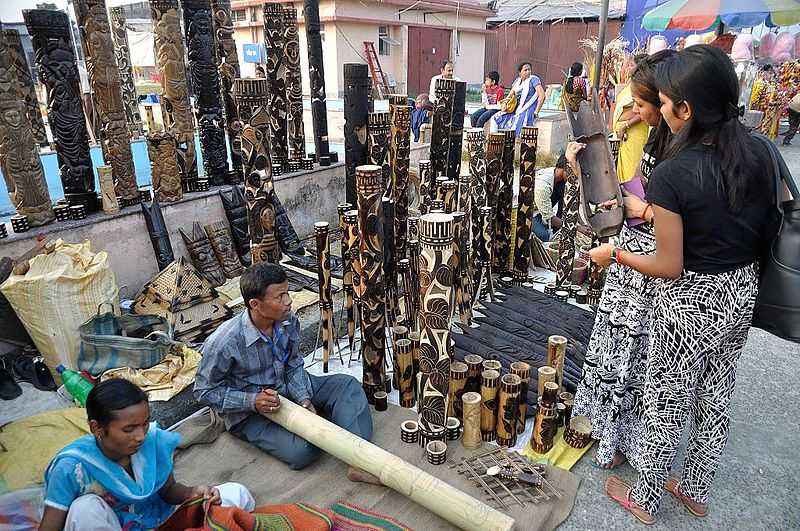 Handicrafts that are made by using bamboo are the most eco-friendly crafts made in India. The diverse items made from bamboo are baskets, dolls, toys, furniture, mats, wall-hangings, crossbows, jewellery boxes and many more. Bamboo handicrafts are predominantly prepared in West Bengal, Assam and Tripura.
On the whole; we can see that each region of India is endowed with unique handicraft that adds charm to the state and the country as a whole. The tradition of craft has evolved through generations, and there is a quest for innovation and invention that continues to give each craft a contemporary look but at the same time preserving the Indian heritage and culture.
9. Phulkaris

Phulkari embroidery technique from the Punjab region and Haryana literally means flower work, which was at one time used as the word for embroidery, but in time the word 'Phulkari' became restricted to embroidered shawls and head scarfs. It is a kind of embroidery that has complex designs made through vertical, horizontal and diagonal stitches, this whole work is done with white or yellow silk floss on cotton khaddarh and starts from the centre on the fabric called "chashm-e-bulbul" and spreads to the whole fabric. They are bright and colourful. Some modern fashion designers are incorporating this embroidery into their garments, and its use has spread to jackets, bags, cushion covers, table-mats, shoes, slipper, juttis, and kids? garments.
10. Zardozi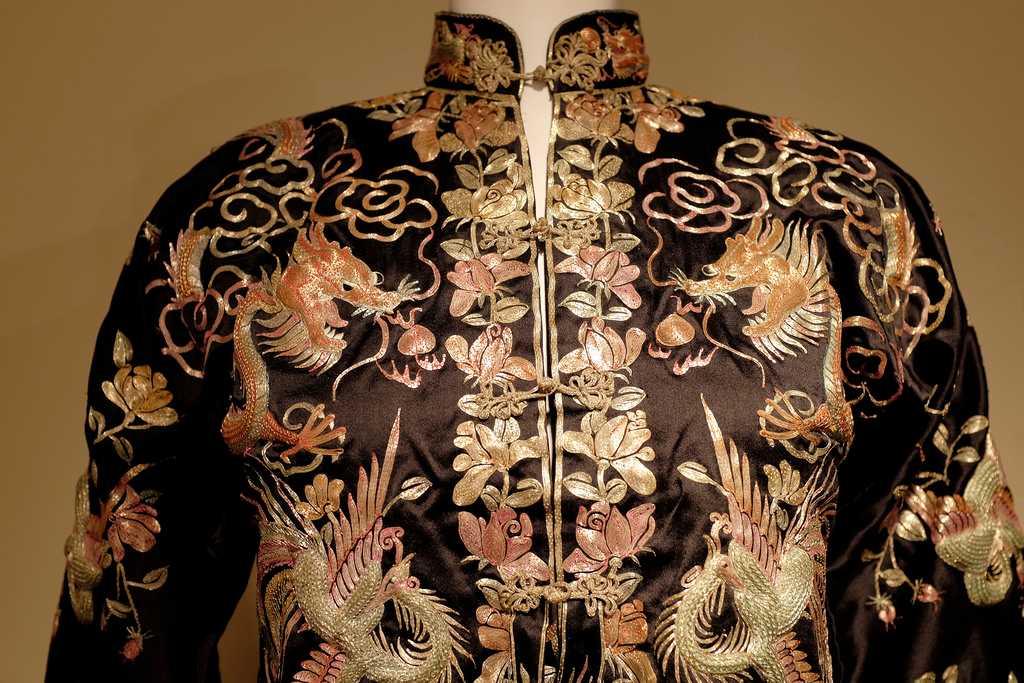 Zardozi embroidery work involves making elaborate designs, using gold and silver threads along with studded pearls and precious stones. Intricate designs in gold are made of silk, velvet and even tissue materials famous in the state of Uttar Pradesh. Initially, the embroidery was done with pure silver wires and real gold leaves. However, today, craftsmen make use of a combination of copper wire, with a golden or silver polish, and a silk thread. This embroidery work is mainly a speciality of Lucknow, Bhopal, Hyderabad, Delhi, Agra, Kashmir, Mumbai, Ajmer and Chennai.
11. Saris and Silk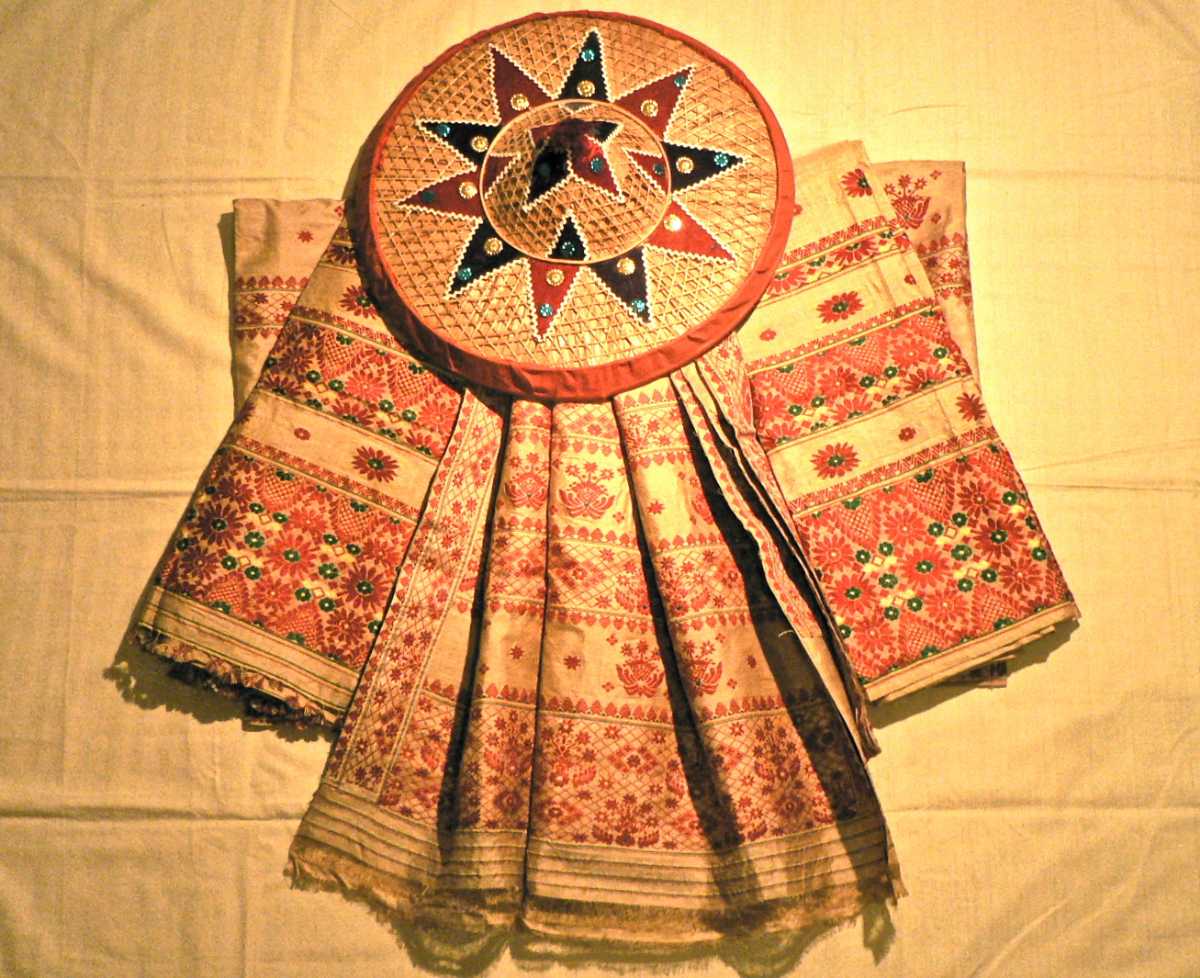 Saree or saris is a cloth of around 4.5 metres to 8 meters that women wrap around the waist and drape one end over the shoulder. The east of India is also famous for its silk saris, namely the Baluchari saris of West Bengal and Mooga and Assam silk of Assam. Their saris come in various colours and look very rich and magnificent. Banarasi sarees are among the finest sarees in India and are known for their gold and silver brocade or zari, fine silk and opulent embroidery.
Weaving saris is a household tradition in rural South India. Tamil Nadu is famous for the Kanchipuram saris. The traditional Kanchipuram saris have been given a modern look with fewer motifs and by introducing new colours. Andhra Pradesh is known for cotton saris with rich golden borders and heavy pallus in Gadwal and Kothakota. In Karnataka, cotton saris are made of dark earthy colours. Irkal is a special sari of Karnataka which is dominated by rich colours like pomegranate red, peacock blue, and parrot green. Maharashtra is famous for Paithani Saris.
12. Carpet Weaving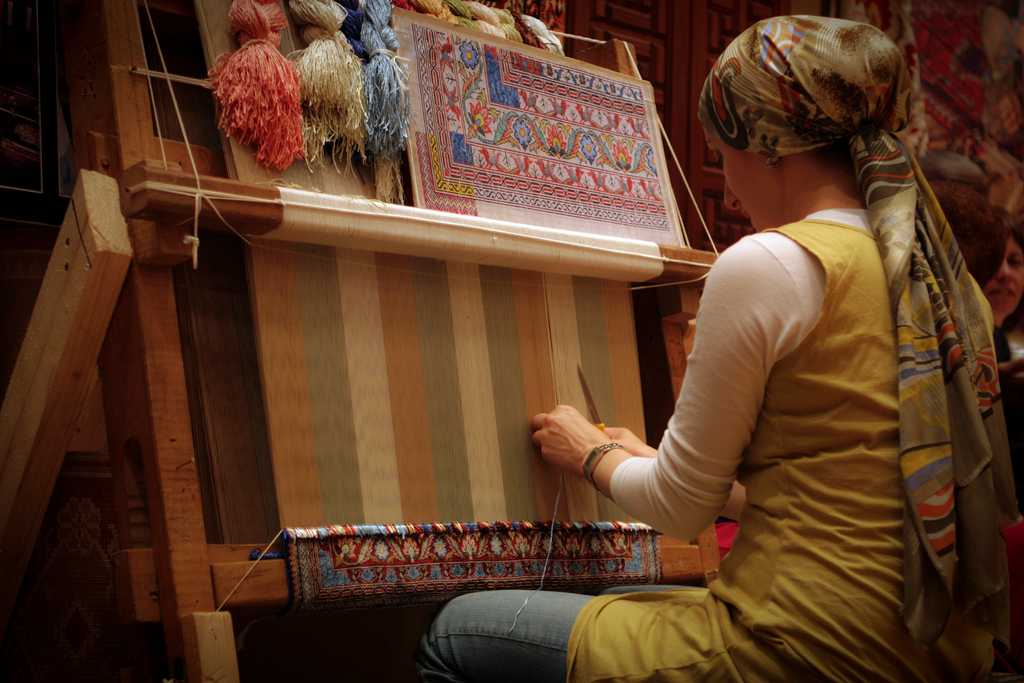 Carpet weaving is also an important craft in North India. Uttar Pradesh has the largest carpet weaving industries in the country, and the carpets are incredibly beautiful with designs such as the Taj Mahal woven on them. More than 500 carpet manufacturing factories spotted the city of Bidohi, which made the city home to the leading hand-knotted carpet weaving industry hubs in South Asia. Also, Jammu and Kashmir is known for the silk carpets, which are mostly woven in Srinagar.
Government Approved Handicraft Shops in India
Dilli Haat in Delhi
Kala Madhyam in Bangalore
MESH in Hyderabad and Delhi
Khazana in Taj Group of Hotels
Ekamra Haat in Bhubaneshwar
Rajasthali in Jaipur
So the next time, you visit any of the cities mentioned above in India, do not forget to buy one of these artistic productions which will surely make your home even more decorative.

On the whole; we can see that each region of India is endowed with unique handicraft that adds charm to the state and the country as a whole. The tradition of craft has evolved through generations, and there is a quest for innovation and invention that continues to give each craft a contemporary look but at the same time preserving the Indian heritage and culture.