"One State, Many Worlds"
Karnataka Tourism At A Glance
Ranked the 4th most popular tourist state in the country, Karnataka has a bouquet of attractions to offer you. Expanded from Belgaum in the North to Bangalore in the south which is also its capital, it has all the features of a great tourist destination. Beautiful beaches adorn the coastal line to the midst of the state with lush mountains, valleys and landscapes of farmlands.
Karnataka, true to its tagline, is one state that accumulates many worlds in itself. The Malayalis, the Tamils, Konkanis, Kanada, even the Muslims and Christians have made Karnataka their home with their culture beautifully merging with that of the state. It has the second highest number of protected monuments in India, Hampi being one which houses the maximum of them, was the capital of Vijayanagar- 14th-century empire and now has the ruins of numerous palaces, forts, caves and monuments.

Apart from history, Karnataka is also rich in nature's bounty and wildlife. It has 5 National Parks and over 25 wildlife sanctuaries of which Bandipur and Nagarhole NationalParkss are most famous. The world's largest monolith structure is in Karnataka in Sharavanbelagola, the statue of Lord Gomteshwar sees tens of thousands of pilgrims during Mahamastakabhisheka festival. Karnataka has also been emerging as a healthcare tourism spot because of many approved health systems and therapy centers being opened in the states.
Local Food and Cuisine of Karnataka
Karnataka's state cuisine has one of the oldest surviving cuisine of the Kanada culture. Primarily, consisting of rice, pulses and Rotis made of wheat/Jowar along with rich, spiced curries. Karnataka's cuisine also borrows some elements from its neighboring states of Tamil Nadu, Kerala and Maharashtra.
It is rich in both vegetarian and non-vegetarian dishes.Some of it typically includes Idli-Vada sambhar, Vangi bath, Akki roti, Bisi Bele bath. Udupi cuisine of Udupi and Mysore is one of the most famous cuisines here that has seeped into other the cultures in and around Karnataka. The famousMasala Dosas and variety of idlis, Rava Dosas and Medu Vada all are part of the Udupi cuisine famous in the state. Sambhar and rice for the sweet tooth, Mysore Pak, Dharwad's peda, Holige and Sajjige are some mouth-watering sweet dishes.

Read more about Food of Karnataka

Top Attractions In Karnataka
What's Great?
Considered a forerunner in the Information Technology development in the country, Karnataka doesn't just attract leisure tourists. People come here from far and wide for business, wildlife exploration, bird watching, rejuvenation and culture travel.
What's not so Great?
Travelling within the state can be quite a hassle in the absence of a well-placed public transport system.
For Whom
Tourists plan a visit to Karnataka for various purposes including business travel, relaxing getaway in the Western Ghats, Wildlife - bird watching and eco-tourism. As a destination, it's fit for people of all age groups basis on their purpose of visit.

Karnataka Photos
Karnataka Tour Packages

Thrilling Hampi | 3 Days 2 Nights
Staring from Rs. 4,500

Panorama of Mysore | 3 Days 2 Nights
Staring from Rs. 4,500
People and Culture of Karnataka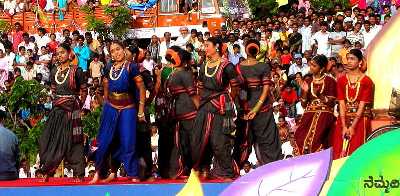 People of varied ethnic and religious affinities co-exist in Karnataka. Malayalis, Tamils, Konkan Marathas, Marathi, have been staying in Karnataka for a long time to have their culture mixed with the state's original culture of Kannada. The official language is Kannada though Konkani, Tamil, Urdu, Malayali and Hindi are widely spoken here. The majority of the people are Hindus, closely followed by Muslims and Christians.

Tribes like the Kurubas also find their origins here and still are present in most parts of Karnataka. Their primary occupation is agriculture, like most middle-class people, in Karnataka too people usually have jobs rather than their own business which is why the middle-class culture imitates from its counterparts from different cities in India. Due to Bangalore developing into a commercial city and Karwar the port city now has the second Indian Navy Base (Seabird), Karnataka is now seeing an influx of people from different parts of the country settling in. The people have gladly accepted Karnataka as their home.

Read more about Karnataka Culture
Geography of Karnataka
Located by the Arabian Sea, Karnataka is bordered by Goa and Maharashtra in the north, Tamil Nadu and Kerala to the south while it shares boundaries with Andhra Pradesh on the eastern side as opposed to the western borders lined by the sea. Geographically, the state has a diverse variety of topography. Two major physical divisions within the state are the Deccan Plateau and the Coastal Plains. From the mountains of the Western Ghats to the many waterfalls and forest covering twenty percent of the state's land, Karnataka sure has a widely varied landscape.

History of Karnataka
The soil of Karnataka has been a witness to the rise and fall of many dynasties which ruled the state over the years. The Nandas, Mauryas, Kadambas, Badami Chalukyas and the Gangas were the chief rulers of Karnataka at various points. Dynasties of rulers including Vijayanagara, Kalyan Chalukyas, Rastrakutas, etc. were responsible for setting raids in the then Kingdom of Karnataka. The latest rulers of the state were the Marathas as they won Karnataka from the Mughals. This had happened before it became a colony under the British rule after the empire of Tipu Sultan was overpowered in the year 1799 and the Marathas in 1818.

Post-Indian independence in 1947, the southern state witnessed an uproar vis-à-vis the debate for the unification of its 20 segments into one state between the period from 1905 to 1920. Even though the struggle got Congress's support in 1924, the unification of the then Mysore did not happen until November 1956. Finally, on 1st November 1973, Karnataka got its new name.

Mysore Silk
Karnataka's Mysore is known across the country for its silk weaving industry. Started as a traditional occupation, silk weaving has been going on for generations in Mysore. This silk is said to be derived from the silkworm cocoons of mulberry leaves and is known to be of superior quality. It is popular for its colour and royal shine.
Bidriware
This is a rare form of metal handicraft originating from Bidar in north Karnataka. The art form has its roots in the 14th century under the rule of Bahmani Sultans. Blackened alloys of zinc and copper are decorated with sheets of pure silk crafted into beautiful, intricate designs for the making of these exquisite handicrafts. Bidriware is believed to be brought to India from Iran in the medieval ages and today is one of our principal exports, considered a symbol of luxury and wealth.
Wildlife of Karnataka
The state of Karnataka is rich in biodiversity. It has five national parks and ten wildlife sanctuaries which can be a delight to wildlife enthusiasts. The sanctuaries make for a good exploratory walk in the forests with scenic views, lakes and waterfalls. Some of the animals that can be spotted here are Bengal Tigers, Black Panthers, Lion-tailed Macaque, Nilgiri Langur, Malabar Giant Squirrel along with 300 plus various species of birds, reptiles and butterflies. Some of the famous ones are - Brahmgiri Wildlife Sanctuary, Cauvery Wildlife Sanctuary, Bannerghatta National Park, Peacock Sanctuary, etc.
Karnataka is a beautiful state and has lots of options for travellers. The capital city Bangalore is one of the best places in India to live and it has an amazing weather throughout the year. Bangalore is also probably the best metro in India when it comes for choices of weekend getaways. There are lots of wildlife sanctuaries, riverfront destinations, waterfalls, trekking spots, hill-stations. Places like Coorg, Ooty attract tourists from all over the country. Gokarna is an offbeat destination, but it's beauty is compared to Goa. Mysore is famous for it's palace and other gardens. Beaches on the west coast of India includes Murudeshwar, Mangalore, Udupi, etc. and all of them are really beautiful. Karnataka is also close to other touristy states like Kerala, Goa and Tamil Nadu.