The crumbling sound of new shopping bags, new tags and the moment when you discover that one dress or trinket that you absolutely must own are some simple joys of shopping, that draw a fine, glittering, line between those who shop for utility, and the more amazing kind that are shopaholics. So if you've crossed that line and come over, and are looking for a change from your own city.
Here are 15 Places for Shopping in India:
1. Jaipur - The Shopaholic's Bucket List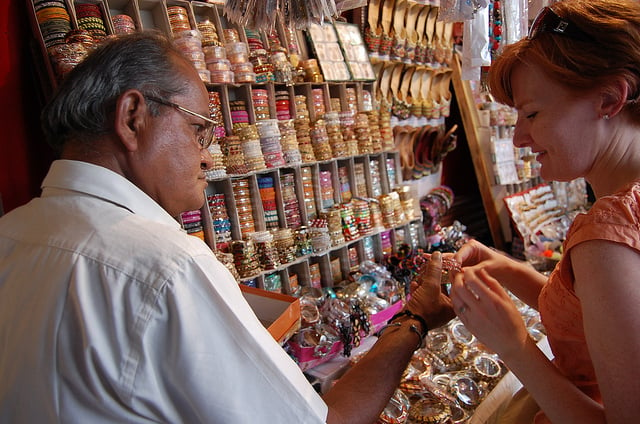 If you have to choose one place in India to shop at for everything traditional and ethnic, it has to be Jaipur. Mirror Work, tie and dyes, exuberant embroideries and just so much colour! Keep to traditional items, clothing and handicrafts, a bargain at bazaars, break for amazing street food and you are set. Maybe even buy some traditional puppets. Jaipur is undoubtedly one of the best shopping places in India.
When you are done pampering yourself, also hoard some beautiful, and mostly hand-painted and natural colour printed home decor goodies, from cushions, bed sheets to rajaais. Psst? Also great for wedding shopping in India!
What: Jewelry (Lac, Trinkets, Precious, Customized), Clothing (Traditional), Footwear (Traditional Jaipuri Jootis), Handicrafts, Saris, Home Decor (Curtains, Bedspreads etc)
Top Places: Bapu Bazaar, Johri Bazaar, MI Road,
Must Buy: Lac jewellery is a speciality, Traditional clothing, Handicrafts, Precious Stone and trinket jewellery
2. Kashmir, Srinagar - A Paradise of More Than One Kind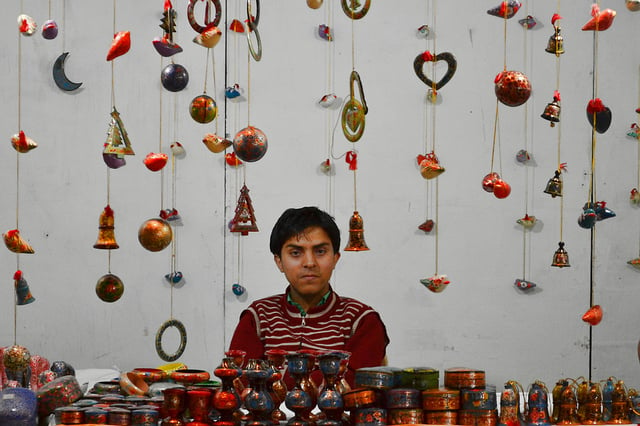 While the Pashmina Shawls and Silk Carpets and just a handful of saffron are going to cost you a pretty big sum, you can be assured that these three are Kashmir's absolute favourites and worth all the money. A bargain at local shops. Go to authorised outlets for Pashmina shawls or take an expert with you who can help you buy the authentic stuff. And don't forget to hoard Paper mache boxes and handicrafts for family and friends too!
What: Paper-mache handicrafts, Pashmina Shawls, Carpets and Rugs, Saffron and other spices, Silver jewellery and decor, Kashmiri embroidery suits, Kashmiri Tea, old maps, old photographs and Kashmiri art.
Top Places: JK Govt handloom showroom, Shops near Lal Chowk, Main market area
Must Buy: Paper-Mache handicrafts, Carpets and Rugs, Saffron, Kashmiri Embroidery handicrafts
3. Delhi - The Best of Worlds

If there is one place where you get the best of both traditional, ethnic and contemporary as well as budget street shopping and splurging designer labels, it is Delhi. The sheer variety on this city's list is amazing and this makes it one of the best place to buy clothes in India. Connaught place and Janpath Market are essentials. Don't miss Sarojini Nagar and Lajpat Nagar if you are interested street shopping and clothing (sometimes even top brands) and jewellery on a budget. A bargain at local shops. Delhi Haat is essential for Handicrafts from around the country and Select Citywalk and Dlf Emporio for brands and designer labels.
What: Clothing (both street and labels), Trinkets, Silver and street Jewelry, Handicrafts, books
Top Places: Connaught Place and the adjoining emporiums and Janpath Market, Delhi Haat, Khan Market,
Must Buy: Clothes from both budget streets and designer labels, handicrafts and jewellery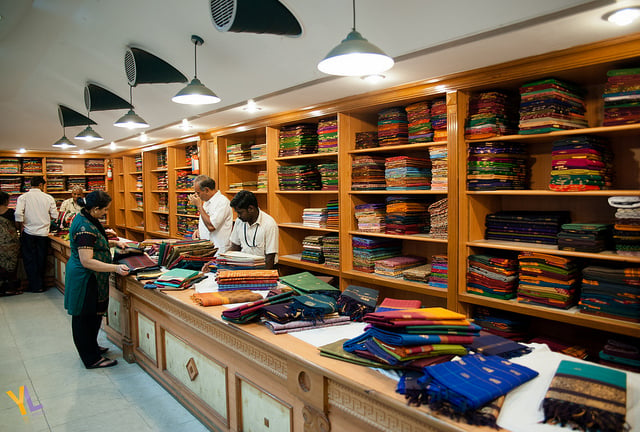 You just don't leave Chennai without a bright Kanchipuram Sari. Even if you don't wear saris too often, a fine silk sari is essential, and if you are looking for a special one, it doesn't get better than this. Head to the Nalli store if you aren't an expert at saris for a full proof shopping spree. Do visit Pondy Bazaar and maybe grab a bite at Anna Salai in between. Express Avenue and Phoenix Market City are some popular malls for shopping in India.
What: Kanchipuram Silk Saris, Clothing, Jewelry, Dance costumes and accessories (classical), handicrafts
Top Places: Anna Salai,T-Nagar, Mylapore (for dance costumes, accessories and handicrafts)
Must Buy: Kanchipuram Silk Saris
5. Goa - Beach shacks, Night markets and Stalls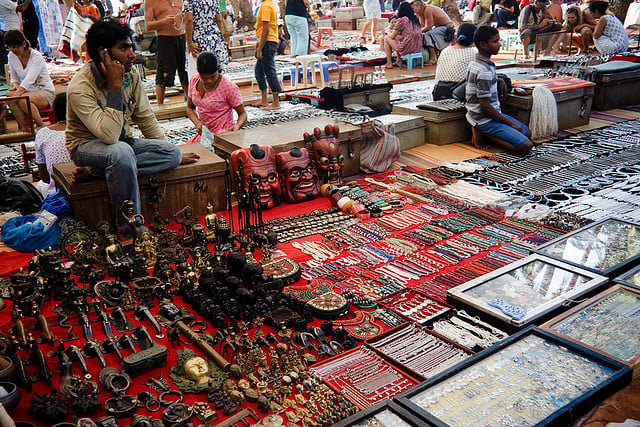 Goa may already be your favourite, but if you like shopping at flea markets, stalls, and shacks and bargaining you might just fall for it again. Anjuna market is extremely popular and essential. Do bargain and check at multiple stalls before you settle for a purchase. When it comes to pop up flea markets, Anjuna is the best for impulse shopping in India.
What: Artificial Jewelry and trinkets, Clothing, Beachwear, Footwear, Spices, Local handicrafts, Handbags, Accessories
Top Places: Anjuna Flea Market, Saturday Night Bazaar at Arpora, Calangute Market Square
Must Buy: Artificial jewellery and accessories
6. Handicraft Villages of Raghurajpur and Pipli in Odisha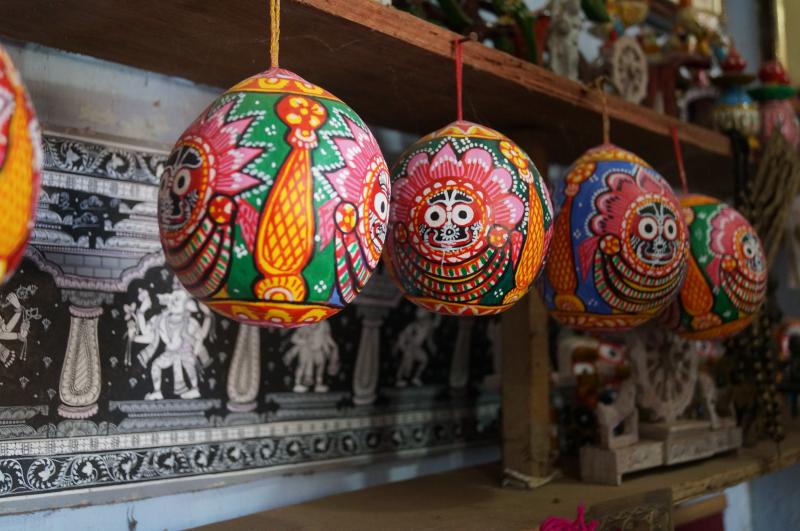 A different shopping experience than what most cities will offer you, head to these villages to not only buy these beautiful handicrafts but to interact with artisans, appreciate the art and culture and capture the murals on the walls of the house and more. These offbeat twin villages will be a haul for you shopaholics like no other. Because of its strong heritage and ethnic products, its the best place for shopping in India for tourists!
What: Applique work, patchwork, hand painted handicrafts and accessories? Handbags, wall hangings, bedspreads, cushion covers, lanterns, puppets, umbrellas, pottery, paintings, wooden toys, carvings etc
Top Places: The villages are pretty small and developed as handicraft villages, you can ask to be directed to the main streets and areas.
Must Buy: Most of what you will find here is unique to the area, so grab all that you like.
7. Mumbai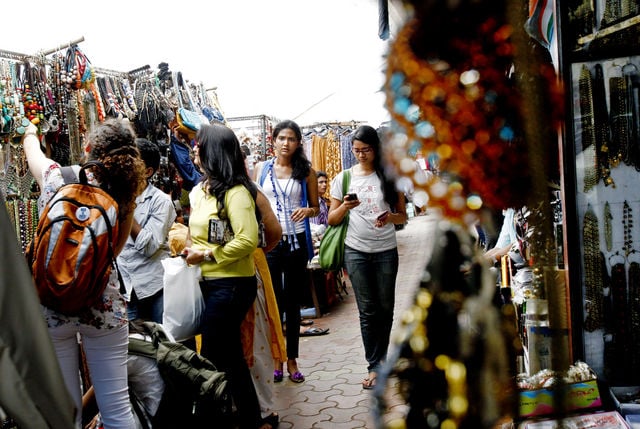 Like any other metro in India, Mumbai's shopping list doesn't have anyone, single highlight or speciality but a muse for anything you may desire. If you are in the mood for street shopping, there is the essential Colaba Causeway, Fashion Street and Hill Road. Don't forget to bargain here. There is also a certain Chor Bazaar and the word is you can find some vintage movie posters here. Could this be the best place to shop in India? We think so too! Amongst malls, do drop in at High Street Phoenix.
What: Clothing (both street and brands hopping), Accessories, Footwear, Jewelry, Maybe even some old and new Bollywood posters
Top Places: Colaba Causeway, Linking Road, High Street Phoenix
Must Buy: Street junk jewellery and Kolapuris, and your favourite labels
8. Mysore - Of Gold and Zari Silks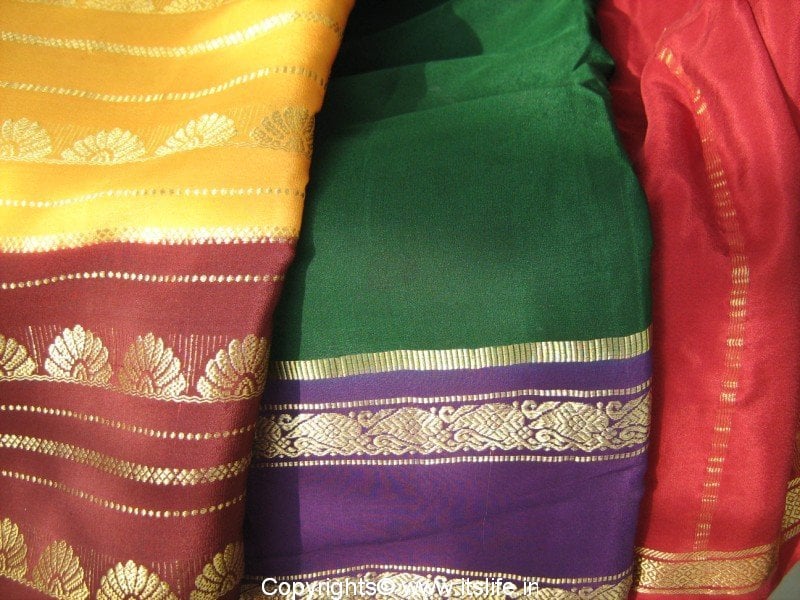 Emporiums in Mysore are the best places to buy handicrafts and Devaraja Market for Silk Saris. You'll find a lot of labels and brands here too at Devaraja Market. Do not leave without a box of Mysore Pak!
What: Mysore Silk Saris, Sandalwood and Rosewood handicrafts, furniture, sculptures, paintings, Sweets- Mysore Pak
Top Places: Government Handicrafts Emporium, Devaraja Market, Cauvery Arts & Crafts Emporium
Must Buy: Silk Saris and Mysore Pak
9. Kolkata - The Land of the Bankura Horses and Lal Paar Saris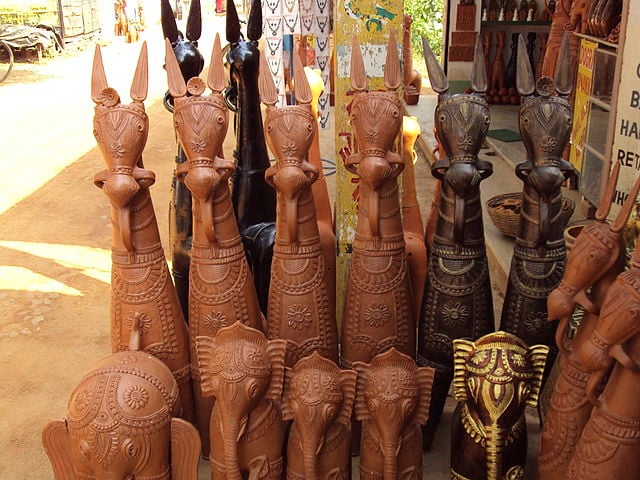 Other than the iconic saris with red borders, Kolkata can surprise with immense variety in silk, Tussar etc as well. Don't leave without Terracotta handicrafts, sweets like Sandesh and Chumchum and a stop at the College street for chancing upon some rare books.
What: Saris, Bankura Horses and other Terracotta handicrafts, jute handicrafts, sweets, books, Darjeeling tea
Top Places: New Market, Dakshinapan Shopping Center, ChowringhRoad
Must Buy: Terracotta Handicrafts, Sweets and a Lal Paar Sari
10. Ahmedabad - Gujarat's Hotspot for Shopping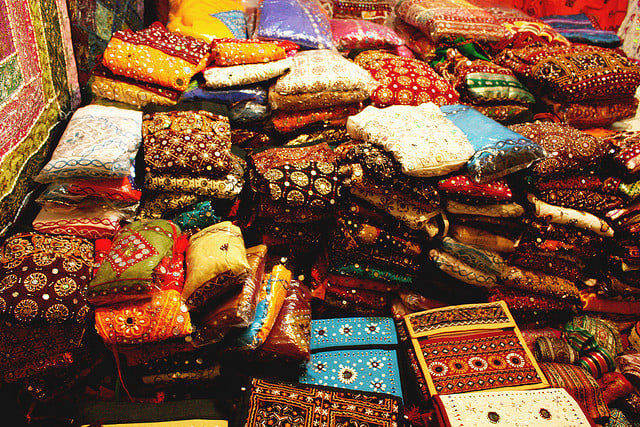 While Ahmedabad may not have the most happening shopping scene, it does offer some of the best options for ethnic wear in North India. Step out proudly with a colourful and glittering pair of 'ghagra choli' and some beautiful handicrafts.
What: Ethnic Wear with Patola, Mirror and Bandhej work, traditional footwear, handicrafts
Top Places: Law Garden night market, Dhalgarwad, Lal Darwaza
Must Buy: Ethnic wear
11. Lucknow - The City with a Style of Embroidery

Lucknow is synonymous with its fine Chikan thread work which though you'll find popular in most places in India, the variety you will get here will spoil you for choice. The malls here may not be that fancy, but bazaars and markets live up to your expectations. Do visit the markets in Lucknow for a twit to your experience in shopping in India!
What: Chikan threadwork clothes and decor items, precious jewellery
Top Places: Aminabad, Hazratganj, Gadbadjhala
Must Buy: Chikan work clothes
12. Jodhpur - Tie, Dye and Buy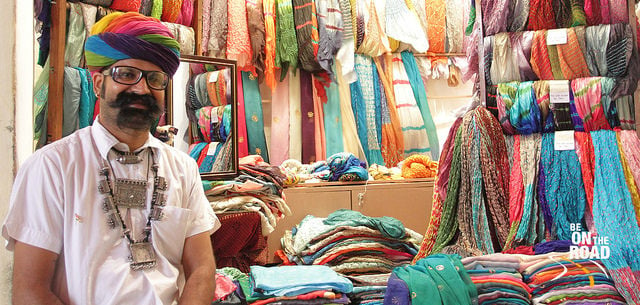 Just like Jaipur, Jodhpur is also a paradise for those who love handicrafts and traditional and ethnic wear. Almost every market will have tie and dye products. Head to Mochi Bazaar for some amazing footwear. If you're looking to add some colour to your wardrobe, shopping in Jodhpur is a must!
What: Clothing with Tie and Dye, Bandhej, and traditional work, Handicrafts and Paintings, leather goods, footwear (Jootis), jewellery
Top places: Nai Sadak, Station road, Mochi bazaar (for jootis)
Must Buy: Tie and Dye clothes, Lac Jewelry and Jootis
13. Kerala - The One-stop Destination for Cashew Nuts, Kasavu Mundu and More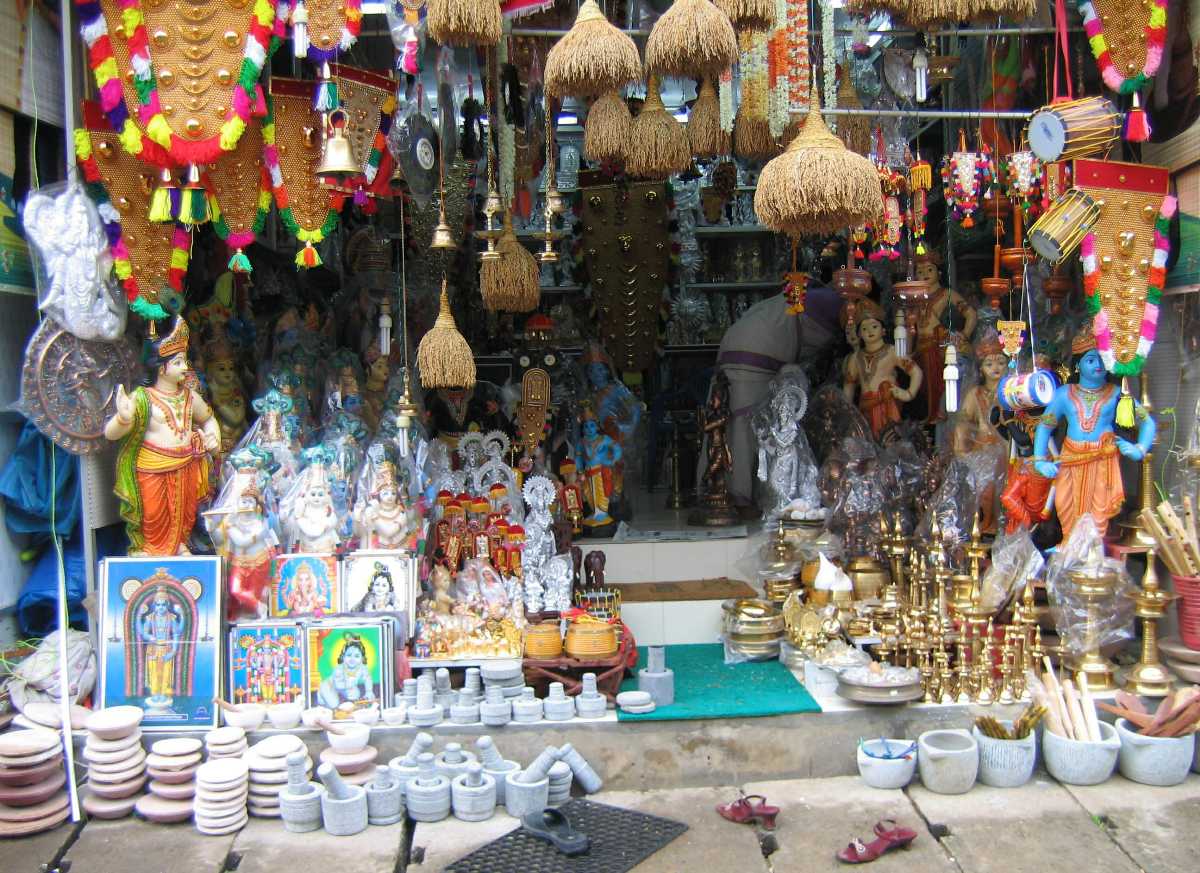 God's own country has nothing but everything natural here. From spices, coffee to essential oils, everything has an original aroma of its own. When it comes to jewellery- it's nothing but pure gold. Kerela is filled with charming markets and malls. Make a visit to the tea and coffee estates and lay your hands on freshly plucked beverage leaves. It's truly a paradise of sorts.
What: spices, gold jewellery (real & artificial), handicrafts, aroma oils, cashew nuts, banana chips, tea, coffee and Kasavu mundu
Top places: Connemara market in Trivandrum, Kochi spice market, Lulu International shopping mall in Kochi
Must buy: One must take back the antique coins and cashew nuts.
14. Nainital - Every Street Shoppers Dream!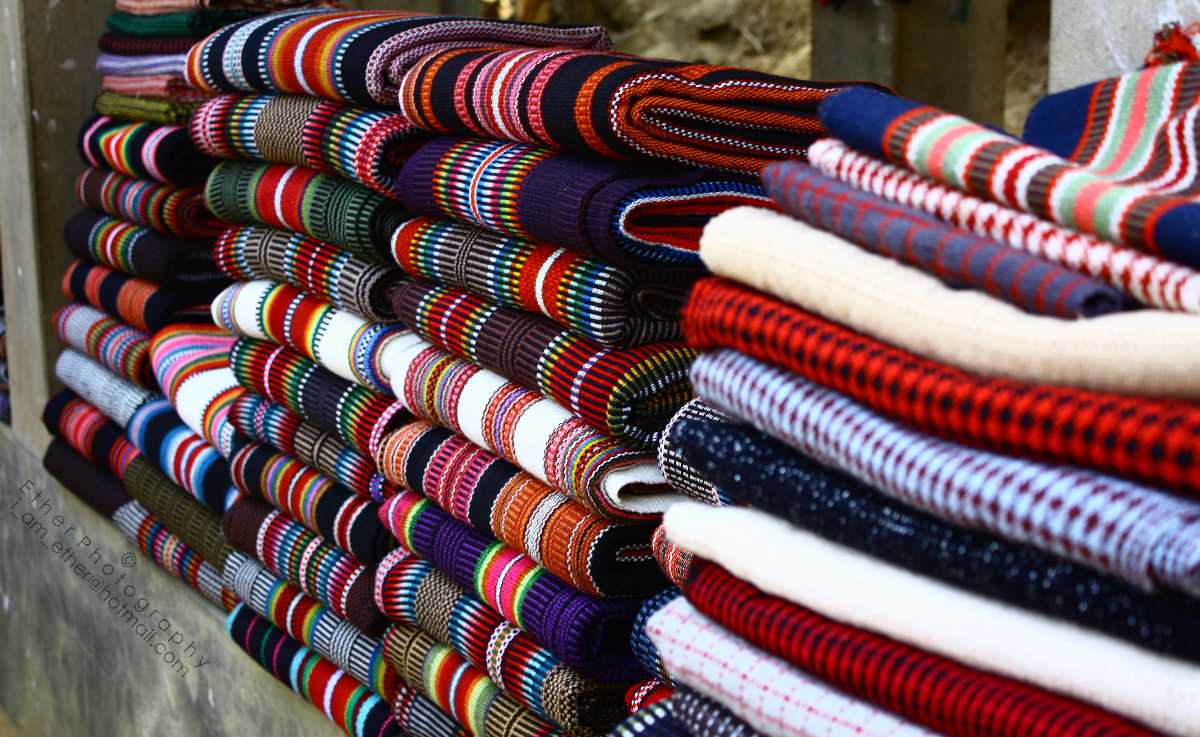 Nainital attracts shoppers not for the conventional wool garments but for bamboo fabric. It's a delight to shop at the flea markets here and find a plethora of shopping items which will leave you spoilt for choice. Take a walk down Mall road and the Tibetan market and one can't help but turn into a shopaholic!
What: woollen items, bamboo fabric, artificial jewellery, pine tree craftworks and fruit pickles.
Top places: Mall Road, Bhotia bazaar, Tibetan market
Must buy: Handmade decorative candles and bamboo fabric
15. Hyderabad - The City of Pearls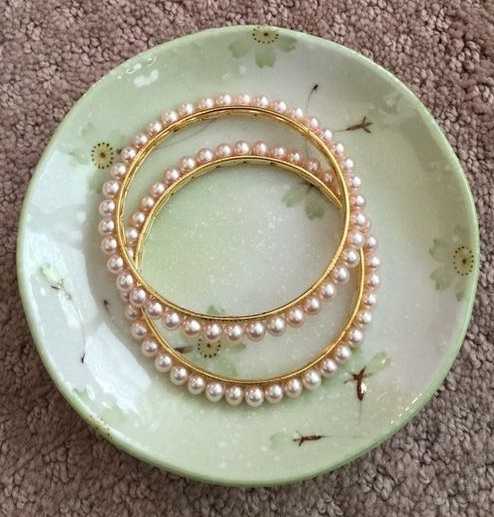 The
Charminar
at Hyderabad stands in a labyrinth of lanes crammed with shops, markets, stalls and shoppers - one of the best places to shop for the
authentic pearls
and relish the tasty biryanis, skewer kebabs and haleem. You'll love Hyderabad if you're a shopaholic.
What: Pearls, Ittar, Pochampally Ikkat Sarees, Mojaris, Kalamkari fabrics, Bidri work, Lac Bangles
Top places: Char Minar Bazaar, Laad Bazaar, Koti Market
Must buy: Pearls
Know more places where to shop in India? Spoil fellow shopping addicts and leave them in the comments below!