The architecture of Bali is one of the most distinctive styles of architecture and is proudly labelled as one of the most revered and popular tropical architectural genres. Often referred to as the "Island of Gods",
Bali
is a renowned tourist destination not only for travellers but also for those seeking a spiritual abode. This little paradise of Indonesia not only has beaches, stunning views, and mountain sights to offer; but goes far and beyond with an architectural style which is complemented with nature and the island's resources. Apart from being influenced by the Hindu and ancient Javanese culture, Bali's architectural style heavily relies on several philosophies. You are sure to find an intricate and adventurous blend of culture, fun, and relaxation at the Island of Gods!
The Philosophy of Architecture in Bali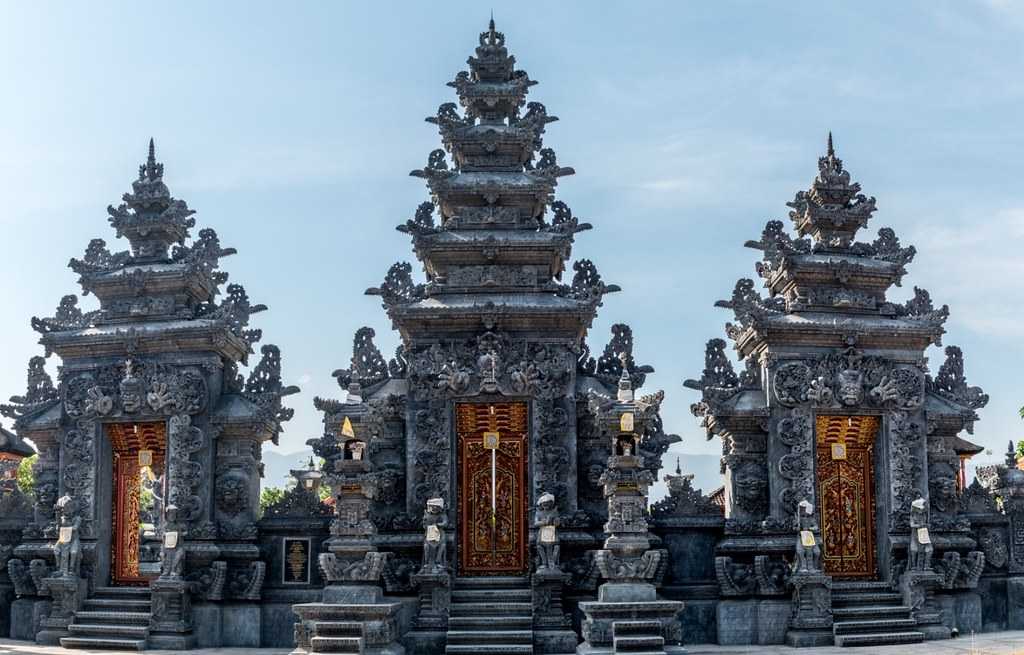 As you walk through the scenic Balinese landscape spotting hundreds of temples, or even stroll across the stunning beachside, in every home, building or an architectural piece, you can spot the four elements around which the architecture of Bali revolves.


Ventilation system 

Strong foundation 

Large courtyard

Guarding wall
Balinese architecture strongly focuses on these four aspects. Along with this, the seven main philosophical elements of Tri Hata Karana, Tri Mandala, Sanga Mandala, Tri Angga, Tri Loka, Asta Kosala Kosali, and Arga Segara are followed to make the architectural style more nature inclusive. Spirituality or religion is a crucial concern, and most of the buildings have been designed keeping in mind the location of volcanoes, the way the sun rises, and much more.
What's interesting to note is that there is proper legislation by the government that no building is allowed to be taller than the height of an average coconut tree, which is 15 meters!
The architecture of Bali has both ancient and contemporary relevance, and much is also courtesy of the introduction of European elements. The Rumah Panglima and Istana Presiden Tampak Siring are excellent examples of colonial influences.
Architecture in Bali from Ancient to Contemporary Must-sees Places
For travellers and history buffs, Bali is a true delight and wonder. Here are some of the most eloquent architectural masterpieces of Bali you can lay your eyes on!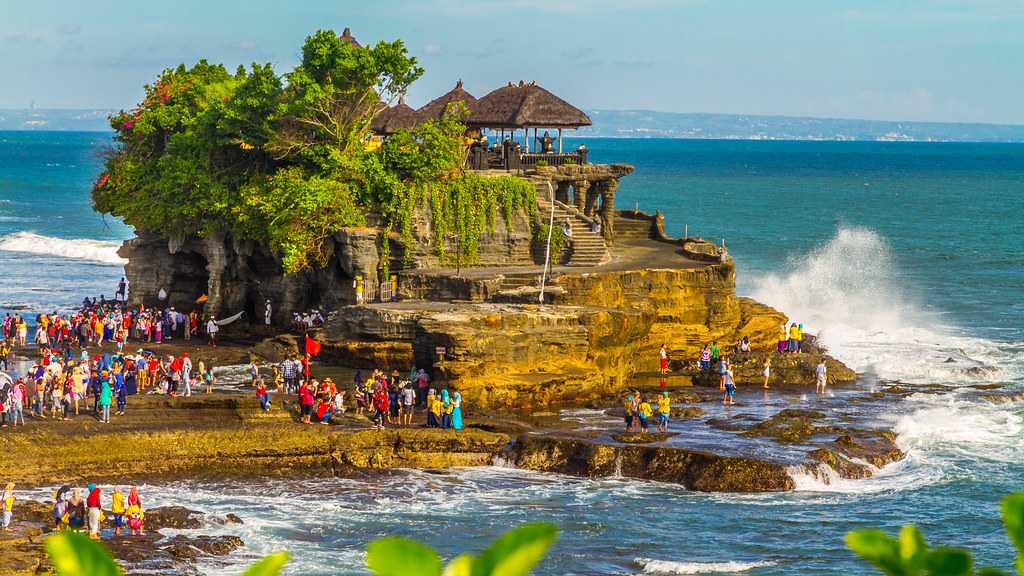 Located in the western end of Bali, Tanah Lot is a true postcard-worthy destination from every nook and cranny. A gorgeous temple situated on the shore, it houses a Hindu shrine at the very top. The island is easily accessible, with just a card ride away from mainland Kuta, and the entire shore is home to several other small temples and visitors' facilities. Along with visiting the magnificent shrine, you can also take in the Balinese culture, sprinkled with Hindu influence as you experience the cultural park, cruise the restaurants, shops, and enjoy the dance performances.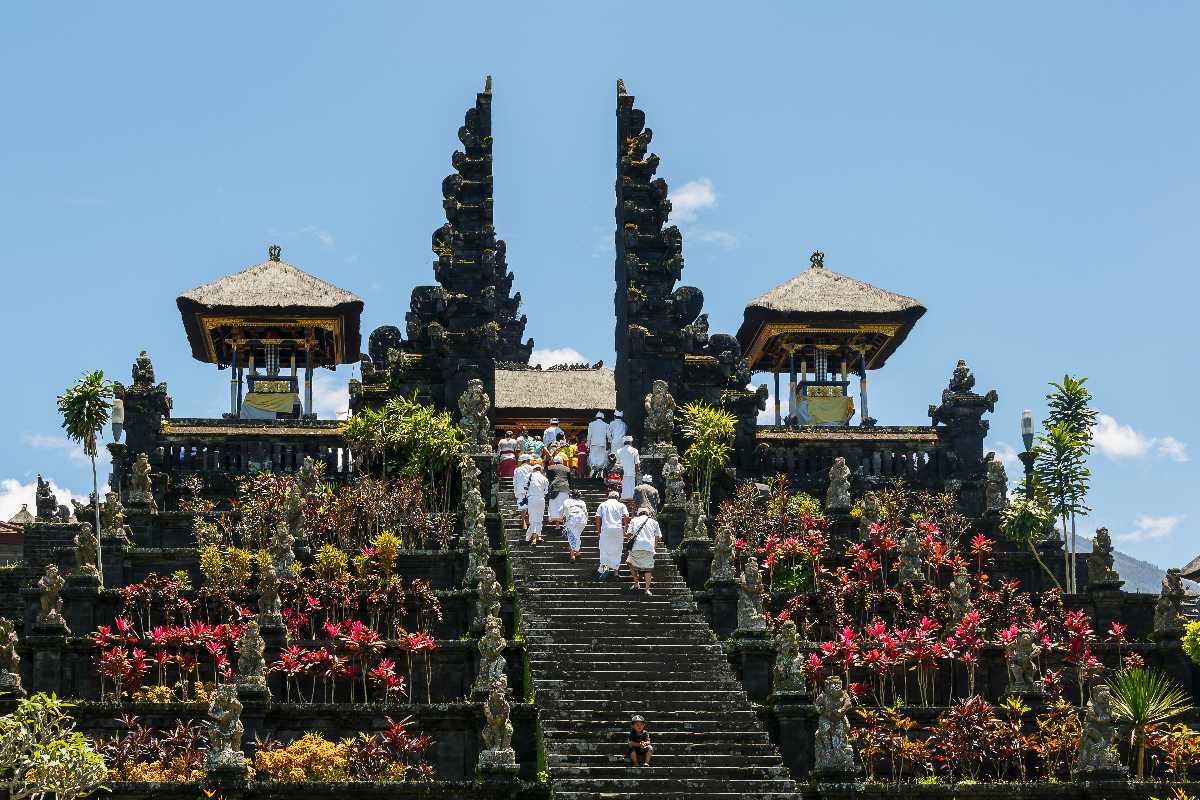 Nestled in Eastern Bali, the Besakih Temple is referred to as the 'mother temple' of Bali. Perhaps the most unique feature about this temple in Bali is that it is a mosaic of several clan temples and holy shrines. What's more? It is located 1000 meters above the sea providing an awe-worthy backdrop. The Besakih temple is on the list of every traveller to Bali as there are more than 70 celebrations and festivals held here in a year; an ode to the anniversary of each temple. With detailed carvings and intricate sculpture work, you're bound to see the coming together of several Asian religions here.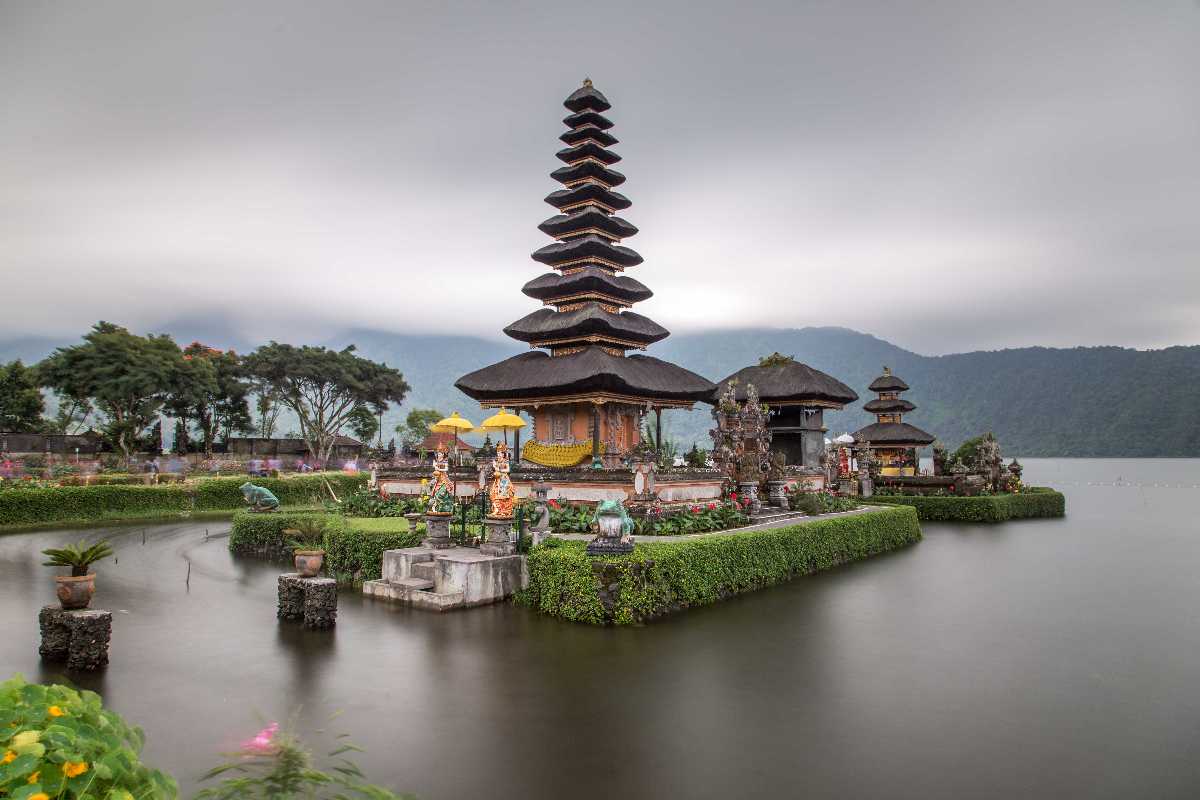 Housed in Bedugul, the Ulun Danu Beratan exhibits the architecture of Bali in its true essence. With a stunning landscape and holding immense cultural importance, its location on Beratan Lake is a sight to behold. Since it is in the centre of Bali, its location is prominent as it conjoins the northern and southern ends of the island. With a picturesque mountain range at the back and a floating island temple in the forefront, Ulun Danu Beratan is truly an architectural masterpiece. You will see everything from shrines of Vishu, Brahma, and Shiva to megalithic artefacts like stone tablets!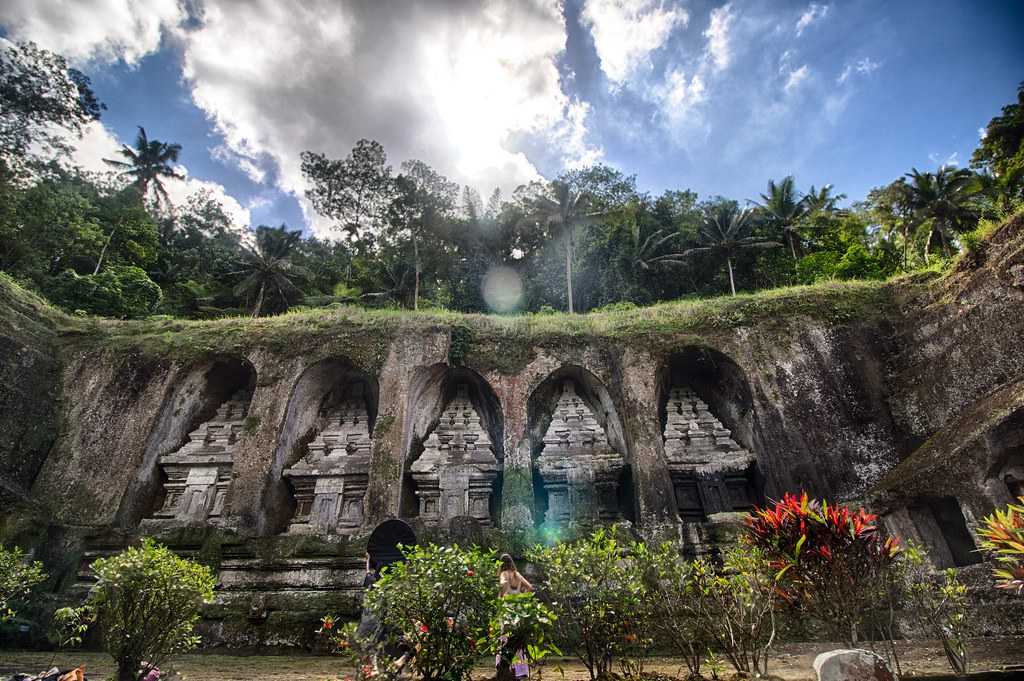 Being both an architectural delight and archaeological site, the Gunung Kawi Temple is a must-visit for all the history buffs! Here you'll find carvings of ancient shrines into the rocky cliffs with well-planned waterworks. It has a courtyard with several shrines, and the way to the temple is just as scenic as the location. The entire pathway leading up to Gunung Kawi has craft stores and food kiosks on either side. Since natural elements accompany the majority of architecture in Bali, this is no different. You will immediately set your eyes on the immense greenery and a terrace which is nature at its best.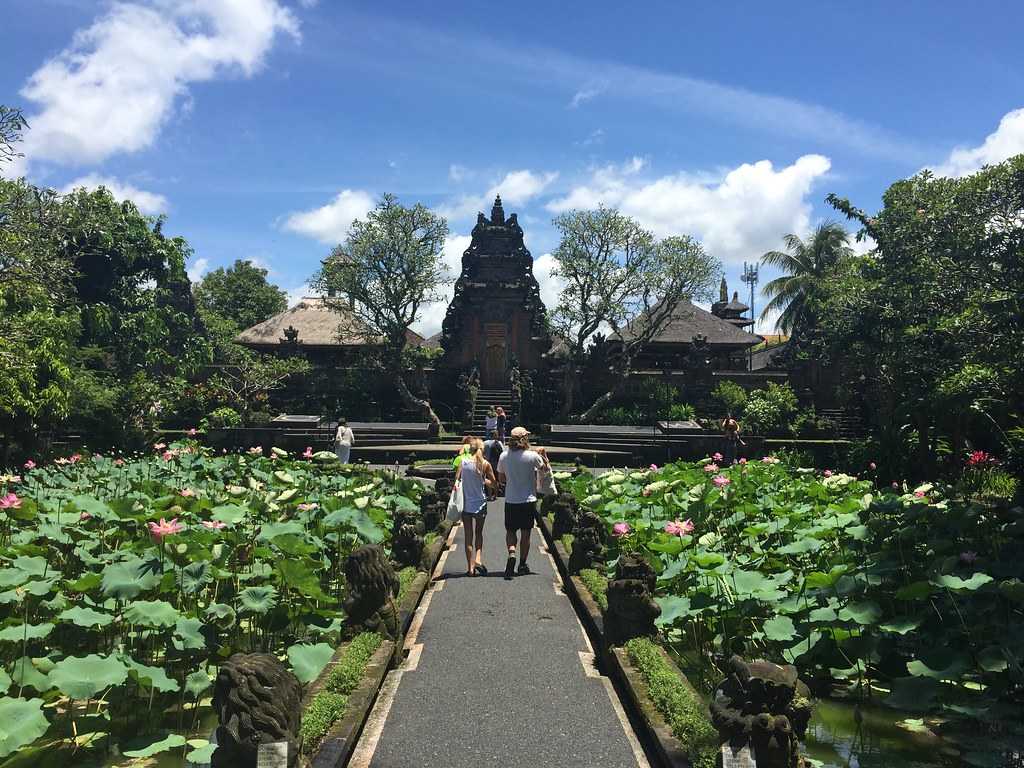 As a water temple, this majestic monument will take you back to the pre-technology era. Displaying the architecture of Bali at its best, the Pura Taman Saraswati Temple has everything from lush greenery, to courtyards, temple carvings, and ventilated gazebos. You will also see ponds with beautiful pink lotuses and several other florae. Additionally, visitors also cruise into the Café Lotus with traditional Balinese cuisine and a breathtaking view of the temple. Be sure to catch the traditional dances held in the evenings!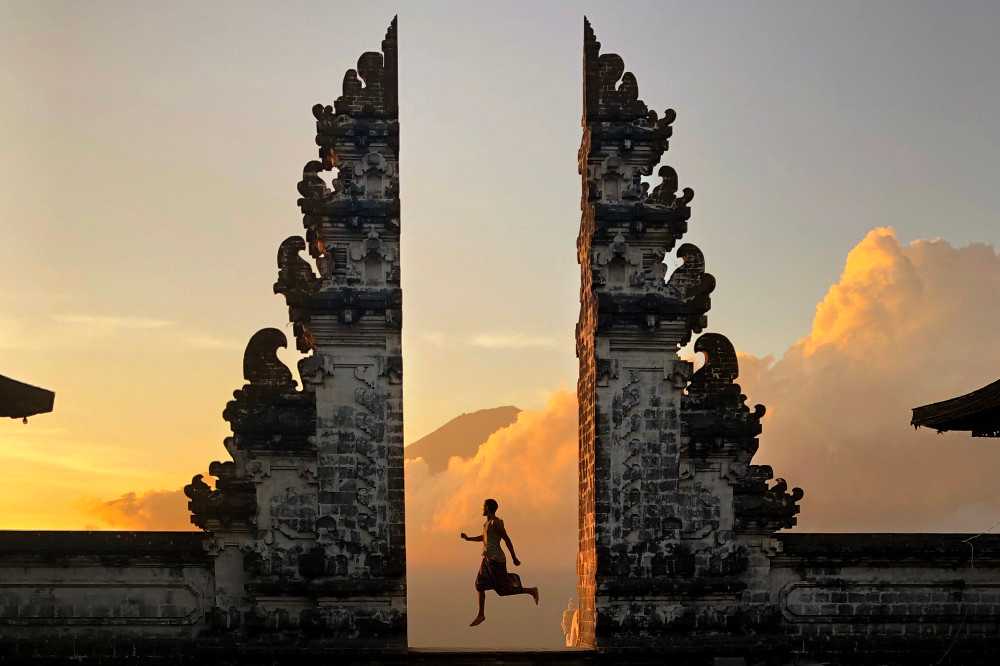 Boasting of stonework which will leave you astonished; the Lempuyang Temple in East Bali is one of the oldest temples found here. Moreover, many believe that this temple was built even before the several other Hindu shrines across the island. However, this is no ordinary architectural sight, and definitely not one for the faint-hearted. An adventurous and thrilling experience in one; this monument of Bali will test your strength to climb over 1700 steps, and it's all worth it! You will be awarded a stunning panoramic view of Eastern Bali into the intriguing green forests. Beautified with rock-cut sculptures and carvings along the way, this is a once in a lifetime adventure.
7. Bulgari Resort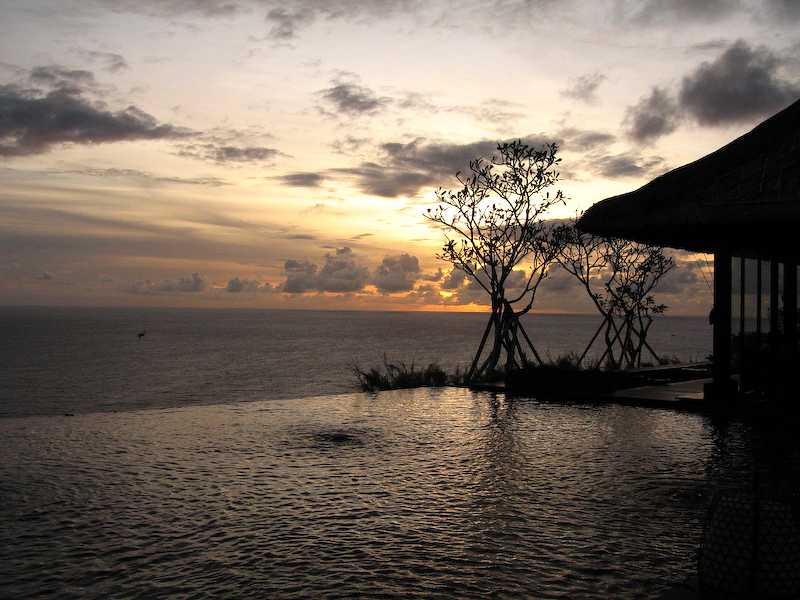 With a view of the Indian Ocean, the Bulgari Resort showcases the architecture of Bali in sync with Italian influences. Though you will be able to spot the traditional Balinese architectural elements, you will also see a bold and sleek twist to these types of buildings. This luxury resort not only provides a terrace pool, extravagant facilities, and more but also includes elements of rock-cut sculptures and art pieces. The resort, along with the 59 villas are a relaxing getaway into the world of pure bliss.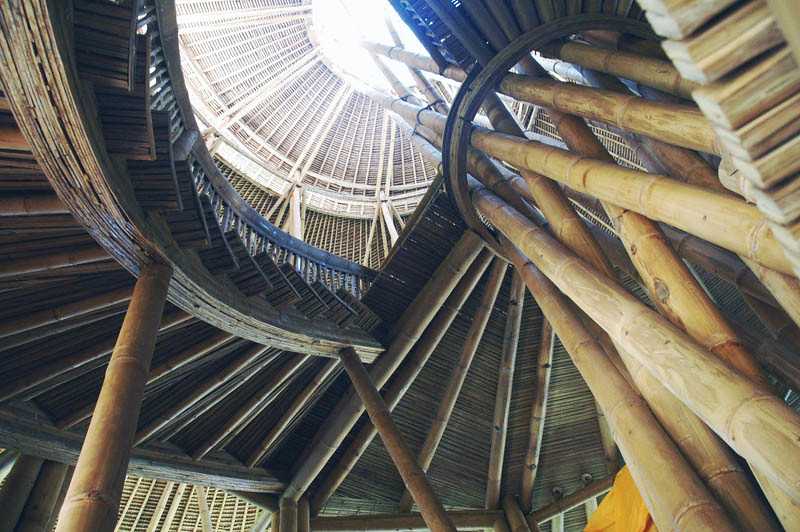 Though the Green School was initiated as an attempt to raise environmental inclusivity, and provide an enriching learning environment for the students; it now also serves the purpose of a unique architectural sight. It has bamboo buildings, village inspired rooftops, pathways with ponds on both sides, and a beautiful courtyard! It is a sight to behold once the sun sets and the lights bloom!
9. Maya Ubud Resort and Spa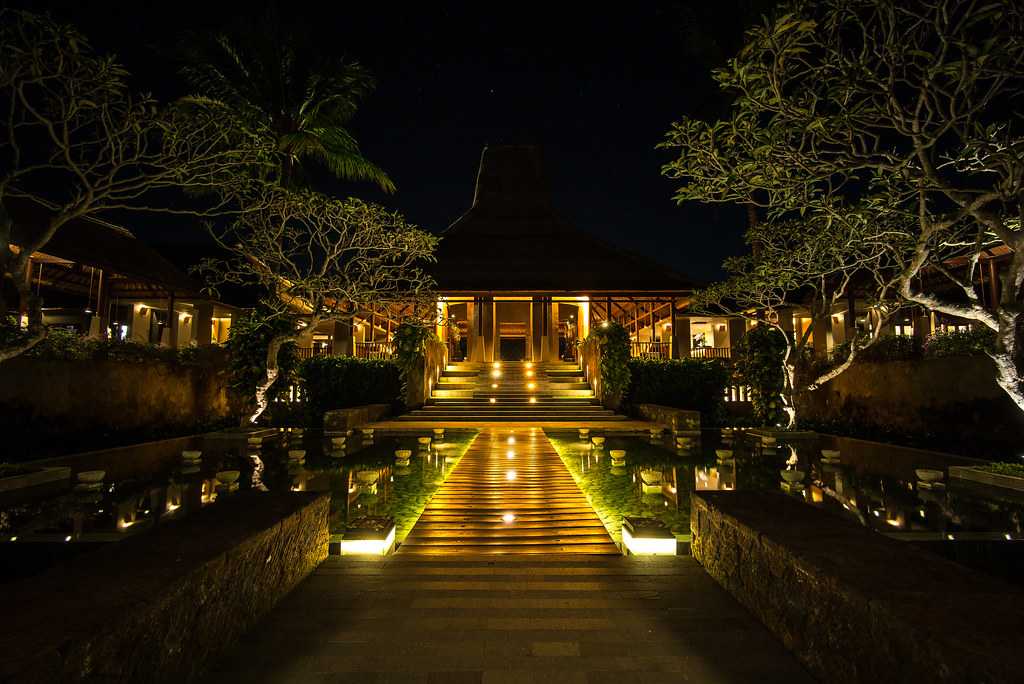 This resort is the modern and ancient blend at its best. Inspired by one of the seven philosophies of placing monuments on a north-south axis, the resort has a beautiful courtyard and walkway, along with ridges connecting different important locations. The lobby, spa, and porte-cochere are connected through the scenic walkway, and the lake is at the footsteps of each exit. Take a break from the taxing metropolitan buzz and make your way to this nature's getaway! 
From sacred buildings to temples, and resorts, every aspect of the architecture in Bali is endowed with a great tribute towards its cultural heritage. Apart from being heavily influenced by the Indian culture, it also sees a flexible acceptance of modern elements. If you're looking to be awestruck with every monumental masterpiece, or simply planning an adventurous break, the architecture of Bali is a sure shot treat!