Shrines at Gunung Kawi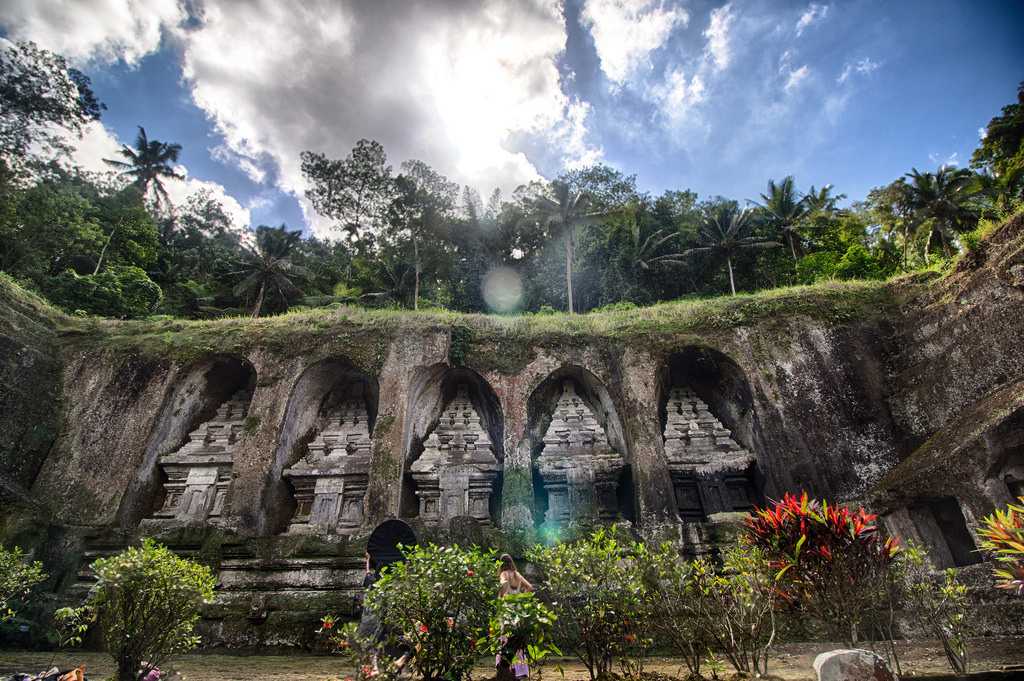 This complex is not a religious place rather, it is comprised of sacred funeral monuments.
To the east are five shrines supposedly dedicated to King Udayana, his queen Mahendradatta, and their sons Airlanga, Anuk Wungsu and Marakata.
To the west are shrines dedicated to the king's concubines, though some theories suggest they are his other wives or minor queens.
Legend has it that these candis of Gunung Kawi were constructed by King Wungsu in honour of his father, the great Udayana of the Warmadewa Dynasty (for whom Udayana University is named). King Wungsu was the ruler of Bali while his brother Airlanga was king of Singosari in eastern Java. It is considered that Gunung Kawi is Bali's answer to Egypt's Valley of the Kings, but it is highly unlikely that these shrines contain actual remains of the royal family.
Gunung Kawi Complex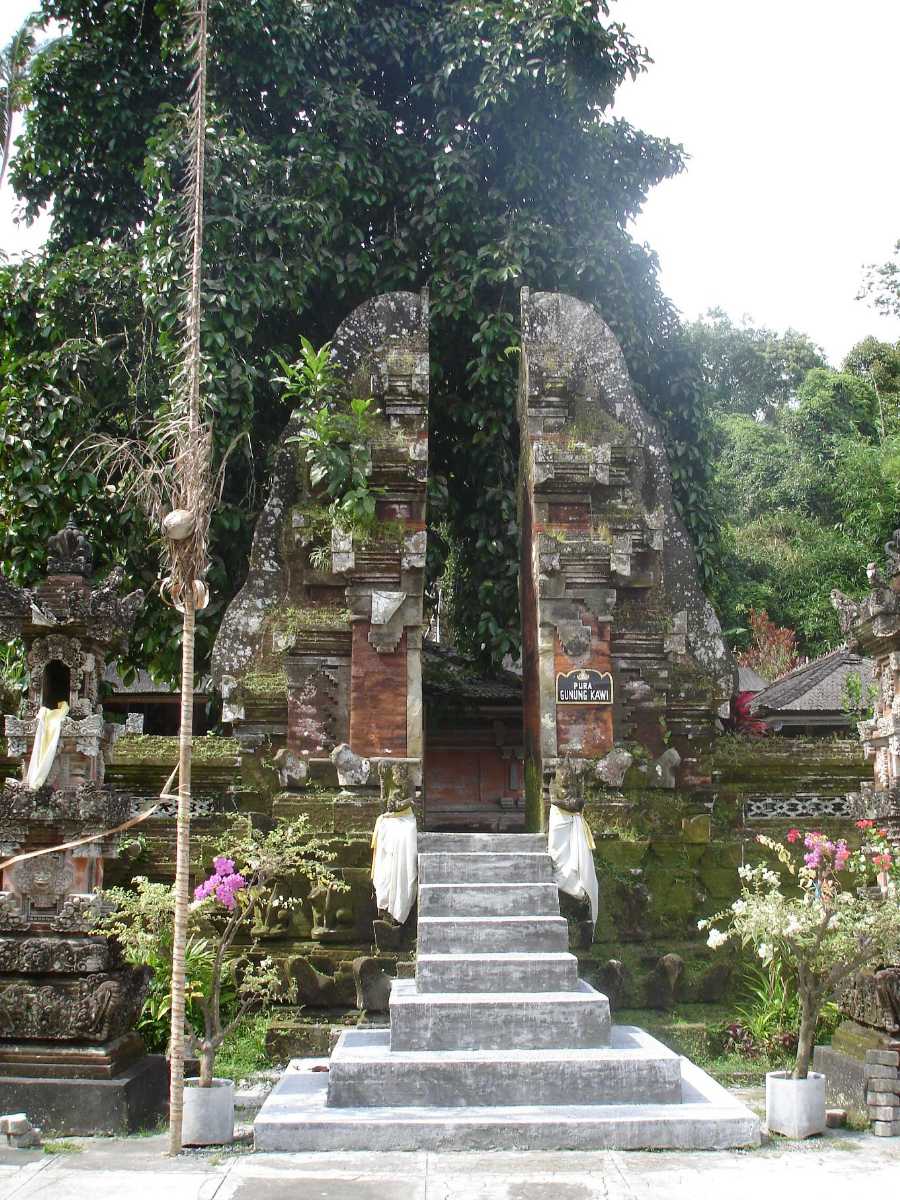 The main site opens with 10 seven-metre high shrines carved into the rocky hills. There are four on the west side and five on the eastern side, and another hidden shrine to the south. All the while, you can overlook the sacred Pakerisan River flowing alongside. On the other side of the river is a courtyard with Hindu shrines.
The Gunung Kawi complex has three groups of reliquaries – lime shrines (dedicated to King Udayana and Anak Wungsu), empat shrines (dedicated to mistresses of Anak Wungsu) and the final reliquary (dedicated to the prime minister of Anak Wungsu's reign).
Aside from the candis, the hillside has room-like structures that can be classified into three types. The first are single-space chambers. The second are closed chambers. The third consists of ten chambers closed off by a wall with an elongated window opening. These little chambers have great acoustics that are ideal for spiritual meditation, feeling energies vibrate off the rocky walls. They are used as meditation sites by Buddhist monks.
Paddy Fields Near Gunung Kawi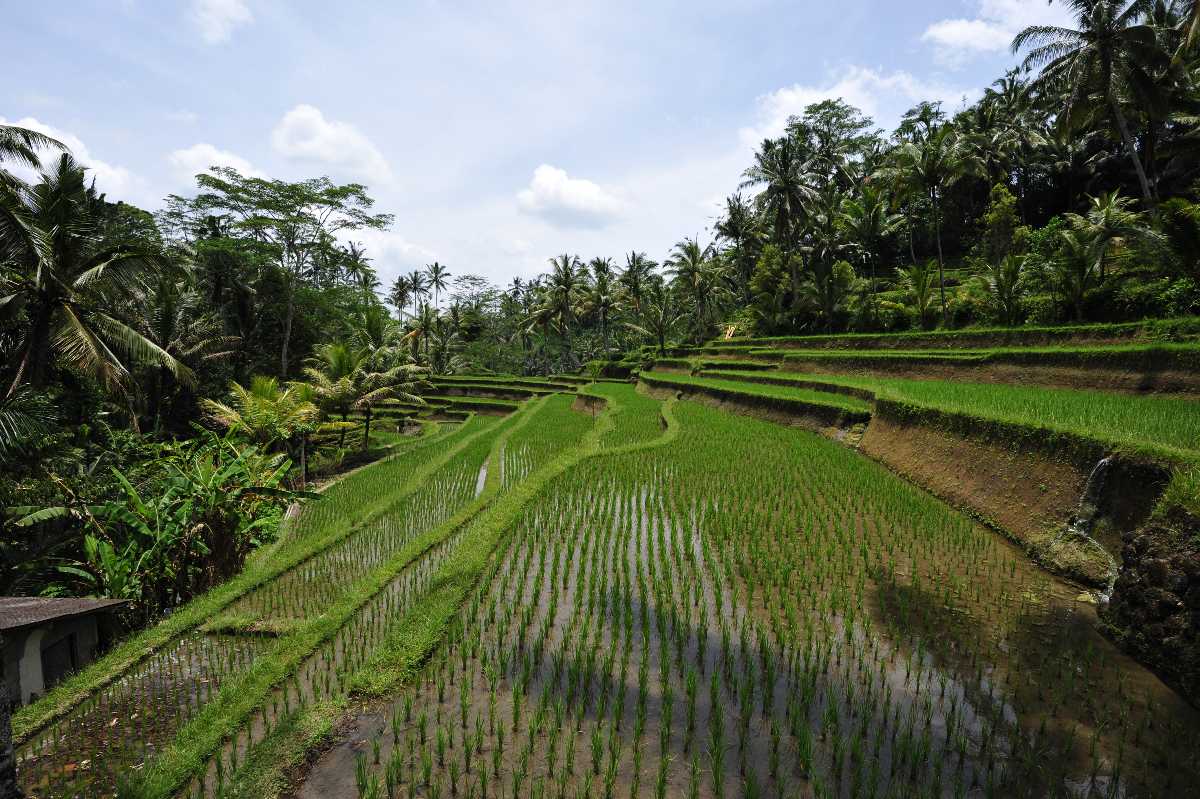 Just a few hundred metres east of the Tampaksiring main route is a paved walkway lined with art shops and warungs. Further down, once you reach a distance when the parking lot starts to fade away, the path through paddy fields begins.
There are hundreds of stairs to cross, and when they eventually end, you will find a stone archway. Here, you are expected to use the earthen vases of water to sprinkle yourself before entering the Gunung Kawi complex.