The tradition of dances in Bali goes far beyond you can imagine. It incorporates ancient Hindu traditions with drama, portrayed in the form of dance and music. The culturally rich Indonesian island of
Bali
has many different dance forms, some elegant and solemn, others being extremely bold. Most of these forms involve graceful hand, legs and finger movements, eyes wide open or some even martial art techniques. Dances like Wali, Bebali and the Barong Dance are intrinsic to Balinese culture and constitute an important part of life for most Balinese people. Read on to learn more about these fascinating dance forms!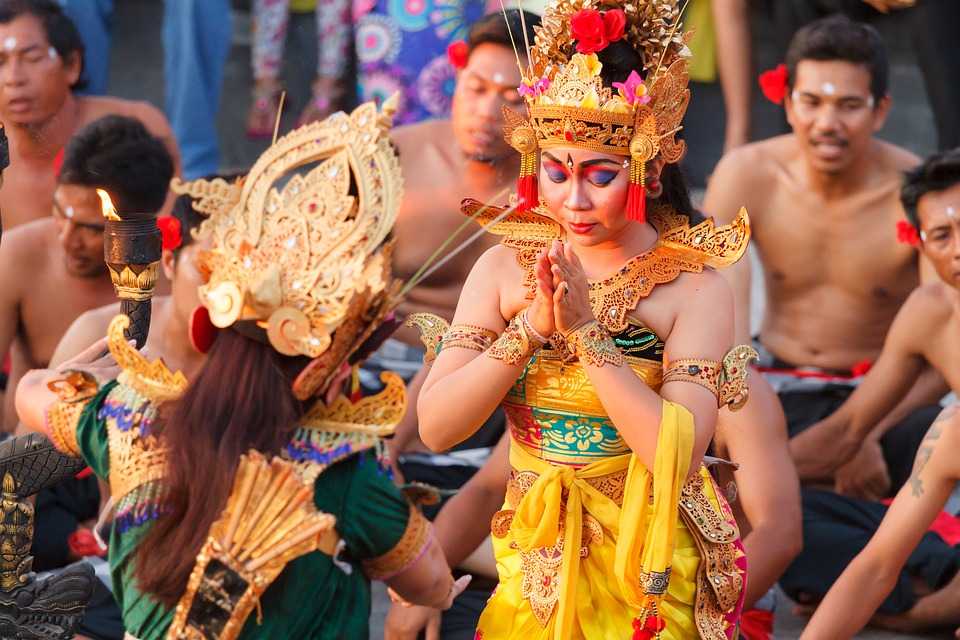 All in all, they're meant you give you a holistic understanding of the
culture of Bali
. Read on to know more about the world of dance in Bali.

Traditional Dances in Bali
Balinese dances are separated into three broad categories namely: Sacred dance (Wali), Semi-sacred dance (Bebali) and Entertainment dance (Balih-Balihan).
1. Wali - Sacred Dances of Bali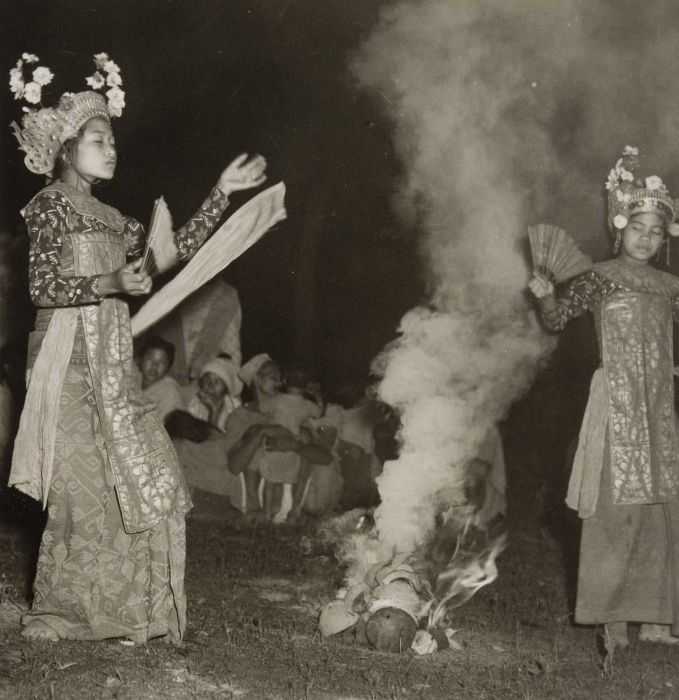 The sacred dances of Bali can be dated back to the 8th-14th centuries, when dances were performed at religious functions in temple ceremonies. These dances are performed by well trained dancers, only allowed in the inner sanctum of the temple and not to be shown to tourists. These act as a religious symbol, presented to the Gods as an intangible offering, where the dancers are said to be in trance or possessed by the Gods.
2. Bebali - Semi-Sacred Dances of Bali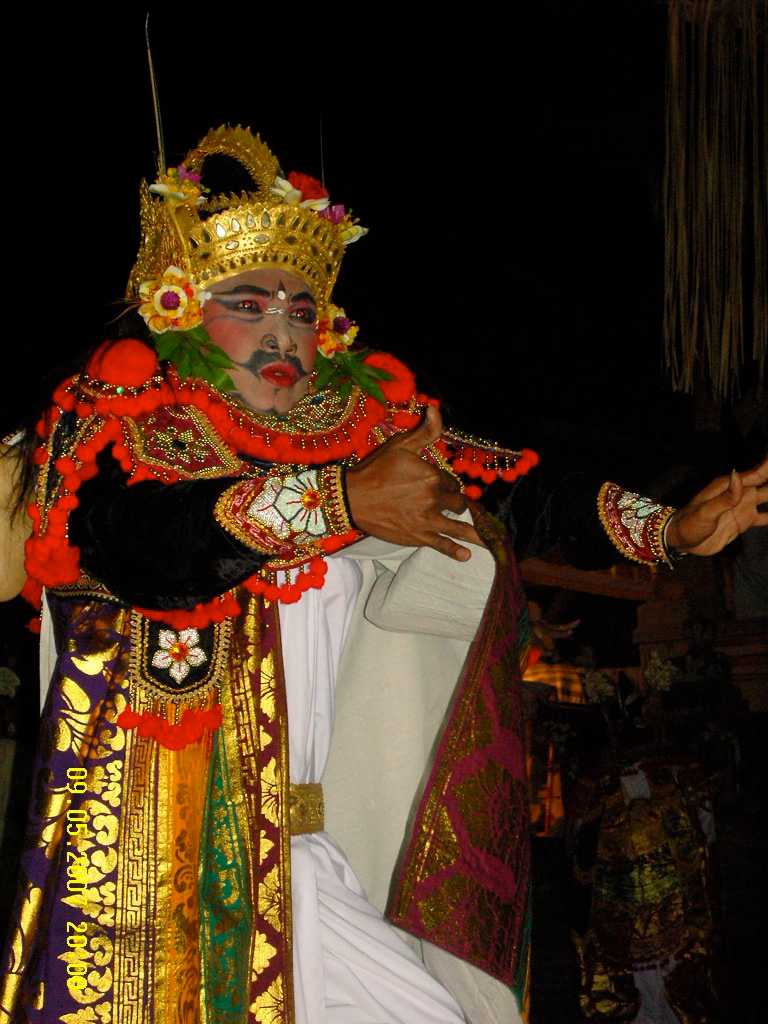 Mostly performed during rituals, the origin of these Balinese dances can be dated back to 14th-19th centuries. These often have a story and characters playing out a drama in the form of a dance. Although open for tourists to watch as part of the entertainment, semi-sacred dances still retain their traditional values. These can again, be found in the temple compounds.
3. Balih-Balihan - Entertainment Dances of Bali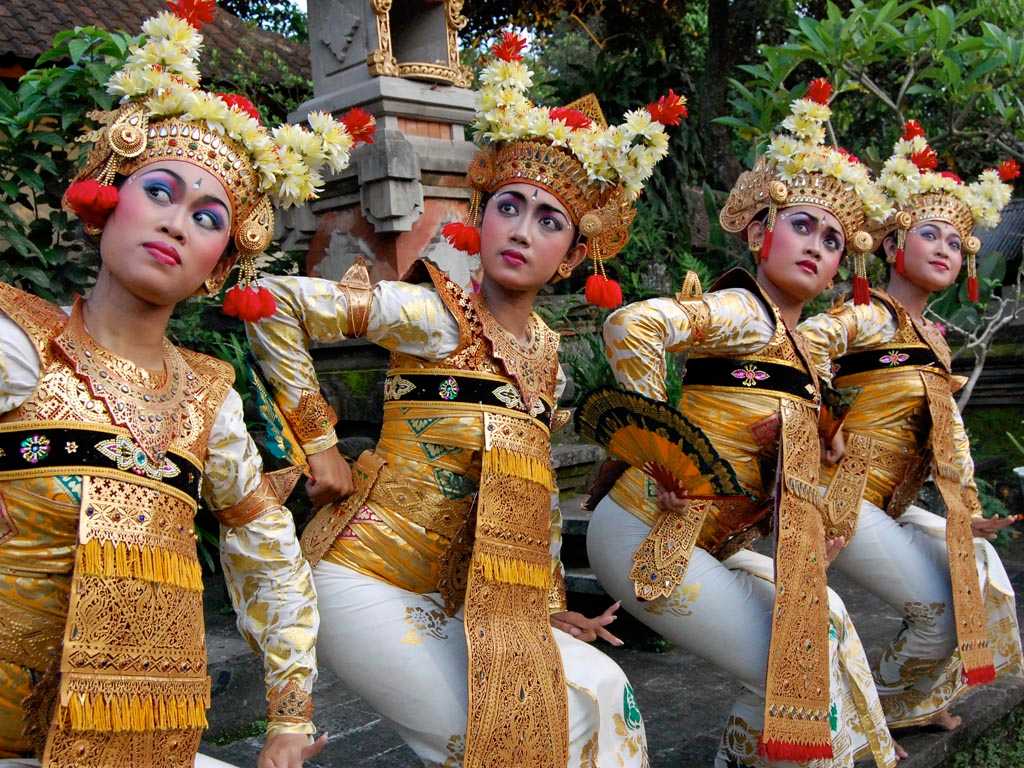 The entertainment dances of Bali are specifically performed for tourist entertainment purposes. They usually revolve around a storyline which could be a contemporary romance or a mythological tale, the latter being the more popular one among tourists since it portrays traditional Hindu culture. You can find these across multiple venues in Bali, not being restricted to temples.

Balinese Dances Recognised by UNESCO as Intangible Cultural Heritage
There are many popular dance forms in Bali, however, some among the others are recognised as forms of 'intangible cultural heritage' of Bali by UNESCO.
4. Barong Dance - Balinese Dance Involving the Giant Lion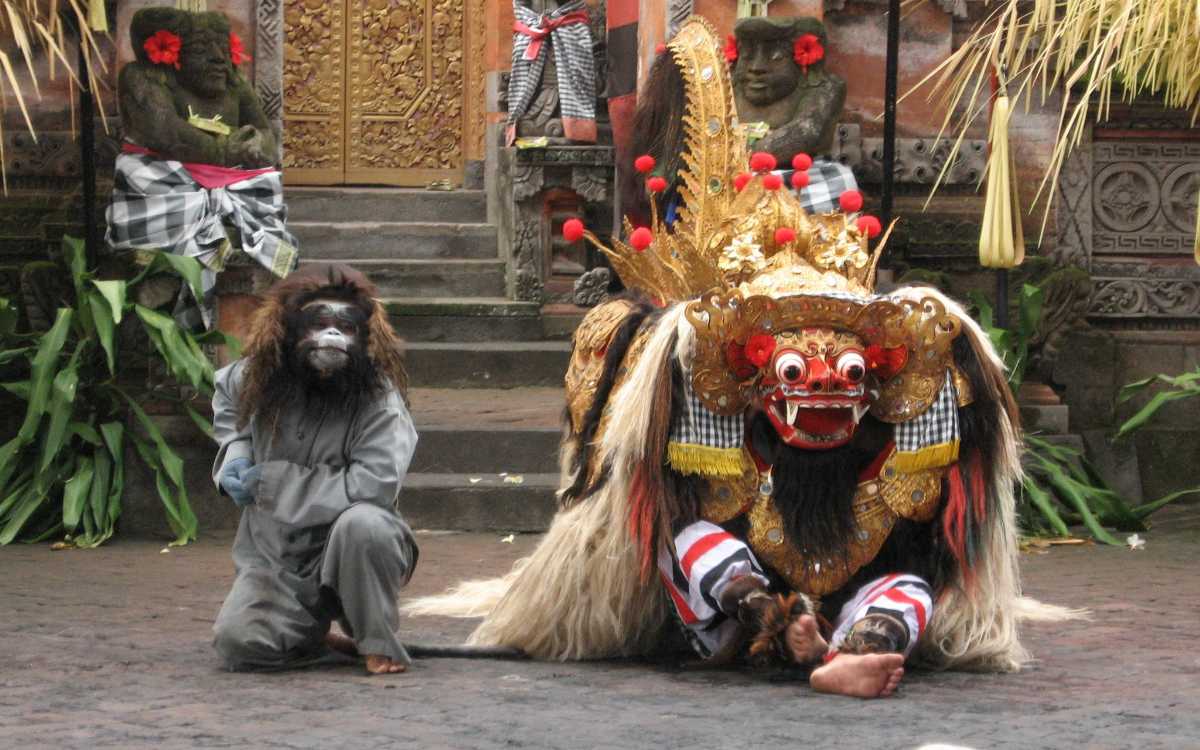 According to Balinese mythology, Barong is the known as 'King of Spirits' or the 'Lord of the Forest' or the 'Magical Protector' of villages of Bali. The Barong Dance in Bali depicts the never ending fight between good, portrayed by Barong dressed in a huge Lion costume, and evil, portrayed by the demonic witch Rangda.
5. Legong Dance - Balinese Dance Drama with Expressive Movements and Face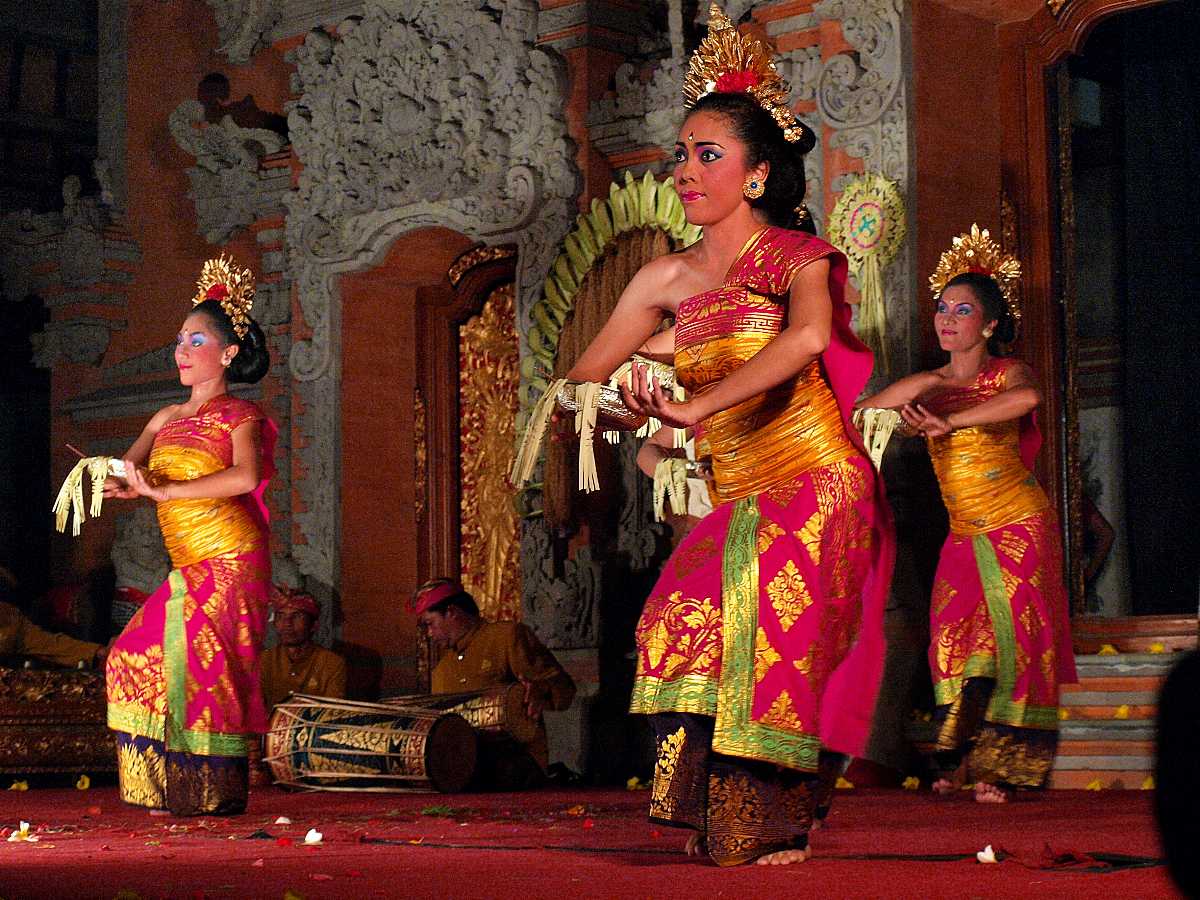 The Balinese Dance Legong is derived from the story of when a king finds a lost maiden Rangkesari and holds her captive. It involves sophisticated movements of fingers and feet, and intimate facial expressions performed by very well trained dancers.
6. Kecak Dance - The Balinese Fire Dance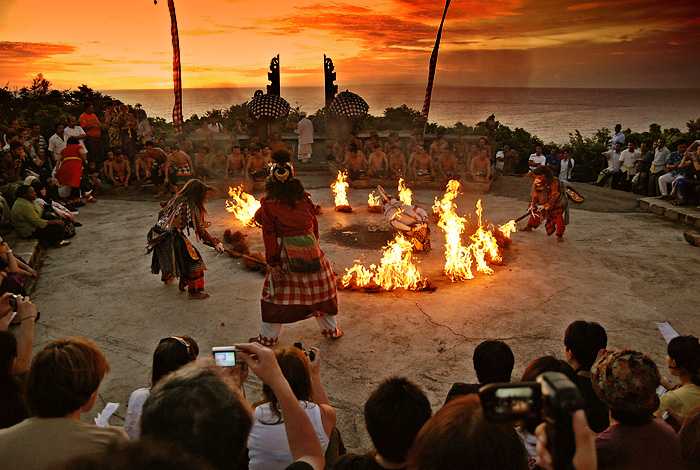 Popularly known as the Fire Dance among tourists, the Balinese Dance Kecak is a trance ritual adapted from Ramayana. Performed primarily by men who dance and also sing acapella, this dance originated as a form of entertainment in the 1930s. The performers are usually shirtless, with only one piece of cloth on their waist.
7. Joged Dance - Balinese Dance to Celebrate Harvest and Important Occasions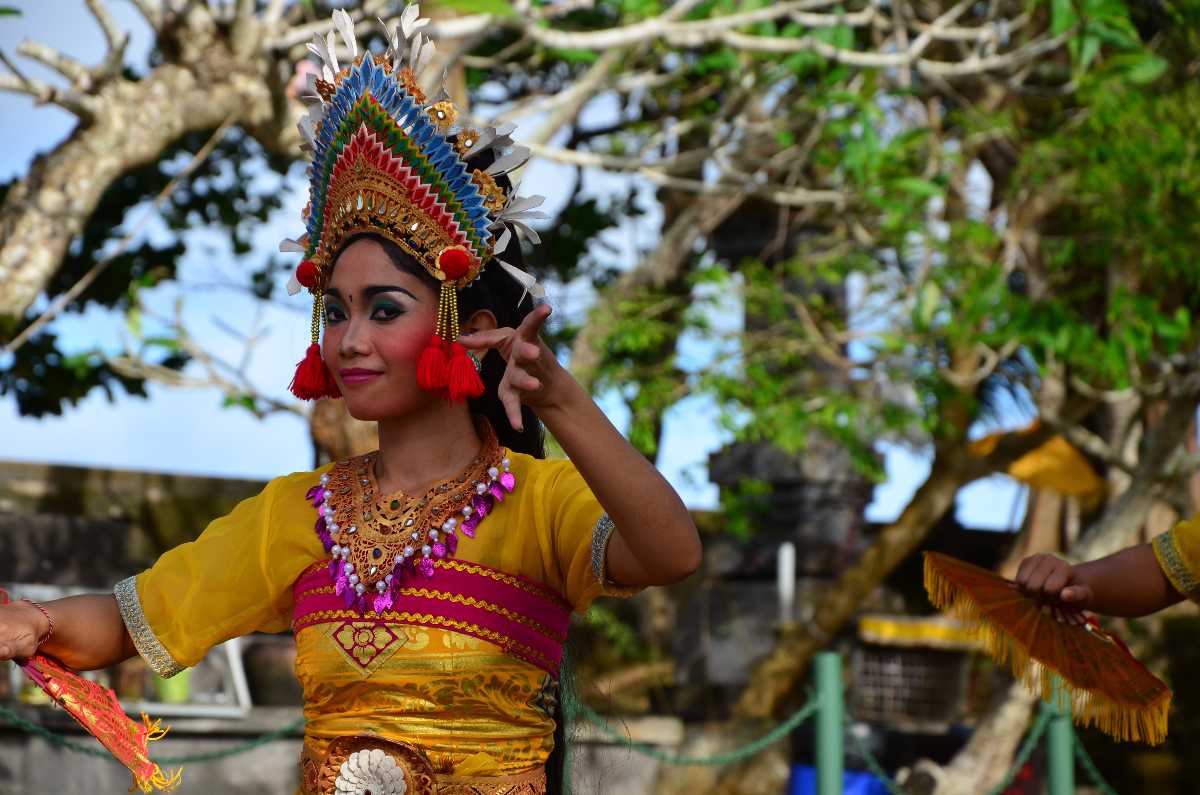 This Balinese dance form is usually performed in social events, especially during harvest. The performers always invite the audience to join them during the dance. The dance is accompanied with a soulful music made with bamboo.
8. Topeng Dance - The Mask Dance of Bali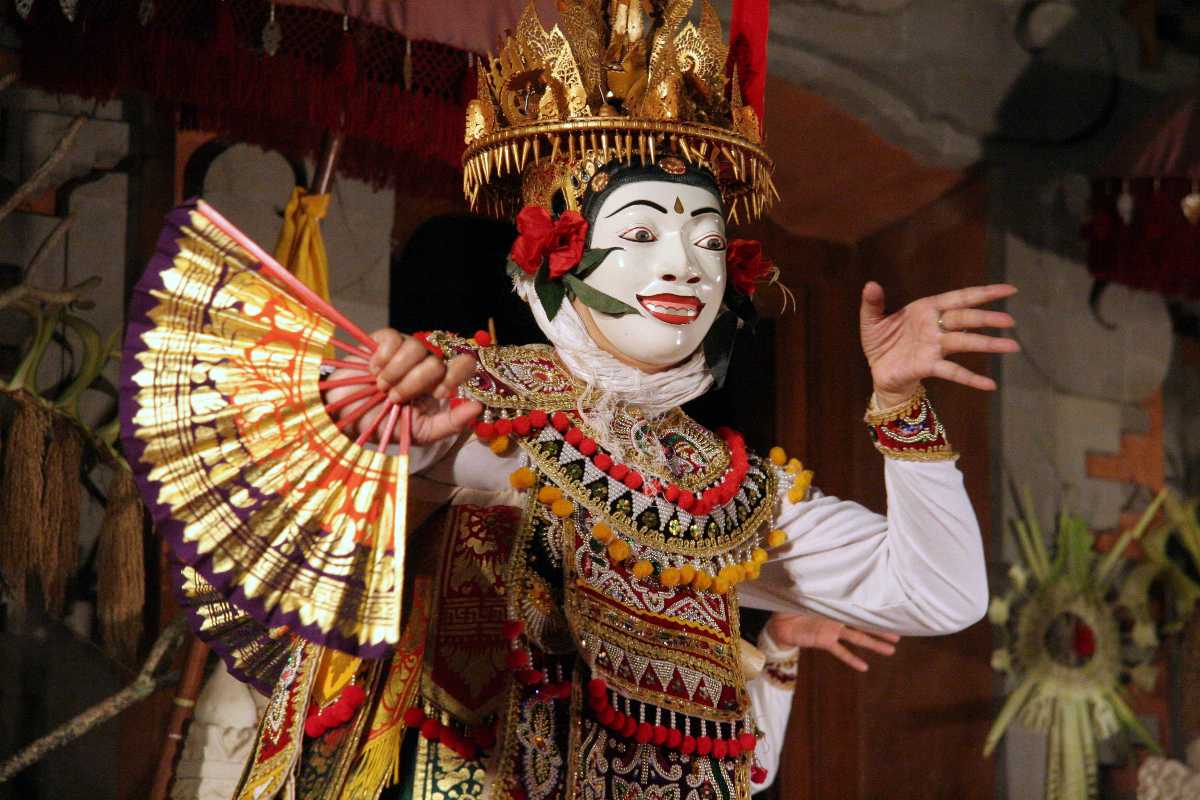 Popularly known as the 'Mask Dance', the Topeng Dance in Bali involves performers wearing paper or wooden masks. It is usually performed during large temple ceremonies and are dramas that tell stories of human experiences early kingdoms.

Balinese Dance Dramas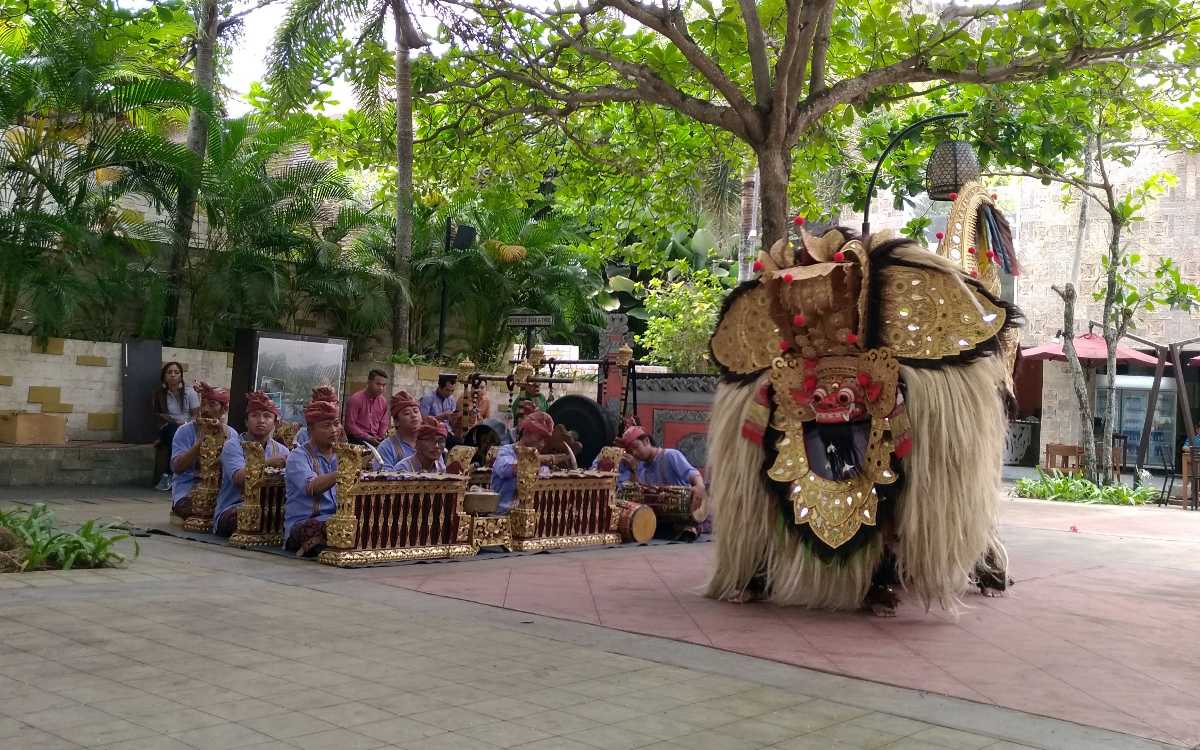 Because of the narrative nature of dance in Bali, it is closely linked to the region's theatre traditions. They are dubbed 'dance-dramas'. There's often an overlap between classifications of certain traditions as merely dance or theatre, such as barong, gambuh and topeng discussed before. In fact, the same word 'sesolahan' is used for both art forms. There is no word for a dancer or actor in the local language; they are dubbed 'tukang' or 'people who beautify'. When they perform, they are said to possess a special energy called 'taksu'.
9. Wayang Wong - Balinese Dance Drama Narrating Ramayana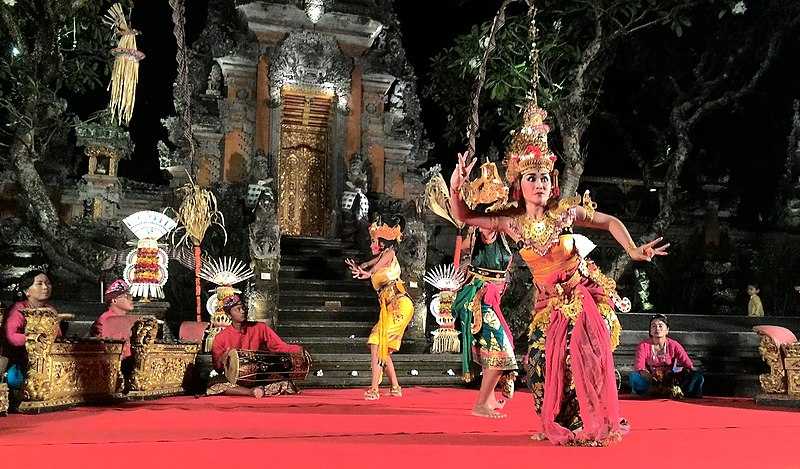 The Wayang Wong was a dance drama that originated in Java, but quickly spread all across Indonesia, now an integral part of the cultures of various islanders. In Bali, this dance-drama draws inspiration from various themes and tales from the famous Hindu epics Mahabharata or Ramayana. It is usually performed in Bali along with the Kecak Dancers, adding to the vibrance and energy of the performance. 
10. Arja - Balinese Dance Opera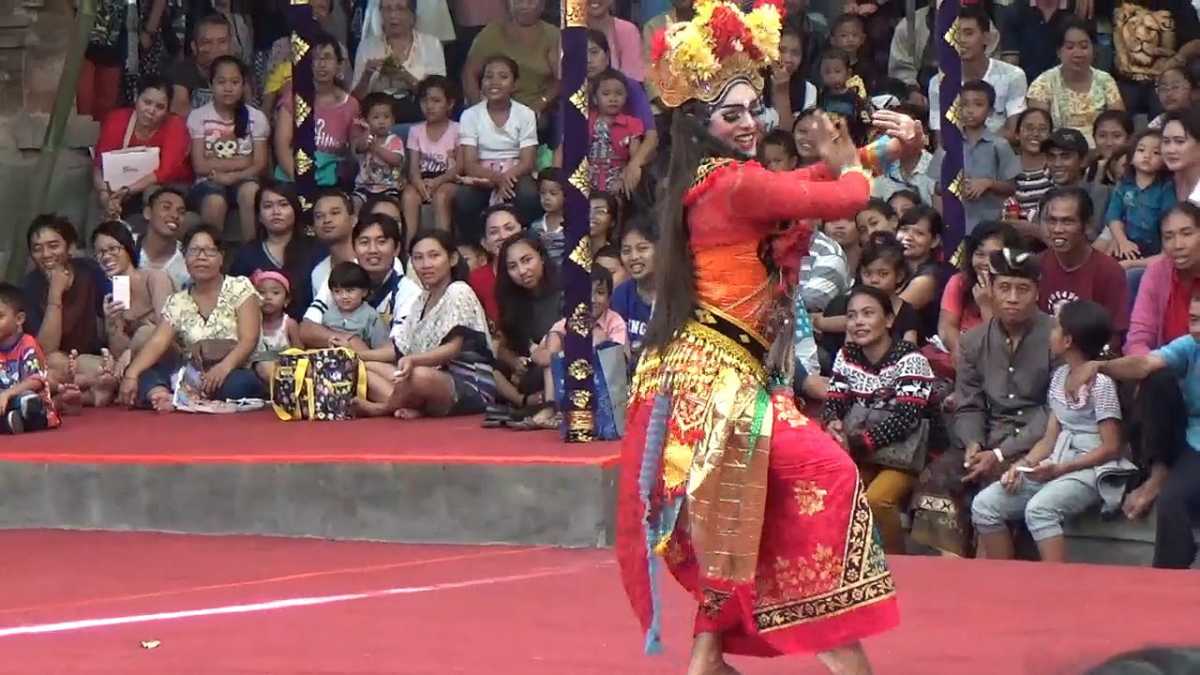 This is a dance-opera form of theatre originating in Bali. It draws upon classic texts and popular stories, incorporating dance, dialogues and vocals. This was once an inaccessible art form as it solely used Balinese dialogues and because of this, only locals could understand. In recent years, the art form has evolved to meet modern tastes, such as introducing contemporary stories from regions such as China and the Middle East; shortening the length of the exceedingly long performance; and using non-Balinese dialogues. Arja performances typically include romantic intrigue and comedy. The men wear split robes while the women wear wrap-around skirts, while their headdresses depict their character's social standing ? characters wearing crown-like headdresses were royal characters or high-status individuals while others would wear simple headdresses, some even made from cloth.
Balinese Dance Costumes and Masks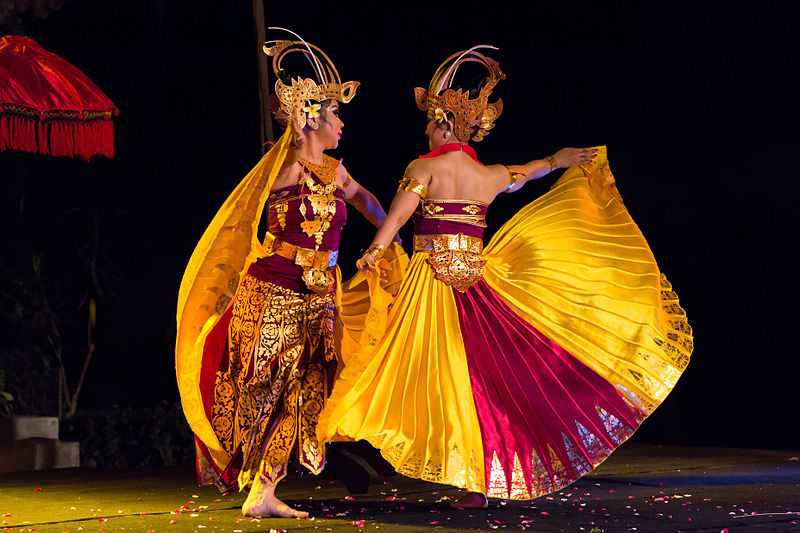 Dance in Bali is not only about the body movements, but is enhanced a great deal due to the bright, colorful and elegant costumes of the performers. Depicting kings, queens, warriors, gods, animals and other heavenly creatures, combined with some gorgeously done make up, these costumes can make or break the performance. Depending on the dance, there are various types of costumes. The women and men both usually wear a gold sabuk, which is a sash for the upper body, and a kain, which is a cloth for the lower body. Many women also prefer to wear a jacket inside the sabuk to cover their arms as sign of respect. Besides this, there are many other ornaments like a crown, belt, wrist and arm belt, and other accessories.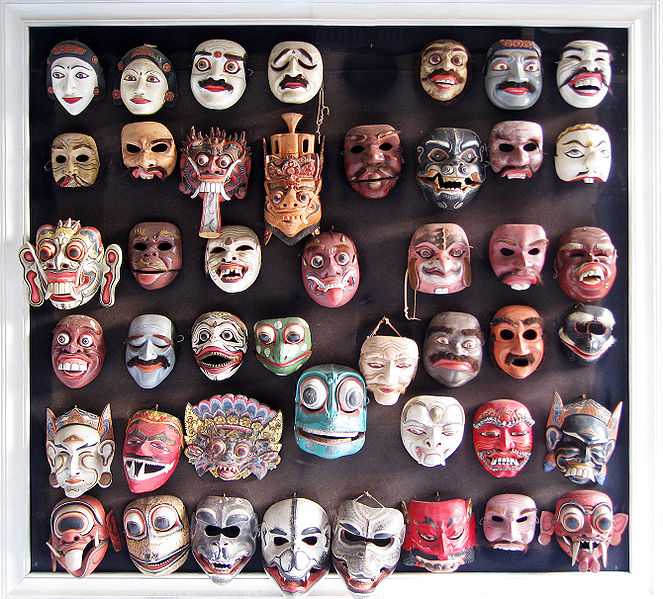 Balinese masks might seem to you as just an extra piece of costume, but it has a much deeper sacred meaning in their culture. During traditional dance performances in temples, the dancers are a representation of the deities or messenger of the Gods. Therefore, before generally putting on a mask, the dancers have to go through a sacred ritual first. During entertainment dances, the masks represent certain characters that the dancers are playing, and is important for giving a true sense of the culture to the audience. Topeng Dance, popularly known as the 'Mask Dance' especially includes the use of a wide variety of masks. One or more dancers can be seen wearing masks, often depicting ancient mythical kings or heroes.
History of Dance in Bali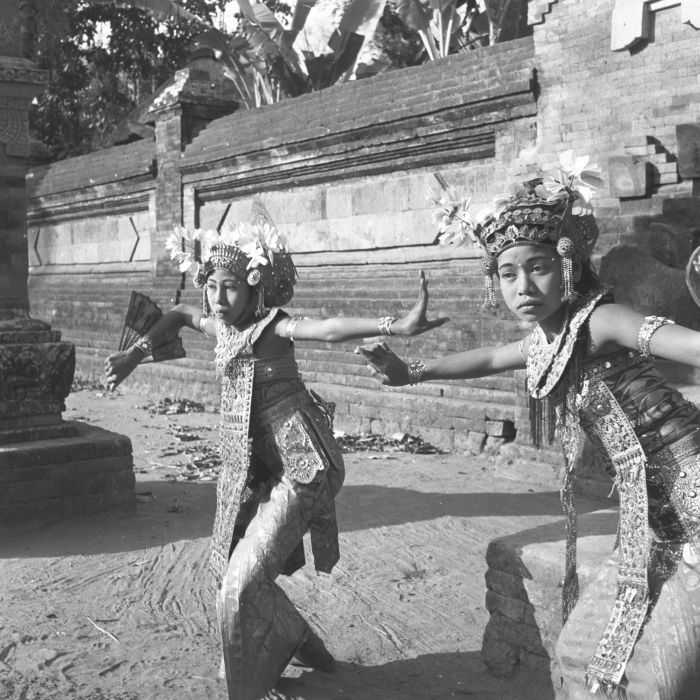 Before Hinduism reached Bali, locals from villages had invented dance rituals to fend off the evil spirit. In 15th century, when artists from Java fled and arrived at Bali, they changed the entire art and culture scene. From 15th to 19th century during the Balinese Kingdom era, many Balinese dances were invented, especially ones that were tied to Hindu beliefs. Part of these dances also includes an understanding of the Balinese history, Hindu mythology epics like Ramayana and Mahabharata, so as to convey a story through a dance. Since early 1900s, these dances became a huge and important source of entertainment for the tourists who visited Bali. Hence, many temples and other venues started hosting dance shows or festivals. Today, you can visit Bali any time of the year and be sure to catch at least one dance performance.
Balinese Dance Performances and Classes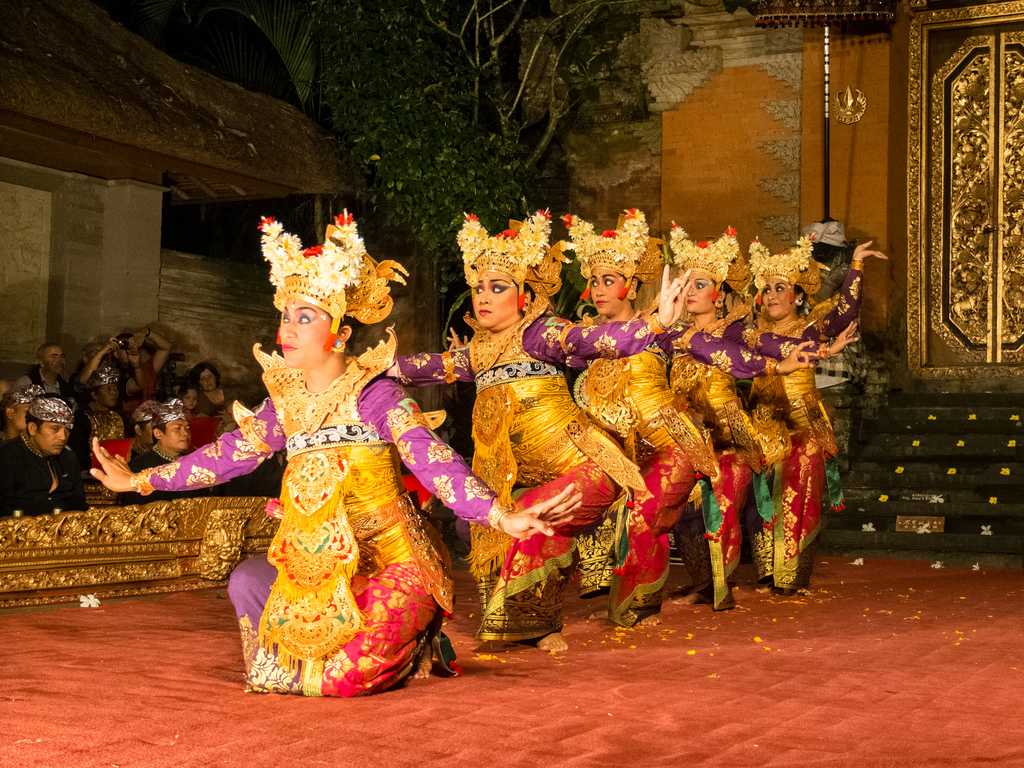 Everyday of the year there are multiple Balinese dance performances taking place at multiple venues across the island, most being in the cultural centre of Bali,
Ubud
.
Ubud Palace
,
Ubud Water Palace
, Padangtegal, Bale Banjar Ubud,
Pura Dalem Ubud
, Arma Museum,
Monkey Forest
and Ubud Main Road are the most popular venues in Ubud, where Balinese dance forms like Legong, Topeng, Kecak and Barong are commonly performed. Other popular venues are
Uluwatu temple
, Batubulan village and Bentuyung village where Barong, Jegog and the Kecak dance can be commonly enjoyed. Most of these dances are usually performed in the evenings, at around 7:00 PM, except for Batubulan village, where performances take place at 9:30 AM in the mornings.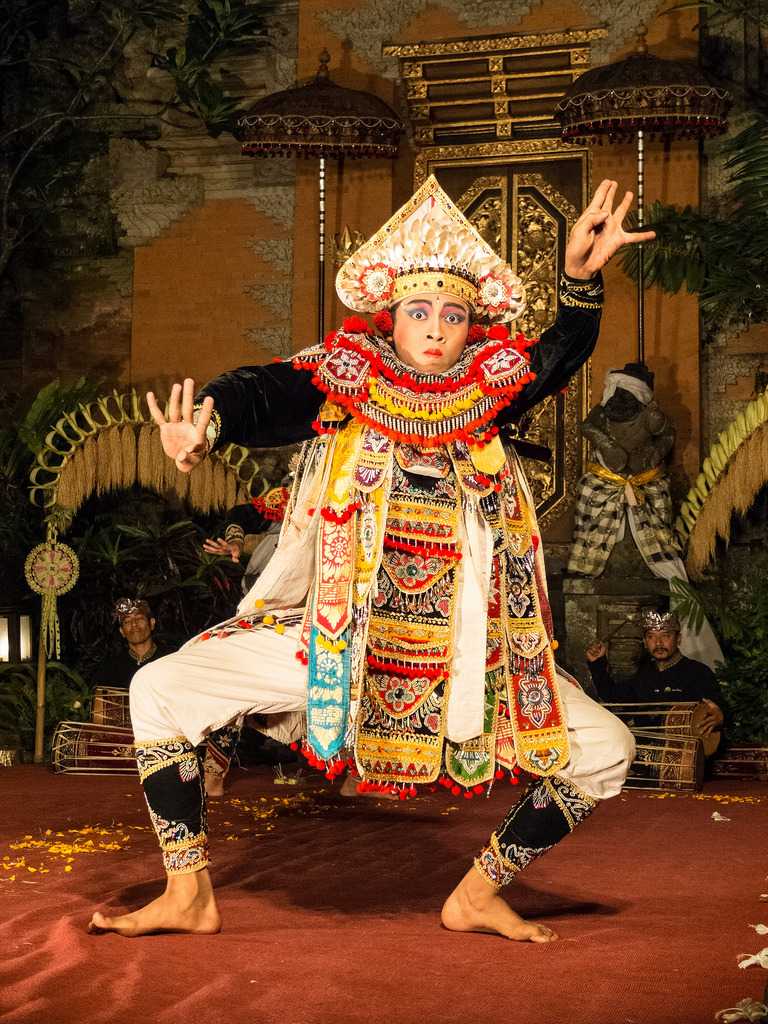 Not only can you enjoy watching these performances as a tourist audience, but there are also options for dance classes while you're in Bali. You can head to Bali Culture Centre in Ubud or other such centres anywhere across Bali, and sign up for traditional Balinese dance classes with trained dancers.
The culture of dance in Bali never fails to impress one. Their body movements, costumes, facial expressions, make-up, masks, ornaments, props, and most importantly, the stories and characters they portray via their dance, watching all of this live can transport you to a mythological time.