Goa, a tiny state on the western coast of India along the Arabian Sea, is famous for its laidback beaches, night long parties, beach shacks, water sports and many other adventure activities. One of the most visited states of India, Goa has many beaches along its beautiful coastline, catering to millions of visitors every year. Goa beaches are famous across the country and it is the place associated most with beautiful beaches and with so many of these out there, we help you get down to the 34 best beaches in Goa, all very characteristically different.
Here's a list of 34 beaches in Goa:
1. Calangute Beach, North Goa
Just adjacent to Baga beach, the Calangute beach has Water Sports, markets, restaurants, good food, lots of accommodation options. It is a crowded yet beautiful sea beach. Calangute is famous for its nightlife and the famous pubs of Goa including the Tito's and others on Tito's lane are located close by. Calangute beach is located 16 km north of Panaji and 2 km from Baga.
2. Anjuna Beach, North Goa
One of the most popular sea beaches among foreigners in Goa because of its night parties, Curlies and other good eating joints, peaceful seashore, western seafood with chilled beer and good music in nearby restaurants and flea markets. Anjuna is situated 21 km north of Panaji and 7 km from Baga.
3. Baga Beach, North Goa
Most popular beach of Goa for Indian tourists, it offers something for everyone. It is a picturesque beach with parties, music, beach shacks, karaoke, good food, water sports, good accommodation facilities, and is easily the most happening place in Goa. Baga beach is located 19 km north of Panaji.
4. Palolem Beach, South Goa
One of the most stunning and beautiful beaches of India, it boasts of white sand, long stretch of serene beach, palm groves, shacks and a lot more. There are nightlife opportunities around like the Silent Noise Parties which do not hamper the tranquillity of the shore, Palolem is located 38 km south of Margao. Palolem definitely ranks among the best beach in Goa.
5. Arambol Beach, North Goa
A 16 km long unexplored beach surrounded by cliffs on two sides, with a Fresh Water Lake and chirpy markets nearby, Arambol is considered to be one of the best beaches in Goa. This cove like a beach is a traditional fisherman village with a distinctly bohemian feel which attracts many international tourists and alternative travellers. A short walk to the north takes you to several attractive bays, the most famous among which is the sweet water lake at Paliem Beach (also referred to as Kalacha). This lake is fed by hot springs and lined with sulphurous mud which is believed to be have healing properties and is a favourite among the hippie crowd who take mud baths here. Beyond the lake, is a spectacular Banyan Tree with a stone sculpture at its base created by a famous artist which has become an attraction in its own right. The beach also hosts night parties, has a rich music scene and is dubbed to be the capital of hippie culture in Goa. The 'Glastonbury Street' leading to the beach is chock full of boutiques selling a bizarre and wonderful array of knick-knacks. This place is also good for paragliding and Kite Surfing making it one of the best beaches in Goa. Arambol beach is located  50 km north of Panaji.
6. Mandrem Beach, North Goa
Mandrem is of the most beautiful beaches of North Goa. The white sand is dotted by Beach Shacks and one can also go on Dolphin spotting trips or explore the Mandrem Village. Junas and Ashvem are the two main beaches with shallow and calm waters which make it a great place to swim.  During high tide, water rushes up the Mandrem creek which runs parallel to the shoreline. A lot of bamboo bridges are spawned across this creek and are a great place to spend romantic evenings with your feet dipped in the water. One can also spot some animal life like the white-bellied fish eagles that live in the casuarina trees and the occasional Olive Ridley turtles that nest here. Good places to eat include End of the World Cafe for fish & Oasis for north Indian fare. Mandrem is located  32 km north of Panaji.
7. Morjim Beach, North Goa
Morjim is one of most secluded beaches in North Goa. It is a great place to spot a large variety of birds and Olive Ridley Turtles, hillocks and good food. Morjim is also known as mini-Russia due to a large concentration of Russian immigrants and considered to be one of the top 10 beaches in Goa. It is located on the northern bank of the Chapora River estuary and is a fairly quiet place owing to the nesting ground of the endangered species. Late night parties and loud music is banned and relaxation, alternative therapies, kite-surfing etc. is promoted Morjim is located 29 km north of Panaji.
8. Cavelossim Beach, South Goa
An aesthetic beach, with white sand and black lava rocks, beach shacks, Goan dishes and Seafood, Water-sports, Local markets, Dolphin spotting trips etc. It has a lot of accommodation options. Where: Cavelossim beach is located 15 km south of Margao.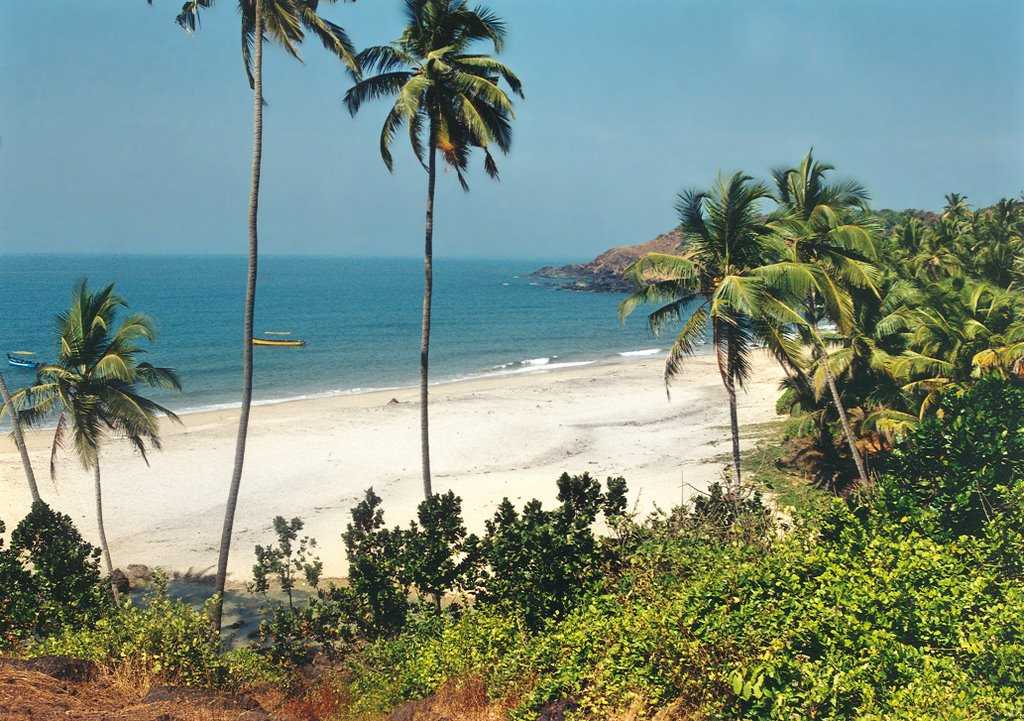 9. Vagator Beach, North Goa
Quiet and calm beach, Vagator is one of the best beaches of Goa. It is beautifully set amidst the cliffs with soft and white sand and is perfect for relaxing. It has vast stretches of coconut trees and the Chapora fort as a nearby attraction. Vagator is located 21 km north of Panaji.
 10. Colva Beach, South Goa
One of the best beaches in South Goa, this beautiful beach is famous for its romantic evenings, great seafood and the most happening nightlife in South Goa. Another major attraction nearby is Our Lady of Mercy Church Colva beach is located 6 km north of Margao.
11. Agonda Beach, South Goa
One of the best beaches in South Goa, It is a quiet beach ideal for chilling, swimming, walking, eating and just generally doing nothing. Agonda Beach is located 37 km from Margao. Agonda is another quiet beach located just 15 minutes from Palolem. The beautiful stretch of the sand and the sea is just an awe moment, the beauty the beach displays is just breathtaking. This is also one of the beaches that are home to the olive ridley turtles to lay eggs. There is no signal so don't bother making calls. Just forget about everything and relax and enjoy your holiday to the fullest. It is advisable for swimming provided you stay off limits. The setting of the Agonda Beach is just perfect. So, if you are looking for a romantic stroll with your special person while the sun is setting it couldn't get any better. There are not many stalls available at the beach just a few locals but close to the beach area there are guest houses and restaurant so don't worry you can enjoy your social life and when you feel like having some alone time just take a stroll on the beach.
12. Betalbatim Beach, South Goa
Head to one of the offbeat beaches in Goa which has Golden Sand, Cold Pine trees, unexplored serene stretches, trips to spot dolphins, good seafood and laid-back evenings. Betalbatim is located 10 km north of Margao.
13. Butterfly Beach, South Goa
One of the best and most beautiful beaches in Goa, it is the most secluded and unexplored beach. It is a good place to spot fishes, crabs and even dolphins. It's dotted with Palm trees, lots of greenery and of course butterflies. Butterfly Beach is situated 39 km south of Margao, However, the only way to reach Butterfly Beach is to take a boat from Palolem or Agonda. Located in the North of Palolem Beach, Butterfly Beach is a part of the beautiful Arabian Sea. The name butterfly is because the beach sustains the life of many different varieties of Butterflies. The beach is surrounded by forest and thick trees and bushes so getting to this place through road by bike or car is impossible unless of course, you're awesome at trekking where I am like zero! The most convenient way to travel here is by taking a boat ride to Palolem beach and walk towards the butterfly beach. Due to its location and problems faced to arrive here, not many people do and those who make it have the place all to themselves. The water here is clear and not very deep, so if you're lucky early morning you can witness the sea urchins, sea cucumbers and crabs and the best sunrise and sunset ever.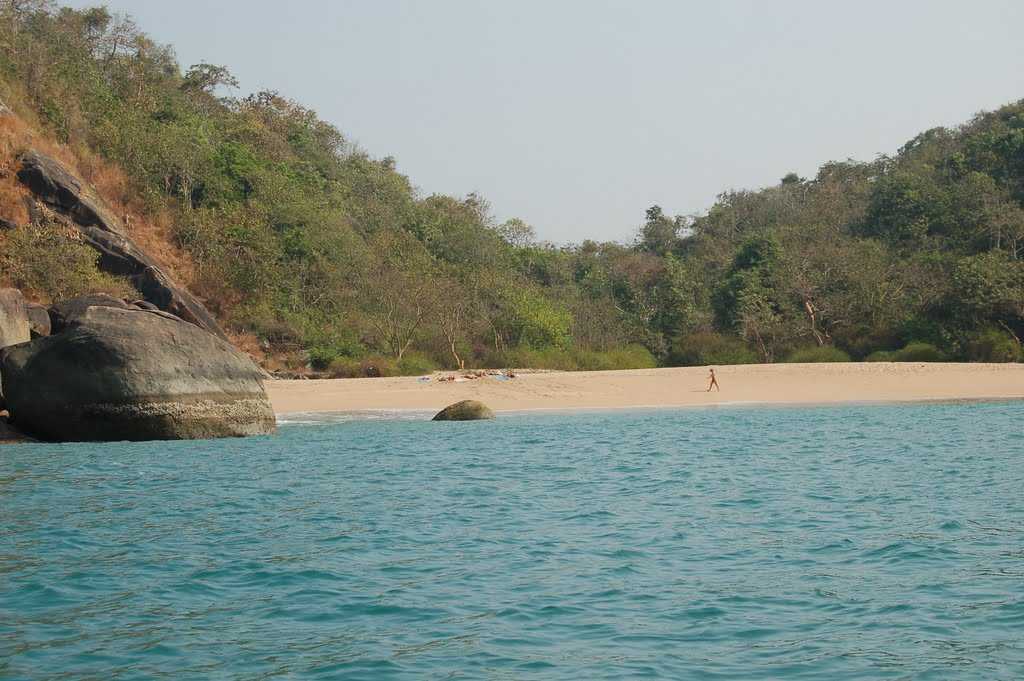 14. Candolim Beach, North Goa
This laid-back beach hosts the Sunburn Festival in December. It has the Aguada fort overlooking the sea and the beach and is one of the best and longest beaches in Goa Candolim is located 13 km north of Panaji.
15. Patnem Beach, South Goa
A quieter alternate to Palolem beach, this is among the most beautiful and serene beaches in South Goa Patnem Beach is located 39 km south of Margao.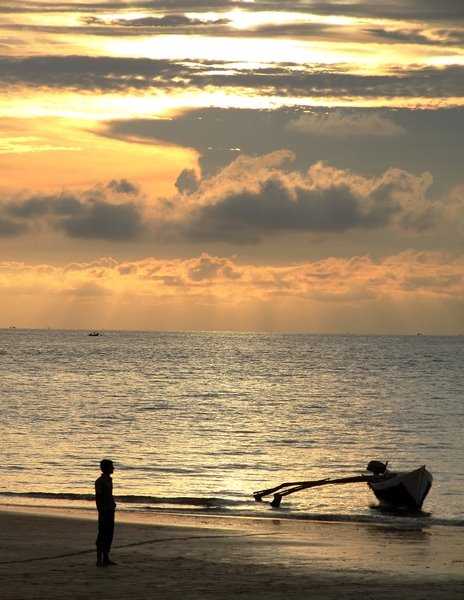 16. Chapora Beach, North Goa
Calm Shore, beautiful sea beach, water sports, good food in the Beach shacks along the coast make it one of the most loved beaches of Goa. The white sand along with black lava rocks and the Chapora fort overlooking the sea make for an endearing sight. One can also explore the Chapora village nearby Chapora Beach is  24km north of Panaji
17. Miramar Beach, near Panjim
What to Expect: Popular and crowded beach, frequented by locals from Panaji and nearby towns, local street shops, local restaurants. The main churches of Goa are located in Panjim. Where: Miramar beach is located 3 km south-west of Panaji.
18. Dona Paula Beach, near Panaji
One of the best spots in Goa which makes it slightly crowded. It has Water Sports, Harbour, Rocky shores and much more. Dona Paula is located just 6 km south-west of Panaji.
19. Querim Beach (Kerim Beach), North Goa
Also known as Keri Beach or Kerim Beach, it is the northern-most beach of Goa and located close to Tiracol fort. It has an Old Portuguese Fort and a 17th-century church overlooking a peaceful unexplored beach with a calm shore.  The fort, now converted to a hotel, can be reached by a ferry which plies every half an hour. A picturesque scene not to be missed are the fishing boats which line up on the beach at 6 every day to go out in the sea and come back the next morning at 5 AM. The beach has paragliding and other water sports. However, it is not safe for swimming especially near the Tiracol estuary (formed by the Tiracol river meeting the Arabian Sea). Kerim is located 58 km north of Panaji and can be reached from the Arambol Beach.
20. Benaulim Beach, South Goa
Rather unexplored beach, it offers tranquil evenings, good food, local markets, and is particularly famous for bullfighting events and the Church of St John the Baptist Benaulim is located 6 km south-west of Margao  
21. Sinquerim Beach, North Goa
Small yet popular and clean beach with dolphin spotting trips, shacks with good food and chilled beer and the Sinquerim Fort overlooking the sea. It also has a lot of resorts like Taj Vivanta and Taj Holiday village resorts nearby. Sinquerim beach is located 13 km north of Panaji  Located almost 13 km from Panaji, the capital city of Goa is the Sinquerim Beach. Not very famous and that is why I have chosen it as one of the places where you can just run away from the crowd and just be yourself. Near this beach is the most famous Aguada a Portuguese Fort that was built in the earlier days to defend an attack from the sea route. If you love water sports this is the one beach where you should be and not miss it for the world on your trip to Goa. Although it does get a little crowded during season time due to tourists visiting the Aguada Fort, it is quieter and peaceful on the other days of the year and should be visited.
22. Mobor Beach, South Goa
One of the best beaches in Goa, it has a long stretch of clean sandy beach, water sports, handicraft shops, good food, resorts and budget accommodation options. Mobor Beach is situated 17km south of Margao.  
23. Betul Beach, South Goa
This quiet beach is ideal for people looking for solitude and some alone time. A small lagoon, a river flowing nearby, a 17th-century fort and a Baradi Cross church make it a picturesque venue. It is close to Mayfair Resort Betul Beach is located 18 km south of Margao. Located in South Goa, about 24 km from Margao, Betul Beach is also secluded because of its far location and not many people know about this village. There are only about a total of 60 houses which is not much. The place is very interesting as there is a river right across separating the beach from the village. There are not many restaurants or shacks and the place is clean. So, if you're a nature lover or just looking for a quiet place to just relax and watch the sun setting in the sky, then let me tell you, this is the place for you. Anyone who comes here once can never say he's never going to come again, this place is so beautiful it'll get you hooked and trust you will be visiting again soon.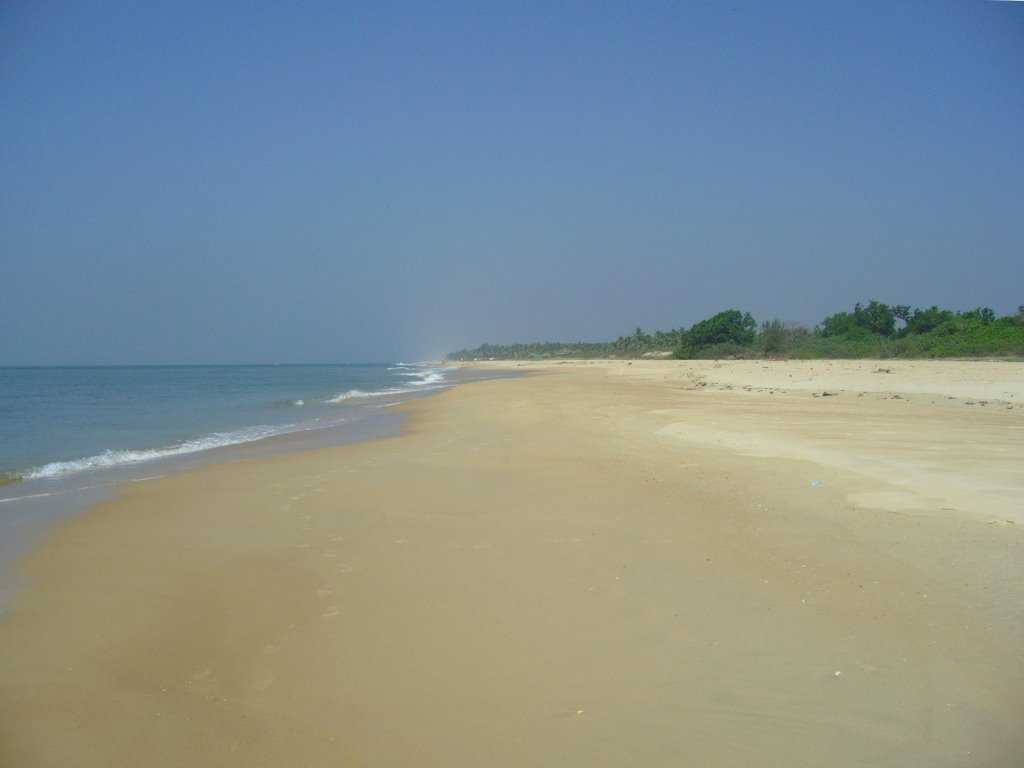 24. Talpona Beach, South Goa
An isolated beach with a calm and serene coastline, golden sand, fishermen village and a couple of beach shacks, Talpona is located 44 km south of Margao.
25. Galgibaga Beach, South Goa
One of the offbeat beaches of Goa, this 1.5 km long sandy beach has a calm and serene environment. The swaying Palms and Casuarinas make it a philosopher's retreat. Galgibaga Beach is located 52 km south of Margao. Considered to be one of India's cleanest beaches and silver sands. Galjibag Beach is located in South Goa. One important thing you'll notice is that as you move toward the south of Goa, the maintenance and crowd of the usual beaches decrease and this is a reason why this beach is very convenient. There are no shacks and huts, one of the nearest local places is called Dipshika from where you can buy food and enjoy on the beach. Love just relaxing in the sun, a short swim? Some time alone from the crowd? Meditation? This is the perfect beach to be. Highly recommended by all tourists, this beach is also a home to Olive Ridley sea turtles to lay their eggs in the month of December- February. How amazing is that?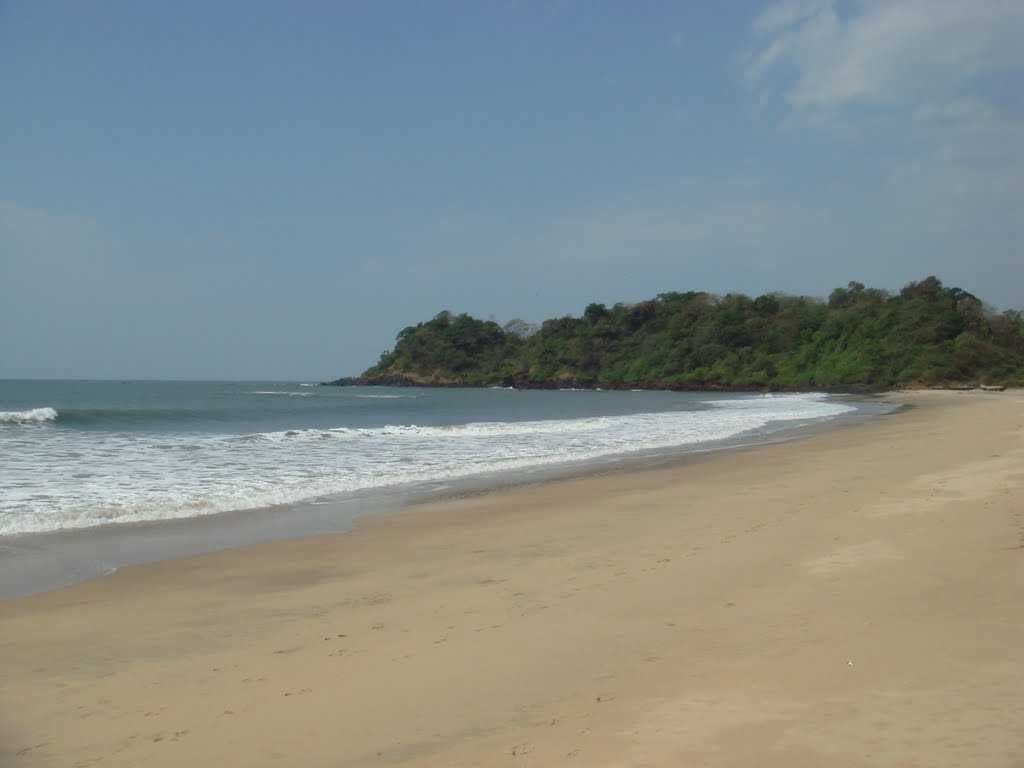 26. Polem Beach, South Goa
Southernmost beach in Goa, this is a secluded beach with stretches of white sands and rocks, unspoilt and clean water -ideal for swimming and sunbathing. Migratory birds and dolphins could also be spotted sometimes. Where: Polem is around 60 km south of Margao "Sunkissed beaches Nightime peaches Hipster clan The perfect tan Balmy shores Birds galore Sparkling water Pint or quarter Deep blue skies The lasting highs"
27. Siridao Beach, South Goa
This one is a shell collector's paradise. It is a rocky and sandy beach and its most famous attraction is the Chapel of Jesus Nazareth Siridao Beach is situated around 12 km south of Panaji.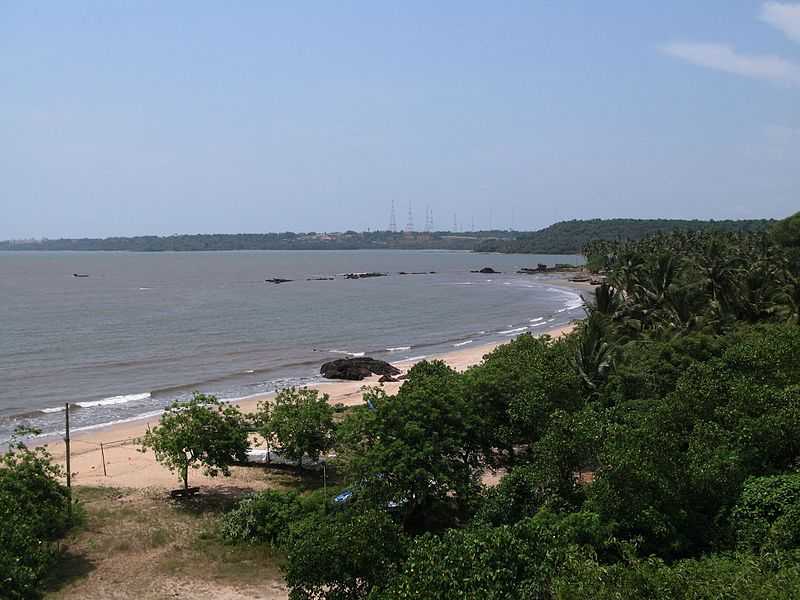 28. Bogmalo Beach, South Goa
Perfect mix of natural beauty and commercial space, this beach has a lot of shops selling local handicrafts. It has clean water ideal for swimming with the Goa Institute of diving located there. It is also famous among BITS Pilani Goa Campus students Bogmalo Beach is located 14 km south of Panaji.
29. Cansaulim Beach, near Panjim
Beautiful white sand and a long stretch of secluded beach, make it the perfect place to spend time together with your partner Cansaulim Beach is located around 25 km north of Margao  
30. Majorda Beach, near Panaji
This one is a calm unexplored sea beach with long stretches of clean sand, clean water ideal for swimming, lush green countryside, lovely bakeries. It also houses Martin's Corner: a restaurant famous for its Goan dishes, drinks and nice music. Don't miss the Goa Christmas Carnival if you happen to be here in December. Majorda is located 11 km north of Margao.
31. Kakolem Beach, South Goa
One of the most isolated beaches of Goa also known as the 'Tiger Beach' and is located south of Cabo de Rama beach. It is difficult to reach this beach by foot as it will require to climb up many steps and pass through narrow paths. It is easier to get here by boat or a motorboat. This is a place where you can just relax that's when you finally reach it. Due to the complexity of reaching the place the people who go here are really less mostly it is either nature lovers or adventurers. There is even a small spring that flows into the sea. The view of the Beach from the hills is just breathtaking. There are no shacks or places to stay so it is quite clean. One of the best places to get away from all the hustle and bustle.
32. Ashwem Beach, North Goa
Situated in the south of the famous Arambol Beach, Ashwem Beach is another example of an isolated beach in Goa. I have personally been here and it is beautiful. Mostly, there are rocks and the stretch of the coast is quite long. There are hardly any people around. At the time I had visited there were just a handful of foreigners just enjoying the water and the beautiful beach. This beach is mainly famous because it is the place where Olive Ridley Turtles come shore to lay their eggs. So, the people you would find here will either be Animal right people or foreigners. The place requires a lot of travel and the best means is to hire or have a bike. Just be sure not to graze your leg against the rocks, other than that have fun and enjoy the peace and quiet.
33. Velsao Beach, Near Panaji

The Velsao Beach is very close to the Dabolim airport making it convenient to visit on the day when you are leaving provided that you don't get lost in its serenity and beauty. The Velsao Beach is famous for its white shells founds all over the seashore as well as the starfish. The beach is also filled with coconut trees so be careful where you're resting for shade:). It is a quiet beach and is also isolated, very fewer people move around here giving you complete privacy to sort out all your life issues and leave with a calm mind. Just close your eyes and relax on this serene and absolutely clean beach and do anything you love like sunbathe, listen to music, relax, read a book, draw etc. It's how you see the world that matters most.
34. Hollant Beach, South Goa
Hollant beach is located 7 km from Bogmalo beach of Vasco city. Due to no currents, the beaches are shallow and it is one of the best places to go swimming. One can travel here only on a personal vehicle as no transport leads here and this is a reason why it is one of the most isolated beaches. There are very fewer shacks and no hotels here, therefore, there is peace and quiet and the beach is very clean. This beach is very famous because it is said that Hollant Beach is the only beach where you can see a clear sunrise. So, the next time you are in Goa don't forget to stop by Hollant and experience one of the best moments in life with your loved ones.
Related Links:
Celebrate Shigmo Festival in Goa
Make the best of Goa in December 
North Goa Beaches Map
Central Goa Beaches Map
Beaches near Panjim and Vasco
South Goa Beaches Map
The Secluded Beaches
Similar Posts That You Might Like