It is no surprise that
Goa
is one of the most sought-after destinations not only in India but the world as well, simply because it offers the best of everything. Miles of golden sand coastline, expansive sea, a fun-filled party-scene and countless drinking and dining options, all of this make it one of the most preferred destinations for adults and kids. While you thought that a beach trip would be all about a relaxed, slow sea-gazing and food-centred experience, we bring you some of the most adrenaline-pumping and thrilling activities that could find a place on your bucket list of 'Things to Do' while travelling to Goa. It hardly matters whether you are a swimmer or a trekker, an out and out adventurous person or the more cautious one but open to trying out experiences, Goa will leave you spoilt for choices. So read on to know more:
1. Scuba Diving and Snorkelling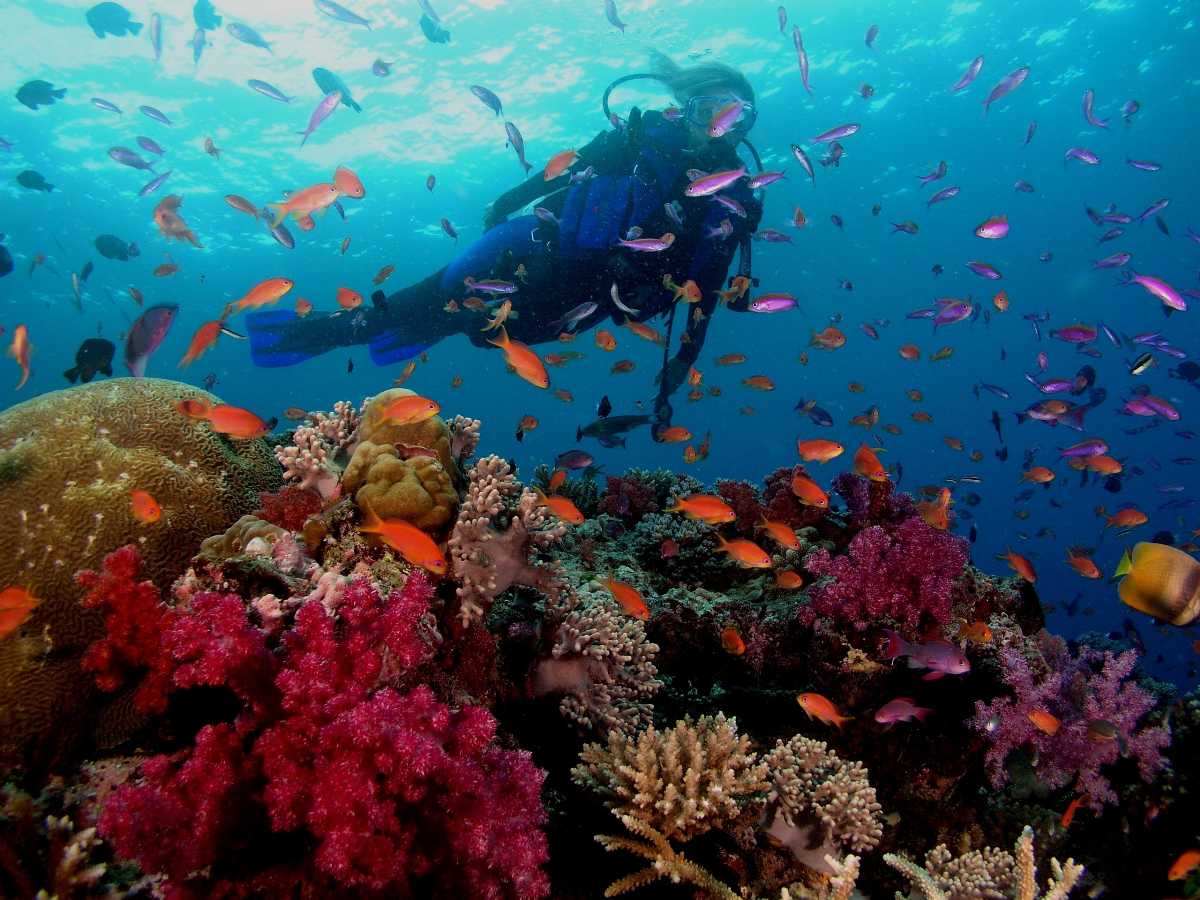 If the sublime experience of marine life and the enchanting world of underwater caught your fancy while watching 'Zindagi Na Milegi Dobara', scuba diving and snorkelling are the sports for you. Colourful corals, wrecks from the pages of history and the thrill of being in the abandon of the infinite sea, scuba diving is a once-in-a-lifetime experience. And here's the thing: You don't need to dish out a moolah for this sport in countries like
Maldives
or Thailand when Goa offers you stunning experiences of marine life while scuba diving with the best of instructors and safety equipment. You will be required to participate in a 1-hour long training session with the instructors after which you will be all set for the sport 12 meters down the sea. It is advisable to go scuba diving between October to May when the seas are not rough.
Places offering Scuba Diving: Grande Island, Agatti Island, Pigeon Island. Shallow sites near Malyan and Venugurla are located at a distance of about 2 hours from Panaji- the capital of Goa. Angria Bank is located 120 km from Goa is a world-class diving site. Other sites include Suzy's Wreck, Turbo Tunnel, Sail Rock and Davy Jones Locker.
Notable Operators: Dive Goa (Candolim); Goa Diving (Bogmalo, Vasco); Goa Yatra (Arpora); Aqua Sports (Calangute); Scuba Evolution India (Candolim).
Best Season: October to March.
Approximate Cost: INR 3999 per person.
2. Parasailing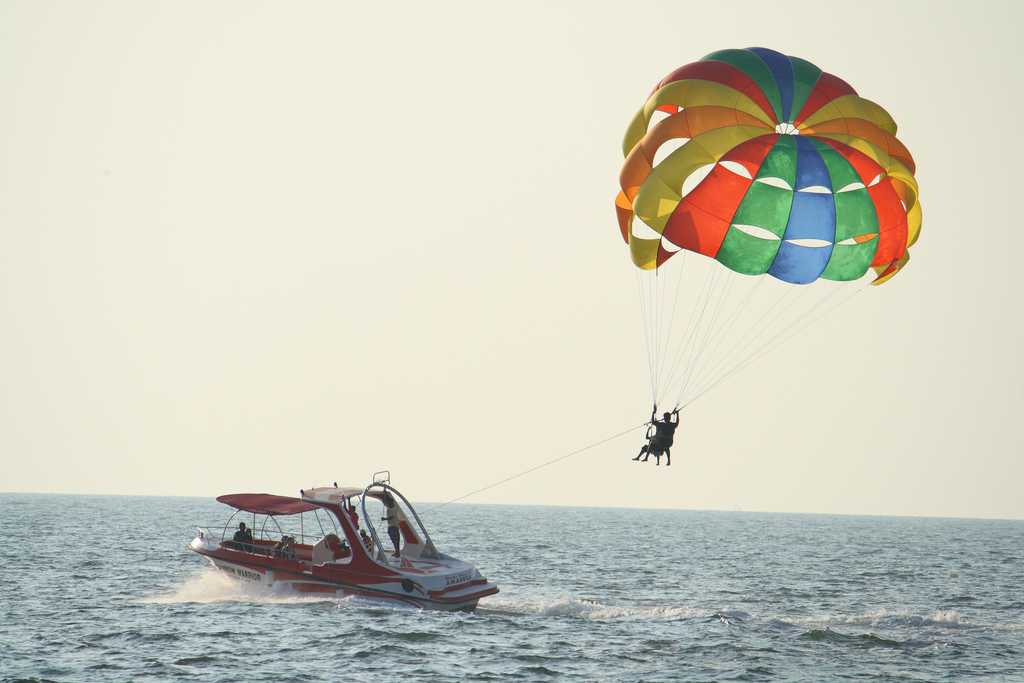 Who doesn't want to enjoy the breathtaking view of the blue Arabian Sea while flying high up in the sky, defying the limits as it were? Parasailing is one of the most popular adventure sports on offer in Goa. Tourists usually prefer winch boat parasailing where the taking off and landing of the parachute happens on the winch boat itself attached at the other end of the parachute. Parasailing is a hot favourite amongst families, kids and couples as it offers the perfect combination of thrill and enjoyment while being comparatively easier than the other water sports. The best time to enjoy parasailing is from October to May when the sea is calmer, and winds are perfect for gliding the parachute.
Places offering Parasailing: Arambol Beach, Baga Beach, Mobor, Dona Paula.
Notable Operators: Goan Banana's Watersports (Baga, Candolim and Calangute); Hydro Sports (Dona Paula); Goa Tours Planner (Calangute), Sea Water Sports (Arpora).
Best Season: October to March.
Approximate Cost: INR 850 - INR 1100.
3. Windsurfing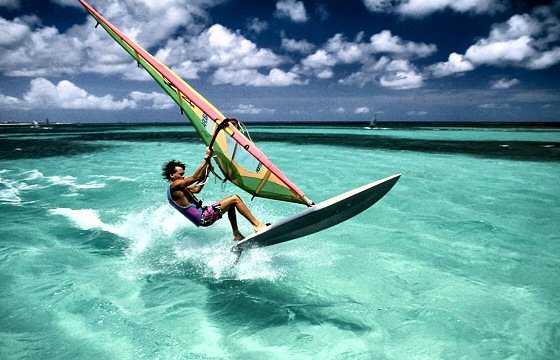 Windsurfing combines the aspects of both sailing and surfing. The rider has to stand on the board and firmly grip the sail attached and then manoeuvre according to the wind and water pressure. It requires a good balancing act on the surfboard while cruising through the ocean waters. Dona Paula jetty, among others such as
Candolim Beach
, Calangute and Baga is considered to be the best place for windsurfing especially if you are a beginner. If you are more of the adventurous types, you could head out for windsurfing in the afternoon instead of the morning when the winds are stronger and offer a more challenging experience to the surfers.
Places Offering Windsurfing: Dona Paula jetty, Miramar, Bogmalo, Vagator, Palolem.
Notable Operators: Atlantis Watersports; Octopus Surf School (Morjim); Sea Water Sports (Arpora).
Best Season: October to March.
Approximate Cost: INR 1500 onwards.
4. Water Scooters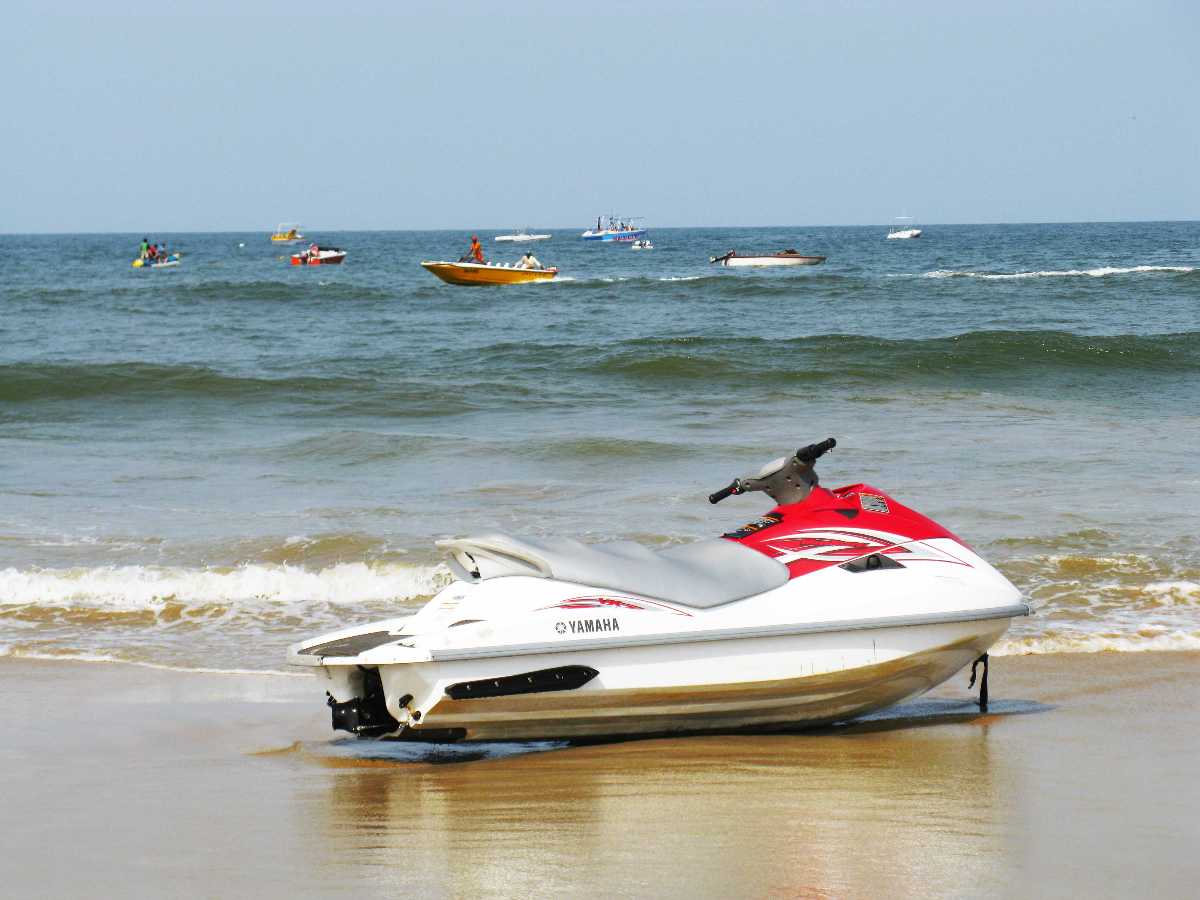 Water Scooters are a safe but thrilling option for people who want to experience water sports but are relatively inexperienced. This sport is a combination of speed and thrill that accompanies riding a bike on the smooth surface of the water. Water scooters are trendy in Goa and are readily available at most of the beaches.
Places Offering Water Scooters: Dona Paula Jetty, Cidade de Goa, Majorda and Candolim beaches.
Notable Operators: Hotel Cidade-de-Goa(Dona Paula); Yazoo Water Sports (Calangute); Goa Yachting Association(Panaji)
Best Season: October to March.
Approximate Cost: INR 500 onwards.
5. White Water River Rafting and Boat Cruise at Mandovi River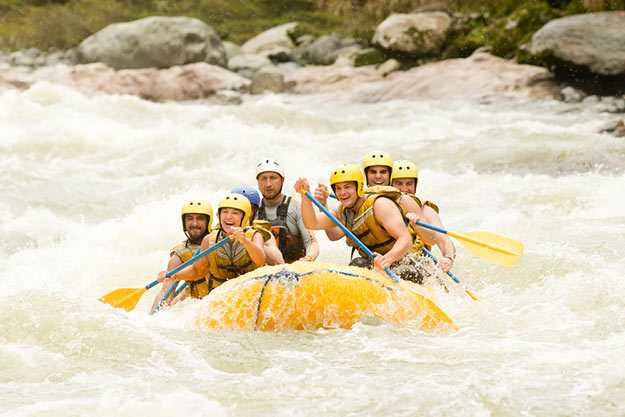 Located at the borders of Mhadei Wildlife Sanctuary, Mandovi or Mhadei river is one of the most picturesque rivers of India. Goa Tourism Development Corporation has introduced whitewater river rafting here, which attracts tourists from India and abroad alike. Rolling waves in the river churning out white froth that carries your boat amongst the rapids, white water rafting is one of the most preferred water sports that excites a large number of travellers. You shall be provided with a small training session, safety equipment and life jackets that would be required for the 10-kilometre adventure trip.
Those wanting rather to relax, luxury cruises operating on Mandovi are an excellent option offering you stunning views of the beautiful river and the sunset. Santa Monica and Shantadurga ships are the two most famous ones for cruising. Live entertainment on these cruises gives you a glimpse of Goan culture with its Portuguese influences where you can immerse yourself in a truly relaxing and stirring experience of the regional beauty and richness of Goa.
Places to Visit: Mhadei river, Valpoi, Sattari. Meeting points also include Earthern Pot Restaurant and Sayed Nagar. Cruises depart from Santa Monica Pier nearby Mandovi river.
Notable Operators: Atlantis Water Sports; Goa Tourism Development Corporation (GTDC); Goa Rafting (Bardez)
Best Season: October to March.
Approximate Cost: INR 300 per person for 1-hour cruise; INR 1800 for rafting.
6. Kayaking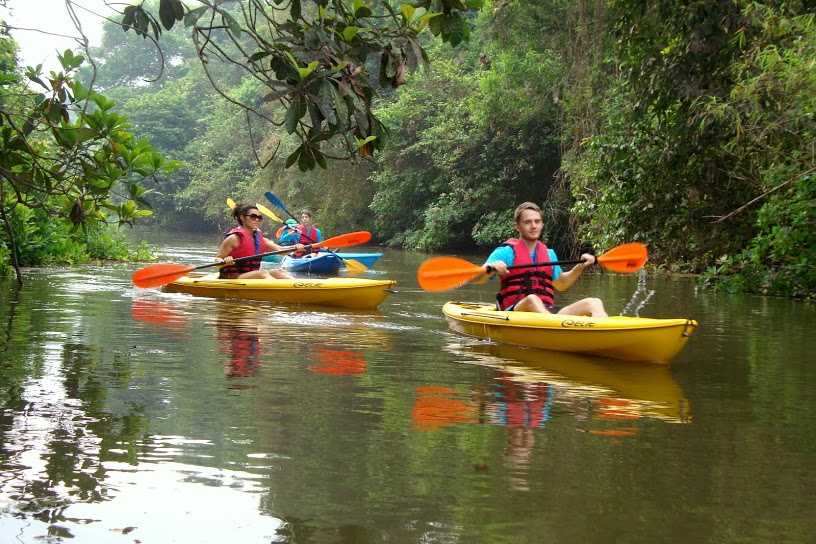 Kayaking is a calming water activity that is not strenuous and too challenging. Paddle your way through the thickets, backwaters and rivulets in Goa, enjoying its scenic beauty and scenes from the daily Goan life. Kayak races, kayak festivals, picnics and moonlight kayaking are some of the options offered by various clubs in Goa. It is more popular in South Goa beaches and is best enjoyed in the season stretching from October to May when the sea is placid, and the currents are moderate.
Places Offering Kayaking: Palolem Beach, Dona Paula jetty, Hollant Beach, Nerul river, backwaters of Zuari, Sal and Mandovi.
Notable Operators: Hydro Sports (Dona Paula); Goa Kayaking (Vasco de Gama). 
Best Season: October to March.
Approximate Cost: INR 1600 to INR 3200 per person.
7. Wakeboarding and Kneeboarding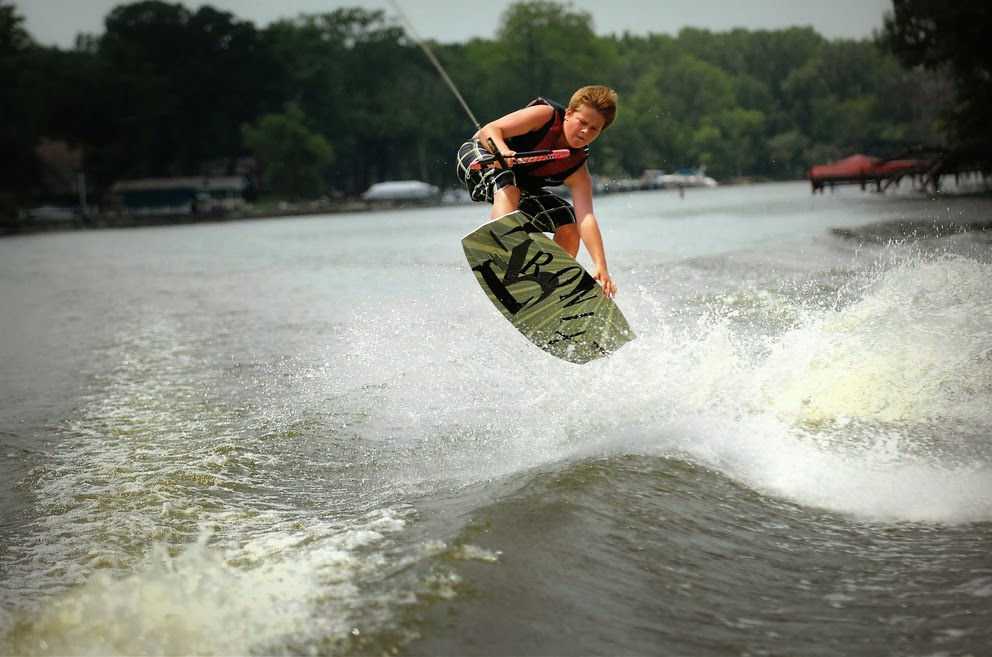 Requiring less speed and balance than water skiing, wakeboarding is becoming more and more popular with water sports enthusiasts. It makes use of a single board rather than two; this sport is fun-filled and available on most of the beaches. Kneeboarding is another favoured counterpart that uses a board to rest the knee to ride through the waters. These activities are also considered as training stages for more advanced water sports.
Places Offering Wakeboarding and Kneeboarding: Mobor, Rajbaga, Candolim.
Notable Operators: Vaayu Ocean Adventures, Atlantis Water Sports, Sea Watersports (Arpora).
Best Season: October to March.
Approximate Cost: INR 7500 - 8500 per person.
8. Water Skiing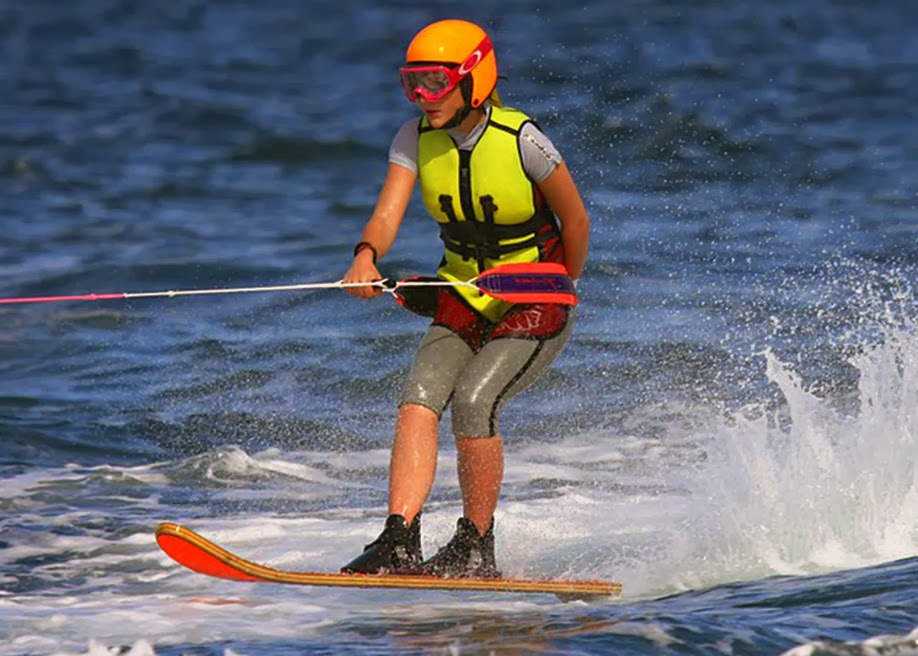 Water Skiing is one of the most adventurous and thrilling water sports that one could take part in while at Goa. Skiers put on a pair of skis, which are further tied to a speedboat. As the boat speed, one has to maintain balance in the process of being pulled by the racing boat. This sport can be a bit challenging for beginners and is not suitable for children below five years of age. However, a little practice can lead you to an adrenaline-pumping and an unforgettable experience!
Places Offering Water-Skiing: Mobor, Calangute, Baga, Arossim and Utorda.
Notable Operators: Aquasail-360' Sailing- Day Adventures in Bambolim (Bambolim); Goan Bananas Water Sports; Atlantis Water Sports; Franks water Sports (Majorda).
Best Season: October to March (when the waves are placid).
Approximate Cost: INR 400 - INR 500 per person.
9. Kite Surfing
Kite Surfing is a combination of surfing, jet skiing and wakeboarding. This sport is quite challenging and is open only to adults. This sport must be practised under the supervision of trainers to manoeuvre the power kite. Kitesurfing can be done preferably in the morning during the season when the winds are not too gusty and aid the surfing process.
Places Offering Kite Surfing: Mondego Bay, Morjim, Arambol.
Notable Operators: Banana Surf School (Ashvem); Waterwalk India (Mandrem); Surf Wala- Day Surfing (Arambol); Kitesurfing Goa (Pernem).
Best Season: October to March.
Approximate Cost: INR 2500 onwards.
10. Banana Boat Rides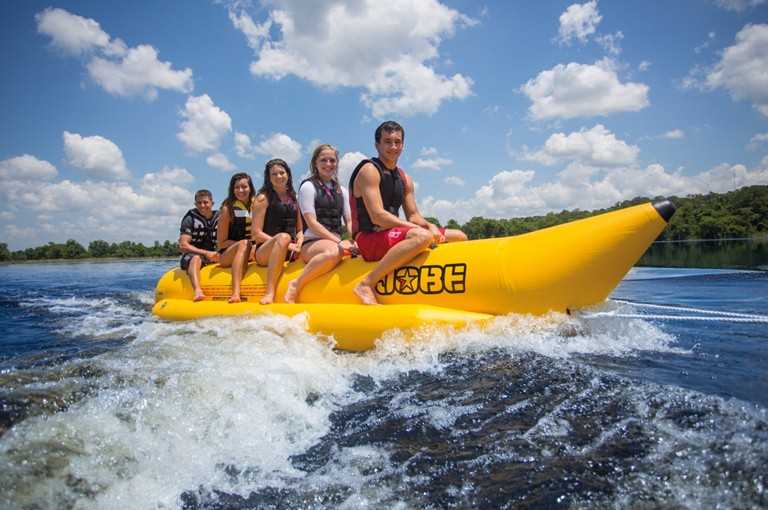 Banana boat rides are a huge attraction in South Goa. A banana-shaped boat attached to a steamboat runs at an astonishing speed and sprints off the passengers in the sea. The passengers then haul themselves up in the boat again where the process continues. This activity is exhausting but extremely enjoyable at the same time. You could also club this activity along with Ringo rides and jet skiing to add an extra dimension of a thrill to your experience.
Places Offering Banana Boat Rides: Palolem, Mobor, Baga, Miramar, Agonda, Anjuna, Calangute.
Notable Operators: Banana Surf School (Ashwem); Konkan Explorers (Morjim); Sea Watersports (Arpora)
Best Season: October to March.
Approximate Cost: INR 699 onwards.
11. ATV Biking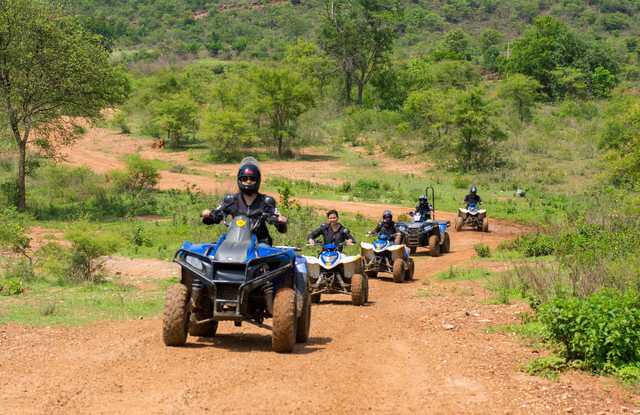 ATV (all-terrain vehicle) biking involves riding or racing on four-wheeled bikes that are sturdy enough to withstand different types of terrains. ATV biking can be done through the jungles and spice plantations of Goa that has natural elevations which makes the ride really exciting. You could experience the sights and sounds of the natural habitat in these plantations and forests while on your biking trip. You could also opt for plain tracks that are filled with obstacles that make the biking ride even more adventurous and are more popular during rainy season with experienced bikers. Whether it be the plainer adventurous track or the natural jungle trail, ATV or Quad Biking is perfect for having some fun while travelling in groups for bachelor or hen parties as also on family trips.
Notable Operators Offering ATV Biking:  Adventures Goa in Ponda (has tracks spread over 5 acres with varying difficulty levels). Rider's Club in Anjuna offers both natural and man-made tracks (1 km each).
Best Season: October to March. (You could opt for natural tracks in rainy season, only if experienced).
Approximate Cost: INR 500 onwards.
12. Aqua Zorbing and Zoccer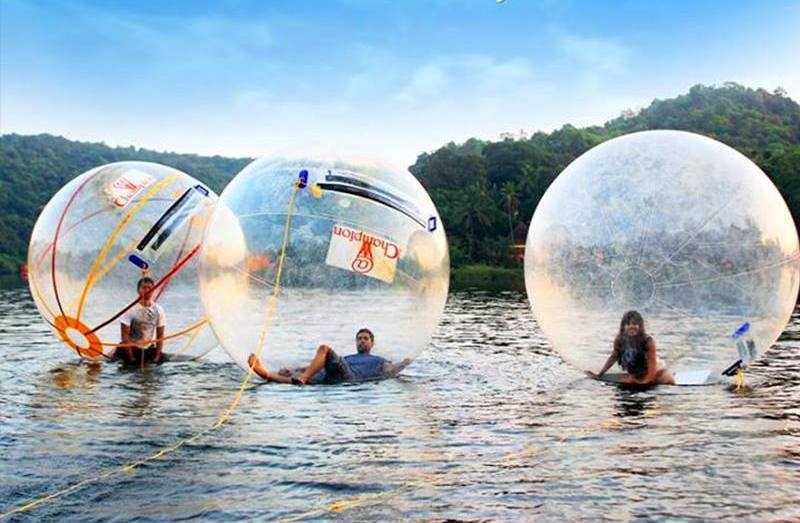 This water sport is relatively easy and catches the attention of adults and children alike. Not more than two individuals are encased in an inflatable balloon or a zorb, which floats on the water. While it may sound effortless, maintaining balance inside the zorb is quite challenging, and it requires effort to walk over water. You could also play Zoccer, which is a spin-off version of soccer in water. Extremely enjoyable and also a great exercise, water zorbing is safe, fun and a great activity to try out while in Goa.
Places offering Water Zorbing: Mayem Lake; swimming pools of certain hotels and resorts such as Grand Hyatt and Vivanta by Taj, Fort Aguada.
Best Season: October to March.
Approximate Cost- INR 500 - INR 1500.
13. Hiking and Trekking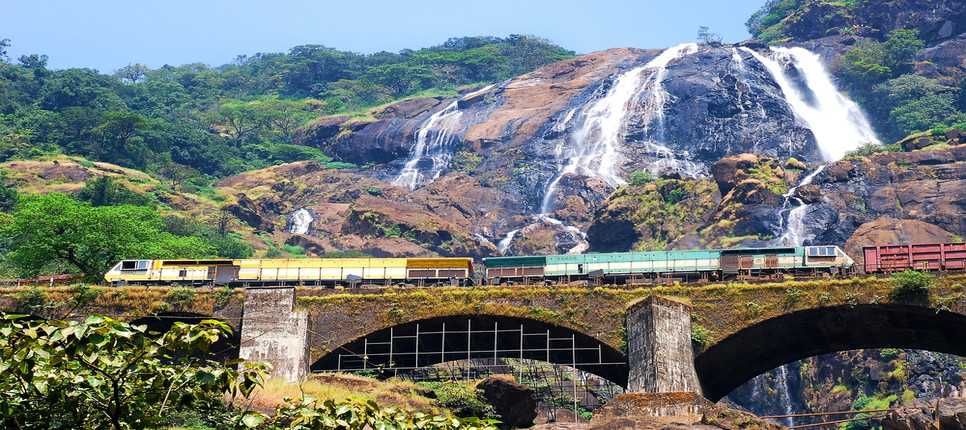 While you thought that a beach place like Goa would offer the adventure of the sea and sand, you might want to check out options for hiking that attract a lot of young people here. Long trails of walking on tracks that are challenging can be a lot of fun when done in groups and with proper gear. Mahavir Wildlife Sanctuary and Mollem National Park offer good destinations for hiking. Trekking to Dudhsagar Falls is especially popular along the route originating from Devil's Canyon. Located at the height of 560 meters, Vagheri Peaks is another favourite among the trekkers that excites through its rugged terrains and tests one's endurance both mentally and physically. Netravali Wildlife Sanctuary is located at a distance of about 2 hours, which offers spectacular views of the forests, flora and fauna and wildlife in its full bounty.
Trekking and hiking require a good level of physical fitness and is truly a memorable experience. Make sure that you invest in proper footwear, comfortable clothes and essentials like insect repellents, sunscreen and sunglasses. Hiking and trekking in Goa must be avoided in monsoons, as the terrains usually get slushy making it challenging to walk and climb.
Places for Hiking and Trekking: Todo waterfalls, Udaan Dongor, Dudhsagar waterfalls, Mollem National Park, Netravali Wildlife Sanctuary, Collem.
Tour Operators: Atlantis Watersports; Seawater Sports. Many private hotels and resorts also have arrangements from the same.
Best Season: October to March.
Approximate Cost: Day tours to Dudhsagar and national parks start from INR 2000 and can go up to INR 5000
14. Camping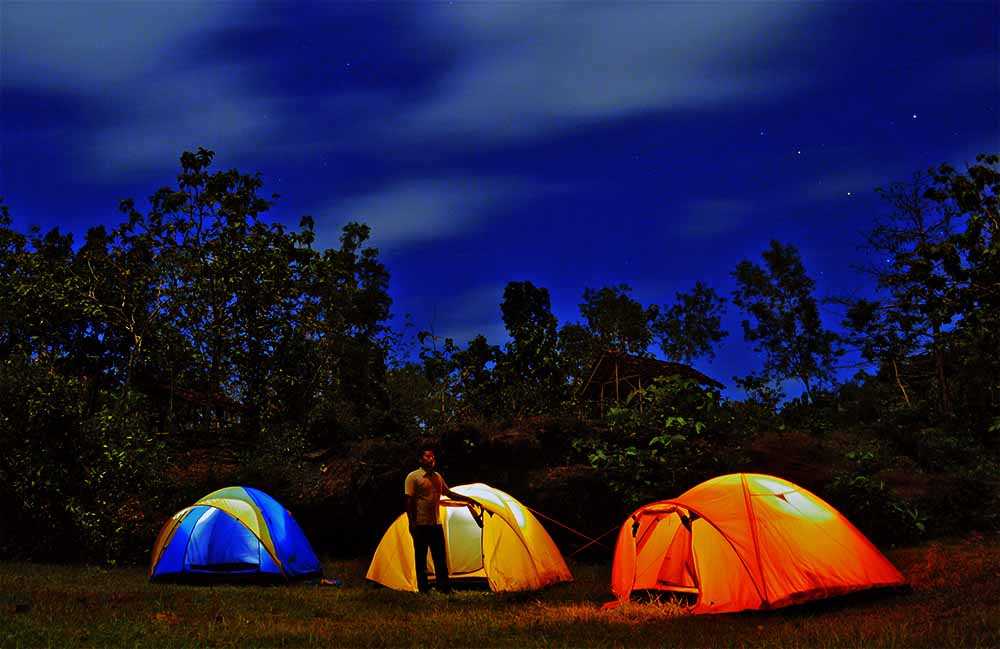 Bamboo and wooden huts amidst the golden sand beaches, sounds of the rolling waves and the relaxing sun make up the charm of camping at Palolem beach in Goa. Camping offers one of the pocket-friendly yet genuinely memorable experiences that one must opt for while in Goa, especially while travelling with friends. Although not an adventure sport, it surely complements the entire thrill associated with traditional water sports. Bonfire, a range of adventure activities, music and some delectable food after a day of hectic water sports sounds ideal, doesn't it?
Places to Camp: Palolem, sites nearby Dudhsagar Falls.
Best Season: October to May.
Approximate Cost: INR 2000 - INR 5000
15. Hot Air Balloon Flight

One can enjoy breathtaking views of Goa in huge balloons inflated with hot air and flying at a high altitude of 2500 feet. Make sure to travel with a trained ground crew that follows you until the safe landing of the balloon back on the ground. Hot air ballooning is more prevalent in South Goa, especially for sunrise flights preferred by honeymoon couples.
Places Offering Hot Air Ballooning: Asolda Ground, Chandor, South Goa.
Notable Operators: Tiger Balloon Safaris (Panjim); Seawater Sports (Arpora).
Best Season: October to May.
Approximate Cost: INR 9000 - INR 11000 per person.
The above list is by no means exhaustive of the things that one could indulge in while in Goa.
Catamaran sailing, dolphin rides, fishing, cycling in Miramar and Chorao islands, sailing, canyoning in Palolem, jet skiing, crab catching, yoga at Anjuna, visits to forts, bird-watching and crocodile-sighting, visit to Butterfly Conservatory in Ponda, carnivals and casinos are all the activities that one could take up while in Goa.
Some Points to Keep In Mind
1. Adventure sports in Goa are usually open in the dry season of October to March when the sea is calm and winds are in control.
2. Make sure to practice these sports under the supervision of trainers and using proper gear and equipment.
3. Look out for good deals online as well as through local agents.
4. If you are a seasoned adventure sports enthusiast, you could opt for activities such as ATV Biking, trekking and speedboat sailing even during monsoons.
5. Make sure to check which activities are suitable for children (such as sailing).
6. Always wear comfortable clothes (such as well-fitted shorts and t-shirts) and carry sunscreen, hat and sunglasses when indulging in these activities.
This range of adventurous and exciting activities are sure to bring out the travel junkie in you to explore sports and experiences that suit your preferences and endurance capacity to give you memories of a lifetime!
Read about
Water Sports in Goa