Kitesurfing is an exciting water/sailing sport, which uses the energy of the wind. An activity which has been gaining much popularity in the last few decades, it is definitely worth giving a try. Although kitesurfing in
Bali
may not be as popular as surfing is in the city, but if you want to try a
watersport in Bali
, this one is surely worth a shot. With shallow beaches and various flat water areas, it provides an excellent opportunity for beginners, but it also has some spots which will excite the experienced kitesurfers as well.
Best Time for Kitesurfing in Bali
Even though Bali has two monsoon seasons, it is advisable to try kitesurfing in the summer southwest monsoon. This season lasts from June to August, but the windy season lasts a bit longer. Therefore, the kitesurfing winds are available from May to September, even though June, July and August are the safest bet. But the winds never become too strong, and the overall wind speed is between 15 to 20 knots.
Places to Learn Kitesurfing in Bali
1. Kite and Surf Bali Pro Shop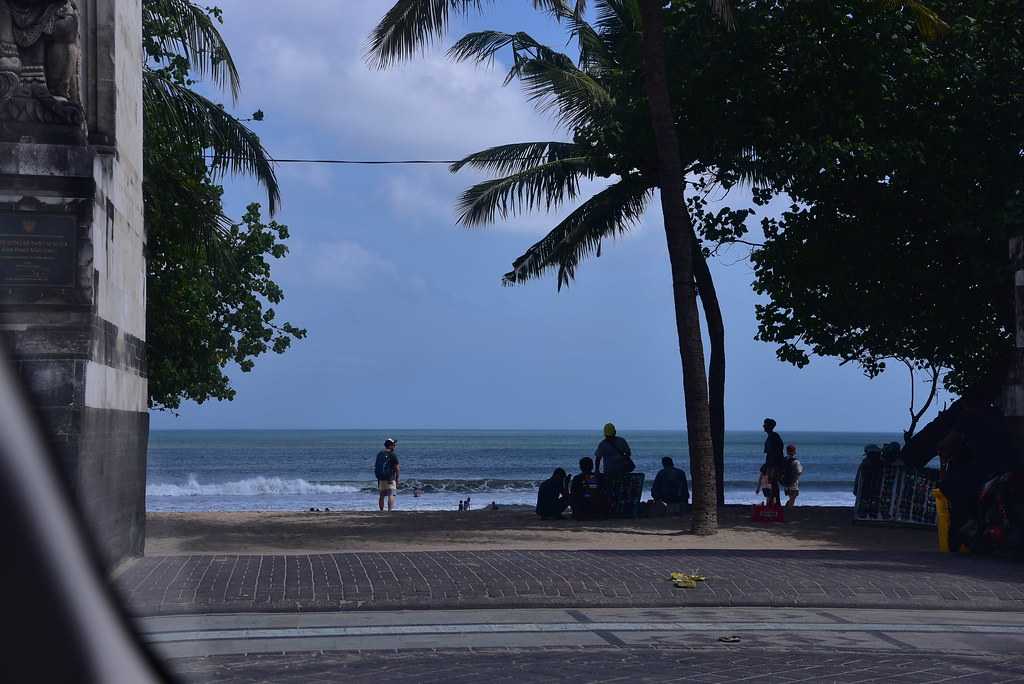 This shop has been around since kitesurfing had first been introduced as a sport in Bali in 1999. They have a team of Balinese surfers who know the waters very well. They also provide Cabrinha gear for rent on Kite Beach. One can also buy the Cabrinha gear from here.
Prices
: They have lessons for beginners, intermediate and advanced learners at a rate of IDR 950,000 (USD 66.77) to IDR 700,000 (USD 49.20)
2. Rip Curl School of Surfing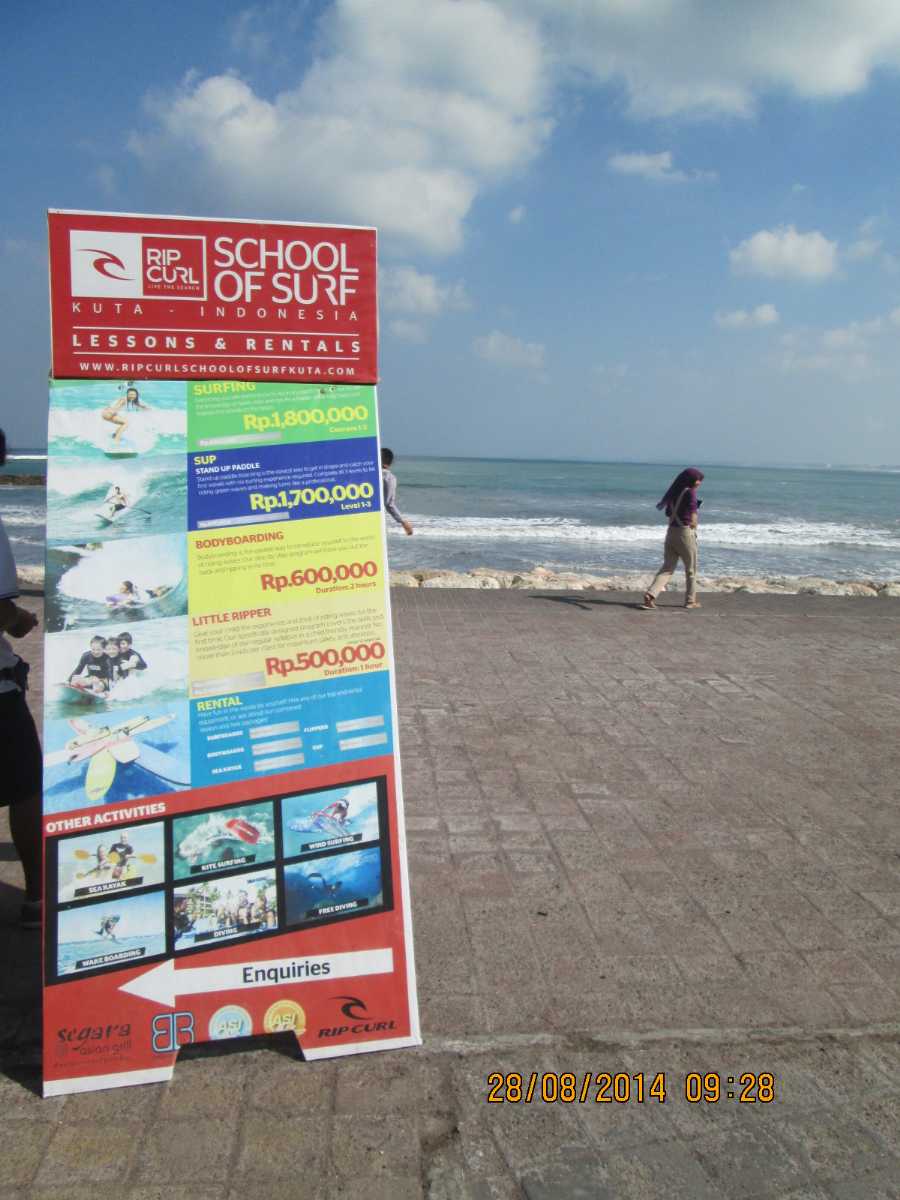 They are an International Kitesurfing certified school located on Kite beach. They also rent equipment for kitesurfing and other water sports. Legian also has a branch of Rip Curl School, even though they don't teach here, they do have to rent facilities.
Prices:
They have four levels of courses ranging from IDR 1,650,000 ( USD 116) to IDR 1,100,000 ( USD 77). The classes are for two hours as well as one-hour courses.
Best Spots for Kitesurfing in Bali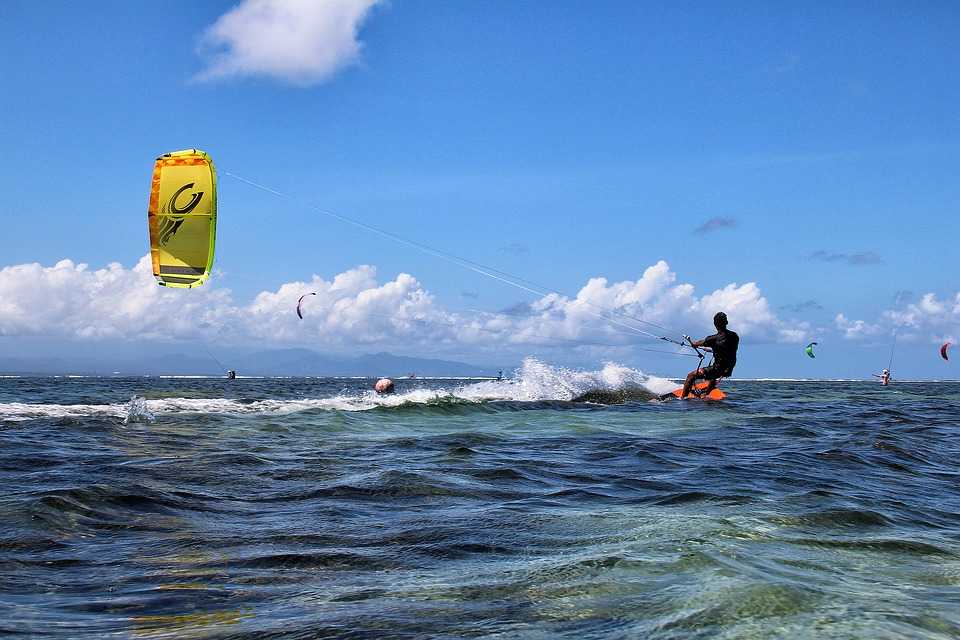 Located on the southeast coast of Bali, Sanur beach is a calm, laid-back place with shallow waters to be enjoyed by experienced kitesurfers. This town is the most famous kitesurfing spot on the island. The constant slow waters offshore and flat water area near the shore make it an excellent choice for beginners. The winds here are not as strong as the
Seminyak
Canggu
strip, and the water is warm. The area within the reef is excellent for flat water kitesurfers while the local guides can take you beyond the reef for open water surfing. The Kite beach in Sanur also has surf schools and renting shops.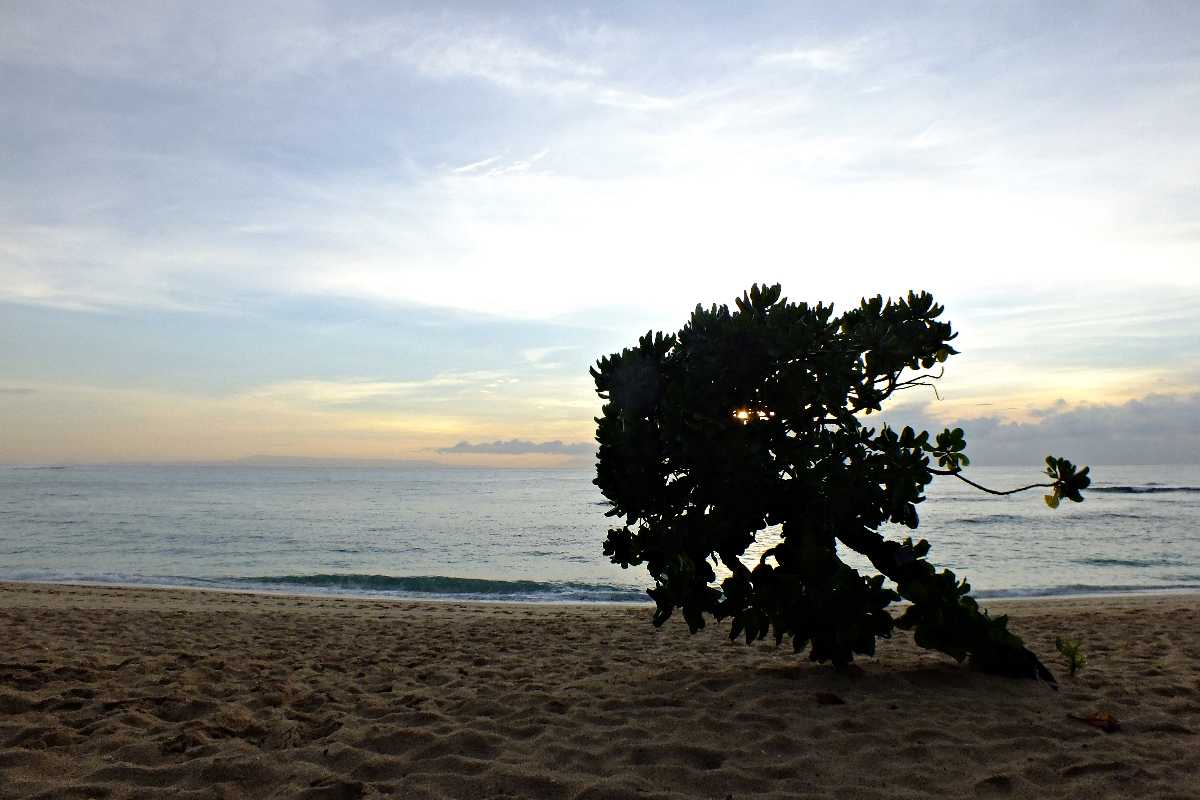 This place, located on the east coast of Bali, is known for its white sandy beaches. It has many five star resorts alongside the beaches. It is considered a prime location among water sports enthusiasts especially with it being quite a hit amongst people looking to go surfing or kitesurfing in Bali. Located south of Sanur skilled kitesurfing can kitesurf from Nusa Dua to Sanur. The wind conditions here are similar to that of Sanur; the speed ranges between 10 to 15 knots. The reef present here may pose some difficulty to new learners. It may get jam-packed with people who are there for other water sports. The best place to kitesurf is on Greger beach; they have flat waters and onshore winds. The Tanjung Boa steps away from Nusa Dua is also being discovered as a kitesurfing point.
3. Seminyak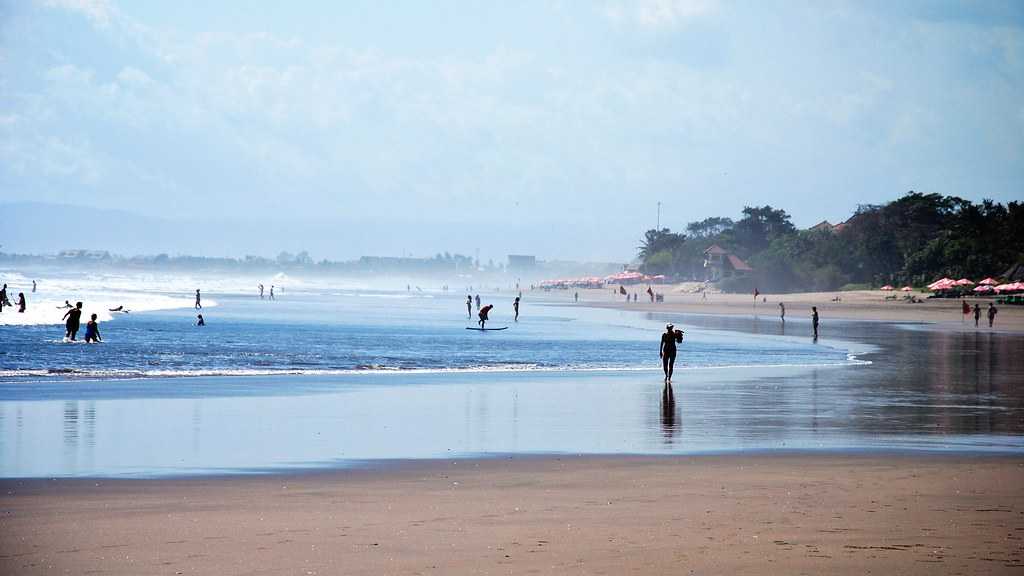 Seminyak located on the west coast has the most luxurious beach resorts in Bali. The wind here is suitable for both beginners as well as experienced kitesurfers. It is also less crowded and also considered to be one of the more posher beaches in Bali.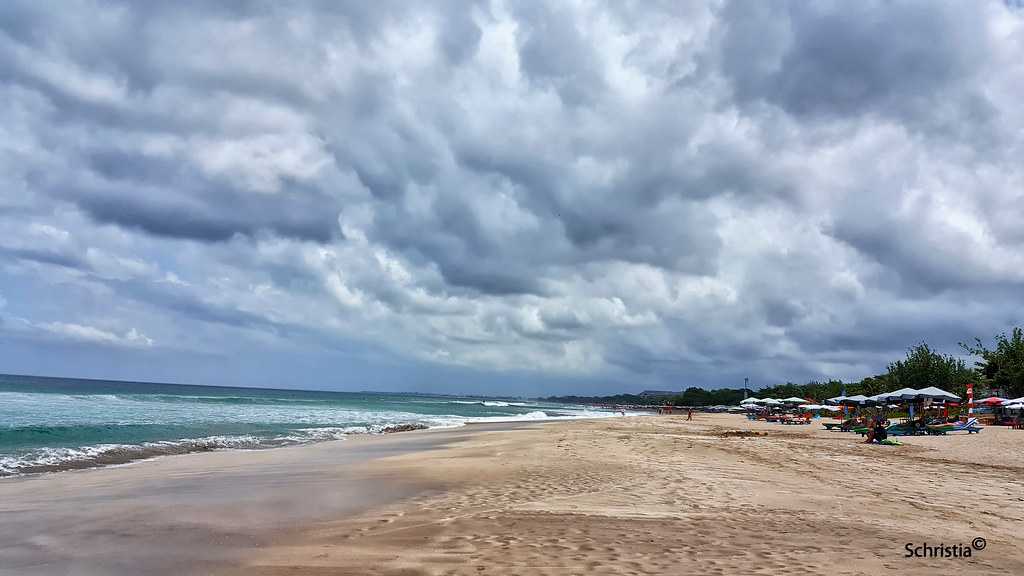 Two kilometres away from this city, in Legian, you will also get moderate wind conditions. Only experienced kitesurfers can venture into these waters. The wind is light and mainly offshore.
5. Canggu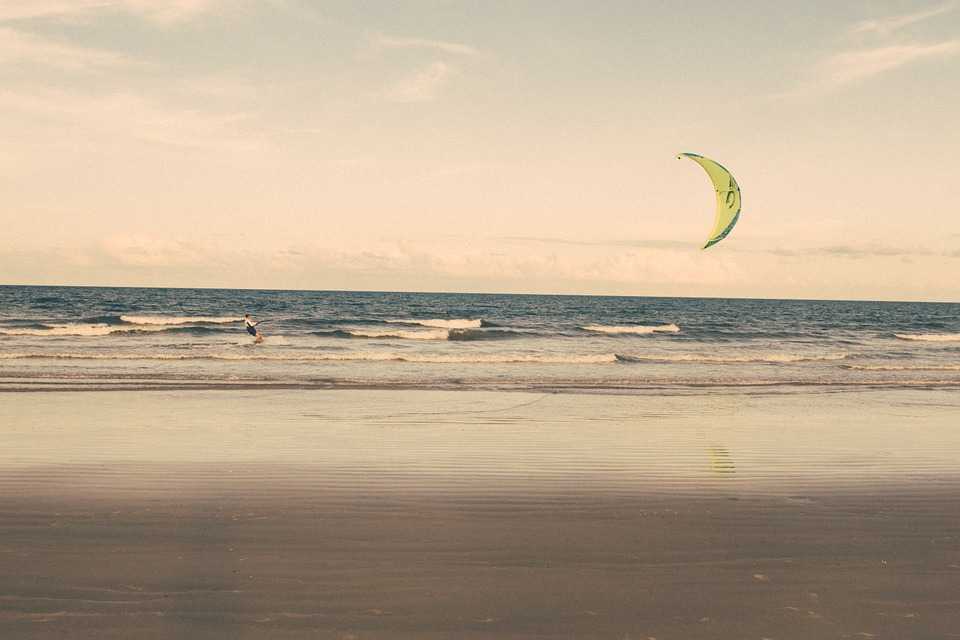 The winds here are mostly offshore and much stronger than in Sanur beach. A black sand beach is quite famous as a surfing spot but has been gaining popularity for kitesurfing in Bali. The wind is mostly offshore and strong. Therefore it is a tricky spot which is best suited for the experienced surfer. Your primary concern on this beach will be looking out for wave surfers, other than that there are no rocks to worry of.
Pro Tip:
You can kitesurf from the Bungy Tower to Canggu. You will not be able to rent equipment or learn to kitesurf here as there is no on-site crew.
Equipment Required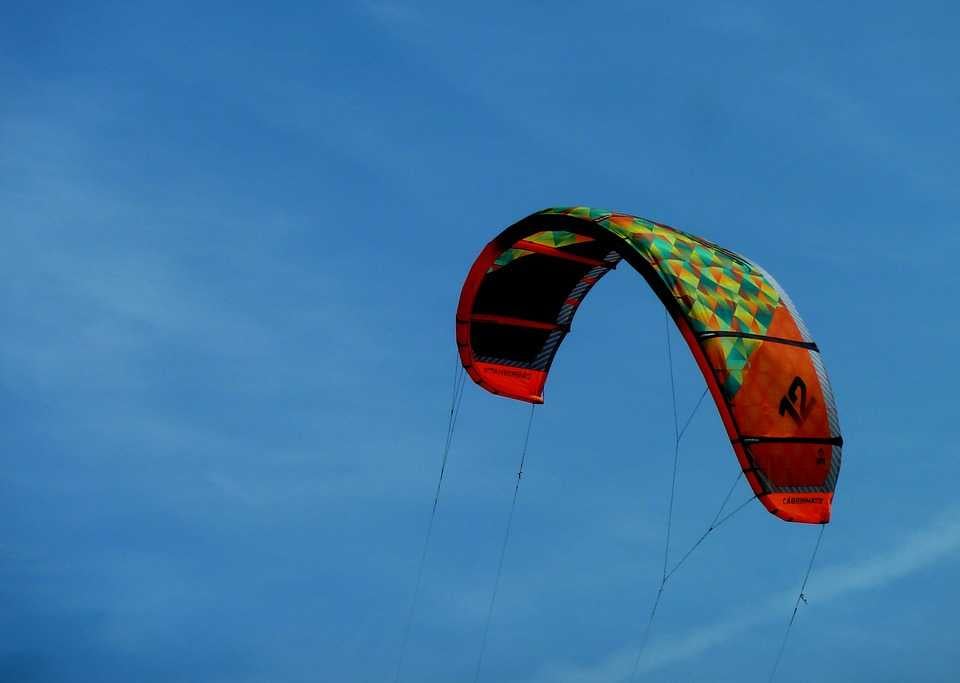 Kite - It requires a parachute style kite. Since it is not extremely windy big kites of 12 to 14-metre length is necessary for Kitesurfing anywhere in Bali.
Board - The kite is attached to a smaller sized wakeboard with the help of a harness. The board also has fins which help in balancing. A board may have one or three fins, both are fine for kitesurfing in Bali, though it is recommended to take a three fin board since it has
Bars - You will need lines and bars to control the direction of the kite. They come in various lines such two, four and six. One can learn on a two line or four line bar kite in the Balinese schools.
Accessories - You would need a wetsuit, an impact vest, helmet and water shoes. Even though some beaches in Bali have warm waters and therefore wetsuits may not be required.
One can easily find this equipment online on websites such as surf-store.com and kite-line.com or as mentioned below, rent it at the beaches in Bali itself.
Tips to Remember When Kitesurfing in Bali

1. Many beaches here have crabs. Therefore one must be careful while Kitesurfing and wear adequate safety gear.
2. If you are a learner, then it is recommended that you go to less crowded beaches.
3. Offshore winds and reefs may pose some problems for beginners. Therefore they should seek the guidance of local surfers or coaches.
Kitesurfing in Bali can be a relaxing experience, and I hope you make the most of this experience. The exhilarating feeling of the wind on your face will leave you with some fantastic memories to cherish from Bali.