Paragliding in
Bali
is the perfect paradigm shift that you need. Bali offers rides in tandem to sunsets and along its coastline and also promises a safe journey. The thrill provides a great adrenaline rush and let's admit it; it is an over-the-top experience.
So, let's delve into where can you have your best paragliding experiences in Bali.
Best Time to Paraglide in Bali
Paragliding is a highly weather-dependent activity. If it gets windy, it would be recommended to postpone the trip. The best time, therefore, to paraglide in Bali is during the dry season, which lasts from April to November. The temperature is in between 25 to 33 degrees Celsius and rains are rare. 
Top Balinese Paragliding Spots 
As many beaches and temples, Bali is home to, all of these sites present a beautiful haven for paragliding. Here are some sites jotted down for you whose scenery will leave you mesmerised: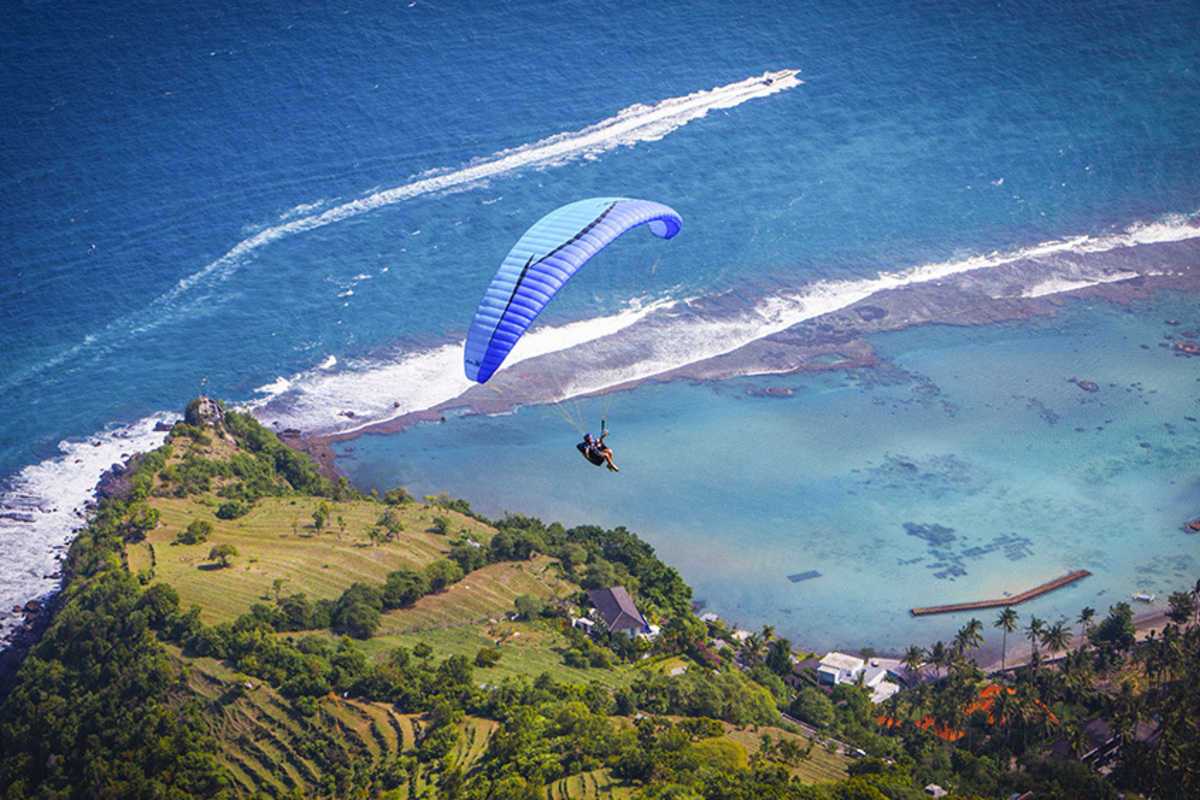 Ubud is a space for spiritual awakening, where you connect your mind and soul. Having been surrounded by the ocean, the cliffs in Ubud not only provide a wondrous exploratory area but pose as a space for paragliding. The eye-soaring view of the waves splashing, the greenery of trees and blue of the ocean perform an enlivening combination that can be seen from up in the sky.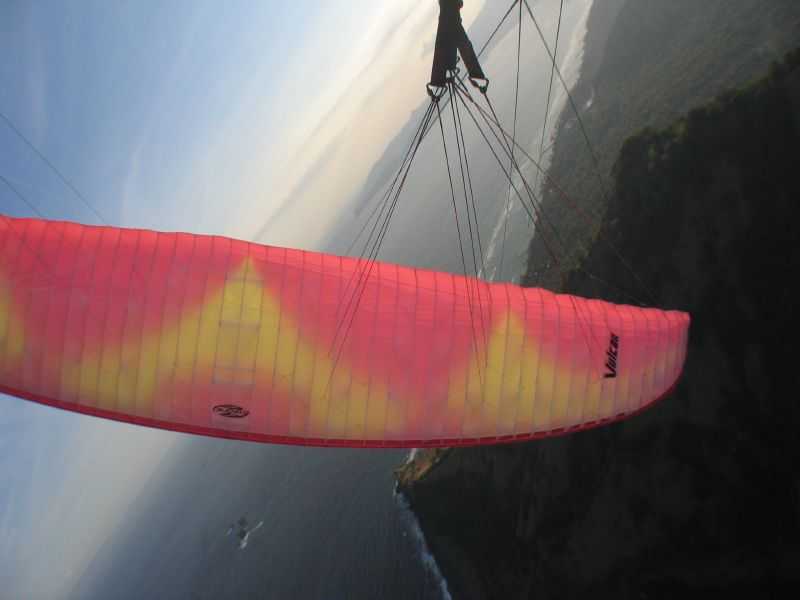 Kuta presents a site of imaginative beauty. Because of relatively fewer resorts and beach huts, this area isn't commercialised yet and therefore can be resorted to for a calm and quiet retreat. The white sand of beaches and the very many paragliding sites are inviting enough for you never to want to leave this place. Timbis Beach in Kuta is one of the most popular paragliding sites. The white sand mingles with the blue ocean water to vivify nature in its purest form. The seclusion of Timbis Beach is a blessing for those who want to get lost wandering, even in the sky.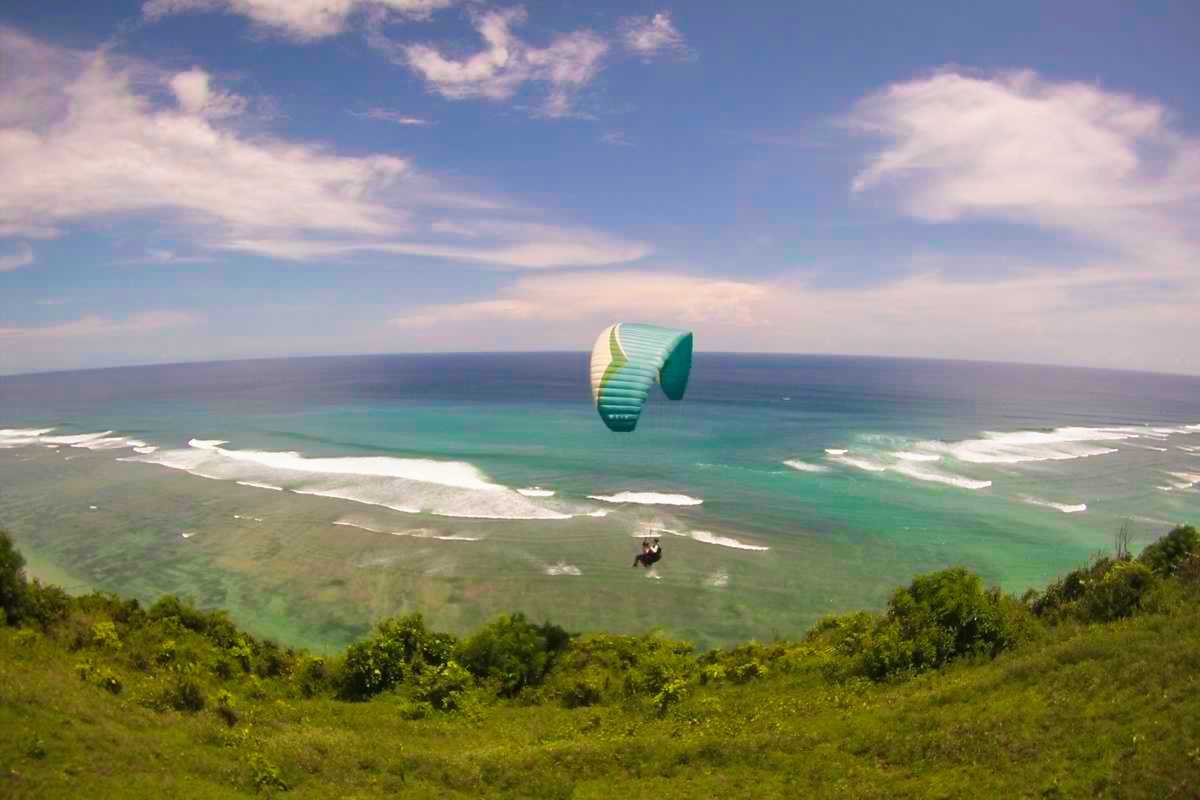 In Nusa Dua, located on the southern coast of Bali, Sawangan Cliff is the go-to paragliding destination for its elusive beauty. The villas and resorts are flexible in their cost and therefore form a facile retreat after an adventurous day spent paragliding. 
The beach huts and fine sand culminate into a perfect after-paragliding activity. Trekking before paragliding is also an everyday activity.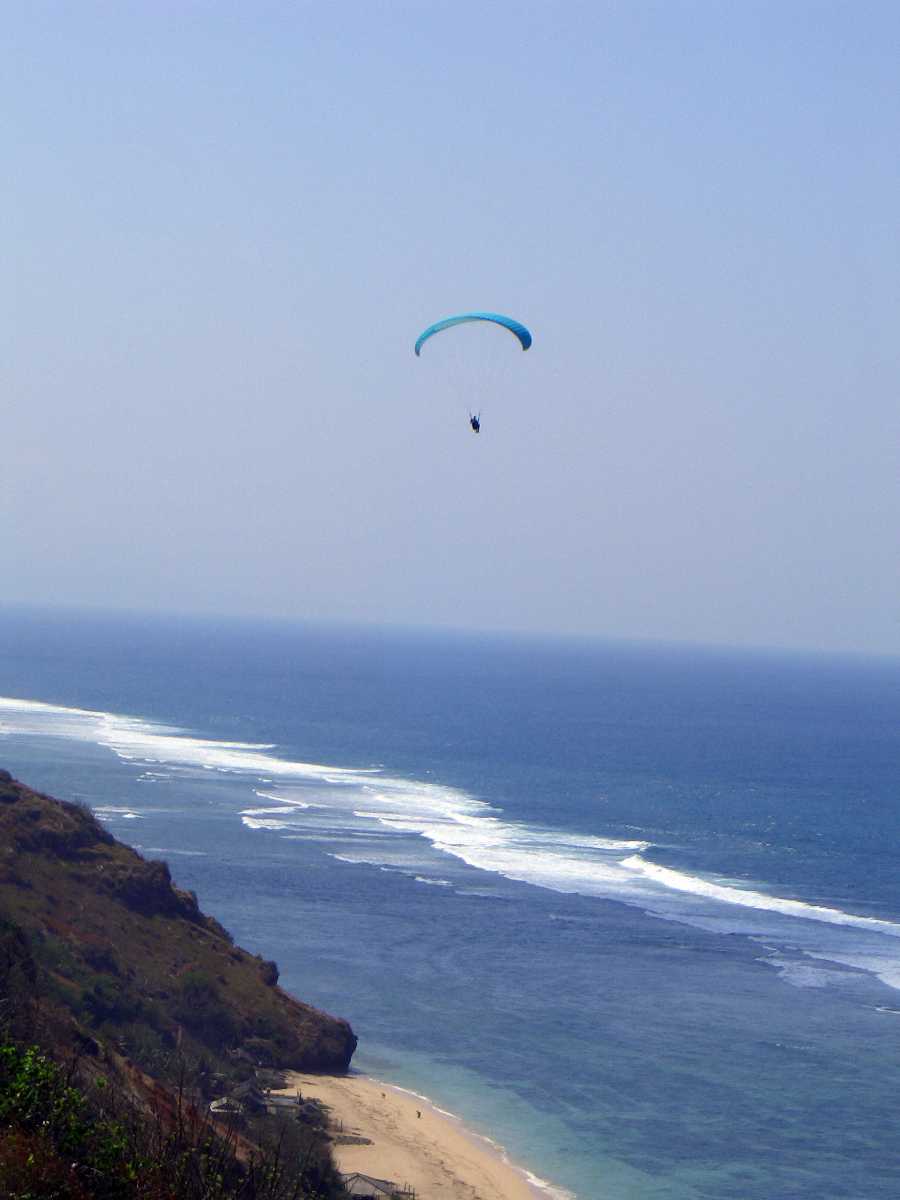 At Uluwatu, paragliding is accompanied by the glorious view of Nyang Nyang Beach and Pura Lahur Sea Temple. The hidden temples, surf spots and reefs offer a picturesque view like no other.
Whom to Contact for a Balinese Paraglide?
As paragliding is becoming more and more common, various professionals are thrilled at the thought of helping someone else embrace the land from above. Here are some of the industries that will make your paragliding experience in Bali memorable, safe and transcendent.
1. Bali Paragliding Tandem Tours
Bali Paragliding Tandem Tours provide a recreational paragliding experience for those who seek to let their adrenaline go berserk. The pilot sits with the passenger tethered to them and jumps off the southern cliff of Bali in Ubud. Their take-off spots are Sawangan Cliff in Nusa Dua and Uluwatu Island. The passenger must not weigh over 110 kg because the more the body weight, the faster the speed of wind required. These prices are inclusive of hotel transfer for particular locations, photo and video footage, insurance and all safety gears.
Cost: IDR 1.500.000
Duration: 15 minutes
Time: 10:00 AM – 6:00 PM
Contact: + 62 852 3704 1667
E-mail: [email protected]
2. Viator
Viator provides an excellent view of the Bali Pecatu Hill located in the Kuta district. The hidden temples and limestone cliffs surrounded by the Indian Ocean is sure to make your trip like no other. Their prices are inclusive of hotel pick-up/drop, a professional guide, an air-conditioned vehicle, bottled water, insurance and photo and video documentation of your flight. Timbis beach poses as the perfect paragliding spot for Viator.
Cost: IDR 8.000.00
Duration: 1 hour
Time: 12:00 PM onwards
Contact: +1 (855) 396-2853
3. E-O-Asia
E-O-Asia promises a sunset that will be etched in your memory. They provide the sunset view while paragliding and that is what makes it so different from all the other paragliding operators. Their cost includes free pick-up from two spots – Nusa Dua and Jimbaran. Pick-ups from other areas cost extra. There is also an additional fee for photo and video footage which costs IDR 350.000 and IDR 750.000 respectively. The maximum weight for a person to paraglide is 115 kg. There is no minimum weight
Cost: IDR 400.000
Duration: 20 minutes
Timing: Customizable
Contact: +91 8880036677  
E-mail: [email protected]
4. Adrenaline Hunter
Adrenaline Hunter provides a paragliding experience at the over-seas of Bukit Peninsula in Uluwatu. The view of the Pura Lahur Beach Temple and Nyang Nyang Beach make your journey all the more unique. Watching the waves splash up on the coral reefs and the Hindu Temple from a new perspective is what they have to offer. They organise and plan everything from your pick-up to your gear requirements and insurance. The maximum weight for a person to paraglide here is 110 kg.
Cost: IDR 900.000
Duration: 10 minutes
Time: 11:00 AM – 4:00 PM 
Contact: [email protected]
5. RIUG Paragliding
Lay your wings open with RIUG Paragliding. You can either fly solo or in tandem with them, and they ensure a safe and memorable flight. They provide a magnificent view of cliffs and the ocean in Kuta that is bound to captivate you along with the sunset. Their price is inclusive of a free shuttle if you stay within 5 miles of their radius.
Cost: IDR 210.000
Duration: 15 minutes
Time: 11:00 AM – 6:00 PM
Contact: +62811399878
E-mail: [email protected]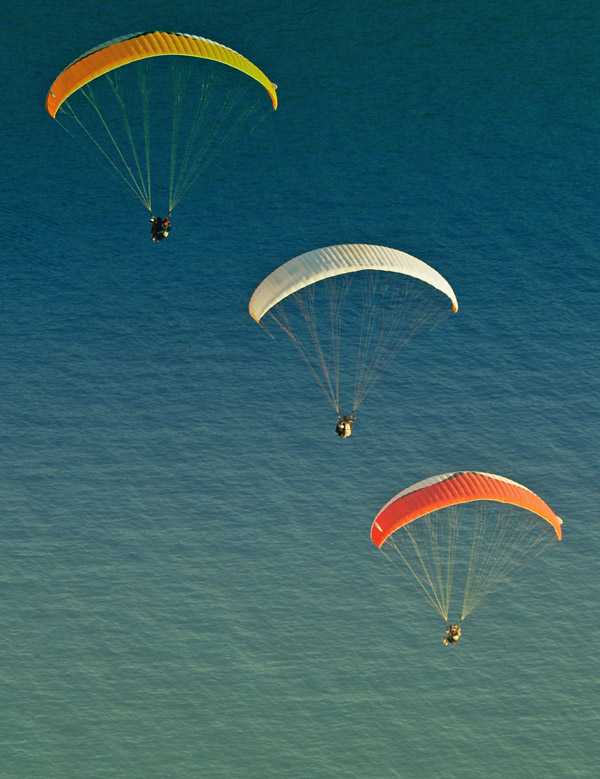 Do's and Don'ts of Paragliding
There are certain things you must keep in mind before stepping your foot into what paragliding has to offer:
Wear casual clothes and comfortable footwear. 
Carry sunscreen.
Carrying an extra pair of sunglasses is recommendable, but ensure that they fit you properly or else they might fall from the height above. 
Long sleeve t-shirts are recommendable to escape sunburn and redness.
Pregnant women and people with heart conditions should avoid engaging in paragliding.
As much as thrilling an activity paragliding is, it can be equally probing and dangerous. Ensure that you are dealing with the right operators who care for your safety too. Paragliding in Bali has stunning sites to offer – its coral reefs, white sand beaches and contrast of colours of beach shacks are a site to cherish only from up in the sky.