If you're looking for some unconventional tourist spots, then head to
Bali
this season. The most popular tourist destination in South East Asia, there's so much more than meets the eye in this beautiful island. One of the things that Bali offers is a walk with nature. Hiking in Bali will leave you with an unforgettable experience as you walk alongside nature and witness some spectacular views.  Here's everything you need to know about hiking in Bali!
Why Hike in Bali?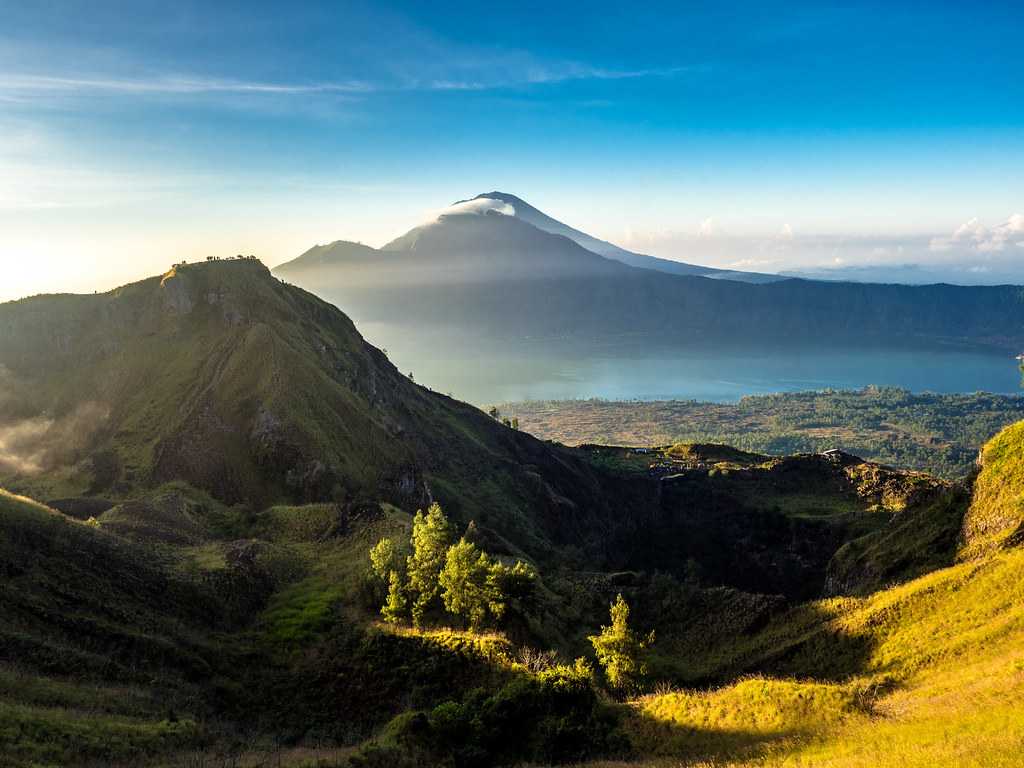 Bali is very popular for its beaches and ancient temples, but for people looking for some adventure, it has some fantastic hiking trails. The weather is warm and mostly sunny. The hike trails take you close to volcanoes and thick jungles, and you feel like a new person in nature's lap. There are some human-made trails as well for healthy interaction between humans and the environment.
Best Season For Hiking in Bali
The best season to hike in Bali is from May to September. The weather is dry, and the skies are clear.

Avoid
October to March - Monsoon rains make the trail slippery, and hiking becomes pretty dangerous.

Top Hiking Trails in Bali
1. West Bali National Park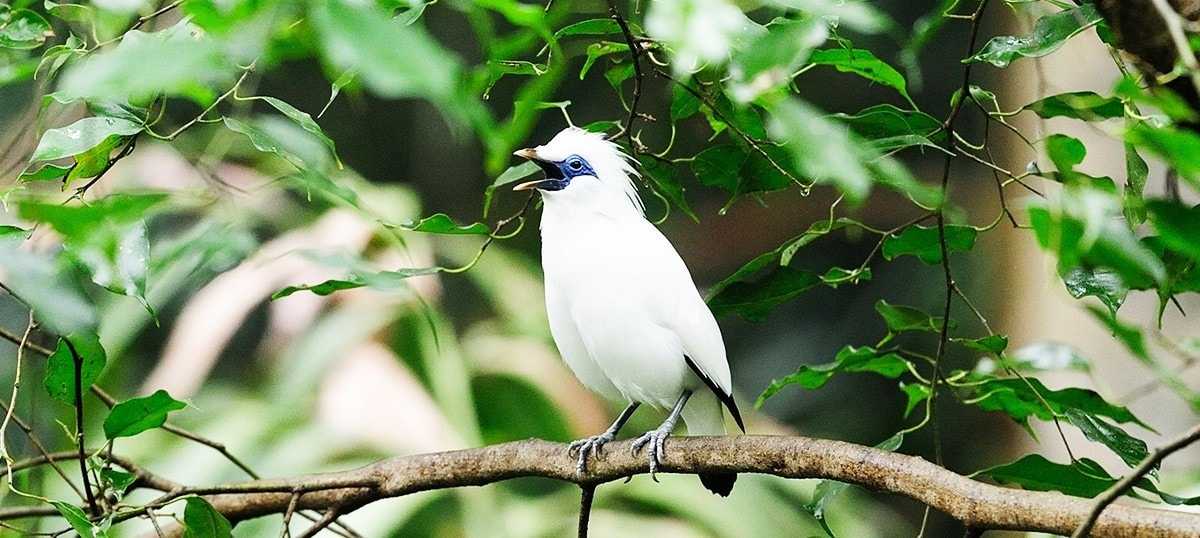 West Bali National Park is like a cauldron of nature. There is a variety of landscapes to explore, and it has the most natural hiking trails. Located on the northwest corner of the island, West Bali National Park protects many endemic species, and you can commonly sight black macaque, sambar deer and leaf monkey. The best way to explore the park is on foot with a guide. Private or individual hiking is not allowed inside the reserve so you'll have to arrange permits from the park itself. The entry fee includes permit and guide and may vary according to tourist season.
Location: Buleleng Regency, Bali, Indonesia
Entry Fee: IDR 400,000 (USD 28)
Mount Batur is one of the UNESCO World Heritage Sites in Indonesia.  The second highest peak in Bali, it is a scared volcanic site for locals, and is one of the most popular trails for hiking in Bali. The hike involves walking down paths in glistering moonlight as the trek starts at midnight. It is one of the most beautiful sunrise treks and will leave you spellbound. A two-hour trek to the summit will give you a stunning view of Lake Caldera and a sunrise to remember the rest of your life! There are a lot of companies offering Batur hike, and they have attractive packages. 
Location: Bangli Regency, Bali, Indonesia
Average Cost of Hiring a Guide: IDR 1,015,000 (USD 70)
Mount Agung is the highest peak in Bali and the most sacred site on the island. Hiking close up to a volcano is something very few people get to experience in their lives, so you're lucky if you're one of them. At 3031m, the trek starts from holy temples and includes some of the toughest trails. The summit offers some dazzling views of Lake Batur and Caldera crater bathed in the first light of the day. The hike requires a guide which you can hire either online or on the spot. Rates vary according to the timing of your hike and the size of the group.
Location: Mount Agung, Jungutan, Bebandem, Karangasem Regency, Bali
Average Cost of Hiring a Guide: IDR 400,000 – IDR 1,400,000 (USD 28- USD 99)
4. Candidasa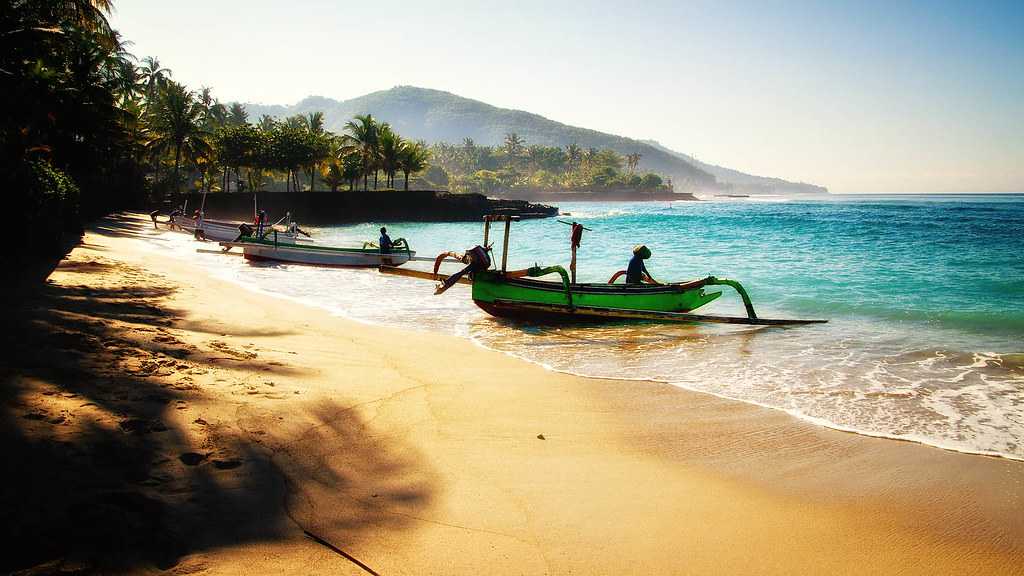 Candidasa is located on the eastern shore of Bali and offers marvellous hilltops and something known as 'virgin' beaches. You can camp a day or two on the cliff or hike around temple trails. There are many sacred temples at this site, and one of them is Lempuyang Temple. The hike is a moderate one not easy for beginners, but you can hire a local guide to help you out. Leave early in the morning to avoid the Bali heat and have a comfortable hike.
Location: Candidasa, Bali, Indonesia 
Average Cost of Hiring a Guide: IDR 250,000 (USD 17)
5. Sambangan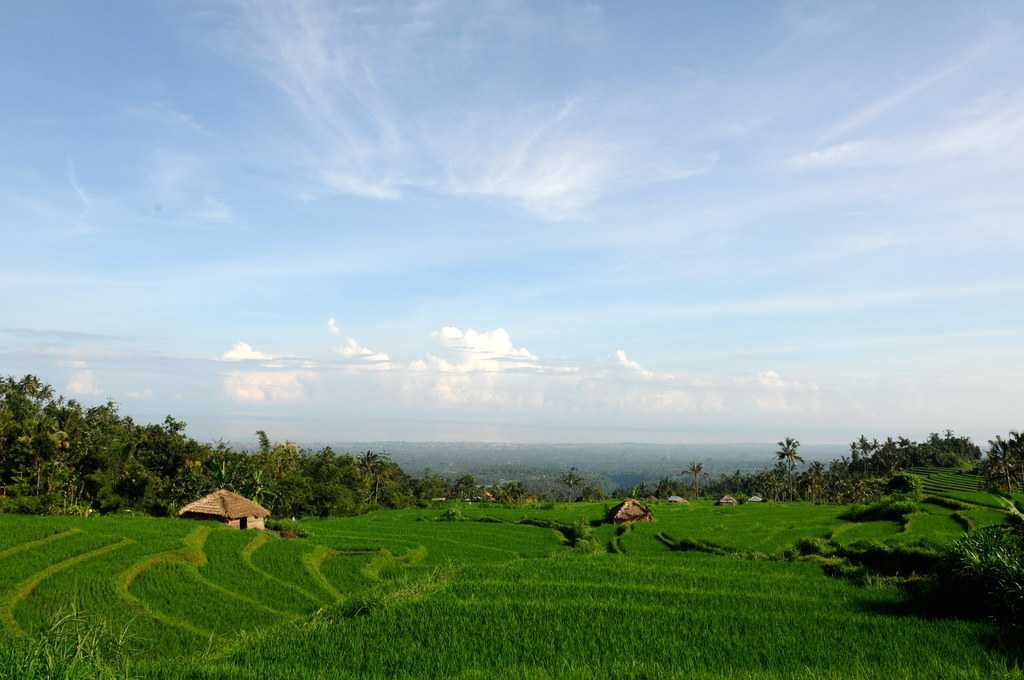 Sambangan, also known as the secret garden, is a forest in northern Bali. The trek involves 3-4 dreamy waterfalls like Pucuk, Kembar and Kroya, coffee plantations and rice fields. You can take a dip in the refreshing water or taste some authentic Indonesian coffee. Sambangan is that offbeat place in your bucket list that you cannot miss! There's a small entry fee at the gate of the secret garden, and it can be easily explored on your own. 
Location: Sambangan, Sukasada, Buleleng Regency, Bali 81161, Indonesia
Entry Fee: IDR 10.0 (less than USD 1)
Munduk caters to all kinds of hikers –the novice and experts. With 12 different hike trails, and is suitable for all types of hikes in Bali. Two popular trails include a 2-hour trek to Red Coral Waterfall and an exerting 6-hour Dutch colonial trek. You can visit the Giant Tree, Bali's oldest and largest Banyan tree.  Apart from walking in the vicinity of nature, Munduk allows you to explore local flavours of coffee, tropical fruits and rice plantations. Take a sip of authentic Luwak coffee and take some back as souvenirs! Hiring a guide is recommended to avoid getting lost. 
Location: Munduk, Banjar, Buleleng Regency, Bali, Indonesia
Entry Fee: Free
Average Cost of Hiring a Guide: IDR 300,000 (USD 21)
7. Mount Catur
Mount Catur looms over Lake Beratan and is one of Bali's incredible volcanic peaks. The trek starts from caves built by WII prisoners and takes you to the top in 3 hours. You can spend a night at the top that has an ancient temple, or you can hike back to the ground and enjoy water skiing or boating in Lake Beratan.
Location: Pelaga, Petang, Badung Regency, Bali, Indonesia
Entry Fee: Free
8. Sekumpul Waterfall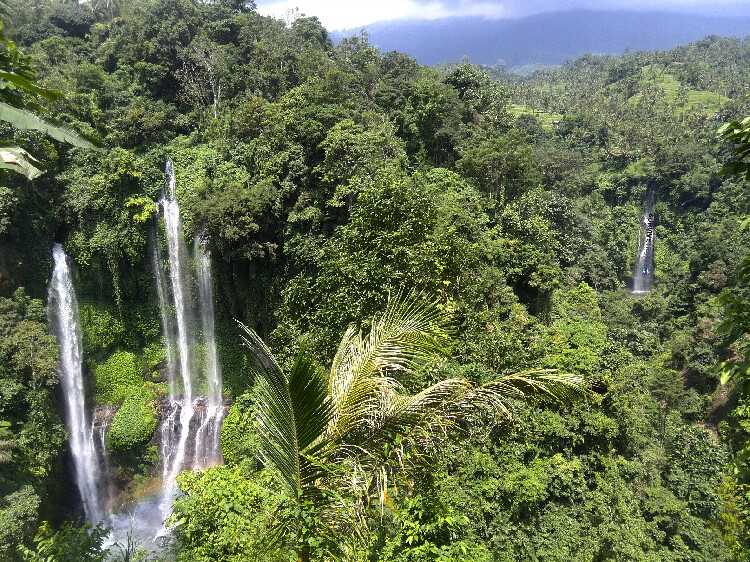 One of the most mesmerising tropical waterfalls, hiking in Bali at Sekumpul will not leave you disappointed. It's the best trail to rejuvenate and get closer to nature. You'll pass through temples, old ruins, rice fields and a small village that has locals with contagious smiles. It's the easiest hike too and can be done without a guide. The route will take you around to reach seven different falls in the same area.
Location: Sekumpul Village, Singaraja 81112, Indonesia
Entry Fee: IDR 15,250 (USD 1.10)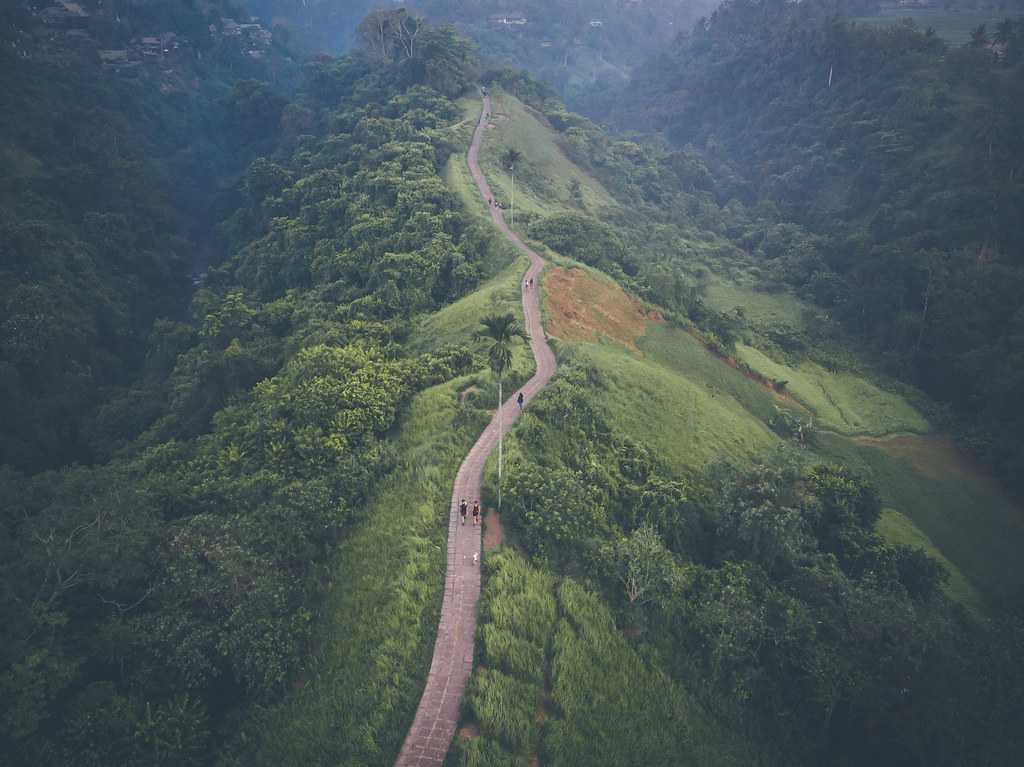 Campuhan Ridge is a small 2km trek that starts from Ibah hotel in the popular village of
Ubud
. A fairly easy trail, it is made on a paved road that takes you to Karsa café where you can enjoy a heavy Bali breakfast! The best time to go for Campuhan Ridge Walk is early morning or late afternoon when the weather is cool and windy. On your way, you'll walk across beautiful Balinese temples and a view of forests and rice fields.
Location:  Kelusa, Payangan, Jl. Raya Campuhan, Sayan, Kecamatan Ubud, Kabupaten Gianyar, Bali 
Entry Fee: Free 
10. Mount Lesung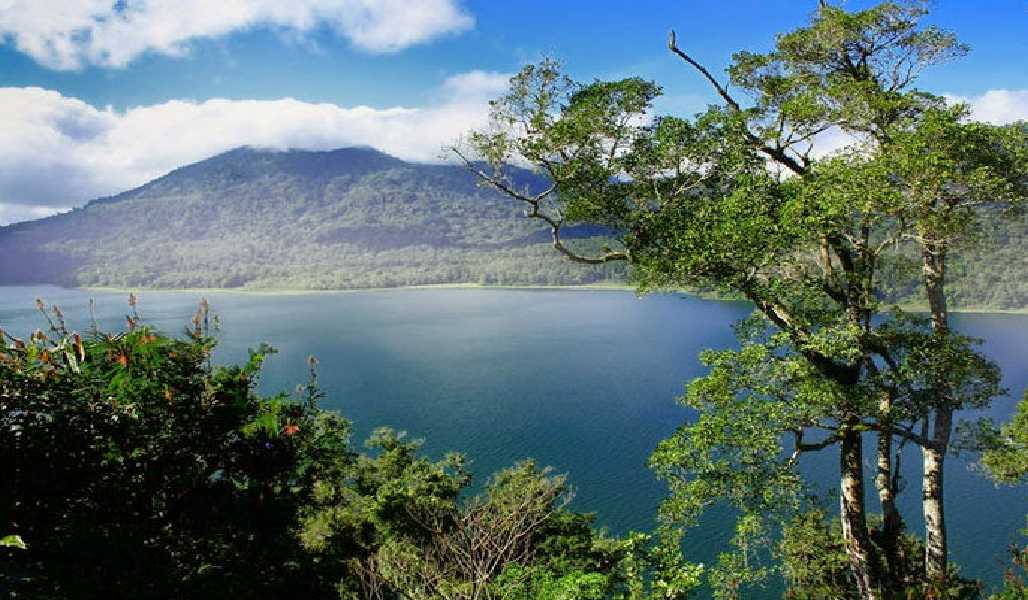 Mount Lesung is the typical tropical forest hiking trail and one of the best in the world. During your ascent to the summit, you'll pass through lush green forests and walk under canopies. If you book an overnight trek, then you get to witness the majestic stars twinkling over your head. You can camp at the summit and sleep under the stars! The summit gives you a breathtaking view of the volcano crater and Munduk Valley.
Location: Gobleg, Singaraja 81152, Bali, Indonesia
Entry Fee: Free
11. Twin Lake Hike
Twin Lake Hike gives a spectacular view of Bali's most scenic lakes and is one of the most scenic hikes in Bali – Tamblingan Lake and Buyan Lake. There's a hidden centuries-old temple that brings good vibes and sacred energy. The view of the lakes is something that cannot be captured in cameras but your eyes. Book a proper tour or hire a guide for the most memorable trek in Bali.
Location: Gobleg, Banjar, Kabupaten Buleleng, Bali, Indonesia
Cost of Hiring a Guide: IDR 500,000 (USD 35) (includes lunch at Twin Lake View Restaurant)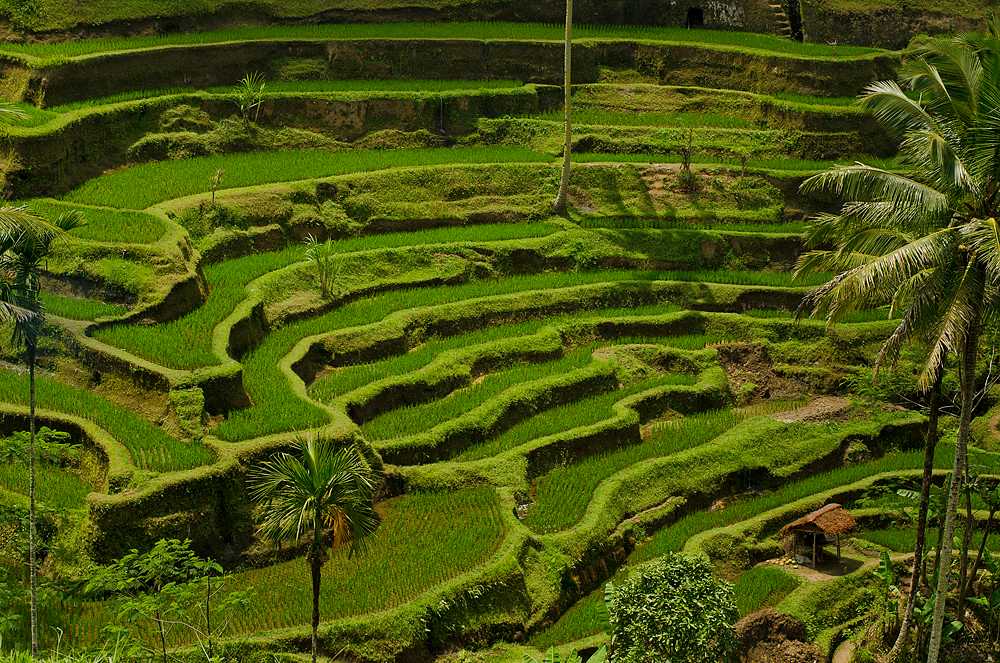 Tegallalang Rice Field is one of Bali most visited rice field. The hike offers a view of terrace rice plantation perched on hilly areas. The locals are friendly and will teach you all about rice farming. You can also visit the 11th century UNESCO World Heritage Site,
Gunung Kawi
temple.  
Location: Tegallalang, Gianyar Regency, Bali, Indonesia
Entry Fee: IDR 10,000 (USD less than 1)
13. Tirtagangga Paddy Field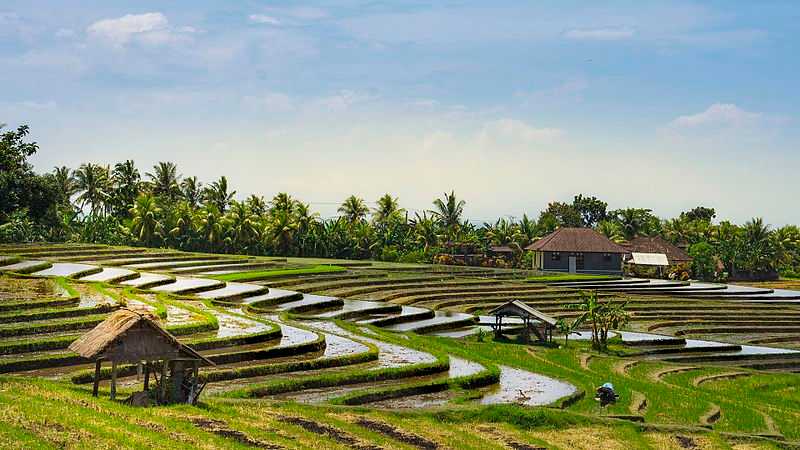 Located in the eastern Bali coast, Tirtagangga offers majestic views of paddy fields, terrace farming and small villages. Experience the rural side of Bali on this wonderful hike trail and feel the simplicity of life. There are many temples and villages on the way with friendly locals that are always ready to help. Immerse yourself in the culture of Bali as you walk across water streams and paddy fields. There is a small entry fee, but otherwise, you can explore the place on your own. 
Location: Jl. Abang-Amlapura, Karangasem 80852, Indonesia
Entry Fee: IDR 30,000 – IDR 100,000 (USD 2 - USD 7)
Some Essential Hiking Tips
Before you go hiking in Bali, plan your trip well. Most locals are there to help you out, but it is best if you gain knowledge about the trails, facilities and the average cost to suit your budget.
Wear comfortable clothes and carry an extra pair in your backpack. Wearing something tight will restrict movement as there can be times when the hiking trail is rocky. Apart from clothes, wear proper hiking shoes that have excellent grip and strength.
Carry water with you at all times. The weather can be sticky at times and walking continuously for hours will make you thirsty and your pace slow. Take water breaks in between if you get tired. Keep yourself hydrated.
When you're hiring a guide or instructor, ensure that he/she is certified especially for volcanic trails. Do not venture out without a guide if you don't have any prior hiking experience.
Some essential items to be kept include flashlight, Swiss knife and insect repellants. Some hikes start at midnight so you can witness the magical sunrise; thus, a flashlight is highly crucial.
When you're hiking in Bali, don't push yourself too much in enthusiasm. Take enough breaks and ask for help if at any point in time you're feeling uneasy.
Rainforests, beaches and volcanoes, Bali offers everything at once. Hiking across hills, rivers and paddy fields is quite an unconventional way of exploring a destination. Hiking in Bali will leave you will lifetime memories and some great snaps for your travel journal!