The Garden City of India also doubles as the pub central housing some of the grooviest party destinations. Apart from being a hub of IT professionals, Bangalore has stupendous nightlife scenarios. It has the best dance floors for you to groove on. There are many pubs and clubs which take the duty of keeping you entertained after the sundown till a little past midnight. Abiding by the early curfew i.e. 1 AM it is recommended for you to immediately turn over to nightclubs and restaurants so that you can enjoy for a bit longer. After Mumbai, Delhi and Go, it is Bangalore's turn to leave you spellbound with its vivacious nightlife. From underground watering holes to live karaokes to microbreweries to posh nightclubs, Bangalore has it all! Let's take a look
Microbreweries
A fact well-established, Bangalore is a heavenly abode for beer fanatics. The city is lined with some of the best microbreweries/brewpubs offering everything from the traditional, light India Pale Ales to dark chocolatey stouts. Here are some of our top picks:
1. Big Brewsky

A humongous space, quite literally. Superb craft beers with the added bonus of an electric atmosphere. Wrought iron motifs, stained glass windows and a fantastic poolside bar for the romantics - the lovely open-air ambience of this place is to die for. Make sure you try their signature nachos and reserve yourself a table as it gets jam-packed even on weekdays.
Address: Multiple locations - Sarjapur Road and Hennur
Damage: INR 1800 for two
Open Hours: 12:30 PM to 1 AM
2. Toit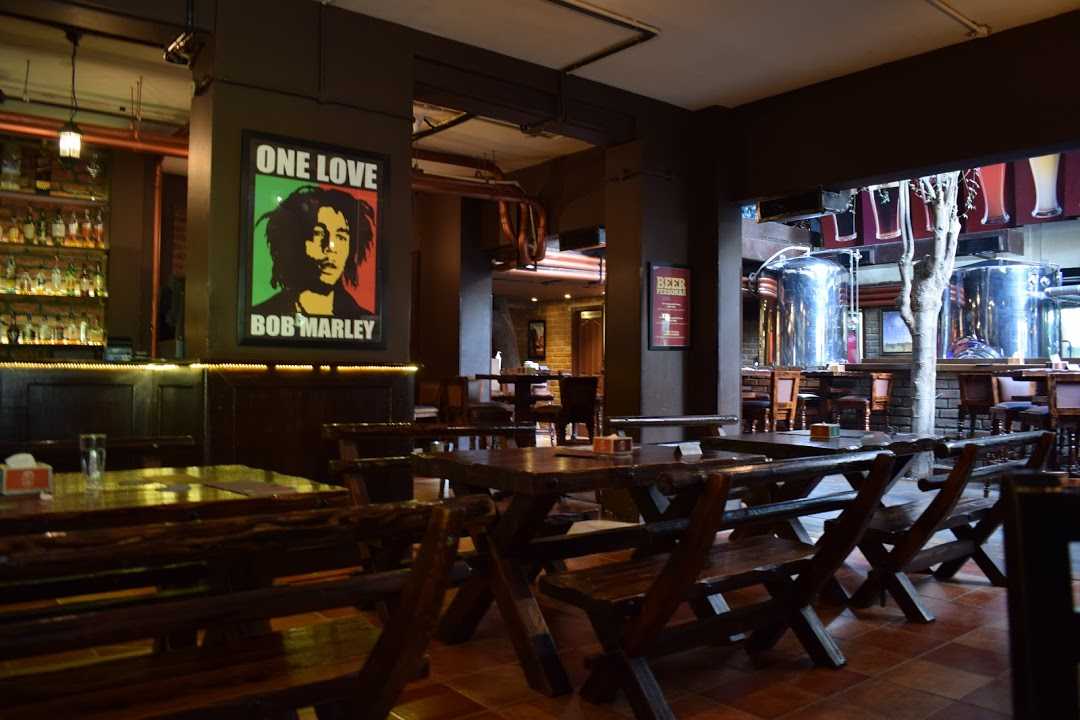 Old school pubbing fans, get yourselves a reservation ASAP! Possibly the most popular watering hole in Indiranagar, Toit is a classic microbrewery with a top-notch, stylish English-themed ambience. With six types of brew, the most popular has to be the basmati blonde, but one can go for darker or bitter options too. They also introduce seasonal flavours like the pumpkin beer on Halloween and a spicy ginger-and-cinnamon infused brew for Christmas. This super cool brewpub even allows tasters. So gang up and hit the bar so that you can have a sip of all their brewed beers in the first round and then order as per your liking. And do not miss the baked nachos while you're there.
Address: 298, 100 Feet Road, Near KFC Restaurant, Indiranagar II Stage, Bengaluru
Damage: INR 2000 for two
Open Hours: Monday, Tuesday - 12 PM to 11:30 PM
Wednesday, Thursday, Sunday - 12 PM to 12:30 AM
Friday, Saturday - 12 PM to 1 AM
3. Arbor Brewing Company (ABC)

Pub crawlers, here is your starting point. A spacious and elegant quarter consisting of wooden interiors with hints of green all over the cushions and wallpapers, this mini brewery makes seven different types of awesome beer that you can down with added bonuses of a DJ, delish finger food and indoor games like foosball. Must try beers would be the Belgian Brew, the Smooth Criminal and Raging Elephant IPA.
Address: 8, 3rd Floor, Allied Grande Plaza, Magrath Road, Ashok Nagar, Allied Grand Plaza, Ashok Nagar
Damage: INR 2000 for two
Open Hours: 12 PM to 12:30 AM (1 AM on Friday and Saturday)
4. Prost

Almost as if it were the remains of a wrecked ship, this is probably the place with the most rustic ambience. It gives you the feel of dining in an industrial room, like a makeshift pub for factory workers. A neat chalkboard spells out the details of each type of brew, helping newbies make an informed choice. A rooftop area, live DJ and timely events are also other things they have to offer apart from their finest beers. Must tries: Apple Cider, Wheat Beer, Hazel Primer and their tasty pizzas.
Address: 749, 10th Main, 80 Feet Road, 4th Block, Near Maharaja Hotel, Koramangala
Damage: INR 1800 for two
Open Hours: 12 PM to 1 AM
5. Vapour

Yet another Indiranagar brewery, Vapour is loved for its amazing craft beers and beer cocktails. This place has an open terrace area that greets you with the sight of orange cushioned sofas and spectacular skyline views. They also have two more floors with a DJ, dance floor and live screening for those Manchester United games. The home-brewed wheat beer is out of the world and goes very well with the Murgh Awadhi Tikka.

Address: No. 773, HAL 2nd Stage, 100 Feet Road, Indiranagar, Bengaluru
Damage: INR 1500 for two
Open Hours: 12 PM to 12:30 AM
Night Clubs
6. Black Rabbit

Dimly lit with a nice wooden, rustic setting and an almost breathtakingly beautiful ceiling, the ambience at this place is mesmerizing. It is indeed a pity that this place does not have an in-house microbrewery but they do have an excellent collection of beer brands and an impressive range of out-of-the-box cocktails, which are sometimes themed. Music gets louder after 9 PM so tranquillity lovers, take note. Along with the Pinacolada or Blood Orange Mimosas, do try their kick-ass burgers and smoked salmon.
Address: 770, 12th Main Road, HAL 2nd Stage, Doopanahalli, Indiranagar, Bengaluru
Damage: INR 2000 for two
Open Hours: 12 PM to 11:30 PM
Dance Clubs in Bangalore

7. Skyye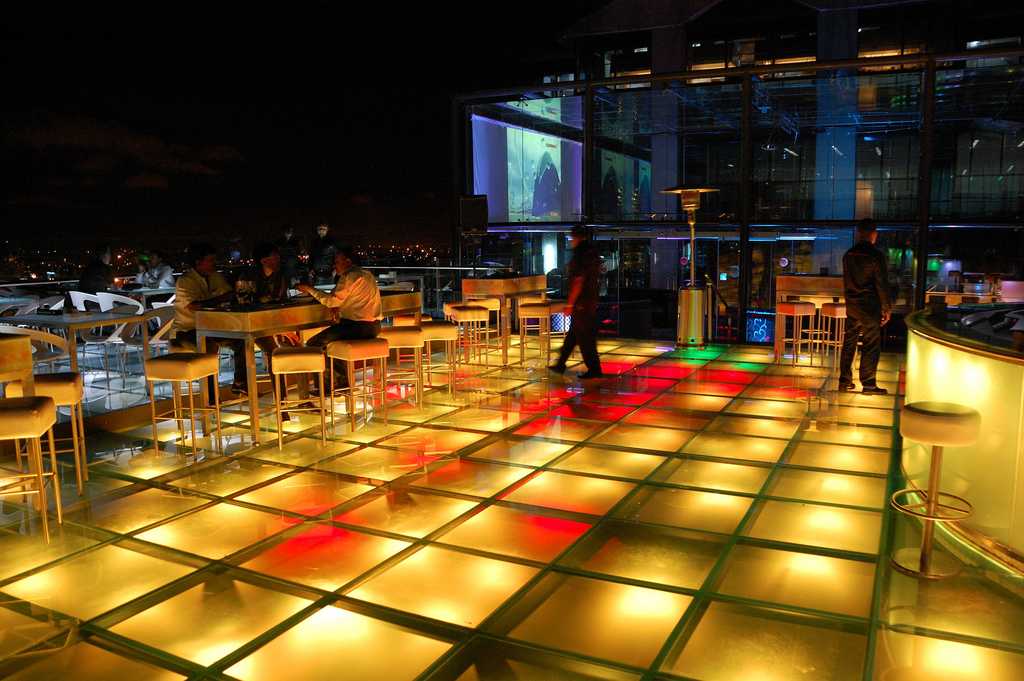 16 floors high, set on a terrace overlooking the MG Road area and providing one of the best views of the entire city, this lounge club is located in the utterly fancy UB City. It is just the right place to hit especially post-sunset or when the weather is ambient. The dance floor is never empty and the DJs usually play trance mixes. However, make sure your wallet is loaded and reservations are a must!
Address: 16th floor, UB City, Vittal Mallya Road
Damage: INR 3000 for two
Open Hours: 5:30 PM to 11 PM (1 AM on Friday and Saturday)
8. High Ultra Lounge

This place barely needs any introduction because it is the all-time talk of the town. Situated on the 31st floor of the World Trade Center, the splendid view from up here makes for the best ambience ever. For the foodies, High presents you with an eclectic mix of oriental and non-oriental options along with a variety of signature cocktails. DJ party nights are a must for dance lovers.
Address: Rooftop, World Trade Center, Dr Rajkumar Road, Malleswaram
Damage: INR 3000 for two
Open Hours: 12:30 PM to 3:30 PM, 5:30 PM to 1 AM
9. LOFT38

This massive space is one of the most popular night out spots in Indiranagar. However, do get here before the crowds if you want to avoid a wait. A loud DJ, superb crowd and the best starters, this place is definitely more than just a watering hole. It features interiors that are wild, modern and classy, all at the same time making it one of the best looking clubs in Bangalore.
Address: Shop No.763, 100 Feet Road, HAL 2nd Stage, Indiranagar, Next to Xtreme Sports Bar
Damage: INR 2500 for two
Open Hours: 12:30 PM to 11:30 PM (1 AM on Friday and Saturday)
10. Hangover

With the major attraction being a Volkswagen van serving as a minibar, Hangover is best known for its offbeat interiors and a wholesome ambience. Diversity in areas suiting your every mood can be found. The music mixed by local DJs is contemporary, tailored for the young crowd. Visitors are also treated to a well-stocked bar and an array of lip-smacking platters to dig in. And if you are here with a huge gang, do try their cocktail buckets.
Address: 1080, 12th Main, HAL 2nd Stage, Indiranagar, Bangalore
Damage: INR 1500 for two
Open Hours: 12 PM to 1 AM
11. Pebble

Psychedelic trance fans here is your safe haven. Presenting the only pub in Bangalore that caters to the genre. Hell, the overall atmosphere itself reeks of psychedelia. It features some of the best DJs and the liveliest crowds gather here, especially after the clock strikes 11. Pebble has rustic, natural settings with its trademark banyan tree almost as groovy as the beats. Definitely apt for unwinding after a long day.
Address: #3 Princess Academy, Ramanna Maharishi Road, Palace Grounds, Bangalore
Damage: INR 1500 for two
Open hours: 7 PM to 11:30 PM (1 A.M. on Friday and Saturday)
A city abuzz with techies most certainly needs an active pub culture to get drenched in and these are some of the best picks of the lot. So the next time you are in Bengaluru, make it a point to hit at least some of these ultra-hip bars for the most colourful stories to take home. Go on, shake a leg!
You deserve it!