Weekends are the best way to relax and rejuvenate after a long and stressful work week. Going away from your everyday routines and polluted city atmosphere works wonders. It doesn't only lifts up your mood but also charge you up for good. And for such mini weekend getaways, homestays are great as they give you the comforts of home in a very different environment. Along with beautiful properties, you meet warm people and are taken completely care of.
That is why today, we are listing down the best 13 homestays that are under 400 km from Bangalore, and will make your stress and tension go away!
1. Weekend getaway with a private pool and party area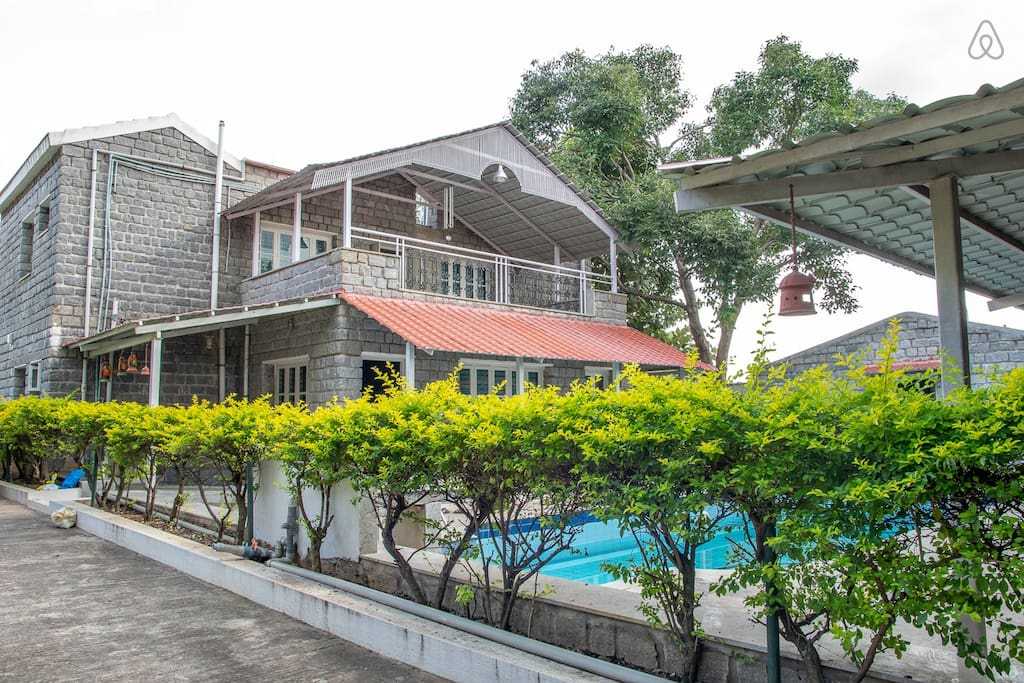 This homestay is a perfect weekend getaway from Bangalore as it is located only just 24 km away from Bangalore. Stretched in 2 acre of property, Hasiru Farmhouse has three bedrooms and baths and comes with a private pool and party area. If you are planning a trip with a large group of family, they can also arrange extra beds on the ground floor. Plan your next weekend here to spend time with some greenery around.
Address: Off Magadi Road, Bangalore
Cost of One Night: INR 3512
Distance from Bangalore: 24 km
2. Kadackal Farms - Mallika, Hivehomes, Bangalore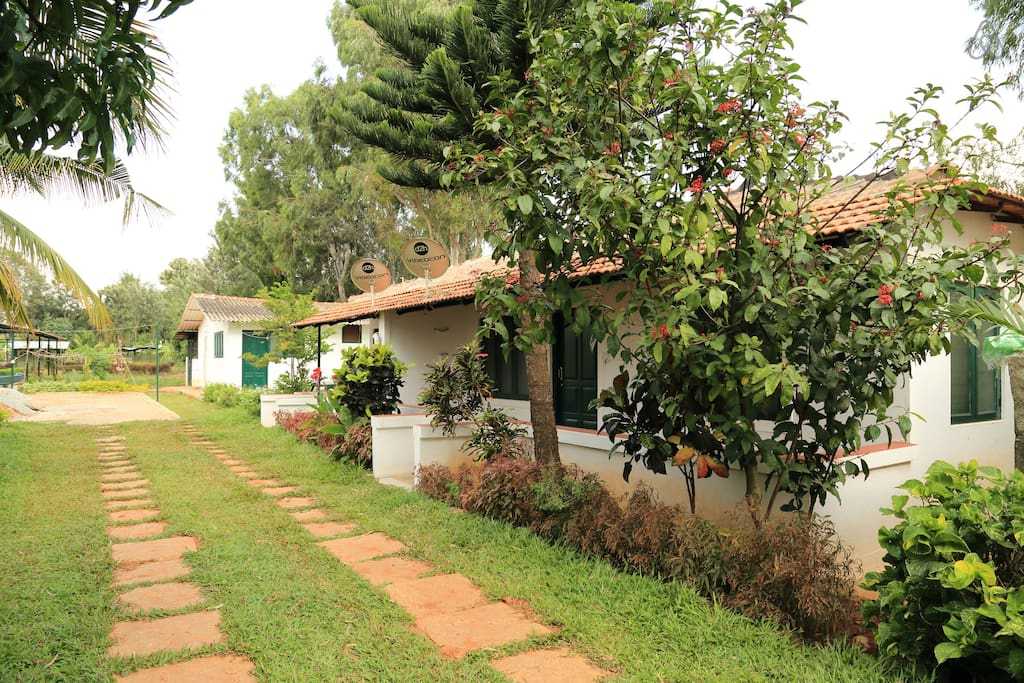 Kadackal Farmhouse has successfully maintained the authenticity of traditional farmhouses and offers the best of country environment to their guests. Located at mere distance of 20 km from Bangalore, this is place perfect to get away from the hustle bustle of the city and spend some relaxing time.
Address: Byalakere, Bengaluru
Cost of One Night: INR 2495
Distance from Bangalore: 22 km
3. Gitanjali Homestay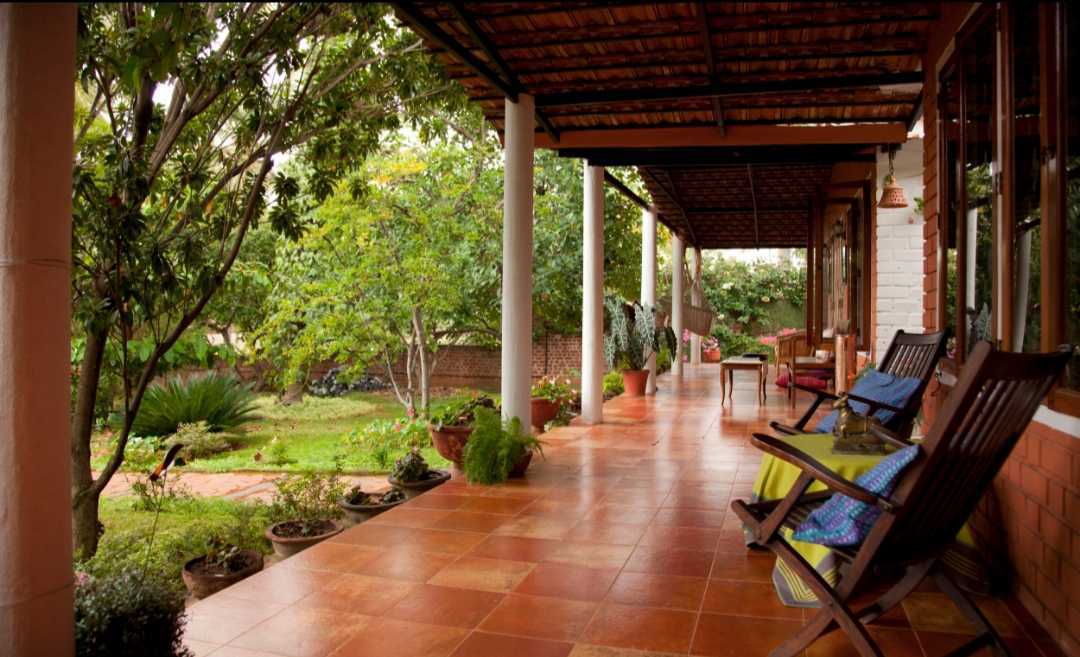 Run by a Kodava family, Gitanjali Homestay is a beautiful homestay placed at the foothills of Chamundi hills. Just 4 km from Mysore city, this farmstay offers the best of southern India culture through the architecture as well as drool-worthy Kodava cuisine. You should definitely visit this place for warm welcome and cosy stay with dense greenery and adorable pets.
Address: Siddarthanagar, Mysore
Cost of One Night: Contact The Property
Distance from Bangalore: 147 km
4. Redstone Villas and Suites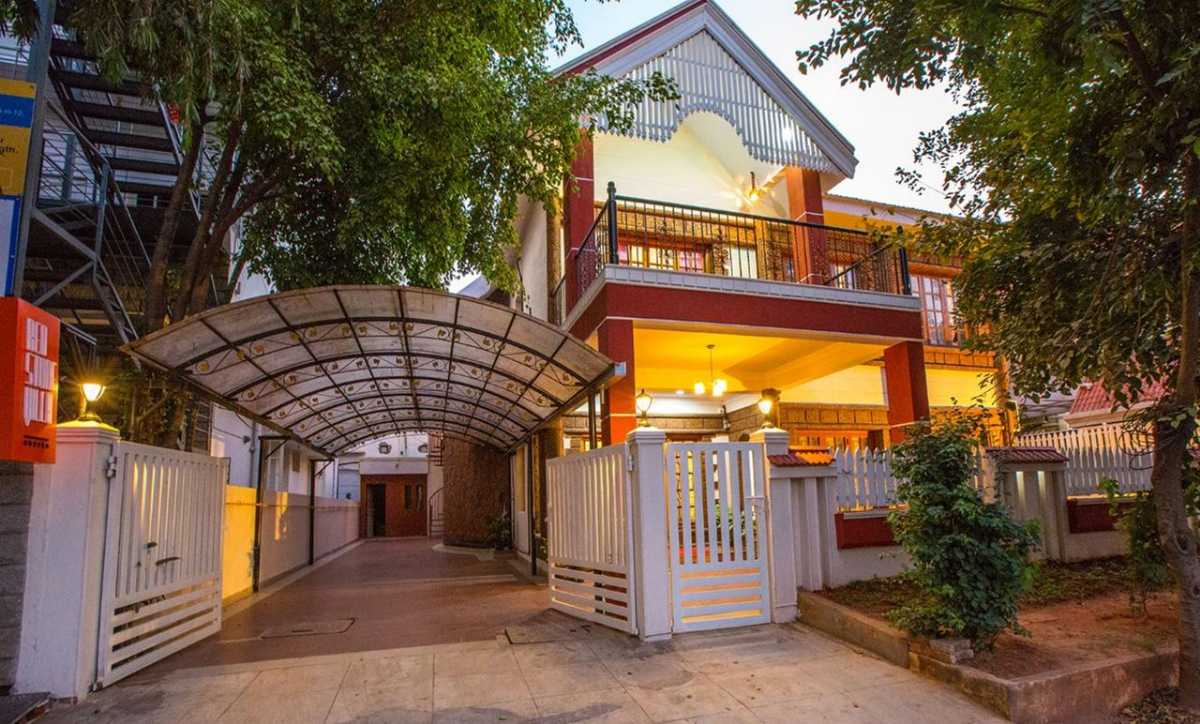 This homestay is located at one of the prime locations in Bangalore and is very easily accessible. As the name goes, the structure is built using redstone, made available from the coastal areas of Karnataka. This beautiful 7 bedroom property offers spacious rooms with lots of natural light. Have a hassle-free stay with free Wifi and toiletries and all the essentials facilities at Red Stone Villa and Suites.
Address: HSR layout, Bangalore
Cost of One Night: INR 1778
Distance from Bangalore: 10 km
5. Elephant Country Homestay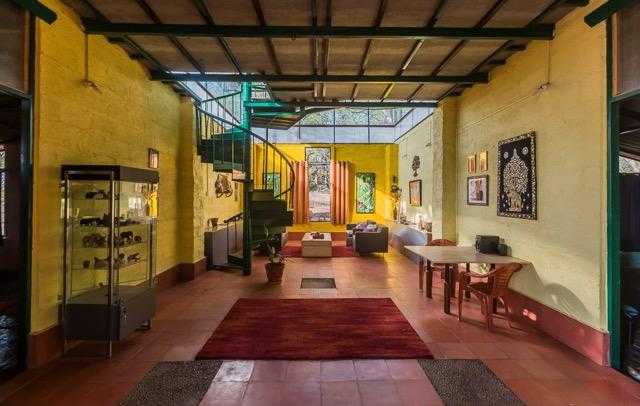 This colourful and humble homestay present simplicity at its best. Elephant Country Homestay is known for its lush green surroundings, country experiences and delicious food. They have everything to make your stay comfortable with utmost hygiene and relaxing with great garden views. They offer Continental and Asian breakfast option to their guests.
Address: Bhoothanahalli, Bannerghatta PO, Bangalore
Cost of One Night: INR 4200
Distance from Bangalore: 40 km
6. Yogisthaan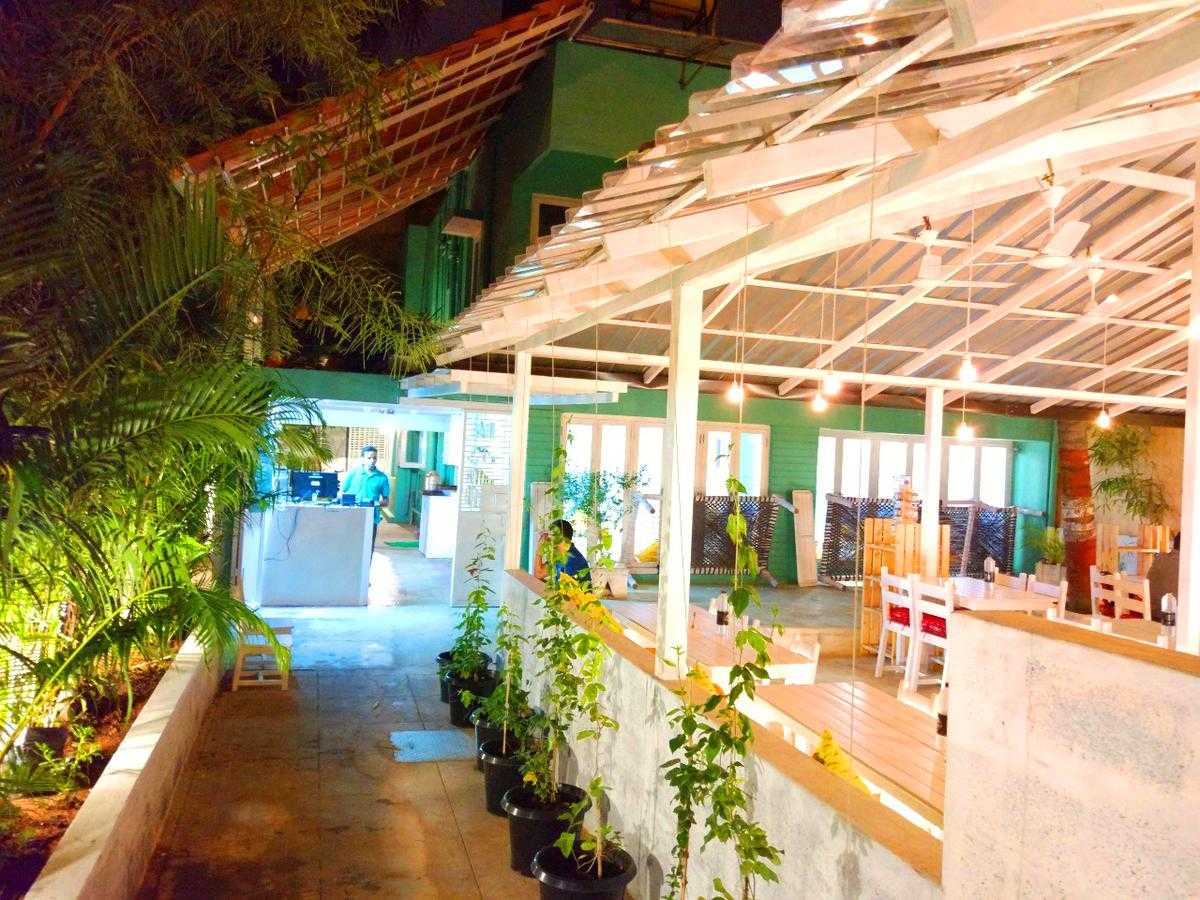 Yogisthaan is one of the best places to spend your weekend with your friends and family. This homestay sleek and interactive designs and allow groups to spend as much time together as possible. Offering everything from accommodation, restaurant and a garden, this homestay ensure their guests have a great time here. Call up your friends to plan your next weekend at Yogisthaan now!

Address: Kudremukh Colony, Santhosapuram, Bangalore
Cost of One Night: INR 1890
Distance from Bangalore: 8 km
7. The Anantha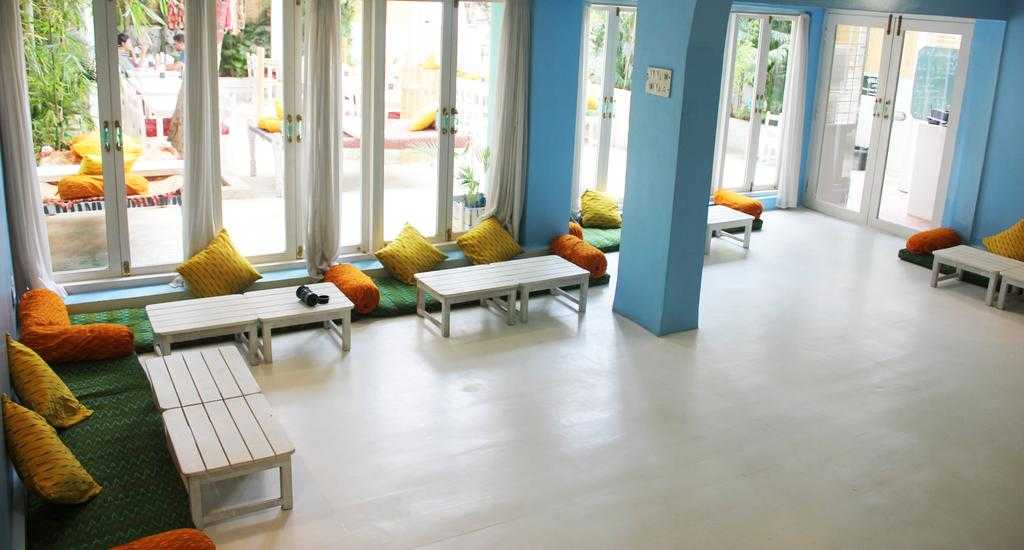 At The Anantha, you will be welcomed with beautiful modern interiors and homely vibes. A shared lounge which is best for long conversation with your friends, shared kitchen to show your culinary skills and a terrace to enjoy the outdoor views, this homestays takes care of literally everything. Right from comfortable bedrooms, free parking, free Wi-Fi to laundry room, you won't have to worry about anything here!
Address: Off Sarjapur Road, Gunjur Rd, Bangalore
Cost of One Night: INR 950
Distance from Bangalore: 18 km
8 . The Dacha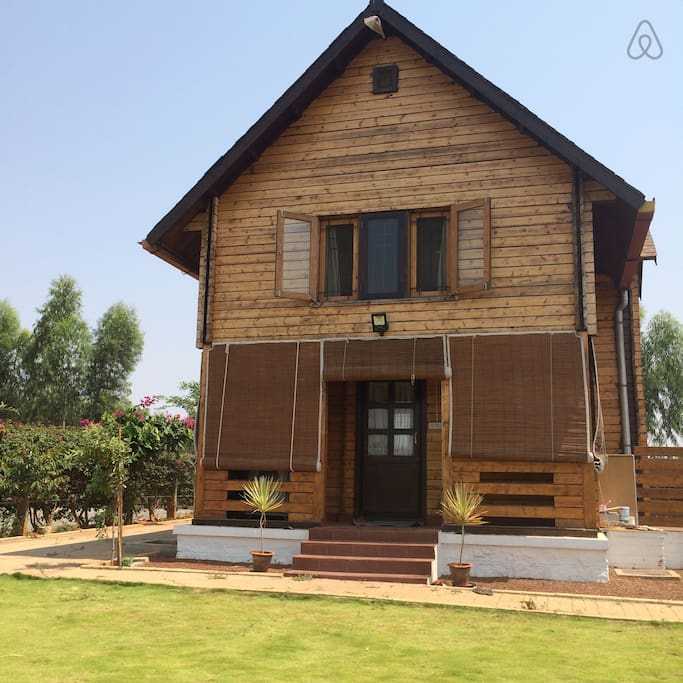 The Dacha is a cosy wooden cabin in swiss built at Devanahalli Taluk, Bangalore. This homestay offers ground floor and upper floor, availing living, kitchen, dining area and bedrooms. You can enjoy beautiful views of garden and nearby farms from their patio. Book your stay here for experiencing the best swiss style accommodation, not very far from Bangalore and spend some relaxing time here!
Address: Sadahalli Post, Devanahalli Taluk, Bangalore
Cost of One Night: INR 2350
Distance from Bangalore: 50 km
9. Wooden Cottage Villa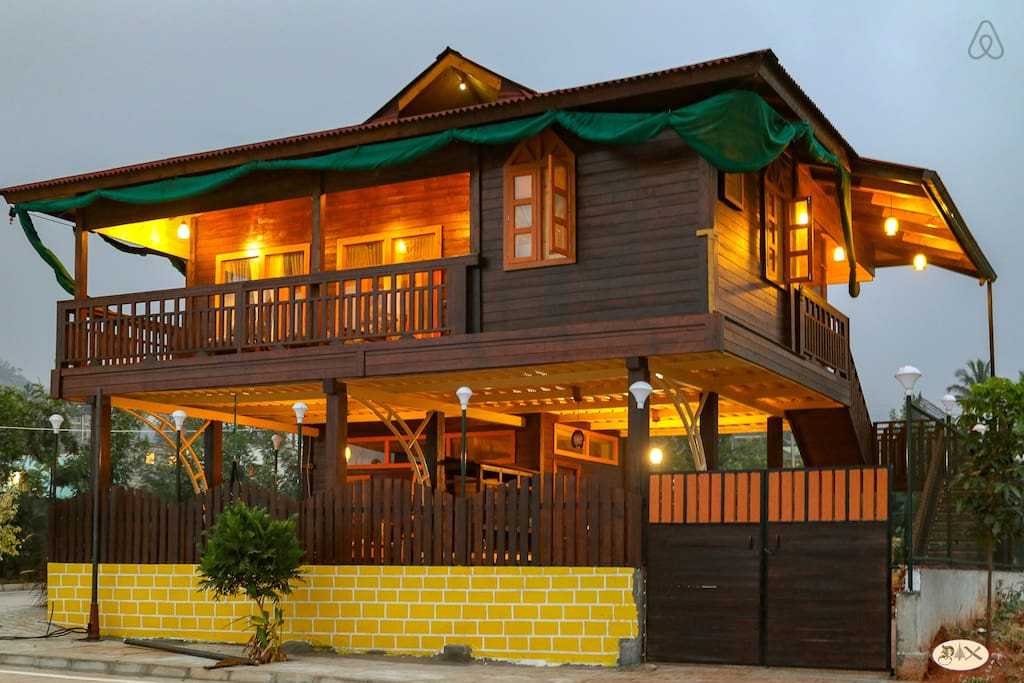 Wooden Cottage villa wrapped with lush green forest of Nandi Hills, Channagiri Hills and Skandagiri Hills. Thanks to the location, one gets to spend ample time with nature, this helps a lot to relax and rejuvenate. If any guests want to wander and look around, there are also some trekking trails nearby. This entire property is handed over to you, that gives you utmost privacy.
Address: Nandi Hills, Bangalore
Cost of One Night: INR 4650
Distance from Bangalore: 56 km
10. Pura Vida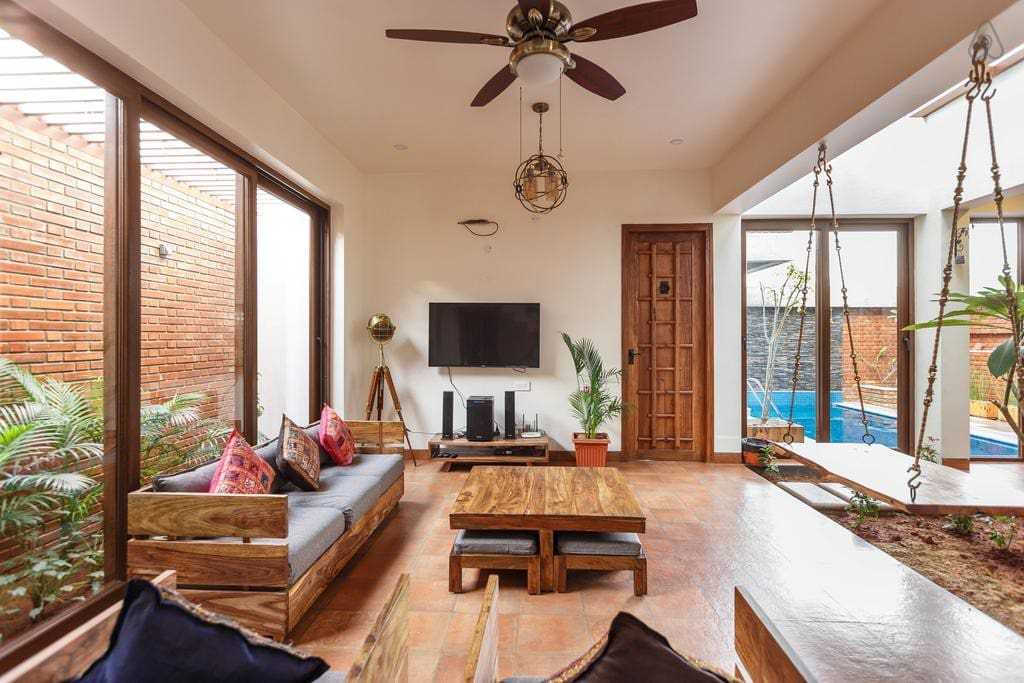 One of the best homestays for weekend getaways, that not only offer great clean and beautiful accommodation but also huge swimming pool and tasty food. Pura Vida offers 2 bedrooms, pool, lounge area, courtyard garden and terrace to spend some leisure evening time. You won't need to leave your furry friends behind as they also allow pets in the property!
Address: Opp NS Convention Hall, Near Apparel, Bangalore
Cost of One Night: INR 5605
Distance from Bangalore: 40 km
11. Silver Oak Farm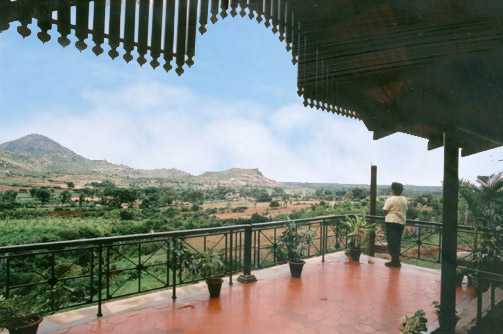 Located only 50 km from Bangalore, this eco-friendly homestay offers mesmerising views of the hills and greenery. Indulge in their finger licking, organic food made with hand plucked ingredients from their own vegetable gardens. Silver Oak Farm is one of those homestays that ensure their guests are treated with high quality services and facilities. This calm and peaceful property invites all types of travellers. Make a reservation for your next vacation to enjoy the clean and fresh air.
Address: Nandi hills, Bangalore
Cost of One Night: Contact The Property
Distance from Bangalore: 50 km
12. Solitude Farm - A Wandertrails Stay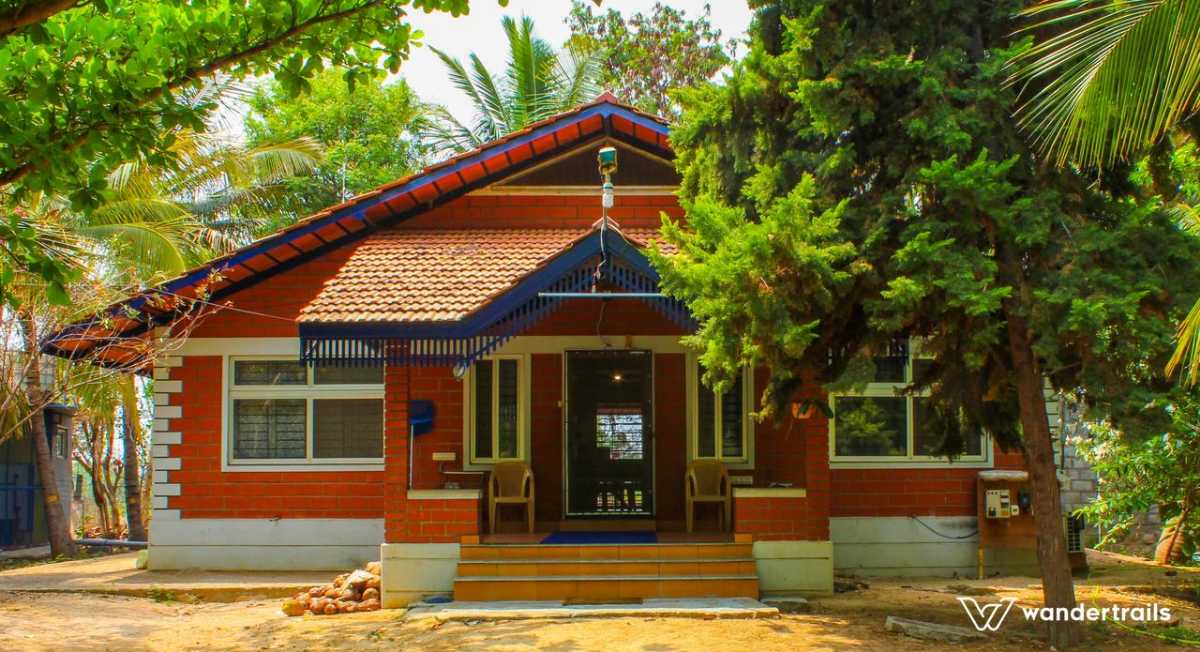 Solitude Farms - A Wamdertrails Stay in Mysore presents countryside villa with an outdoor swimming pool. Offering modern amenities like air conditioning, TV, tea/coffee machine and also free toiletries, they let their guest to create great memories with their loved ones. The entire villa consists of 3 bedrooms, 1 bathroom, living room, pool and a garden. You can enjoy their special diet dishes and BBQ facilities on request.
Address: Hebbadi Hundi, Mandya, Mysore
Cost of One Night: INR 9200
Distance from Bangalore: 138 km
13. Georgia Sunshine Village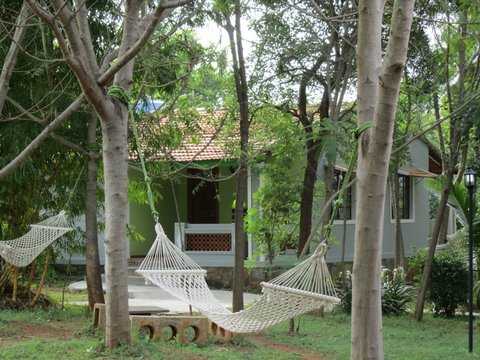 This pet-friendly homestay is located at Hebbani Village, Mandya. It is a family run property, known for offering great facilities and amenities. Georgia Sunshine Village will take you to a serene and calm ride into the wilderness. Guests here can enjoy tasty food and pool area with their friends.
Address: Hebbani Village, Shimshapura Road, Malavalli Taluk, Mandya
Cost of One Night: INR 4502
Distance from Bangalore: 138 km
Don't forget to share your views and your favorite pick from the list with us in the comments below. And if you visit any of these homestays, we are eager to hear your stories. Go ahead and book your stay here!