Fly Dining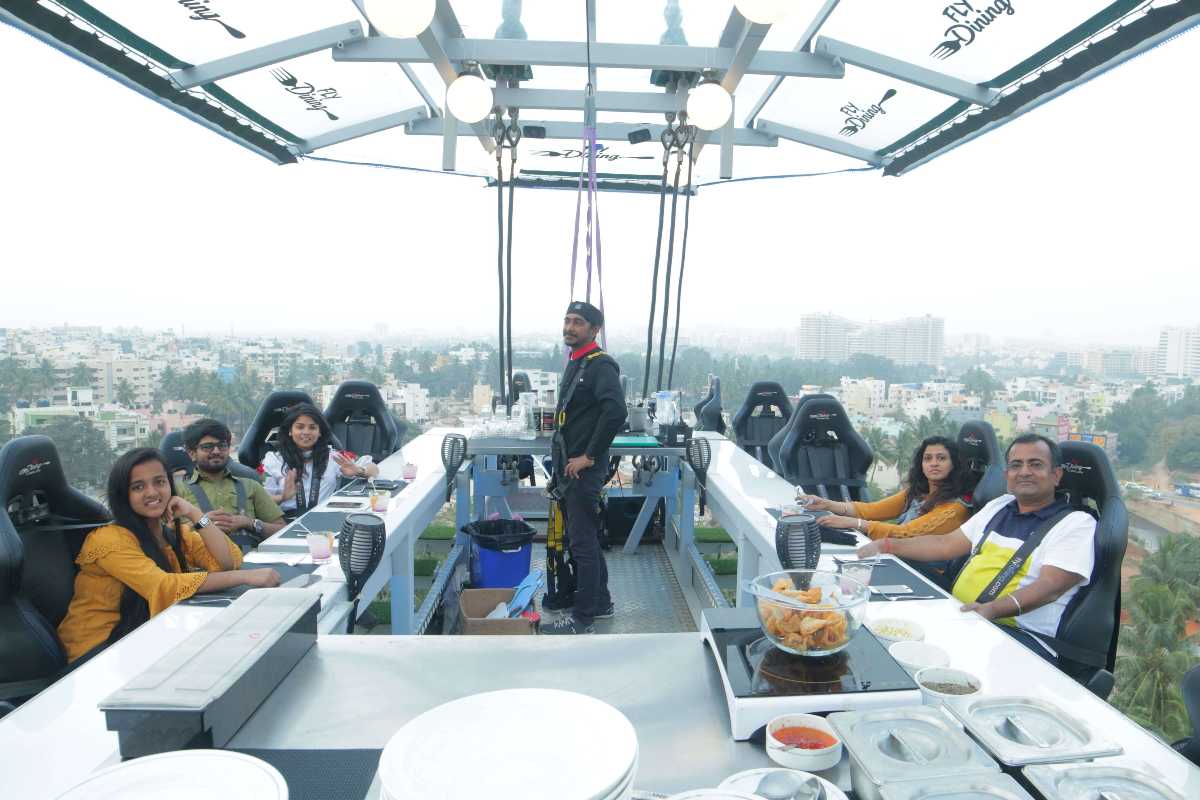 Ever dined at a mid-air restaurant? To dine mid-air with a birds-eye view of the city, dine at Fly Dining in Bangalore. It takes you as high as 16 stories and suspends you mid-air. The feeling is quite euphoric when a cityscape view surrounds you, and you're on a 22-seater deck, up above at the height of 160ft to gorge on a meal.
If you think this is it, well it's not. You are made to rotate at that height to let everyone take the beautiful view of the Nagavara Lake and the city's green cover.
You can either book space for a group or take an individual seat too. If you're wondering who would serve your meals, be rest assured as you would be accompanied by a bartender, a chef, staff members and also a photographer. Everything is kept in mind before you're taken up in the air.
What's The Menu?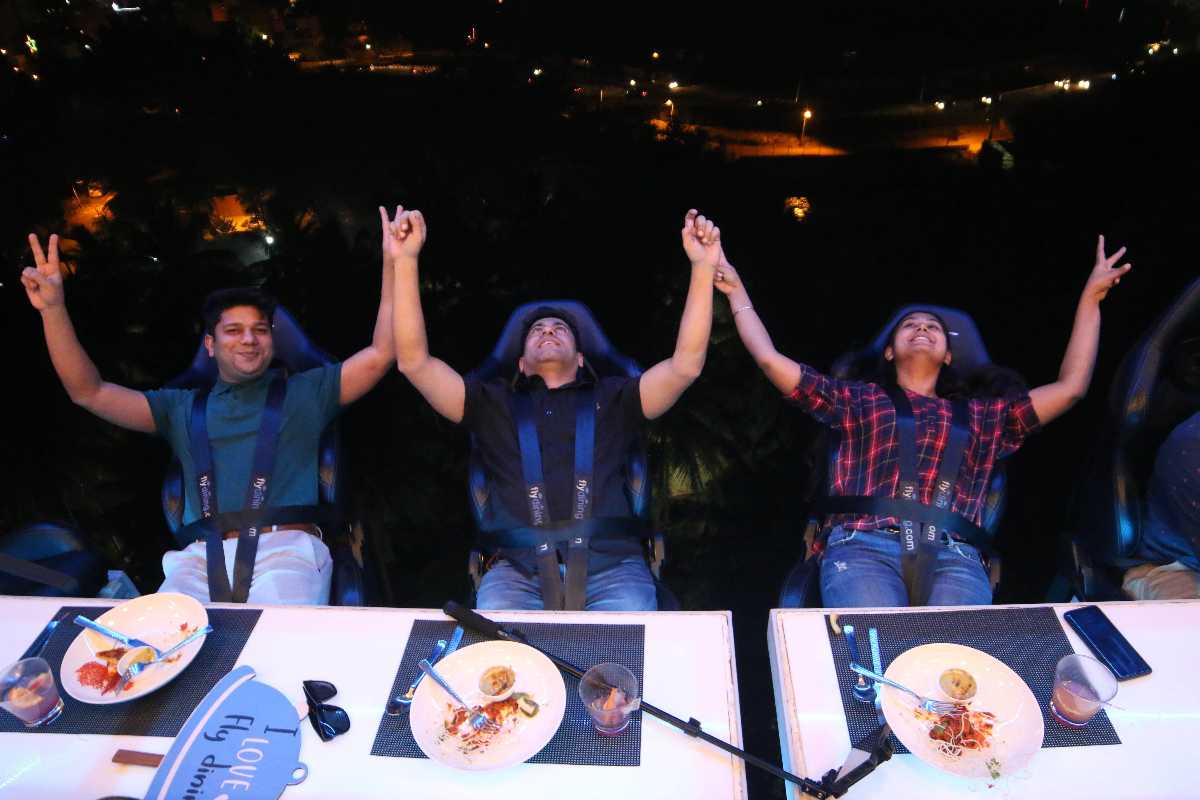 The Menu is set and does not allow you to order an ala-carte. The delicious dishes that will be placed forth are grilled chicken or sauteed vegetables with herb rice, croquettes, and bruschetta. You can also have a mocktails session that has snacks accompanied with it. A fruit bowl is also served along. All this food is prepared before the arrival of the guests and is served mid-air. The mocktails session lasts for 30 minutes and dinner extends to an hour or even more.
Prices

Mocktails session: INR 3,999 per head.
Dinner: INR 6,999 per head.
Safety Measures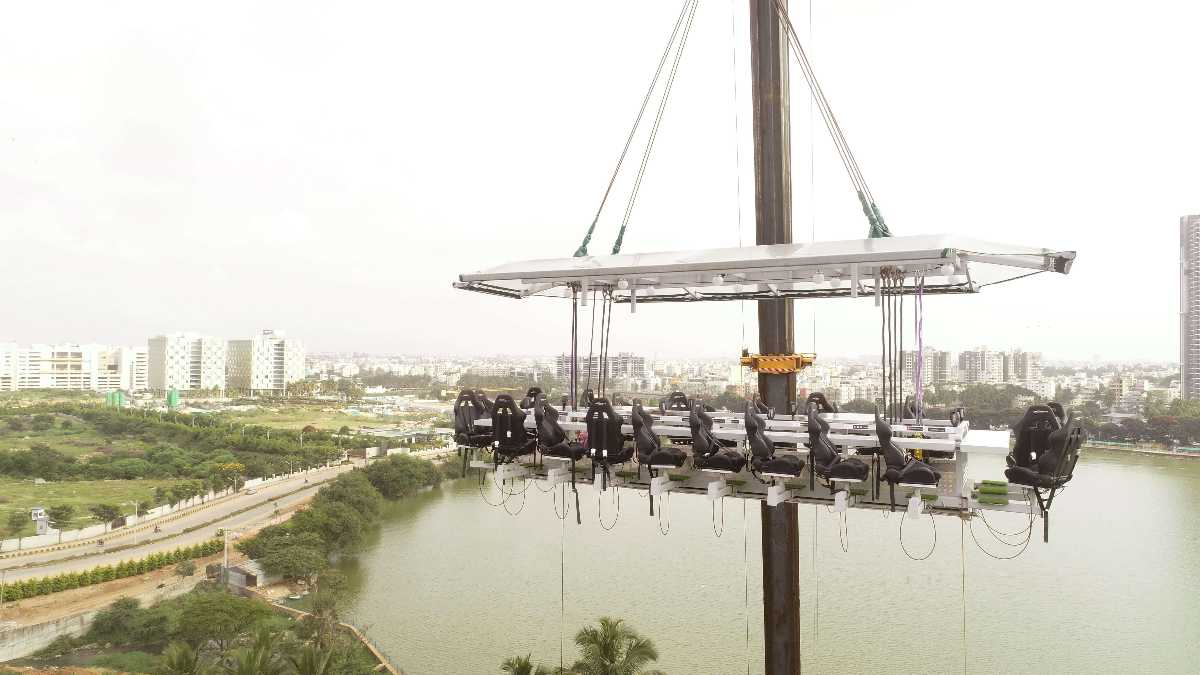 Such opulent dining comes along with safety concerns. But there is nothing to worry about because all precautions have been taken. It is not the first time that such an experience is offered to people. In 2008, Chandigarh hosted a similar experience by CCPL Hospitality. Forty countries provide such experiences too.
Here's how safety is ensured
Every guest must wear their seat belts.
Staff is secured with a safety harness.
Everything has been tested before starting of this restaurant. It includes the testing of flying structures - guidelines for the calculation and execution, with all drawings, estimates, and simulations by TUV Rheinland in Germany.
Supervisor briefs diners with a safety video beforehand.
The website states- "From the seat belts to the type of crane used, has been scrutinised and carefully considered to ensure maximum safety for the clients and employees."
Eligibility
Diners must be at least 135 cm or 4 ft 5 inches tall. Otherwise, there are no particular constraints.
Emergency Precautions
In case of emergencies, the setup can be brought down without any hassle in just a few minutes.
There is a safety area located below the setup in case of any emergency.
It is advised that diner visit the lavatory before heading for a seat on the setup.
It sure offers an unforgettable dining experience along with a scenic view and irresistible food choices. One must indulge in this life-time experience. Safety and precautions have all been looked into by the authorities, and it is safe. If you're eligible, it is a must that you pay a visit and dine at Fly Dining.
Are you heading to Fly Dining for this rich mid-air dining experience? Let us know in the comments below!