A hundred and thirty million years old untouched rainforests and mangroves; and a very strategic location near the equator makes Malaysia an ideal place for wildlife to thrive and prosper. You will find hundreds of flora and fauna species in these rainforests, many of which are endangered and extremely rare to find. This is precisely why Malaysia has been internationally recognized as one of the seventeen megadiverse countries across the globe and is visited by nature and animal lovers all year round.
Read on to find more about the unique species of wildlife in Malaysia and why exploring this section of the country should be on your vacation bucket list.
1. Malayan Tiger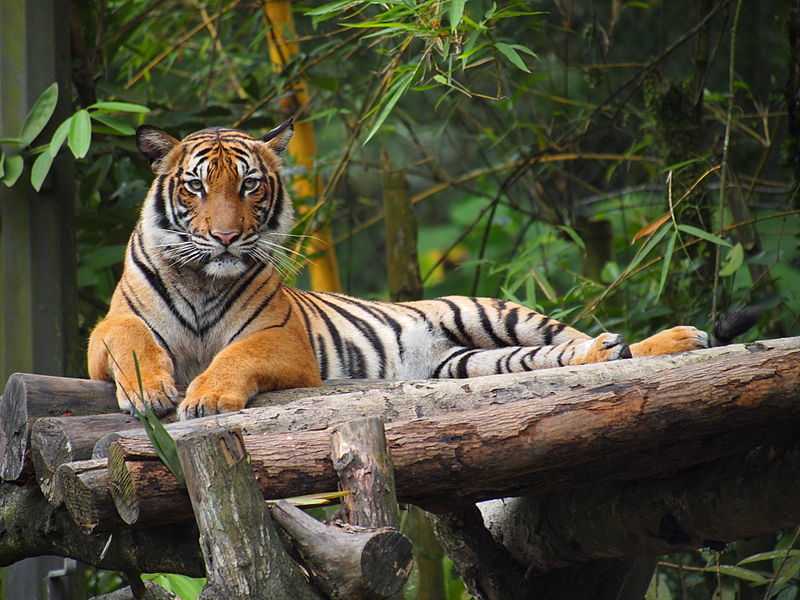 The national animal of Malaysia, the Malaysian Tiger is also recognized as a symbol of bravery in the country. Without a doubt, the Malayan Tiger is the pride of Malaysia. Locally known as 'harimau belang', which translates to 'striped tiger', this Tiger is found in the central and peninsular regions of Malaysia. Unfortunately, due to rampant deforestation and decimation of its natural environment, the species of wildlife in Malaysia is now on the verge of extinction, with only around three hundred tigers left across the globe.
2. Malayan Tapir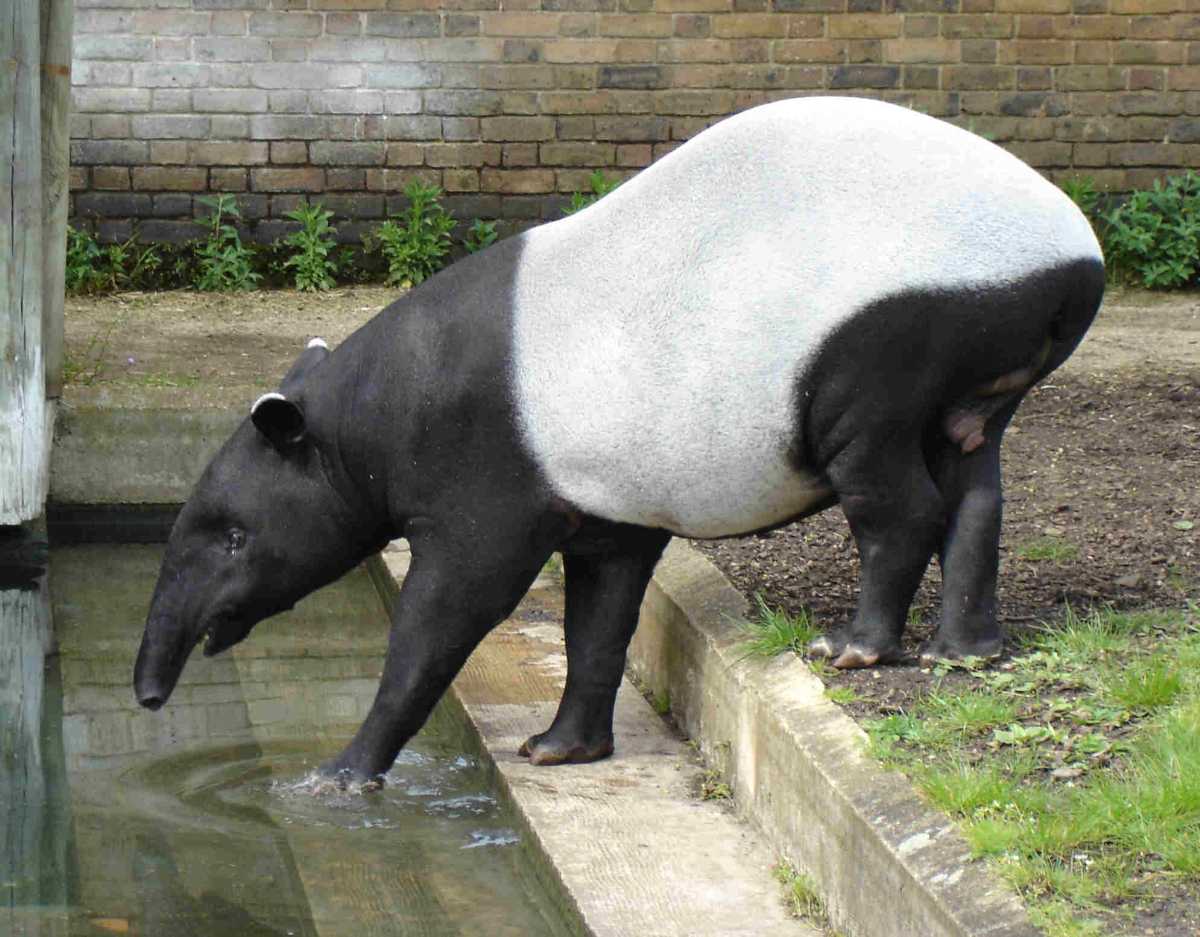 Of the four tapir species that presently exist in the world, the Malayan Tapir is the largest of all and is mostly found in the tropical jungles of lowland peninsular Malaysia. This fascinating species among the wildlife of Malaysia is locally known as 'tenuk' or 'cipan'. They can be described as pig-like, with a short snout; and they have a light patch that extends from the rear end of their shoulder, while the rest of the body is entirely black. Since predators often mistake them for large rocks, the unique colour of the tapir helps in camouflaging. Tapirs are also excellent runners and swimmers, and can even stay underwater for up to a minute; making their strength quite unmatchable!
3. Hornbill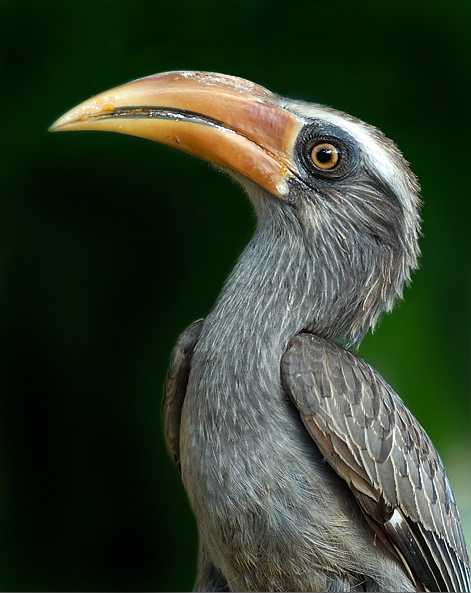 There are quite a few native species of hornbills in Malaysia which are mostly from the tropical forests of the eastern and peninsular parts of the country. These include the Rhinoceros Hornbill, the Great Hornbill, the Oriental pied hornbill, the black hornbill, and the Malabar pied hornbill. Of the different species of hornbills, the Rhinoceros Hornbill is the most recognizable one, and also holds deep significance for the people of Sarawak, since the various indigenous tribes of the country pay great respect to the bird. This species of wildlife in Malaysia is also regarded to be the state bird of Sarawak, and even the nickname of the state 'Bumi Kenyalang' translates to the 'Land of the Hornbills'.
4. Mouse Deer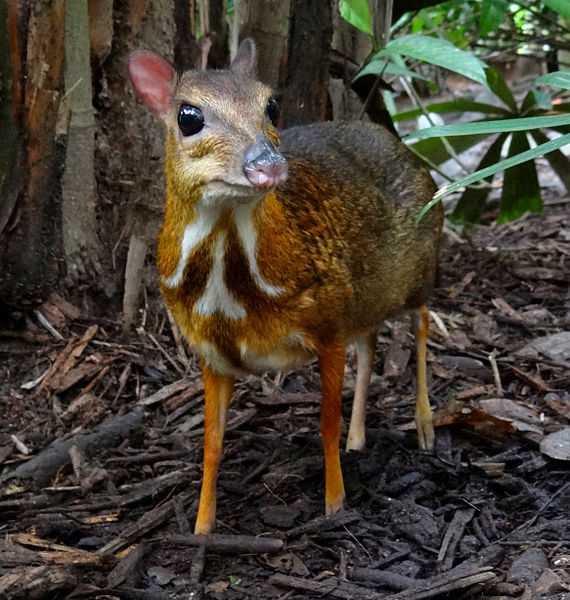 Mouse Deer, also known as Chevrotains, and locally addressed as Sang Kancil, is the smallest hoofed mammal in the entire world, and feeds only on plant material, fruits and leaves. A mature mouse deer will grow to only 45 centimetres in length, and weighs around 2 kilograms only! These nocturnal creatures are indeed adorable animals and are found in eastern and peninsular Malaysia, as well as on the smaller islands of the country. It would also be interesting to know that this animal among wildlife in Malaysia is the main protagonist of many traditional Malay folktales.
5. Crab-eating Macaque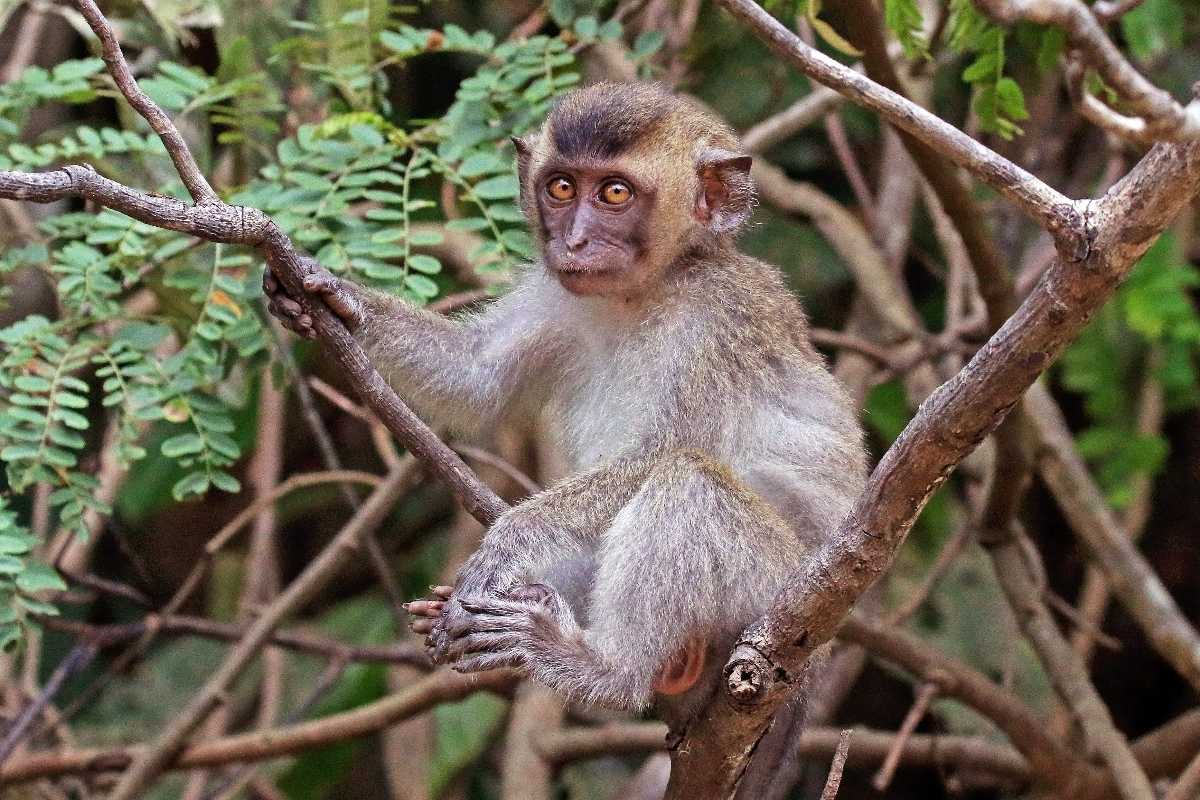 Locally known as 'Kera', the English name of this species of wildlife in Malaysia comes from the fact that it also consumes crabs and small crustaceans in conjunction with its regular vegetarian diet. Commonly found in the peninsular and eastern part of the country in its mangroves and rainforests, you will also find the animal in many Hindu temples all across the country since Hindus consider these macaques to be sacred. However, be careful if you do spot one somewhere since they are notorious for being clever and sneaky thieves.
6. Sun Bear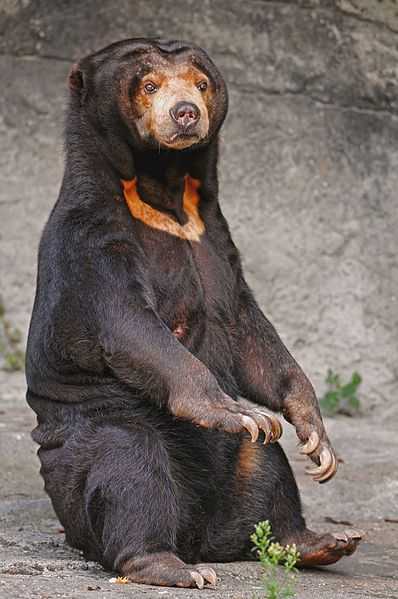 As you hike along rainforest trails in Malaysia, you are sure to come across sun bears crossing your path, happily eating honeycomb and honey and lazing around. Sun bears have an excellent sense of smell, which helps them to hunt for their favourite food, which is no doubt, honey; though they also consume other fruits and small insects. Also known as the honey bear, they are the smallest of all bears among the wildlife in Malaysia. They are characterized with black fur, and since they live in a tropical climate, they do not hibernate either.
7. Bornean Orangutan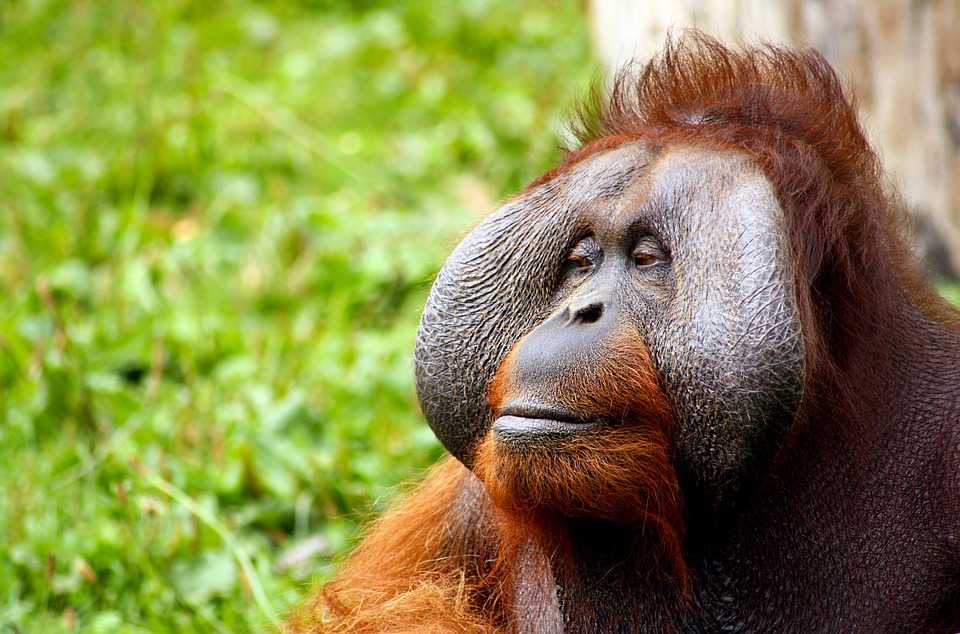 The Bornean orangutan is native to the tropical rainforests of Borneo. This species among other wildlife in Malaysia is found in large numbers in the thick and rocky interiors of the East Malaysian states of Sabah and Sarawak. In fact, the Bornean orangutan is scientifically considered to be a brilliant animal and history of the evolution of this animal is very close to that of humankind. The indigenous people of Borneo believed that this orangutan is another tribe of the people, and thus they referred to it as 'orang utan', which means people of the jungle.
8. Slow Loris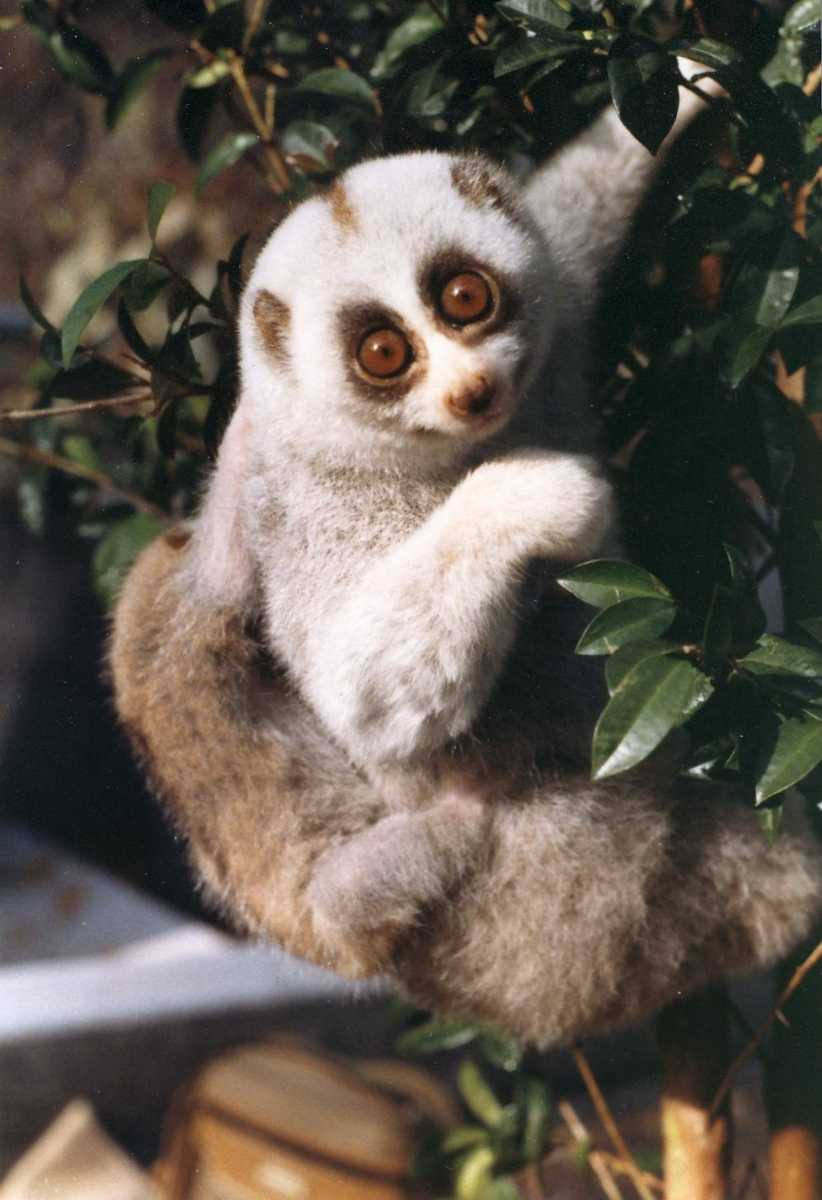 These creatures are known for moving at a very slow pace, and hence the name Slow Loris. Indigenous to the areas of Southeast Asia and its neighbours, Slow Lorises are characterized by their narrow snout, round head with large eyes and different colour patterns. These members of the wildlife in Malaysia are also blessed with a really long and flexible trunk, which helps them to stretch to other branches with quite some ease. However, one needs to be very careful of this animal, since they have a poisonous bite. When these animals lick the glands on their hands, they get secretions on their tongues which become toxic when mixed with their saliva.
9. Atlas Moths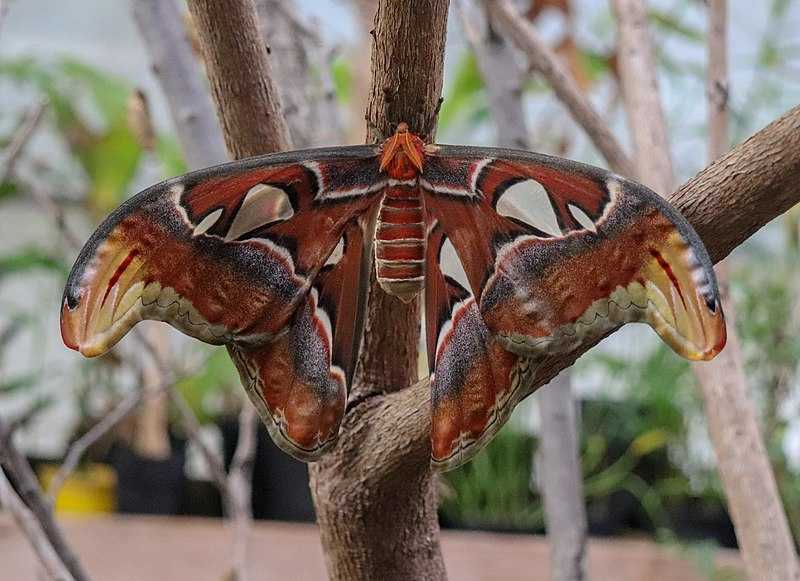 These beautiful moths are indigenous to the dry rainforests and shrublands of eastern, southern and south-eastern Asia; and are renowned for being among the largest lepidopterans in the world, with a total wing surface area of about 62 square inches! Only the White Witch Moth has a bigger wingspan than the Atlas Moth, and only the Coscinocera Hercules surpasses it in terms of surface area. The top part of the wings of these fantastic creatures of the wildlife in Malaysia are reddish-brown, complete with purple, pink, white and black lines; and beautiful window-like structures which are triangular and are bordered by black coloured lines.
10. Barking Deer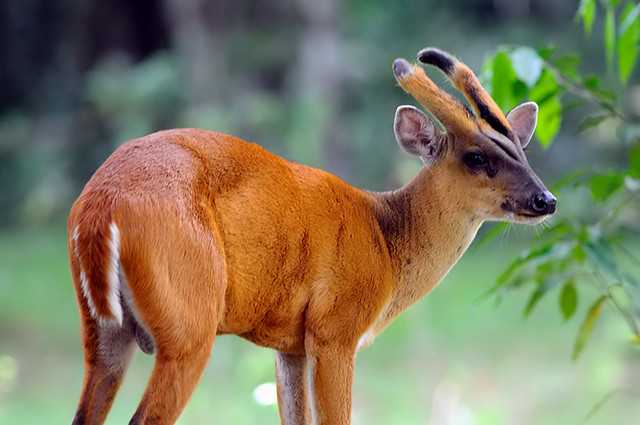 Known as the oldest wild deer, the barking deer or muntjac; these animals are named after the loud barking sound that they make, especially when they can sense predators nearby and want to scare them off. Most of the barking deers in Malaysia can be found in the Taman Negara rainforest, and the diet of these animals comprises mostly of grass, fruits, small animals, birds' eggs and other seeds. Don't be surprised to find these deer fighting with each other using their antlers to win their territory; but be cautious, since they can get really aggressive during their sessions.
If you happen to be a nature lover who wants to witness the spectacular wildlife in Malaysia, then visiting Malaysia's rainforests, nature reserves and national parks should be a must on your list; for it will allow you to enjoy the sights of a myriad of this wildlife, all at one place. Here are the best places in Malaysia to enjoy its glory and bounty the natural way.
1. Taman Negara National Park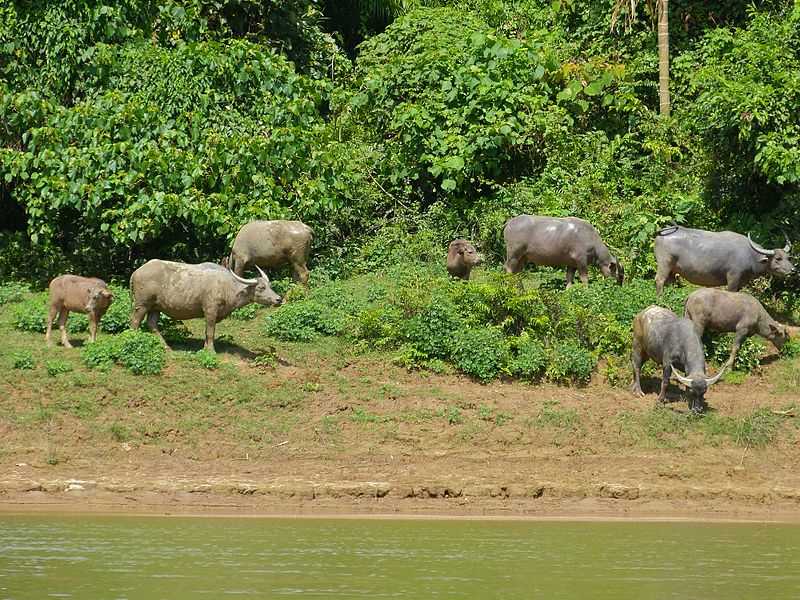 The rainforests of Taman Negara are believed to be 130 million years old, and these untouched and impenetrable forests support various species of flora and fauna, including the rare flower rafflesia. The central location of the national park makes it easily accessible to people from all parts of the country, who visit the place in large numbers to enjoy sights of elephants, monkeys, deer, hornbills, and lizards among other wildlife in Malaysia
Location: North eastern Kuala Lumpur
2. Danum Valley Conservation Area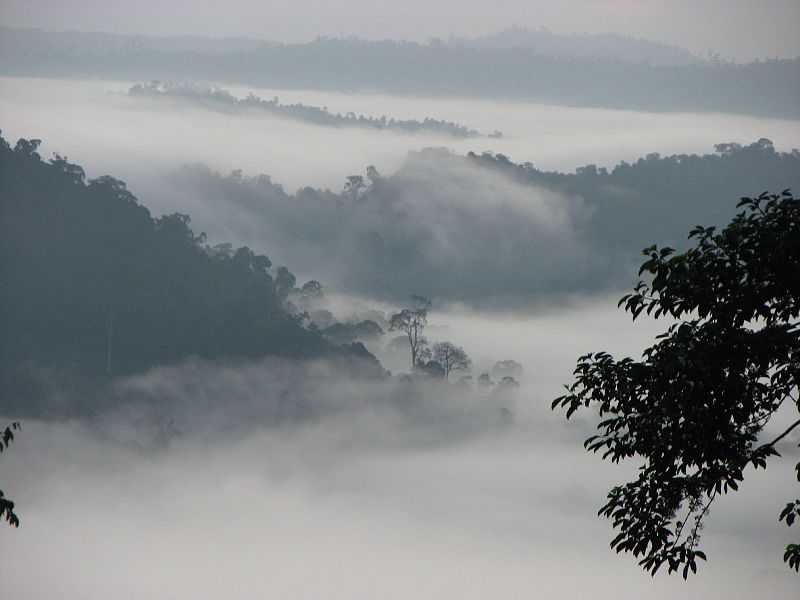 Tourists love to visit the Danum Valley Conservation Area, not just for its wildlife in Malaysia, but also the other fun activities that it offers such as jungle trekking, wildlife spotting, canopy walks, and night safaris. Besides, lucky visitors might even get a chance to spot orangutans, pygmy elephants, and sambar deer while at the conservation area. Not only this, the area apart from being home to 438 square kilometres of rainforests, is also one of the most important conservation field centres located in all of Asia, where visitors also get access to information which they probably would not in any other part of Malaysia.
Location: Lahad Datu, Sabah
3. Mulu World Heritage Area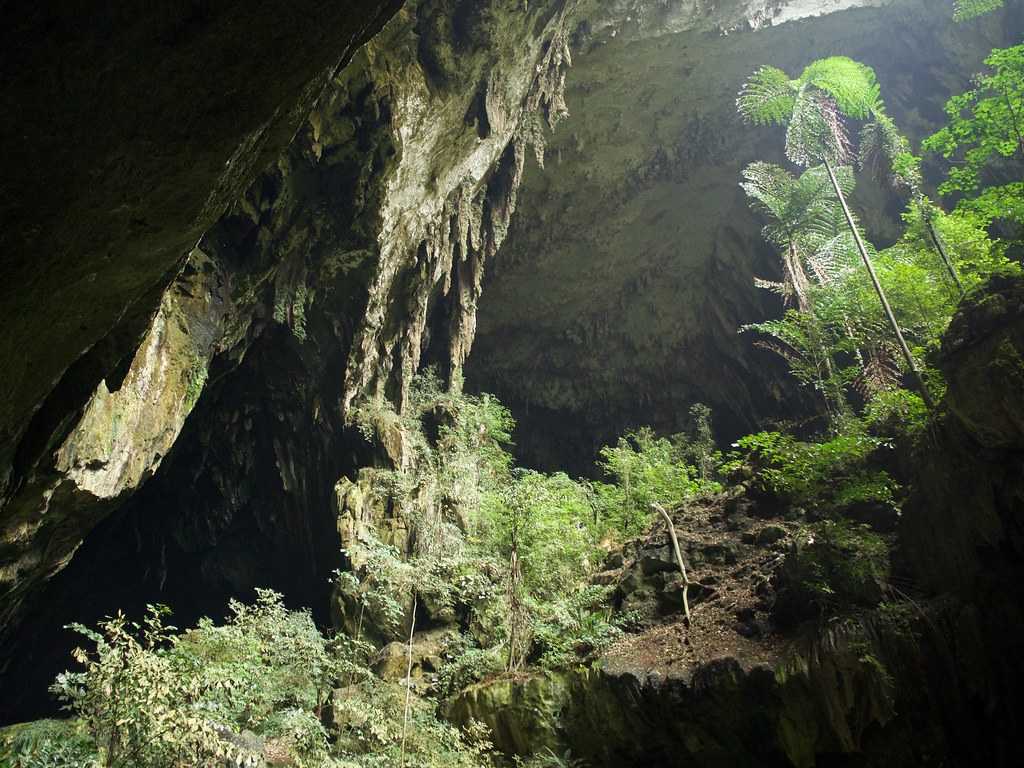 The Mulu World Heritage Area is home to a breathtaking rainforest which took around 60 million years to grow and prosper and is today one of the most important natural sites in all of South-East Asia. The area is also home to the largest underground chamber of the world, the Sarawak Chamber; as well as the longest network of caves across the planet, the Clear Water Cave. But the most famous aspect of this natural sight is the Bat Exodus in the evenings when literally millions of bats fly out from the caves in large groups, which is a sight to behold! You can also spot other animals like gibbons, orangutans, hornbills and Sumatran rhinoceroses among other species of wildlife of Malaysia here.
Location: Sarawak
4. Royal Belum State Park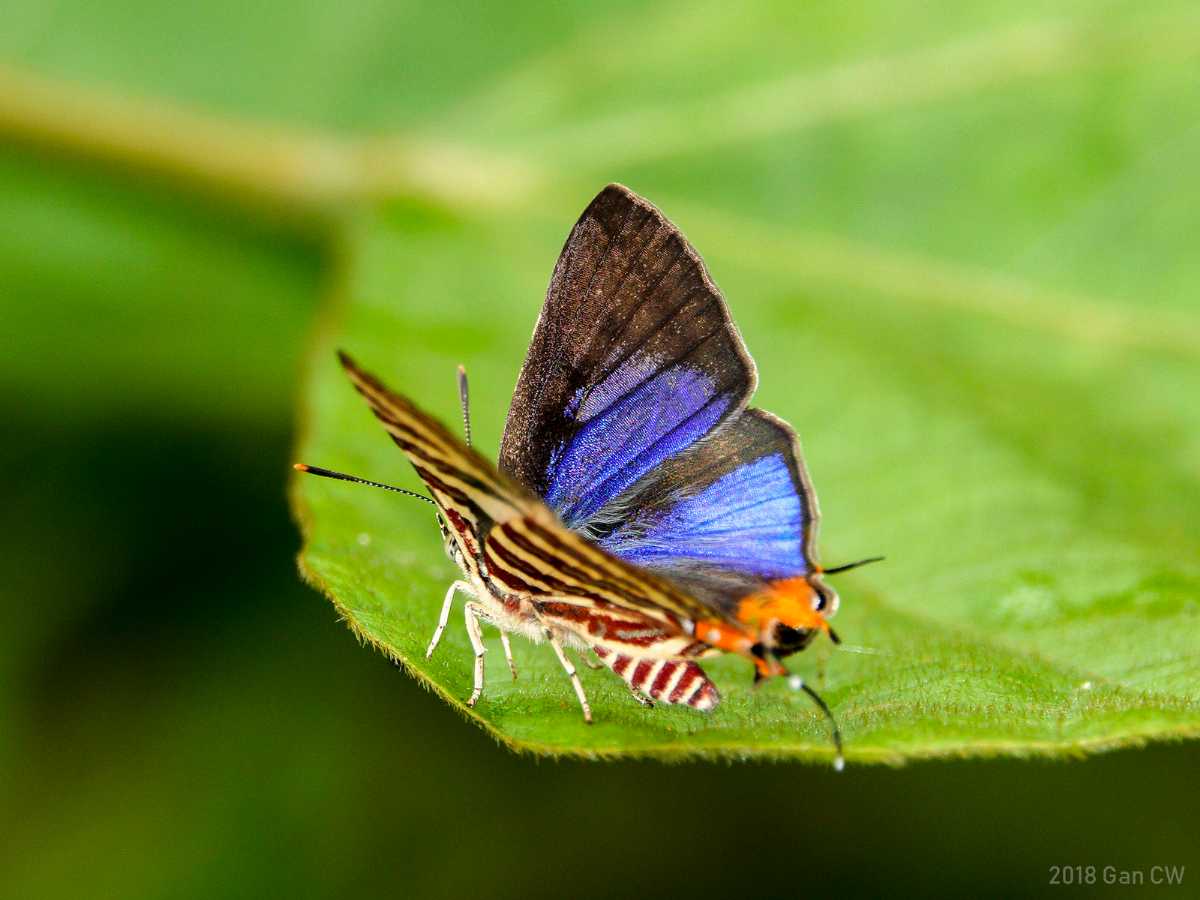 Located around the spectacular Lake Temenggor and on the border of Thailand, the Royal Belum State Park could not boast of having a better location, which actually makes it one of the best nature reserves in all of Malaysia. Established only recently in 2017, the park has gained a big name and popularity for itself for housing some of the rarest species of wildlife in Malaysia, including the Malayan Tiger, Sumatran rhinoceros, sun bear, and white-handed gibbon. The park is also famous for the bird watching opportunities as it shelters over 300 different bird species, from the red-crowned barbet to the ten species of the Malaysian hornbill.
Location: Royal Belum State Park is located in the Malaysian state of Perak and crosses into Southern Thailand.
5. Bako National Park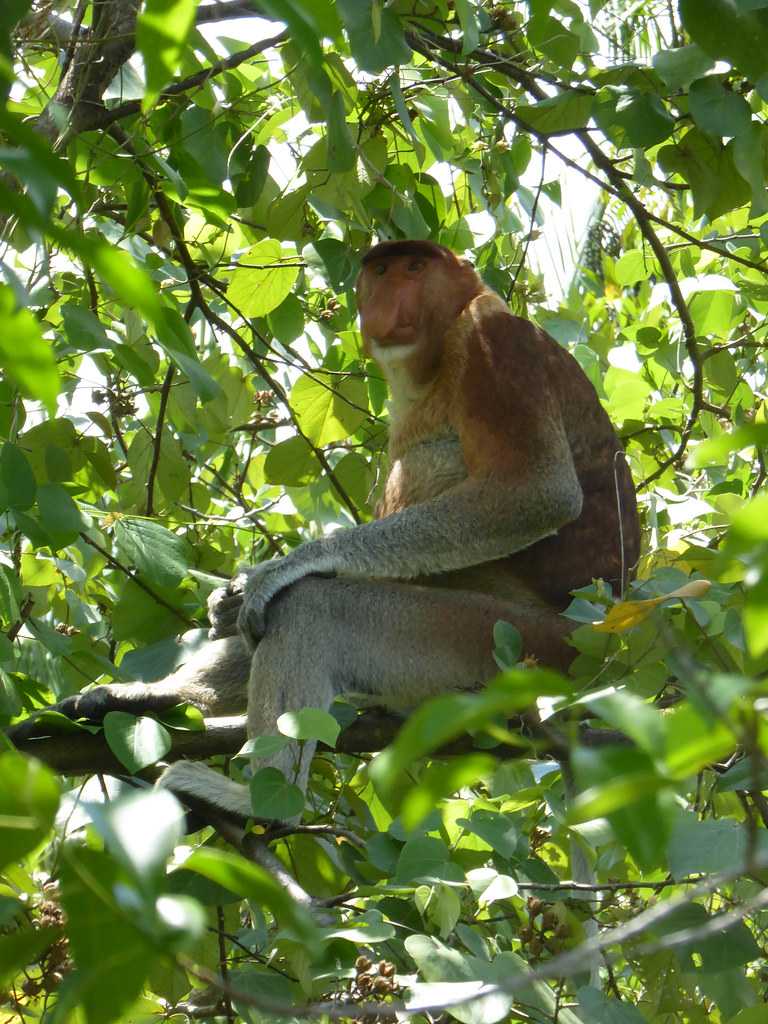 The oldest nature reserve in Sarawak, the Bako National Park is every nature lover and adventure enthusiasts' dream come true. Not only will the park offer you sights of kingfishers, wild boars, and monkeys; but will also give you ample opportunities to enjoy hiking, rock formations and beaches; and that too with the famous breathtaking Borneo sunset in the background! Located on the Muara Tebas peninsula, the park also has different terrains in it, including mangroves, swamps, and dipterocarp forests. Bako National Park is today famous for being one of the best nature reserves in all of Malaysia.
Location: Sarawak
6. Talang-Satang National Park

The Talang-Satang National Park is the first marine protected area to have been established in Sarawak and comprises of four different islands in all. Due to the favourable conditions such as hard and soft corals as well as shallow reef areas here, the majority of the turtle landings in Sarawak occur here. Thus the place is also more commonly known as the Turtle Islands. Apart from this awe-striking turtle landing, the national park is also famous for its sanctuary that shelters a range of wildlife in Malaysia, fish breeding areas, and its various nesting sites.
Location: Sarawak
7. Mossy Forest, Cameron Highlands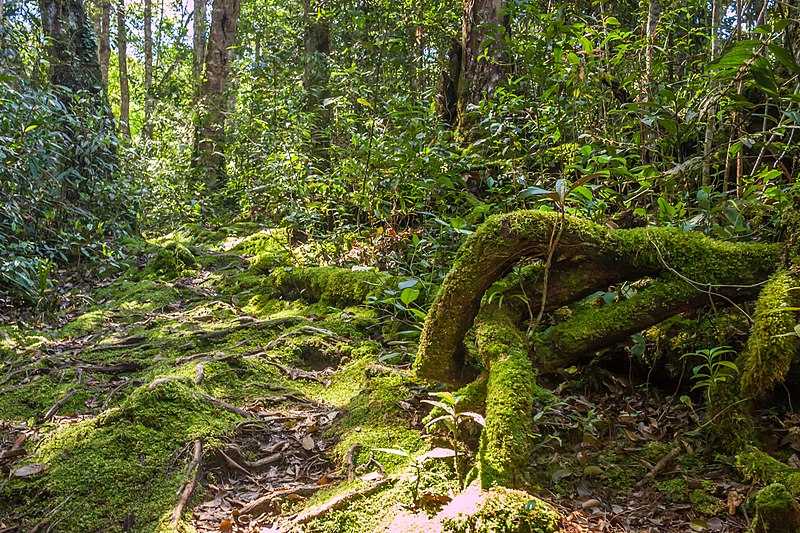 Gunung Brichang, the tallest mountain of Malaysia, is home to the Mossy Forest. A rather mystical ecosystem, the forest is always enveloped by cloud and fog, which only further adds to the joy of visiting this place. The forest at these high elevations has responded naturally to the unique climatic conditions present there, which in turn has led to the evolution of a special ecosystem up there. So if spotting indigenous flora apart from wildlife in Malaysia is on your list, then the Mossy Forest is the place to go to! You will find pitcher plants, varieties of fern, mosses, lichens, and orchids, as well as insects, birds, frogs, and snakes while at this nature reserve.
Location: Brinchang, Pahang
8. Kinabalu National Park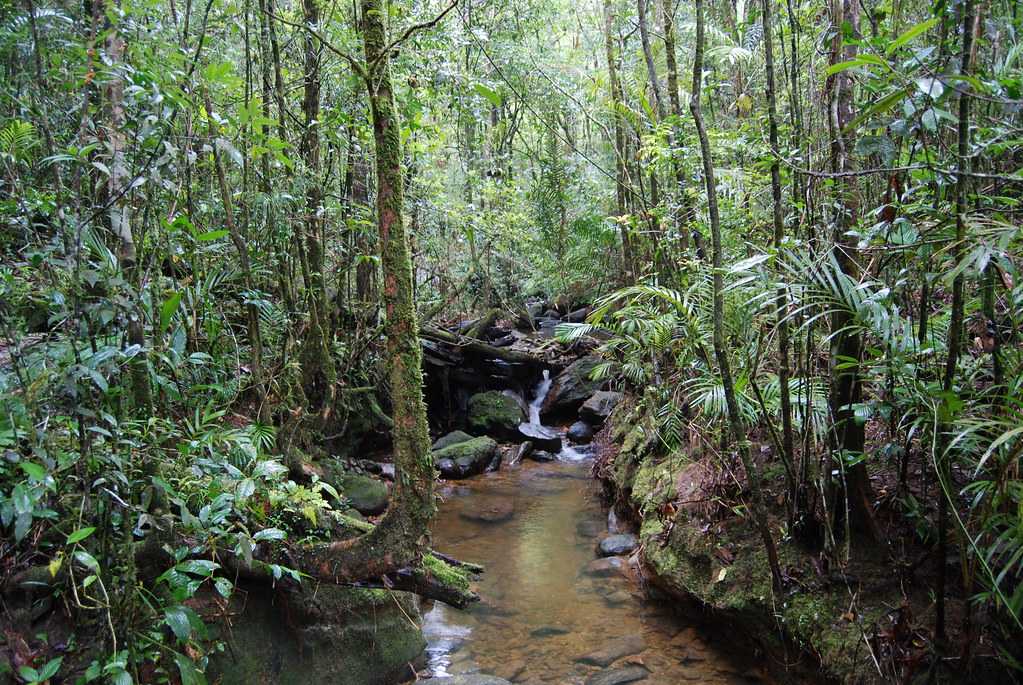 The Kinabalu National Park, which is also Malaysia's first UNESCO World Heritage Site, also happens to be one of the most diverse areas across the planet when it comes to wildlife and biodiversity. Home to four different climatic zones, the area supports over 5000 species of plants alone, including the rafflesia and a thousand types of orchids; apart from other birds and animal species. When visiting the Kinabalu National Park, make sure to look out for certain animals, including orangutan, rhinoceros hornbill, leopard, Malayan weasel, Bornean gibbon, bearded pig, tarsier, elephant, and mountain serpent-eagle among other species of wildlife in Malaysia.
Location: Sabah
9. Semenggoh Nature Reserve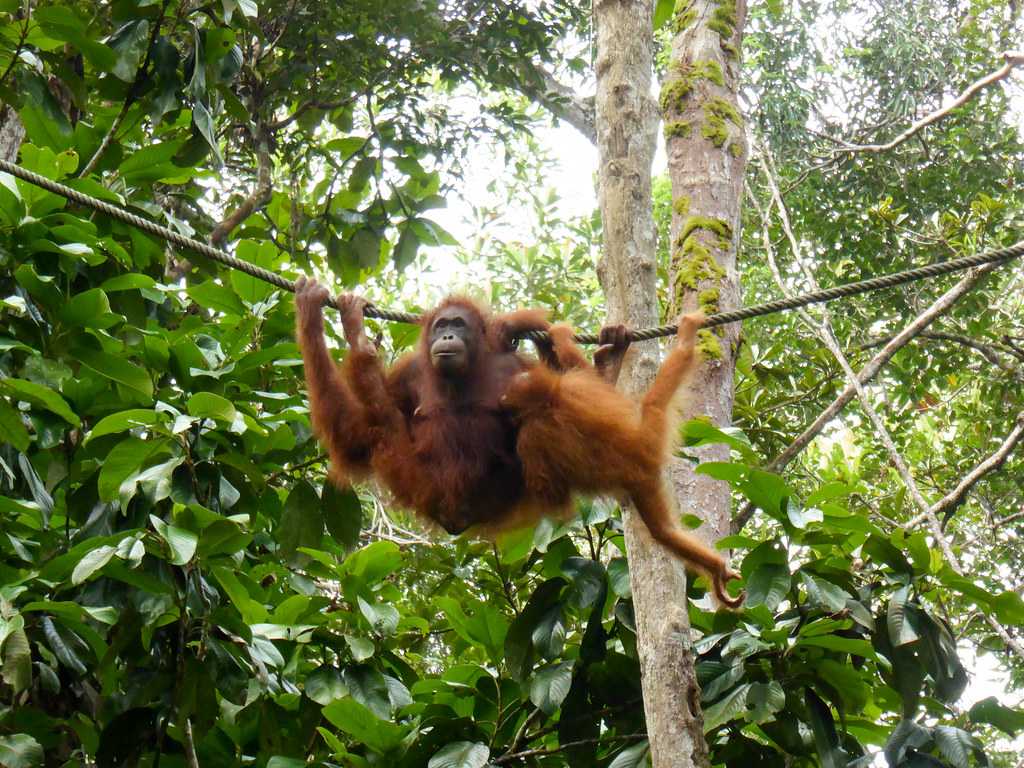 The Semenggoh Nature Reserve is a really unique and noble concept, with the nature reserve also doubling up as an important
orangutan rehab centre where homeless and injured orangutans are lovingly taken care of. In fact, these animals are free to move around wherever they want to in a massive 4300-hectare forest reserve area, while tourists simply watch them in their natural habitat or rehab paddock. The best part about the reserve is that it is not a petting zoo or a performance area, which means that the animals here are not at all exploited, and are in completely safe hands.
Location: Siburan, Sarawak
10. Kilim Geoforest Park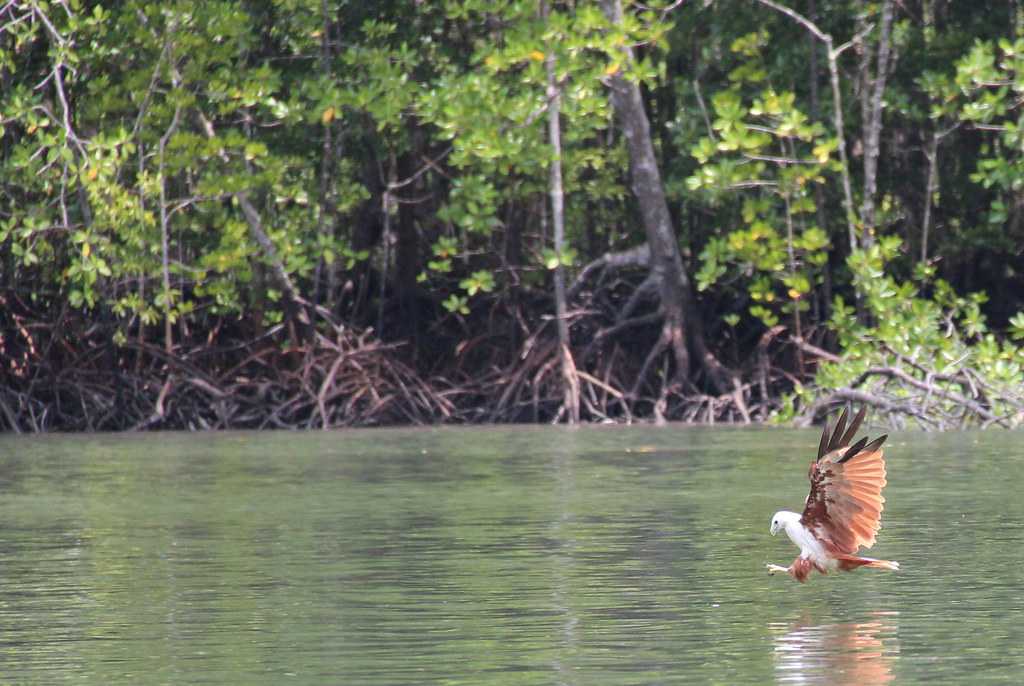 Spread over a total area of 100 square kilometres; the Kilim Geoforest Park has massive expanses of nature reserves, pristine beauty, and awe-inspiring landscapes. Kilim is also home to numerous natural limestone rock formations, caves, and mangroves, and visitors get the golden opportunity to pass along the river, right through the mangrove swamps. Interestingly, Kilim is also the only place in the country where wildlife in Malaysia apart where coastal karst and mangrove ecosystems coexist in peace; and don't be surprised to see a lot of monkeys, including macaques at the reserve.
Location: Kampung Kilim
Thanks to its numerous state and national parks, nature reserves and conservation areas spread all across the country, getting to enjoy the exotic wildlife in Malaysia is no big feat! If you look closely, you will be able to spot some or the other unique species lurking right beside you; which truly makes Malaysia a paradise not just for wildlife lovers and wildlife photographers; but also for anyone who wishes to feel close to nature and enjoy in her vicinity.