Many dream of a getaway from the routine of skyscrapers and busy markets of Malaysia. Perhaps, hiking in Malaysia is one of the best holiday retreats for both locals and foreigners alike. Malaysian peaks beckon adventurous nature lovers. These hiking trails in Malaysia should be on your list if you haven't conquered them yet!
1. Mount Kinabalu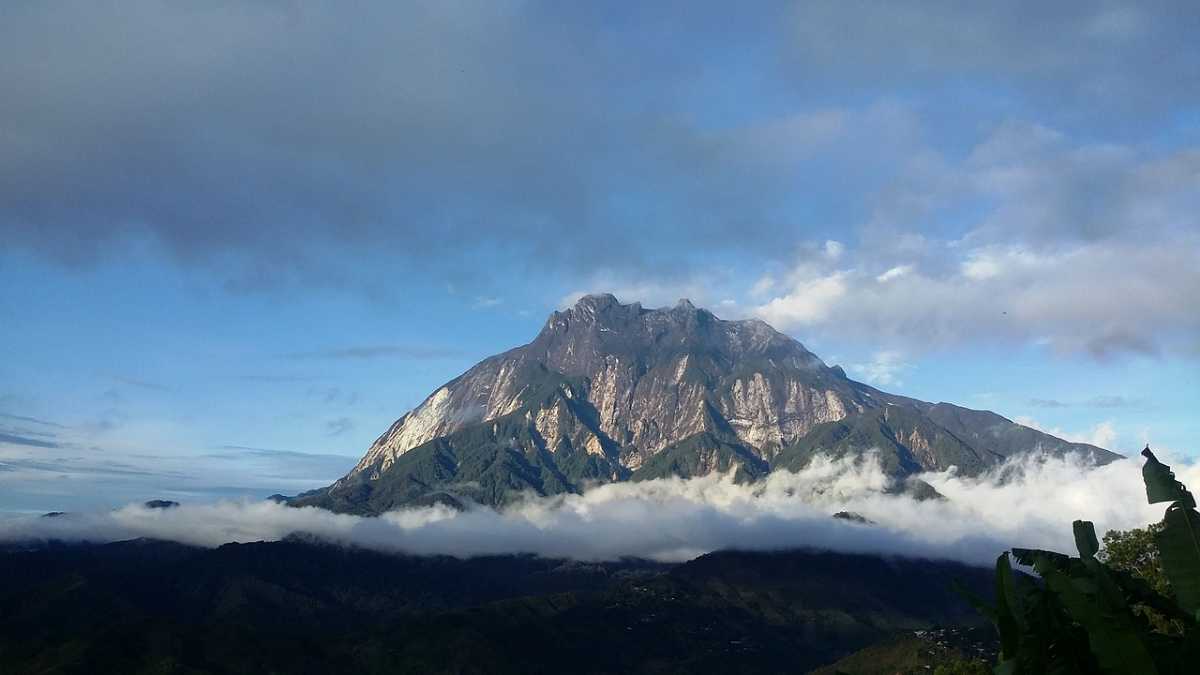 Famous for being one of the tallest mountains in Southeast Asia, Mount Kinabalu's peak is located 4101 metres above sea level. The mountain is suitable for beginners, as this hike in Malaysia can be done without any special gear or training. The hike requires rope scrambling at some very steep points. Although the trail is easy to follow, the slopes are slippery, and fog creates visibility issues. The entire hike is about 8.70 KM, and climbers have two days to attempt the climb. Mount Kinabalu has the highest via Ferrata route in the world, enabling even non-climbers to go past rocky points. The peak offers a spectacular view, and one can find oneself above the clouds. The best months to climb Mount Kinabalu are February, March and April when the season is dry.
Location: West Coast Division, Sabah
Cost: RM1625 and above
Timings: 7:30 AM to 10:30 AM
How to reach: There are many ways to reach the mountain including bus, taxi and car. The most convenient of all is to reach the Kinabalu Park entrance. Buses going towards Ranau, Sandakan and Tawau will also pass through the entrance. Visitors can arrive here via taxi, as taxis operate throughout the region. Travelling on a motorbike is an option for those seeking an adventurous journey to the starting point in the Park. 
Time required: 2 days
2. Bukit Tabur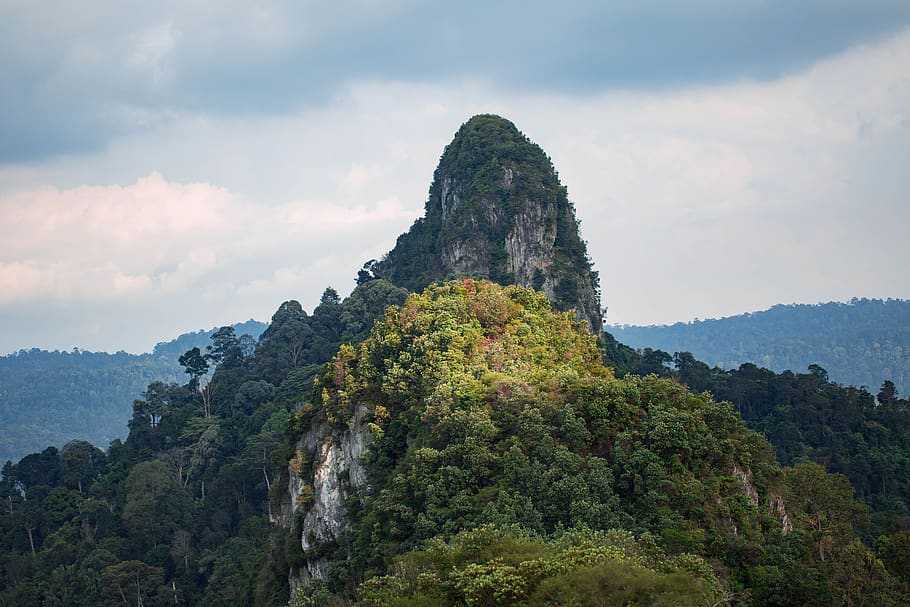 Locally known as Bukit Hangus, Bukit Tabur is a part of Klang Gates Quartz Ridge in Selangor. The hill is located about 20 KM away from the city centre. There are five trails to reach Bukit Tabur, and all of them lead to different peaks. After a few minutes of the hike, you can get breathtaking views of Taman Melawati and Downtown Kuala Lumpur. After reaching up to the Ridge, hikers can see the lush green forest around Klang Gates reservoir on one side and concrete parks on the other. It is ideal to start the hike at 5:30 AM to catch a glimpse of the sunrise on the peak. The trail is dangerous because of slippery limestone terrain. Because of the dangers of the hike, climbers cannot proceed without a permit from the government.
Location: Taman Melawati, Kuala Lumpur
Cost: RM20 onwards (without hiring a guide)
How to reach: The trailhead is located approximately 30 minutes away from Kuala Lumpur. Visitors can choose to drive or take a bus. From Kuala Lumpur, head towards the Puduraya Bus Terminal. From here, get down at Taman Melawati and a 10-minute walk from here will take you to Bukit Tabur.  
Time Required: 3-4 hours
3. Cameron Highlands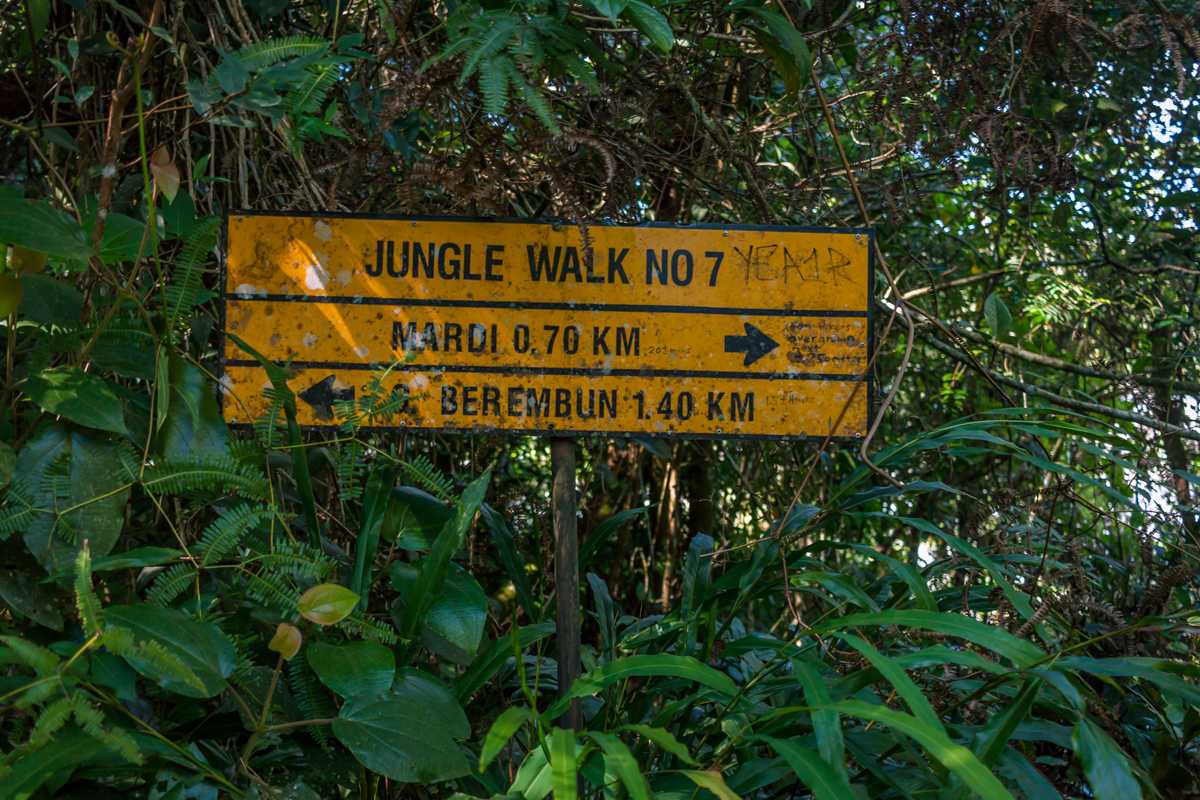 Located about 2,000 metres above sea level, Cameron Highlands is a popular highland retreat in Malaysia. Hiking is a good way to experience the highlands, as there are interesting trails on the mountainside. It has a comprehensive network of trails built through the forests during World War 2. Most of the trails start and end at Tanah Rata. Several trails for hiking in Malaysia lead to Boh tea plantations, Parit Falls, Sam Poh Temple, Robinson Falls and Gurung Beremban. Tanah Rata, which serves as the base for all trails, is a small town but has accommodation for budget travellers and foreigners alike.
Location: Kuala Lumpur
Cost: RM100 - RM150 per day (including cost of accommodation and food)
How to reach: Taking a bus from Kuala Lumpur or Penang is the most convenient option. The buses leave from Bersepadu Selatan Terminal and arrive at Tanah Rata, which is the closest bus station. The bus ride will cost not more than RM40. After reaching Tanah Rata, travellers can either board the shuttle buses, walk on foot or take a cab to reach Brinchang Town. 
Time required: 3-4 hours
4. Penang Hill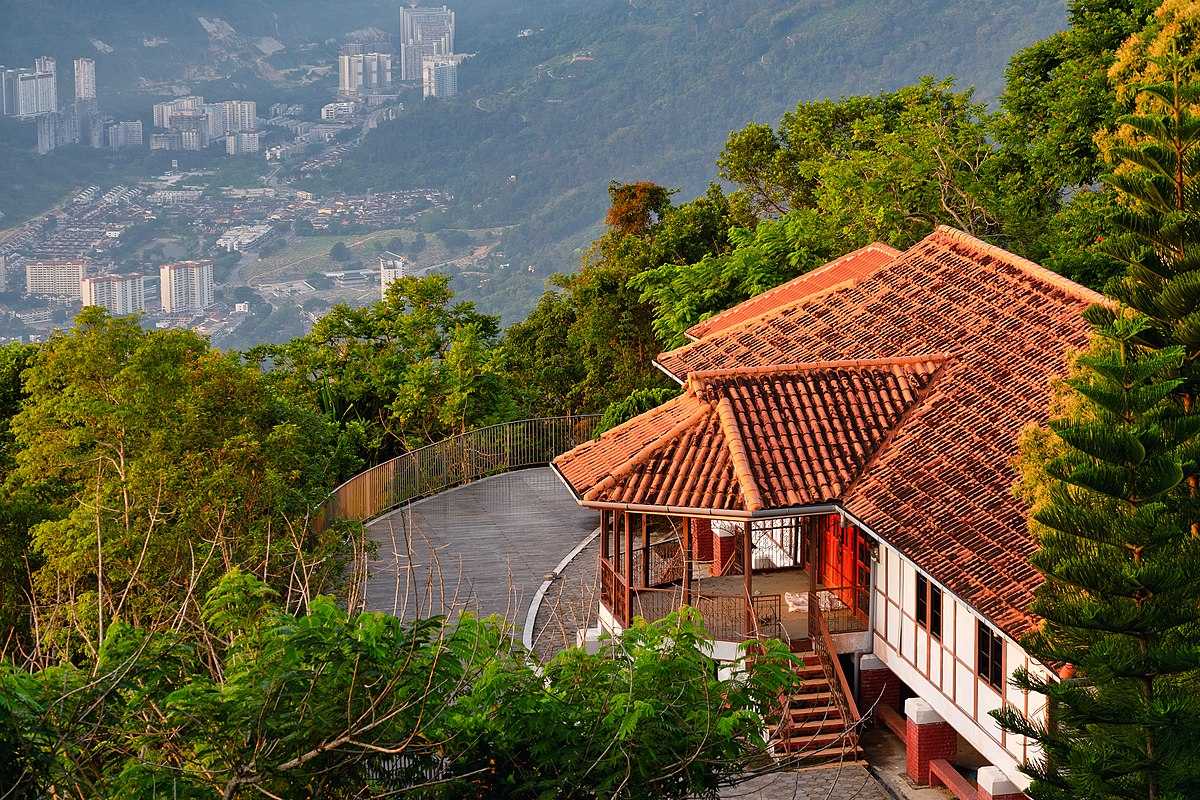 Also known as the Western Hill, Penang Hill is 830 metres above sea level. The weather is pleasant most of the time and temperature is five degrees less than in the city. The tropical forests of the hill host variety of fauna and flora. There are a couple of routes which start from the Penang Botanic Gardens. One of the main attractions in the trail is the beautiful view of Penang Bridge and Georgetown. On clear days, one can see as far as Gurung Jerai. There are plenty of other things to see while returning from this exotic experience of hiking in Malaysia such as souvenir stalls, old post offices, colonial-era bungalows, rides and a mini bird park.
Location: Penang botanical garden location
Cost: RM40.65 onwards
How to reach: Visitors can consider taking a taxi or boarding a bus. Get down at the botanical garden and walk till moongate, which is the starting point of the trail. 
Timings: 9 AM to 7 PM
Time required: 3 hours
5. Gunung Jerai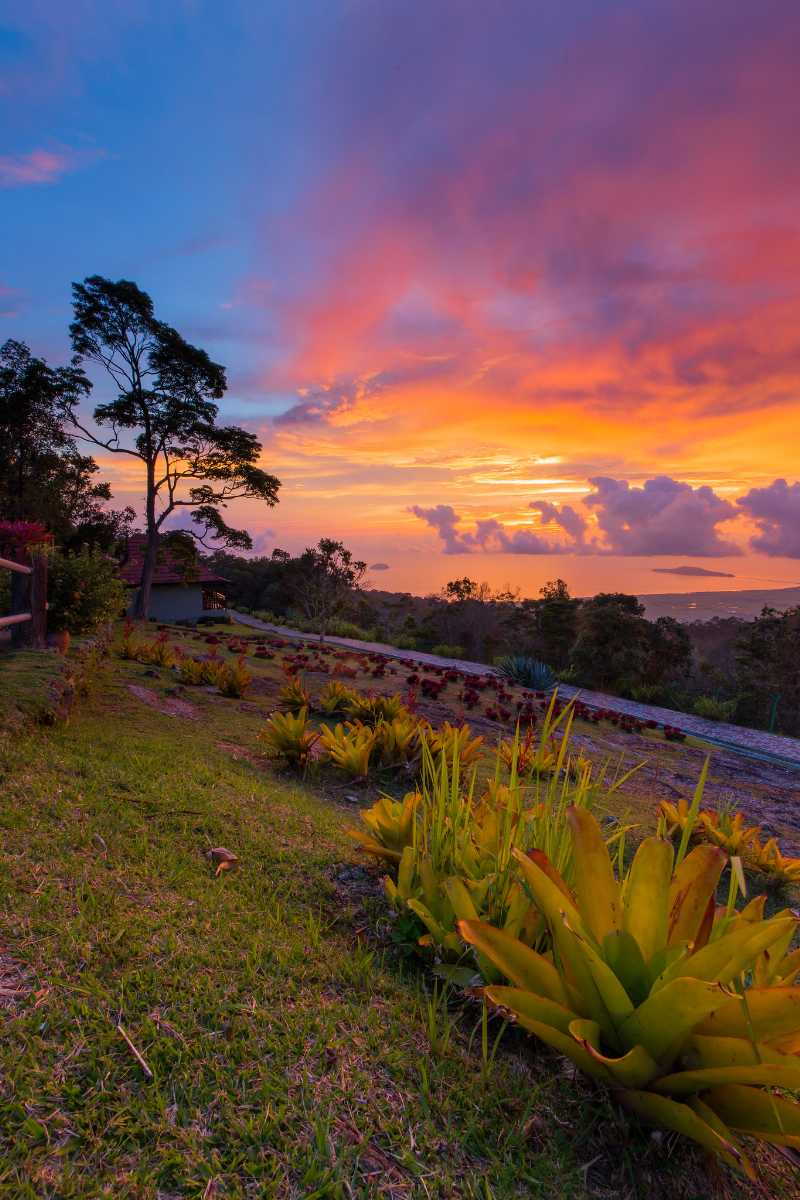 Formerly known as Kedah Peak, Mount Jerai raises 1340 metres above the surrounding plain. The hill resort is famous for its forests, where the vegetation changes drastically as one climbs higher. Dusky Leaf Monkeys can be easily sighted along this trail in Malaysia. At 1000 metres above sea level, visitors are granted panoramas of western coastline and Bunting Island. No permits are required at this mountain while hiking in Malaysia.
Location: Kedah
Cost: RM40.65
How to Reach: Visitors can travel via train, taxi or bus. Buses are available from kuala Lumpur City Centre via Padang. The nearest railway station is Gurun station. The hill is a 30-minute drive from this station. However, taking a taxi is considered to be the most convenient option as one has to change buses to reach the location. 
Time Required: 1- 1.5 hours
6. Mount Pulai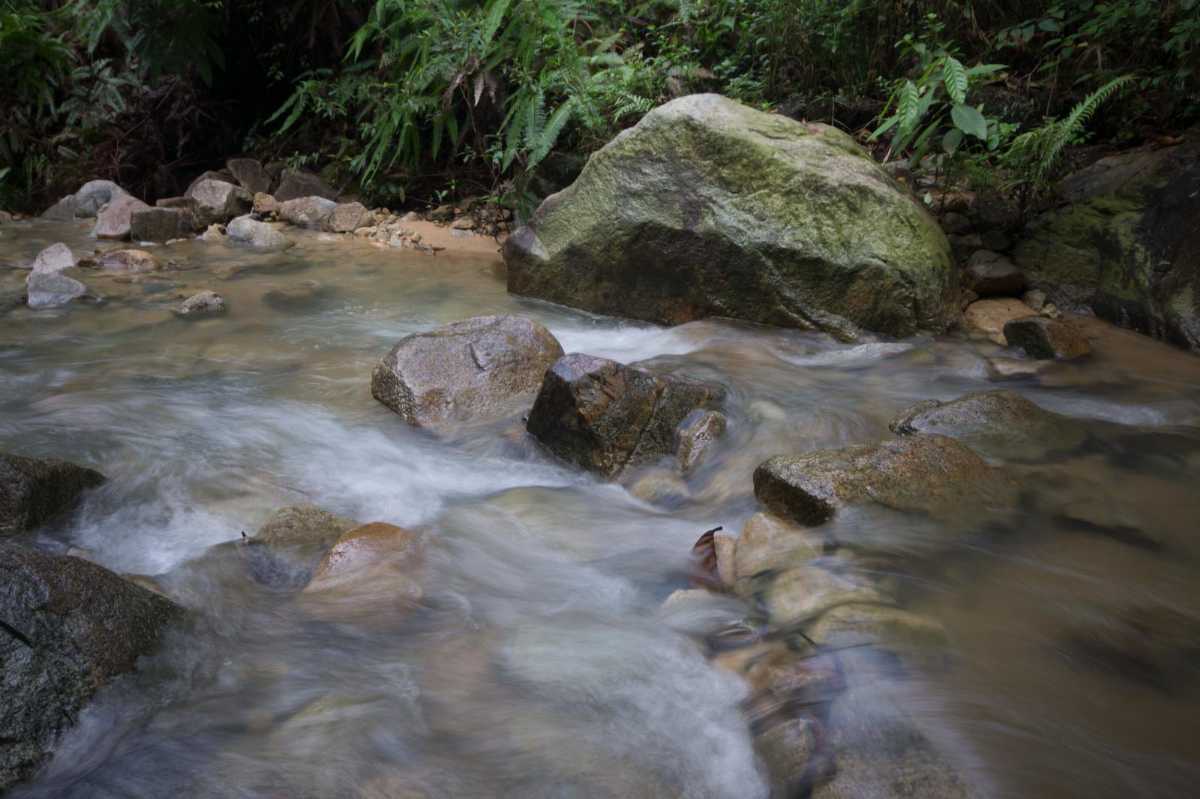 Located close to Singapore, Mount Pulai stands 650 metres above sea level. It is a favourite getaway not only for the locals but also for Singaporeans. The hike is 5 KM each way and takes a minimum of 4 hours on the whole. Early mornings at Mount Pulai are pure cloudy. After reaching the summit, climbers will get a panoramic view of the town and Pulai's own recreational park. There is a campsite near Pulai waterfall, which is a good place to relax, stay or wander around for some time while hiking in Malaysia. The trail is full with tall trees, giving hikers a view of the canopy. There is also a Durian farm, the fruit which is famous for its smell.
Location: Johor Bahru
Cost: RM80 onwards (without accommodation)
How to reach: Kulai Terminal is the nearest bus stop. All buses going towards Johor Bahru Sentral stop at this station. The buses operate frequently. Visitors can also take a regular taxi, however it is difficult to find taxis to this location.  
Time required: 4-5 hours
7. Panorama Hill
The Panorama Hill is a famous tourist spot for beginners while hiking in Malaysia. The climb takes a minimum of 45 minutes and has well-maintained stairs that lead to the summit. It is ideal to begin the course at 5:30 AM to catch a glimpse of the sunrise. Coming here during the weekdays is advisable, as it becomes crowded and noisy during the holidays and weekends. Hikers can also see the fog enveloping nearby villages. There are fewer shops available, so it is better to carry some snacks and a water bottle. The climb is easy for children, making it a favourite recreation spot for families.
Location: Kampung Kuala Kenau, 26200 Sungai Lembing, Pahang
Time Required: 1 hour
How to reach: Sungai Lembing Terminal is the nearest bus station. Apart from buses, taxis can also be taken to reach the location. 
8. Broga Hill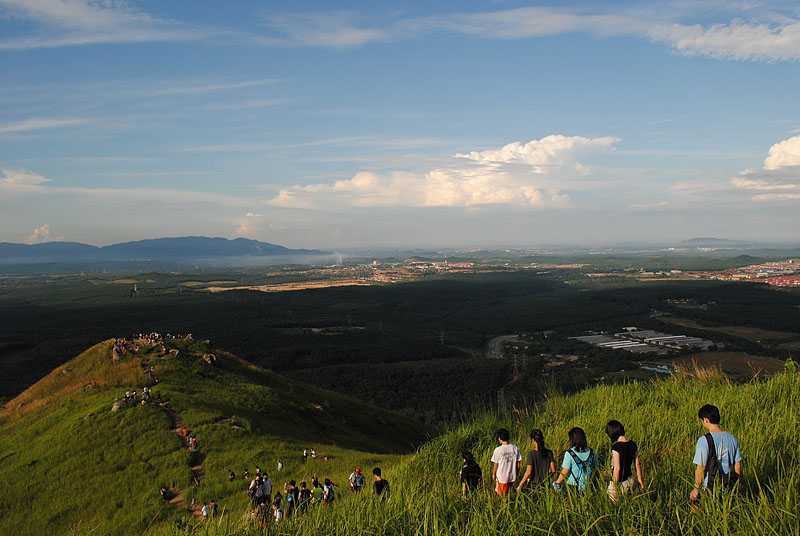 One of the easiest places in Kuala Lumpur to choose for some hiking in Malaysia, Broga Hill is only 400 metres high and can be climbed in an hour. However, the hill has steep slopes, which can be challenging for beginners and those with knee pain. An arch marks the start of the trail. From the peak, hikers can get a beautiful view of the plains, waterfalls, rainforests, distant mountains, villages, towns and oil plantations. The charge per vehicle at the parking is RM1.02. "Bukit Lalang" is the local grass that grows abundantly here. Once you have completed the trail, there is a coconut stall at the end where you can enjoy a refreshing drink.
Location: JLN Broga
Cost: RM20.33
Time required: 1 Hour
How to reach: From Broga, taxi is a convenient option as it takes 12 minutes via B34 to reach the starting point. From Kuala Lumpur, the taxi will take 40 minutes to reach the hill. Visitors can also board U415 bus to reach Simpang Pelangi Semenyih Jalan Semenyih, which is the nearest bus station. 
9. Mount Baling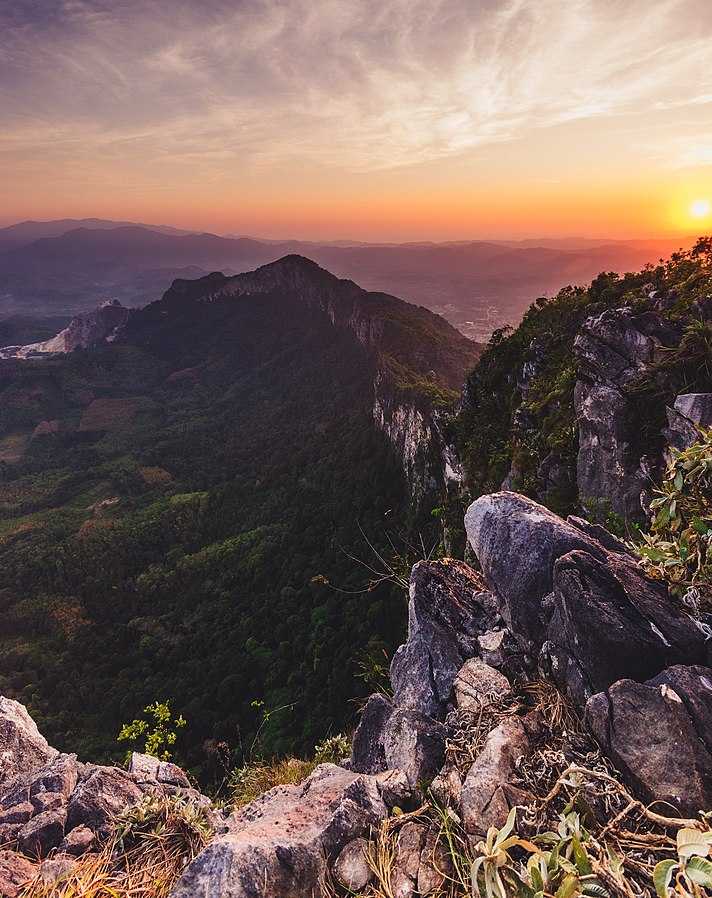 Situated in Kedah near the town of Baling, the mountain is 550 metres above sea level. Though this is a challenging experience while hiking in Malaysia, Mount Baling gives a beautiful view of the neighbouring lands. There are several steep points on the trail, making it difficult to climb quickly. To watch the sunrise at the peak, one should start hiking at 3:00 AM. Experienced guides are easily available at affordable prices, and hence there is no worry for visitors. The starting point of the trail is at a carpark near the mountain. The initial half of the trail can be slippery, especially in the rainy season. However, there are handrails to support the climb. The terrain gets rockier as hikers climb higher. Coming back can be hard on the knees. It is advised to take a guide's help to avoid danger.
Time required: 5 Hours
How to reach: Stesen Bus Baling is the nearest bus station. Visitors can board the buses from Kuala Lumpur or Selangor to get down here. From this point, the entrance is about 1.8km. Taxis can fetch visitors to this point. Other forms of public transport are not available to the entrance point. Visitors can alternatively choose to travel in a private care or hire a taxi. 
10. Rainbow Waterfall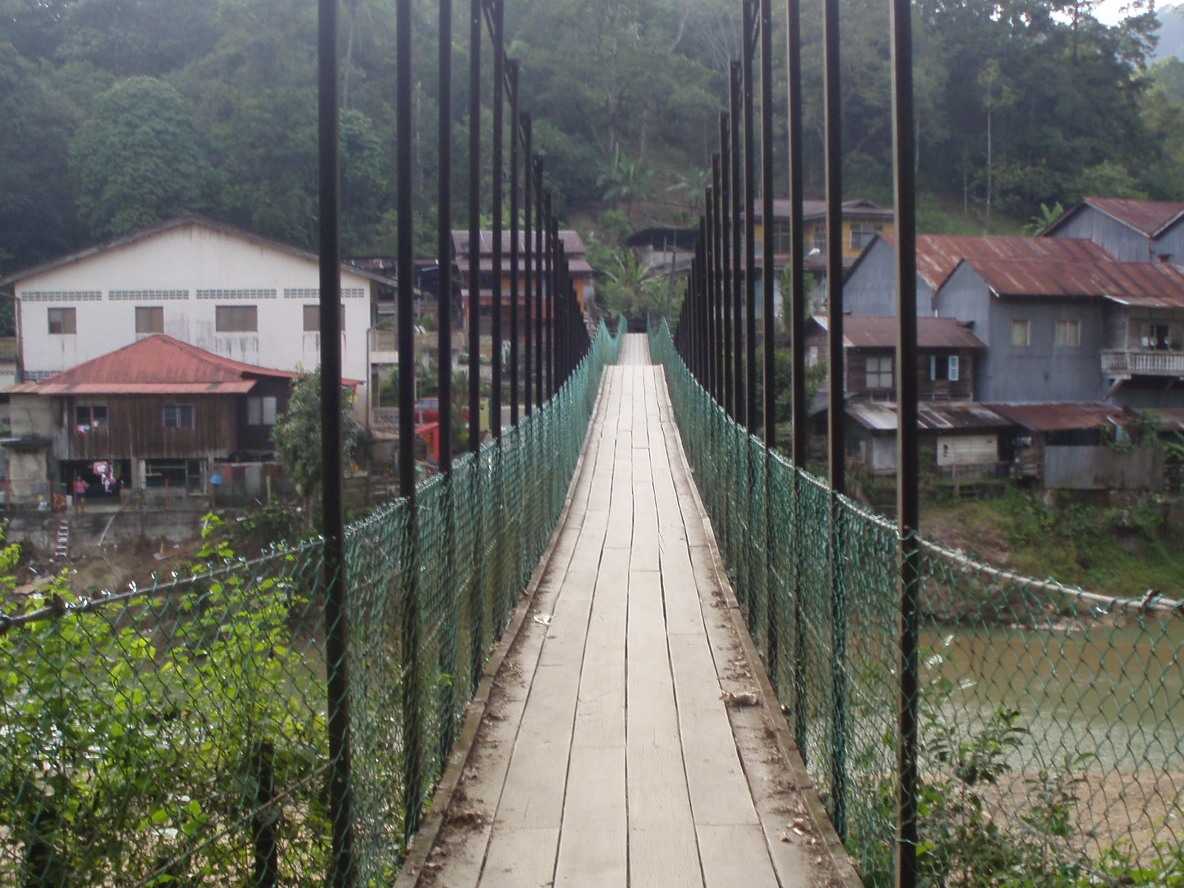 Rainbow waterfall is considered to be one of the most beautiful features of the Malaysian rainforest. Located in Sungai Lembing, the waterfall gets its name from its unique nature to emit a rainbow when the sunlight hits the waterfall. Climbers should reach the waterfall by 9 AM to witness the majestic rainbow phenomenon. Visitors would have to take up a 45-minute course while hiking in Malaysia here to reach the waterfall point. From the peak to this sandy hill, visitors can get a beautiful view of the sunrise.
Location: Pahang, Malaysia
Cost: RM101 onwards
Time required: 45 minutes
How to reach: For visitors travelling from Kuala Lumpur, it takes three hours to reach Kuantan in Pahang State. From here, it is a 45-minute drive to reach Sungai Lembing, which serves as the base for this trail. 
General Tips for Hiking in Malaysia
Make sure you are in a good, healthy condition to trek. Be careful while choosing the trail according to your experience in hiking.
Do not forget to carry water, light snacks, spare pair of clothes, emergency medicines, mosquito repellent cream and a phone/camera for a soothing experience.
Notify your local authorities or obtain permits whenever required
Take the help of a local guide as some trails can be dangerous.
Do your research about the routes, easy trails and viewpoints before hiking in Malaysia
Keep an eye on the weather forecast. It is advised to delay the trek if rain or storm is likely.
Wear comfortable full-sleeved clothes paired with branded trekking shoes.
Are you ready to rise to the challenge? Which hiking trail are you on next? The mountains are calling. So get on your way now!