The official religion of Malaysia is Islam practised by more than 60% of the population. The second-largest religion in Malaysia is Buddhism followed by almost 20% of Malaysian citizens. The other commonly practised religions in Malaysia are Christianity, Hinduism, Sikhism, Animism, folk religion and other belief systems.
| | |
| --- | --- |
| Religious Distribution in Malaysia | Population Percentage |
| Islam | 61% |
| Buddhism | 20% |
| Christianity | 9% |
| Hinduism | 6.5% |
| Confucianism, Taoism, and other Chinese folk religion | 1.5% |
| Other religions | 0.5% |
Islam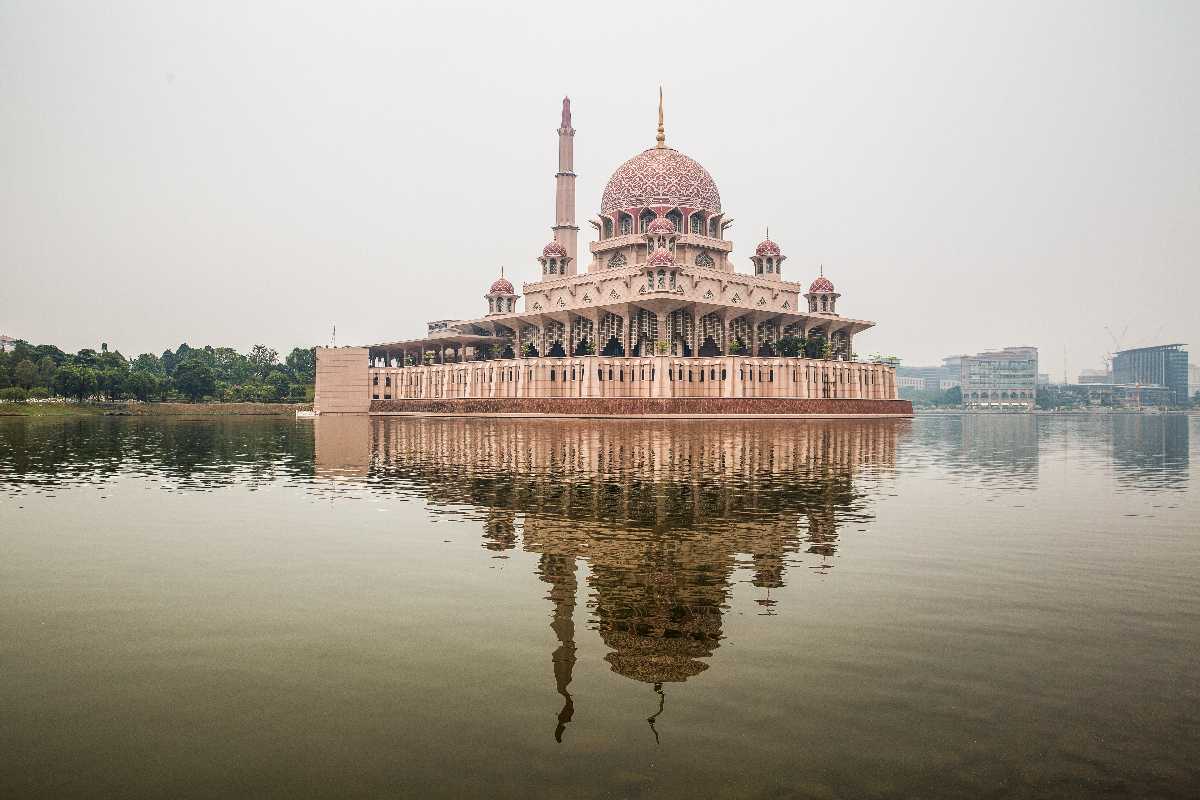 The official religion of Malaysia, Sunni Islam is practised by more than 60% of Malaysian citizens. The Sultans are said to be the guardians of the religion in Malaysia. It is important to note that ethnic Malay Malaysians cannot convert to other religions, and individuals who wish to marry Muslims must convert to Islam first. The esoteric, moving afternoon prayers are observed with much dedication – it is common to see large groups of Muslim men traditionally wearing in a songkok (brimless hat) outside mosques. A visit to the Islamic Arts Museum in Kuala Lumpur gives a fascinating insight into the evolution of the Malaysian religion.
Popular mosques: Jamek Mosque (Kuala Lumpur), Putra Mosque (Putrajaya), National Mosque (Kuala Lumpur), Kampung Kling Mosque (Kampung), Sultan Salahuddin Abdul Aziz Shah Mosque (Selangor)
2. Buddhism and Chinese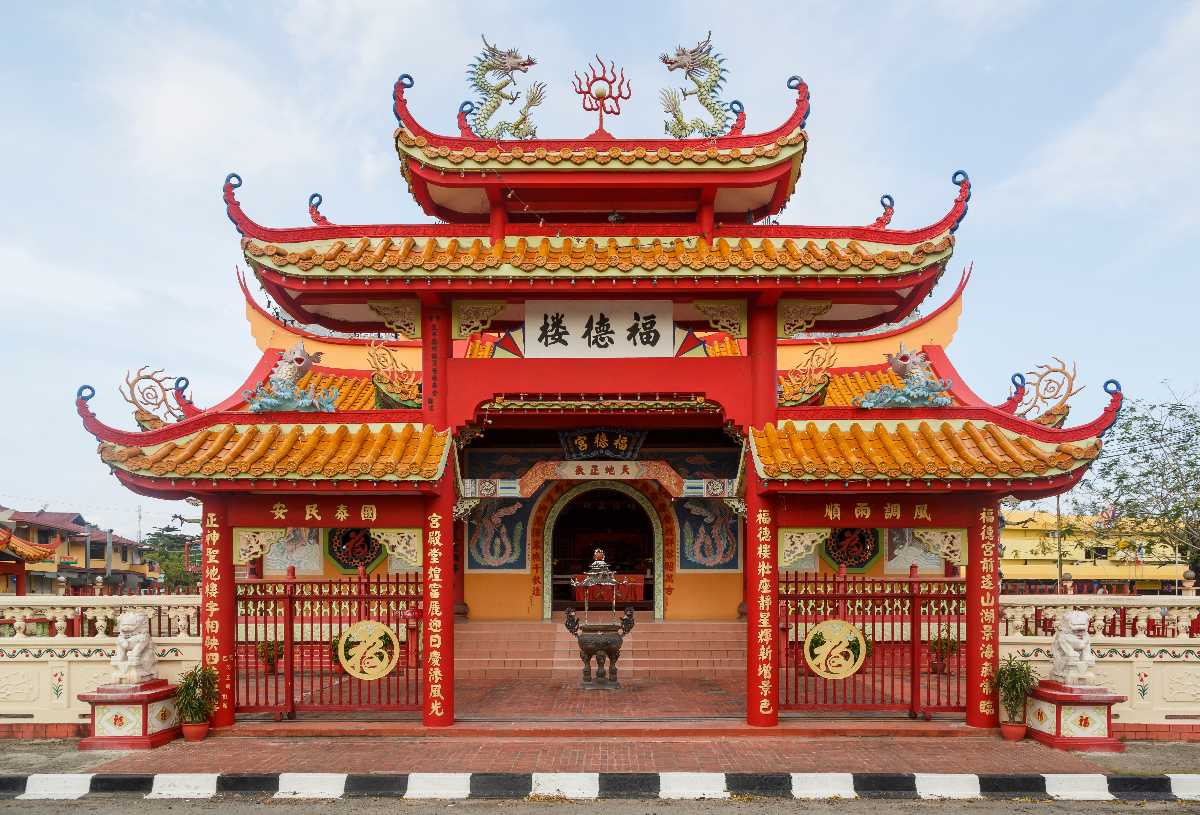 With more than one-fifth of the population practising Buddhism, this is the second-largest religion in Malaysia. Introduced by Chinese and Indian traders more than two thousand years ago, the prominent sect of Buddhism followed here is Mahayana, with a Sinhalese Theravada minority too. Buddhist festivals are observed as national holidays in the country, as directed by the Malaysian Buddhist Council. The messages of peace, unity, brotherhood, and enlightenment are evident in the practices of Buddhists, and the vivid festivals only add to the charm. Confucianism, Taoism, and Daoism are practised by a minority here. The blanket term of Chinese religions is used as most of the practitioners' hail from China and Taiwan.
Popular Chinese temples: Thean Hou (Kuala Lumpur), Sam Poh Tong (Perak), Kek Lok Si (Penang), Cheng Hoon Teng Temple (Malacca), Wat Photivihan (Kelantan), Kong Hock Keong Chinese temple (Penang), Ling San Temple (Sabah), Wat Photivihan (Kelantan)
3. Christianity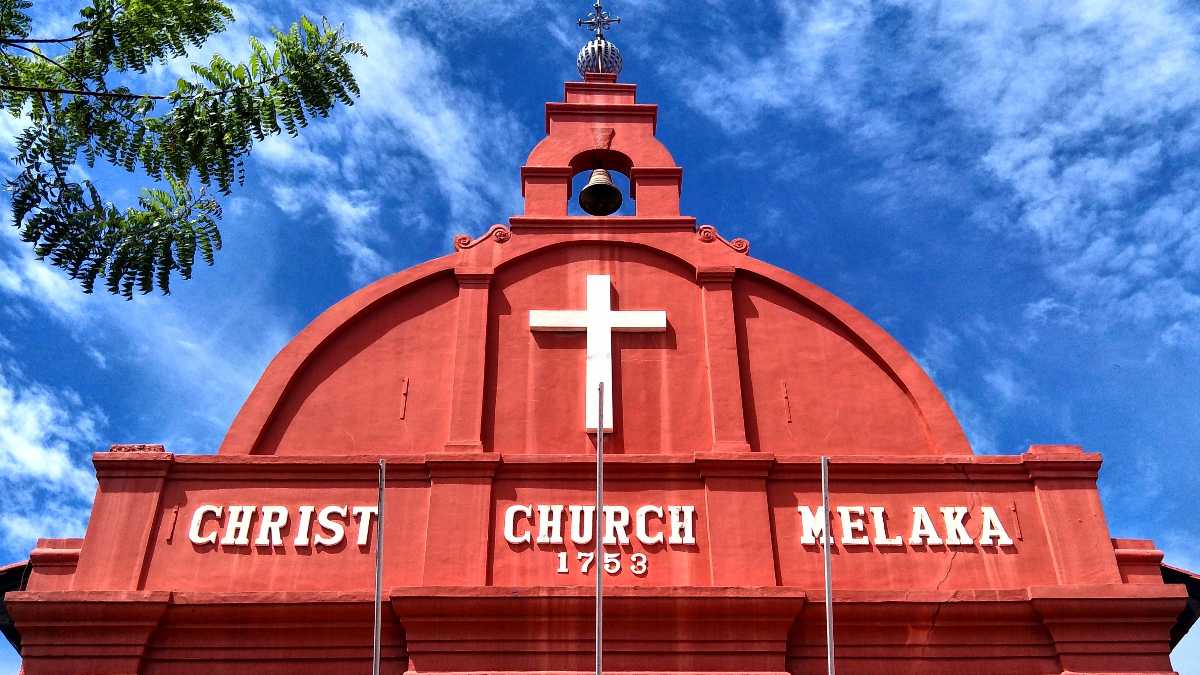 Although a minority religion in Malaysia, the state of Sarawak is the only Christian state here. The advent of the Dutch and British in Malaysia brought stunning examples of European architecture here, with Romanesque, Baroque, and Gothic styles. One can find Catholic, Protestant, and Methodist churches here.
Popular churches: St Paul's, Dutch Anglican Christ Church (Malacca), St Mary's Cathedral (Kuala Lumpur), St George's Church (Penang)
4. Hinduism
Continuous migration from different parts of India – especially Tamil Nadu - brought Hinduism to Malaysia as early as two thousand years ago. There is also quite a percentage of the population practices Hinduism, with a prominent Indian-Malaysian community at the forefront. Temples for deities like Shiva, Muruga, and Devi are famous.
Popular Hindu temples: Sri Mahamariamman Temple (Kuala Lumpur), Batu Caves (Selangor), Sri Poyatha Murthi Temple (Malacca)  
5. Other Religions
Existing in the minority, Sikhism and the Baha'I Faith are practised by individuals hailing from India and China respectively. One can get a fascinating insight into the history of religion in Malaysia before migrations and invasions from the pagan and animistic religions practised by the indigenous tribes of Sarawak and Sabah, near Mount Kinabalu. While not many practitioners remain now, the well-preserved artefacts in museums shed light on these esoteric practices. Atheism is catching up in Malaysia, especially in the bigger cities.
One of the most interesting facets of social life, religion in Malaysia governs most of its interactions and customs. The vast diversity and difference in practices are a delight to watch, and the juxtaposition of the various faiths gives Malaysia its unique dynamic with tourists and locals alike.