Having a stretch of more than 8 km, Kuta beach is the most popular surfing location and the most beginner-friendly beach in Bali. The soft tide and the appropriate height of the waves make it the safest beach for beginners to learn the art of surfing. One can look out for spots for surfing on any of the 3 main areas of Kuta namely Kuta Beach, Legian Beach, Seminyak Beach. Being quite popular in the fraternity of surfers, it is quite easy to find surfboards for rent and surf instructors directly on the beach.
Kuta, also known as Pantai Kuta, is the most popular beach on the island and is always crowded with backpackers and tourists. Also, the safety of the surfers is ensured by the lifeguards on the beach who are ready to help if there's any trouble.

Best tide:
Mid to high rise tide.

Best wave size:
2 – 6 feet (0.5 – 2 metres).

Surf Spot type:
Beach break with sand bottom.
     
Surfboard type:
Any shape or size board you desire!
 
Best time for surfing:
Dry Season; May – September        
Surf Spots in Kuta, Lombok
1. Mawi Beach
At a distance of 20 km from Kuta Beach, Mawi beach is a reef break beach that offers a higher tide for surfing. It's a beautiful beach with sheds and huts and 2 little shops selling food and drinks.
Best Time: Dry season break
Location: On the south-west coast of Lombok, 40 minutes drive from Kuta
Price: 10 000 IDR to access the spot
Surfer Level: Intermediate to advanced
2. Inside and Outside Grupuk
A 20-minute boat ride from Grupuk will get you to a beautiful island which is just the perfect place to surf. Get to Grupuk and the boat drivers will be more than happy to get you to this surfing spot.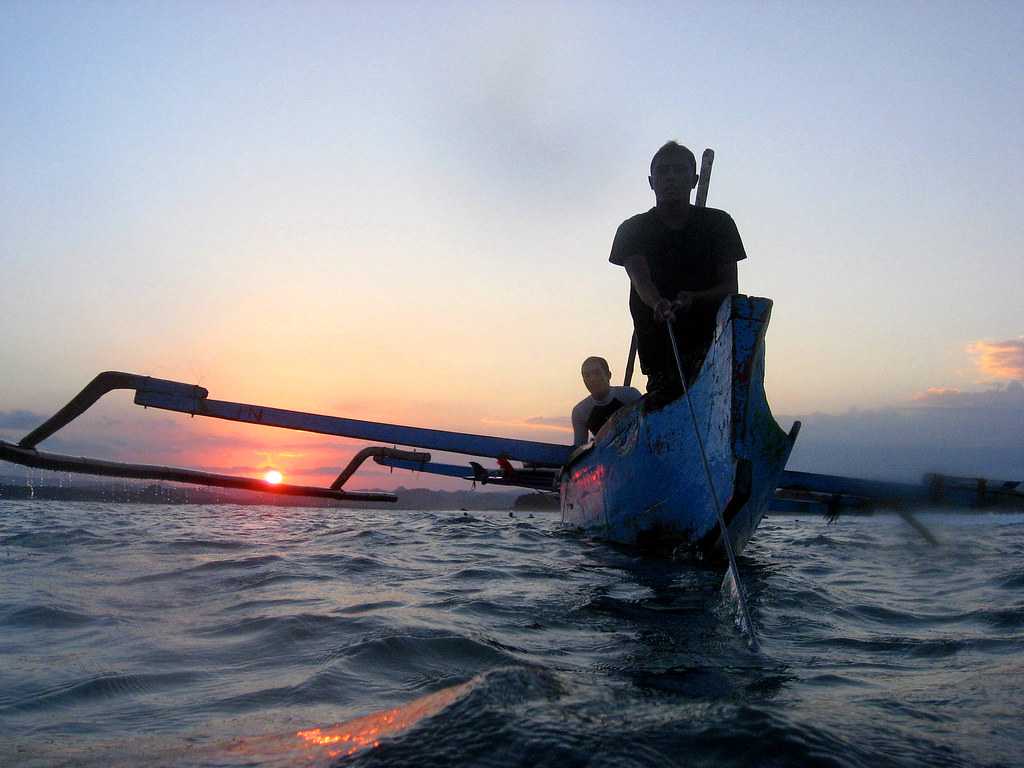 Best Time: Early in the morning to avoid excess crowd
Location: About 25 minutes ride from Kuta
Price: You will have to pay between 130 000 IDR to 250 000 IDR for the whole boat. The expensive ones provide a surf guide as well, who will help you surf once you reach the spot. The cheaper ones just have the boat drivers
Level: Beginner to intermediate
3. Air Guling
On the way to Mawi, Air Guling is a good spot with reefs and hidden rocks. Much less crowded than Mawi or Grupuk, the beach also has a little shack for food and drinks.
Best Time: after low tide to get the best surf experience
Location: On the South coast of Lombok, about 25 minutes from Kuta Lombok
Price: 0 to 10,000 IDR depending on the time of visit
Level: Intermediate to advanced. The reef is sharp with submerged rocks, so be a little careful.
4. Seger Beach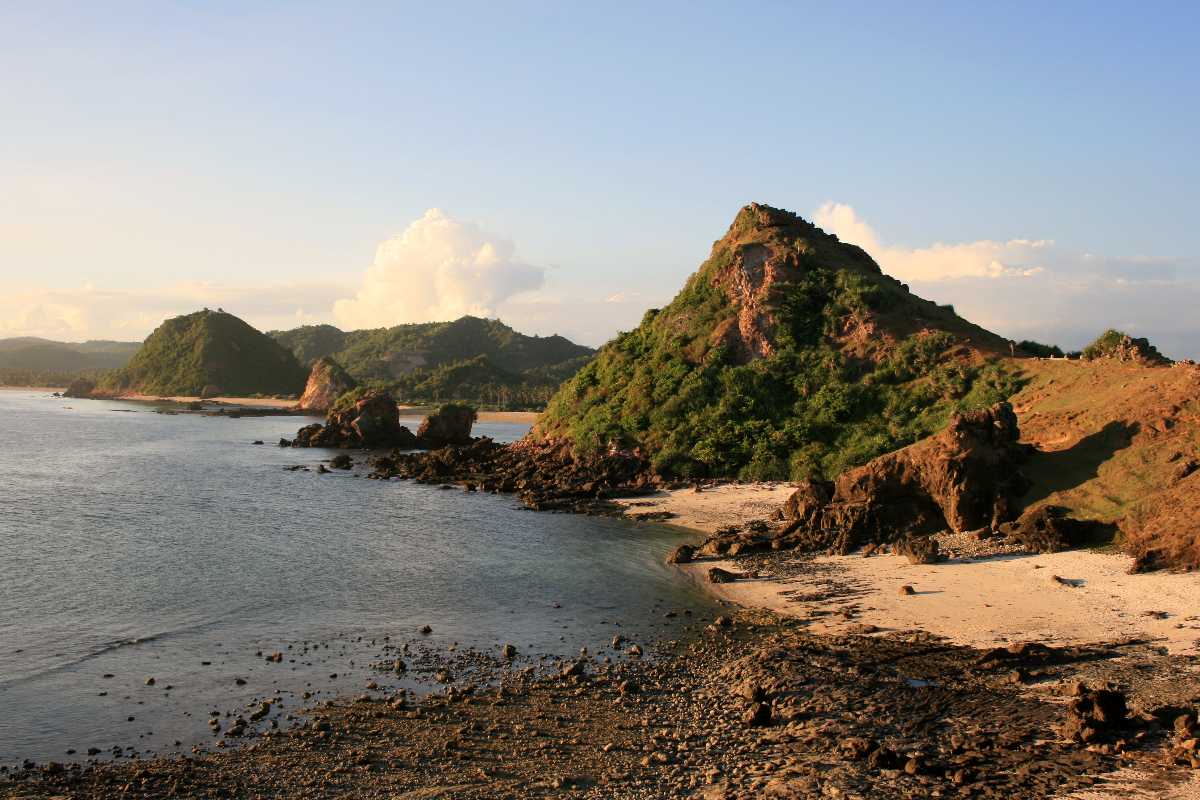 At a distance of 3 km from Kuta Lombok, Seger is a good and less crowded spot for surfing.
Best Time: Anytime but the waves are sensitive to winds
Location: Opposite to Novotel in Kuta Lombok, only 5 minute scooter ride from Kuta.
Price: You can park your scooter free of cost.
Level: Beginner to intermediate; smaller waves and the reef is neither too sharp not too shallow
Surf Lessons in Kuta
There are multiple options if you want to learn surfing in Kuta. The most viable of them are:
1. Surf lessons from locals: The local boys at the beach charge about 30-35 USD for 1 lesson, and it's negotiable. Most of them are really good surfers and also, good instructors.
2. Individual surf lessons: A lot more personal attention and hence a little more expensive. It costs around 78 USD with a certificated surf instructor guiding you throughout.
3. Surf schools: They provide private, semi-private or group lessons. The groups consist of 4-5 people. More the number of sessions, the lesser you have to pay for each session. For instance, 3 lessons at a good surf school will cost you about 45 USD per lesson including a professional instructor and visual analysis after each lesson. The cost you pay includes transfer to a surf spot, soft drinks, surf gear rent, surf clothes and towels.
4. Surf Guiding: It's more suitable for people who have surfed before. The guides will help you find a surf spot appropriate to your surfing skills. The guide will also go for a ride to ensure safety. The cost for guides start from 45 USD and reduces considerably as the number of people increase.
Surfing Schools in Kuta
SURF SCHOOLS (WITH ACCOMMODATION)
1. Dream Sea Surf Camp
Surf lessons:
From USD $22 per person per day (2-hour group surf lesson)
Surf camp: From USD $419 per person for 8 days and 7 nights (Inclusive of accommodation, breakfast, dinner, 10 hours surfing lessons, 3 hours of yoga lessons and free access to equipment)
Address: Jl. Labuansait No.432, Pecatu, Kuta Sel., Kabupaten Badung, Bali, Indonesia
Contact: +62 361 3350 603

The modern beach house is located in Uluwatu, also known as the little Greece of Bali! The beautiful location and the best waves to surf will surely get you enthralled about the Dream Sea Surf Camp. It gives you access to a semi-private beach that is known for its mesmerizing view of the sunset.
2. Endless Summer
Surf lessons: From USD $ 52 per adult per day ( 2 sessions in a day)

Surf Camp Kuta: From $45 per person per night (Room, including 6 surfing lessons per week, airport and surf-spot transfers, surfboard and surf wear rental)

Address: Jl. Benesari, Pantai Kuta, Bali

Contact: +62 8 123 600 27 27

Endless Summer is the best surf school for beginners as they will only make you surf at less-crowded spots in the beginning. They utterly focus on the basics before you get to the water to improve your skills and later head to bigger waves. 
3.  Ripcurl School of Surf
Situated at the Double Six Beach, it is Asia's leading surfing school which offers courses for all levels of surfers.

Price: Starting from $224 for 3 sessions (any level)

Address: Jl. Arjuna (Double six Beach) Legian Kaja, Kuta, Bali – Indonesia
Contact:
+62361735858, +6285100871889 
SURF SCHOOLS (WITHOUT ACCOMMODATION)
1. Aloha Bali Surf
Price for Surf lessons: Starting from USD 40 per day

Price for Family session: Starting from USD 175 (including photos)
Price for Skateboard tours: Starting from USD 60 per person (Half-day tour)

Address: Jalan Raya Uluwatu Pecatu No. 108, Kuta Selatan, Ungasan, Kuta Sel., Kabupaten Badung, Bali, Indonesia

Contact: +62 812367 47280, +62 812367 47260
They will take you to the best places to surf and the places with the perfect waves to surf on.
2. Pro Surf School
Price for Surf lessons: Starting from USD 33 (for beginner surf lessons)

Address: Jalan Pantai Kuta, Kuta, Kabupaten Badung, Bali, Indonesia

Contact: +62361751200, +628113920503

Opening hours: 7:00 AM to 3:00 PM (timings may vary according to the wave and tide conditions)

One of the top 5 surf schools in the world, The Pro Surf School is located right on the Kuta Beach. The course at Pro Surf School is divided into six sessions – three beginner sessions in the pool and the three intermediate lessons in the ocean. The trainers are highly qualified and trained to handle all sorts of emergencies.
3. UP2U Surf School
Price for Surf lessons: Starting from $22 per day

Address: Kuta, Jl. Pantai Kuta, Denpasar, Bali 80361

Contact: +623614727805

Opening hours: 7:00 AM to 6:00 PM

You can go to UP2U Surf School for both learnings how to surf and to rent surfboards for your own! Easy to spot, this surf school is located right next to the Legian Beach Hotel. The emphasis on safety and quality service make it one of the best surf schools in Bali.

4. Odysseys Surf School
Price for surf lessons: Starting from USD 35 per person

Address: Opposite Mercure hotel, Jl. Pantai Kuta, Kuta, Bali 80361

Contact: +62361767410

Opening hours: Open 24 hours

Located very close to the Kuta Beach it is one of the most well-known surf schools in Bali. They assure the quality of service and record the sessions for better understanding of surfing. Free safety lockers, showers and changing rooms are some of the few services that they offer for the convenience of their guests.

Surfboard Rentals in Kuta
It is quite easy to spot multiple shops right on the beach for surfing hire like SUP, bodyboard, minimal or shortboard. You can easily rent a surfboard in Kuta for as low as IDR 200 a day! But it could be very old and repaired multiple times till you get to use it, so be careful and check your surfboard well before you rent it.
The renting times and price plans vary at different times of the year. There are hourly rentals, half-day rentals, daily rentals, and in some cases weekly rentals. The prices vary greatly with the seasons and the location of the surf breaks. We have provided a list of the tentative price you need to pay for renting various surfboards in Kuta.
Body Board:
IDR 50 to IDR 65 per hour or IDR 180 to IDR 200 for a day
Long-Board:
IDR 100 to IDR 120 per hour or IDR 300 to IDR 350 for a day
Short-Board:
IDR 100 to IDR 110 per hour or IDR 300 to IDR 350 for a day
The longer you rent the surfboard for, the less you have to pay per hour. The surf hire shops are very strict and particular about the age of the renter and other documents. In most cases, you need to be over 18 years old to rent a surfboard. If not, someone else has to hire it for you. Also, you need to provide a valid identification - ID card, passport or driver's license and certain cash deposit for the rental surfboards.
Here's a list of few popular places in Kuta that provide surfboard rental services.
Odysseys Surf School
SUP Rental Bali Priority
RentASurfBoard Bali
Naruki Surf Shop
7Surf Bali
Happy Surfing!