Hailed as a dreamland for the shopping enthusiasts, Malaysia is teeming with different kinds of products to buy. From the local shops lining the boulevard to quirky boutiques of art and craft to dazzling shopping malls, options are endless. However, like every country, Malaysia has a few things special and unique to itself - things which are a must-buy if you are on the island.
Here are 20 souvenirs of Malaysia that you can bring back home -
1. Batik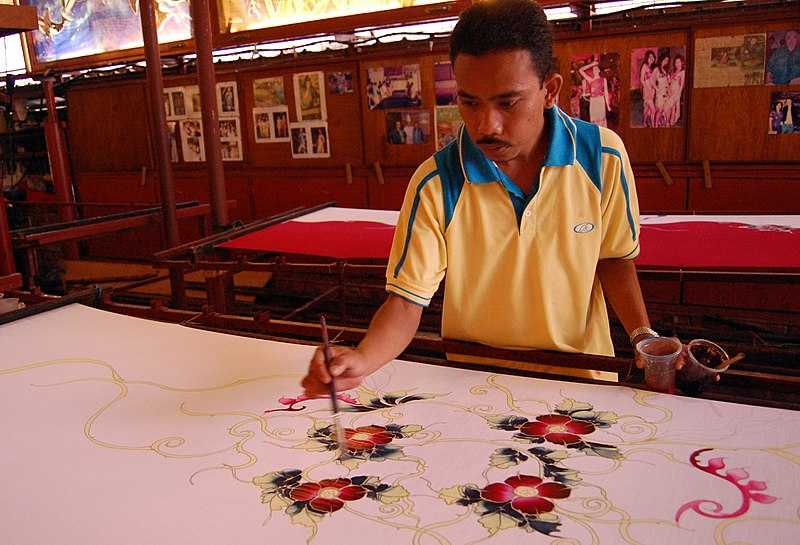 Batik is one of the very significant souvenirs of Malaysia, both for yourself and as a gift, since it represents Malaysia deeply. It is perhaps the frontrunner of traditional crafting done in the country. The fabric is printed using beeswax and natural colours from plant leaves and flowers. Their designs and patterns are many, and they come in bright, vivid colours. From fashionable scarves and shawls to everyday wear blouses, bags and purses, even hair accessories - there is no piece of fashion that Malaysia cannot make with Batik silk.
Approx. Cost: From RM 20 to RM 100+ depending on the type of product
Where to find:
a) Koleksi Melayu, Central Market Annexe, Kuala Lumpur
b) Batik Boutique, Desa Sri Hartamas, Kuala Lumpur
c) Penang Batik Factory
d) Nearly all textile shops across Malaysia
2. Pewter Products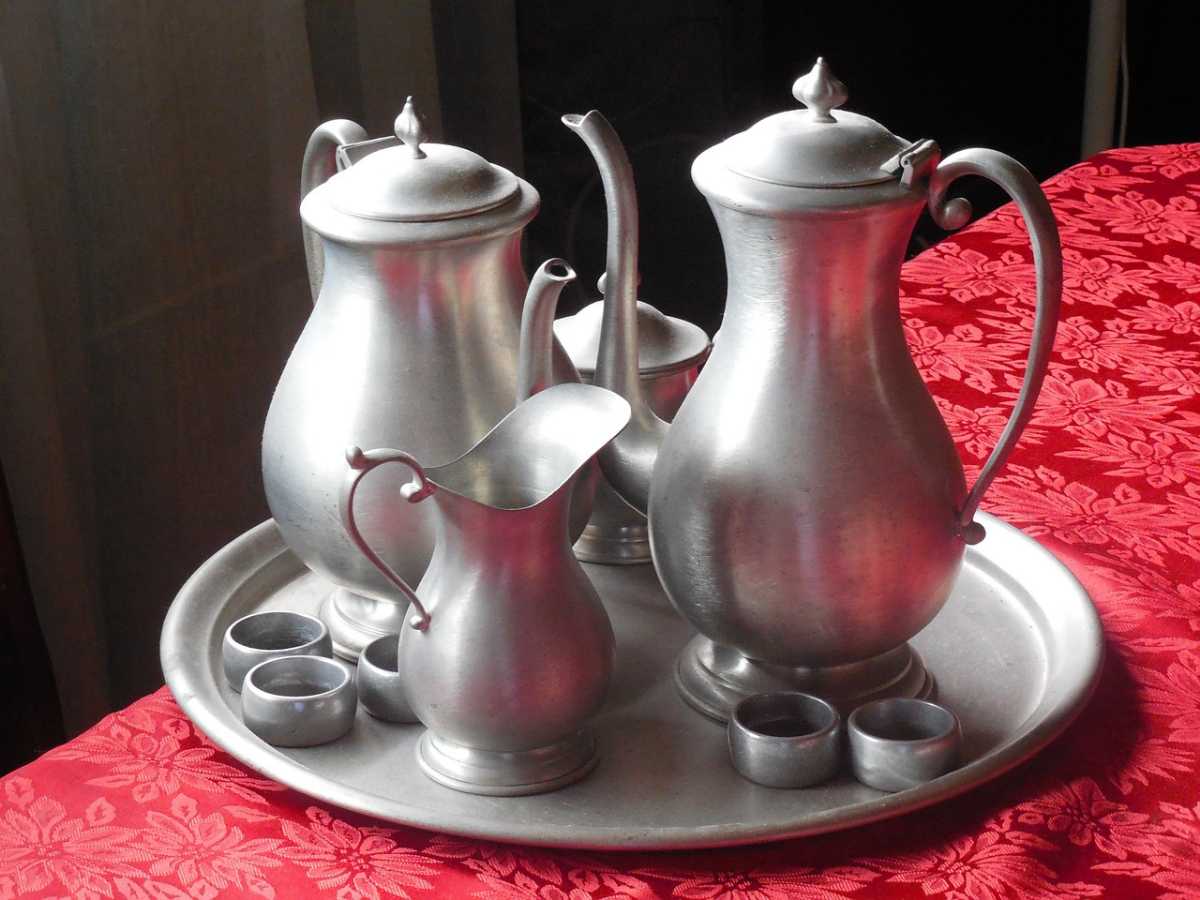 Malaysia is among the leading producers of tin products; therefore, top quality in pewter products are guaranteed. Pewter products are made from an alloy that is 85-90% tin, 5-10% antimony, 2-5% copper, bismuth and sometimes silver in the best standard products. There are endless options to choose from in pewter products. Flower vases, stylish coffee and beer mugs, key chains, showpieces, pen stands, photo frames, spice containers, cigarette cases, and wall decor are some of the popular pewter goods to buy in Malaysia. But the most-bought pewter product in Malaysia would be the replica model of its famous landmark, the Petronas Towers. These souvenirs from Malaysia are cheap and a mainstream representation of the country.
Approx. Cost: RM 100 - RM 500
Where to find:
a) Royal Selangor, 4, Jalan Usahawan 6, Setapak Jaya
b) KL Pewter, 34, Jalan Mewah
c) Kuala Lumpur International Airport
3. Dodol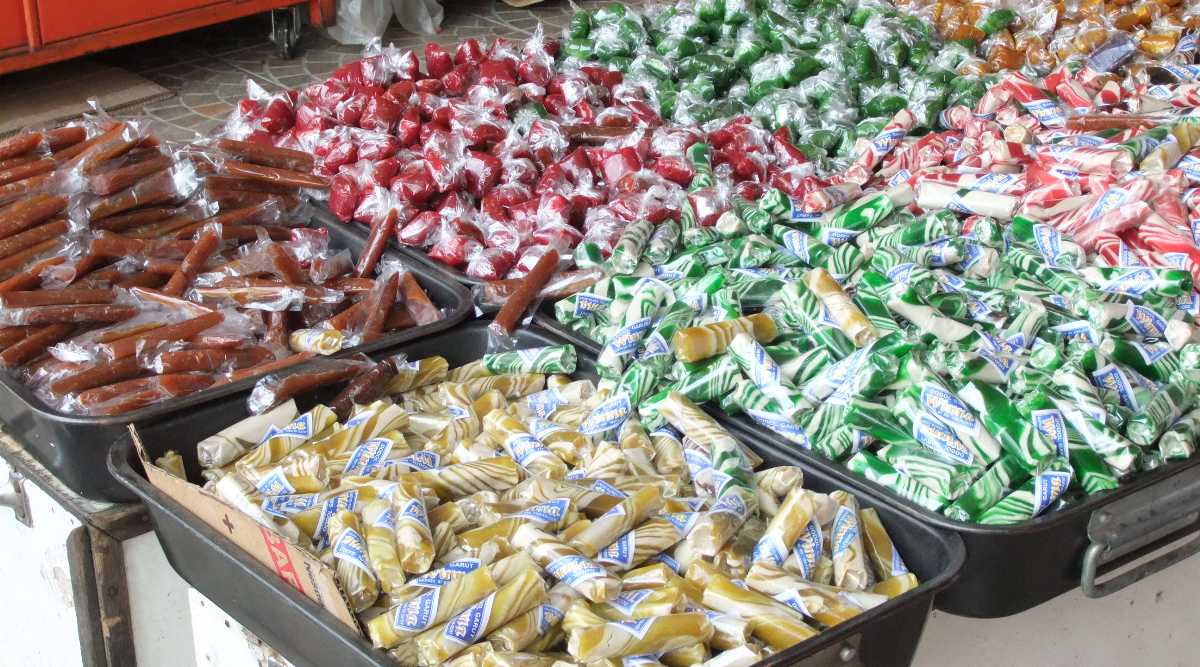 Dodol is Malaysia's unique, sticky-soft toffees. It is the sweet that everyone brings back as the truly Malaysian flavour for their friends and family. The toffee is traditionally dark in colour and comes in interesting flavours like Pandang and durian. Pandang is a type of leaf with a charming scent, while durian is a popular tropical fruit in South-east Asia that closely resembles a jackfruit. Dodols sold as loose souvenirs in Malaysia and in pre-packed boxes.
Approx. Cost: RM 15 - RM 30 (for boxes)
Where to find:
a) Tan Kim Hock Product Centres
b) Ana Dodol (Perusahaan Dodol Melaka)
c) Chowrasta Market
d) Pak Lang Dodol, Central Market Annexe, Kuala Lumpur
e) Small confectioners across the island
4. Chocolates and Cakes
Thinking of tourists for whom the smell and taste of the raw Durian fruit might be too much, Malaysia came up with an entire range of Durian-flavoured products. This range of durian souvenirs from Malaysia is available as sweets, cakes, candies and chocolates to cater to your sweet tooth.
You could also pick up some ruby chocolates, which are Malaysian speciality chocolate crafted by a local chocolatier, which has a nice rosy hue, without the addition of any artificial food colours. The pink ruby chocolates were first launched in 2017 and have a flavour that is sweet and tangy; quite similar to citrus-based fruits and berries.
Approx. Cost: RM 8 - RM 20, RM 25 for ruby chocolates
Where to find:
a) Pak Lang Dodol, Central Market Annexe, Kuala Lumpur
b) Confectionary shops all over the country
c) You could find ruby chocolates at various supermarkets
5. Songket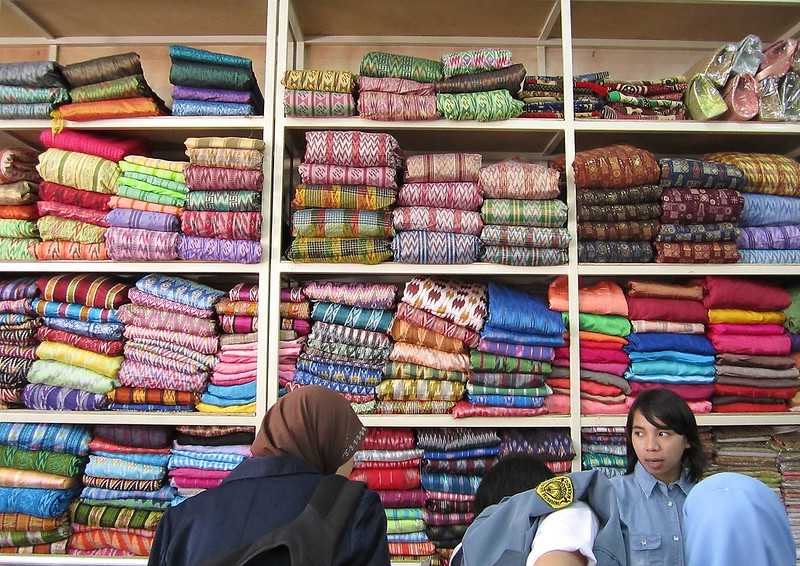 Songket is a traditional textile of Malaysia having roots in the Kelantan State. Trade relations with China and India during the 12th century gave birth to this material. It is a type of brocade that comes with a rich and sophisticated look because of interwoven gold and silver silk threads upon other colours. Pieces of various lengths can be bought of Songket and later be used to tailor salwar suits, blouses for saris, Kurtis, or even use as curtains and tablecloths for special occasions.
Approx. Cost: RM 40 (for short length) up to RM 100 (for long length)
Where to find:
a) Shops of Wisma Yakin
b) Koleksi Melayu and Peninsular Arts & Borneo Crafts in Central Market Annexe, Kuala Lumpur
c) Atikah Songket, KLCC
6. Sabah Pearls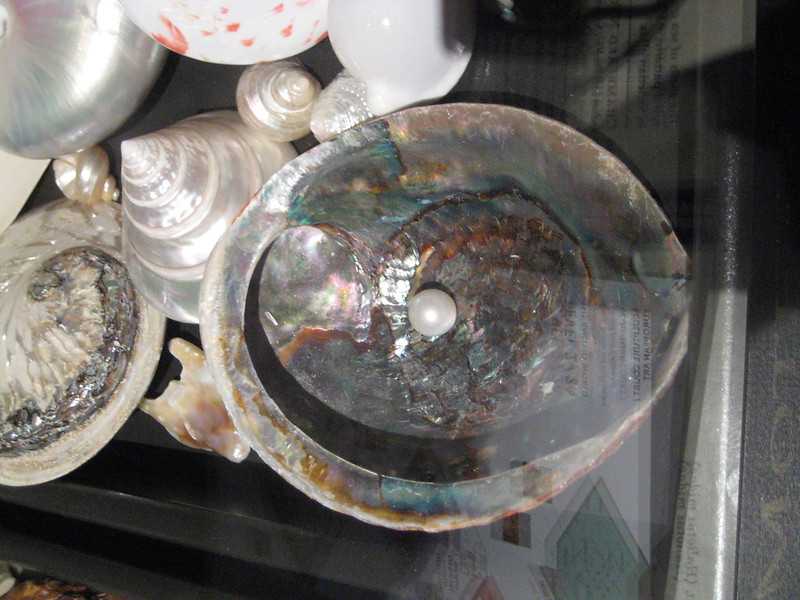 Found in the crystal clear waters off the shore of Sabah, Malaysia, these lovely pink pearls are cheaper in Malaysia compared to anywhere else. Provided you get your hands on an original seller; you are guaranteed to end up owning an everlasting piece of treasure with a Sabah pearl necklace, bracelet, ring or earrings. You can also buy them loose if you choose to make DIY jewellery with them.
Approx. Cost: A single pearl can cost from RM 10 - RM 50. Readymade ornaments depend on size, number of pearls used, making charge and other costs.
Where to find:
a) Borneo Pearls shops in Central Market Annexe, Kuala Lumpur, and several other outlets
b) Kota Kinabalu International Airport, Sabah
7. Cucuk Sanggul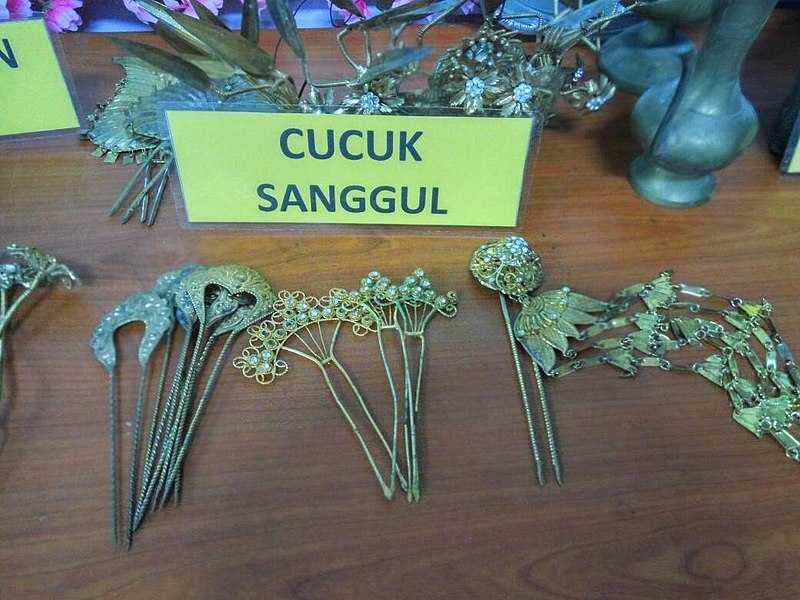 Originally Cucuk Sanggul is a traditional Malaysian hairpin made of gold or silver and studded with precious stones. The accessory was to be worn by women to keep their bun up during weddings and special occasions. The uniqueness of the hairpin is that it had the face of a mythological creature at the broader end of the pin. Staying true to the style but with cheaper materials, antique Cucuk Sanggul hairpins are now one of the popular souvenirs from Malaysia to bring back as gifts.
Approx. Cost: RM 150 - RM 300
Where to find:
a) Kuala Lumpur Craft Complex
b) Tuah KTC, Central Market Annexe, Kuala Lumpur
c) Fashion accessory shops island-wide
8. Kerongsang
This refers to a piece of jewellery which acts as a brooch that is worn by the Malay women and forms a part of their traditional attire. The kerongsang doubles up as a fashion accessory besides helping hold the dress together. It usually comes in a set of three pieces, and each one is of a different size.
Approx. Cost: Range starts from RM 20
Where to buy:
a) Zakir Batik
b) Jalan Hang Kasturi - Kuala Lumpur, Central Market Annexe
9. Spices and Sauces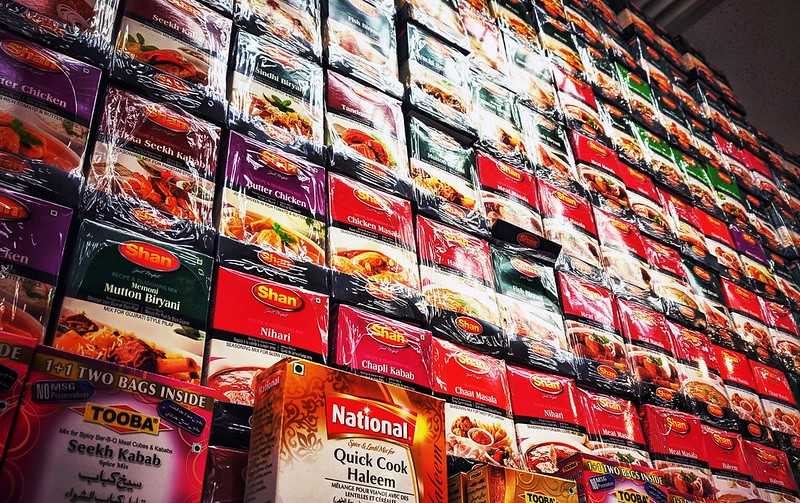 Malaysia is famous for its spices and sauces. One can find loose spices being sold on many local shops lining the streets. Basic condiments such as pepper, turmeric, paprika and saffron are available at pocket-friendly prices. To keep a South-east Asian touch, you can go for curry powder mix or a bottle of Satay sauce. Nutmeg oil is a common product used in the country, not just for flavouring but for medicinal purposes as well.
Approx. Cost: Between RM 5 - RM 20 depending on the product
Where to find:
a) In any departmental store and supermarket
b) Any streetside grocery store
10. Local Art and Handicraft Items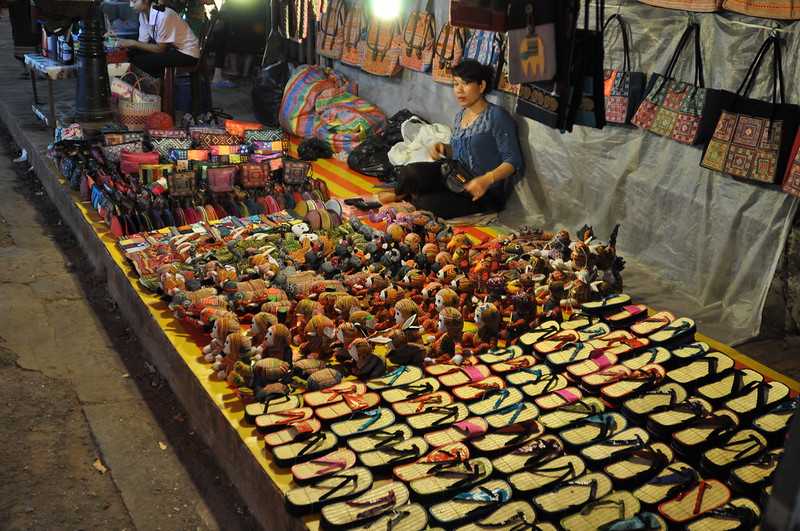 Local handmade crafts are a huge attraction in Malaysia. Decorative items like showpieces, mats, coasters and fashion accessories like bags, purses and hats made from bamboo, coconut, pandan leaves, rattan, mengkuang etc. are much-favoured low-cost souvenirs from Malaysia to take back home. If you are an art enthusiast, there are paintings available depicting the vibrant frames of the local tropical scene. There is also a variety of utility and decorative bamboo handicraft items made by local tribes of Malaysia are available in various shops in the local markets of Malaysia. There is a wide range of products like boxes, holders, lamps etc. to choose from, making it a memorable takeaway from the Malaysian lands.
Approx. Cost: RM 5 - RM 10, RM 25 for bamboo handicrafts, depends on the brand
Where to find:
a) Asli Kraft at Central Market Annexe, Kuala Lumpur
b) Several local shops across the island
11. Tea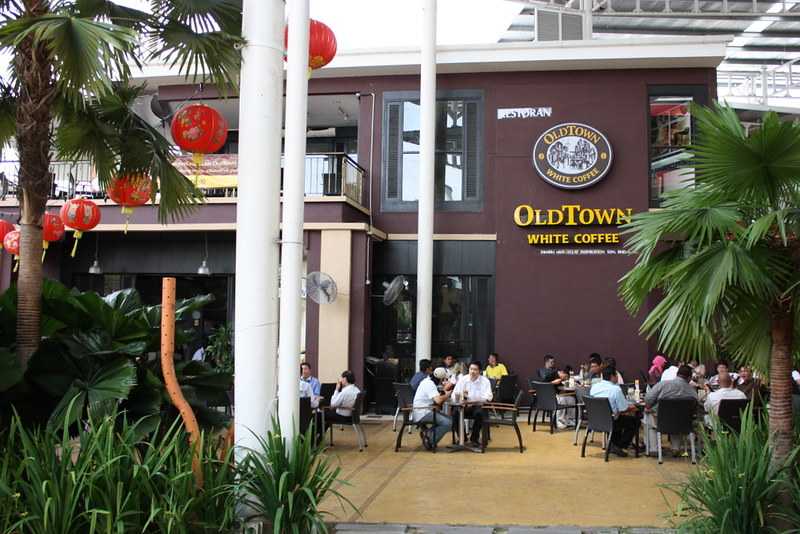 The wide range of hot souvenirs from Malaysia is quite underrated. The largest tea producer in Malaysia - BOH plantations have their massive tea gardens along the Cameron Highland slopes. Boh Tea is the most famous, selling tea in various unique flavours like caramel, peach, mango, mandarim, ginger, and lime. A special variety would be Malaysia's own Teh Tarik or pulled tea, which tastes richer and creamier if made properly. Sabah Tea is another name, which specialises in tea made from organic, preservative-free, handpicked leaves. Old Town White Coffee is also a favourite brew of the nation, made out of select Arabica beans and added flavours.
Approx. Cost: RM 5 for 200 grams of loose tea and RM 10-15 for a pack of 20-25 tea bags
Where to find:
a) In any departmental store and supermarket
b) Any streetside grocery store
12. Instant White Coffee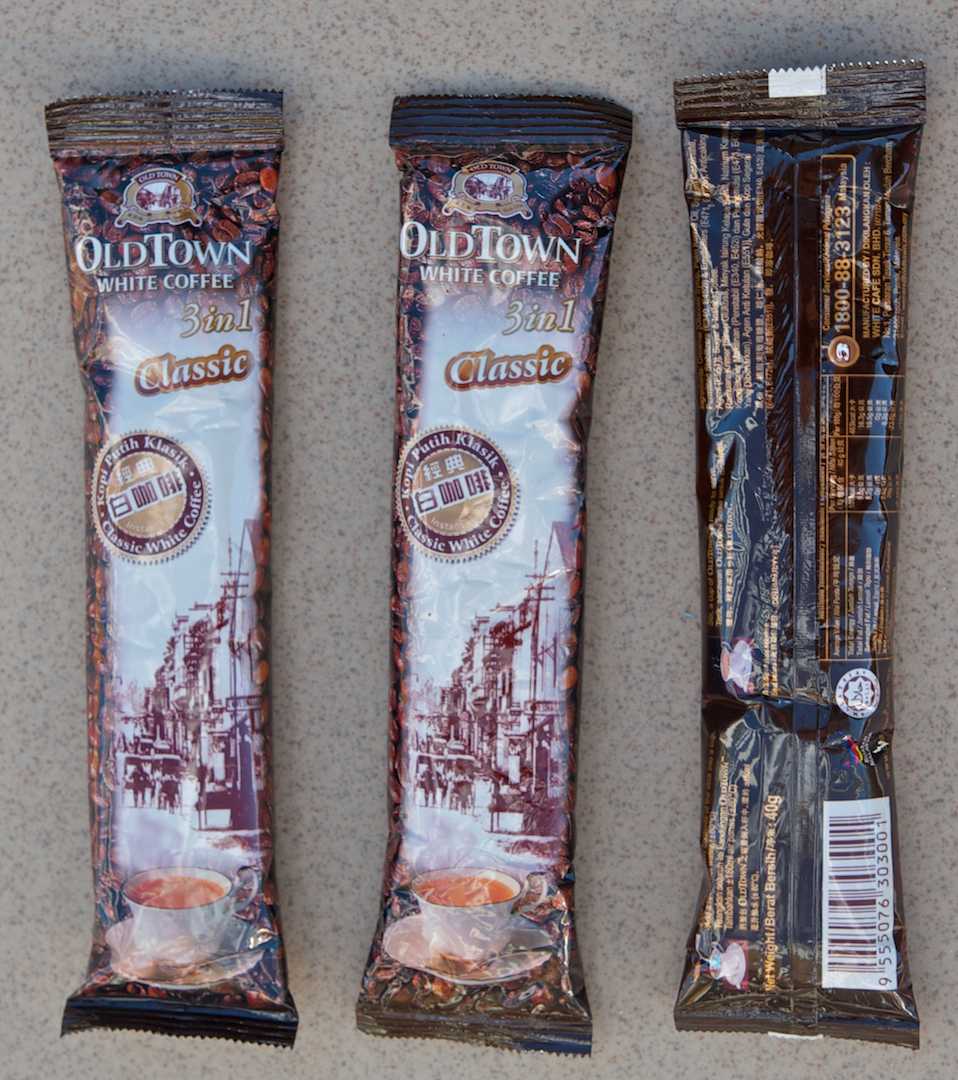 The Malaysian coffee continues to remain a hit amongst the locals. The speciality lies in a unique roasting technique which includes margarine. The result is a rich, creamy aroma which is liked by many. Some of the famous brands are Oldtown, Aik Cheong and Ah Huat.
Approx. Cost: RM 15 for a packet containing about 15-20 sachets
Where to buy:
a) Supermarkets
b) Coffee shops
13. White Curry Instant Noodles from MyKuali Penang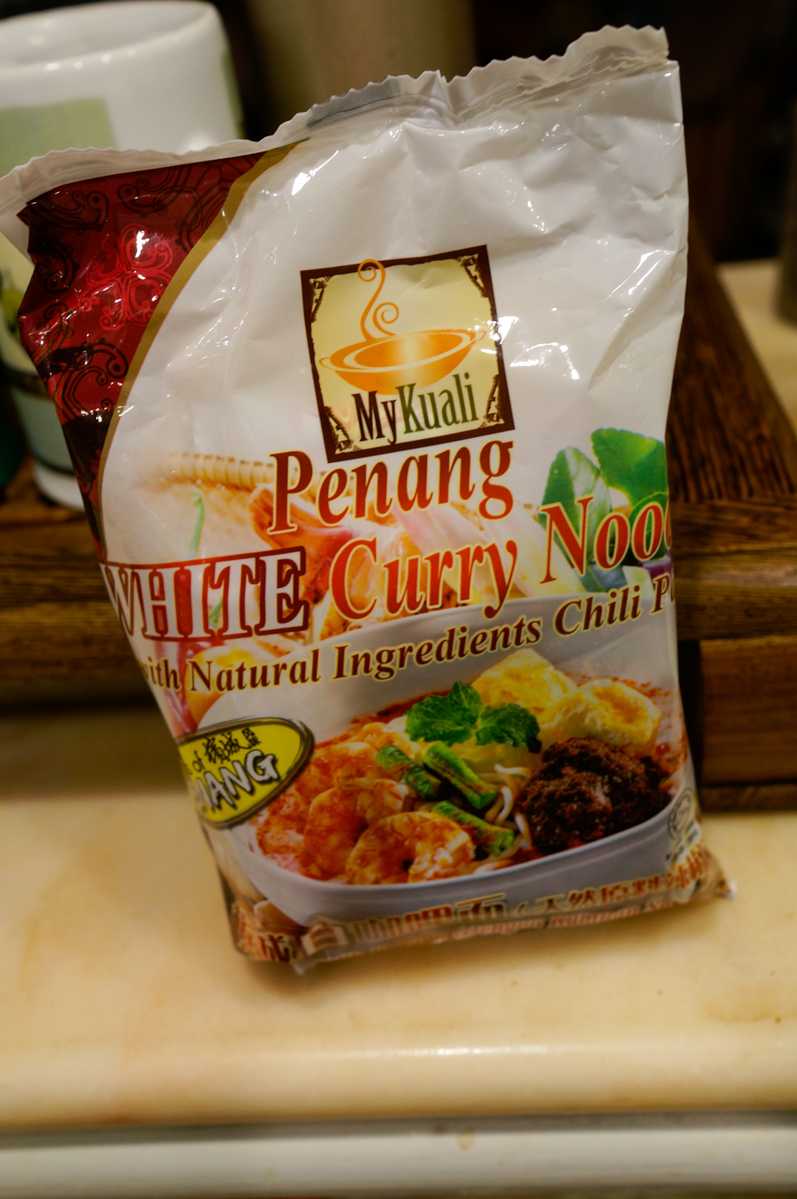 This variety is ranked seventh in the world's spiciest instant noodles of all time. Each pack contains noodles along with soup powder, chilly paste and a sachet of non-dairy creamer. When mixed together, it results in chewy noodles dipped in aromatic soup broth and gives a fiery zing to the consumer's taste buds.
Approx. Cost: Approx RM 7 - 10
Where to buy: Supermarkets like Giant, Aeon, Sogo, NSK
14. Various 'Gamat' Products
A unique kind of a souvenir to get back for people who are willing to try out alternative medicine. 'Gamat' simply refers to a species of sea cucumbers known for its healing properties. These primarily come in two types - one is available in a liquid form which can be consumed & the other is a mixed type (gamat oil) which can be used for external application. Gamats are known to cure toothaches and in healing injuries, cuts and burns.
Approx. Cost: Depends on what product you buy
Where to buy:
a) Pharmacies and supermarkets
b) It is recommended that you purchase it from Langkawi, which is home to the gamat industry
15. Nutmeg Oil (from Penang)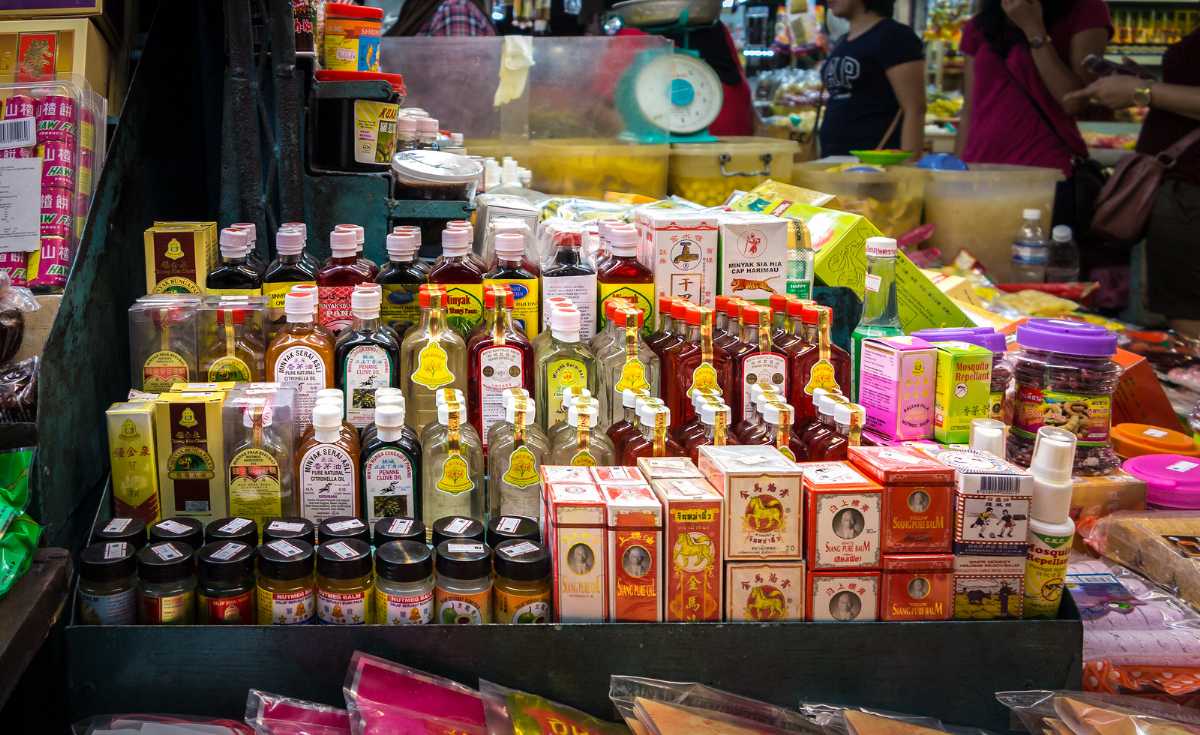 This is prepared from the nutmeg seed extracts and has strong medicinal properties. It is traditionally used as a pain-relieving oil to relieve headaches, stomach aches, muscular and joint pains etc. Cheong Kim Chuan is a popular brand.
Approx. Cost: RM 12 for a 20 ml bottle
Where to buy: Any store/pharmacy specially in Penang and pharmacies across the country.
16. Cooker for Half-boiled Eggs!
One of the most offbeat takeaways which are seldom given attention is the half-boiled egg (favourite breakfast of the Malaysians) cooker. This appliance helps in making perfect eggs with soft egg whites and runny yolks and eliminates the need to fiddle with timers and stoves every morning.
Approx. Cost: RM 10
Where to buy: Supermarkets
17. Congkak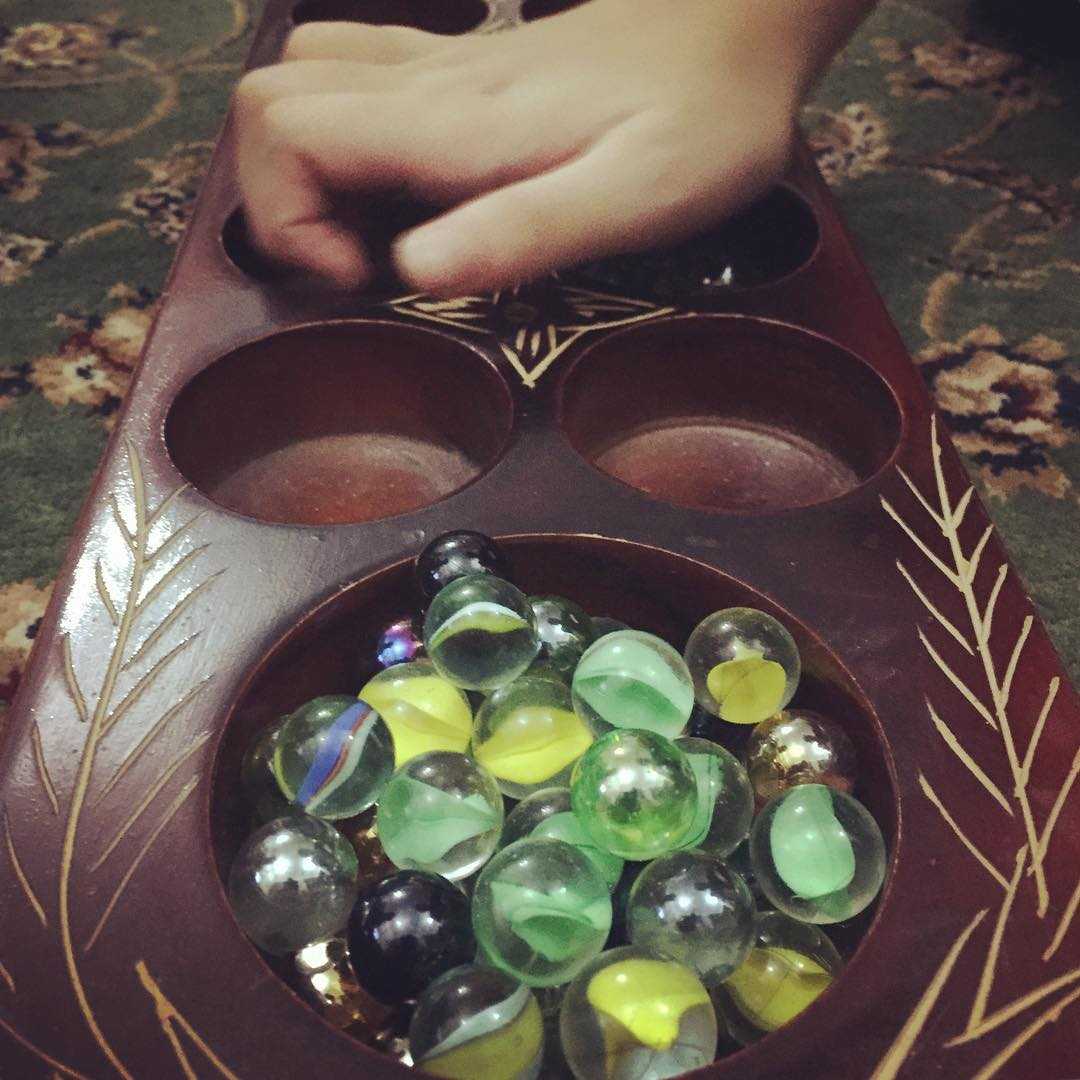 Congkak is the traditional Malaysian board game - played by two players and is normally played using marbles, seeds or pebbles. The board game is designed in a way that it can be folded into half and be easily carried along and comes with a set of instructions for the players.
Approx. Cost: Starts from RM 45
Where to buy:
a) Ka50
b) Asli Kraft
c) Central Market Annexe
18. Pua Kumbu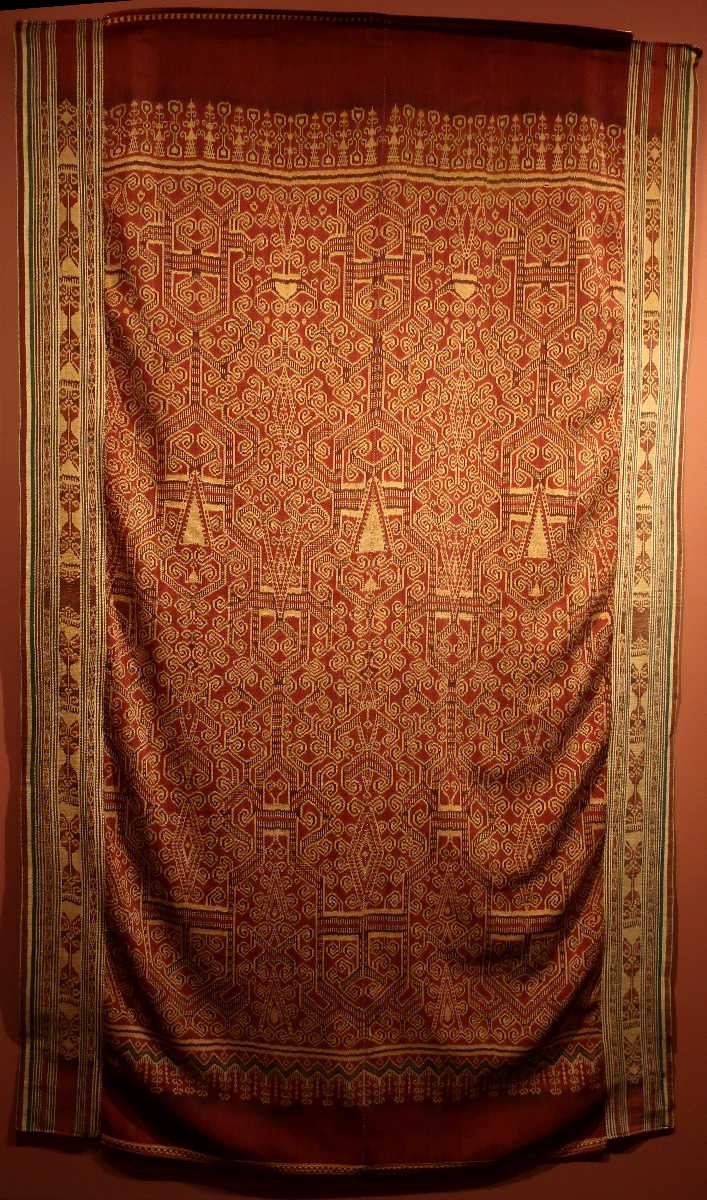 Native to Malaysia, it is a woven textile made using special weaving and dyeing techniques. It is considered to be sacred and is treated as the ceremonial cloth for the Iban people. But now, it is commonly used as bed covers or blankets.
Approx. Cost: Starts from RM 75
Where to buy: Aseana Gallery - Kuala Lumpur
19. Labu Sayong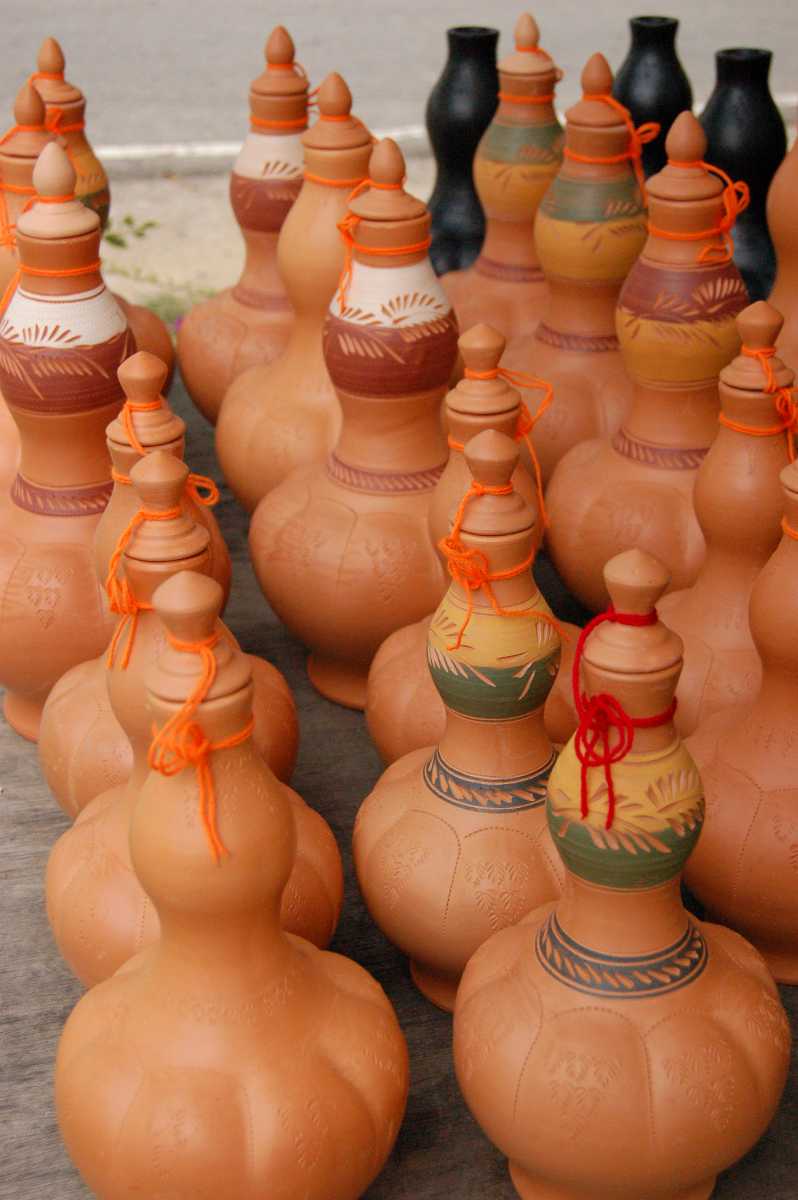 One of the most commonly sought and liked souvenirs by tourists, but probably difficult to carry is a jar (ceramic water containers) shaped like a gourd. These are used for keeping drinking water cool. Besides, labu sayong is also known to have healing properties.
Approx. Cost: RM 20 and above
Where to buy: Asli Kraft, Kuala Lumpur
20. Baju Kebaya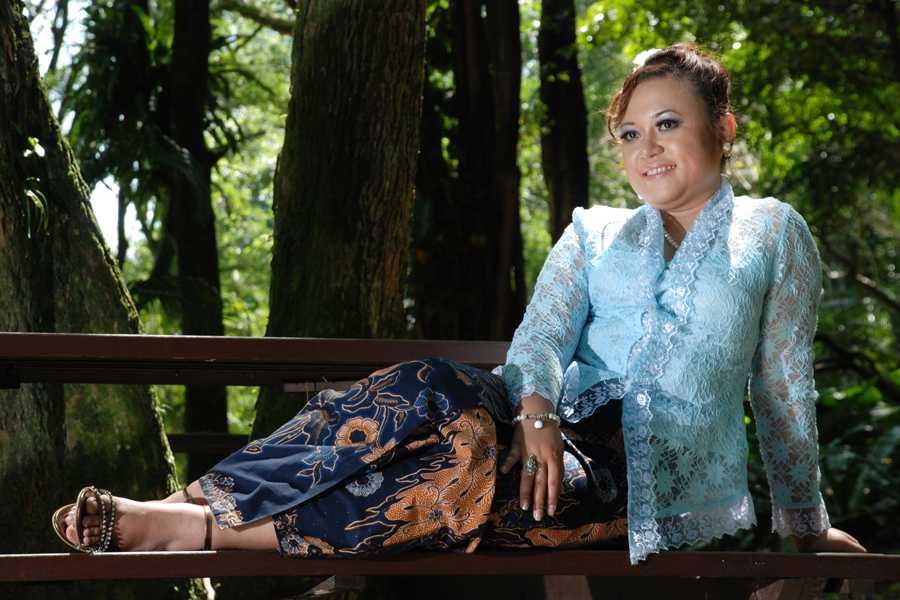 Made of either Batik or Songket fabrics, Baju Kebaya is a traditional attire of Malaysian women. It comes as a complete set of blouse and skirt, but one can buy either of the two and pair it with any top/ bottoms of their choice.
Approx. Cost: Starts from RM 100 for an entire set depending on fabric quality
Where to buy: Zakir Batik
If you are a veteran shopper, you can scour the streets and stores in Malaysia to find your favourite products at discounted rates. There are often big-time sales in the country around specific times such as the summer sale from Mid-May to July end and the winter sale from November to December. However, do look out for touristy entrapments - do not pay exorbitant amounts for anything, but also do not fall for incredibly low prices. That might mean the products are damaged or counterfeit.
~ Written by Anwesha Nag and Parthivi Joshi