Rock climbing is an all-time favourite outdoor sport, which has gained a great popularity of late in Singapore as well. First-timers who just want to give the sport a try can head to a nearby rock gym and seek help from a certified belayer to enjoy the activity, and the entire trip with all rentals included will cost you around SGD 25 to 40 for the entire day.
Here is the list of 16 places for bouldering and rock climbing in Singapore:
1. Climb Central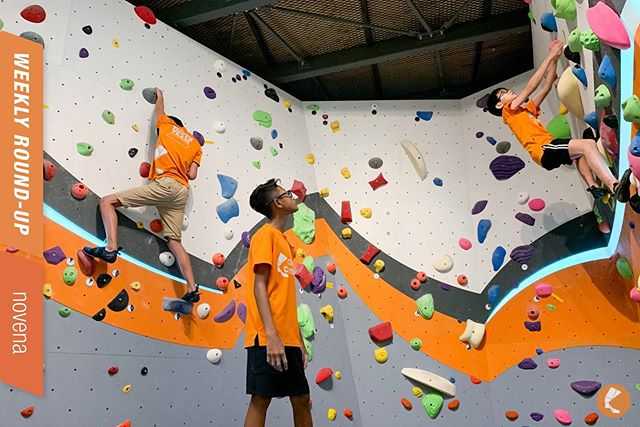 Climb Central is one of the significant places for exceptional rock climbing in Singapore. They have curated individual courses and sessions for beginners, so you don't have to worry if you've never done rock climbing before. Just 15-minute safety training and you're good to go! The charges for children are lesser, and it is a must that an adult accompanies children under the age of 13 at all times. Climb Central gives multi-passes to frequent customers that last for a month or a year depending upon your needs. It is the tallest indoor rock climbing studio in the city.
Address: #B1-01 Kallang Wave Mall, 1 Stadium Place, Singapore
Timings:
Weekdays: 10:00 AM to 11:00 PM
Weekends: 9:00 AM to 9:00 PM
Website: climbcentral.sg
Cost of Adult Day Pass: SGD 22
2. Kinetics Climbing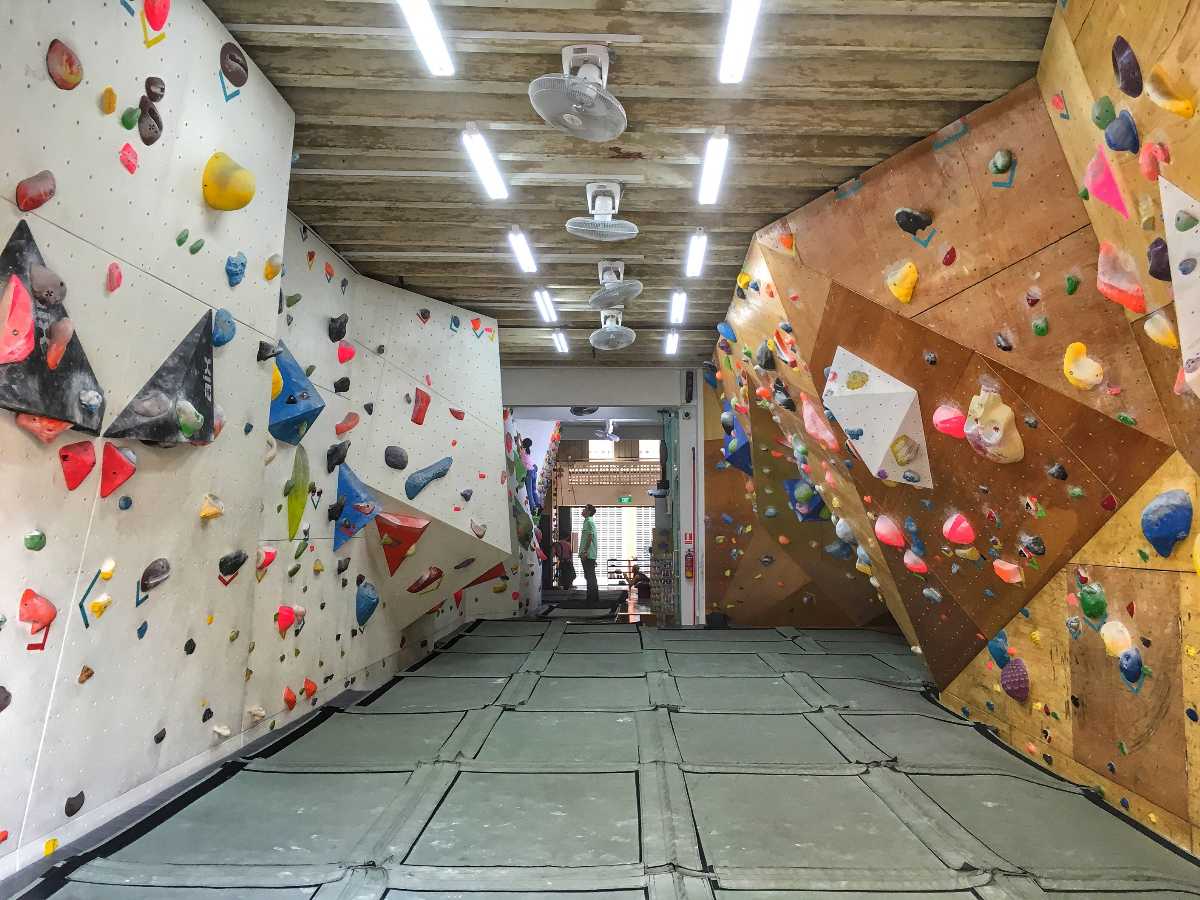 Kinetics Climbing prides itself in building a shared facility for both beginners and veterans looking to experience rock climbing in Singapore. Apart from the one-time climbing activity for entertainment, they have a long 7-8 hours foundational course for beginners and different levels for veterans. Private coaching is also available, and students have concessional rates as low as SGD 12. If you're looking forward to constructing a climbing facility on your premises, then they expertise in that area too! In short, Kinetics Climbing is that one pit spot for all climbing related activities in Singapore.
Address: 511 Serangoon Road, Singapore
Timings:
Weekdays: 1:00 PM – 10:00 PM
Weekends: 10:00 AM – 7:00 PM
Website: kineticsclimbing.com.sg
Cost of Adult Day Pass: SGD 17
3. Onsight Climbing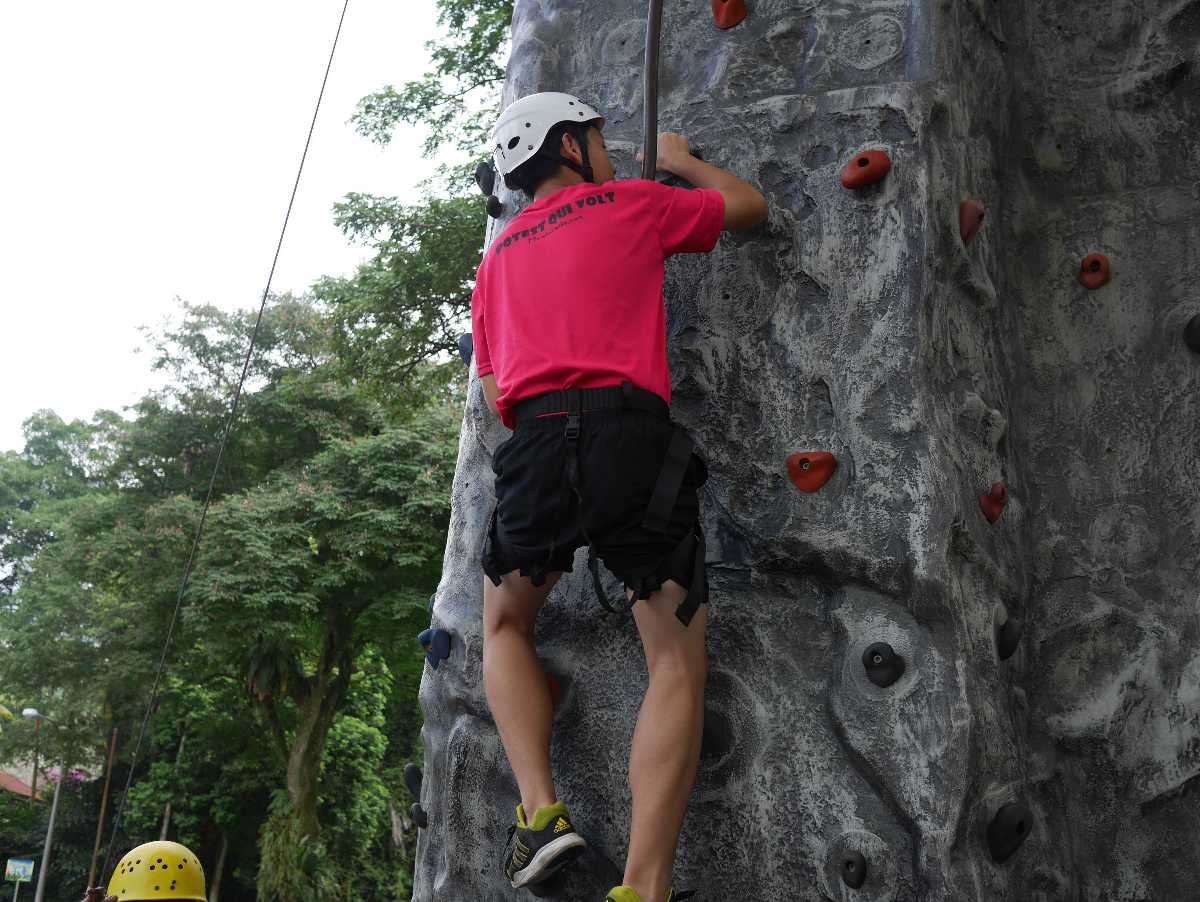 One of the most significant facilities for rock climbing in Singapore, Onsight has almost 43 lanes with multiple possible routes for climbing and 15m wall for speed climbing. It specialises in training and providing for climbing courses, retailing of all sports climbing equipment and apparels. They have their climbing academy for kids by the name Onsight Climbing Academy to teach them technique and proficiency. You can also book the place for an unconventional birthday party for your child with guaranteed fun and thrill!
Address: 100 Guillemard Road, Badminton Hall, Singapore
Timings:
Weekdays: 11:00 AM to 10:30 PM
Weekends: 10:00 AM to 9:00 PM
Website: onsight.com.sg
Cost of Adult Day Pass: SGD 20
4. Ground Up Climbing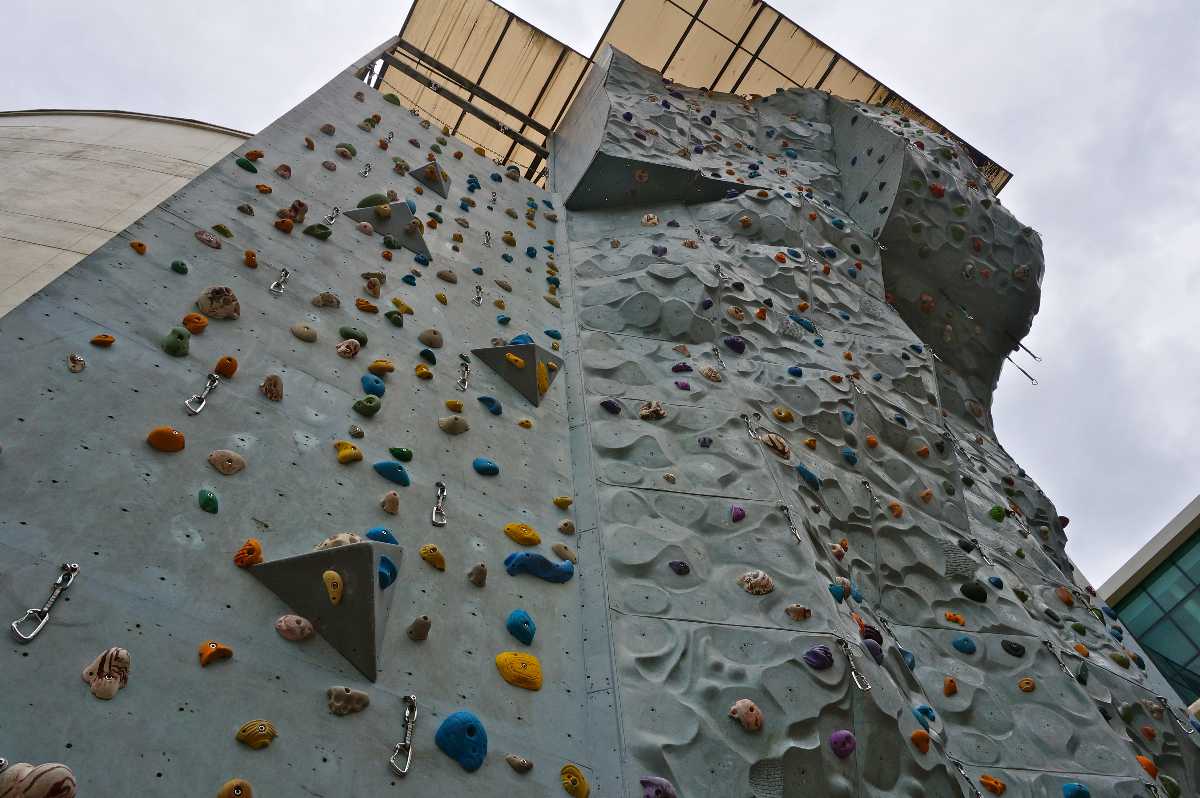 Recently reopened, Ground Up Climbing is one of the most excellent facilities for rock climbing in Singapore. It has a bouldering gym and an indoor wall for climbing. It prioritises the safety of customers and ensures that each one gets the best experience of rock climbing. The instructors hired are also Singapore Mountaineering Federation certified with basic knowledge on first aid. From fun climbs to certified courses in climbing, you'll find everything here.
Address: 60 Tessensohn Road, Level 2, Singapore
Timings:
Weekdays: 12 noon to 11:00 PM
Weekends: 10:00 AM to 9:00 PM
Website: groundupsg.com
Cost of Adult Day Pass: SGD 15
5. Boulder Movement Singapore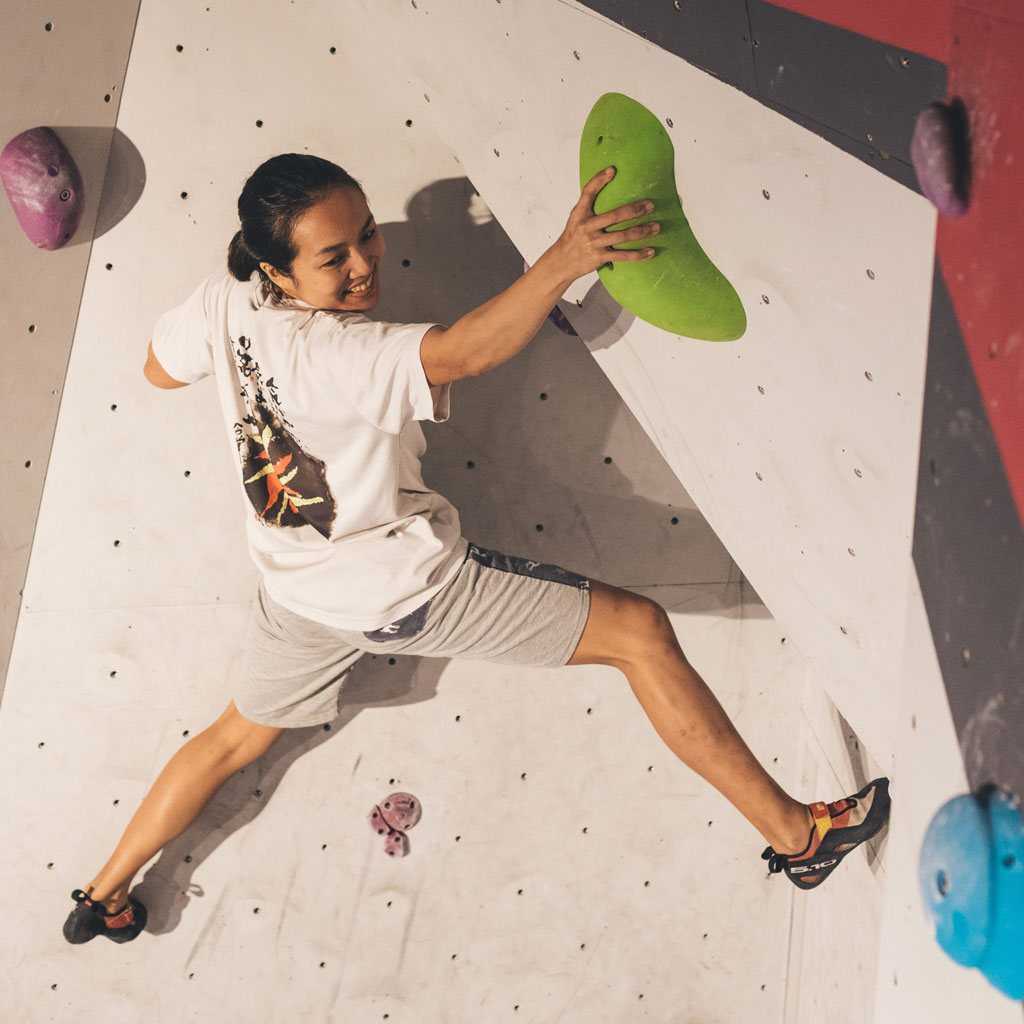 Started to revolutionise rock climbing in Singapore, Boulder Movement is CBD's first climbing facility. They aim to spread the community spirit and promote fitness through rock climbing. They offer personal training in case you don't like climbing with others where they teach you strength and mobility conditioning for bouldering. They have classes almost daily so you can easily enrol yourself in one according to your schedule.
Address: OUE Downtown Gallery, 6A Shenton Way,Singapore
Timings:
Weekdays: 11:00 AM to 10:00 PM
Weekends: 10:00 AM to 5:00 PM
Website: boulderm.com
Cost of Adult Day Pass: SGD 30
6. Upside Boulders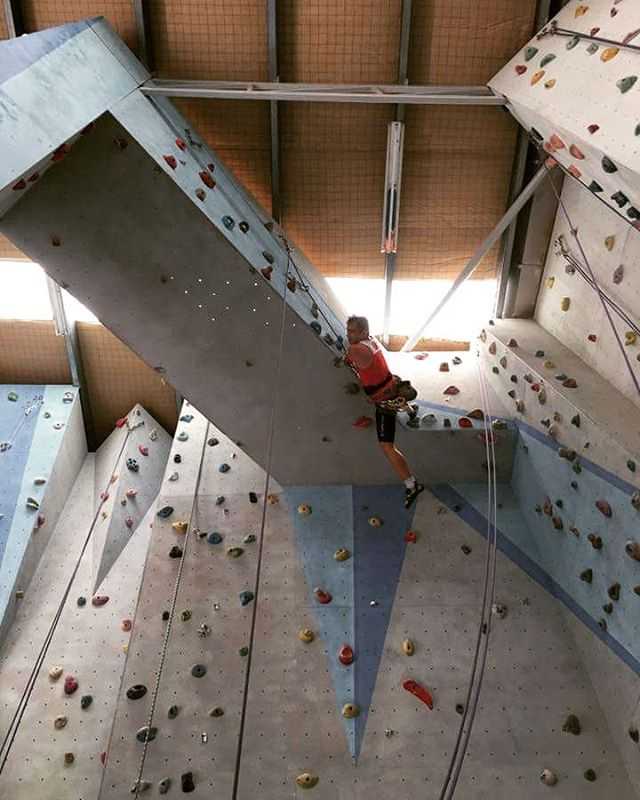 Upside Boulders is a safe space for all climbers from beginners to veterans. It is especially suitable for all working men and women who take work out after working hours late at night. It believes in bridging the gap between passionate climbers and eager learners.
Address: 183 Jln Pelikat, #B1-98 The Promenade @ Pelikat, Singapore
Timings:
Weekdays: 2:30 PM to 10:30 PM
Weekends: 11:00 AM to 11:00 PM
Website: facebook.com/UpsideBoulders
Contact for rates: 65 6581 9258
7. Boulder World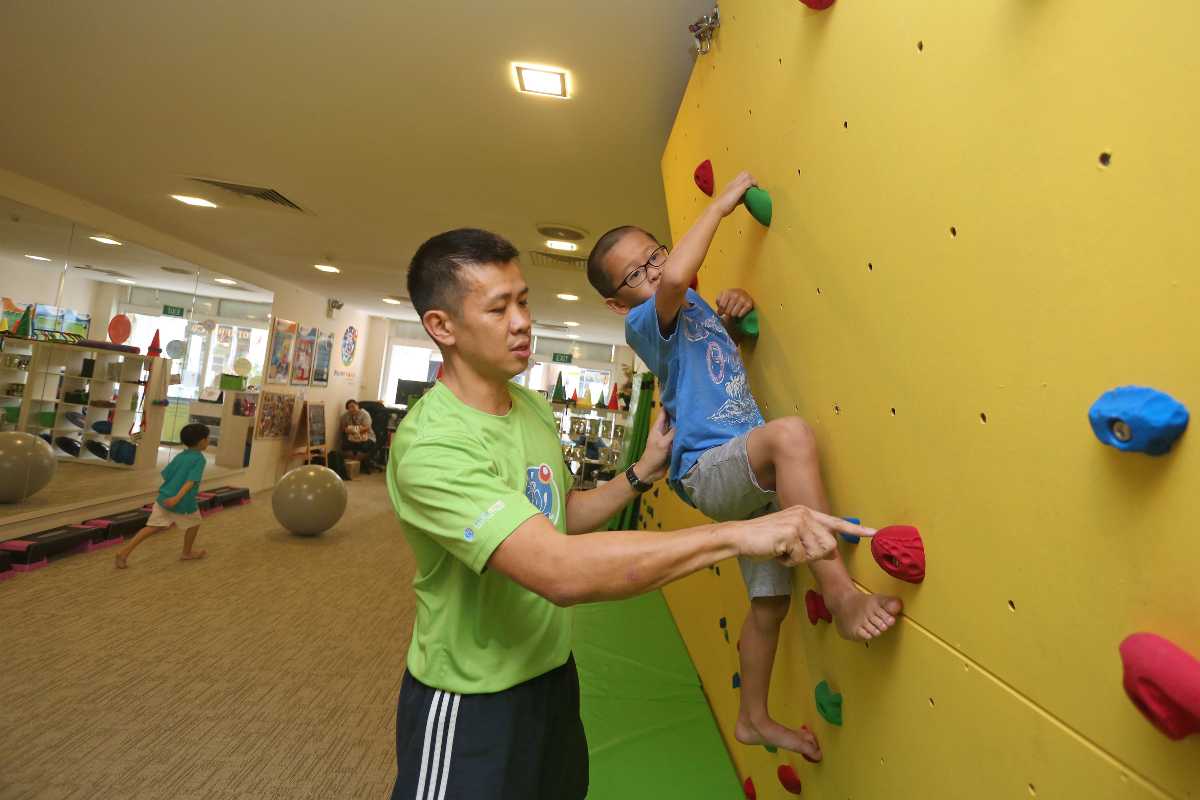 Boulder world is spread across 7000 sq ft and is one of the largest bouldering gyms in Singapore. It promotes bouldering, which is free wall climbing that is without a harness or rope as a full-body workout and considers it right for your mental health as well. If you are not the adventurous type but your child is, don't worry because Boulder World has got you covered! They have bouldering programs for kids and wellness activities for adults like core yoga and yin yoga. So while your child enjoys the thrill of rocks, you can do some yoga for inner peace.
Address: 10 Eunos Road 8, #01-205, Singapore
Timings: 10:00 AM to 10:30 PM
Website: boulderworld.com
Cost of Adult Day Pass: SGD 22
8. Clip 'N Climb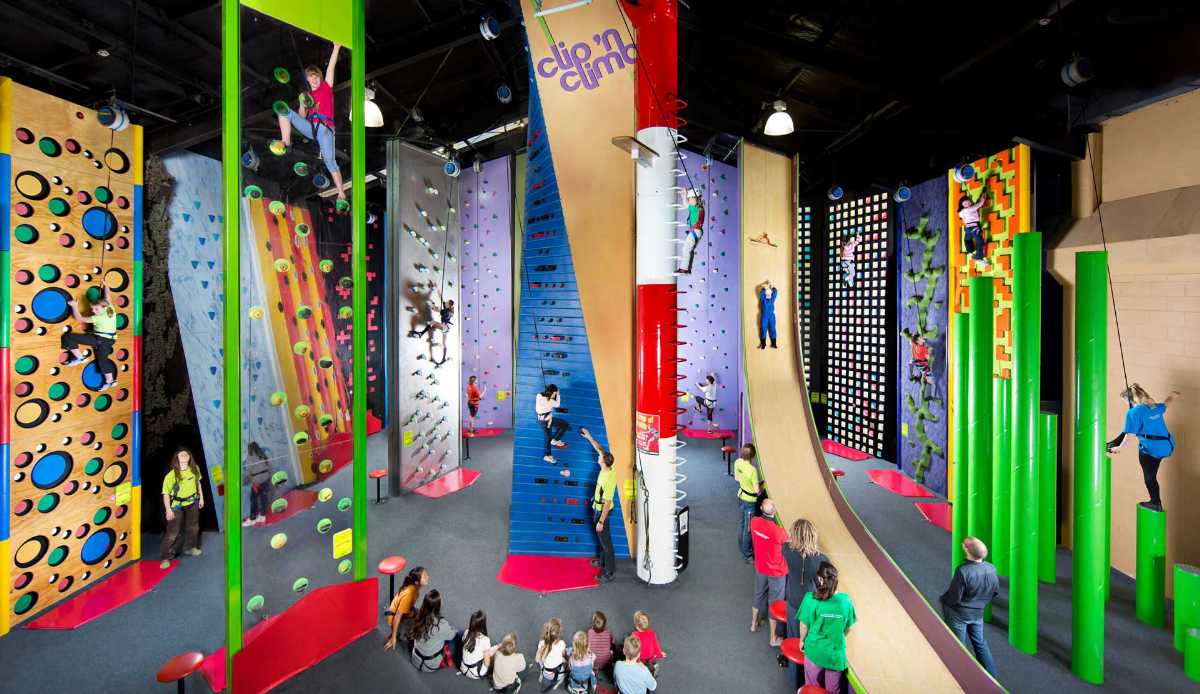 Clip 'N Climb is climbing theme park brought into Singapore by New Zealand based operator HomeTeamNS. It has created an atmosphere of action-packed activities with almost 19 different types of climbing challenges. It was voted the Best Climbing Theme Park in 2018 under Family-Friendly Products and Services. To ensure the safety of the customers, they have installed the TruBlue Automatic Belay System which provides a safe descent to the ground. Head to Clip 'N Climb for an unforgettable climbing experience!
Address: 1 Tampines Walk, #03-03 Our Tampines Hub, Singapore
Timings:
Weekdays: 12 noon to 9:00 PM
Weekends: 10:00 AM to 11:00 PM
Website: hometeamns.sg
Cost of Adult Day Pass: SGD 25
9. The Rock School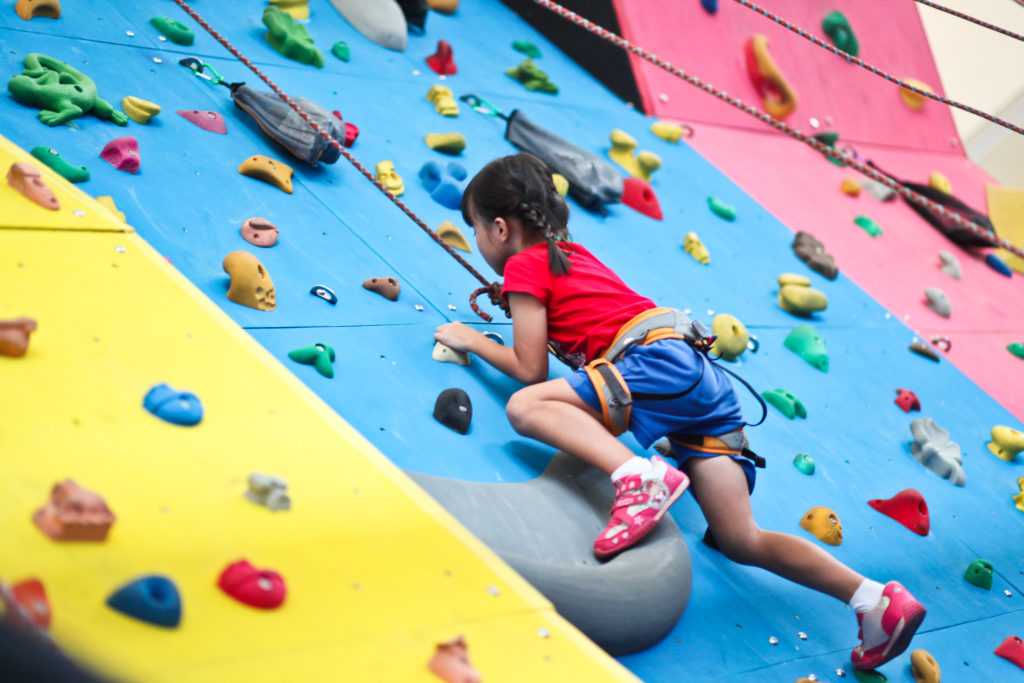 The Rock School was founded to discover the sport of rock climbing in Singapore. They believe that fun activity also helps to develop your personality and improve focus. They have numerous programs from school needs to personal training for kids. The most basic 2-hour workshop is for beginners who have never set foot on any wall. They also have a Double Up Workshop where both parents and children can participate together! There are different types of surfaces for different climbing experiences like a 13m Spaceship Wall, 10m Tower Wall and 4.5m Boulder Wall. You can find Rock School at two premier locations of Singapore – one at Bedok CC and the other at Tampines.
Address: Our Tampines Hub, 1 Tampines Walk, #02-81, Singapore
Timings:
Weekdays: 11:00 AM to 10:00 PM
Weekends: 9:00 AM to 9:00 PM
Website: therockschool.sg
Cost of Adult Day Pass: SGD 28
10. The Cliff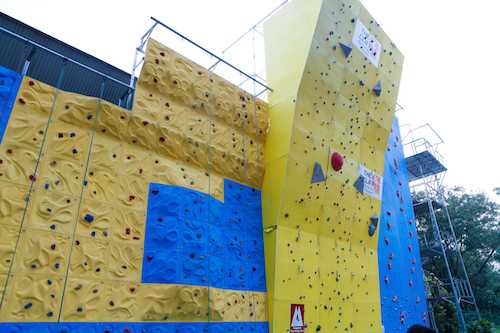 The Cliff is a part of the Snow City complex in Town Hall that has a first-of-its-kind vertigo climbing wall. The facility is a result of a collaboration between Snow City and Nphibian Outdoor Consultants. The Cliff was a sight for World Youth Climbing Championship in 2012. There is also an indoor boulder made, especially for kids! It has various workshops, one of them being teaching kids on how to tie different types of knots. Rates for kids are almost half than that for adults, and they get to discover new skills in climbing and develop their motor skills. They have walls with ten lanes, and you can choose one depending on your speed and time taken to climb a wall.
Address: 21 Jurong Town Hall Road, Singapore
Timings: 10:00 AM – 6:00 PM
Website: snowcity.com/thecliff
Cost of Adult Day Pass: SGD 30
11. X Sports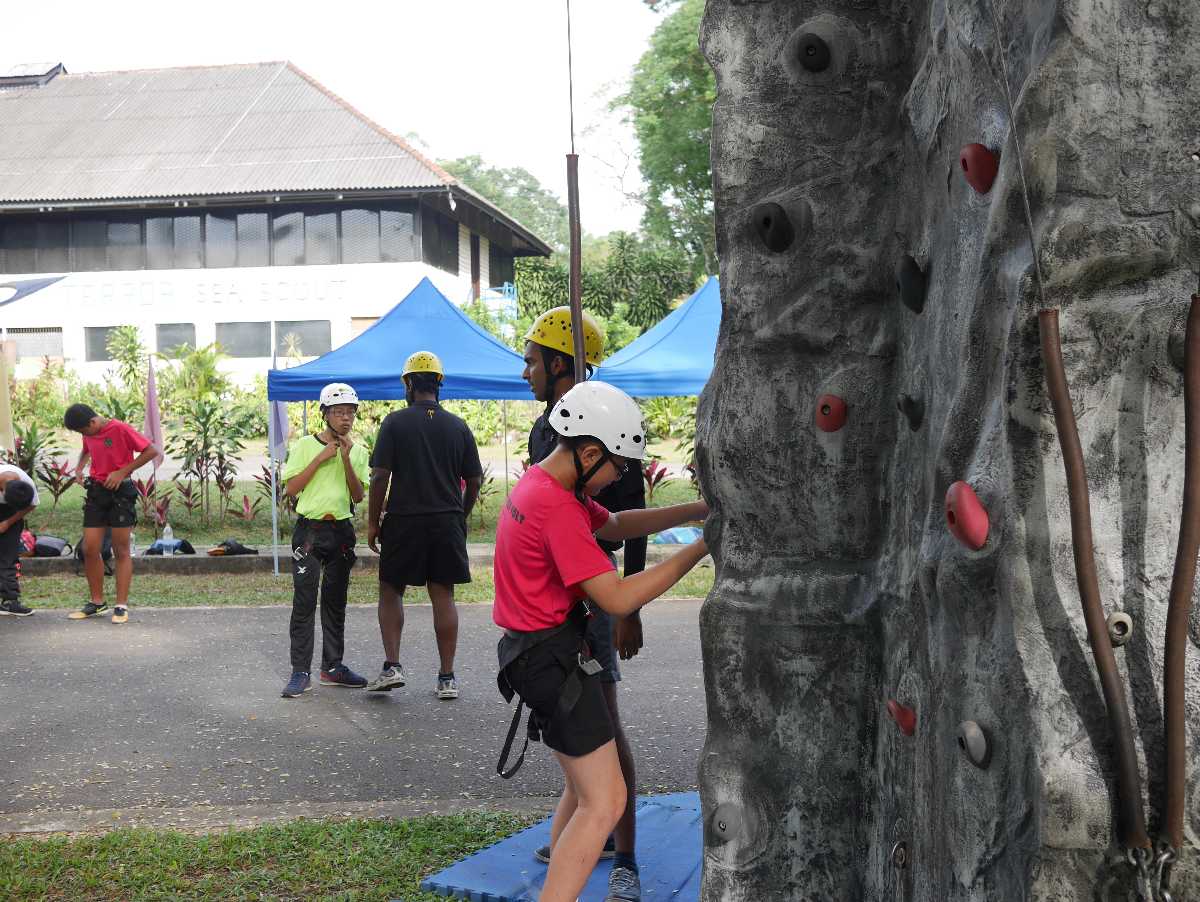 X Sports is an all-in-one rock climbing operator. It has all the latest sports equipment from shoes to ropes required for climbing and offers a variety of climbing courses certified by Singapore Mountaineering Federation. It has SNCS Level 1 to 3 for beginners and Proficiency Courses for Advanced Climbing. If you're planning to construct a climbing space at your home or premises, then head to X Sports to buy all the necessary equipment at low prices!
Address: 1 Woodlands Close, #05-27 Woodlands 11, Singapore
Timings: Closed on Weekends
Weekdays: 9:00 AM to 6:00 PM
Website: xsport.com.sg
Contact for rates: 65 9181 2893
12. Fit – Bloc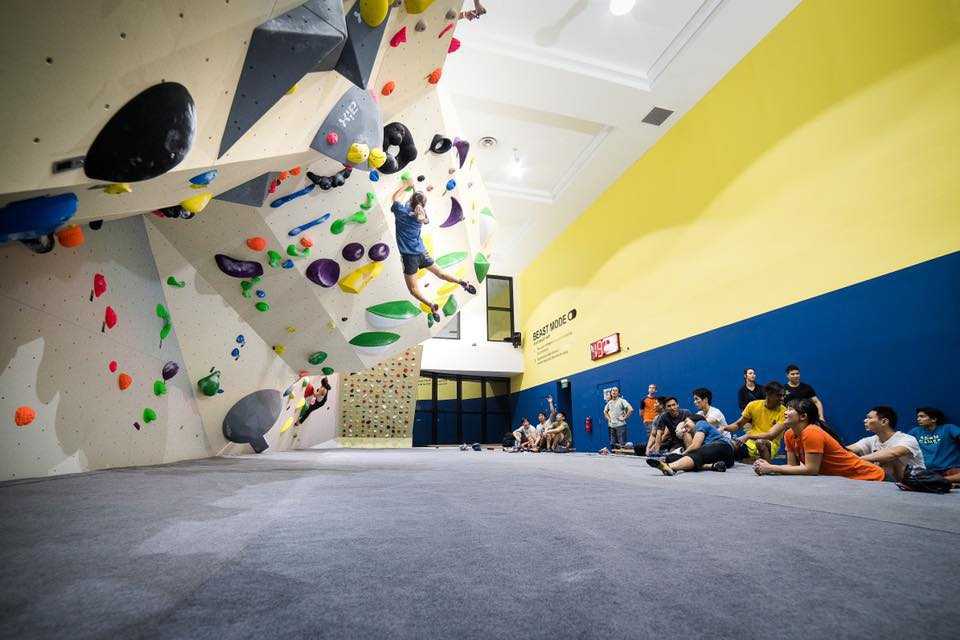 Fit Bloc is one of those cool places to when you're looking for motivation to stay healthy. Inspiring hundreds of people, they believe is rock climbing is not just a leisure time sport but can help to remain fit in the long term if practised regularly. Their most popular pass is multi-pass that is valid for 12 months for just SGD 180 and is shareable with friends! They provide all the necessary and advanced training required to climbers and hold regular sessions and workshops for the same. Their website is always updated with upcoming meetings. Apart from being an expert in rock climbing, Fit Bloc offers other fitness and recreational activities like yoga, kickboxing and Pilates.
Address: 87 Science Park Dr, #03-02, The Oasis, Singapore
Timings: 10:00 AM to 11:00 PM
Website: fitbloc.com
Cost of Adult Day Pass: SGD 24
13. OYEYO Boulder Home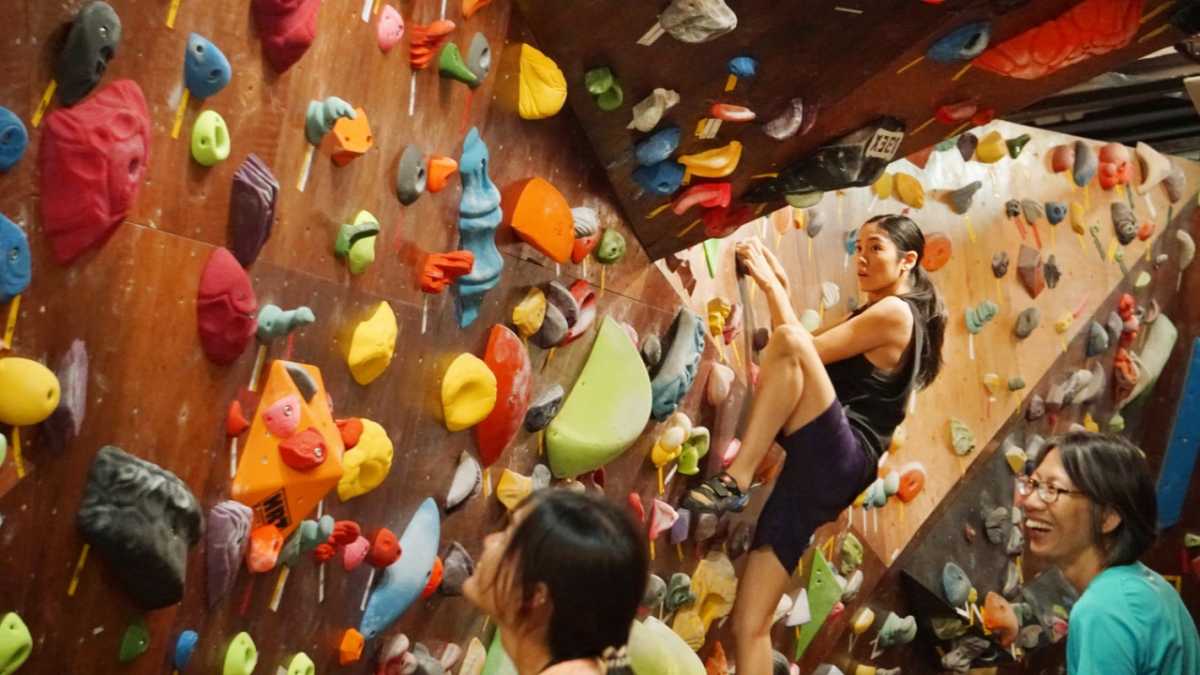 Oyeyo is a cosy climbing gym with multiple routes to challenge your climbing skills. True to its name, it has a home feeling to it and provides all facilities like lockers, bathroom and training area to ensure a comfortable experience. Their latest workshop is for people who want to try a hand at rock climbing in Singapore but are too busy in their lives. Boulder Home has come up with a Lunch Time Fitness Express that costs just SGD 8! If you want a peaceful climb, then Oyeyo is the place for you.
Address: 148 Mackenzie Road, Singapore
Timings:
Weekdays: 1:00 PM to 11:00 PM
Weekends: 10:00 AM to 9:00 PM
Website: rockerfellasadventure.com
Contact for rates: 6996 2095
14. Safra Adventure Sports Centre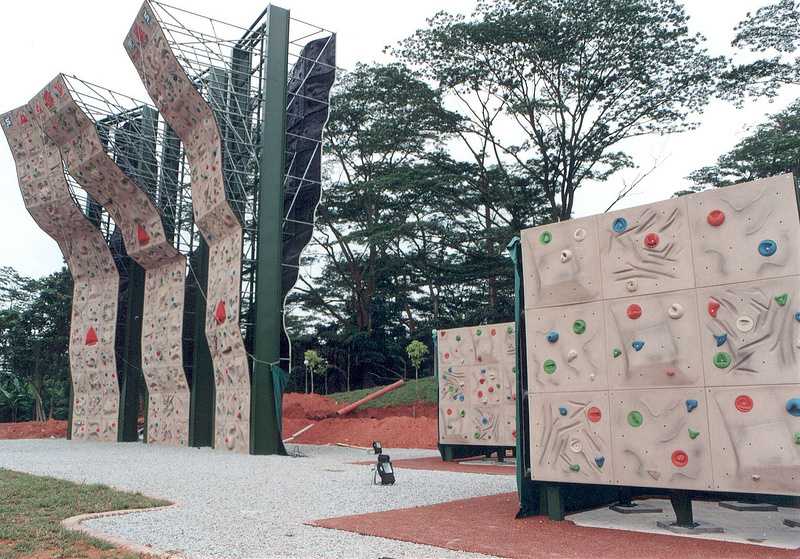 This outdoor rock climbing facility lets adventure enthusiasts climb towering heights; and facilities here include an 'Adventure Tower', which is 25 meters high; a crevice wall, a chimney wall, and also slab walls. Additionally, you will also find a 15-18 meter high-speed wall at the sports centre. On the other side of the compound, there are another six 15-meter tall rock walls, and an indoor bouldering gym spread over two levels, well suited for those who are scared of the heights and wish to stay close to the ground.
Address: 60, Yishun Avenue 4, Singapore -769027
Timings:
Monday: Closed
Tuesday to Friday: 1:00 PM to 09:30 PM on normal days, 9:00 AM to 9:30 PM on school holidays
Weekends: 9:00 AM to 5:30 PM
Website: www.safra.sg
Cost: Prices for non-members are SGD 16.10, and prices for SAFRA members start from SGD 10.70.
15. Climbers Laboratory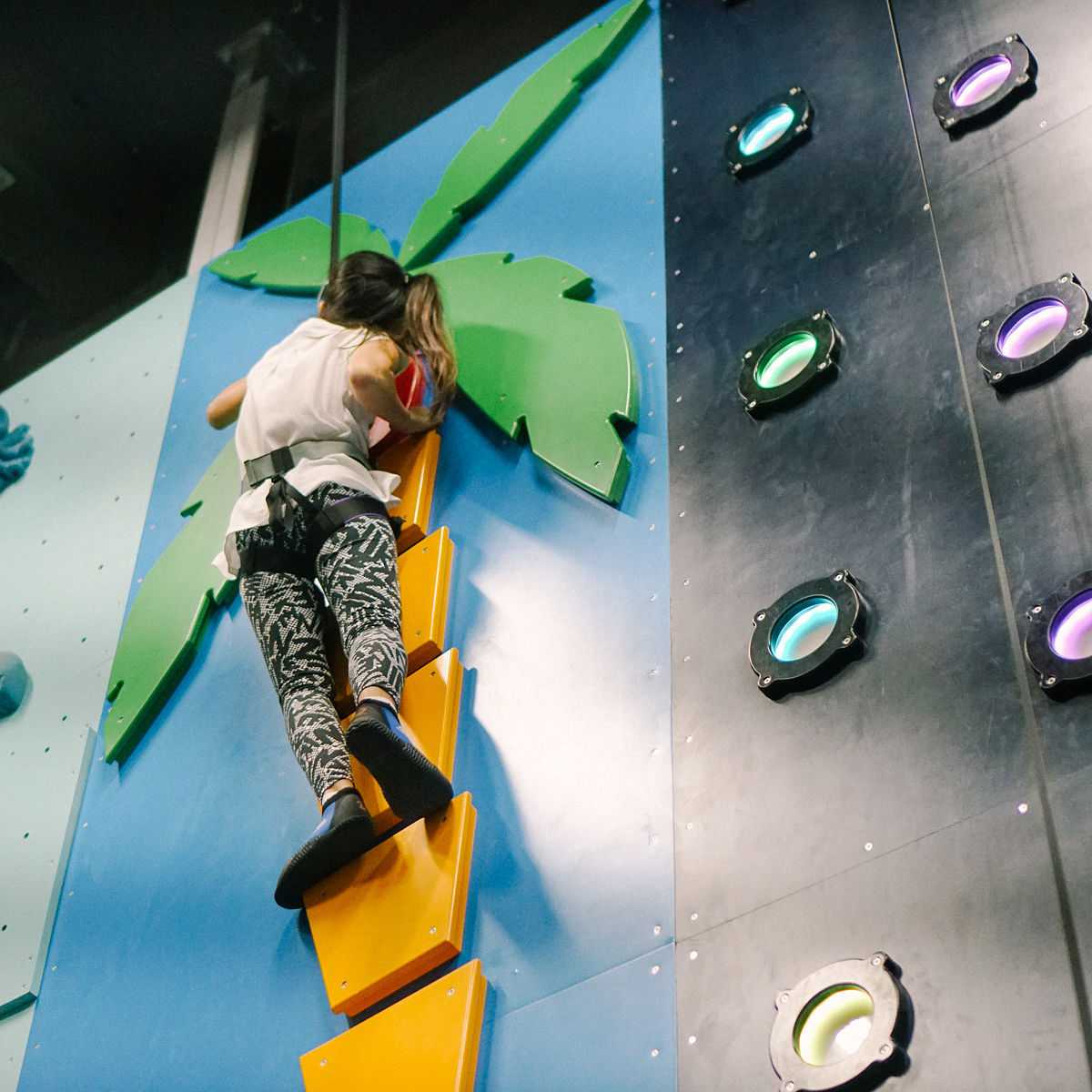 If you have ever wanted to try out a 180-degree arch route, then Climbers Laboratory is the place for you to go to. The only rock gym in Singapore that allows you to do that, Climbers Laboratory also offers numerous other fresh challenges on its eight-meter multi-angled walls. Additional facilities here include climbing certification courses for climbers above thirteen years of age, conducted by trained professionals; as well as a well-equipped climbing shop which sells a variety of equipment and accessories.
Address: 48 Woodleigh Park, PUB Recreation Club, Singapore 357844
Timings:
Monday: Closed
Tuesday to Friday: 2:00 PM to 10:00 PM
Saturday, Sunday and public holidays: 10:00 AM to 07:00 PM
Website: http://climberslaboratory.com.sg/
Cost: 1. High Wall/ Boulder Wall: Multi entry pass (10 entries): SGD 185
General Admission: i) Members: SGD 18 for adults, and SGD 12 for under 21 members, ii) Non-members: SGD 22 for adults, and SGD 14 for under 21 guests2.
Augmented climbing wall: i) Walk In: SGD 33 for 30 minutes, ii) Members: SGD 27 for 30 minutes
16. Let 'em Play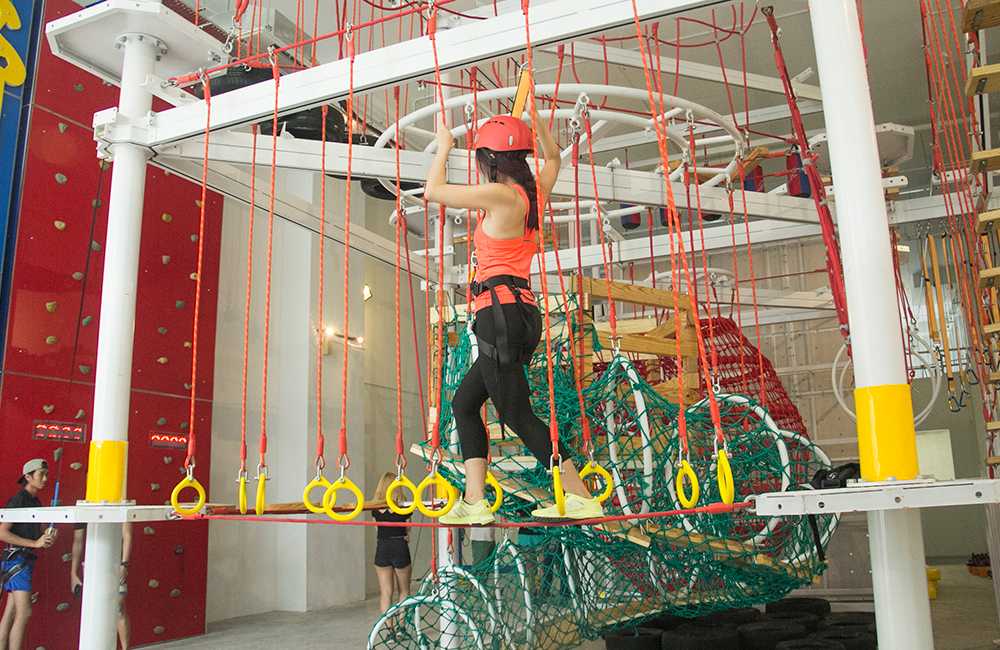 This indoor venue is the one-stop holiday spot for kids and adults alike, and the experience here has only improved after the introduction of the latest Augmented Reality (AR) Technology, all the way from Finland. There are four different types of adventure activities here, including fun climbing walls, Augmented Reality Climbing, indoor high element obstacle course, and a robotics lab workshop. The digital wall makes use of projected graphics to create some really interesting competitive games that effectively combine education and entertainment together to make rock climbing here a memorable experience.
Address: #01-100, 18 Boon Lay Way, Singapore 609966
Timings:
Monday to Friday: 10:00 AM to 6:00 PM
Saturday and Sunday: 8:30 AM to 8:30 PM
Website: letemplay.com.sg/
Cost (All in package): Children: SGD 28, Adult: SGD 361, Child and 1 adult: SGD 38
Rock Climbing Equipment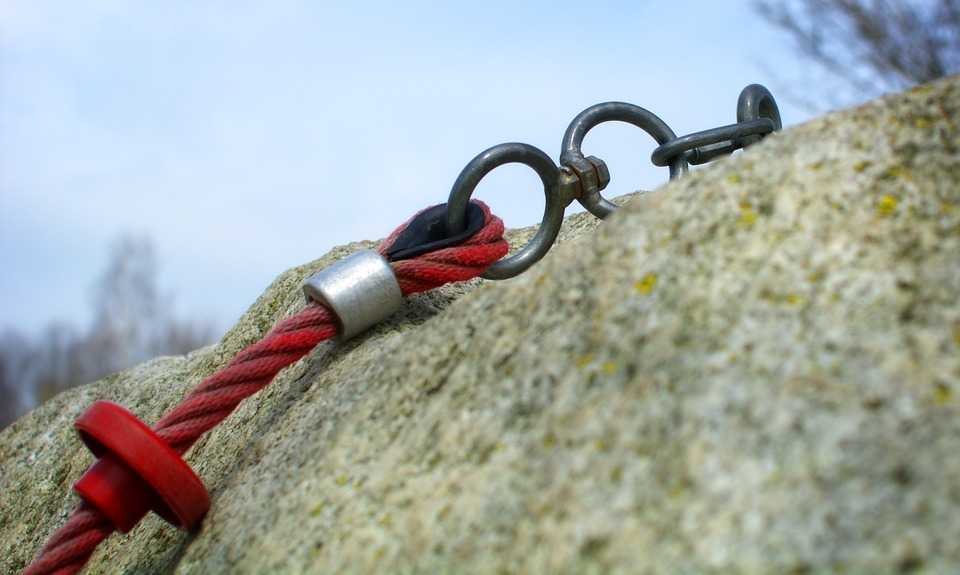 Ropes: The essential rock climbing equipment is the rope. It ensures your safety by a smooth fall in case you slip. If you're going to buy your ropes, then take care of length, diameter, type and features.
Helmet: Helmet protects you from head injuries as sometimes you have no control over your fall and might end up hitting your head either on the rock itself or the ground.
Harness: A rope does not work by itself. It needs to be tied around the harness that comes around your waist and legs. While buying a harness, you should be careful about the quality that it is not too old or of inferior quality and check that it's comfortable to put on your body.
Shoes: Climbing shoes are different from running or walking shoes. They require sticky rubber soles to increase friction and grip strength.
Belay device: Belay is a friction brake device used to control the rope. The belayer uses the equipment to ease your fall or lower you during rock climbing. There are three types of belay devices- tubular, assisted braking and Figure 8. You can gather information about all three and then decide which one to buy.
Chalk and chalk bags: Chalkdust is magnesium carbonate helps absorb moisture and sweat and helps increase friction, which in turn maintains the strength of the grip. You need to carry chalk bags to carry chalk dust during the climb. They come in different styles and patterns.
Carabiners: A carabiner connects climbing rope with other equipment. They come in different shapes and sizes depending upon the use.
Quickdraws: A quickdraw is made up of two carabiners and is used to control the rope. It assists the rock climbers and allows the rope to run freely.
Sling: A sling is also known as a runner is used to wrap around rocks or other pieces of equipment and act as extensions.
Essential Tips for Rock Climbing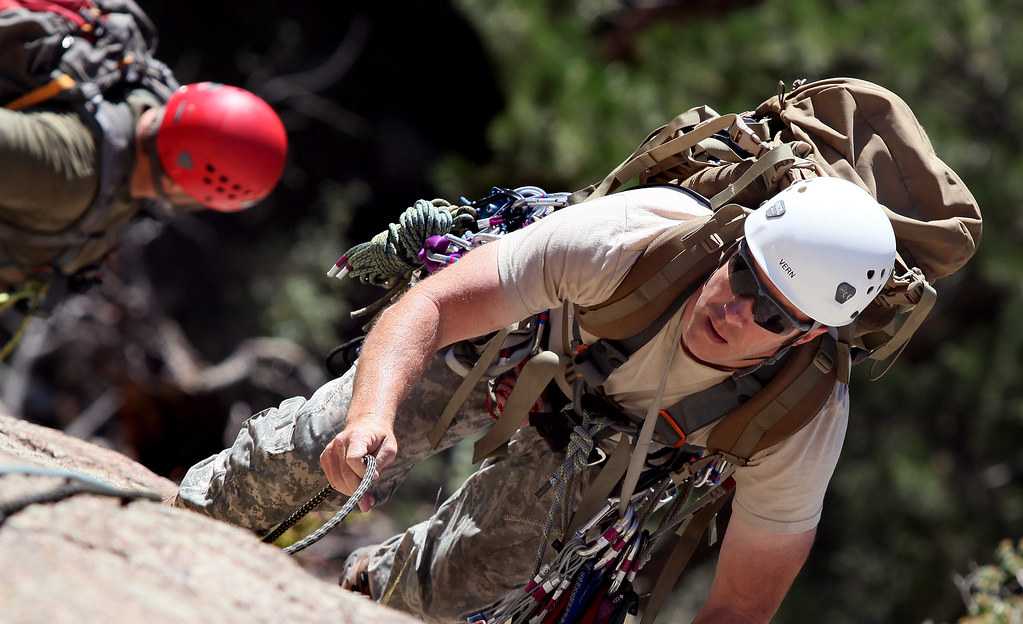 1. Warm-up exercises:
Before going for the rigorous climb routine, warm yourself up by doing some stretching exercises. These exercises will prepare your body muscles and will reduce the chances of injury.
2. Keep your body close to the wall:
Keeping your body close to the wall helps to maintain your centre of gravity. Sometimes you have to move away to check the route, but mostly you should be near the wall. Indicators like the direction of your knees and body posture help to understand the technique of climbing better. Mostly the body is not erect, and the knees do not point towards the wall.
3. How to improve the strength of grip:
One of the most overlooked climbing techniques is the grip. If you've worked on your hold, then you can ace the climb. One mistake and game over. The best ways to improve the strength of the grip to practice some forearm exercises, which increases fluidity in the muscles and won't create tensions while you're up there on the wall. The other way to make a mental note of your grip when you're climbing. This way you'll be assured of not making a mistake and change your course in case you think your grip is about to fall.
4. Maintain speed of the climb:
There are two types of climbers- the slow ones and fast ones. It's okay to be in any category; you have to follow the technique. Slow climbers tend to use a static method where you move your limbs and shift your weight, whereas fast climbers use the dynamic method, which is all about getting at the top at the earliest. If you're a slow climber, try and move your upper body quickly because it needs a lot of strength and if it gets tired and you're bound to fall. With fast climbers, pause to recheck your grip, one wrong move can bring you down too.
5. Importance of Rest Spots:
One of the essential climbing techniques; finding a rest spot can make a difference between scaling that wall and falling down the rope. Especially in competitions, resting for a few seconds can help you win! A good climber can locate the rest spots from below ground itself. Look for extra spaces to fit in your arm or leg that will relax your muscles.
6. A Balanced Fall:
There is something known as a good fall, and it is an integral part of rock climbing. Falling is part of climbing and especially when you're a beginner. So by any chance you don't put your foot at the right place or are unable to maintain your body balance, you should lose your weight on the rope for a smooth fall. Make sure to push away from the wall as soon as you're slipping and control your fall by landing on your feet. You can practice some falls to get out of the fear of falling.

So get ready to have the best experience of rock climbing in Singapore because some walls are meant to be scaled!