Hong Kong houses many famous rock climbing sites in between its array of skyscrapers. Acting as a popular recreation sport amongst the tourists and locals, rock climbing in Hong Kong will be an experience for life, both for amateurs and professional climbers. The best time to go for outdoor rock climbing is in winter from October to April, when there is the least rainfall to obstruct the paths, and the heat is soothing. Here are a few famous spots for rock climbing in Hong Kong along with French style sport climbing grades, both outdoors and indoors, which are a must-visit:
1. Beacon Hill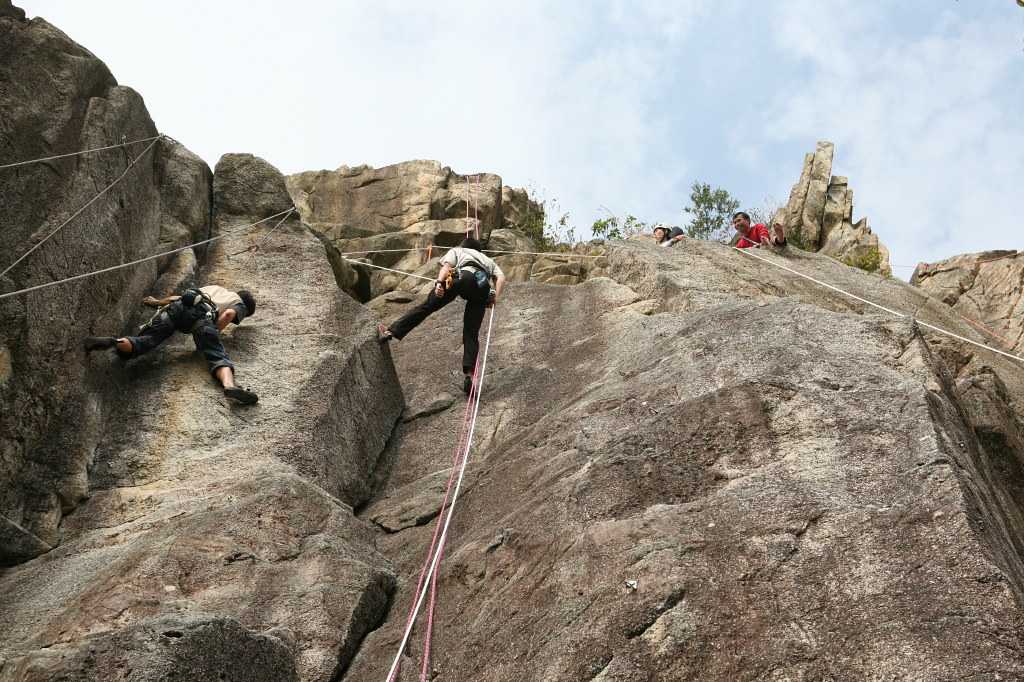 The 457 Metres tall Beacon Hill, located in the northern side of Kowloon Peninsula, is an excellent place to try rock climbing in Hong Kong. Beacon Hill provides ample routes for climbers to witness marvellous views from the hilltop. There are four traversable crags; the Main Crag to the right, Main Crag to the left, Main Crag at the main face, Really Face and Upper Craglit. The most explored routes amongst experienced climbers are Terminator with difficulty level of F7b+, Pretty Girl route with F6a, Hardman with F7b and Point Break with F6b. Nevertheless, there are other routes with difficulty levels of F5 as well like Jacky's Route, One-Eyed snake, Banana Brain and others, which are good for amateurs.
How to reach: Visitors can avail the Mass Transit Railway (MTR) upto Ship Kip Mei Station. From there on, there are taxis available which will take you to Lung Cheung Road. A small 10-minute walk henceforth will lead you to the destination.
2. Tung Lung Chau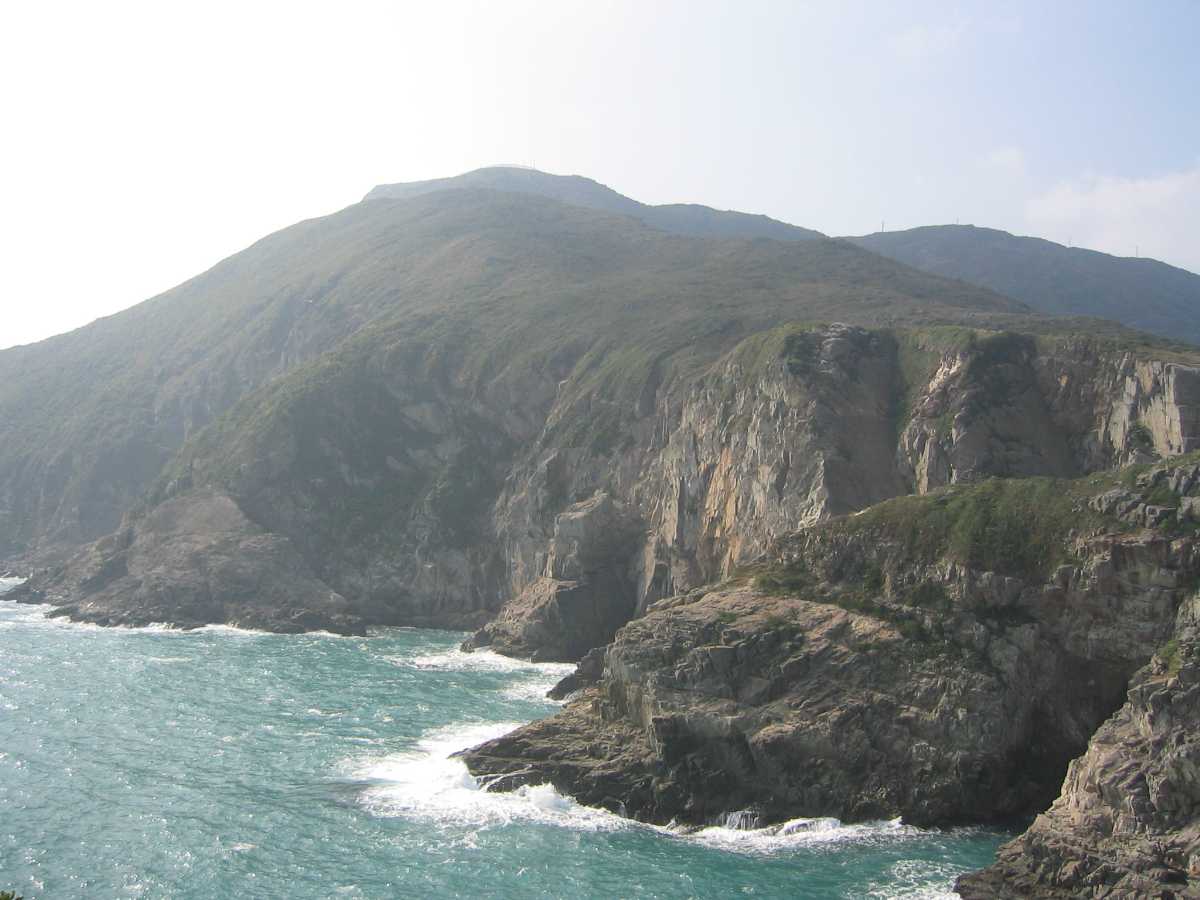 Formerly called the Nam Tong Island; Tung Lung Chau is a scarcely populated section bracketed by the Clear Water Bay peninsula. This rock climbing site caters to all difficulty levels. There are climbing areas, namely Technical Wall, Sea Gully, Big Wall and Kite rock. Some marvellous and adventurous routes for rock climbing in Hong Kong here are the Big Dipper with a difficulty level of F8a, La Revenchedes Chicos of F8b level, Wonderful Souvenir with F7a+, Purple Heart with F7a along with routes belonging to the easier levels like Merry Christmas with F4+, the Chimney with F4+ and so on. 
How to reach: A beautiful journey will be accompanied while reaching Tung Lung Chau. Being an isolated island, there are ferry rides available from two spots, each occupying almost 40 minutes of the day to reach the destination. One ferry service is available from Sai Wai Ho of Hong Kong and another from Sam Ka Tsuen from Kowloon. This journey will be accompanied with another 10 minute walk upto the climbing area. 
3. Lion Rock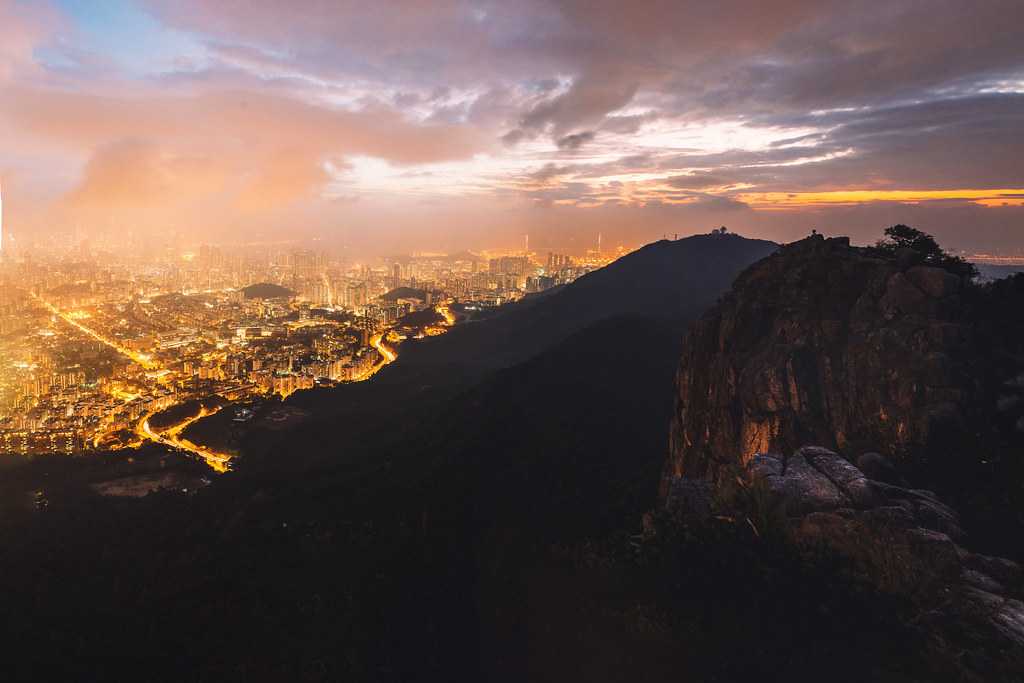 Sandwiched between Kowloon and Tai Wan, Lion Rock touches the sky with its mighty 'lion' appearance visible from a distance. Situated right behind the Kowloon Peninsula, Lion Rock Hill is one of the most adventurous sites for any mountaineer and rock climber, giving a bird's eye view of the entire city. Set at 495 Metres high, this rock climbing in Hong Kong has only two sides - The East and the West with diverse route options. Few routes of the Westside include Power of love with difficulty level F8b, Dancing with Fire with F7b+, Groove Finish with F76b, Jet Rows with F6b+ and others. Few daunting routes of the east side of Lion Rock include Balance of Power with F7a, Stray Cat Strut with F5+, Austrian Staircase with F6a and a few more. Also, a climbing expedition to the Hind Paw Buttress will be excellent with routes of decent difficulty level, quite good for the newcomers. 
How To Reach: One can reach the Lion Rock Hill from two places, one is from Kowloon and other is from ShaTin. From Kuwloon, the MTR upto Lok Fu station will gradually lead to the destination. From there, taxi services are available upto Lion Rock Country, the entire journey can be covered in 40 minutes.
Those who wish to traverse from Sha Tin can avail the MTR to ShaTin station. Taxi services are available from here upto Mong Fu Shek BBQ. A small walk can reach the crag toe in a few minutes. It will take the same time as from Kowloon to Lion Rock.
4. Central Crags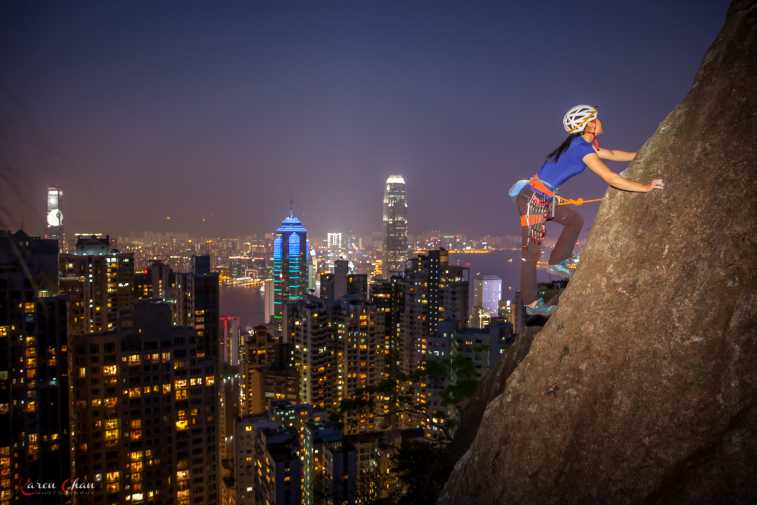 The central Crag is one of the most amicable crags with multi-options for rock climbing in Hong Kong. Visitors can explore the vivid stony routes of the different crags on all sides - be it Cave Crag, Austin Powers Crag, Birds Nest Crag, Disappointing buttresses, Mid-Levels Crag, Forgotten Buttress and Soho Crag. Some fascinating routes with lesser difficulty levels include Ming Dynasty with difficulty level of F4, Round About of ShoWest with F4, the tantalizing path of Blade Runner with F5 level and many more. Regardless of mention are the difficult paths of Hong Kong Style With F8b level, Backyard with  F7b+, Local Spirits with F8b, Vita Dura with F7c+ and many more.
How to Reach: Central Crag is accessible from Po Shan road on one side and Old Peak Road on the other side. There are taxis available to the site. From any of the above routes as mentioned, a 15-minute walk would lead to  the foot of the Central crag. 
5. Cape Collinson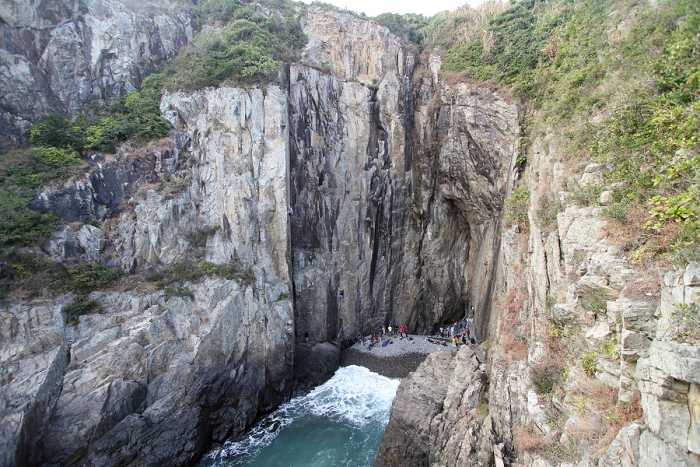 With excellent coastal crags giving a view of the welcoming blue waters from above, also known as Hok Kok Tau, Cape Collinson is sandwiched between Siu Sai Wan and Bi Wave Bay in Hong Kong. Being the sports climbing hub for enthusiasts, a little ahead lies the Collinson beach and beside it lies the climbing areas of the slab wall of Zawn and the famous Bunker Wall. A few famous routes for rock climbing in Hong Kong here are Fire and Forget with difficulty level of F6a, Special Ops with F7b+, the pleasant route of Collinson Corner with F4, Breakaway F7a and so on. If you are a tad more adventurous, you can avail a few tricky routes of the Beachside, a bit trembling but with extreme fun.
How to reach: Cape Collinson is accessible via MTR services. After getting down at Chai wan, travellers  can take a taxi upto the Cape Collinson Correctional Institution via the Cape Collinson road. From here, all rock climbing spots are within a walkable distance. However, remember that it is always better to arrange the return trip, beforehand to avoid taxi unavailability problems. 
6. Eagle Crag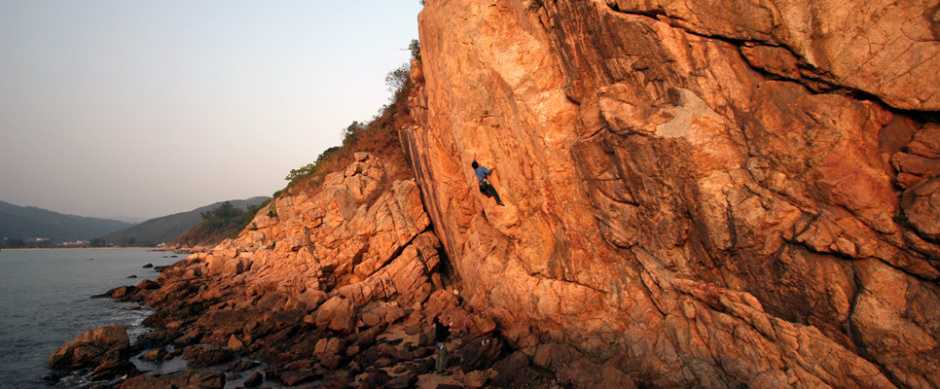 Located in Lantau Island on its western side of the Chi Ma Wan peninsula, Eagle Crag with its mighty stature stands right below the famous temple Crag of Hong Kong. Rock climbing in Hong Kong to these crags of 18 to 24 Metres in length can be a fulfilling climb for sports climbers. Not amidst a crowded place, this Crag offers almost ten routes with all kinds of difficulty levels. Few such routes include the Gift with difficulty level of F7a, Surfers Waves VS 4c, Eagle Paradise with F7b, S&M with F7c, Jumping Jack Flash with F6c and few more.
How to Reach: From Pui O, travellers can easily reach Ham Tim down the marshy roads, crossing the village arenas via rented taxis. After a ten-minute drive up to the east of the river, just beneath the Temple Crag, lies the Eagle Crag.
7. Chung Hom Kok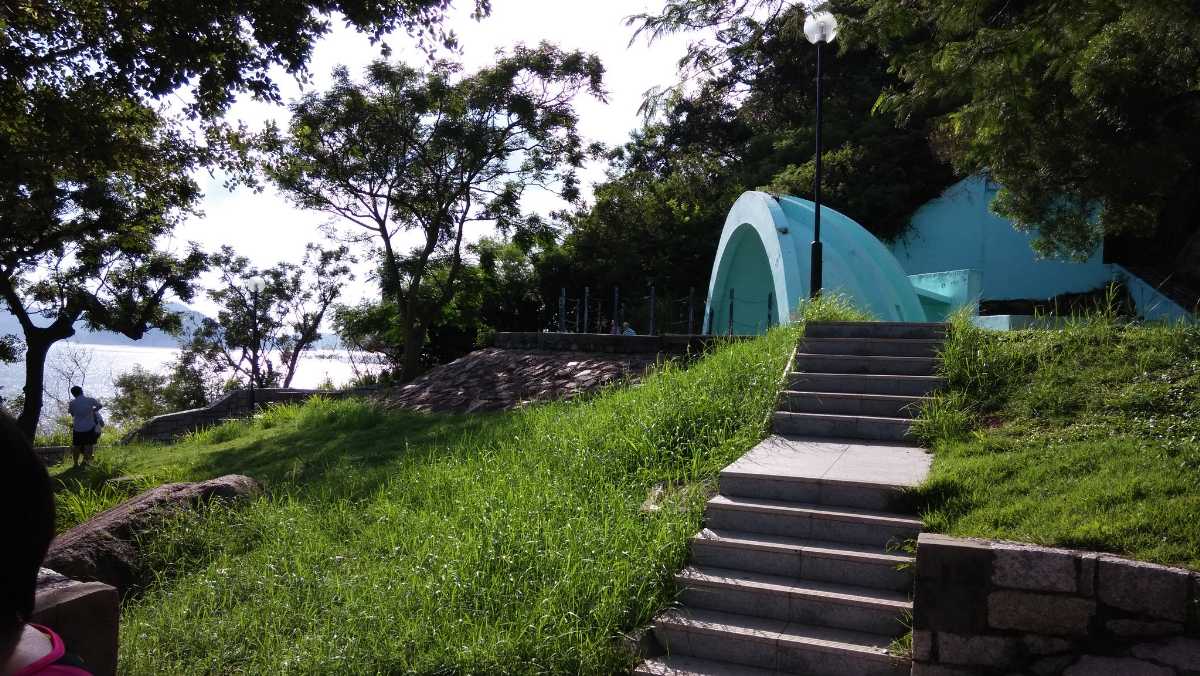 Chung Hom Kok of the southern Hong Kong Island is the ideal choice for travellers to experience the lined up boulders in perfect position in their tough granite stature. Few beach boulders include the Pier, the Waves, the Aretes, Odds n Sods and the Mothership. Few adventurous routes for enthusiasts include Alien, Predator, the Thunderbird, the Mitchtrix, the Mentalist, the Flake, the Jumper, the perfect Traverse and so on. Apart from these, there are boulders for climbing in the name of Roadside Boulders, Big Boulders and the Eastside boulders on the Hillside sector, which are quite good for trying out sports rock climbing in Hong Kong. 
How to Reach: There are two ways to reach Chung Hom Kok which depends on which side a traveller wants to explore. There are buses from Exchange Square in the Central upto Chung Hom Kok. Depending on where you want to go, whether it is the Beach Boulders or the Coastline Crags, the road can be chosen.  
8. Kowloon Peak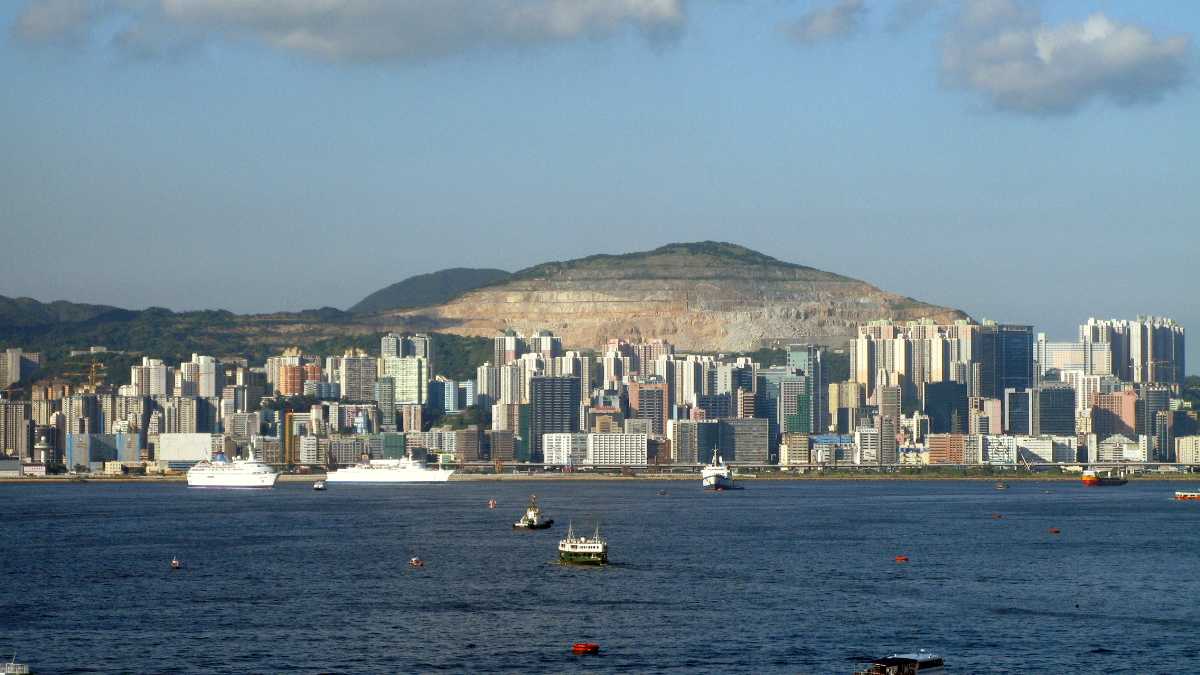 Also known as Fei Ngo Shan, Kowloon peak in the farthest corner of Kowloon in Hong Kong is gigantic and noted for its treacherous rock climbing in Hong Kong, as well. A very good place for sport climbs, Kowloon Peak hosts five such climbing spots namely Hopeless Buttress and Yellow Wall, Suicide Wall Aquila Crag, Split Boulder and September crag. Out of all, the Suicide Crag, as frightening the name suggests, is one of the most difficult and treacherous routes for climbing, mostly approached by the efficient climbers. Some major climbing routes along with their difficulty levels are Facing Wind with F6b, Ultra Marathon with F7a, Little Marathon with F6c+, the Third Street with F6b, Indian Summer F6b+ and many more.
How to Reach: Reaching Kowloon Peak and all these five crags are not at all difficult. One needs to reach the Cho Hun Station by availing the MYTR service. From there, any taxi following the Fen Ngo Shan Road will help one reach the desired crag from where one wishes to start their climbing expedition. This journey of reaching upto any of the crags from Ch Hun will approximately take 40 minutes. 
9. Ap Lei Chan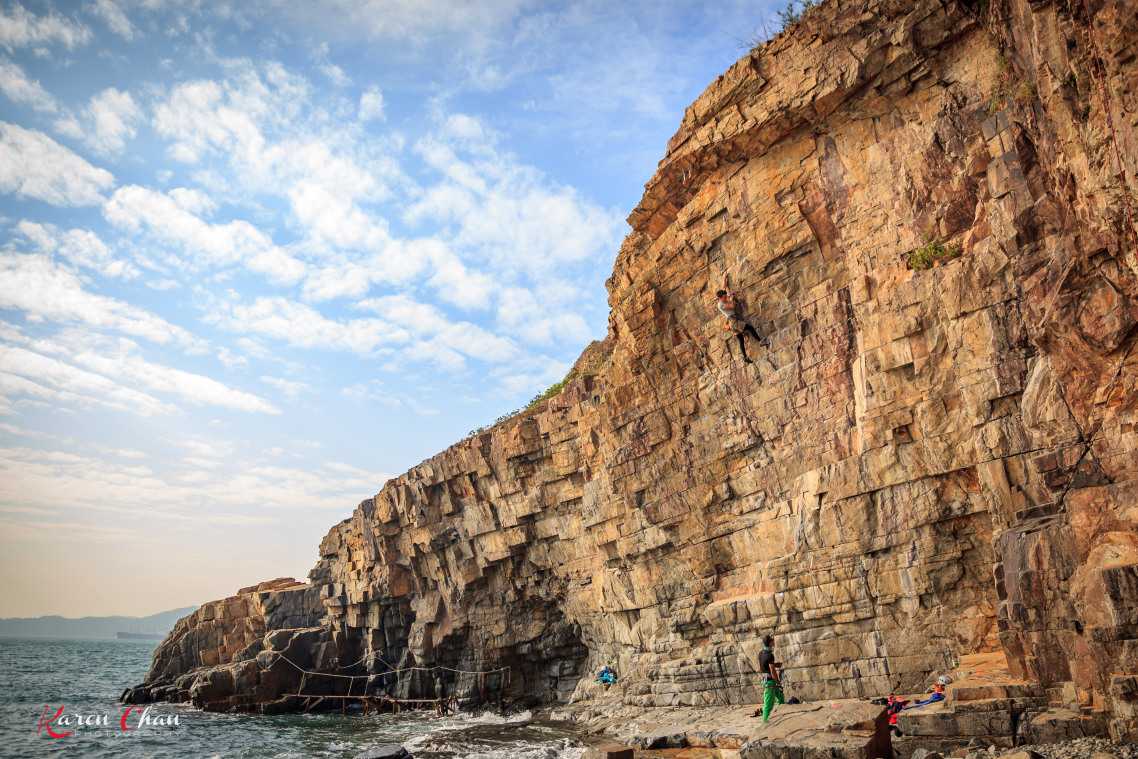 Being the second most populated island of the world, Apu Lein Chau, also known as Aberdeen Island of Hong Kong is located in the populated southern district of the city with its sister crag Ap Lei Pai. Located a few kilometres away, the major areas of Apu Lei Chau for rock climbing in Hong Kong such as the Yellow Wall, Dump Wall, the Den, the Galley, the Welcome wall, the Depot and the Fury Wall. Few routes include Manic Volcano, with difficulty level of F6cc+, Walk the Plank with F6b, Lean Burn with F7a, Press Gang with F7b and more. Not only these but for beginners, there are Avon calling with F4, Fishy Business with F5, Fresh Off the Boat with F4 and more.
How to Reach: Approaching Apu Lei Chau from South Horizons via the MTR is quite an easy route for travellers. Gradually, leading towards Lee Nam road, one will reach the Welcome wall tip in Apu Lei Chau, witnessing the scattered coastline upto the length and breadth of Apu Lei Pai.
10. Black Crag
The south side cliff in Hong Kong Island is the Black Crag, often regarded as a low grading spot for rock climbing in Hong Kong. The rock quality is undoubtedly good with a comfortable length for climbing options. However, it must be strictly kept in mind that the path below the Crag is a public road with busy people always roaming from one direction to another. The Black Crag Main Wall has more than 20 routes spread over the entire breadth of the Crag with few exciting routes are My Cats Blacker Than Your with difficulty level of F6a, Lost Link with F5, Black Blast F6c+, the Missing Link with F7b, the Black Swan with F4, Black Bomb F6a and so on.
How to Reach: Located on the southern side of Mount Nicholas, Black Crag from Wong Nai Chung Gap via a taxi upto the Black Links Road. From there on walk inside the zigzag bushes to finally find out the route which one's wish to climb. 
Indoor Rock Climbing in Hong Kong is yet another adventurous experience that any sports lover should dare not miss. Here are some of the top Indoor Rock Climbing gyms: 
11. Attic V Climbing Gym
With extravagant interior and facilities, Attic V has started its journey in 2015 and now caters to a vast range of enthusiasts. Attic V also provides climbing shoe rental if required by visitors. With a well-equipped lounge area and training area with highly systematized machines and trainers, there are almost 100 bouldering routes in Attic V. These boulders are set for understanding the stepping stones of rock climbing in Hong Kong; the introductory classes charge HKD 400 per person. For intermediate courses, four sessions each of one hour charge HKD 1200 per person. 
Location: Shop E, G/F Derrick Industrial Building, 49 Wong Chuk Hang road
Timings:
Monday to Saturday : 11:00 AM to 10:00 PM
Sunday and Public Holidays : 11:00 to 08:00 PM
12. Verm City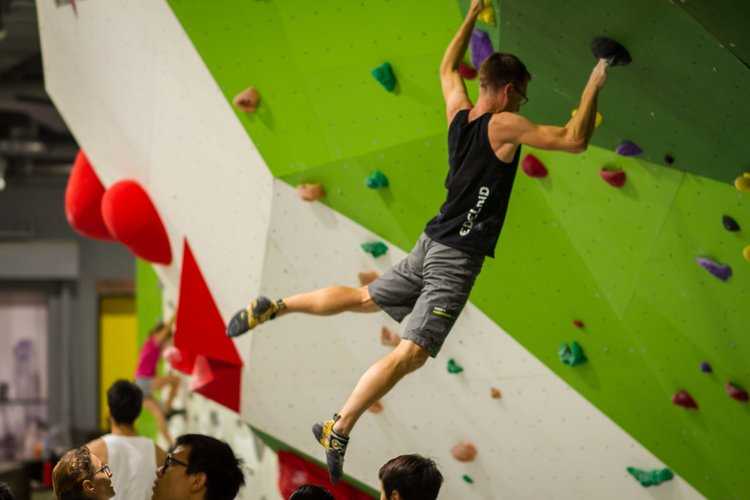 Verm City is famous both as an amusement park and an arena for rock climbing in Hong Kong for all ages - be it bouldering, lead climbing, top rope, vertical drop slide or the Stairs to Heaven climb. Being the biggest of all gyms in Hong Kong city with an area of 18,000 square feet wall to wall climbing, it invites enthusiasts from all fields to experience this physical sport. To avail the facilities of the gym, anyone can pre-book rock climbing or Clip N' Climb or Kids classes from before, and the price starts from HKD 250 per person for Clip N' Climb and Rock climbing, separately, during weekends. The price may vary concerning the availability of dates.
Location: 4/F, Kodak House 1, 321 Java Road, Quarry bay
Timings: 
Weekdays
Rock climbing 11:00 Am to 11:00 PM
Clip N' Climb 11:30 AM to 07:30 PM
Weekends
Rock climbing 09:00 Am to 09:00 PM
Clip N' Climb 09:30 AM to 06:30 PM
13. Just Climb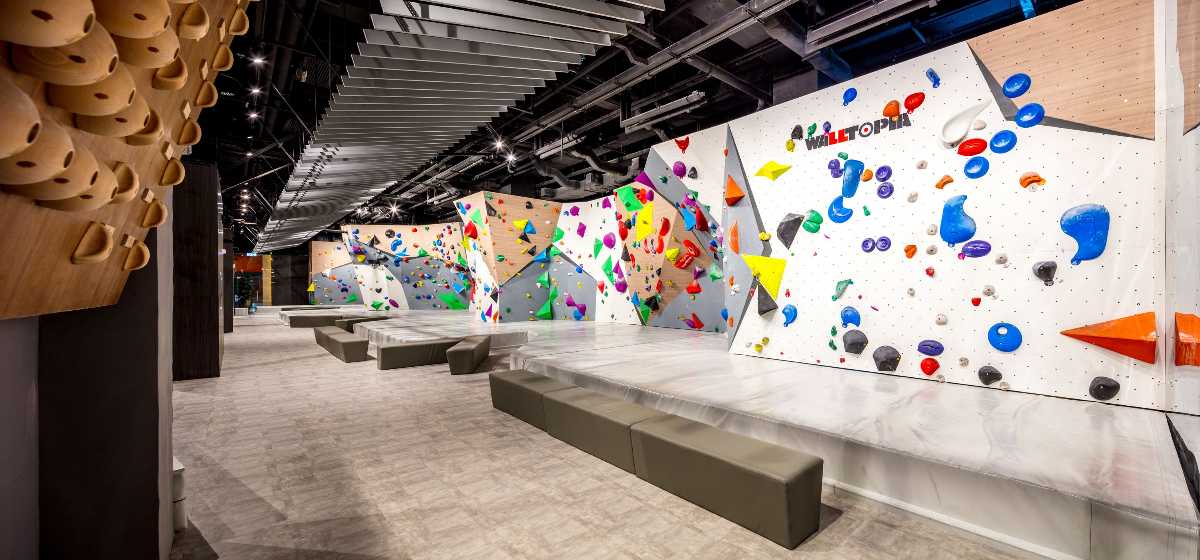 With two outlets, one in Chai Wan and another in San Po Kong, Keep Climbing regularly organizes several rock climbing programs round the year. Professional guidance is offered to an amateur in the best way possible in Keep Climbing. The area is open to Rock Climbing parties if pre-booked. The charges vary according to the course duration. Primarily the full day permit for indoor rock climbing in Hong Kong is available at HKD 218 per person. Rock climbing shoes and powder bag rentals at HKD 50 are also available.
Location: 
Outlet 1 - Hong Kong Store, Heng Fa Chuen, Shop G09, West Wing, Xinghua New Town, 100 Shing Tai Road, Chai Wan
Outlet 2 - Jiulong Store, San Po Kong, Flat D, G/F, Prince Industrial Building, 706 Prince Edward Road East, San Po Kong
Timings:
Hong Kong Store-
Weekdays - 10:00 AM to 11:00 PM
Weekends - 10:00 AM to 08:00 PM
Jiulong Store-
Weekdays - 02:00 PM to 11:00 PM
Weekends - 10:00 AM to 08:00 PM
14. GoNature Climbing Gym
A perfect place to learn rock climbing in Hong Kong amongst professional rock climbers is Go Nature Climbing Gym. No joining fee or any reservation is required. The vivid courses like Parent-Child Climbing course, Kids Climbing Course, Introductory course, Abseiling, Mountain Craft, Athlete Courses can all help one attain confidence in climbing the different 100 climbing and bouldering routes available. The one day package per adult charge around HKD 188, also rising shoe rental at HKD 30. Not just a physical sport,  but GoNature promotes this sport as a way of encouraging free spirit and confidence. 
Location: Unit C2, G/F, Wing Hing Industrial Building, 14 Hing Yip St. , Kwun Tong, Kowloon, Hong Kong
Timings:
Weekdays - 02:00 PM to 11:00 PM
Weekends and public holidays - 11:00 AM to 08:00 PM
15. HK Climbing Park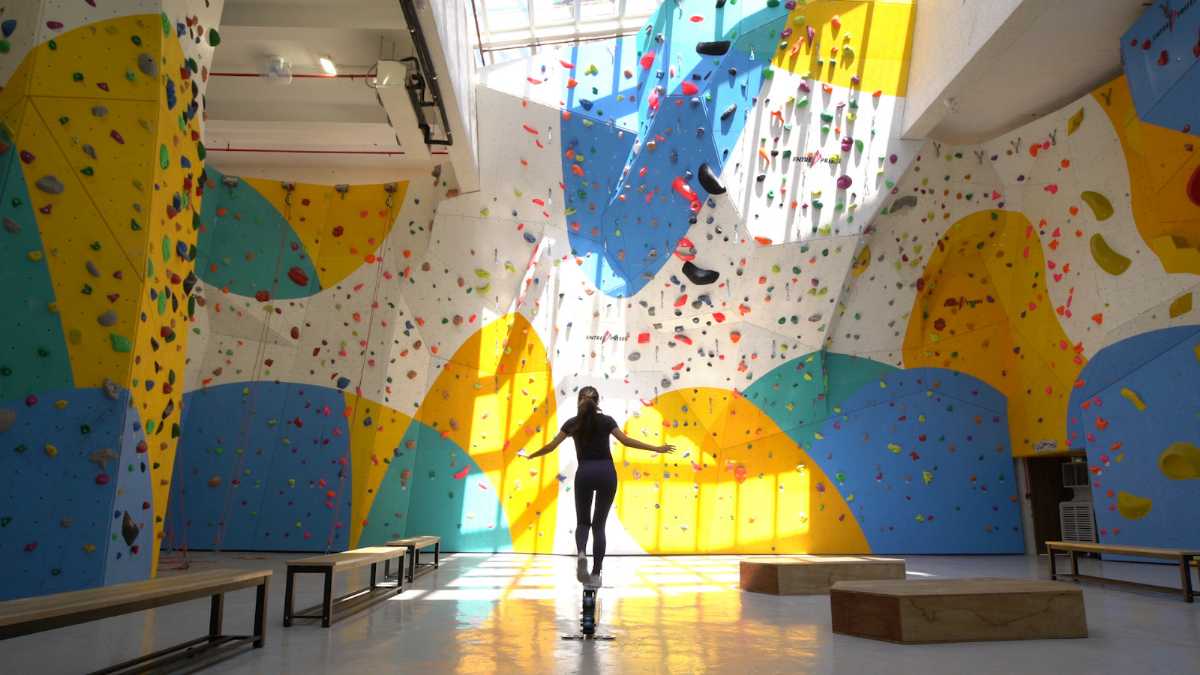 Hong Kong Climbing Park is very famous in the New territories region due to its Ninja Warrior Zone, Lead Zone and Dining area. With ten thrilling levels in the ninja gym, the different introductory courses along with Sport Climbing Level courses make Hong Kong Climbing Park experience more influx of climbers than others. The charges for different zones and different durations vary on weekends and weekdays. For getting a permit to all the zones on weekends, the costs may apply up to HKD 178, and for weekdays it is HKD 158. Extra HKD 30 is required if any climber wants to avail the rental services. 
Location: 
Level 2, Belair Garden Shopping Arcade Phase 2, 52 Tai Chung Kiu Road, Sha Tin, New Territories, Hong Kong
Timings:
Weekdays - 02:00 PM to 10:00 PM
Weekends and public holidays - 11:00 AM to 08:00 PM
Precautions
Climbers should be very aware of their harnesses. 
The knots should be adequately tied to avoid accidents.
A short rope while climbing is a terrible idea. Any climber should be dealing with long ropes so that it reaches the anchors.
Safe anchors are a must while rock climbing in Hong Kong.
It is essential to keep the body close to the wall while climbing to avoid disbalance. 
Tips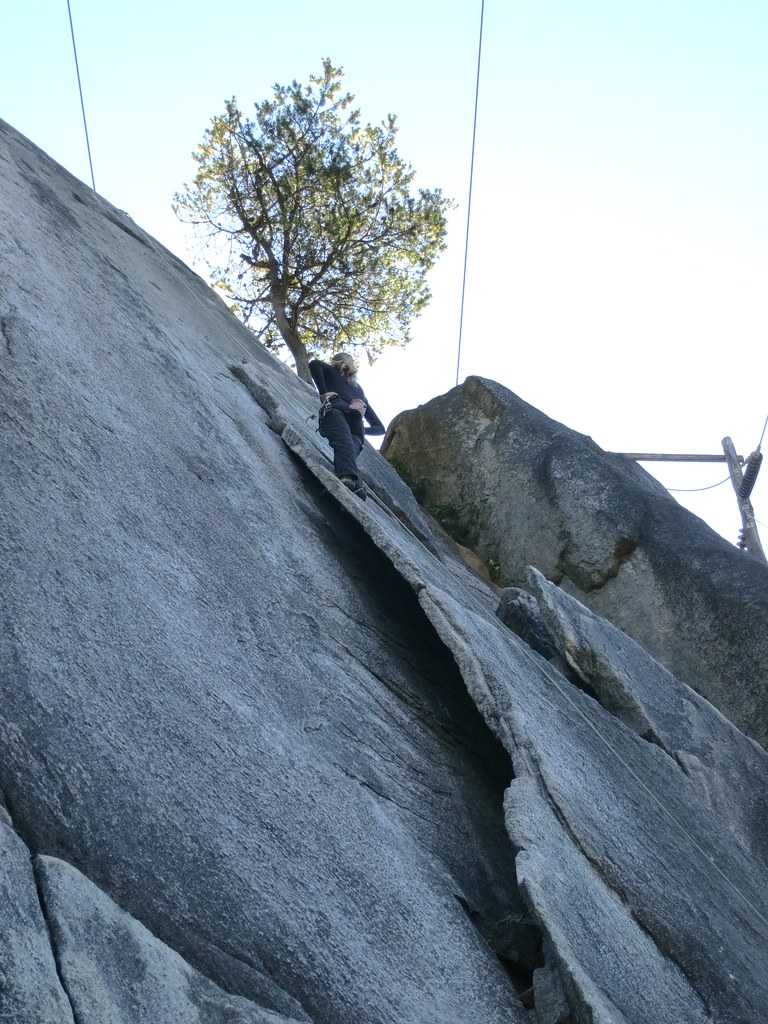 In case of outdoor Climbing, it is vital to preview and read the climbing route on and on. For professional climbers, reading courses is not a difficult task, but for beginners, it may happen to be a bit strenuous. 
It is always better to warm up your body a little, increase the heart rate and also play with the flexibility of the muscles before climbing. It helps in making the Climbing less hectic and more adventurous.
Always be cautious about the body movement while climbing, keeping in mind the balance of the body. The proper motion with adequate balance helps in establishing a proper speed for climbing.
Rock Climbing in Hong Kong has earned immense significance over the years, for locals and tourists. With the onset of autumn, enthusiasts get ready with their equipment for this sport in Hong Kong. A once in a lifetime experience for all, climbing in Hong Kong will bring the inner child in you jump out to experience this adventure sport in Hong Kong!