Why live on the edge when you can jump up and off! This is the rhetoric motto of the ultimate and only bungee jumping experience in Hong Kong- at the AJ Hackett Macau Tower. Everyone should do things that make them feel alive, and that is exactly what bungee jumping in Hong Kong does.
About AJ Hackett Macau Tower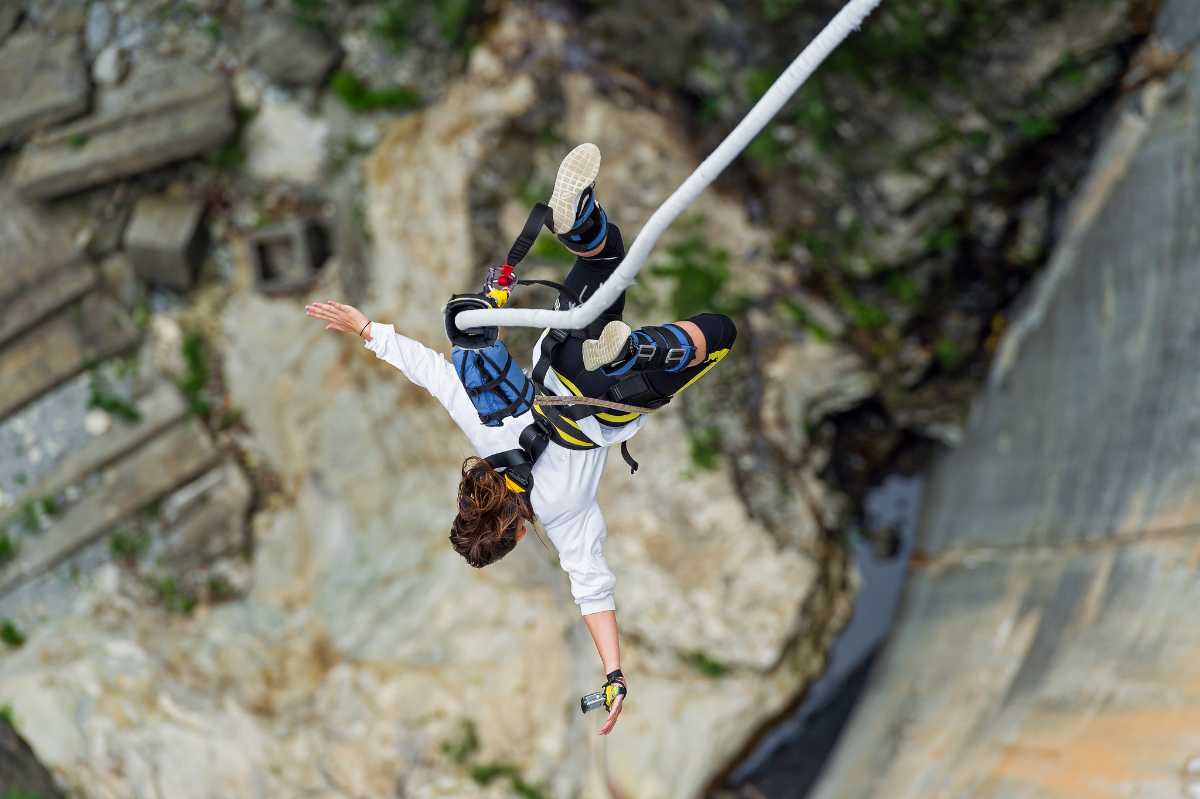 This is a 233-meters/764 ft plunge into the air via the world's biggest commercial bungee jumping building! This jump has found a place in the Guinness Book of World Records for the highest commercial bungee jump in the world. What makes this particular activity so exceptional and possible are the specially designed bungee cord, guide cables and recovery system, making it a safe venture and a definite answer to your adrenaline desires. The mechanism of the guide cables ensures that you do not make any contact with the building, making it very safe. This arena also makes it possible to go bungee jumping in Hong Kong in almost all weather conditions! 
How to Reach Macau Tower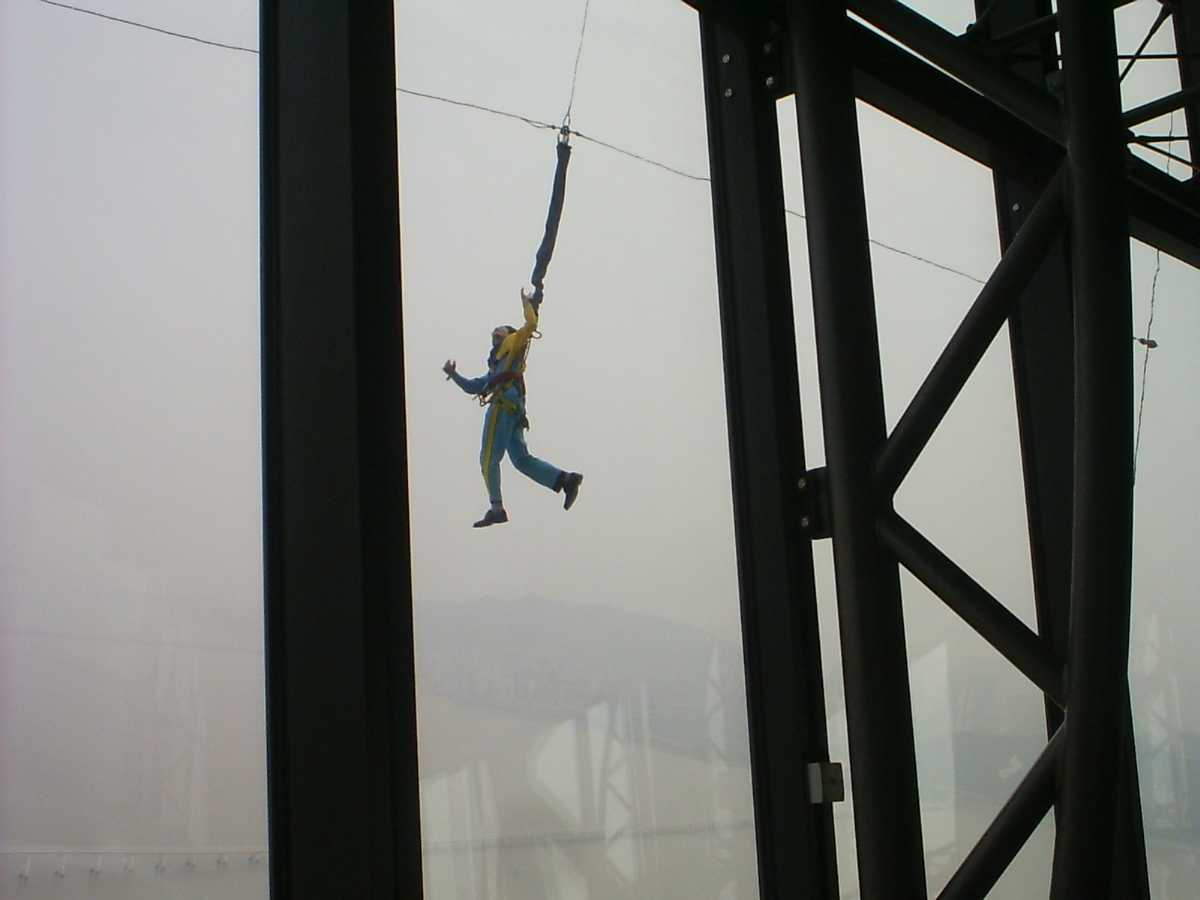 There are several ways to reach Macau Tower from Hong Kong via different modes of transport which are-
Taxi
- Cabs can be quickly hailed from any part of Hong Kong be it airports, or on roads, this will be a comparatively more expensive alternative though because of the surcharge on the rates when travelling between islands. 
Bus
- The frequency of buses is high all across the city, routes which will take you to the Macau Tower are- 5, 5AX, 9A, 18, 18B, 23, 26, 32, N2.
You can take the Ferry from Hong Kong Sheung Wan to Macau Taipa Ferry Terminal. 
Contact
Street Address
- AJ Hackett Macau Tower Limited, Level T2 Adventure Zone- Macau Tower, Macau, 999078, SAR China
Phone Number
- +853 8988 8656
Fax Number
- +853 2896 8286
Email id 
-
[email protected]
Bungee Jumping Prices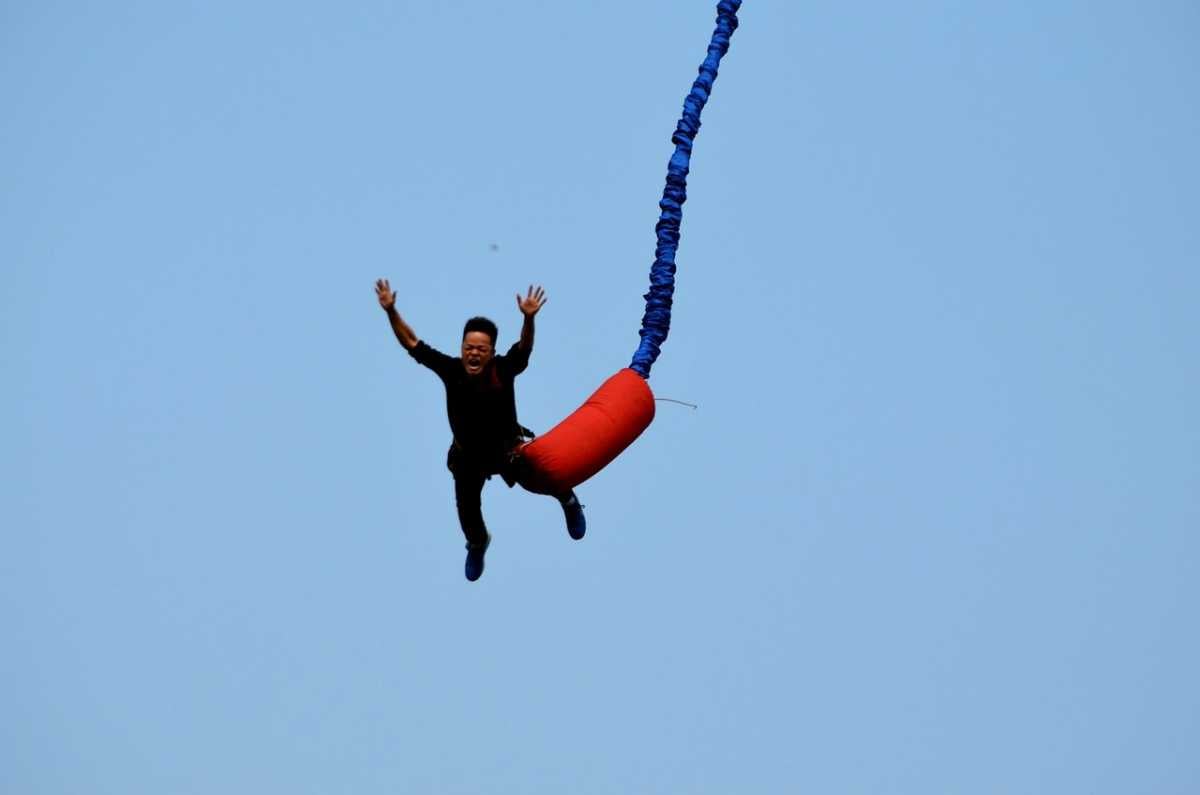 Bungee Jump activity per person
(includes a certificate, membership card, exclusive bungee jumping t-shirt and tower ticket) - MOP 3488
Second Jump
(per person) - MOP 1288
Souvenirs
-
For Photos in USB - MOP 399
For video in USB - MOP 699
For video+photos in USB - MOP 799 
Full Package - MOP 3988 for Bungee Jump, T-shirt, video and photo in USB
During some periods of the year, AJ Hackett may offer Early Bird or City Lights special discounts on booking activities before noon or after 6:00 PM. It is best to keep an eye on their official website for the same. 
Timings
From September to June:
Monday to Friday- 10:30 AM to 7:00 PM
Saturday and Sunday-  10:00 AM to 8:30 PM
From July to August:

Everyday- 10:00 AM to 8:00 PM
Night Bungee Jumping in Hong Kong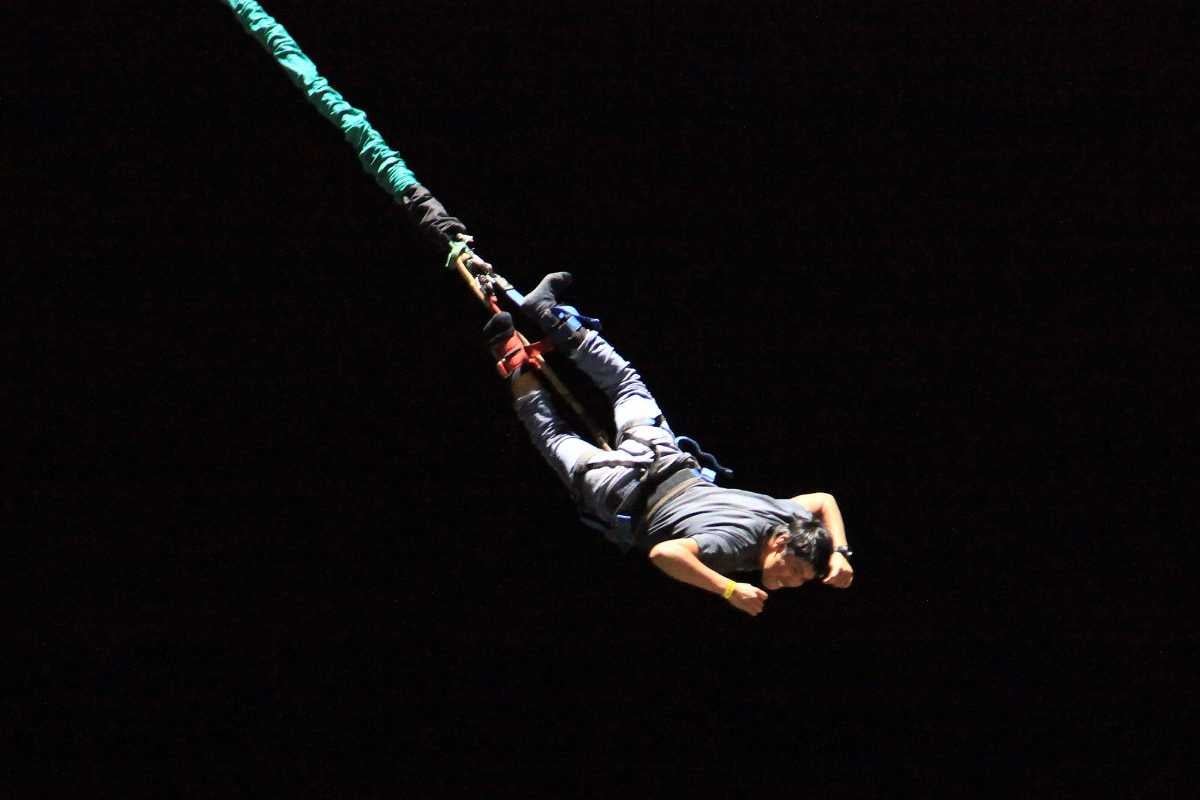 Night Bungee jumping is available from 6:00 PM during winters and from 7:30 PM during summers as it gets dark later during summers. It is best to book the slots for night bungee jumping in advance. It is best to book in advance if you are a group of 3 or more people to ensure preparation for the activity can be done in time.
Prior Training
No prior training is required for bungee jumping as such. There are only certain limitations/restrictions which need to be kept in mind such as-
There is a weight limit of 265 pounds on bungee jumping, so if someone weighs more than that, an additional fee will be charged to prepare the equipment for the same.
There is no maximum age limit for this activity but the minimum age to participate is 12 years. 
Safety Gears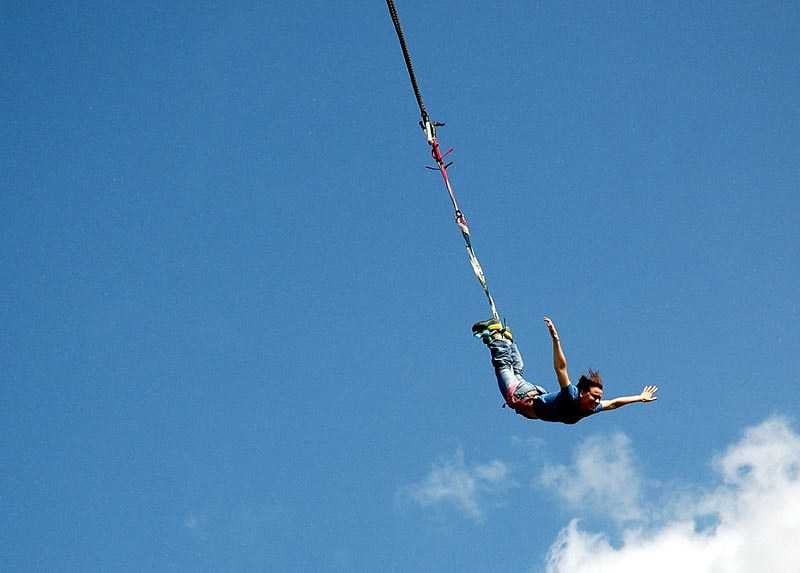 The activity place itself provides the safety gears, and the staff makes sure you are all decked up and are prepared for the big leap. Some major and pertinent safety gears involved are-
The harness - this is the safety jacket you will be made to wear via which you will be attached to the bungee cord.
The bungee cord - this is the cord that will connect to your harness and to the guiding cables to ensure a smooth and safe experience by having an impeccable rebound system. 
Precaution and Safety Tips
If you are sick or not well, avoid bungee jumping in Hong Kong because your body may not be ready or receptive to the quick movement and slight jerk that it involves.
Don't overeat before the jump and try to have a light meal instead. This will help in ensuring that you don't feel dizzy. Also, avoid bungee jumping on an empty stomach because there is a small chance you'll faint due to that.
It is best to have a medical checkup beforehand and know that you are fit for the activity in general if you have a spinal issue or any such medical condition, it is better to ask your doctor about it.
The Inception of the Activity at Macau Tower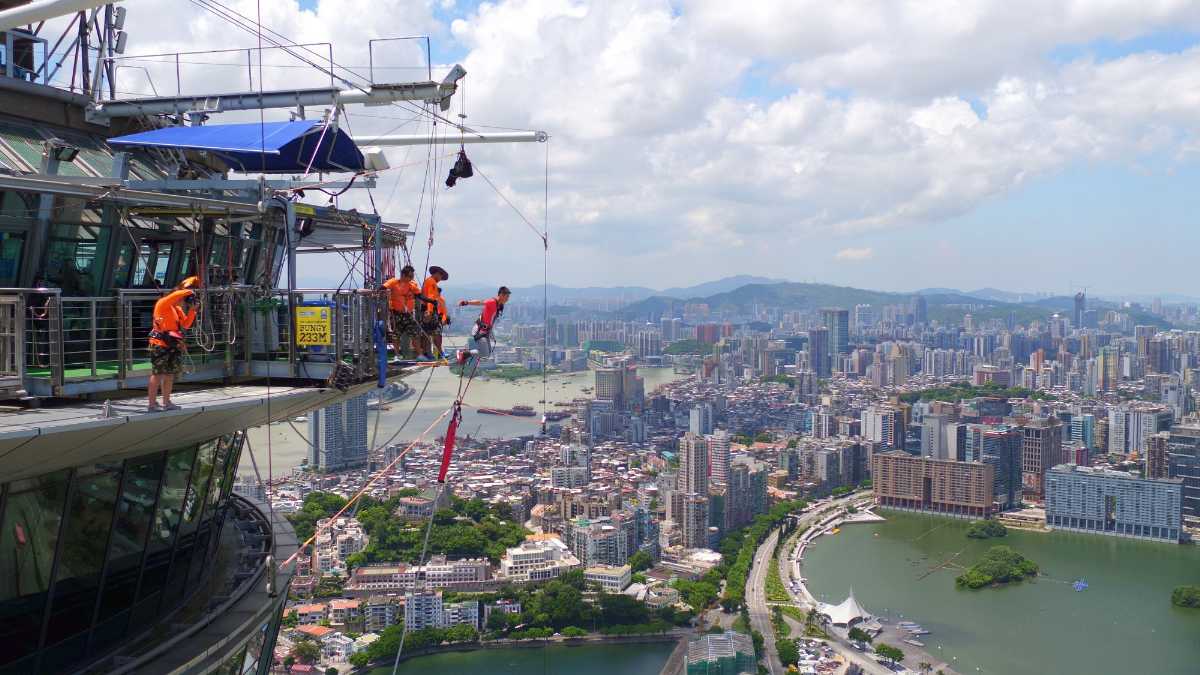 Macau Tower is an important and iconic landmark of the city. It was designed by a well-known architect from New Zealand, Gordon Moller. It is a member of the World Federation of Great Towers. Being an incredibly charming building, it attracts over a million tourists every year. The inception of this activity of bungee jumping here can be called a revolution in the adventure sport where AJ Hackett, the founder, gives credit to the 2nd generation bungee cord that was designed in a way that will allow people to jump from any building!
This is a sphere-shaped cord that is wider at the top and narrower at the bottom which enables weight to be spread out evenly across the length of the cord when jumping from such a great height. As you dive from 233 meters above the ground level, you will experience the ultimate free-fall, then you'll slow down at 30 meters away from the ground and be rebounded back.
Now that you have a fair idea of one of the world's best bungee jumping experiences and where to find it, what are you waiting for? Pack your gears and go bungee jumping in Hong Kong!