India offers a plethora of aerial adventures, from hot air ballooning to parasailing. Yet, paragliding in India stands out as the ultimate bird-like experience. The pilot sits in a harness suspended from a wing-like structure, then launches off a cliff to soar like a bird. Contrary to misconceptions, paragliding is safe when guidelines are followed, blending both thrill and safety.
1. Bir-Billing: Best Paragliding Site in Asia

Bir, nestled in Himachal Pradesh, is renowned as the Paragliding Capital of India, boasting a picturesque setting with stunning mountains and greenery. It offers a blend of serenity and adventure, attracting both nature enthusiasts and thrill-seekers. Bir serves as the take-off point while Billing, 14 km away, is the landing site. The Paragliding World Cup was hosted here in 2015, establishing its reputation both nationally and internationally.
How to reach From Delhi to Bir via buses (Volvo or Tata) or flights to the nearest airport at Dharamshala
Best Time to Visit The best time to visit is between October and mid-June when there is no rains and weather is pleasant.
Popular Operators Camp Oak View, Friends adventures, and tours, Blue Umbrella
Approximate Cost INR 3500- INR 5500 (approx)
2. Manali, Himachal Pradesh

One of the major tourist attractions of
Himachal Pradesh
,
Manali
is a beautiful valley located in the heart of the Himalayas. The town is located at an altitude of about 5500 ft to 6000 ft above the sea level which makes it ideal for paragliding trips. The scenic beauty is further aggravated by the thrill factor of paragliding in the area. The areas of
Solang Valley
, Fatru Mountain, Gulaba, and Nagger Road are the places where paragliding takes place. Apart from the monsoon season, during which paragliding is banned, one can practically enjoy the feel of the air from up above practically for the rest of the year. It is an ideal getaway for someone who loves adventure as much as the beautiful locales.
How to reach you can go there by air, the nearest airport being at Bhuntar, a mere 50 km away or you can go there via buses which run periodically; then there is the option of a train. Or if you are a little too adventure minded, you can go on a bike ride.
Best Time to Visit Between October and May. And as told earlier, paragliding is banned during monsoons.
Popular Operators Ski Himalayas, TigerEye Adventures, Himalayan Extreme Centre
Approximate Cost Starting from INR 1800 and above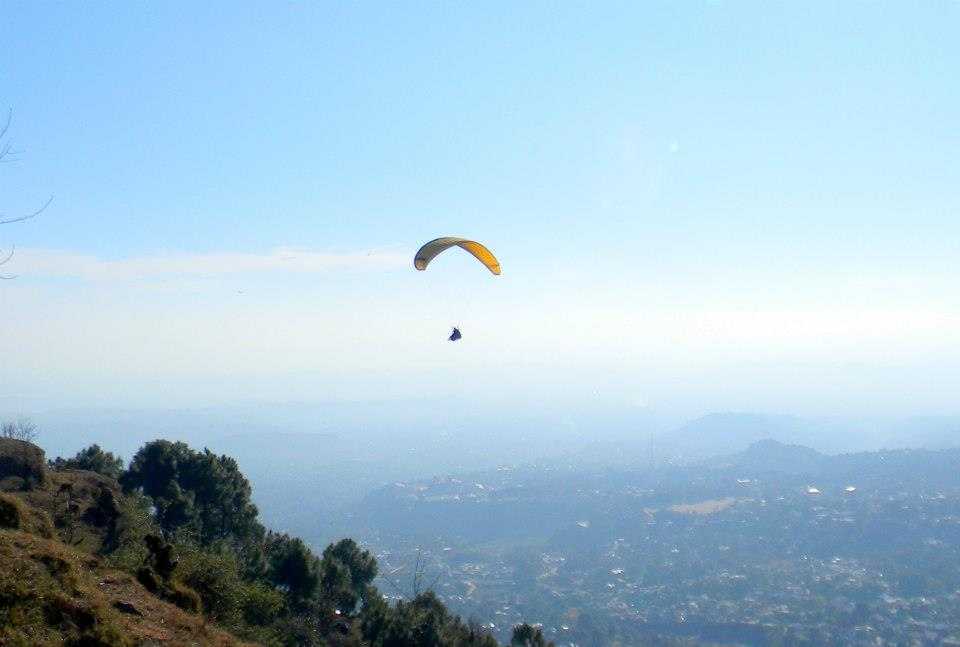 This is again a beautiful resort town located in the foothills of the Himalayas. Located at the height of about 2000m above the sea level, the picturesque place is one of the best places to go to. And paragliding in such a place has its perks too. One can view the beautiful city from a bird's level. The beautiful pear-shaped Lake,
Naini lake
, one of the 64 Shakti peeths of the country, is considered to be one of the holiest places in the world. Paragliding is offered at Naukuchiyatal. Paragliding among the fluffy clouds amidst the beautiful mountains of Naina, Deopatha and Ayarpatha hills is truly one of the heavenly feelings. So come here if you want to have best of both worlds.
How to reach You can go there via bus (Nainital has excellent bus connectivity) or train, the nearest railway station being at a distance of 34 km at Kathgodam, or book a chartered plane to the nearest airport at Pantnagar, situated at a distance of about 65km from Nainital (no commercial flights here).
Best Time to Visit All seasons except rainy seasons. (i.e. July- August)
Popular Operators Pathikworld Tours, Skybird Adventures
Approximate Costs INR 1500- INR 5000 (approx)
4. Paragliding in Pithoragarh, Uttarakhand

The district of
Pithoragarh
,
Kumaon
's easternmost district is one of the many natural beauties of the state of Uttarakhand. The valley, wedged between
Nepal
and Tibet, is flanked by four hills- Dhwaj,
Chandak
,
Thal Kedar
, and Kundar. Being flanked by the hills gives an amazing view of the place, both dramatic and soothing. The unique conditions give ample scope of conducting adventure sports like paragliding, hand gliding, trekking, river rafting, canoeing, etc. One can enjoy the beautiful locales and get high on adventure, Pithoragarh has it all!
How to reach By buses or trains, there are also some gas stations in the middle.
Best Time to Visit March to June and September to mid-October are the best months to visit, due to the clear weather and sunny outdoors.
Popular Operators Uttarakhand tourism organises various paragliding courses.
Approximate Cost INR 6000- INR 10000 (for 5-7 day course) (approx).

A famous hill station located in the Satara district of
Maharashtra
, Panchgani is one of the best weekend getaways one could probably ever think of. With an altitude of about 1200 m above the sea level, the fantastic hill station opens doors for some adventure sports, paragliding being one of the favourites of the tourists who frequent the area. The weather is pleasant throughout the year which adds to its glory. It is also fascinating to know that the plateau region of the hills surrounding Panchgani is the second largest in Asia after the Tibetan plateau. Due to various favourable conditions like clear skies, perfect altitude, favourable winds, pleasant weather all the year round, Panchgani has become one of the hotspots of paragliding industry. Bhilar,
Tapola
and Khingar are some of the popular paragliding sites in Panchgani.
How to Reach Panchgani is well connected by rail, road, and airways. The nearest railway station is at Pune which is about 96km away, after that you can hire a taxi t reach Panchgani. Pune also has an airport.
Best Time to Visit November to February because the weather is most pleasant during that time.
Popular Operators Ravine Hotel, Eco Camps
Approximate Cost INR 1500 onwards (approx)

One of the best locations for paragliding, especially for beginners due to the amazingly calm and clear atmosphere,
Ranikhet
sure has a lot to offer. The campsite for paragliding is located nearly 12 km away from the main town, on the road to Goluchina area. The place is simply wonderful, with the safe paragliding camps and amazing locales. The paragliding camp, locally known as Daan Kurhi, is located at a beautiful site at the edge of an oak forest. Ranikhet is known to be one of the safest sites for paragliding.
How to Reach The nearest railway station is 101 km away at Kathgodam, and the place is also easily accessible from Delhi
Best Time to Visit September to March
Popular Operators Wild rift adventures
Approximate Cost INR 3000 onwards
7. Kamshet, Maharashtra

Located at a distance of about 45 km from the populous city of
Pune
in the state of Maharashtra, this beautiful retreat is a jerk into the past, the place reminds of a rustic setting, the real India, lost in the din of city life. The place is well suited for paragliding again due to the favourable weather conditions, amazing view and perfect wind conditions. It is well suited for beginners, in addition to being connected to the Pune-
Mumbai
expressway; this place is great for a weekend getaway.
How to Reach By air, rail or road. Being near to both Pune and Mumbai, there is absolutely no problem at all in terms of connectivity.
Best Time to Visit From October to June
Popular Operators Indus Paragliding School, Paragliding Mantra
Approximate Costs INR 2500 (approx) for tandem flights and above.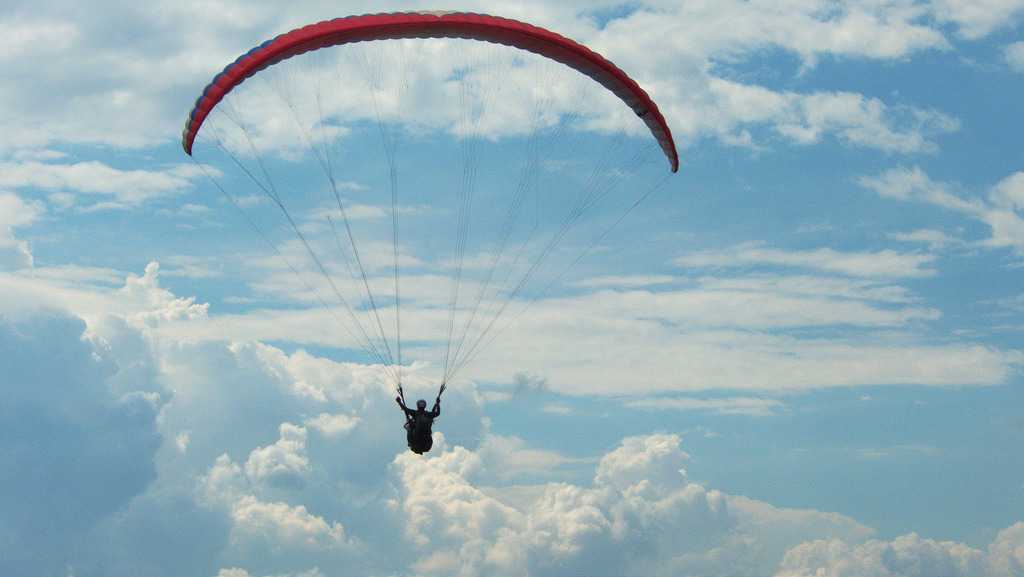 Situated at an average altitude of 1400 m,
Shillong
or
Scotland
of the East is one of the most beautiful tourist destinations of the North East. And to add to its already exciting locations and scintillating greenery all around, one can now go for paragliding too. The paragliding market is slowly but surely evolving in the cute little town, attracting travel and adventure enthusiasts equally. There are provisions of hydraulic payout winch system, which are connected by means of radio where the pilots are guided by flight supervisors. The heights of up to 700m can be achieved.
How to Reach Shillong is well connected by roads; other means of transport are not as reliable.
Best Time to Visit Summers, when the skies are clear and the winds are just fine.
Popular Operators Yatra
Approximate Costs INR 2000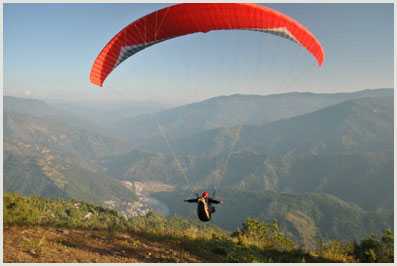 A famous tourist destination, the city is located in the small North Eastern state of Sikkim. The city holds a lot to show and paragliding is surely one of the major attractions for adventure seekers. The place has amazing landing ridges and is surely growing to be one of the major attractions of the state.
How to Reach By air, rail or self-drive. The nearest airport is at a distance of about 124 km at Bagdogra and the nearest railway station is at New Jalpaiguri.
Best Time to Visit Summers
Popular Operators Fly Sikkim Adventures
Approximate Cost INR 1800 onwards

A beautiful paragliding spot in the state of
Jammu,
Sanasar sure has a lot to offer. Flying like a bird, with the snow-capped Himalayas surrounding you, the feel is certainly heavenly. Located at a distance of about 19 km from
Patnitop
, surrounded by conifers, it is one of the most beautiful locales for paragliding.
How to Reach By air, Jammu is the nearest airport, located about 120 km away.
Best Time to Visit Summers, because winters are very cold
Popular Operators J & K Tourism
Approximate Cost INR 1600 onwards

Located at a small distance from
Bangalore
, the beautiful hill station is surely a treat to the eye. Paragliding in this area is particularly famous, one of the must do things while being in the area. The place is located at a height of about 1400 m above the sea level and has a lot of flat surfaces around hills for landing.
How to Reach The nearest airport is at Bangalore, located at a distance of about 68 km from Nandi Hills; from there you can take a bus to reach the hills.
Best Time to Visit All the year round except in the months of July- September, when monsoons arrive.
Popular Operators Karnataka State Tourism Development Center
Approximate Cost Starting from 1500 INR (approx)

Located in the
Idukki
district of
Kerala
, the beautiful hill station is a dream for adventure enthusiasts. Temperatures ranging from 10- 23 degree Celsius on summer midday, this place is ideal for paragliding. Trained pilots are available which means tandem flights are possible.
How to Reach The nearest airport is at Cochin, 75 km from Vagamon. The nearest railway station is at Kottayam, about 100 km from the hill station. The place is also well connected by road.
Best Time to Visit October to March; when the monsoons are over.
Popular Operator Paragliding Kerala
Approximate Cost INR 3500 (approx)

One of the famous beach areas of
Goa
, Arambol is also famous for the paragliding experiences that the place has to offer. The best launching point is the headland above the Kalacha Lake. Arambol is perfect for beginners, the reason being the smooth and calm breeze which is perfect for a no-break flight.
How to Reach Arambol is a two-hour drive from the Dabolim airport.
Best Time to Visit October to June
Popular Operators GOA Extreme, Xtacee Paragliding Club
Approximate Cost Tandem flights starting from INR 2000 (approx)

This is one of the best places for paragliding in south India. Located about 3 hours away from the capital city of
Chennai
, the hill station of Yelagiri is a boon for travellers and adventure seekers. The hill station also has a paragliding club which lends various paragliding equipment and also provides various tandem flights. The beautiful green grass of the hill station and the altitude of about 2000 m is perfect for an
amazing paragliding experience
.
How to Reach By railways, the nearest railway station is at a distance of about 21 km from it at Jolarpettai. The station is well connected to all the major cities.
Best Time to Visit September to February
Popular Operators Yelagiri Marigold Ridge
Approximate Costs Tandem flights starting from INR 2000 (approx)
These are some of the most popular spots all around the country, and if you are an adventure seeker you can definitely go visit them, and even if you are not, you can always overcome them.

Located around 60 km (2 hours) away from Mussoorie is Lakhamandal on the Yamunotri Road and take off point is 20km from there.
How to Reach
By railways, the nearest railway station is Dehradun which is at a distance 33km.
Best Time to Visit
September to June (Except monsoon)
Popular Operators
Sky Riders Adventure
Approximate Cost
Tandem flights starting from INR 1600 (approx) and goes up to INR 10000 for long flights
15. Kunjapuri, Uttarakhand

Kunjapuri is one of the most desired locations for paragliding enthusiasts. Located in the holy city of Rishikesh on the banks of the sacred river Ganges. Kunjapuri is erected by nature at the peak of the Shivalik range. Once airborne you are feasting your eyes on the Banderpunch, Sawrga Rohini, Chaukhamba and Gangotri peaks. If mountaineering humbles you gliding in the air at par with the Himalayas will make you feel surreal. Relish as you see the sun going beneath the mountains after a hard day's work casting a luminous glow over the landscape.
How to Reach
You can reach this destination by air. The nearest airport being the Dehradun Airport situated 15 km away from the location. If you are using the rails, the nearest railway station is at Rishikesh, or you could grab a ride from the many buses or taxis that ply routinely.
Best Time to Visit
Any time except during monsoon. The region has a pleasant climate and favourable winds.
Popular Operator
Paragliding Earth
Approximate Cost
INR 3500 onwards
16. Pawna, Maharashtra
Pawna, located in Kamshet, 110 kms from Mumbai and 45 kms from Pune, is a renowned paragliding spot in south India. Catering to adventure enthusiasts, it is one of Maharashtra's prime locations for this aerial sport. As you soar, the stunning Sahyadari valley and quaint villages below provide a breathtaking view, complemented by the shimmering Indrayani and Pawani rivers. While in the air, experienced pilots manage the controls, allowing you to relax and absorb the beauty.
How to Reach Pawna lake lies in between the Pune - Mumbai express highway. You can come down to this paragliding hotspot by flying down to either Pune or Mumbai and avail the trains to Lonavala railway station and hitch a ride from there to the lake which is a mere twenty kilometres away. Might we suggest a good old fashioned bike ride which could be an even more pleasing prospect?
Best Time to Visit The best time to visit the lake would be a time which would offer a pleasant climate and a picturesque view of the lake at its best. The optimal time to visit the lake would be from November to December.
Popular Operators Temple Pilots and Indian Outdoors.
Approximate Cost INR 4000 to 5500 approximately.
17. Bedini Bugyal, Uttarakhand


Humanity's fascination with the sky has led to incredible aerial explorations like paragliding. In India, the diverse topography offers many paragliding opportunities, with Bedni Bugyal in Uttarakhand's Chamoli district standing out. Gliding over Bedini Bugyal, one can witness the mesmerizing grasslands, snow-capped mountains, and alpine Himalayan meadows at 3,354m above sea level. The serene environment, coupled with the scenic beauty, makes it an ideal spot for a weekend adventure.
How to Reach Uttarakhand has its only airport located in in the state capital of Dehradun. There are private tour buses and cabs which will drop you down at the location. The Indian rail network well connects Uttarakhand. The nearest stations are Dehradun, Haridwar and Kathgodam.
Best Time to Visit The best time to visit Bedni Bugyal is from September to May, and it is seasonal since snow covers the region and the mountains which pose a threat to paragliders.
Approximate Cost A visual treat from the air will roughly cost you INR 2000 - 3000.

Satpura in Gujarat is emerging as a prominent paragliding destination, annually hosting a festival that attracts aero sports enthusiasts. Launching from Pavagadh hill in the Panchmahal district, you can soar over the historic city of Champaner, dense forests, rhyolite boulders, and a natural cave. This region, with a volcanic history, also boasts the country's highest mono cable ropeway.
How to Reach The nearest city is Vadodara, and it is well connected with a fully-fledged road network to all major cities in India also with an airport and railway station. Vadodara is just an hour from the city.
Best Time to Visit The best place to visit Satpura would be between December and January which will be when the twenty-six day of paragliding festival conducted.
Popular Operator Satpura adventure sports club
Approximate Cost INR 3000 - 5000 approximate
19. Garhwal, Uttarakhand


Garhwal, a region nestled in the majestic Himalayas of Uttarakhand, offers breathtaking paragliding experiences against the backdrop of snow-capped peaks and verdant valleys. Known for its pristine beauty and ideal flying conditions, Garhwal attracts both beginners and experienced paragliders. The soaring flights provide panoramic views of the region's spectacular landscapes, making it a must-visit destination for adventure enthusiasts. Local operators and training institutes ensure safe and memorable flights for all visitors.
How to Reach: Garhwal can be accessed by Jolly Grant Airport in Dehradun, which is well connected with major cities. From the airport, one can hire cabs or take buses to reach the desired destination within Garhwal. The region is also connected by train with the nearest major railway station being in Dehradun.
Best Time to Visit: The ideal time for paragliding in Garhwal is from March to June (spring and early summer) and then from September to November (post-monsoon and early winter).
Popular Operators: Himalayan Aero Adventures, Garhwal Mandal Paragliding, and Adventure Garhwal are some renowned paragliding service providers in the region.
Approximate cost: The cost can vary depending on the duration and type of flight, but on average, tandem flights range from INR 3,500 to INR 5,500. Solo training sessions and courses can be more expensive.


20. Indrunag, Dharamshala


Indrunag, located near Dharamshala in Himachal Pradesh, is a rising star in the paragliding community. Offering a captivating view of the Dhauladhar range and the Kangra Valley below, it provides an unparalleled flying experience. The launch site at Indrunag is easily accessible, making it a popular choice for both novices and experienced paragliders. The serene ambiance of the region combined with the adrenaline rush of soaring through the skies makes Indrunag a sought-after paragliding destination.
How to Reach: Indrunag is located near Dharamshala, Himachal Pradesh. The nearest airport is Gaggal Airport, about 13 km away. From there, you can hire a taxi or use public transportation to reach the paragliding site.
Best Time to Visit: The ideal time for paragliding in Indrunag is from March to June and from September to November, ensuring clear skies and favorable wind conditions.
Popular Operators:"Dharamshala Paragliding Club" and "Fly Indrunag" are among the popular paragliding service providers in the area, offering a range of flight durations and packages.
Approximate cost:The cost can vary based on the season and package chosen, but typically, a standard tandem flight might range from INR 2500 to INR 4000.
Do's and don'ts While Paragliding
There are certain things to keep in mind while paragliding. One must know that the rules and regulations that are set out are absolutely necessary to be carried out. One cannot just take risks while being up there. There needs to be some kind of preparation because one cannot fight nature. So we have made a checklist of the things that you will need and the things that you should steer clear from to stay safe. But rest assured, it is one of the safest airborne adventures that one can think of.

So let's have a closer look, shall we?

Do's
Be mentally prepared. (Don't start freaking out once you are up there, stay calm)
Check the weather conditions before going out for paragliding, as clear weather is extremely necessary for paragliding.
An empty stomach is required before and after.
Wear a helmet.
Check the safety equipment like the reserve parachute and harness.
Make sure that there are no ground obstacles while landing. (Like power lines etc.)
Make sure that the pilot/instructor is properly trained.
Check for the weather conditions. A gusty wind, strong thermals, and air turbulence are some of the weather conditions that is surely not required.
Wear the clothes that you are comfortable in and are light, maybe socks and trainers to go with them.
Check your insurance, making sure that it covers all your expenses before and after. (It is always good to be a little prepared, isn't it?)
Make sure that your camera battery is charged. (Wouldn't hurt to click a few pictures of your big fly day, would it?)
Carry a 'fit to fly' certificate from your physician.
Enjoy and take in the whole thing as a life-changing experience.
Dont's
Fly when the wind is too strong.
Fly when it is raining. (It's insane, isn't it?)
Forget to fasten your leg straps.
Panic. (Trust me when I say this, it is not worth it!)
Take children below the age of 18, they are not allowed.
Exceed the weight limit. (120 kg is generally the case.)
Do you know that the Paragliding World Cup was held for the first time in India in 2015? And, the one of its kind event, saw about 130 participants from 35 different countries gathered in the picturesque village of Bir- Billing. An aero sports event of a level like this was the first time that happened in India and is sure to encourage more and more people to sit up and take notice of the sports which are not cricket.