If you like adventures wherein you get to experience scenic views whilst zipping past with a top view, then Ziplining is the perfect adventure sport for you. It gives an adrenaline rush but a very picturesque overhead view of magnificent locations that you can't resist even if it scares you.
So if you're here for an experience in the country, here's a list of the best places to zipline in India where you can try your hand in the adventure sport and satiate your thrill rush:
1. Rishikesh, Uttrakhand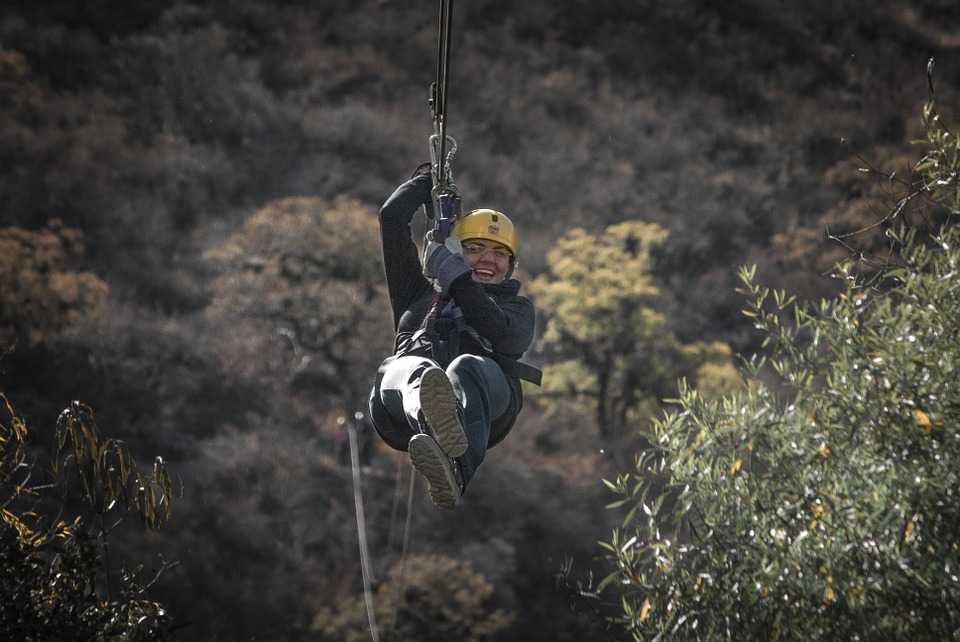 The holy town along the river Ganga is known for its sacred traditions but that's not what Rishikesh is all about. Rishikesh is also famous for its list of adventure activities, ziplining being one of them and is one of the best places to zipline in India. To experience it, you can head to Shivpuri, which takes about 15 minutes from the town and find the zipline activity base which gives you a zipline experience over the Shivpuri rapids surrounded by mountains. The whole process takes about an hour, rush hours will take longer.
How to Reach- You can take a bus to Shivpuri as it takes about 15-20 minutes from Rishikesh.
Best Time to Visit- It is good to take the experience of it at all times of the year except during the monsoons.
Notable Operators- SkyView Patnitop, Flying Fox
Approximate Cost - Starting at INR 749
2. Neemrana Fort, Rajasthan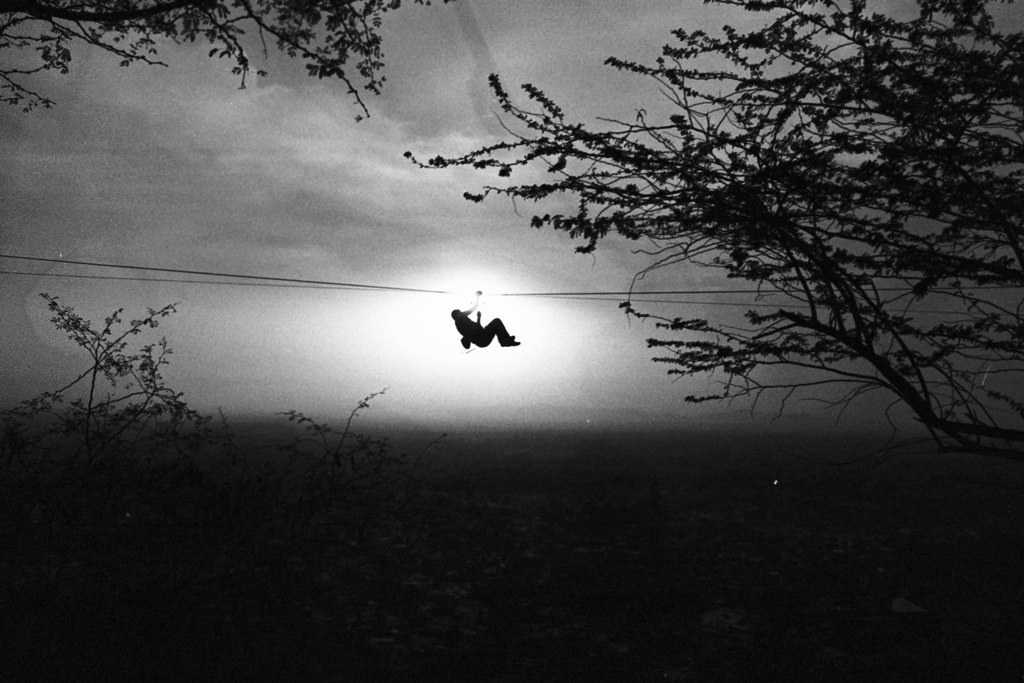 The town of Neemrana thrives with forts and draws most of the Delhiites due to its proximity. Embrace your adventurous side at Neemrana, as there are five zip lines that run as long as 400 meters, and the whole process takes around two hours. As you glide through the Aravalli hills, you get to see the landscapes and magnificent forts from a birds-eye. There are tandem zipping for children aged 4-5 years as well.
How to Reach- It takes place at Neemrana Fort Palace. To get here, there are buses which take to Neemrana as there is a bus stop, it takes about 10 minutes from the city center by car or taxi. If you're traveling from Delhi, Neemrana Fort is about 130 km away, so you can hire a car and travel through the NH 48 to reach in about 2 hours. Major railway station near Neemrana is 117 km away in New Delhi junction.
Best Time to Visit: All around the year.
Notable Operators- Flying Fox
Approximate Cost - INR 1500
3. Mussoorie, Uttarakhand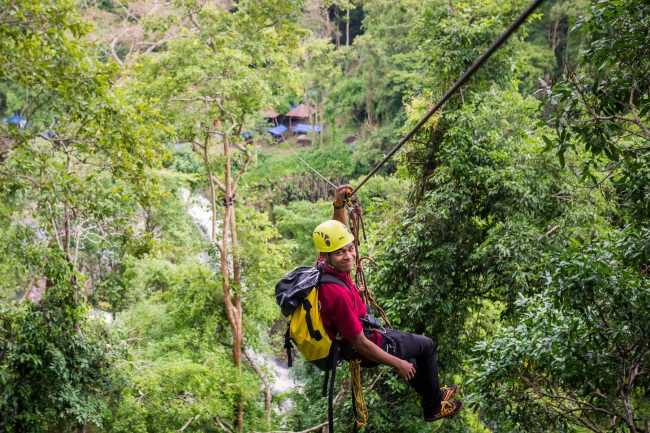 Mussoorie is a hub for adventure sports. The highest zipline in India at 600 feet above sea level is in the very beautiful hill station, Mussoorie. It is also the first wildlife zipline of our country which will give you an aerial tour of the dense valleys and the deodar forests. The base of Zipline in Mussoorie lies in Mussoorie Adventure Park in Clouds End Estate. It is located about 6 kilometers away from the town area.
How to reach- 3 km further Hathi Paon, you can take taxis from the taxi stands in Mussoorie to get to the park.
Best time to visit- Around Autumn or Springtime.
Notable operators- Adventure Park Mussoorie
Approximate Cost- INR 1500
4. Kolad, Maharashtra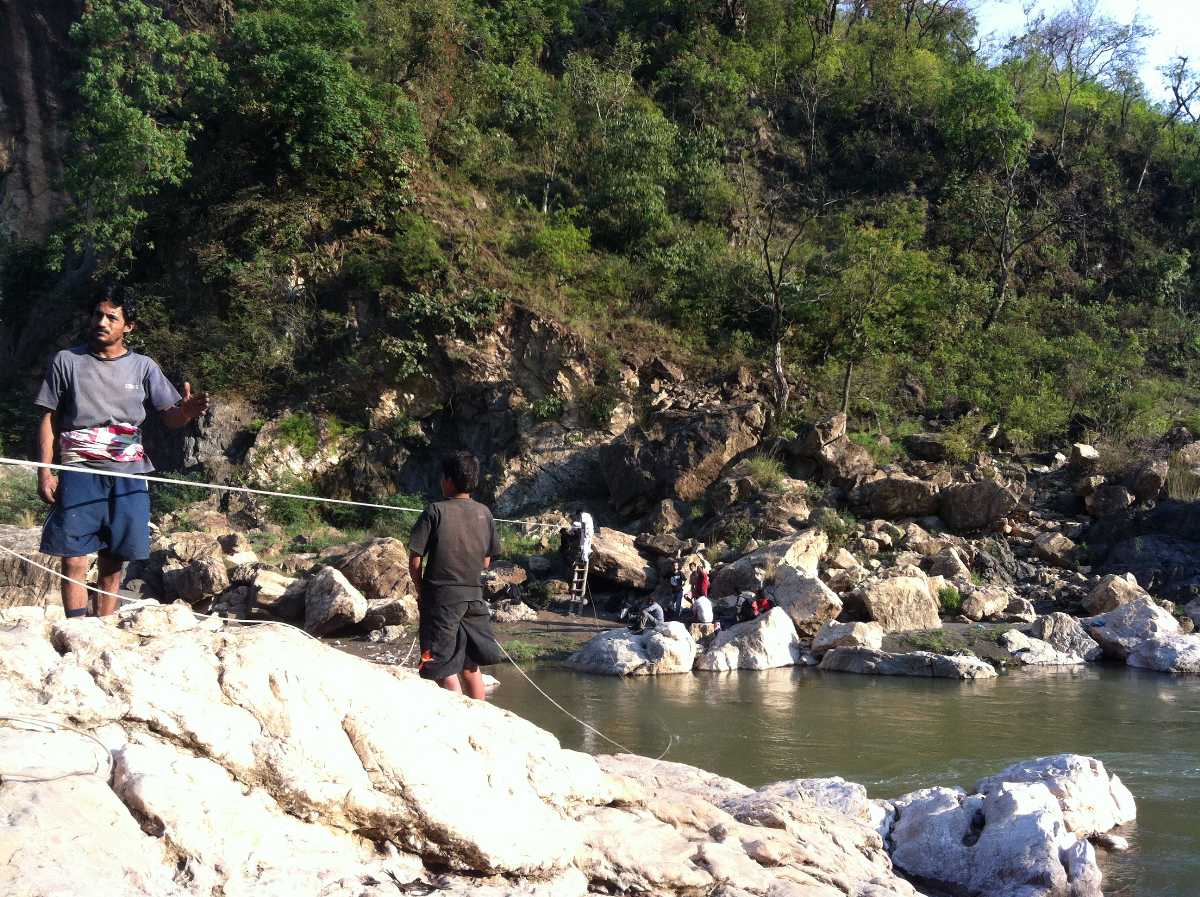 Kolad is a getaway spot for Mumbaikars and Puneites where they come and fulfill their hunger for zipline and other adventures. Ziplining happens in and around Kundalika River. During the Monsoon season, it turns as a prime tourist spot because adventure sports like river rafting and zipline extend the most adrenaline. It operates during the monsoon as the thrill of Ziplining over the fierce Kundalika River makes it most exciting.
How to Reach- If you are traveling from Mumbai, take a taxi or a bus to Kolad. There is a train route from Khed (50105) as well. It takes about 3 hours by road and the best way is to take a road trip. If you're traveling from Pune, take the Indrayani express from Pune to Lonavala, then take the road to Kolad. It takes about two and a half hours from Pune if you travel by road.
Best time to visit- Monsoon season is the prime season to experience the adventure at its peak.
Notable operators- Nature trails, Leisure Kart
Approximate Cost- INR 1000/ 2,500 with other activities
5. Munnar, Kerala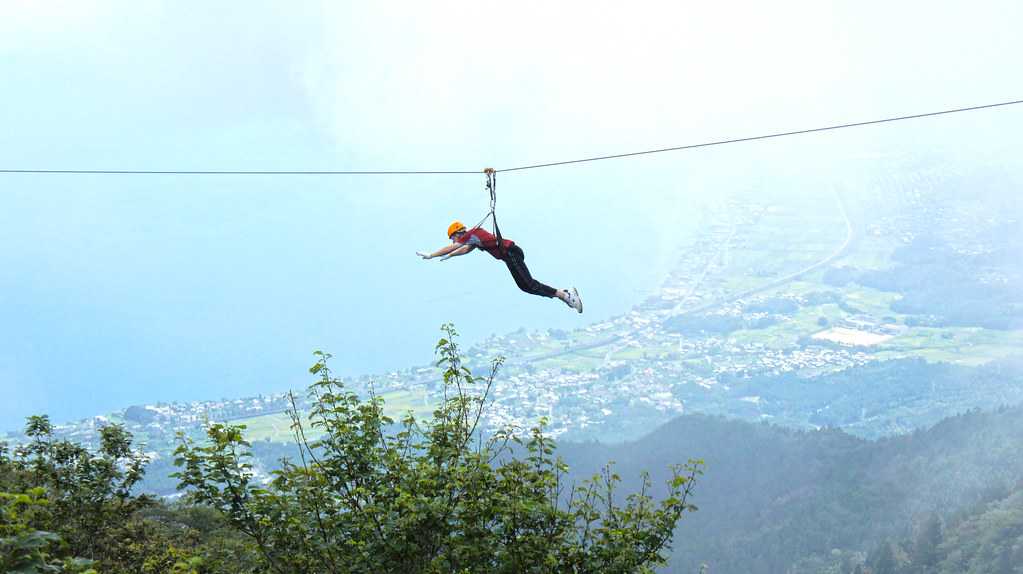 Munnar, an enchanting hill station known for its tea estates is also an activity spot and surprisingly offers a site to zipline in India. A lot of the tourists take experience in various adventure sports here. Ziplining cable in Munnar is nestled between trees and poles wherein you can traverse through different areas of the town. So whilst you're vacationing here, zipline with the pro tour guides in Munnar.
How to reach- Zipline takes place in Munnar near Tent Camp, Pothamedu and New colony. Flying fox plies in Pothamedu which offers transportation facilities at an additional cost. It is about 13 km from Anachal so you can drive to the hills.
Best time to visit- All around the year
Notable operators- Flying Fox
Approximate Cost- INR 500
6. Jodhpur, Rajasthan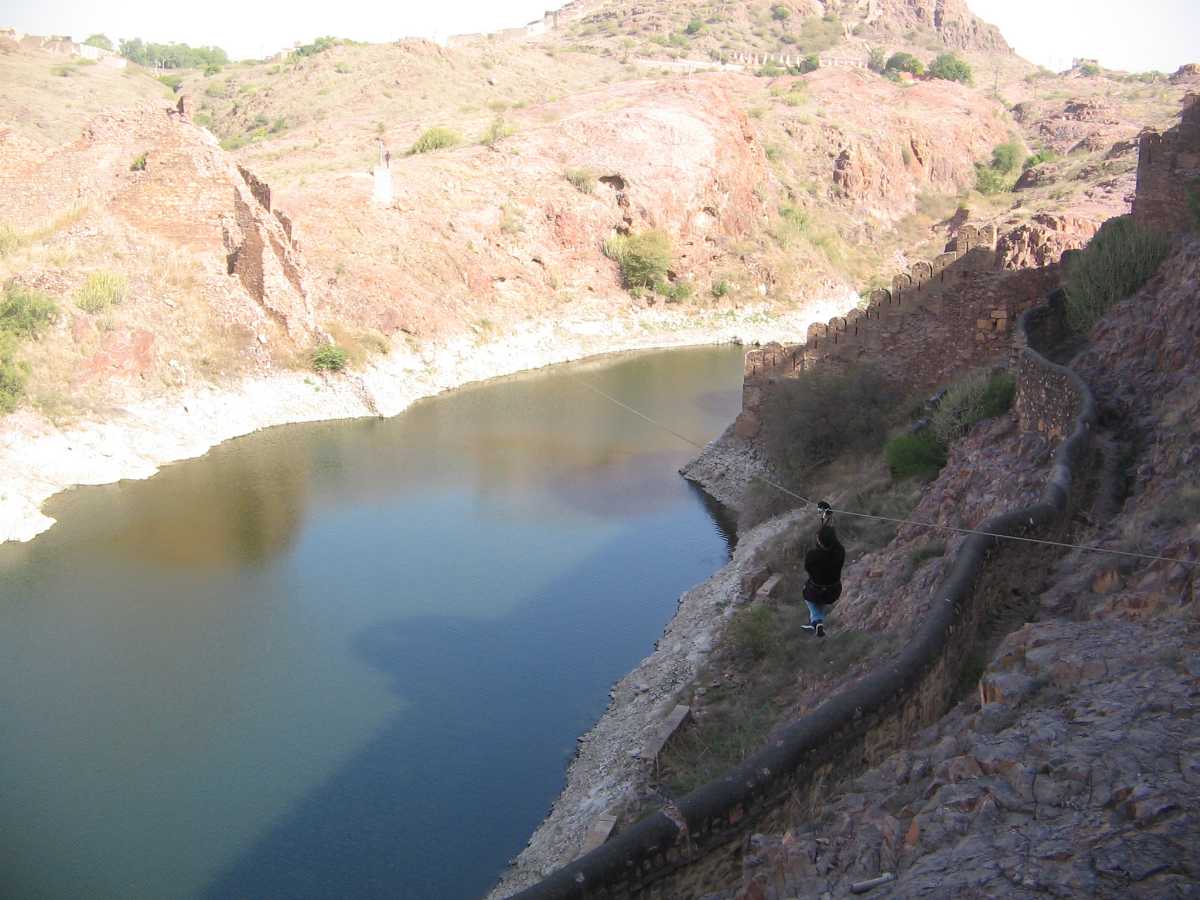 Ziplining happens in Jodhpur too, the flying fox trail takes over Mehrangarh Fort. It starts from the Chokelao Garden at the fort. You can take a birds view of the battlement, serene lakes, Chokelao garden and palace, the blue city of Jodhpur, Rao Jodha Park, Ranisar Lake, Balsamand Lake Palace and Mehrangarh Fort while ziplining. There are 6 lines in total here. There are unique names assigned to the lines here like Jai Jodha, Magnificent Marwar, and Chokelao Challenge. You complete the trip within an hour and a half. You can also view the picturesque sunset whilst you zipline and that is one of the best experiences to take.
How to reach- To get to the fort from the old town, hire a tuk tuk or take a cab to the Mehrangarh Fort and reach in about 15 minutes. People traveling from Jaipur, it is recommended to take a road trip.
Best time to visit - anytime of the year.
Notable operators- Flying Fox
Approximate Cost- INR 1600
7. Goa


You may think Goa isn't the right place because parasailing dominates the zone, however, it is one of the best places in India to Zipline as it is a little more adventurous than the others. You can leap and cross through trees and jungles in Goas Ziplines. It ranges from one to thirteen flights here. It is not plainly Ziplining but other adventure tours like net walking, rope climbing attached. Fun isn't it?
How to reach- To get to Dharbandora, you need to cover a distance of 24 km from Panaji. It is recommended to take a car or taxi to the region to get to Flying Elephant.
Best time to visit- All around the year, barring Monsoon season.
Notable operators- Flying Elephant Zipline
Approximate Cost- INR 300-500
8. Dawki, Meghalaya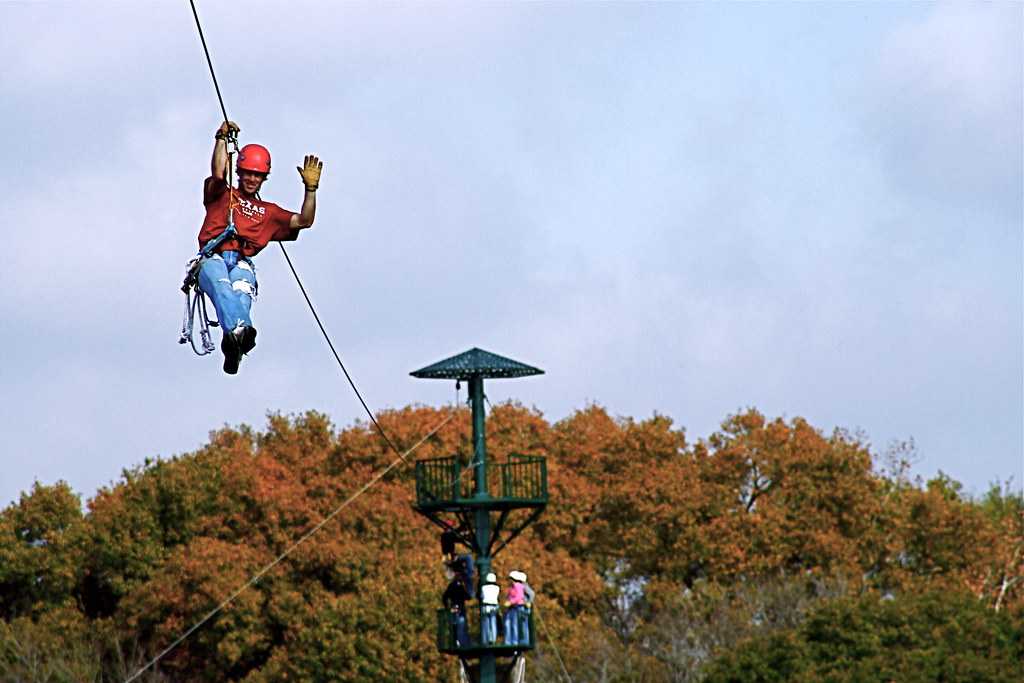 You can experience zip lining located along the Dawki river. Dawki's Adventure activities are operated by Pioneer adventure. You can zip through the magnificent landscape of Dawki. Zipline extends over 2,600 feet over the river at a height of 1,200 feet.
How to reach- the best route to take to Dawki is Guwahati. Take the road route via Shillong. The distance between Guwahati Railway station to Dawki is 173 km and takes around 4 hours and 45 minutes to reach by road.
Best time to visit- From November to June
Notable operators- Pioneer Adventure
Approximate Cost- INR 600
9. Buranskhanda, Uttarakhand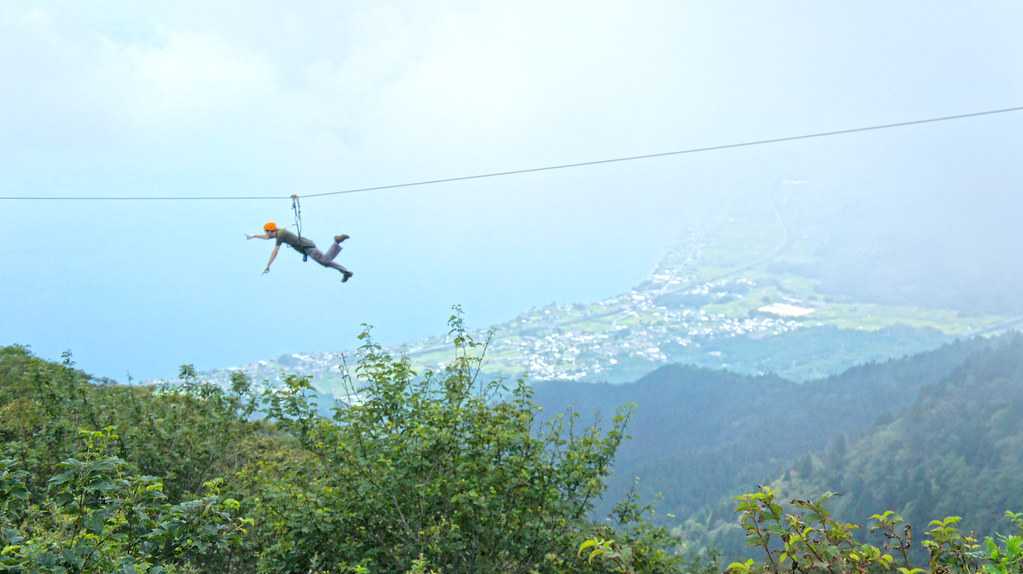 Buranskhanda lies around 6 km before Dhanaulti and some 18 km from Mussoorie. It makes for a great adventure sport for travelers from neighboring cities. The zipline is located at the Snow Adventure Zone which offers picturesque views of the breathtaking snow-covered Himalayan mountains. Snow Adventure Zone is at an altitude of 8,600 feet, and it claims that it is the highest adventure park in the country.
How to reach- It is at a distance of 21 km from Library Bus Stand and 6 km from Dhanaulti so you can take a bus or a cab till the Snow adventure zone.
Best time to visit- During Winters (November to March)
Notable operators- Zipline India at Snow Adventure Zone
Approximate Cost- INR 1500
10. Kikar Lodge, Punjab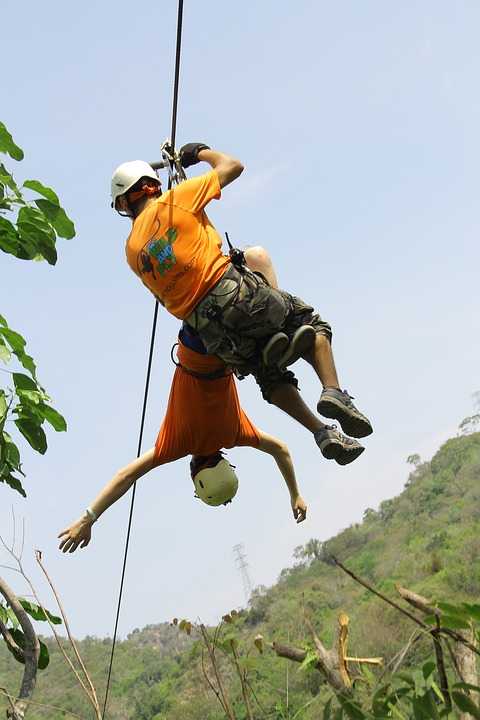 Kikar Lodge, located in the village of Nurpur Bedi is 1 hour 50 minutes away from Chandigarh, Punjab offers the longest zipline tour in South Asia. You zip over forest, wildlife areas and also witness the splendid sunset over the jungle canopy. The longest zip takes place 1.5 Kilometers. The Kikar Lodge is the perfect destination to unwind and embrace activities. Not just zip lining but other adventure sports are also available. You can experience some of the best fox trails here.
How to reach- it is at a distance of about 85 kilometers from Chandigarh. So you can hire a car or take your own to Kikar. It takes about an hour and a half to get here. You can take a train to Anandpur Sahib railway station which is about a 20 minutes drive from Kekar.
Best time to visit - All around the year
Notable operators- Flying Fox
Approximate Cost- INR 1500
11. Kerwa Dam, Bhopal, Madhya Pradesh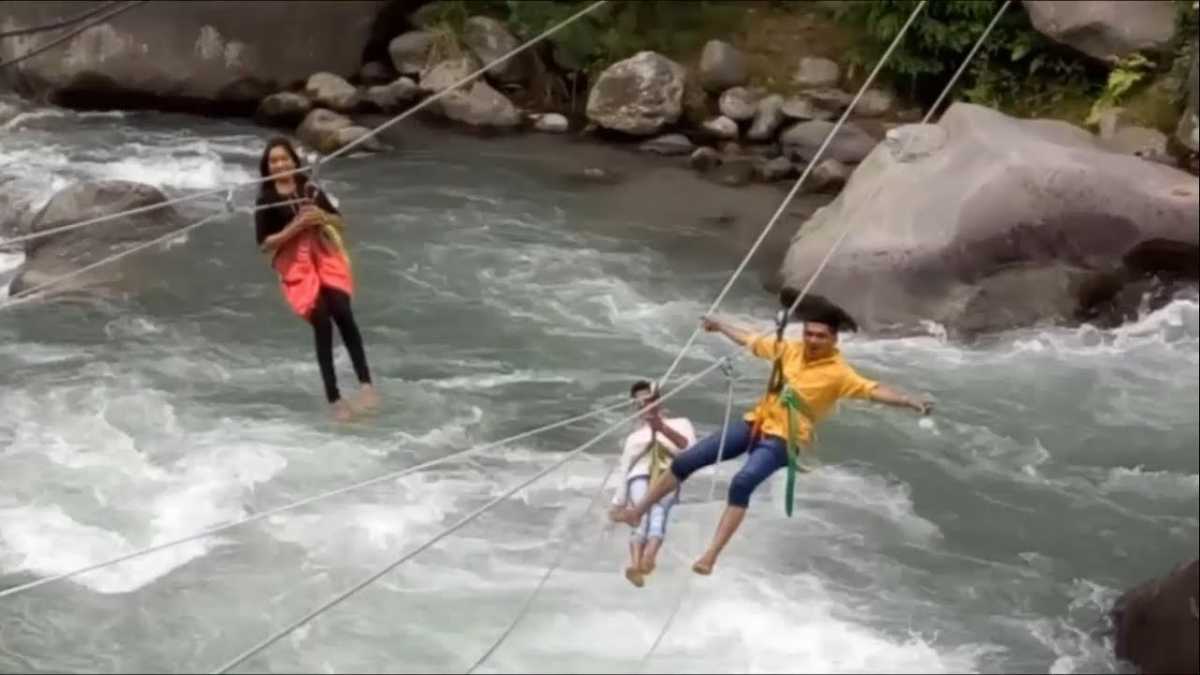 Kerwa Dam, known for the longest twin zip in India, is one of the most popular sites for zipline in India. It starts from a high hill and then crosses the beautiful Kerwa lake. At the launch platform itself, you will get to see a diversity of flora and fauna, which gives a great picturesque view of the entire area. It sure is one of the most adventurous zipping rides because one will be dangling across a vast dam and that too at an intimidating height. It then passes through gushing waters of the dam with vicious wind from all sides. If this isn't a thrill, then what is?
How to reach- From Bhopal, you can travel to Kerwa dam by car as it takes one hour to get here. If you're traveling by Indore, it is a 4 hour drive as you have to cover 190 km. You can take a train to Bhopal and then travel by road.
Best time to visit- November to February
Notable operators- Flying Fox
Approximate Cost- INR 1500
Things to know before heading out to go zipline in India
Wear comfortable clothes, preferably sportswear. Avoid wearing shorts or skirts to facilitate the harness.
Follow the safety instructions carefully and follow the instructor intently before proceeding.
Avoid wearing flip flops and slippers. Wear covered tight shoes, preferably sports shoes.
Don't panic before you go. Take it easy and enjoy the zip with a picturesque view.
So here's the best list of places where you can zip line in India. If you're heading to these destinations during peak seasons, make sure to take an experience of this adventure and gather memories for life.
Have you Ziplined in any of these destinations? Share your experience with us in the comments below!