Singapore, the stunning island city-state, is inarguably one of the major cultural hubs of Asia. The country rightfully boasts of being a melting pot of cultures, heritages and traditions, and it also has a history of diversity to show for it. From being a fishing and farming village under British Imperialism to an international destination, Singapore speaks of quite a story through its cultural fabric.
The history of Singapore dates back to 650 A.D under the kingdom of Srivijaya. From there, the island-country changed several hands, like the Kingdom of Singapura, the Malacca Sultanate and the Johor Sultanate. It became a British colony in 1824 and went through a Revolution initiated by Muslim Indian soldiers in 1915 when they were asked to fight the Ottoman Empire, a Muslim State. Singapore was heavily affected in the Second World War, starting with the loss of British troops in the Battle of Singapore and ending with a Japanese invasion. Years after the war, Singapore finally gained its independence on August 9, 1965, but they continue to be a Commonwealth country.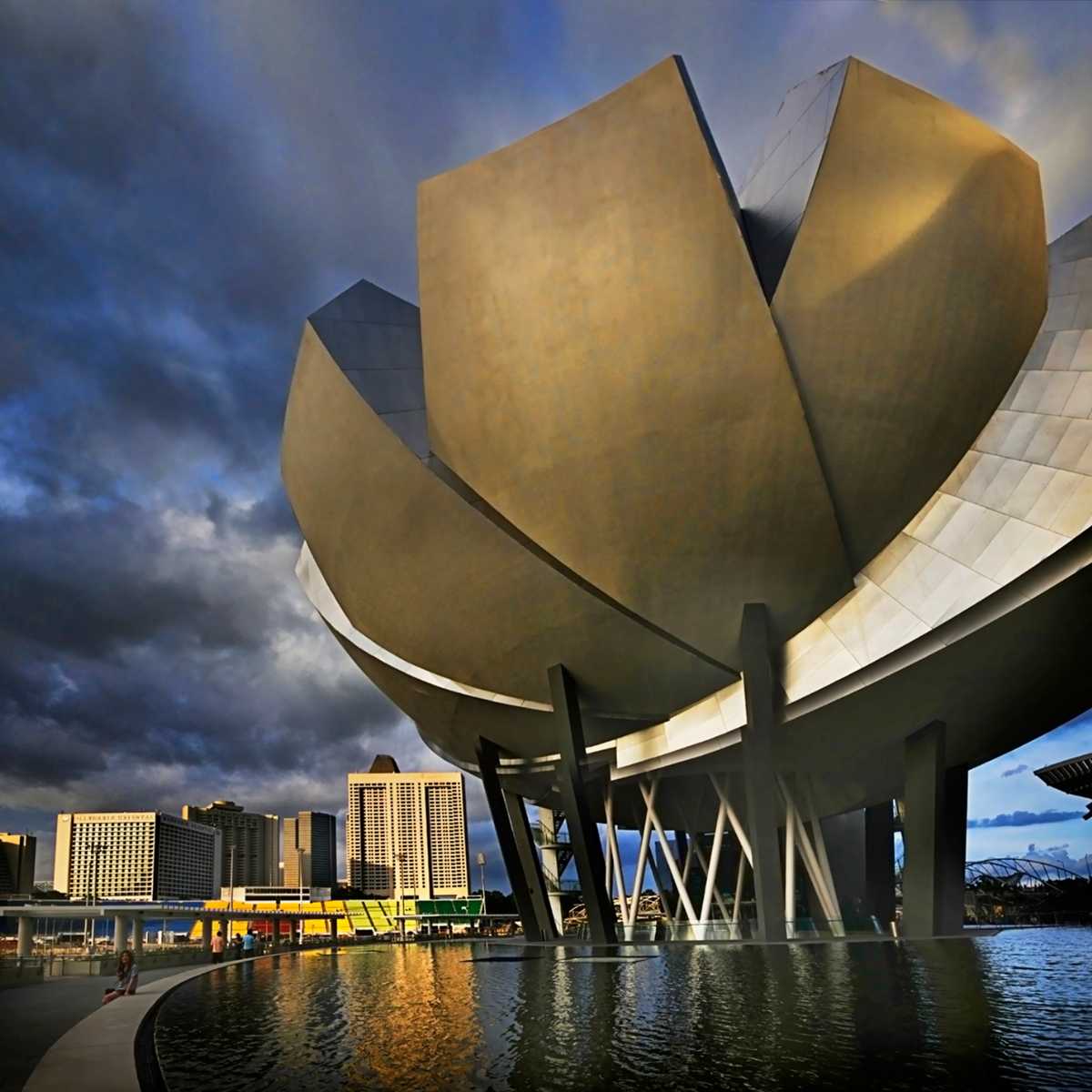 The cityscape of Singapore can easily be divided into pre-war and post-war era. The traditional constructions, which were there since before World War II, were mostly old-school Malay houses, shops, schools and places of worships in Neoclassical, Gothic, Renaissance and Palladian style. During the war, the concept of building air-raid shelters was infused. The influence in the post-war constructions is mostly of modernist, postmodernist and art deco style.

Meritocracy
Singapore has earned itself a reputation for running on a system of meritocracy but puts skill and efficiency in a particular field ahead of everything else – race, gender, ethnicity and socio-cultural background. Education is compulsory for children between the ages of 7 and 12. Throughout the social, political and cultural as well as hierarchy, the principle of meritocracy is more or less infused, where everyone has access to the education they want and put it to use to earn a living.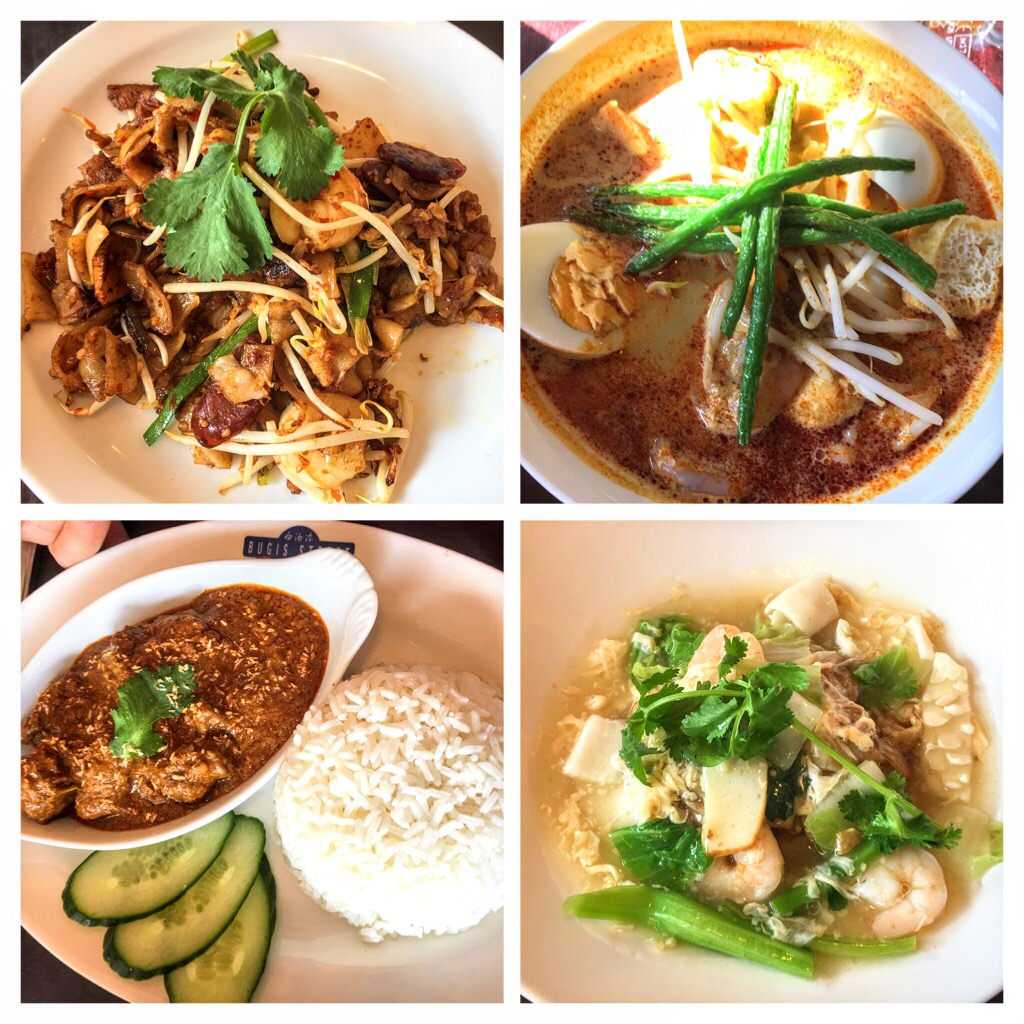 Singapore is not a cheap place to live, but a very pocket-friendly place to eat. From the street stalls to alfresco cafes to the high-end restaurants, this country lives and breathes delicious, mouth-watering recipes. Chinese, Indonesian, Indian and Malay dishes are most common, although being a cosmopolitan hub, Singapore serves all kinds of cuisines. Hawker Centres are a particular speciality of Singapore, where a wide variety of flavours are available to be enjoyed in mostly open-air communal seating. Although the idea of hawker centres are rooted in Singapore's unparalleled street food heritage, the largest of the centres, which sits on the second floor of Chinatown Complex, is home to the world's cheapest Michelin-starred meal at only SGD 2 – a plate soy-sauce chicken rice or noodles.

Seafood, pork or lamb skewers and noodle-and—broth-based dishes are most in demand. Laksa is the common street food, which is basically a bowl of vermicelli noodles with prawns or fishcakes. Among drinks, Tiger beer is a popular choice for drinkers and teetotallers love The Tarik – the traditional Singaporean black tea with milk, made by aerating it between two cups. One thing to know about eating out in Singaporean restaurants is that tipping is not a custom. Most places include a 10% service charge and the country is known for paying its servers at minimum wage rate. Leaving tips is frowned upon and might be misinterpreted.


The culture of Singapore is highly influenced by a large number of religious festivities taking place all around the year. August 9 is the country's Independence Day, which is celebrated with the National Day Parade since 2005. Other than this, the public holiday list of Singapore is a reflection of the country's racial, religious and linguistic diversity. Among the assured ones, there is
Chinese New Year
, Eid-ul-Fitr, Diwali and Buddhist
Vesak Day
or the Death of Buddha, as well as Good Friday, Christmas and New Year's Day. Other celebrated festivals are Pongal,
Thaipusam
, Buddha Jayanti and Hari Raya Haji.
Among cultural festivals, there is
Singapore Food Festival
every year from June-end to July-end,
Singapore Art Festival
every January, and Singapore Night Festival which comes alive with different themes every year for two weekends in August, at Bras Basah Bugis art enclave. The Buddhists celebrate
Hungry Ghost Festival
and offer eatables to the spirits of their deceased. Between May and June, the Dragon Boat Festival or the Zhongxao Festival in Chinese takes place at Bedok Reservoir, where dragon-shaped boats oared by a dozen or so people aside, compete in the race.
Mid-Autumn Festival
or the Lantern Festival is one of the largest celebrations in the country, which marks the 15th and the last day of Chinese New Year festivities. The sky of Singapore gets covered with flaming dots of paper lanterns set free.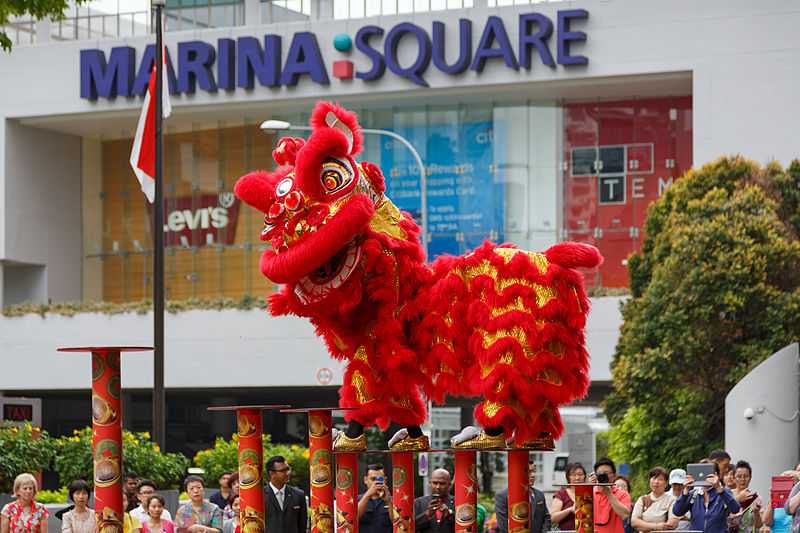 The range of dance comprising traditional, as well as contemporary, is a reflection of the diversity of the culture in Singapore. Predominated by the Chinese community, the island population also consists of Indians, Malays and Indonesians highlighting Singapore as a multicultural country. Lion Dance by the Chinese community is performed during various festivities like New Year while the Malay National Dance - Zapin - is popular among Malays. One can even find Indian Bharatanatyam and Kathak been taught in multiple schools in Singapore. Undoubtedly, this is one of the best places to experience western-style performing arts including Opera and Ballet with the courtesy of Symphony Orchestra at Esplanade-Theatres on the Bay which offers free jazz and opera performances occasionally by the water's edge. The island is also known to host a range of music festivals like
Mosaic Music Festival
and the cutting edge Baybeats every year attracting various international stars and rock bands from overseas.
Arts and Crafts in Singapore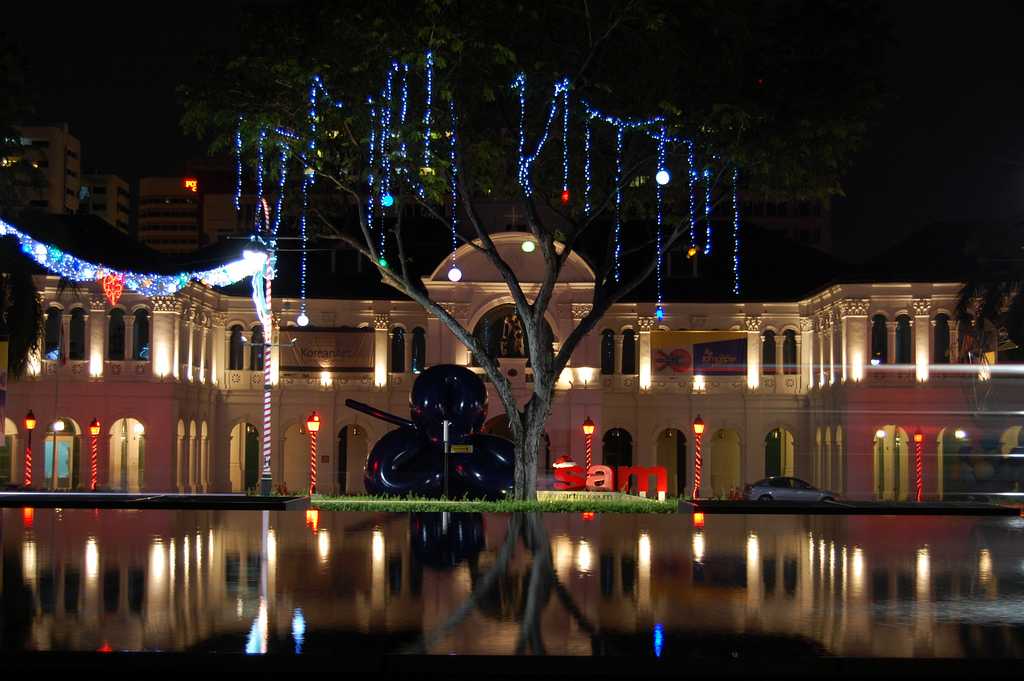 There are a number of museums, art galleries and musical orchestras to celebrate the artistic culture of Singapore.
National Gallery Singapore
is the flagship museum with more than 8,000 works of South Asian artists. Other important names are
Singapore Art Museum
which focuses on contemporary art and
Red Dot Museum
with its love for paintings of mundane, everyday objects.
In music, Singaporeans love folk, pop, rock and classical. The musical scene is spearheaded by Singapore Symphony Orchestra, established in 1979, with its chief venue at Esplanade Concert Hall. The
Esplanade- Theatres on the Bay
is the nation's largest platform for the celebration of performing arts.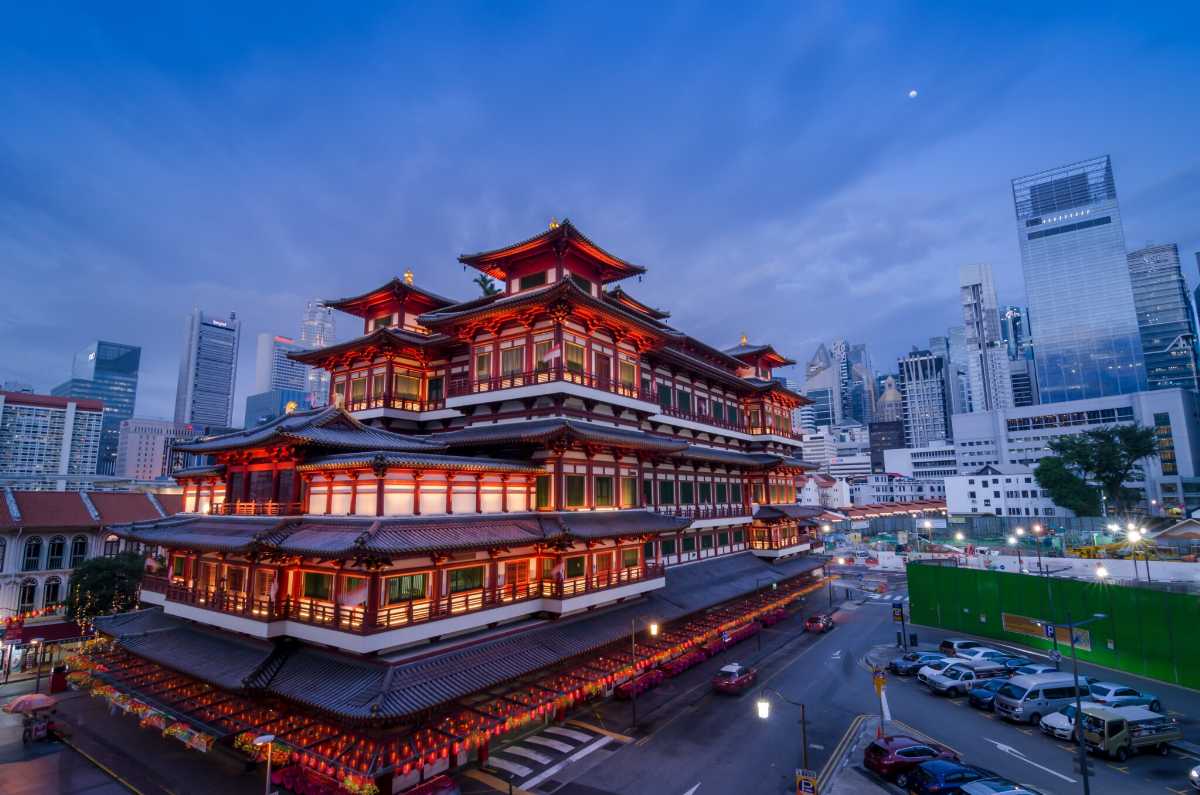 Chinese Buddhism happens to be the major religion in Singapore, owing to the large population of Southern Chinese immigrants and their descendants. Hinduism is also prevalent, being the faith of those with South Indian heritage. Christianity is growing quite exponentially as a belief system, and many young Singaporeans are leaning towards it.
Singapore has four official languages – English, Malay, Tamil and Mandarin Chinese. Being a former colonial country, English is the most commonly spoken and written language. It is the lingua franca in Singapore and therefore the de facto language used in public service and administration, trade and commerce and in the judicial system. In writing, Singapore follows British English. However, the spoken colloquial version of Singaporean English is locally called "Singlish". Although Malay is the national language of the country, only 15-17% Singaporeans speak the language. It is officially present in the Singaporean national anthem, in military commands and in orders and citations only. Most people in the country are bilingual - they can speak reasonably good English and one of the three other languages as their mother tongue.

Singlish: Language and Common Phrases
Standard English is considered as one of Singapore's official languages but the locals and commoners alike like to use Singlish, the Singaporean version of English even though it is heavily discouraged by the government, the government even going as far as creating a movement called Speak Good English to stop people from conversing using Singlish. Singlish came into existence due to the British occupation of Singapore until 1965 and then English took a life of its own. The working class who learned English without formal schooling gave birth to modern-day Singlish. The Singlish vocabulary has words borrowed from other languages like Malay, Cantonese, Tamil, Hokkien, Teochew and much more. In more recent times, American and Australian slang also have crept into the Singlish vocabulary.

Common Phrases

Chope: To reserve something.

Example: "I've choped a table at Forty Hands Cafe for next Tuesday."

Lah, Lor, Leh, Meh: These are usually used at the ending of sentences and meanings vary according to tone, syntax, and context.

Example: "That's how its done lah." (Lah is the word of finality here)

"I just did it lor." (Lor is used when nothing else can be done)

"I didn't know that's where we have to go leh." (Leh is used for uncertainty here)

"Is that a cafe, meh?" (Meh is usually used for rhetorical questions or to emphasize)


Shiok: To describe something, usually food as delicious.

Example: "This Rosti is so flavorful, so shiok."

Onz: Another way of agreeing to something. Giving consent.

Example: "Onz, I will come."

Ulu: Out of the way, anything that takes more than an hour to reach.

Example: "That's too ulu for me, find someone else lah."

Kiasu: A term for someone who is afraid of missing out or for someone selfish usually.

Example: "That guy was so kiasu he ran ahead of everyone else."

Cleanliness in Singapore
Singapore is by far one of the cleanest countries, not only in Asia but the rest of the world. Starting right from the spick and span Changi Airport right up to the spotless streets and by-lanes, there is absolutely no littering anywhere. To maintain the cleanliness, chewing gum is banned in Singapore. Since an open trade agreement with the USA in 2004, only a limited amount of medical chewing gums are allowed, but that too has to be prescribed by a dentist. The country gives away Clean & Green Singapore awards every year to the districts which achieve the most in terms of public hygiene and environmental cleanliness.
Fine City: General Offences
Singapore has its own set of rules and regulations, which heavily criminalises many actions which are considered petty crimes or no-offence acts in most other countries. The general offences of Singapore are:
Possession of chewing gum or trying to bring them into the country without a doctor's prescription.
Jaywalking - Walking or crossing the street unlawfully, that is not using the zebra crossing, or not following the traffic lights while crossing, or not using the pedestrian sidewalk.
Smoking in public places and areas where 'No Smoking' signs are put up for restriction.
Urinating or spitting in public.
Littering on the roads instead of using the dustbin.
Committing affray or a fight between two or more people in a public place, such as bar brawls or street commotions.
Queuing in Singapore
Singaporeans value discipline more than anything. The people are actually obsessed with being orderly and precise. They have no issue with standing in a queue for something that is good. Everywhere else we tend not to queue because as humans we have the need to get that something before someone else gets it, but Singaporeans know that it's a waste of time and a hassle to not be in a queue and so, in Singapore you get to see some of the most orderly queues you can find.
Singapore's Customs & Traditions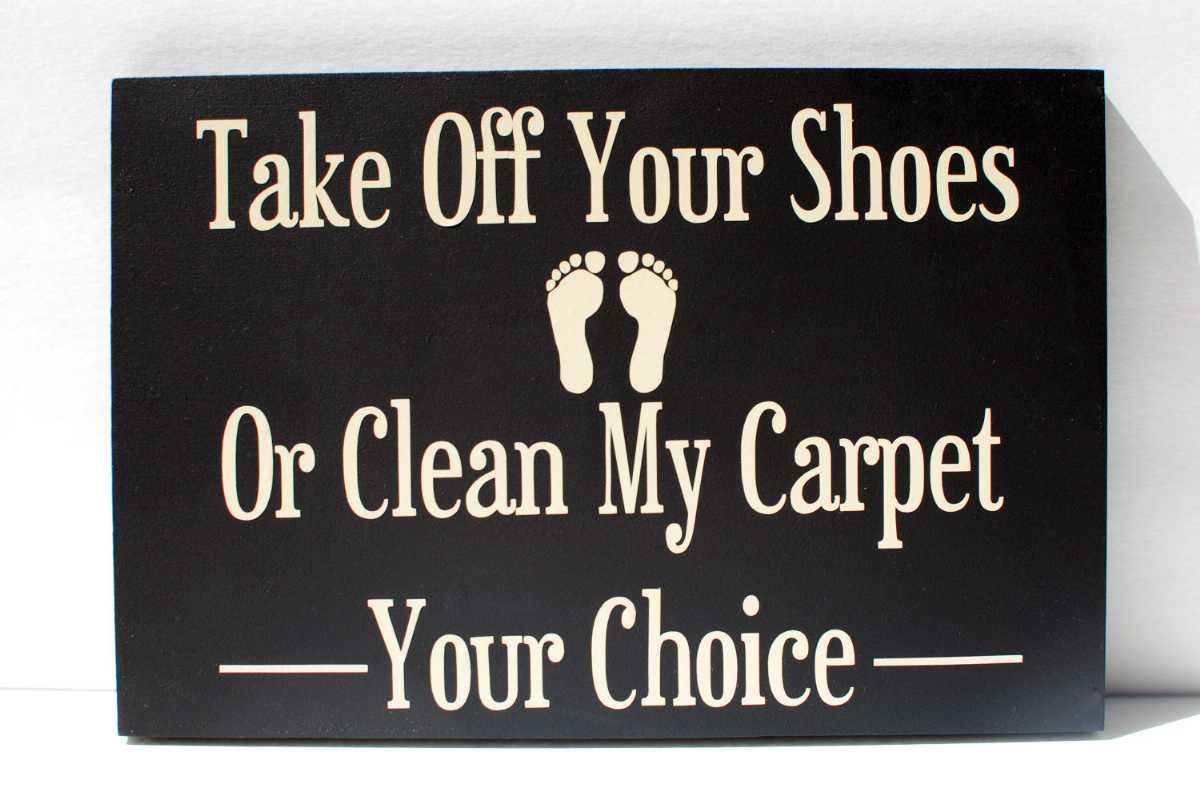 Despite being small-sized, its local customs and cultures of Singapore are a blend of multiple ethnic influences including Chinese, Malay, Indians and others, the reason being the country's history as a trading hub. This diversity is also reflected in terms of spoken languages which include English, Mandarin, Tamil and Malay. Talking about a few customs that Singaporeans abide by:
One cannot put his/her chopsticks in an upright position while having food as doing so can cause him some glares from the people around because the only time Singaporeans put their chopsticks upright is during funerals.
Taking off his/her shoes before entering a house including temples and mosques.
Not bringing dogs near their Muslim friends as they consider dogs to be unclean.
Bringing along food and flowers to Hindu or Buddhist temples as an offering for the gods.
The culture in Singapore is a celebration of diversity in all its elements and the neighbourhoods like
Little India
,
Chinatown
and
Tiong Bahru
are the burning illustrations of that. On the surface, everything is quintessentially Singaporean. But once you dig deep, it is evident how different heritages have comfortably merged and mingled with each other to create what the world sees as the true culture of Singapore.