The street markets of Hong Kong keep the city sleepless and colourful, throughout the year. The cultural ties of Hong Kong are evident in these local markets, depicting a perfect place for shopping enormously and diversely. The famous streets of Hong Kong burst with shopping materials, be it accessories, antiques, fashion clothes, souvenirs, electronics, collectables or others for the population, coming from all strata of the society.


Here is a complete list to explore the nooks and corners of cheap shopping in Hong Kong:
1. Temple Street Night Market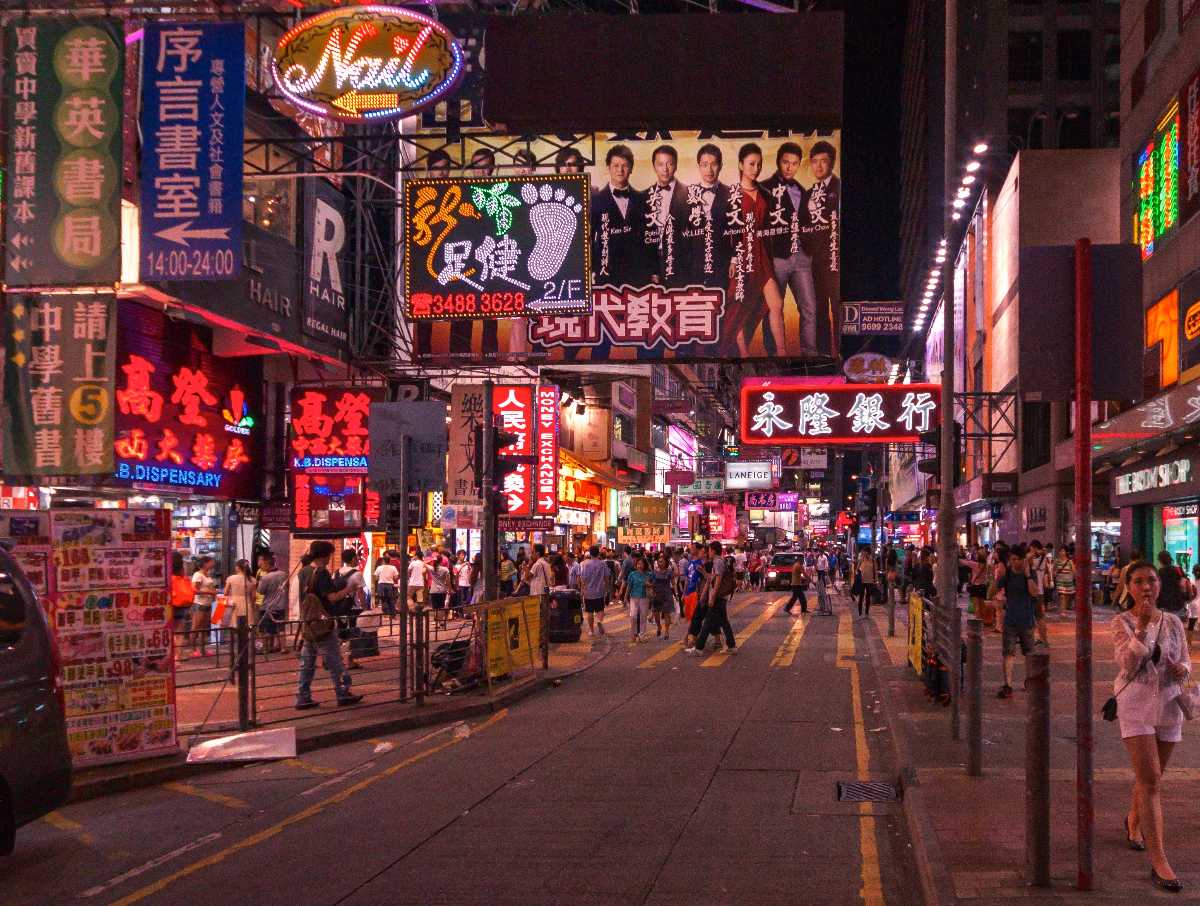 How lively Hong Kong can be in the nights is what the Temple Street Night Market showcases to its visitors. Exhibiting Chinese culture at its best, this hub for cheap shopping in Hong Kong revolves around the location of the Tin Hau temple area, buzzing with neon lights every night. With brilliant shopping experience on men's and women's fashion, jade ornaments, tea-ware, funky T-shirts, trinkets, watches, antiques, shoes, Temple Street Night market will let you experience Cantonese opera singers and fortune tellers in every corner, portraying a perfect scene from the movies!
Location - Temple Street, Jordan

Timings - 04:00 PM to 11:00 PM every night
2. Ladies Market


If you possess excellent bargaining skills and want to try it any time soon, Ladies Market in Hong Kong is probably the best place for cheap shopping in Hong Kong as this place would test your competence too! With around a hundred stalls, placed sequentially in a kilometre space, Ladies market is the ideal place for cosmetics, watches, trinkets, bags, clothes along with the fresh smell of the seafood in the street. The won ton noodles appear much more delicious after getting a 20% to 50% discount on the items available, be it the household items or the Chinese souvenirs.
Location - Tung Choi Street, Mong Kok

Timings - 12:00 PM to 11:00 PM
3. Granville Road


If fashion for clothing makes you crazy, then Granville Road in Hong Kong can surely help you with some cheap textile shopping in Hong Kong. This road in Tsim Sha Shui area is lined up with branded boutiques, trendy fashion outlets, and stalls - all catering to the young generation. One of the best design schools in the world, Hong Kong Polytechnic School, is nearby. Also the Rise Shopping Arcade and Beverly Shopping Centre are just a few lanes away, making it a paradise for hungry shoppers, interested in bargaining.
Location - Granville Road, Tsim Sha Shui

Timings - 10:30 AM to 11:00 PM (vary from one shop to another)
4. Cat Street


Planning to shop for some antique collections? Well, Cat street or the Upper Lascar Row of Hollywood Road is the ideal place for shopping antiques, going back in the era of the Ming dynasty. With exceptional choices of good - be it a simple Chinese souvenir, trinket, jade ornaments, old watches, wood carvings, calligraphy items, silk goods or other - everything is here in Cat Street. Art enthusiasts can spend days in Cat street with its exquisitely curated old embroidered goods, handmade items, the smell of the art galleries and an interesting dose of cheap shopping in Hong Kong.
Location - Hollywood Road and Upper Lascar Road, Sheung Wan, Hong Kong Island

Timings - 11:00 AM to 05:00 PM
5. Yau Ma Tei Jade Street and Market


The incredible popularity of jade is best understood in Hong Kong's Yau Ma Tei Jade Market, which deals in jade and the Chinese history of purity, sanctity, and prestige attached to it. This priced accessory in various ornaments like rings, bangles, pendants, neckpieces, earrings in this market is quite a famous option among cheap shopping in Hong Kong. Innumerable stalls cater to this authentic good luck charm of the Chinese culture and vividly portraying age of history and traditions of the local area.
Location - Junction of Kansu Street and Battery Street, Yau Ma Tei, Kowloon

Timings - Monday to Saturday - 11:00 AM to 05:30 PM
6. Stanley Market


Being away from the bustle of the city and close to the beach, Stanley Market in Hong Kong is a touristy place with various shopping options. Less crowded that Temple Road Night Market and Ladies Market, Stanley offers you a relaxed environment for buying anything you want - be it the appealing Chinese costumes, garments, souvenirs, watches, lights and lamps, ornaments, watches, home decor items or even furniture. With a gulp of savouring seafood in mouth, a visit to Stanley along while buying first-class quality linen from here will be memorable and delightful.
Location - Stanley New Street and Stanley Market Road, Stanley

Timings - 10:00 AM to 07:00 PM
7. Chun Yeung Street and Wet Market


There are many hidden gems in the region and one such arena for cheap shopping in Hong Kong is the Wet Market. Amidst the rapid influence or modernization and corporate buildings, the grand Wet Market of Hong Kong is still existing in its traditional form with lined up stalls in the open air and having fresh food, vegetables, meat and items of seafood - everything under a reasonable price. To get an idea of how Hong Kong's local life is, a visit to the Wet market on busy weekends with family can give you the best portrayal.
Location - Chung Yeung Street, North Point

Timings - 08:00 AM to 07:30 PM
8. Li Yuen Street


Li Yuen East and Li Yuen West together form the Lanes of Central, for which Hong Kong is widely known. The vibrancy of the narrow and crowded lanes, covered with amenities, from high priced to low priced, from garments to accessories, silk to embroidered, traditional to modern - everything draws the attention of the population of the locals on relaxed weekends. This market, upholding the glory of an Asian market, is hugely famous for the factory outlets which gives branded clothes at a much lower price, without any hassle.
Location - Li Yuen Streets East and West, Central, Hong Kong Island

Timings - 11:00 AM to 08:00 PM (vary from one shop to another)
9. Gough Street


One of the trendiest streets of Hong Kong, Gough Street offers you an environment which takes you back in the past, maybe into some European style village! Also nicknamed as Noho, as Gough street is located in the north of Hollywood road, the NoHo style boutiques are famous here. The vintage outlook of this lane mostly draws attention due to its antique, posh and designer homeware shops, all lined up in a series. Several restaurants can also be found here in Gough Street, adding more to the experience.
Location - Gough Street, Sheung Wan, Hong Kong Island
10. Tai Yuen Street


Anybody will go gaga over the number of toys you will witness in Tai Yuen's land. A walk through the paths of childhood, this market is a passage to revisit the days left behind in the 1980s, especially. Properly named as the Toy street of Hong Kong, this place has classic toys from past decades, has figurines, character toys, kids stationery, exquisite Tamya cars, anime figurines, lego sets, bubble bottles - a perfect place to spend weekends strolling in the streets, whether you are a child or an adult!
Location - Tai Yuen Street, Wan Chai

Timings - 11:00 AM to 07:00 PM (vary from one shop to another)
11. Apliu Street


Interested in buying gadgets and electronic goods in Hong Kong? Worry not! The Apliu Market is a great destination for cheap shopping in Hong Kong especially if you are looking for gadgets ranging from low price to the higher, first-hand products and second-hand goods. Hong Kong's Apliu Market showcases the recent models at low prices, too, which attracts the crowd all over. Enthusiasts can also pay to the nearby Golden Computer Arcade for exploring options.
Location - Apliu Street, Sham Shui Po, Kowloon

Timings - 11:00 AM to 08:00 PM (vary from one shop to another)
12. Fa Yuen Street



Look this way or that, everywhere in Fa Yuen Street, all you can see is sneakers of vivid kinds, colours, fashion, and style. Also, nicknamed as the Sneaker street of Hong Kong, this street homes the best-branded shoes at the lowest price like Nike, Reebok, Reebok, Merrell, and others. Professional sportsmen are also spotted on Fa Yuen Street. A little variety of Asian style dresses can also be found along with accessories, hats and trendy bags.
Location - Fa Yuen Street, Mong Kok, Kowloon

Timings - 02:00 PM to 08:00 PM
13. Sino Center


Taking about cheap shopping in Hong Kong and not mentioning the Sino Center will be a grave mistake. Not really a street shopping place though, but this centre is a four-storied amalgamation of vivid colours of pop culture, in the best possible way. A perfect place for anime lovers, there are stores dedicated to satisfying manga, toys, and J-Pop CD lovers. Stores like Yokohama.co, Rainbow Box, Power Comic, the Collector's Manga store will surely empty your pockets in Hong Kong.
Location - Nathan Road, Mong Kok

Timings - 11:00 AM to 10:00 PM ( varies from store to store)
14. Jardine's Bazaar


Named after William Jardine, Jardine Bazaar, also known as Jardine's Crescent, is a hub of culture, packed in the roadside open market. This market has eye-goggling items regarding everything. From hair accessories to colourful garments to domestic items to mouth-watering local food- the Jardine market offers everything. You can also find little flower stalls and electronics goods stalls to serve your purpose on a smaller scale.
Location - Jardine's Crescent, Causeway Bay

Timings - 10:00 AM to 10:00 PM
15. Goldfish Market


How good fortune and good luck matters to Chinese people can only be understood while you are in Hong Kong and in this goldfish market, where anywhere you look - all you see is fiery orange fishes, swimming and wandering around in packets. Not just an underground pet, Feng Shui believers regard goldfishes as good luck in homes. Some exotic colours of Goldfish like fiery orange, red, greenish-yellow in weird shapes and sizes can be found in vivid prices.
Location - Tung Chau Street, Mong Kok, Kowloon, Hong Kong

Timings - 11:00 AM to 09:45 PM
16. Flower Market


Well, shopping lovers can be of different types, and one such are the flower shoppers who go gaga over the fragrance of the florals in the markets. Hong Kong has its own Flower Market catering to avid flower lovers. This one of a kind market has exotic plants like orchids, bougainvillaea, sunflowers, house plants, cactus, and blooms, attracting locals throughout the year, especially on occasions like Chinese New Year. Even if not planning to buy any, still you must visit the market which will automatically entice you to bring home some of the blooms from the market.
Location - Flower Market Road, Prince Edward, Kowloon

Timings - 07:00 AM to 07:00 PM
Tips


Cheap shopping in Hong Kong is a pretty difficult task when you are provided with such a huge array of options. If confused with what to buy and whatnot on a short trip to Hong Kong, the easiest and the most reliable options are clothing, ornaments, cameras, and electronic goods.
Street markets of Hong Kong are known for their tough bargaining qualities, which particularly means that bargaining is a big yes in the Hong Kong street market. So, dare not miss a chance!
Options are plenty. So it is always better to hop around the shops line up in series before making up the final decision to get the best of the lot.
Be aware of what you are buying! Shopkeepers may try to tamper around, but be clever not be the scapegoat!
As Hong Kong is a shopper's paradise, always try to aim for the sales seasons to get most of all.
Hong Kong street markets also bear a history of selling illegal and not permissible items. So beware of what you buy to avoid future inconveniences.
Hong Kong is the shopper's paradise that any shopper would love to get drowned into! The colourful streets, the neon-lit shops, and the low prices will dig a hole in your pockets, but the experience will be worthwhile, forever!