Nothing spells vacation like a luxurious beach holiday. Lounging by the stark blue waters, sipping on a tropical drink, scuba diving, water sports and long walks on the sand - the image a beach conjures up is truly magical. A tropical holiday at an exclusive island is an ideal way to blow off steam, move away from the hustle and bustle of city life and take some time off to relax and enjoy with your loved ones. Praslin Island offers that opportunity, and then some!

This tropical island off the coast of Mahé is the second largest island of Seychelles and is renowned as one of the best beach destinations. A unique blend of picturesque beaches and activities make this place irresistible to thrill seekers and vacationers alike. If you're indecisive about where to go on Praslin Island, don't worry - we've got you covered.

Go through our list of the Best Beaches in Praslin Island, and explore!
1. Anse Lazio
Ranked as the best beach in Praslin Island, this treasure trove consists of clear blue waters and white sand. The area is perfect for swimming and snorkelling. The beach boasts of an enviable location, beautiful reefs, granite boulders that offer shade and lilting palms.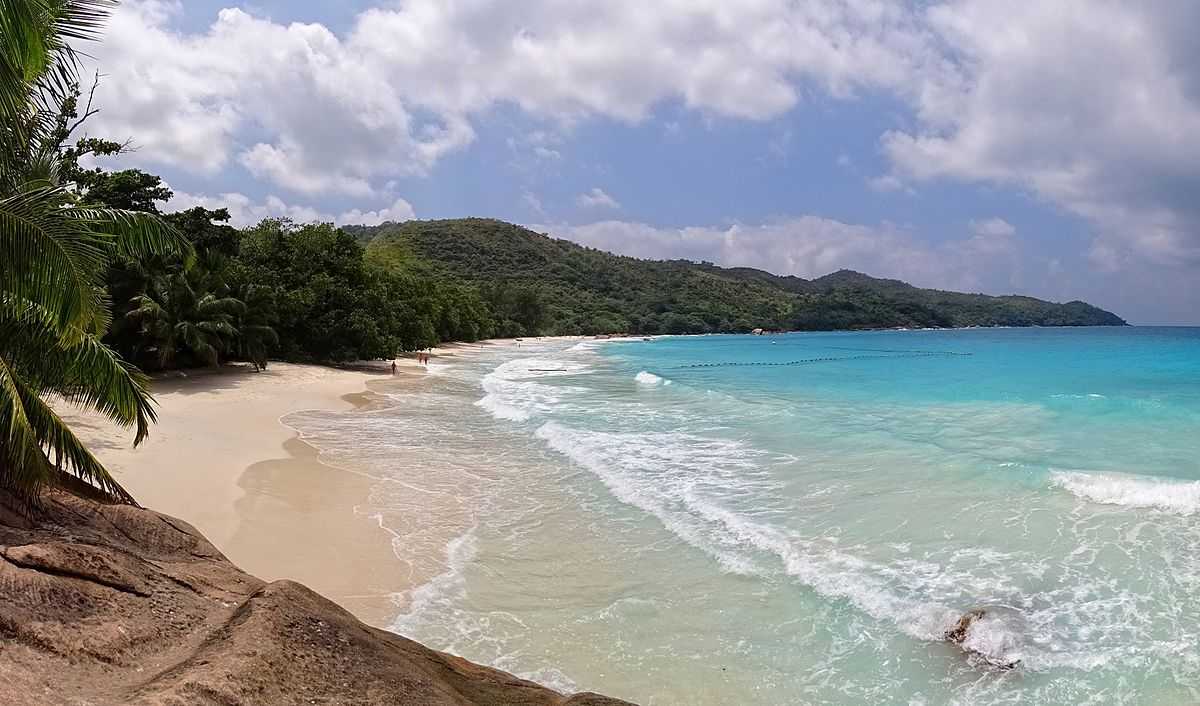 Activities:
Since the waters are quite shallow, this place is ideal for children to swim. You can also indulge in snorkelling, to spot fish. The wide, sandy beach is ideal for family picnics and sunbathing. If you're lucky, you can even spot some turtles or rays! The white sand also makes for great sand castles.

Best time to visit: Although this beach is great to visit any time of the year, October and April are the best months for snorkelling. The monsoon between May and September may hinder some activities.

Other highlights: One of the best things about Anse Lazio is that it is free! Other beaches may be private or semi-private, but this beautiful stretch of land is absolutely free. Try to pack a snack to the beach if you don't want to splurge on the restaurants near Anse Lazio.
The beach has a special netted area where children can swim and play around. This area is monitored by lifeguards and has nets so that rays and other animals cannot enter. Safety first!
2. Anse Georgette
If you feel that best things are enjoyed privately, this beach is your best bet. This private beach is as beautiful as Anse Lazio, perhaps even more. The only catch is that Anse Georgette is private, almost. There are three ways to access it - by staying at the expensive but luxurious Constance Lemuria Resort, which grants exclusive access. You could also stay at nearby resorts and visit the beach with prior permission from the resort. The final alternative involves a long drawn boat ride. However, rest assured that the trip will be worth it - the sunsets along the coast are enviably breathtaking.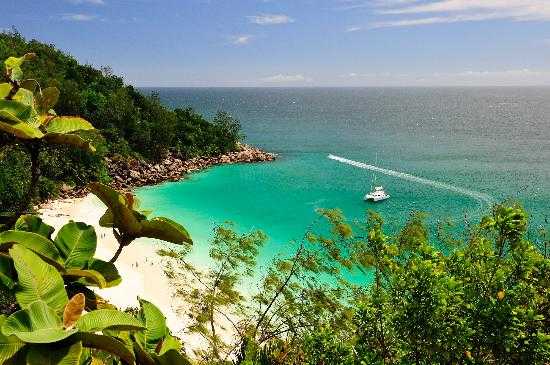 Activities:
The crystal blue waters are perfect for snorkelling, so get your gear on! Since the beach is private, you can enjoy a drink and lull around in secluded glory. The waves also let you indulge in some surfing and swimming. If you're an adventure junkie, you'll enjoy the hike to the beach through beautiful coconut groves!

Best time to visit: The best time to snorkel is in April or October, but the beach can be accessed anytime.

Other highlights: The route to the beach involves a picturesque one-kilometre walk
Shady areas at the back serve as perfect relaxing and lounging spots
The currents in the water make for a perfect surfing locale
3. Cote d'Or
This family-friendly beach is laid back, relaxed and is the perfect way to unwind. Located on the resort side, Cote d'Or boasts of the best snorkelling site at the island, with clear blue waters and stark white sands.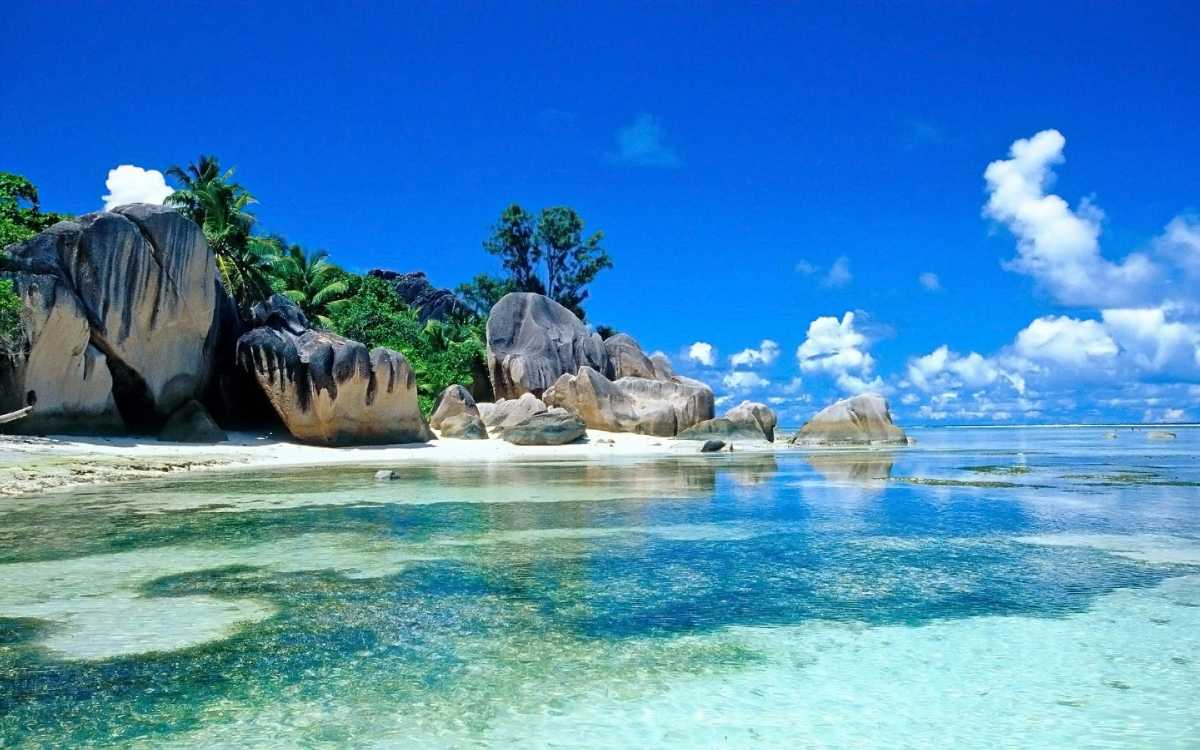 Activities: The stunning beach has shallow waters, on which you can walk, as you watch the sunset. The area resembles children's pool - you can be assured that this sea is safe for your little one.

Best time to visit: This beach can be visited any time of the year since there are very few currents in the water

Other highlights: This beach is ideal for families with little children, as parents can lounge and watch over their kids as they play in shallow waters
There are almost no currents in the water, which makes it safe for children
4. Anse Cimitiere
This beach is semi-private, which means that one way of access is through a resort. While you can also access this pristine land by boat, the trek is highly rewarding. The shallow and clear waters make it great for photo ops and dazzling sunsets.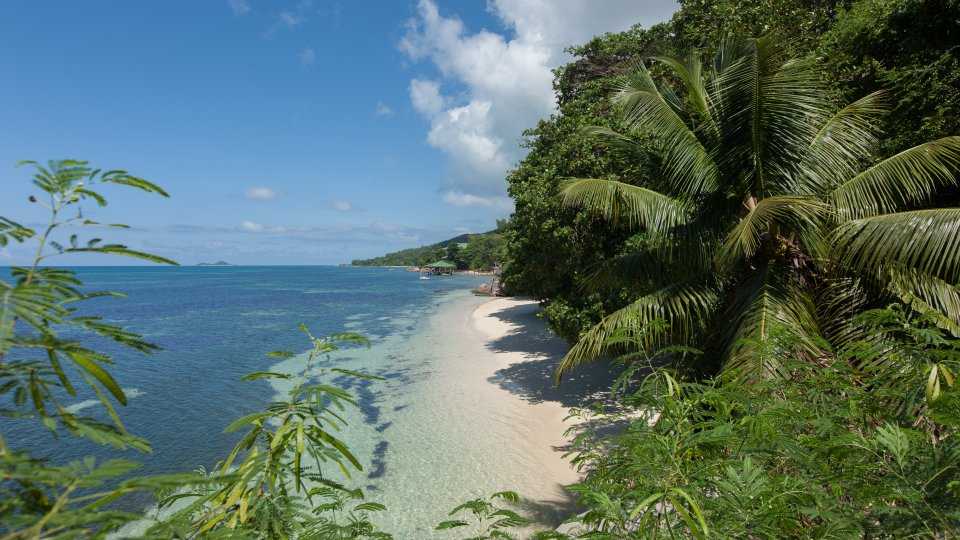 Activities:
This haven affords the luxury of snorkelling, swimming and diving! Jump into the blue lagoon from the rocks, and explore the sea. You can also gaze into deep space at night, as part of stargazing sessions.

Best time to visit: The weather is such that the beach can be visited any time of the year, but the time from June to October causes seaweed to be washed up on the shore. However, this need not deter the feisty traveller.

Other highlights: The white sands and blue waters often turn brilliant shades of orange and pink during sunrise and sunset. Be sure to catch this delectable delight!
5. Anse La Blague
This secluded beach is a delight to honeymooning couples and vacationers alike. The shallow waters provide an ideal perfect environment for snorkelling at low tide, while high tides offer amazing photo ops with blue waters.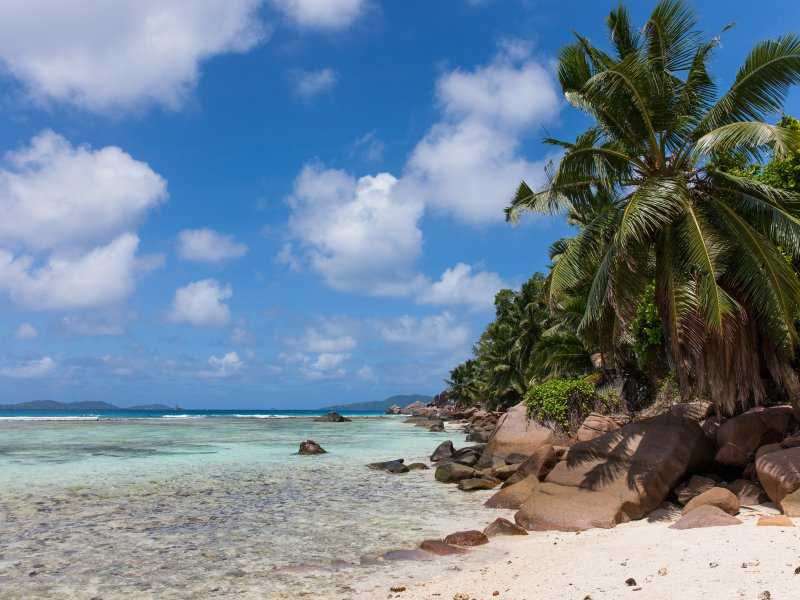 Activities:
This serene beach is perfect for a romantic stroll with your loved one. You can also snorkel during low tide, and build sand castles as well.

Best time to visit: This beach is mainly influenced by the spell of monsoon from June to October, during which seaweed may accumulate

Other highlights: Beware of the high tide, but do not forget to admire the turquoise, tranquil waters of the Indian Ocean.
6. Bois de Rose
This beach is ideal for people with sensitive skin, as the area offers less space for sunbathing. At high tide, the beach becomes tiny, yet no less breathtaking. At low tide, however, there is ample space to soak up the sun. The safe and shallow waters make for great swimming and snorkelling.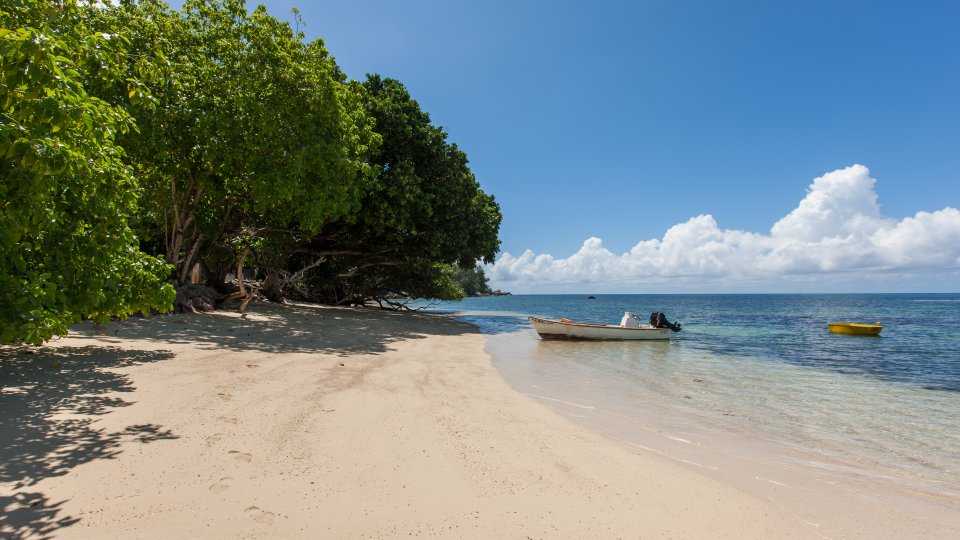 Activities:
The shady palms and the white sands are perfect for sunbathing by the beach. Lounge on a chair as you watch the stark water, sipping on a tropical drink. You can also swim and snorkel in the waters.

Best time to visit: As usual, the beach is ideal to visit every month of the year, but seaweed may be a turn off for visitors between June and October.

Other highlights: If you have sensitive skin, rush to the shade of the palms that are close to the coast so that you can get the best of all worlds - the sun, the beach and the shade!
7. Anse Madge
This beach is every lazy, laid-back vacationer's dream because it is calm, silent and not very populated. The serene waters and the lack of tourists make it ideal to lay back and enjoy the weather with a tasty tropical drink, without a care in the world. Relax central indeed!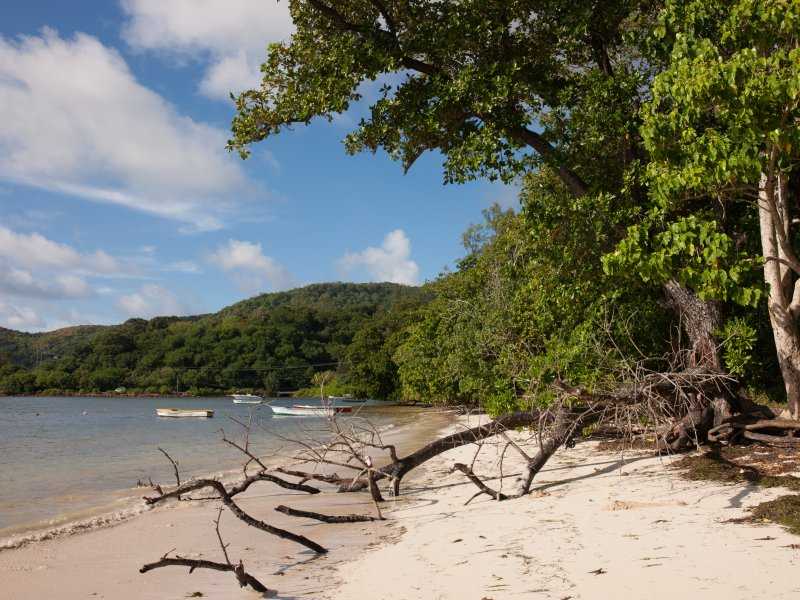 Activities:
Fishing enthusiasts are sure to fall in love with this quiet beach, as the local fishermen often allow tourists to give them a hand. You can also try and collect seaweed for a wrap. Long walks and breathtaking sunsets are in for you at Anse Madge!

Best time to visit: it is better to avoid this beach in April and October, as there is quite a lot of seaweed. The beach can be a much-needed respite from the otherwise tourist-choked island.

Other highlights: The beach is curved and long, and often disappears during the high tide! Wait for low tide to watch the pristine sand emerge, dotted with seaweed and interesting shells.
8. Anse Matelot
Another paradise for the lonely soul, reaching this island is in itself a mighty feat. An adventurously dangerous trek through rocks takes you to this small yet breathtaking beach, which is ideal for swimmers and snorkelers. The water is deep, but there is no sharp drop, which is perfect for swimmers, divers and snorkelers to explore the deep waters. We recommend the boat ride to reach the beach; remember to never venture alone on the rocks - always take with you a guide.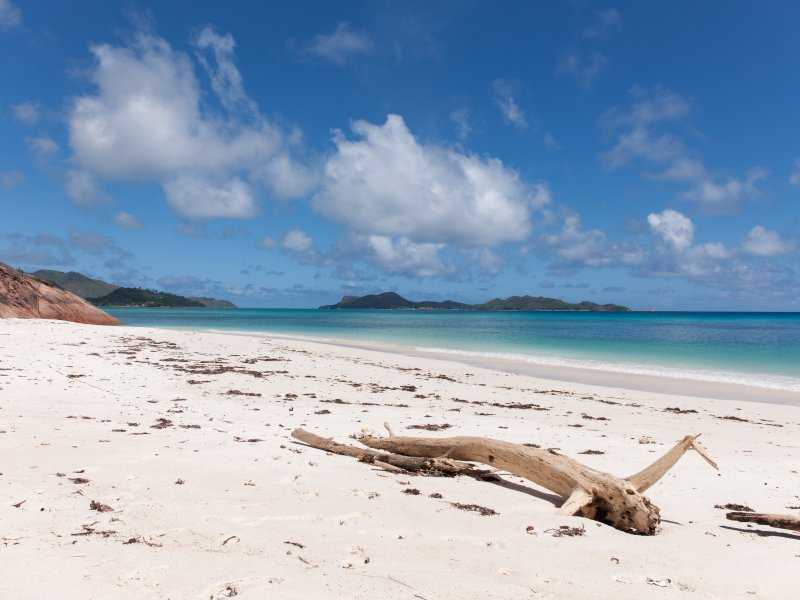 Activities: The deep waters are ideal for snorkelling, swimming and diving. The trek to the beach is a beautiful journey in itself, as the path is full of lush greens.

Best time to visit: It is beautiful to visit all year round, but there may be too much seaweed in April and October. It is important to remember that the tides may change suddenly, which means that you have to be wary and safe.

Other highlights: The rock formations around the beach are breathtaking, and make for brilliant photo ops. The isolated waters can be a haven for travellers looking to relax in an almost private beach.
9. Anse St Sauveur
This family-friendly destination might be just what you need at Praslin. Although this beach is great for large groups, tourists tend to visit it in passing, which works to its advantage. Children can play in the shallow waters, while adults can indulge in snorkelling, diving and fishing.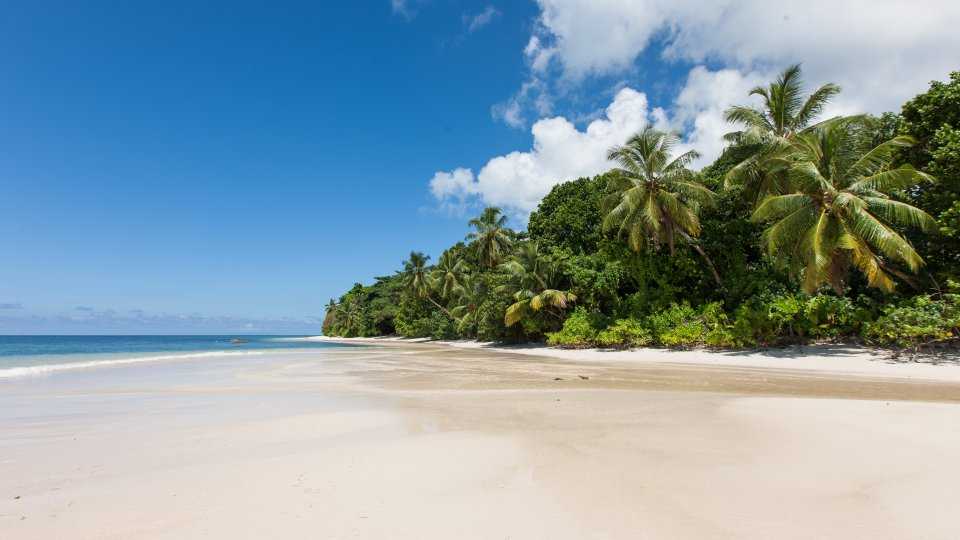 Activities:
The deep waters are ideal for snorkelling, swimming and diving. The trek to the beach is a beautiful journey in itself, as the path is full of lush greens.

Best time to visit: Avoid this beach between May and September, as there is too much seaweed.

Other highlights: The palm trees on this beach give you the perfect space to relax and unwind. The slow, ebbing tides are comfortable even for first-time swimmers.
10. Petite Anse Kerlan
This semi-private beach is a delight to visit because its waters are free of seaweed. This makes it perfectly safe for the entire family. It is not too crowded as well. You are sure to fall in love!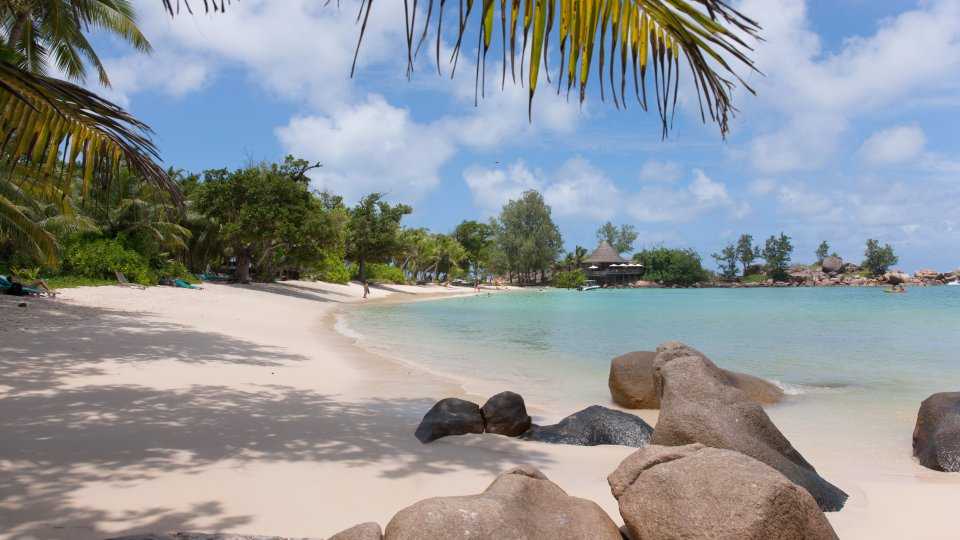 Activities:
The wide beach offers plenty of room to sunbathe and bask in the tropical sun. You can also swim and snorkel here.

Best time to visit: The beach is safe to visit all year round, as the tides are slow, the beach is shallow, and the area is very family-friendly.

Other highlights: Entry to the beach is easy if you choose to stay at the Lemuria Resort, as it is accessed through the private resort-owned land. Otherwise, you will have to get prior permission from the authorities there. It is definitely worth it, though!
Which place did you like the most? Which beach is on your wish-list? Which location would you never want to leave? Share your beach bum stories in the comments section below!