Malaysia is a Southeast Asian country with people of multiple ethnicities, and diverse cultures thrive peacefully. The state recognizes Islam to be its official religion, and Islamic festivals are celebrated with great enthusiasm.
Three of the biggest and the most prominent Islamic festivals are the birthday of the Prophet (known as Maulidur Rasul), Eid-ul-Fitr (also known as Hari Raya Puasa) and Eid-ul-Adha (popularly known as Hari Raya Korban). It is interesting to witness the festivals and be a part of the elaborate celebrations that ensue. Eid marks the end of the Ramadan month and the fast is broken after the sighting the moon.
Let us take a brief look at what all it entails in Malaysia during Ramadan and Eid and what lies in store for tourists planning to visit Malaysia to experience the local festive spirit. The key areas to soak in and experience any culture mainly lies in the food, attire and the local ambience during the celebration. There is also a regime to be followed during this holy month
About Ramadan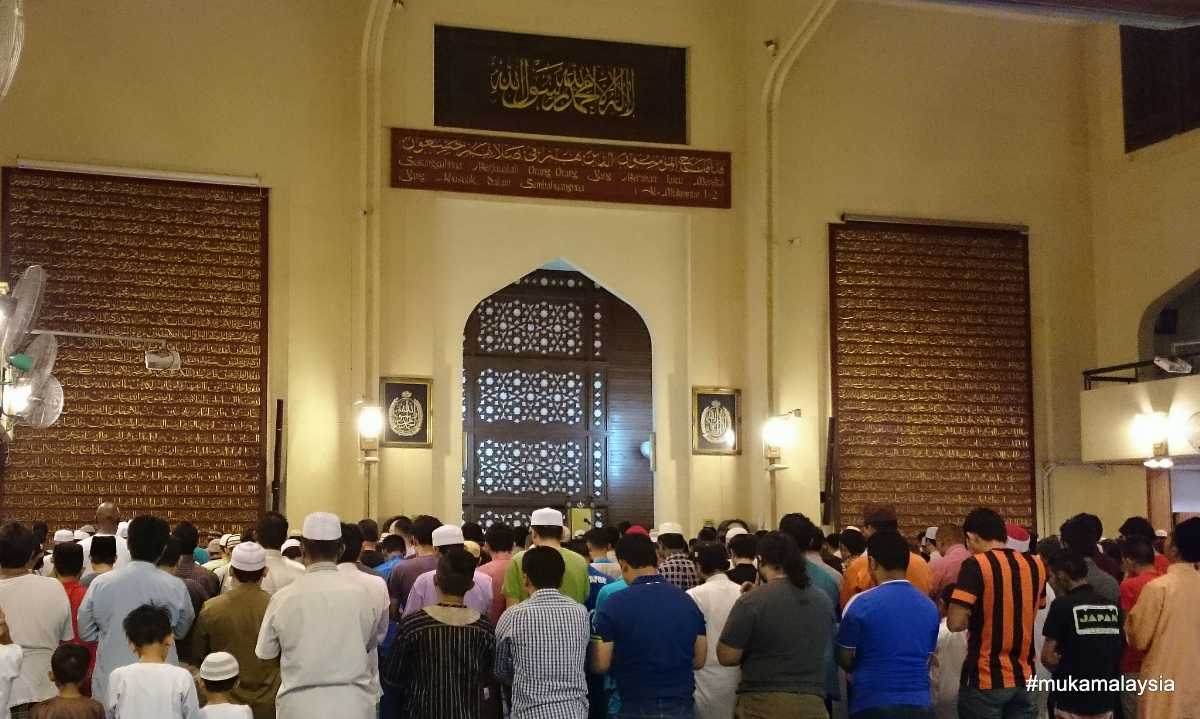 Ramadan is the ninth month of an Islamic calendar. The month is considered holy by the people belonging to this religion. The month-long strict fasting is a time when one is expected to reflect on spirituality and feel closer to Allah (God) by adhering to this mandatory practice. This is also the time when people reach out to the poor in the community by contributing to charity. People are disallowed from drinking, smoking, food and water and intimacy.
A typical day during Ramadan starts by having a heavy meal before dawn; usually, around 4 am - known as 'Sahur', enough to sustain a person for the coming day (till dusk). Post eating, people either immerse themselves in reading the Quran or praying or merely catching up on sleep. The only people exempted from fasting are sick people, pregnant ladies, lactating mothers, menstruating women and older adults. They are, however, expected to consume food within their houses and not in public. Tourists can experience sahur at mosques, restaurants or people's residences. 
The ceremony of breaking the fast at dusk during Eid in Malaysia is called as 'Buka Puasa'. Traditionally, the fast is broken by eating dates before the main meal is served to everyone. 
Eid 1 - Eid-ul-Fitr (Hari Raya Puasa)
Eid-ul-Fitr is the Eid which is celebrated at the end of the month of fasting - Ramadan. It also means the 'festival when fast is broken'. Ramadan is the holy month wherein Muslims have to keep a fast from dawn to dusk. 
Eid 2 - Eid-ul-Adha (Hari Raya Korban)
The celebrations during this festival of Eid in Malaysia is at a relatively smaller scale as compared to Eid-ul-Fitr. This day marks the day when Prophet Ibrahim sacrificed his son in an act showing obedience towards Allah. Eid-ul-Adha also celebrates the end of the season for visiting Haj pilgrimage. Malaysians go to Mecca every year in large numbers to do the Haj. 
Typically, a person starts this day by offering Eid prayers at the mosque, and the men gather around for the ceremony where livestock - mainly goats/cattle are slaughtered as a symbol of sacrifice to Allah. The meat is donated to the needy and poor. Usually, the local communities get together and participate in the sacrificial ceremony. 
Visiting Malaysia during Ramadan/Eid in Malaysia is a sort of a feast for one's eyes and belly as well! One can also indulge in a unique and presently trending practice of 'mosque hopping' to experience the power of faith. Or, one can sit and enjoy the serenity watching the blue marbled mosques like Sultan Mizan Mosque, Sultan Abdul Aziz Mosque or the most splendid of the lot - Zaharah Mosque which is a floating marvel located in the Terengganu state. Spend hours sitting on the white marble stairs, gazing at the architectural enigma of the mosque's structure and soaking it all in!
Iftar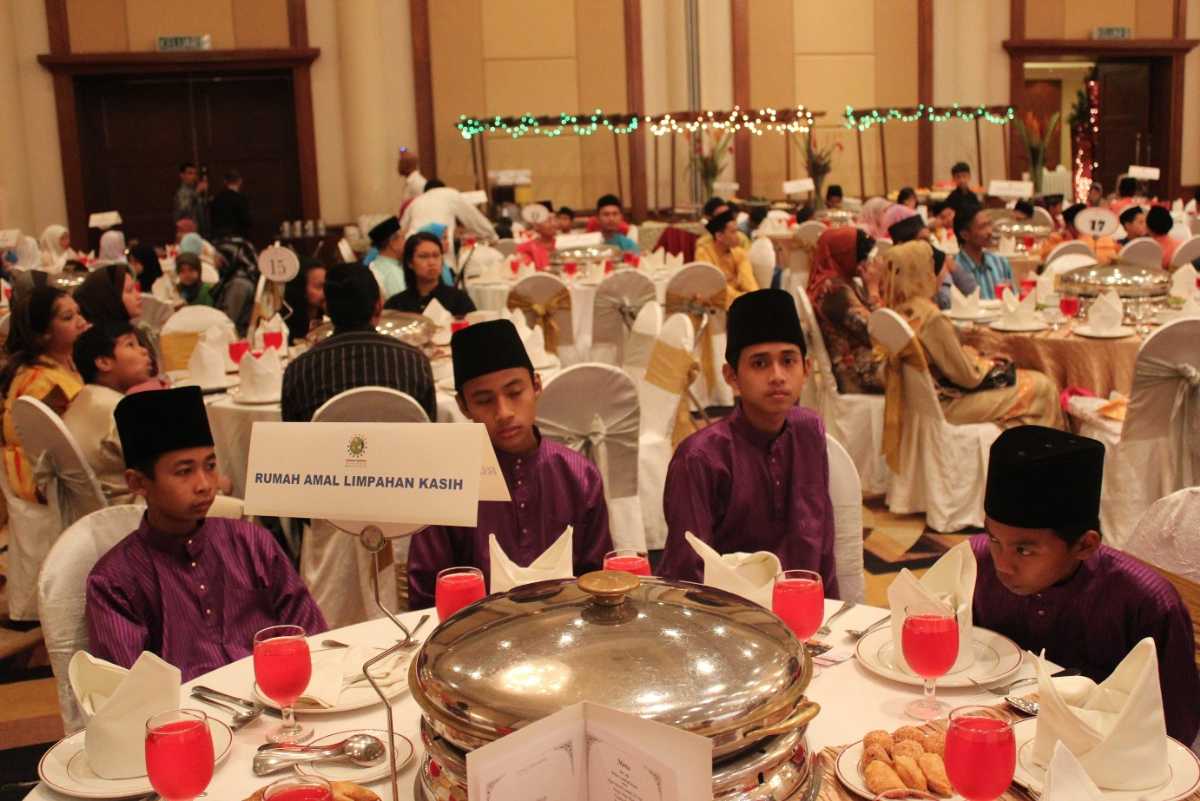 The first and the last day of Ramadan (the previous day being the festival of Eid in Malaysia) is a public holiday. During the rest of the days of fasting, offices shut an hour before the usual closing time, and people head home to prepare for the iftar - the ritual where the fast for the day is broken. Iftar gatherings are often seen where friends and families get together for a fulfilling meal after a long day of fasting.
Food & Delicacies During Eid in Malaysia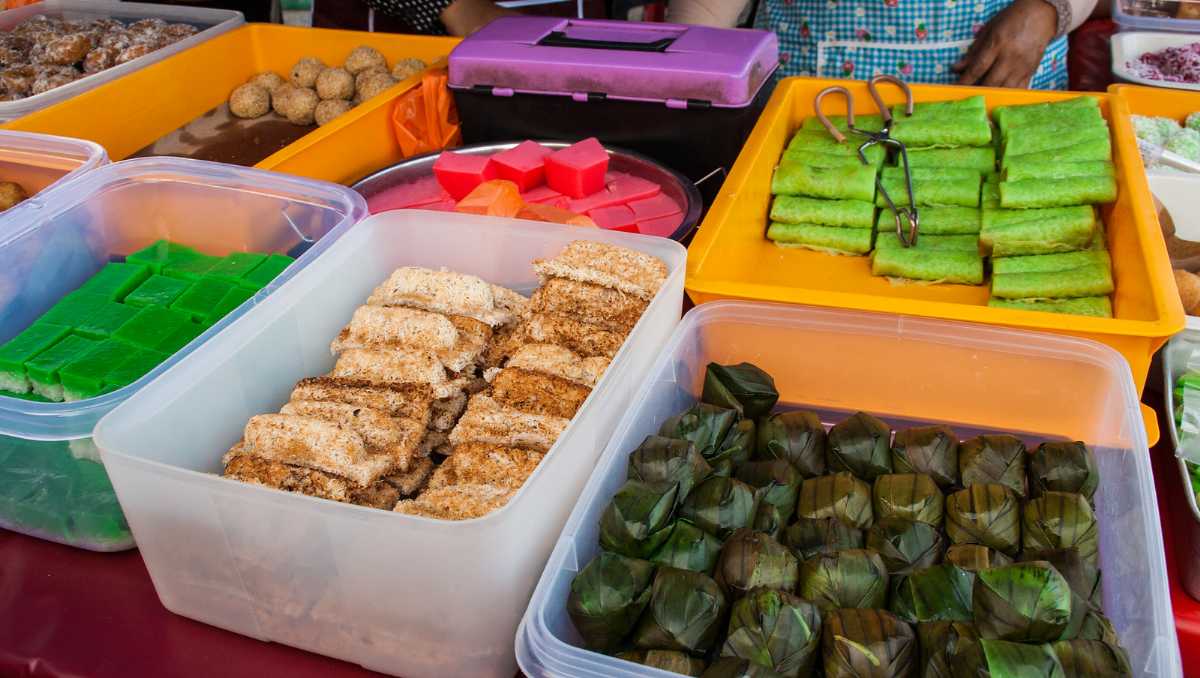 Bubur Lambuk
Every place has a unique tradition associated with festivals, especially when it comes to the delectable sweets and other food preparations. One such Malaysian culture is that of making 'bubur lambuk' which is a creamy porridge of rice made by adding together meat, coconut milk, flavoured spices and condiments. It is then distributed amongst each other! 
The 'Babur lambuk' prepared in the Kampung Baru Mosque in Kuala Lumpur is one of the well-known ones, and the preparation happens on a large scale every day. The delectable taste of bubur labuk made here is a result of the traditional recipe and method of preparation which has been handed down from generations. Twenty huge Babur Lambuk drums are made every day by the members of the mosque's committee. They usually start early in the morning around eight and start the distribution by an evening around 5 pm. Long queues of people are seen who come over to get a taste of this most sought after porridge. 
Ketupat
'Ketupat' is another dish served especially during Eid in Malaysia, It comprises of rice cake dumpling bundled in coconut leaves woven to form a triangular form. It is usually eaten along with side rendang - a kind of dry beef curry. 'Rendang' is made using meat, coconut milk, chilli paste, spices, grounded coconut, spicy peanut sauce and lemang. Ketupat is one of the most popular and loved dishes to be listed as a Malaysian heritage dish.
Kuih Raya
There are various cookies popularly known as 'Kuih Raya' available in a variety of tastes and colours which are loved by kids and are served in almost every household.
There is a wide array of food items right from fruits, grilled fish to local delicacies like kueh jala emas (type of cake), bubur lambuk (rice porridge), pulut panggang (rice with prawns preparation in coconut mixture) etc. 
Attire During Eid in Malaysia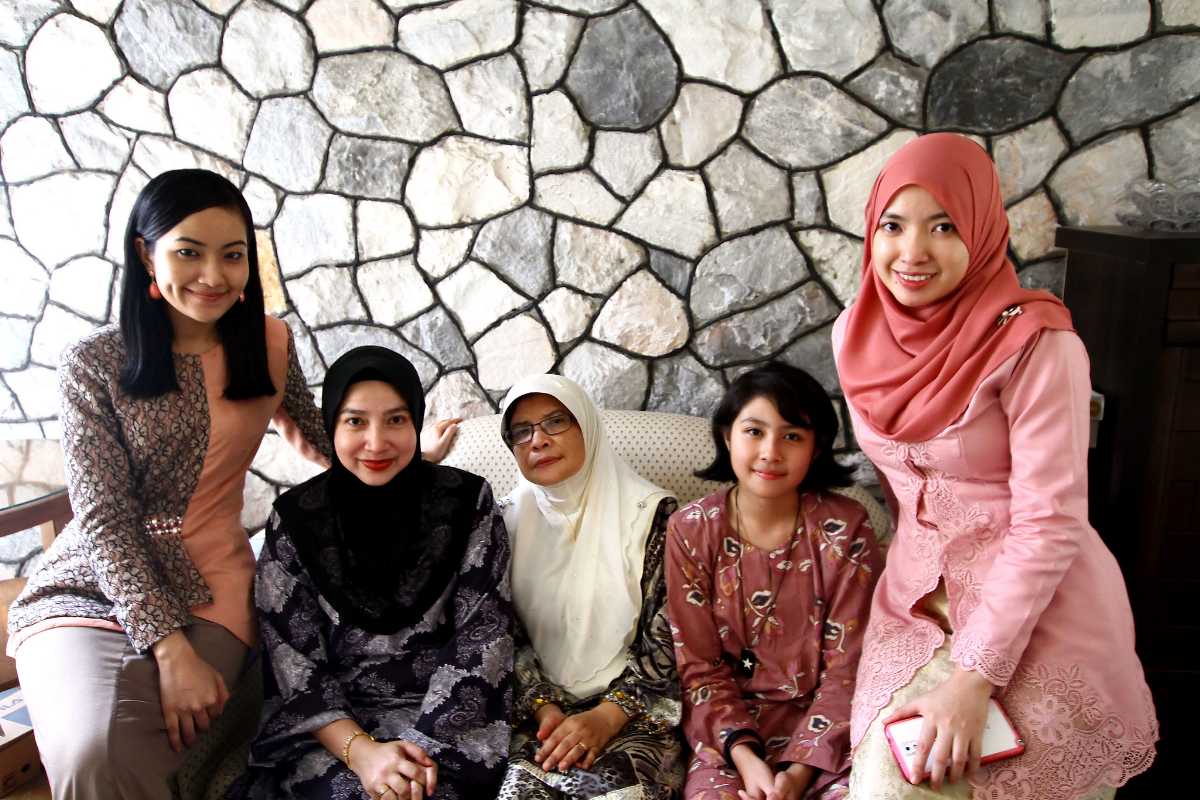 During the Eid celebrations, the Malaysians dress in their traditional best! The traditional outfits for men are called 'Baju Melayu' and those for the ladies are called 'Baju Kurung'. 
It is usually expected that men and women, both alike are to dress conservatively covering their torsos. Especially for women, they are expected to wear long-sleeved tops, and skirts/pants are expected to be at least of knee-length (longer the length of clothes, ideal it is). Figure-hugging dresses are a strict no-no.
Even tourists are expected to dress appropriately, especially during the holy festivals, to avoid being called out and feel uncomfortable. For perfectly seeming to be one of them, it is better advised to follow what the locals are doing.
Ramadan Bazaars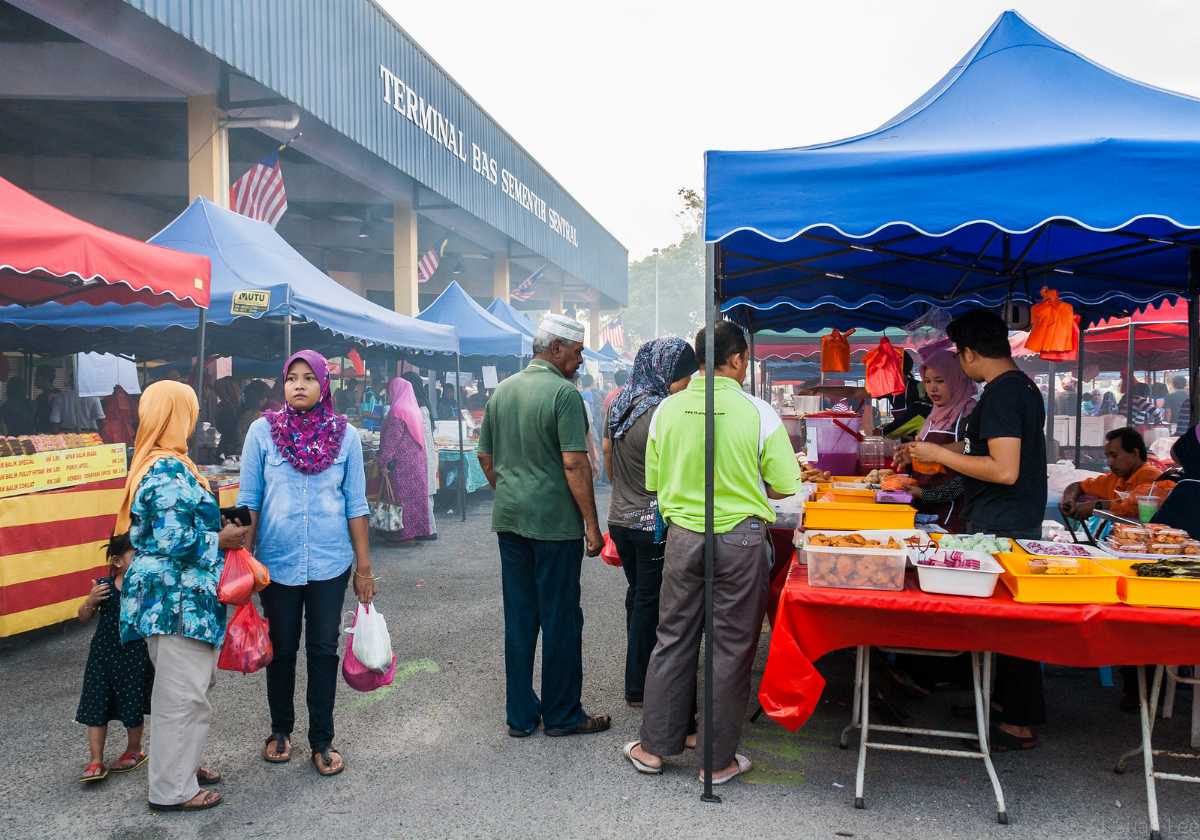 Bazaars and Shopping Malls
The bazaars and shopping malls are up in their full glory with elaborate decorations and lighting. Local Eid songs are being played on loudspeakers adding to the festive cheer. More so, the irresistible street food in Malaysia also gets suddenly better. The Ramadan bazaars as they are called, are quick to spring up on the streets towards evening time when people break their fasts. 
Groceries and Food Shopping
One can buy all sorts of groceries, fruits, snacks and food at these bazaars at much cheaper rates than usual. Everything available in these bazaars is prepared on the spot that very day and is entirely fresh! No Ramadan bazaar is complete without your roadside sugarcane juice vendor's stall. Typically, these bazaars are open from 4.00 pm and shut by 7.30 pm, post which people start heading home.
These bazaars are the places to be at, during Eid in Malaysia!. They are affordable but crowded and full of frenzied people and long queues of people waiting to get their hands on their favourite dish! 
A few well known Ramadan bazaars to visit to satiate your taste buds are listed below :
TTDI Ramadan Bazaar (Address - Jalan Tun Mohd Fuad 2, Taman Tun Dr Ismail, Kuala Lumpur)
Jalan Masjid India and Jalan Tuanku Abdul Rahman Ramadan Bazaar (Address - Jalan Masjid India, Kuala Lumpur)
Bangsar Ramadan Bazaar (Address - Jalan Telawi 1, Kuala Lumpur)
Kampung Baru Ramadan Bazaar (Address - Jalan Raja Alang, Kuala Lumpur)
Local Ramadan Customs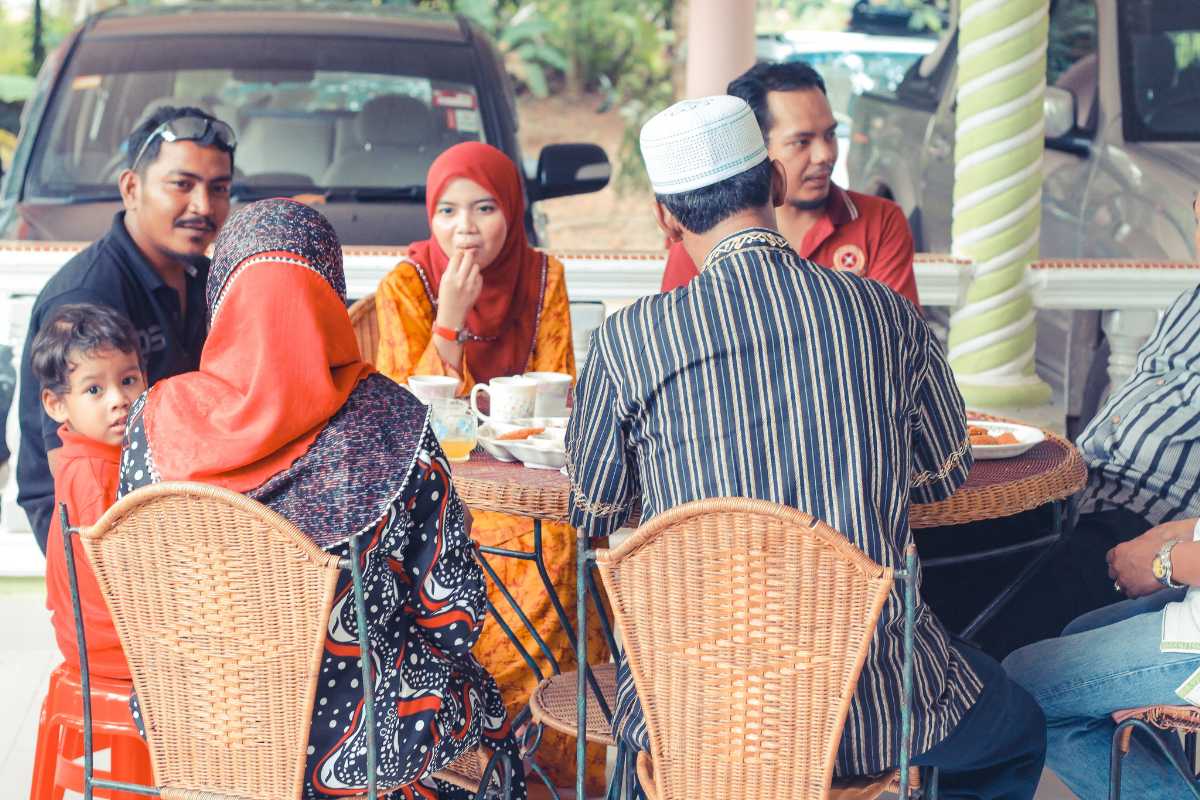 It is not unusual for locals to call on visitors coming to Malaysia to their homes for an elaborate spread. In essence, this is the concept of open houses wherein Muslim households welcome all guests irrespective of their caste, religion, social status and race to join in the festivities and take part in the merriment.
The actual celebrations for Eid in Malaysia start almost a week before the actual spotting of the new moon when many Malaysians start heading towards their hometowns to be with their extended families to celebrate Eid. One day before Eid is majorly spent in cleaning the house and preparing a gamut of traditional dishes to savour on the day of Eid. On the day of Eid, typically the day starts by offering forgiveness to the near and dear ones before proceeding to offer Eid prayers at the mosque; after that people continue to offer their respect to the deceased members of the family followed by the gala event of meeting relatives and friends. Very often, small envelopes containing cash is exchanged, which is known as the act of giving or 'sadaqah'.
Experiencing the sheer beauty and elegance of the warmth extended by Malaysia and the Malaysian families is one of its kind of experience. If possible, plan a trip to the country for authentic experiential tourism and deep diving in the culture which is otherwise not seen at such a grand scale in a country like India (which has minimal Muslim population).