The transport system is said to be the lifeline of every economy. A well-defined network of roads and a fleet of smoothly-functioning vehicles are crucial for both residents as well as tourists. Travelling to Seychelles anytime soon? Then it would be worthwhile to spend a few minutes of your life on this article to know all about getting around on the various islands once you reach there.
Local Transport in Seychelles
In Mahe and Praslin islands, the local transportation available includes public buses, cabs and hired cars. In La Digue, there's no public transport, and very few cabs are available; renting bicycles and walking are the most common ways to move from place to place. Ox carts can also be used for travelling short distances, but many people don't prefer them due to the stench. Other than these three main islands, other private islands like Bird island, Desroches island, etc. are so small that you don't need any vehicles, as you can explore the entire islands on foot. Seychelles currently does not have railways.
1. Buses
In Mahe and Praslin, buses operated by the Seychelles Public Transport Corporation(SPTC) are the most economical way to commute with uniform fares of SCR 7 irrespective of the distance and SCR 15 for air-conditioned ones. If you plan to commute by buses throughout your trip, the best option would be to acquire an unlimited trip pass for around SCR 50. Buses run from 6:00 AM till 7:00 PM to 8:00 PM for most of the routes in Mahe and till 6:00 PM in Praslin with intervals of around 30-60 minutes, but on weekends and public holidays expect minimum availability of these. Now, while Mahe has many bus routes covering maximum parts of the island, Praslin has only 3 routes. You can find schedules online at the SPTC website, at Victoria bus terminus and tourist offices. Keep in mind that if you have a lot of luggage, commuting by buses won't be a good idea.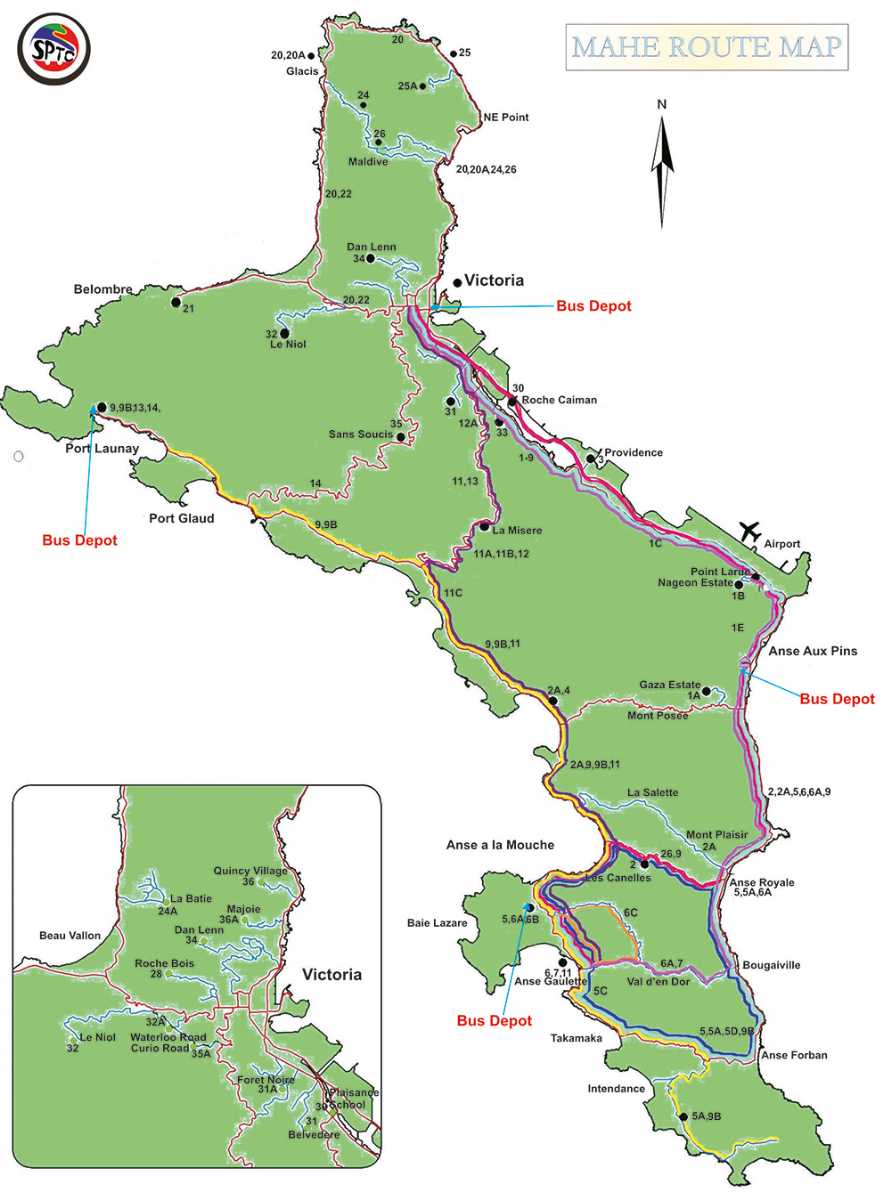 2. Hired Cars
If travelling by crowded and slow buses irks you, then you can always opt for cars which will let you explore the places without being concerned about time, fares, bus schedules, etc. If you decide to go late-night clubbing or pause on the way maybe for shopping or sight-seeing, then hired cars would be the best bet.

You can either drive yourself or opt for a driver-driven car. In case you choose the former, there are certain things to know. In Seychelles, 23 years is the legal age for driving. Even if you are beyond that age, carrying your driving license is mandatory. All cars in Seychelles are right-hand drive ones and remember to keep to the left side of the road as that is the norm. Speed limits in Mahe are 40 km/hr inside crowded towns, 65 km/hr outside the cities and 80km/hr along the divided highway between the airport and Victoria, and 40 km/hr all over Praslin. The roads can sometimes be winding and hilly, so it's important to be careful.

Both Mahe and Praslin have many car rental companies such as Maki Car Rental, Creoleplay Cars, U-Drive Car Hire, Thrifty Car Rental, etc. who will drop your car to your hotel or airport, as per your wish. The per day rent for the hired cars are around SCR 800-1800 on Mahe and slightly more on Praslin. Some car rentals have outlets inside the airport, and they can also be booked online. You will usually be provided with various types of cars so that you can choose according to your need and preference. Terms and conditions might vary across companies so always check before booking. If driving is unknown to you, or you are used to driving left-hand cars, then to avoid confusion you can opt for a chauffeur.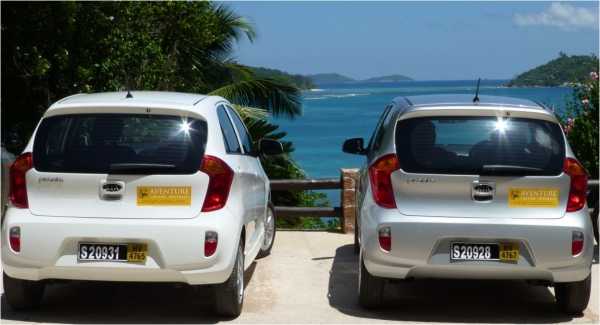 3. Cabs
Cabs are available on Mahe, Praslin and La Digue and they are good for small distances. Cab drivers can also act as excellent guides sometimes. Some of the cab operators in Mahe include Mahe Cab Services, Seychelles Taxi Touring, Green Path Transfers, etc. In Praslin - Coconut Services, Donster Services Seychelles etc., and Cliff Pirame, Chez Michelin, etc. on La Digue. Cabs can be metered or non-metered, with metered fares at present being around SCR 35 for a kilometre. For non-metered ones, haggle and agree on a price beforehand, especially if you choose to commute longer distances by taxis, say, for half a day.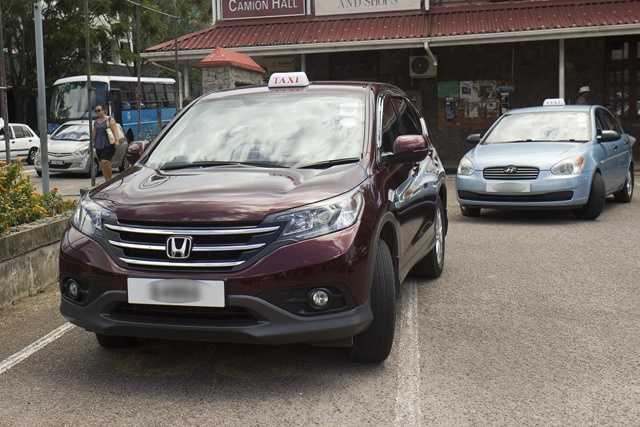 4. Bicycles
The roads in La Digue are best suited for bikes. They are also popular in Praslin and other tiny islands like Cerf island, Alphonse island, etc. A multitude of bicycles is offered for hire with prices not more than SCR 140 for an entire day. There are even tricycles for people not knowing cycling. Before renting the bicycle, you must check if it's licensed, has a proper bell and headlights, and is in decent working condition. If you are planning to save on bucks by riding pillion, then there's bad news - it's not allowed!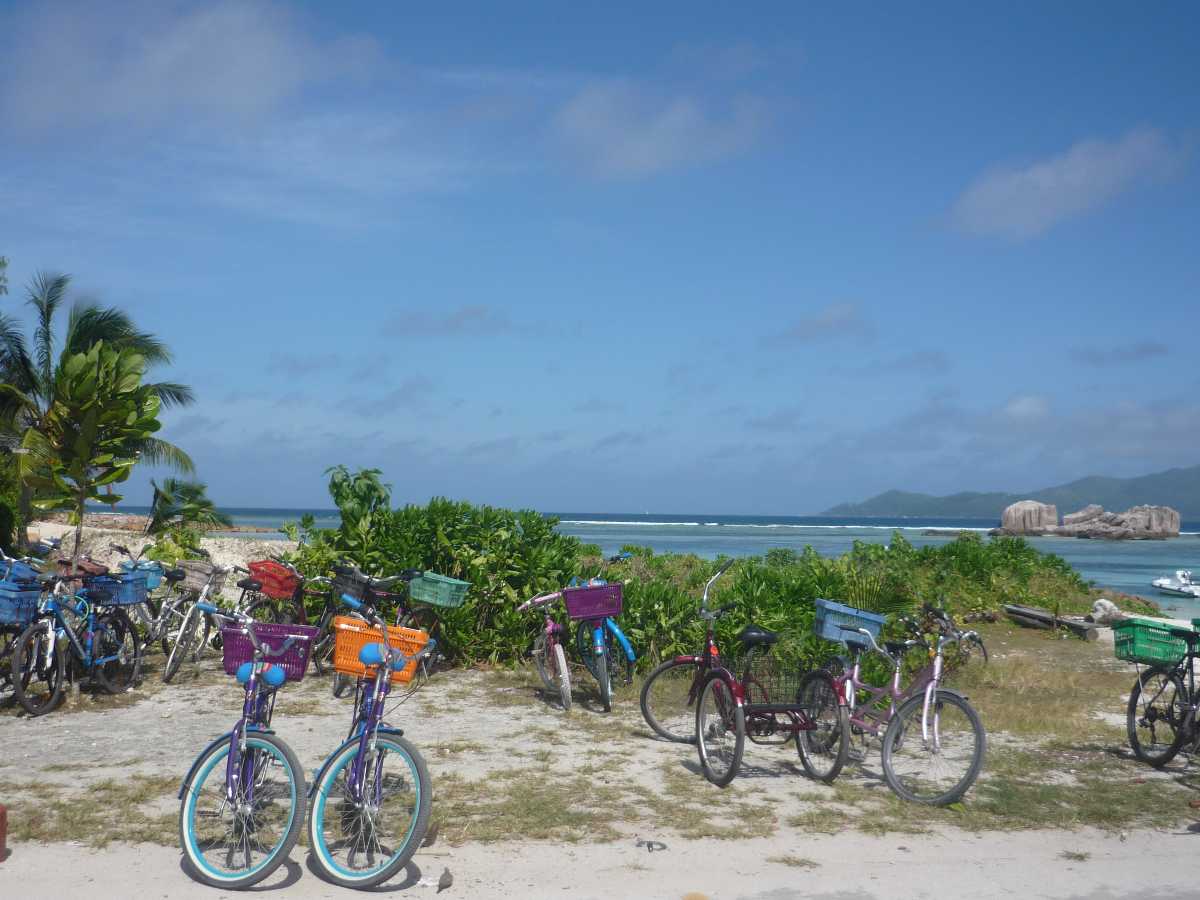 5. Boats
Seychelles has an extensive network of boats for facilitating inter-island travel - Cat Cocos operates the ferries running from Mahe to Praslin and La Digue, while Cat Rose operates the ferries between Praslin to La Digue. Unlike flights or helicopters, these won't cost you a fortune. Although scheduled boats are available from Mahe to Praslin, La Digue and Cerf island, you have to book charters in advance for the other islands.

A one-way ferry ride to Praslin from Mahe jetty will cost you around SCR 950, to La Digue around SCR 1200 and from Praslin to La Digue around SCR 320. Three ferries are available daily to and from Praslin while for La Digue it's one or two. Again from Praslin to La Digue, at least seven ferries run every day (less on Sundays). There are some companies like Secret Seychelles, Mason's Travel etc. in Victoria and Ziblo Boat Charter, Sagittarius Taxi Boat Excursions etc. in Praslin that offer you guided boat trips to nearby islands. If you have the time, take the boat ride - after all, you don't get an opportunity every day to cruise in the beautiful turquoise waters of the Indian Ocean surrounded by green scenic islands!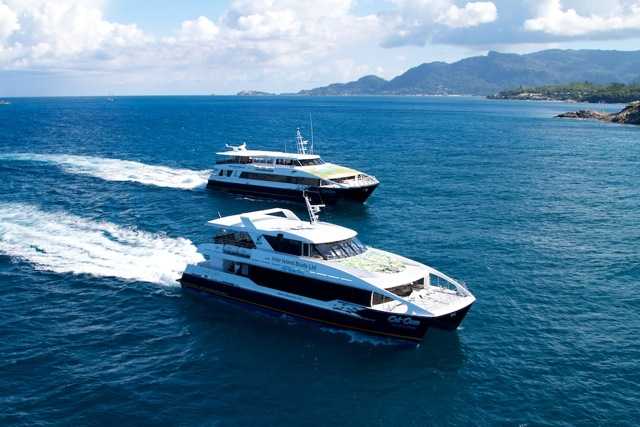 6. Flights
If you are susceptible to sea-sickness or want to save on commuting time, flights are there for you. Air Seychelles has regularly scheduled flights to Praslin. However, for most of the other private islands, there are very few scheduled flights, and one has to travel by charter flights. You can book your tickets either online from the Air Seychelles website or the domestic terminal of the Seychelles International Airport on Mahe. Know that in case of flights flying to Praslin, around 20kg of luggage is permitted, but this can even be lower for the charter flights due to the small size of those aeroplanes. Ticket prices vary depending on distance and season, but in general charter flights cost much more than scheduled ones. For instance, a charter flight to and from Denis island will cost around SCR 6500.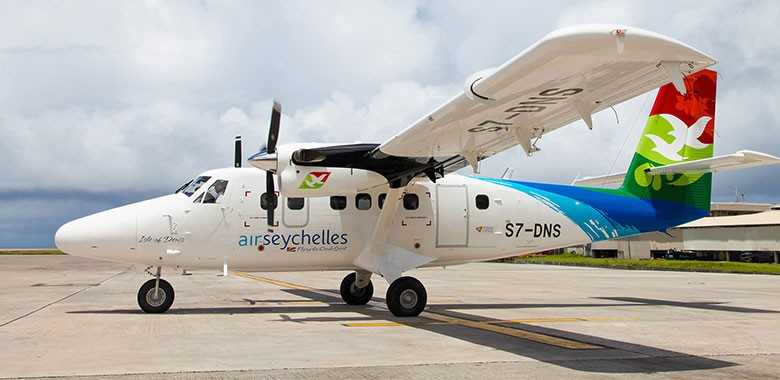 7. Helicopters
Apart from boats and aeroplanes, you can also avail of helicopters for island-hopping which provide a more personal experience along with stunning aerial views. If not for inter-island travel, you can also book a helicopter for a tour of the islands for 15-30 minutes which will cost you around SCR 5500-12000. ZilAir, 7South and Helicopter Seychelles offer helicopter services. Capacity for the helicopters is mostly four persons, so if you are travelling in a large group, they aren't viable.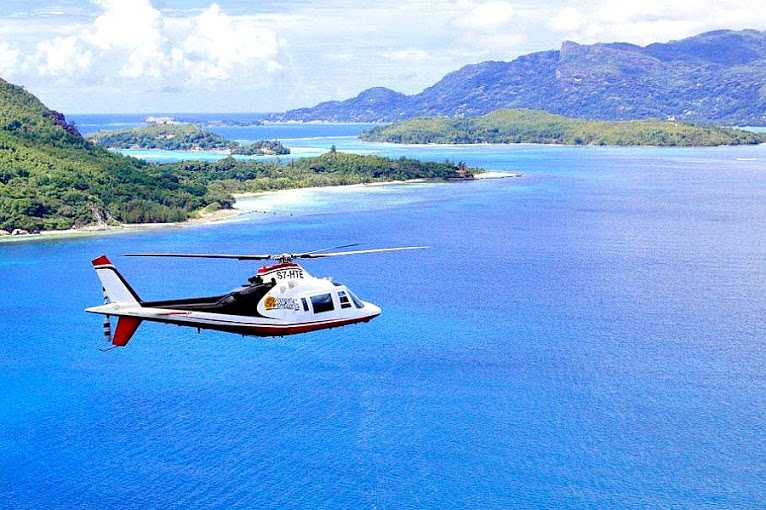 These were the various ways of commuting in Seychelles. Choose wisely so that you can enjoy your days on the islands to the fullest!