Bhutan is the last Buddhist kingdom in the world, nestled in the grand Himalayas. The Bhutanese have protected their nature, environment, traditions, culture and cuisine, yet they are not far away from modern lifestyle.
They have adapted the modern world things and blended it beautifully with their ancient traditions and customs, maintaining a perfect balance. Worthy of the title of '
Land of Happiness
', for the happiest people on the planet live here. Also known as the '
Land of the Thunder Dragon
', this happy little region offers a long list of tourist activities. Be it culturally, geographically, laid back travel, adventure travel or food, nightlife, shopping it attracts tourists from all over the world.
Important Information Before You Plan Your Bhutan Trip
Visa Policy for Indians and Other Tourists
No Visa required by the citizens of India. All you have to do is to obtain a permit at the port of entry on producing a valid passport with a minimum of 6 months validity or Indian nationals may also use their Voters Identity Card (VIC). All other tourists must obtain a visa clearance in advance for travelling in Bhutan.- However, there have been recent changes regarding the Sustainable Development Fee for Indians. Do keep a lookout and plan accordingly.
Travel by Land

You can enter Bhutan through Phuentsholing, Gelephu and Samdrup Jongkhar as they are the only land border areas open to tourists.
Travel by Air

There are flights to destinations including Bangkok, Delhi, Kolkata, Bagdogra, Bodh Gaya, Dhaka, Kathmandu, Guwahati, Singapore and Mumbai.
You choose any of the options to enter Bhutan; we've got you covered by creating seven days itineraries for both these modes of transport.
Places To Be Covered
Phuentsholing, Thimphu, Punakha, Wangduephodrang, Paro, Haa Valley
Enter By Road

Day 1 - Phuentsholing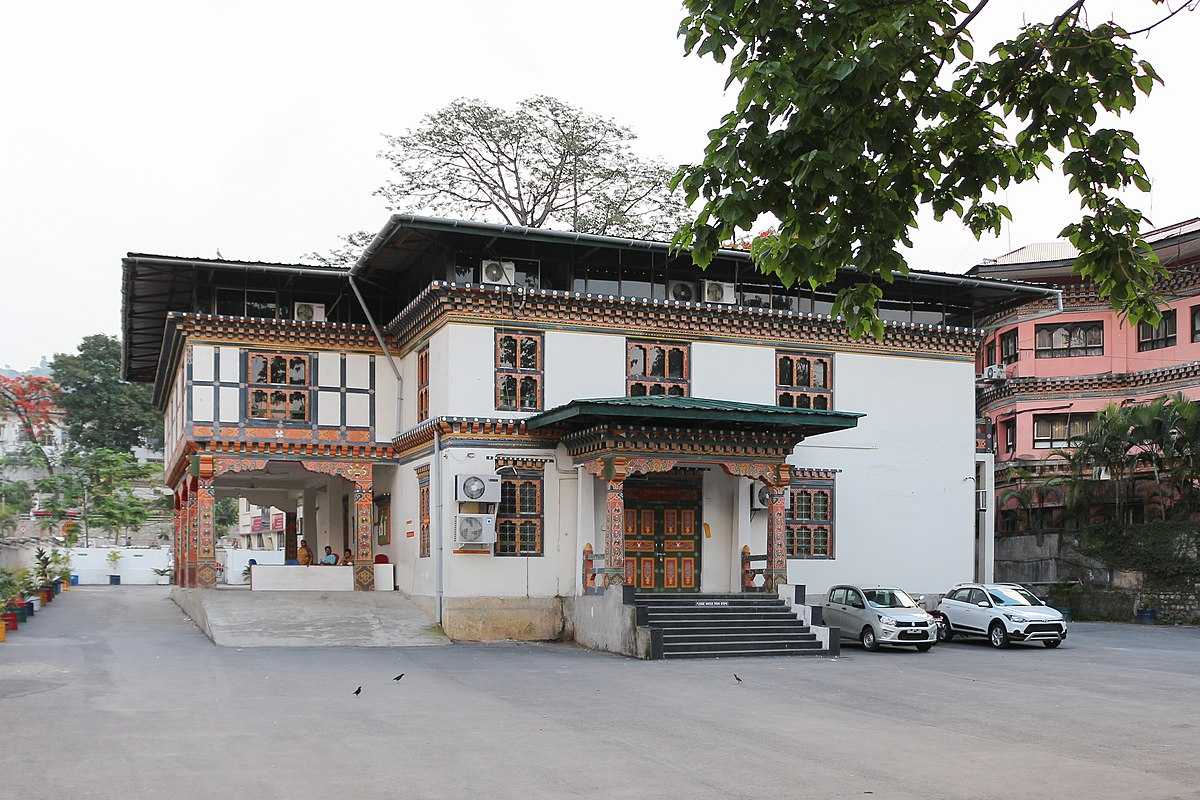 Phuentsholing is a beautiful town sharing an international border with India. Adjacent to the Indian city of Jaigaon, Phuentsholing is known as the
Land of Kings and Queens of the Himalayan Kingdom
. It is a perfect blend of traditions, Himalayan landscapes and modern life and culture.
Places to Visit in Phuentsholing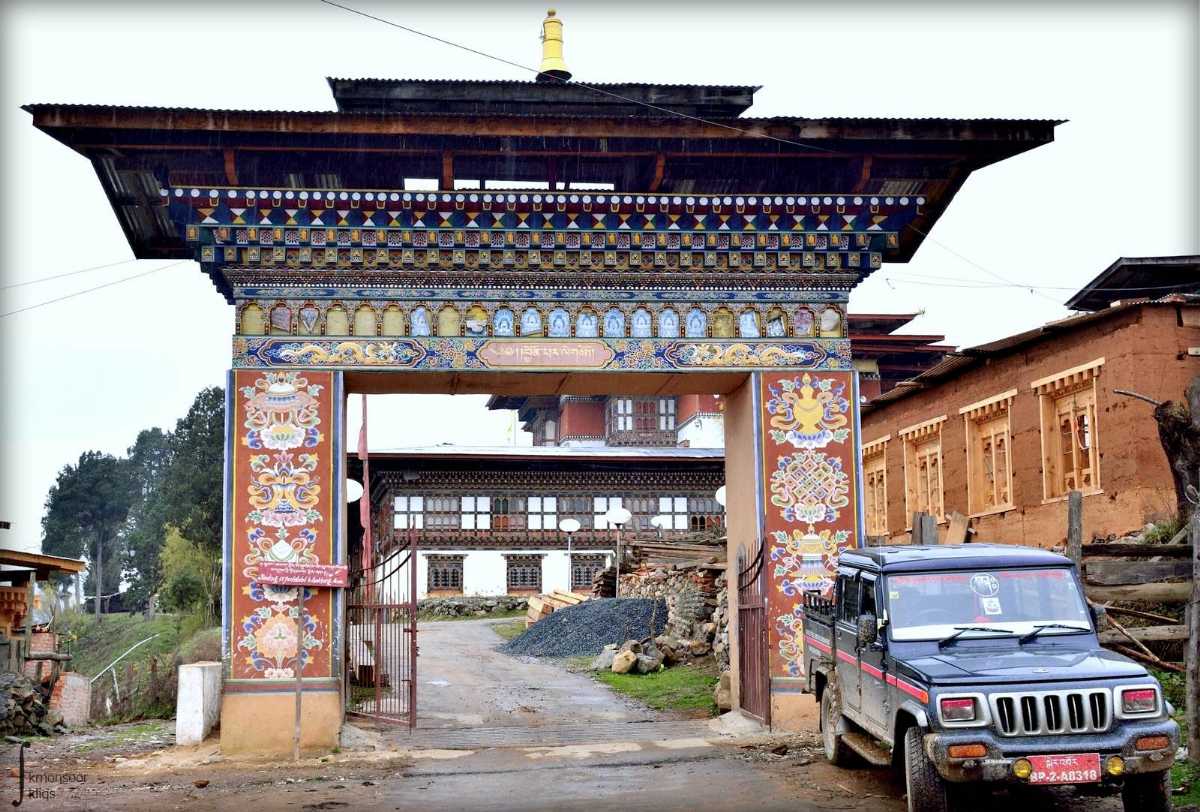 Standing tall between the Bhutan and India, the Bhutan gate is the main gateway for entry from India. Start your trip with a classic selfie with this monument. We assure you it will be a memory to cherish.
Entry Fee: No entry fee
Timings: 9 AM to 10 PM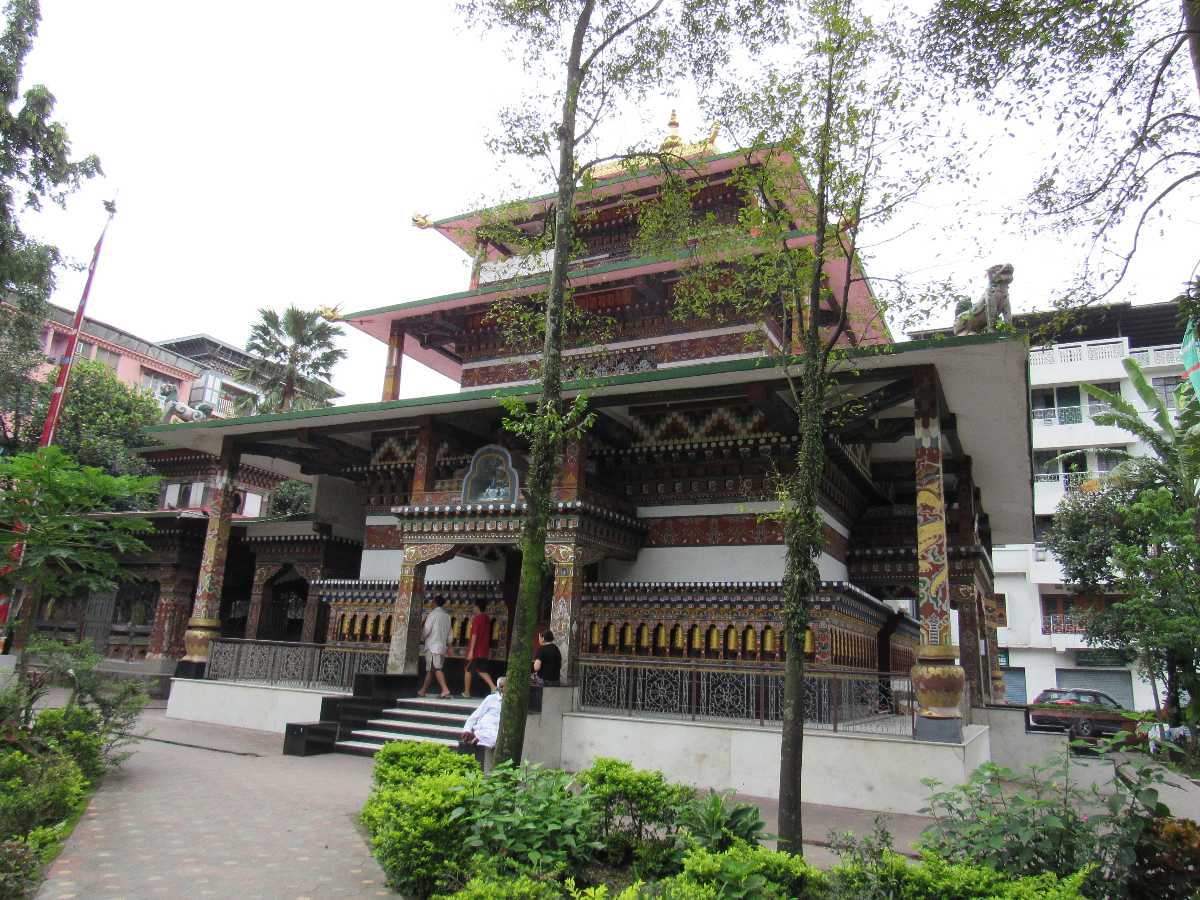 Zangto Pelri Lhakhang is a perfect place to start Phuentsholing sightseeing. The ambience composes of Buddhist monks chanting hymns as you walk into a replica of the Guru Rinpoche and eight other life-size idols of the Guru along with paintings illustrating Buddha's life.
Entry Fee: No Entry Fee
Timings: 8 AM to 6 PM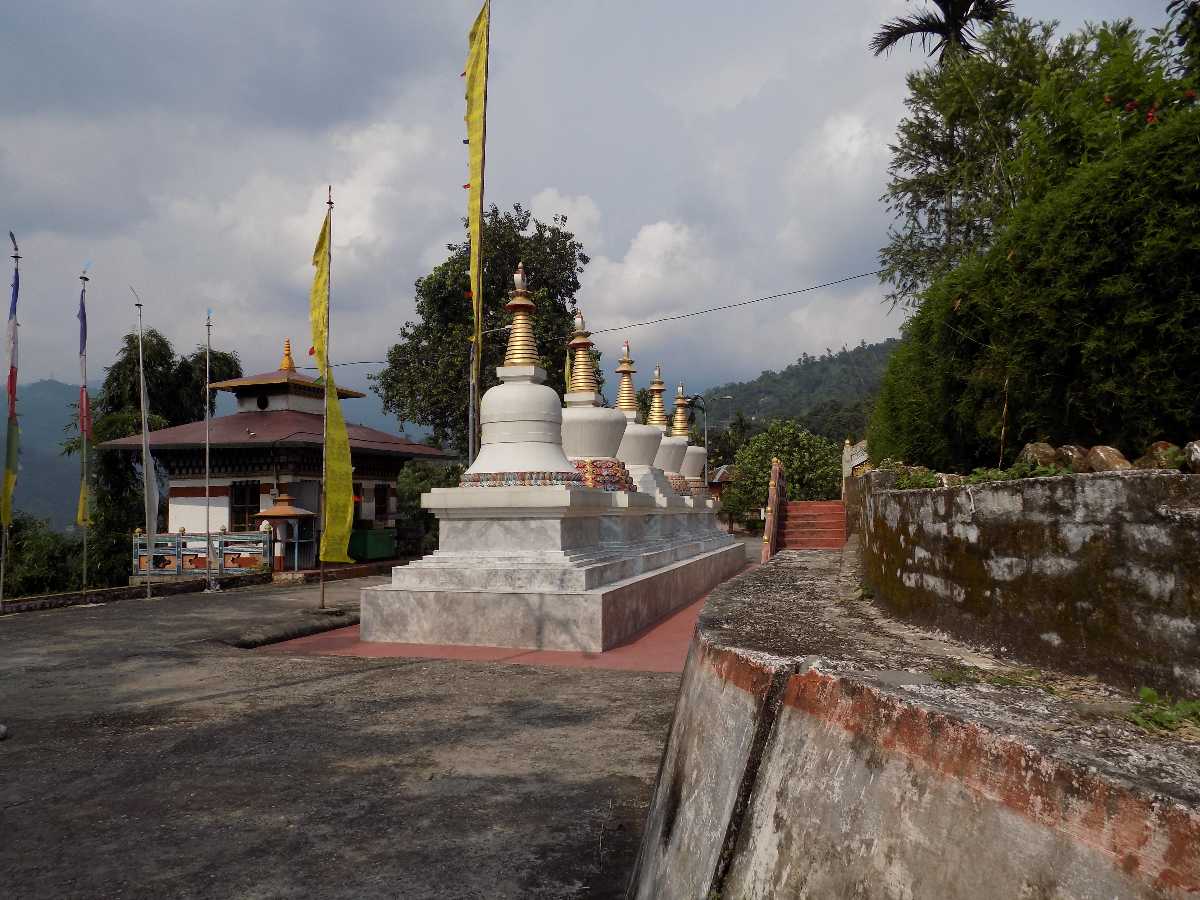 Karbandi Monastery is one of the oldest monasteries in Bhutan, surrounded with lush, dense greenery and long lines of prayer flags. The complex includes 8 Tibetan-Buddhist stupas, gardens and the panoramic view of Phuentsholing town. In the slow-paced city of Phuentsholing, you should spend a reasonable amount of time here soaking the beauty of the Himalayan foothills.
Entry Fee: No entry fee
Timings: 7 AM - 6 PM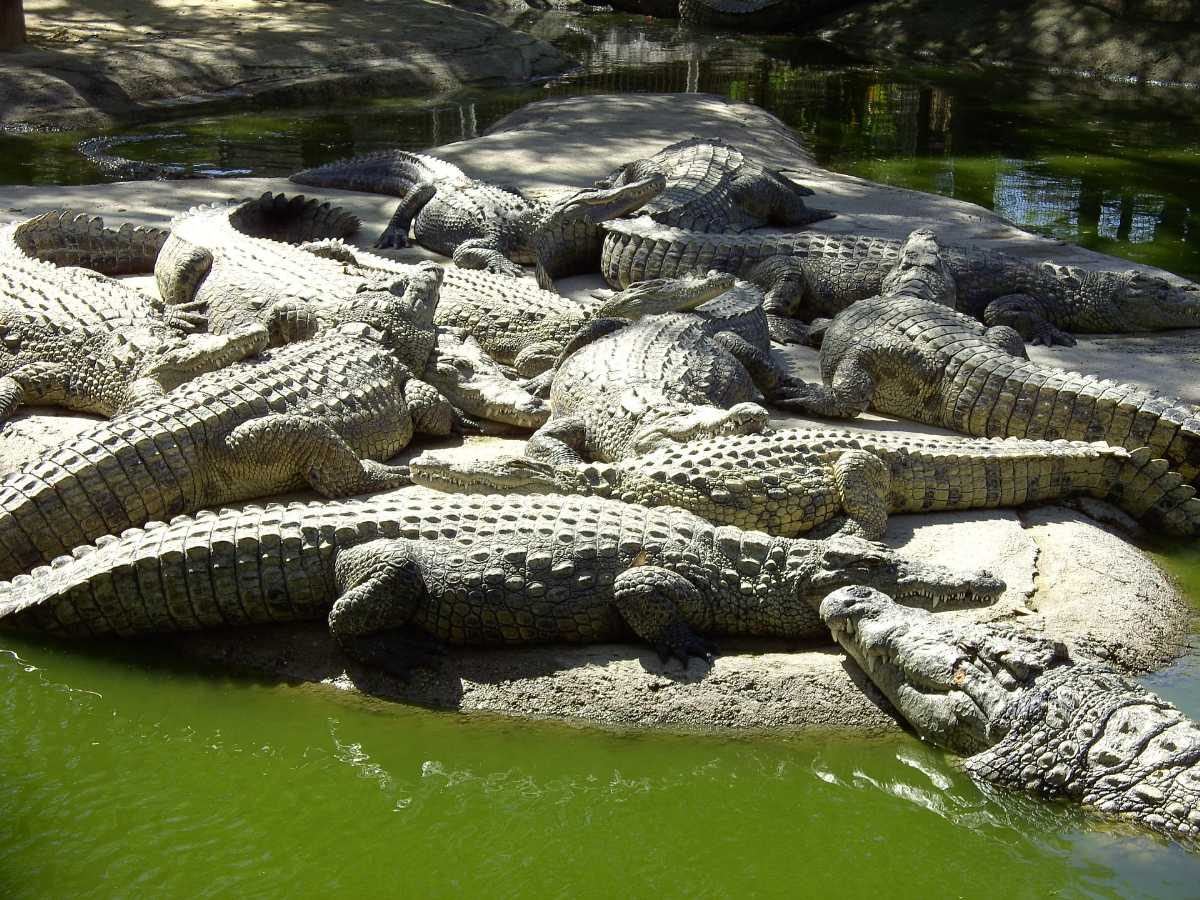 Catch live feeding sessions of crocodiles at this breeding centre. Amo Chhu lets you watch crocodiles, endangered gharials, migratory birds, tortoises and fish chilling in their natural habitats. The experience of watching these dangerous creatures in real life will be the highlight of your stay in Phuentsholing.
Entry Fee:
Adults - BNT 100
Free for children below 10 years
Timings: 9 AM - 5 PM
Accommodation in Phuentsholing
1. Indra Nila Hotel
- BTN 1,113
Book This Hotel
2. Centennial Hotel 2008
- BTN 1,680
Book This Hotel
3. Hotel Thuenpa Puenzhi
- BTN 1,396
Book This Hotel
Day 2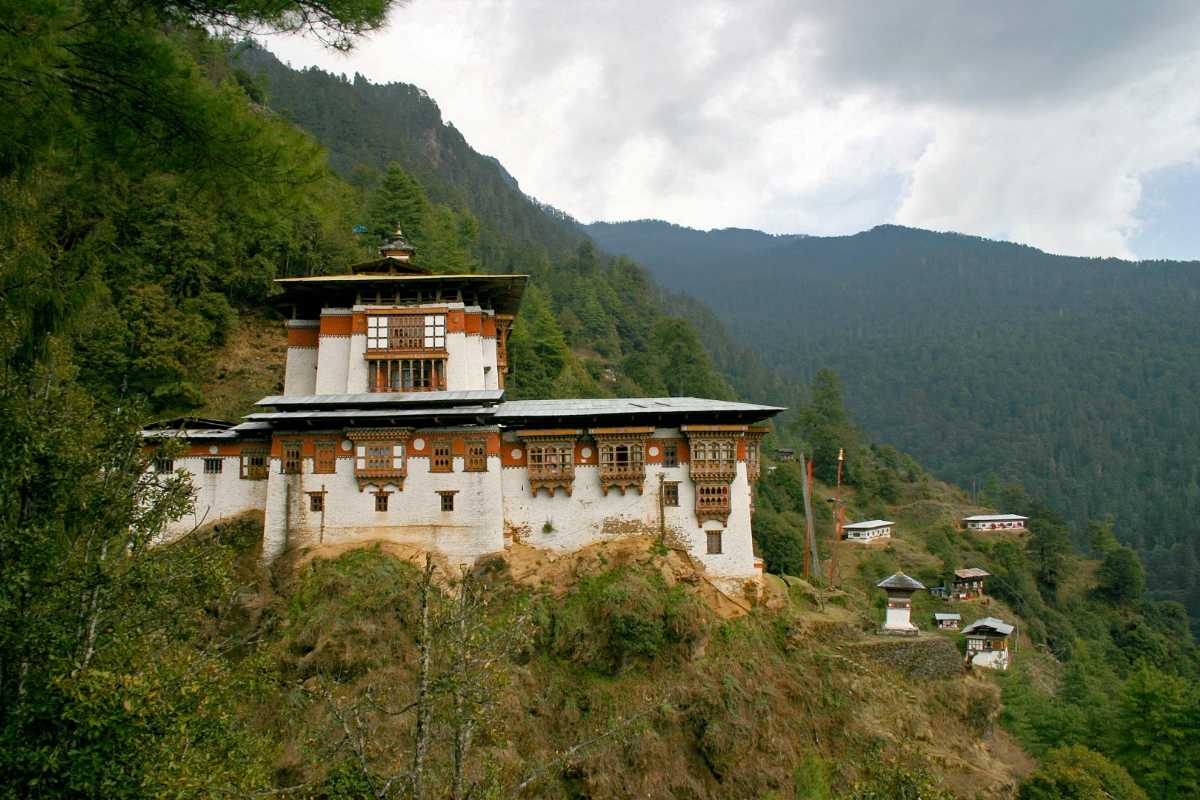 Phuentsholing to Thimphu
Mode Of Transport - Bus
Duration - 7 hrs
Cost - BTN 200
Route - Phuentsholing - Bhutan Post - Thimphu
Bhutan's capital since 1961, Thimphu occupies the western interiors of the valley and witnesses various seasons across the year. Visit the most modernised place in Bhutan, while still staying close to tradition. The capital city hosts amazing cafes, eateries and pubs and the ultimate Bhutanese nightlife.
Places to Visit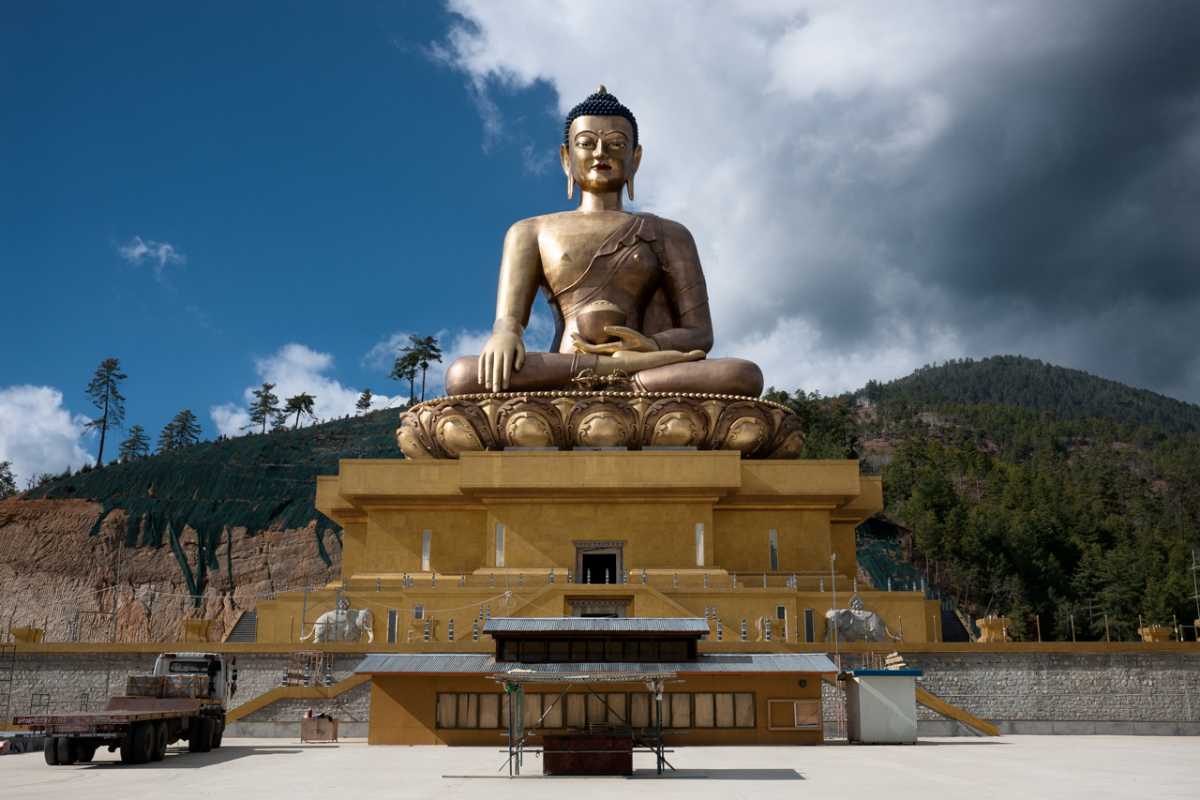 Visit the giant Shakyamuni Buddha statue which was built to celebrate the 60th anniversary of the fourth king Jigme Singye Wangchuck. Built amidst the ruins of Kuensel Phodrang, the figure is entirely made with steel, it is gold plated and 51 meters in height.
Entry Fee: No Entry Fee
Timings: 7 AM - 8 PM
Built in 1641, Tashichho Dzong is a fortress acting both as a monastery and central secretariat of the present government. Located on the western banks of the Wang Chu, the structure houses amazing, traditional architecture of Bhutan.
Entry Fee:
Tourists - BTN 300
Students - BTN 150
Tariff payers and Children (below 5 years): No Entry Fee
Timings:
Monday - Friday: 9 AM to 5PM, 5:30 PM - 6 PM
Saturday, Sunday: 9 AM - 5 PM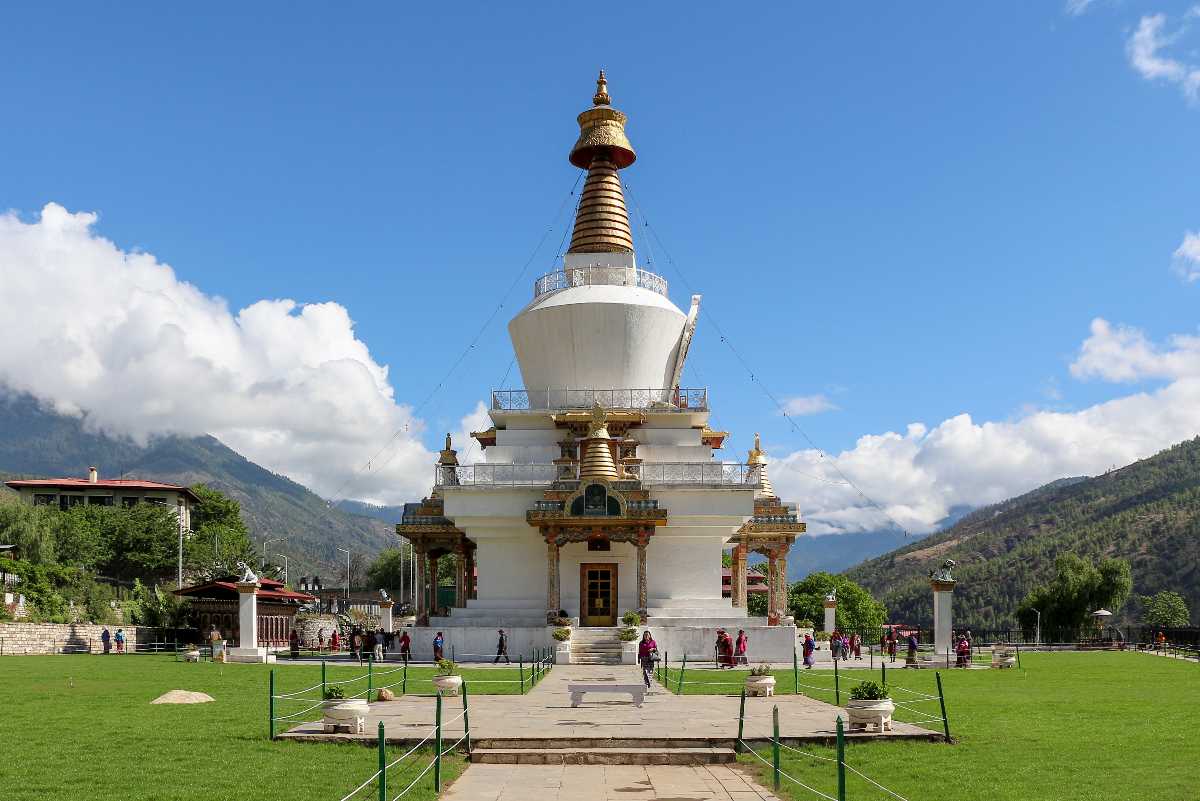 Also known as the Memorial Stupa, Memorial Chorten is one of the tallest monument in Thimphu. Located on Doeboom Lam in the southern-central part of the city, Chorten brings forth many details about Buddhism. The calm and positive vibes of the place are perfect for strolls and some intense architectural admiration.
Entry Fee:
Foreigners (Except tariff payers): BTN 300
Students: BTN 150
Timings:
Summer:
Monday - Friday: 5:30 AM - 6:30 PM
Saturday - Sunday: 8 AM - 6 PM
Winter: 8 AM - 5 PM
Resting on a ridge above central Thimphu, this traditional Bhutanese temple is always busy with pilgrim activities. Established in the 12th century, the location was chosen by Lama Phajo Drugom Zhigpo. You will get to see a series of prayer wheels with huge Tibetan texts and murals. Young parents visit to get names for their newborn and blessings for their young children from the protector deity Tamdrin. Kids are given a holy thread and blessings are showered with the help of Phurba.
Entry Fee: No Entry Fee
Timings: 9 AM - 6 PM
Things To Do

Shop at Thimphu Handicraft Market
Buy souvenirs and decor items from the market in your free time. Many vendors sell beautiful Bhutanese handicrafts, traditional jewellery, some clothing and an extensive range of decor items at the Bhutanese Crafts Bazaar. Things like prayer wheels, singing bowls, Kira, scarves, Thangkas, metal teapots, etc. are especially loved by tourists.
Address: At the centre of Thimphu below Norzin Lam
Timings: 10 AM to 6 PM
Accommodation in Thimphu
1. Hotel Oro Villa
- BTN 1,616
Book This Villa
2. Bhutan Boutique Residency
- BTN 1,810
Book This Residency
3. Thori Resort
- BTN 1,867
Book This Resort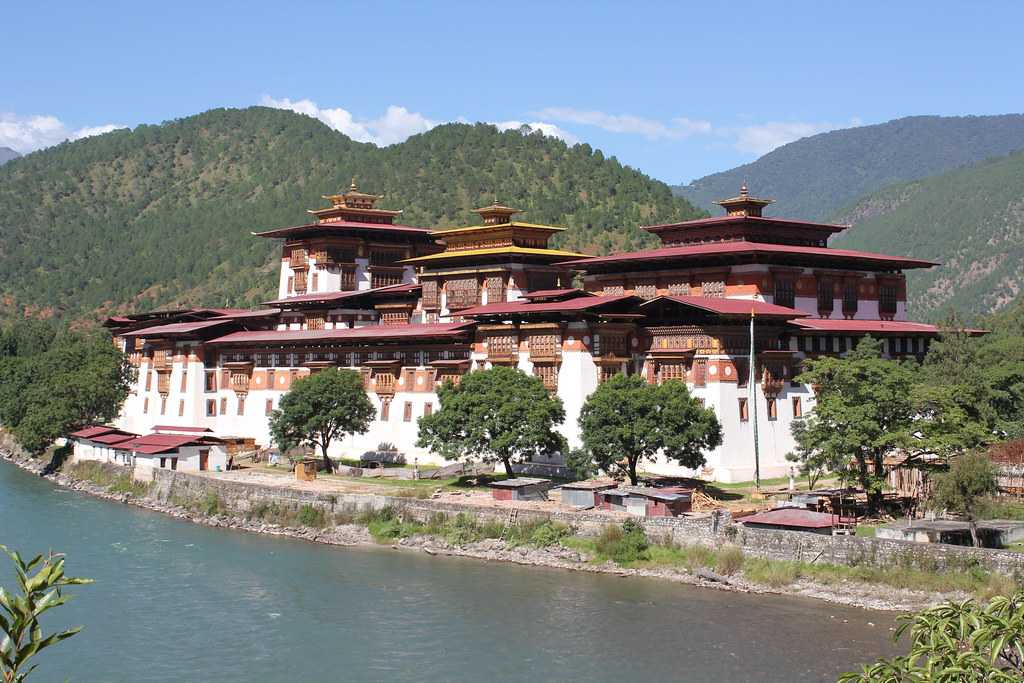 Thimphu to Punakha
Mode of Transport - Car
Duration - 2 Hours
Bordered by Gasa, Wangdue Phodrang and Thimphu districts, Punakha is known for a 17th-century fortress at the juncture of the Pho and Mo Chhu rivers. The valley is blessed with fertility, thanks to two rivers - Po Chhu and Mo Chhu converging, making it highly favourable for rice cultivation.
Places to Visit in Punakha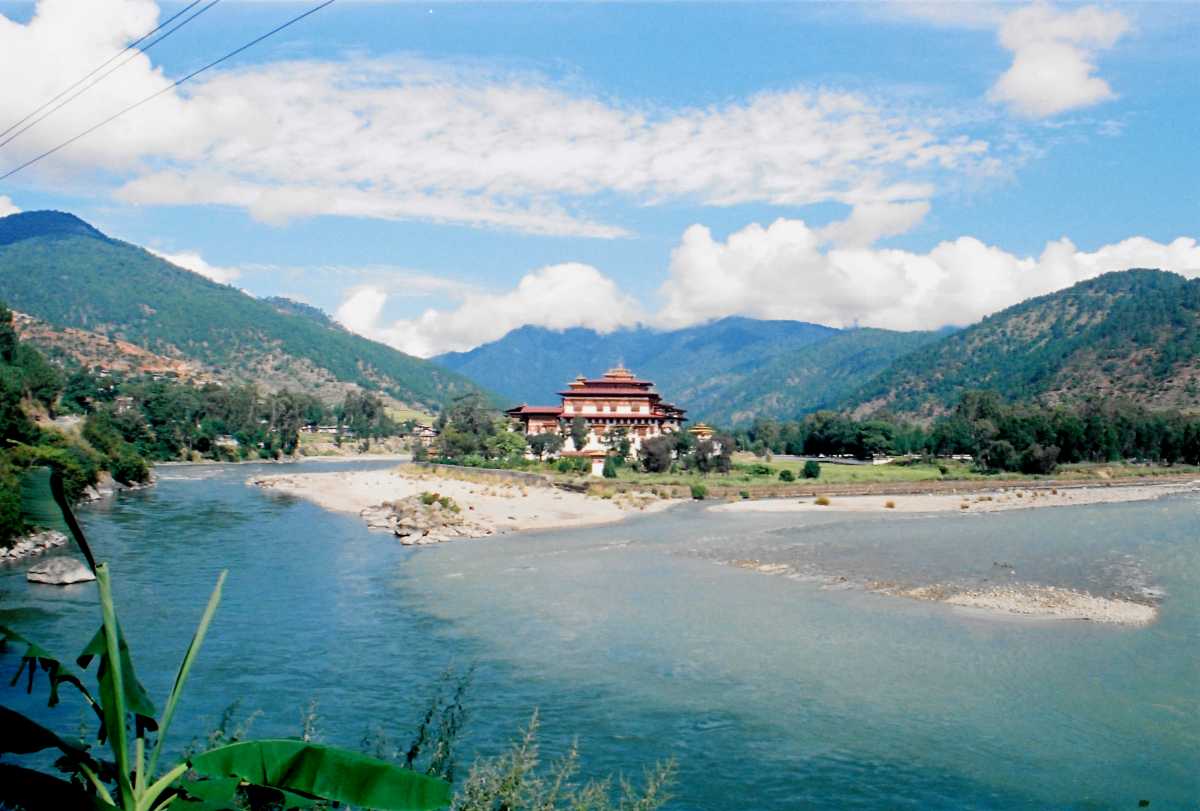 Also known as Pungthang Dewa chhenbi Phodrang, Punakha Dzong is the second largest dzong in Bhutan. It is one of the majestic structures in the county and considered as the Bhutanese architectural wonder. Although first built in 1637 by Ngawang Namgyal, the structure holds sacred relics of the Kagyu school of Tibetan Buddhism and the sacred remains of Ngawang Namgyal, the Tibetan Buddhist lama and unifier of the country of Bhutan.
Entry Fee: BTN 300
If you are a student, carry your student's ID card to avail 50% discount.
Timings:
March - September: 8:30 AM - 5 PM
October - February: 11 AM - 5 PM
River Mo Chhu reaches Punakha after flowing through the Gasa Dzongkhag district near Tibet and Bhutan border. In Punakha, you will witness 'Puna Tsang Chhu', the confluence of Po Chu and Mo Chhu right next to Punakha Dzong and it is a sight to behold.
Entry Fee: No Entry Fee
Timings: All Day
Connecting Punakha Dzongkhag to the rest of the valley, Punakha Suspension Bridge is the 2nd oldest suspension bridge in Bhutan. Built over the rivers Mo Chhu and Po Chhu, the total length of this bridge is 160-180 meters. Wrapped with beautiful prayer flags, you should visit this bridge for amazing views of the valley.
Entry Fee: No Entry Fee
Timings: All Day
Dochula Pass is a beautiful mountain pass in the snow-covered Himalayas in Bhutan that lies on the road from Thimphu to Punakha. At the pass, 108 memorial chortens or stupas known as "Druk Wangyal Chortens" have been built in the memory of the fallen soldiers by Ashi Dorji Wangmo Wangchuk, the eldest Queen Mother.
Activities in Punakha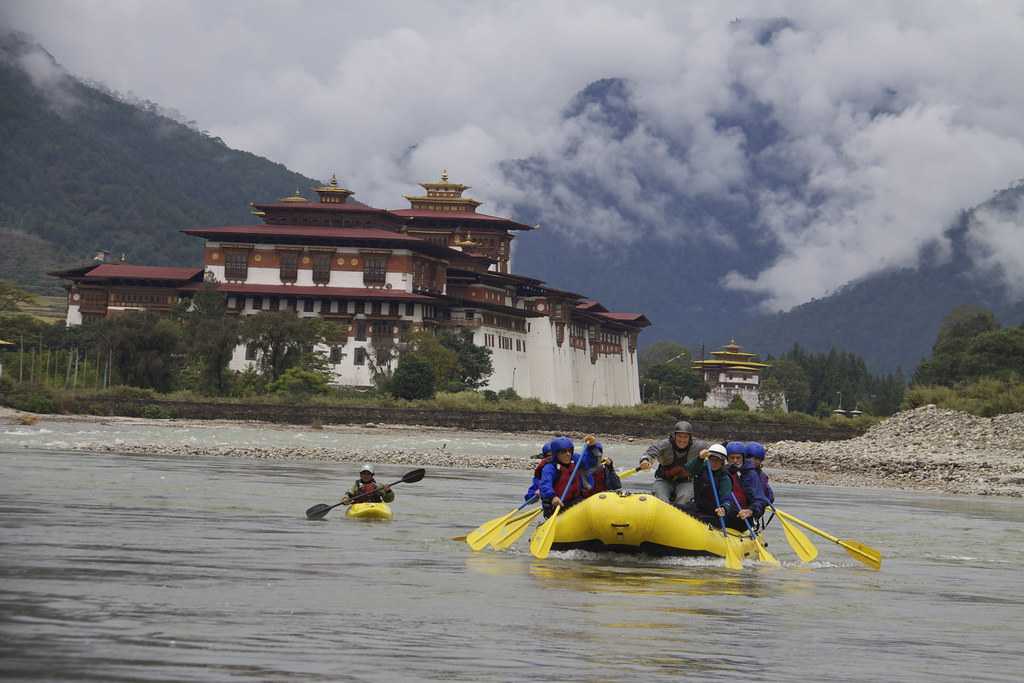 One of the must-experience activities is river rafting in Mo Chhu. We strongly recommend to try it at least once and assure you it will be a memory to cherish for a lifetime.
Accommodation in Punakha
1. Yak Herder's Boutique Inn
- BTN 1,616
Book This Inn
2. Mendrelgang Homestay
- BTN 2,011
Book This Homestay
3. Damchen Resort
- BTN 3,513
Book This Resort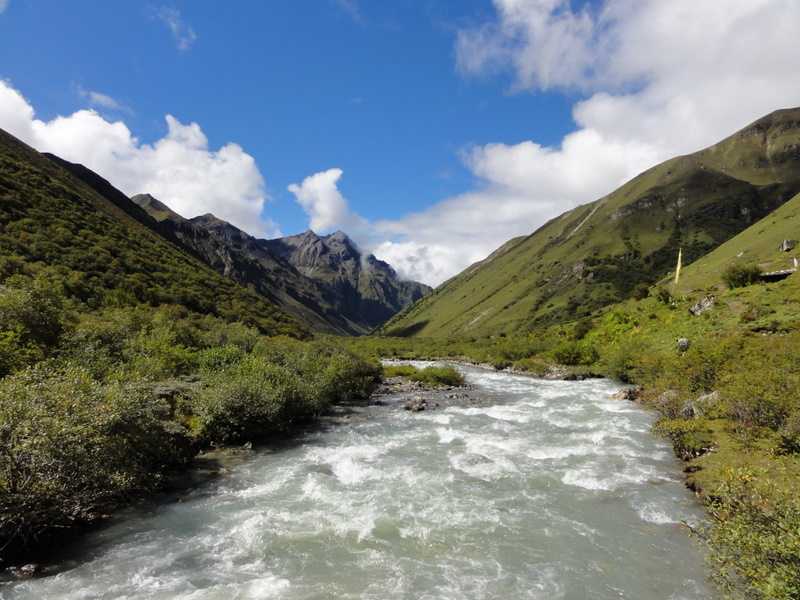 Punakha to Wangdue Phodrang
Mode of Transport - Car
Duration - 1 Hour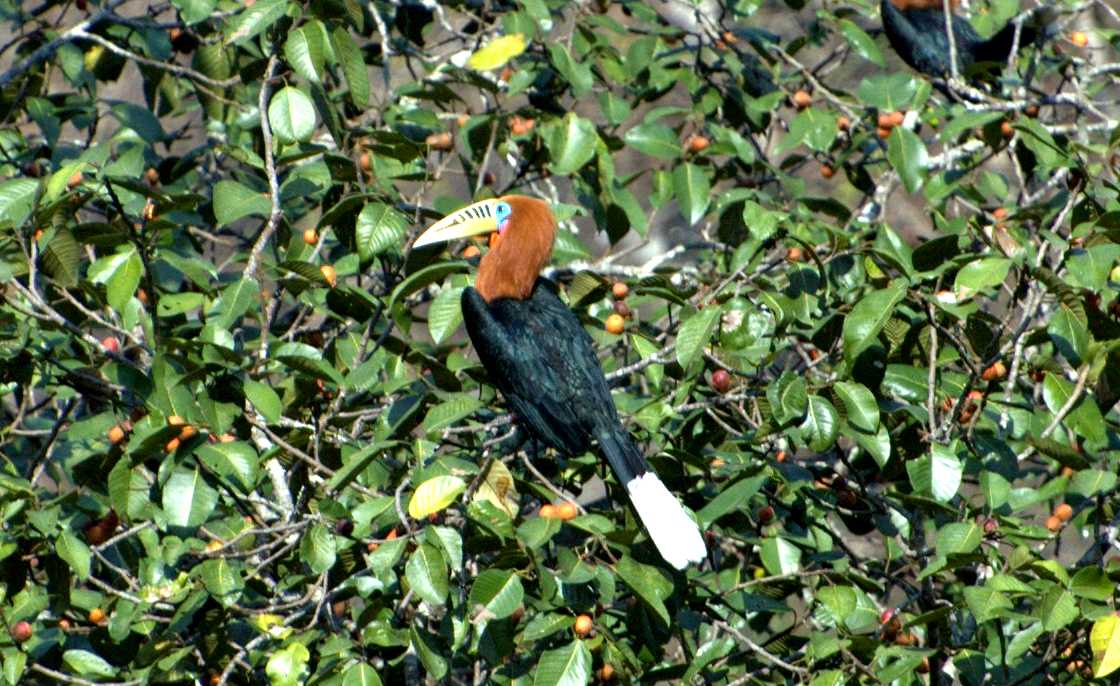 One of the largest national parks in the country, Jigme Singye Wangchuck National Park is strictly protected. The national park is home to many birds as well as animals like Red Panda, Snow Leopard, Black Bear, Blue Sheep, and Takin. It also nurtures the plant species of blue poppy, edelweiss, rhododendrons and orchids. Along with diverse wildlife, you will notice geographical diversity as well. The park consists of permanent glaciers as well as a dense forest.
Entry Fee: BTN 150
Timings: All Day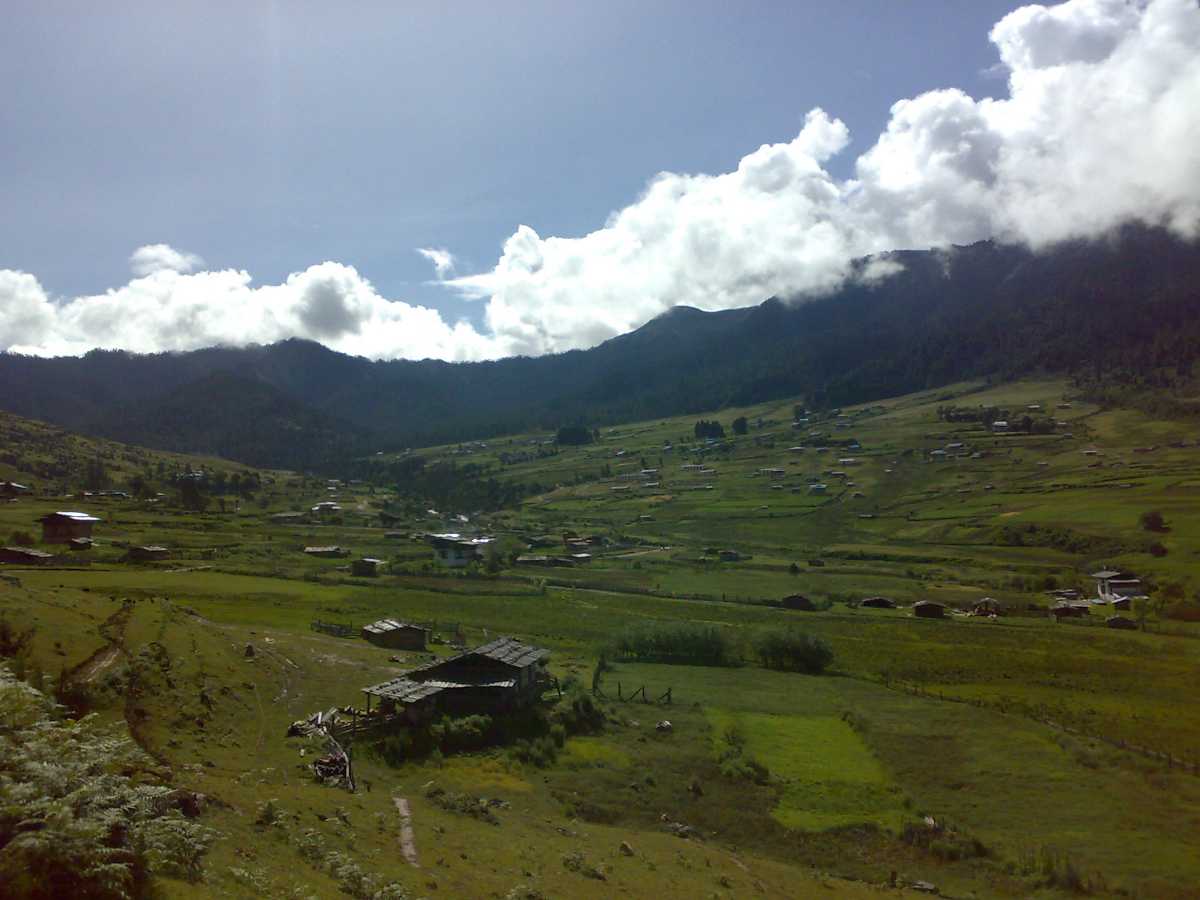 Phobjikha Valley is a serene glacial valley in the shape of a bowl. The reason for such shape is credited to a glacier that was once here. If you are a nature-lover and love to hike or trek, this is the place for you in Bhutan!
Entry Fee: Free
Timings: All Day
The Temple of Sha Radap is worth paying a visit. Known also as Rada Lhakhang, it sits quite close to the Wangdue Phodrang Dzong. It is home to the guardian deity of Wangdue Phodrang.
Entry Fee: Free
A great place to break the monotony of sightseeing, Gasleo and Nahee villages are situated towards the western side of Wangdue Phodrang District. This region is the ideal pick for day picnics and to experience the Bhutanese rural way of life.
Entry Fee: Free
Timings: All Day
Accommodation in Wangdue Phodrang
1. Pema Karpo
- BTN 3597
Book This Lodge
2. Himalayan Dragon's Nest Hotel
- BTN 2,753
Book This Hotel
3. Punatsangchhu Cottages
- BTN 3,232
Book This Cottage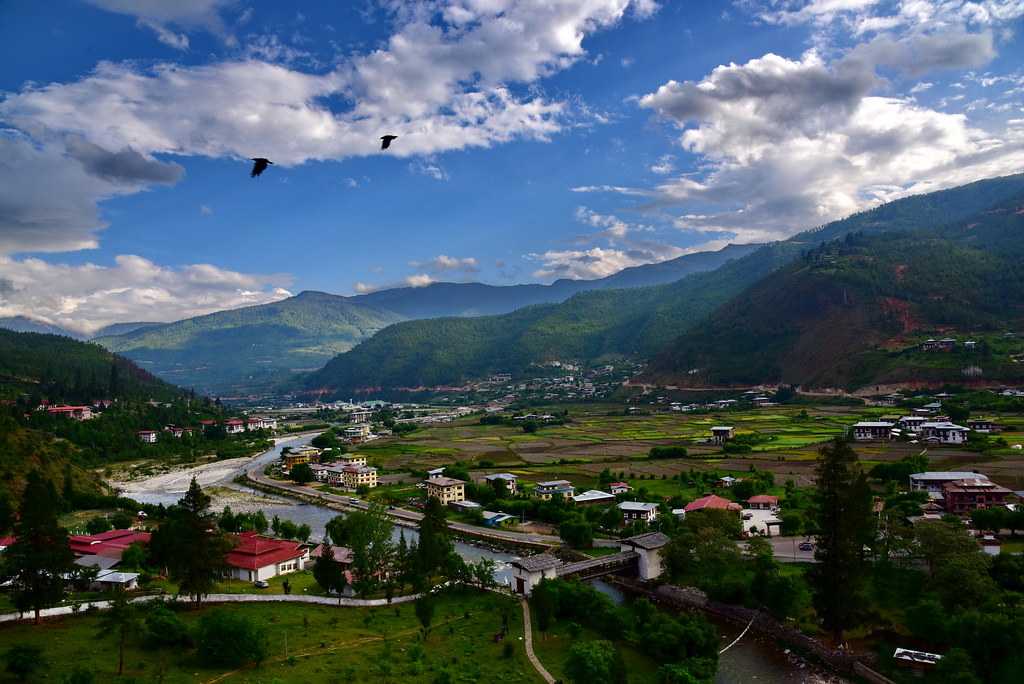 Wangdue Phodrang to Paro
Mode of Transport - Car
Duration - 3 Hours
Paro is a valley town in Bhutan, home to one of the most beautiful monasteries in the country. The Taktsang Palphug Monastery, also known as Tiger's Nest, is located at the cliff above the forested Paro Valley. It also houses around 155 temples and monasteries built in the 14th century.
Places to Visit in Paro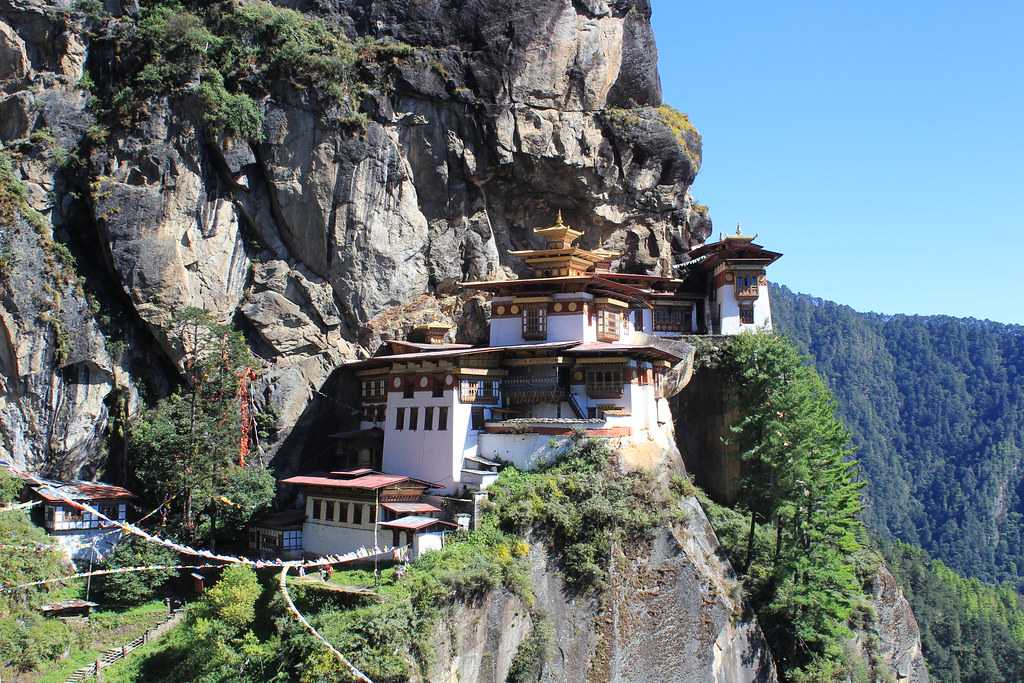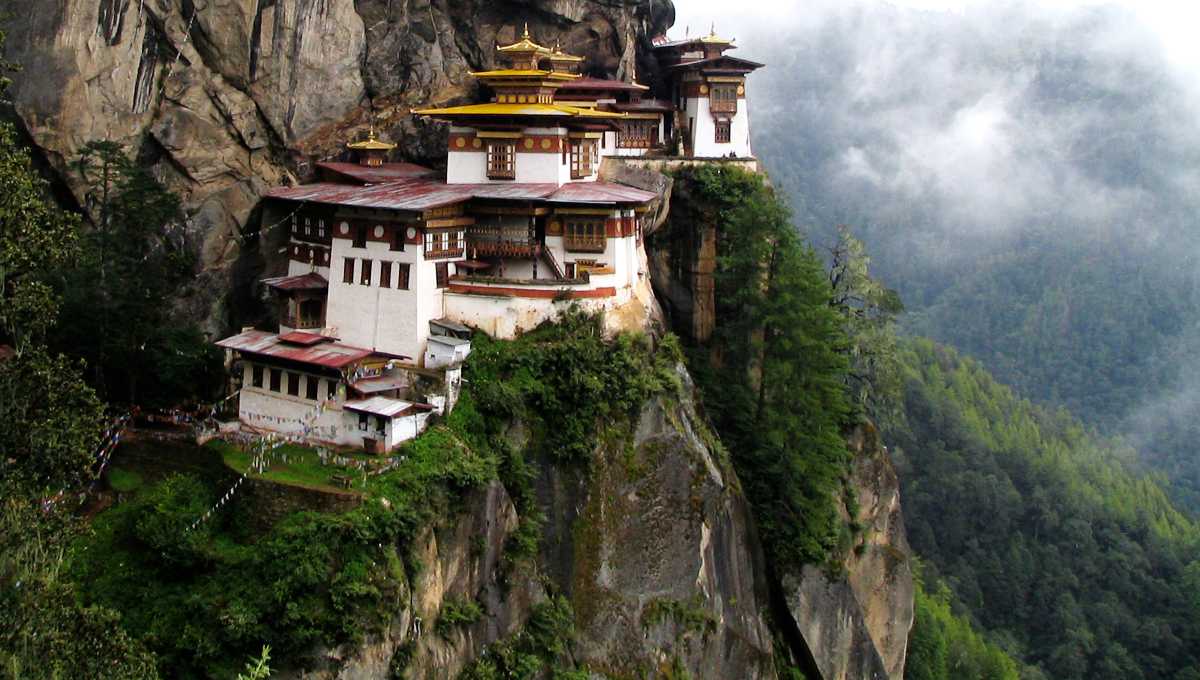 Upon reaching Paro, the very first thing on your list should be visiting Tiger's Nest. An architectural marvel, this monastery is built on a cliff, over 3000 meters above the sea level. It is not just the top tourist attraction in Bhutan but also has a great religious significance. A trek leading up to the monastery offers terrific views of the valley and is super serene.
Entry Fee: BTN 500
Timings: 8 AM - 1 PM, 2 PM - 6 PM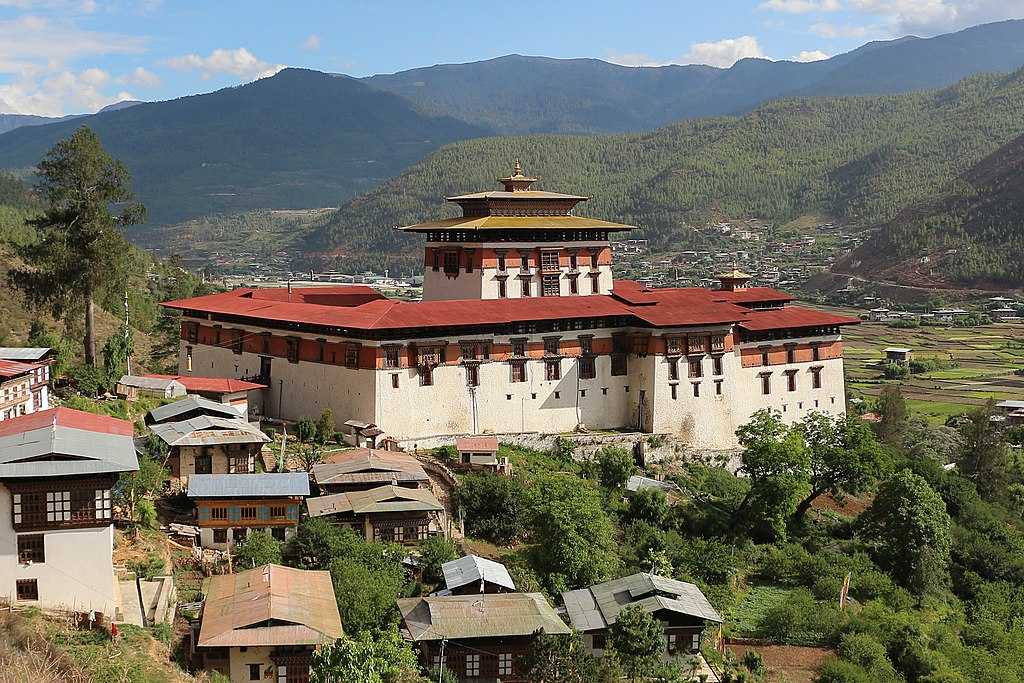 Rinpung Dzong Paro is one of the top spiritual places to visit in Bhutan. A Buddhist monastery and fortress - of the Drukpa Lineage of the Kagyu school, Rinpung Dzong offers breathtaking views of the valley. The Dzong organises the colourful annual festival called Paro Tshechu in its purely beautiful. We recommend you to visit this monastery in the evening and then spend some time around the premises to watch the fortress lit up at night.
Entry Fee: No Entry Fee
Timings: 9 AM - 5 PM

Chele La Pass is the highest motorable road pass in Bhutan. Located at around 13,00 feet between the valley of Paro and Haa, it is surrounded by lush forests, waterfalls, grazing yaks and sweeping vistas. Most importantly, you will see stunning views of Mt. Jhomolari, Tsherimgang mountains and Jichu Drake with Paro and Haa valley.
Entry Fee: No Entry Fee
Timings: All Day
Showcasing the Bhutanese art and traditions, throughout the six floors of the building, the National Museum of Bhutan is a gem. You should visit here to know more about the history and the rich culture of the country.
Entry Fee:
Bhutanese - BTN 10
SAARC Nationals - BTN 25
Non-SAARC Nationals - BTN 150
Monks, Nuns, Children (under 10) - No Entry Fee
Timings:
Summers: 9 AM - 5 PM
Winters: 9 AM - 4 PM
Things To Do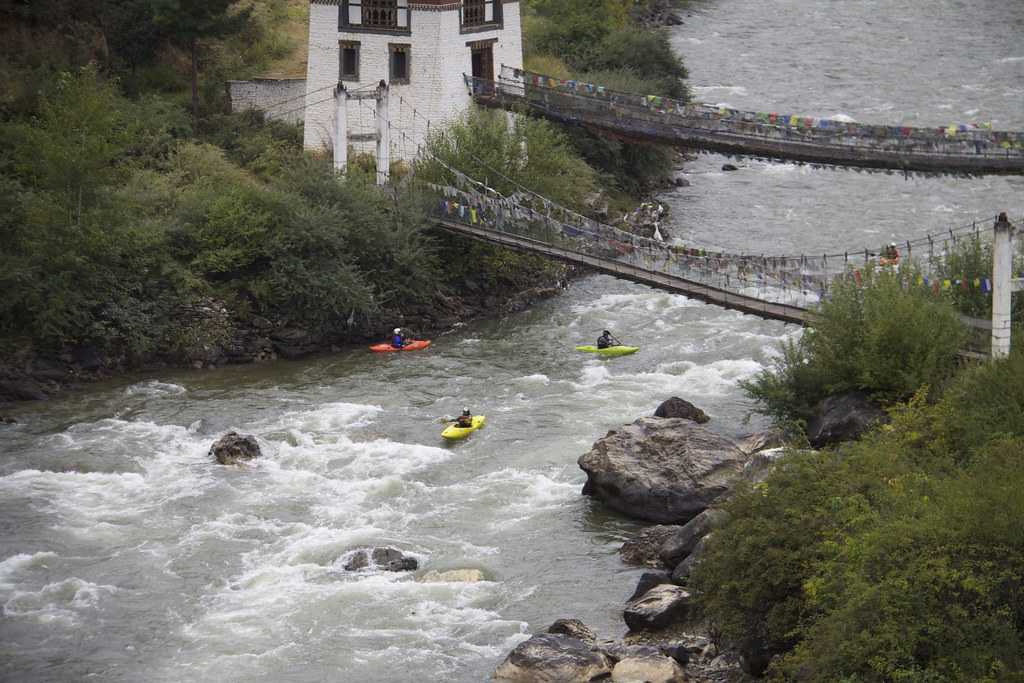 Trek to Tiger's Nest
Shop at Paro Craft Market
Meditate in the monastery
Munch on Local Delicacies
Mountain biking at The Jemina – Ta Dzong mountain biking trail
River rafting & Kayaking in River Paro Chhu
Accommodation in Paro
1. ViewPoint Lodge
- BTN 1,557
Book This Lodge
2. Ama's Village Lodge
- BTN 1,583
Book This Lodge
3. Nirvana Lodge & Homestay
- BTN 2,252
Book This Lodge
Day 6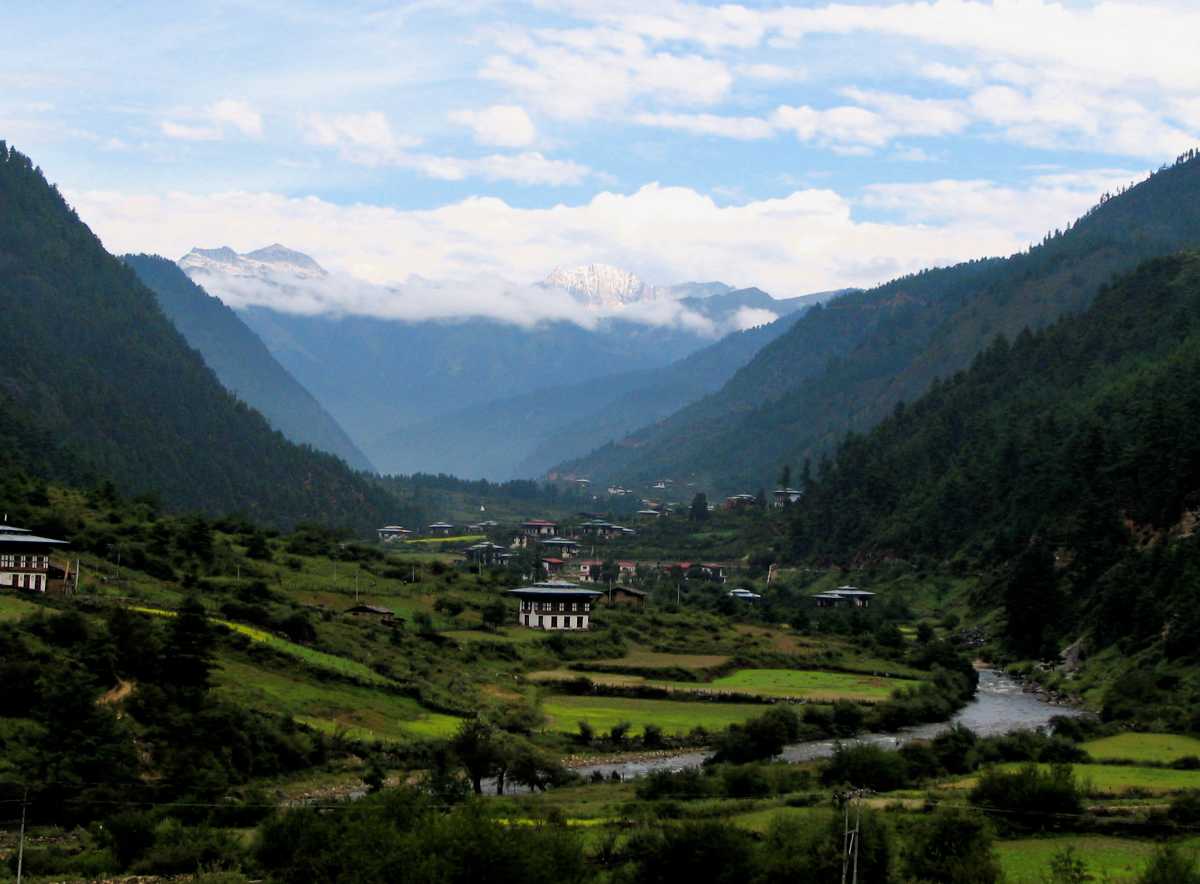 Guarded by mountains all over, Haa Valley is the smallest district in Bhutan. A heaven for nature lovers, it is untouched and scenic with very less crowd. After crossing Chele-La pass, you get to experience the most magnificent views of Mount Chomolhari & Jichu Drakey upon entering the valley vicinity.
Best Time to Visit: October - November
Places to Visit in Haa Valley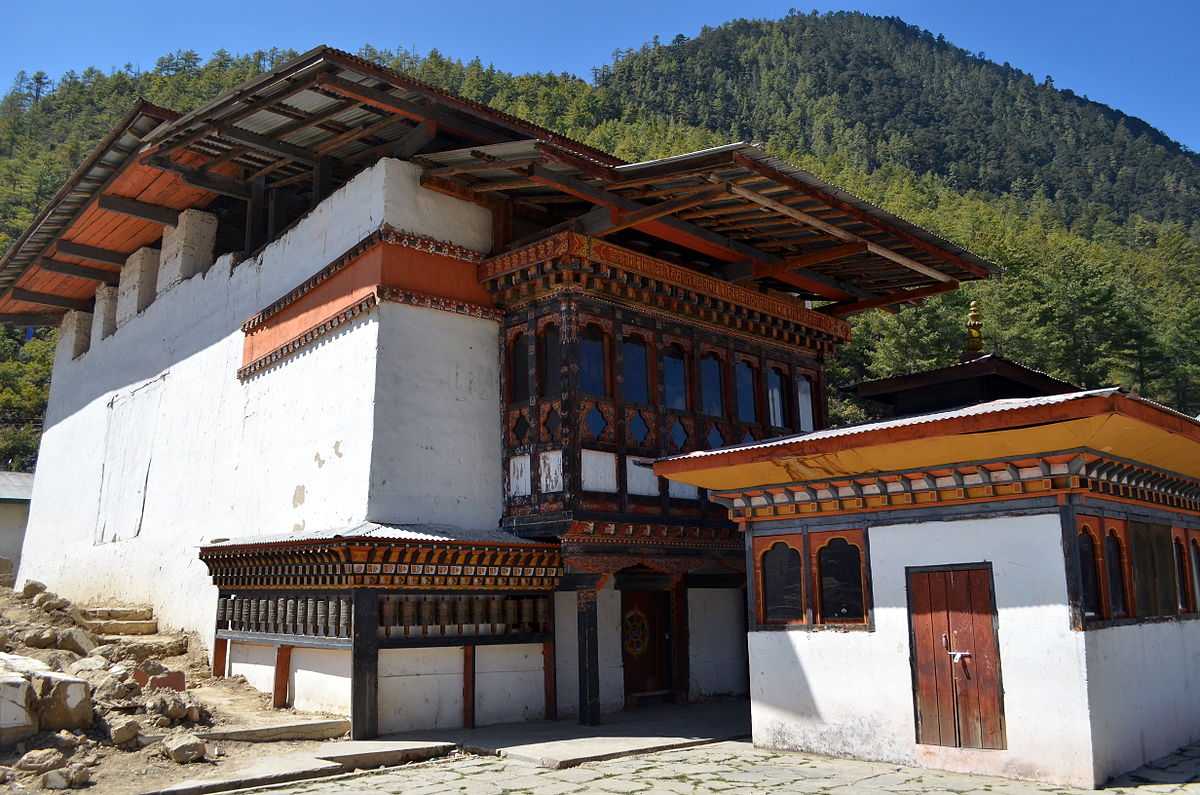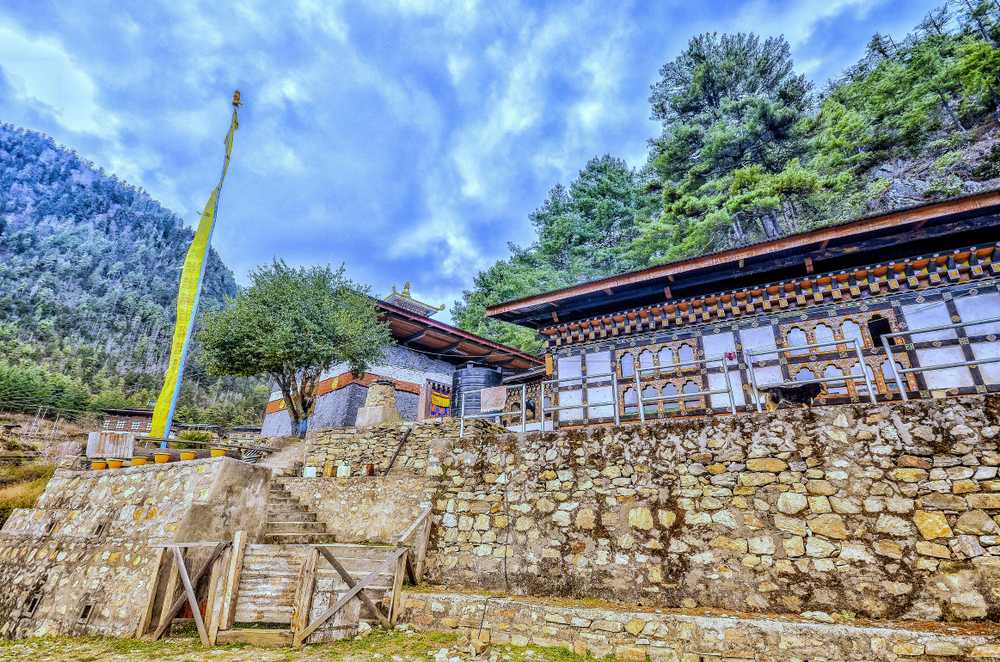 Built in the 7th century, Lhakhang Karpo and Lhakhang Nagpo lie at the foothills of the Meri Puensum mountains. Legend has it that King Sonsten Gampo released two pigeons to make these temples. The white temple was built where the pigeon landed, and the Black Temple was constructed where the Black pigeon landed, which is why these temples are also known as the White temple and the Black temple.
Note: Tourists are expected to dress respectably and modestly while visiting temples and other religious institutions. Shoulders must also be covered inside religious establishments. Since shoes are to be removed before entering a religious building, it is advisable to wear socks.
Not very far from the Black and White temples, it is believed that the Buddha appeared in the form of a pigeon and lured local farmers to the spot with mystical sounds and visions of fires. Haa Goempa was then built on the exact spot!
Linking Haa valley to Samarpudung valley, the bridge is believed to have magical powers. You can make a wish in the wishing cow lake where the cow udders in the stones are said to be visible.
Other Activities
Heaven for nature and adventure enthusiasts, Haa valley, offers a wide range of activities. For nature lovers, the dense forest and rivers are great for long walks in nature, while hiking, cycling and trekking are adventure activities in the valley.
Accommodation in Haa Valley
1. Haa Homestay
- BTN 1,149
2. Lechuna Heritage Lodge
Day 7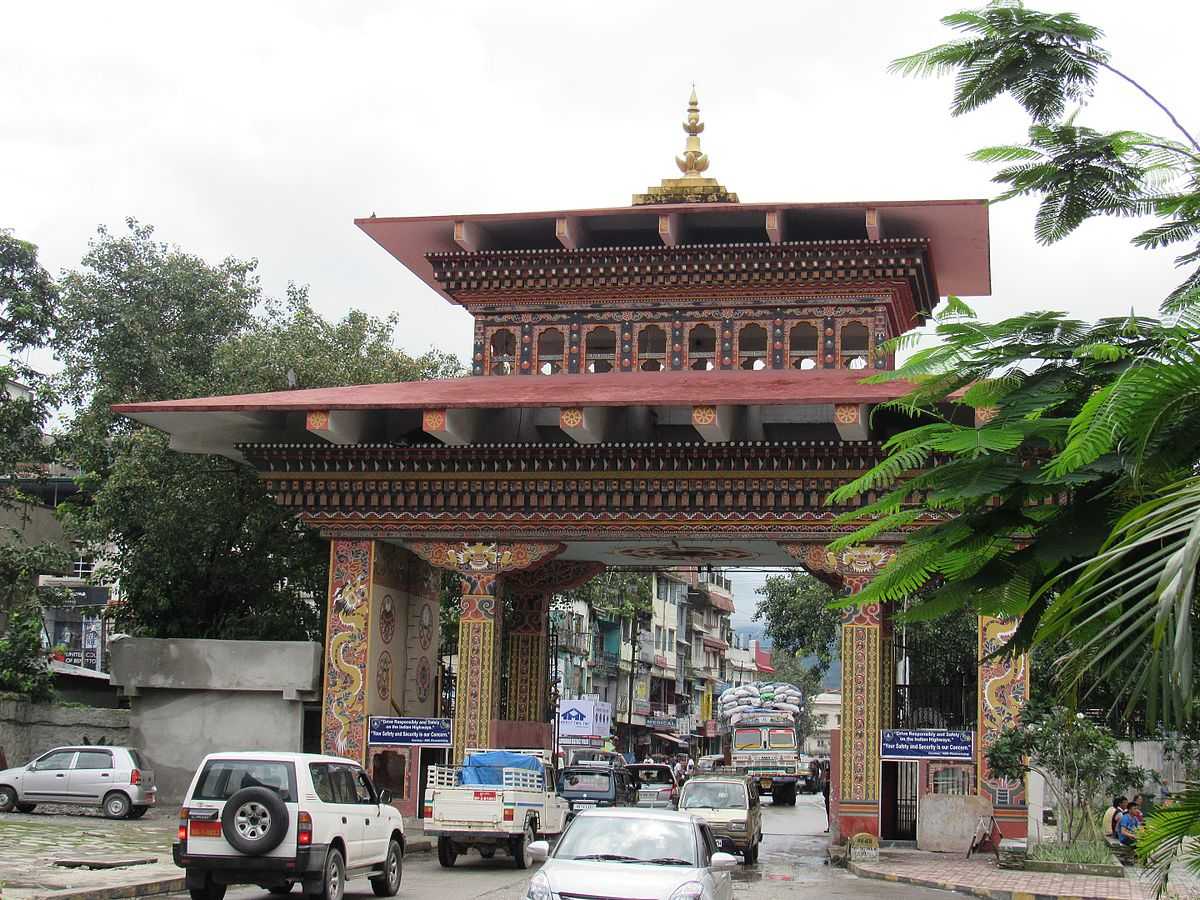 Haa Valley to Phuentsholing
Mode of Transport - Car
Duration - 5 Hours

End your trip where you started. Exit from Phuentsholing!
Enter By Air
When you enter Bhutan via Air, you will land at Paro International Airport as it is the only international airport in the country. You cover almost all the destinations as given in the above itinerary but only the order changes.
Day 1 & 2 - Paro
Day 3 - Haa Valley
Day 4 - Thimphu
Day 5 - Punakha
Day 6 - Wangdue Phodrang,
Day 7 - Back to Paro
Let us know if this itinerary suits you! Have you been to Bhutan already? What was your itinerary like? Share with us your experiences in the comments below!