Hello folks! This is my Carpe Diem story of solo backpacking in Bhutan.
You guys may know Bhutan as the "Happiest Country" in Asia, and believe me when I say "It doesn't disappoint". Genuine happiness and tranquillity everywhere, not exaggerating the fact, but I didn't find a single soul that looked unhappy anywhere throughout my journey. Bhutan is a democratic country under the king's rule, who is known as the "Dragon King". Rather than measure the country's growth & economy through GDP, they follow a philosophy called "Gross National Happiness".
Visa is not required for Indians, and you can obtain a seven days entry cum stay permit to Bhutan from the immigration office directly on arrival in Phuentsholing. Your permit will be sanctioned for two major cities, Paro and the capital city of Bhutan-Thimpu. You can extend your stay duration and obtain a permit to visit different places from the immigration office in Thimpu. Indian currency is accepted everywhere in Bhutan.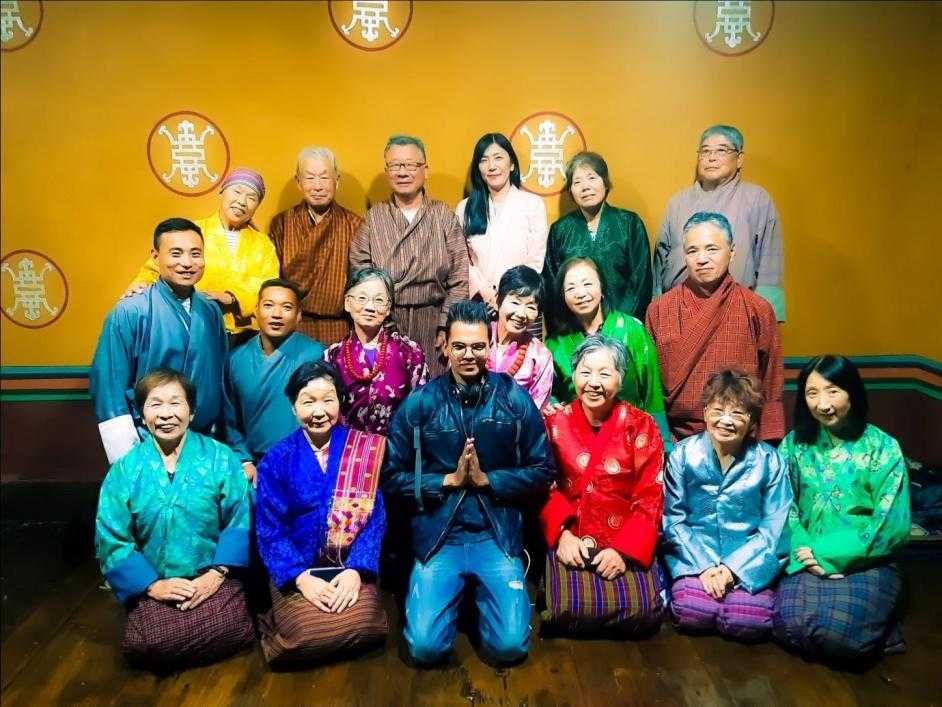 I wrapped my Immigration process within 45 minutes and took a shared taxi to Paro, which was by far the best car ride that I had been in. The views were enchanting with crystal clear river flowing next to the road, and I was surrounded by humongous mountains all around. Once I reached Paro, I found a rustic homestay on the outskirts called "100 Years Old". Here, I met a group of foreigners touring Bhutan from Korea who were clad in colourful Bhutanese traditional attire.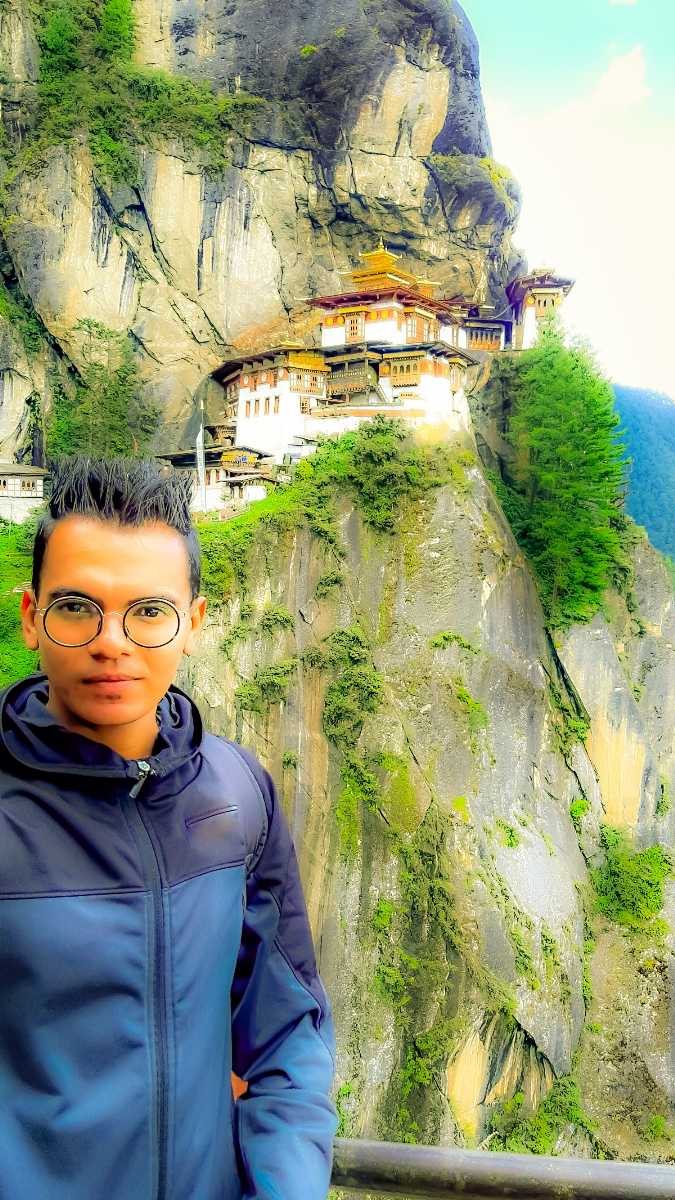 I woke up early the next morning and took a taxi to the base of Bhutan's most famous hill "Tiger's Nest", locally known as Paro Taktsang. I started my hike at 9 AM from the bottom of the hill and was able to cover the halfway mark within 2 hours. Complete greenery and small water streams flowing amid the trees make up your path. After another two & a half-hour of trekking, you will be able to gaze upon the famous Buddhist temple atop the hill. I was mind blown looking at the view from the top. This was one of the most beautiful treks that I had been to. I could see miles into the horizon and "God", the view was intoxicating.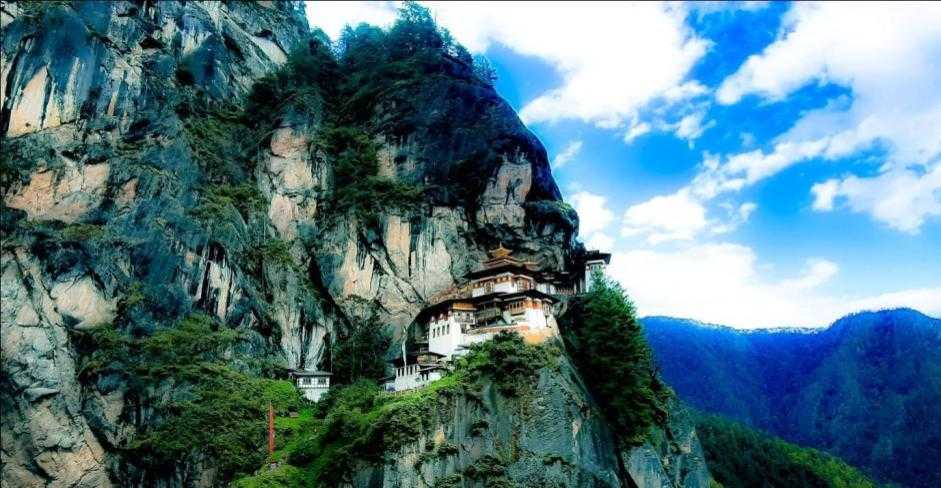 A ticket to visit inside the temple will cost you INR 500, but it is worth every penny. The structure & statues inside will leave you spellbound. Few guides are assigned to a group of 10 people, and they will explain the complete history of the place. Once done, trekking downhill is more comfortable and is easily completed within 3 hours. After reaching back and an hours rest at the homestay, I went into the town to explore the famous Paro shopping lane. The lane, which is about 500 meters long has local shops on both sides. This is one of the best places to shop in Bhutan, as you get all types of merchandises & gift items. You can bargain with the shop owners & they'll give you a good deal.
Exploring Paro!
I had booked a taxi for the whole day to explore various places near Paro. 
Chele la Pass–It is the highest motorable point in Bhutan. As I ascended to the top, it became foggy, and I could start to feel the harsh winds against my body as though trying to challenge me to a duel. 
National Museum of Bhutan – All the ancient artefacts and the history of Bhutan can be found here.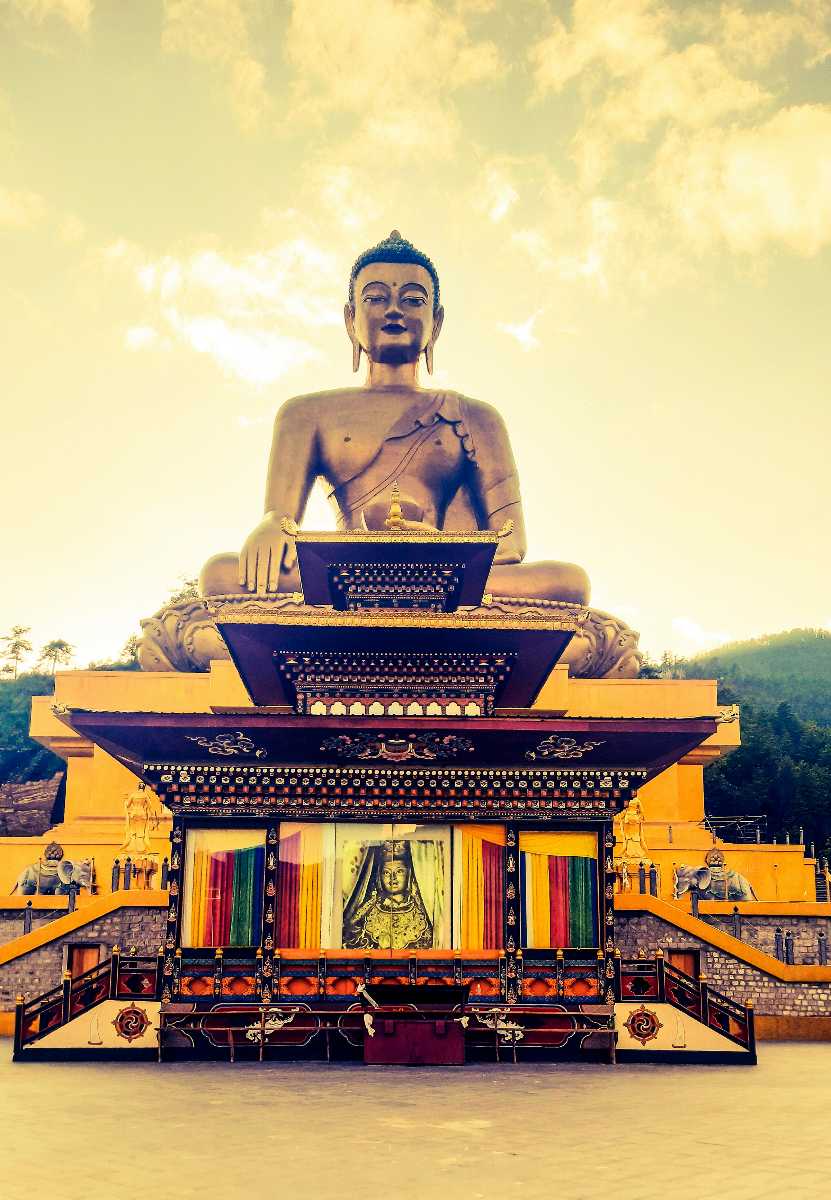 Scurrying Forward To Thimpu!
I started the day by hurrying to catch a local bus to Thimpu. Few places that I visited are: 
Buddha Dordenma – It is the largest Buddha statue in Bhutan and houses one hundred thousand (One lakh) smaller bronze Buddha statues inside. 
Takin Preserve – It is a wildlife sanctuary for Takin, the national animal of Bhutan. It looks like a cross-breed of a goat and a cow.
Simply Bhutan-One of the must-go places in Thimpu. It's a small tour, which gives you an overall understanding of Bhutanese tradition & culture, mixed with fun. The ticket costs INR 300, and includes a free tasting of the local rice wine "Ara", and you can practice Archery (National Sport of Bhutan).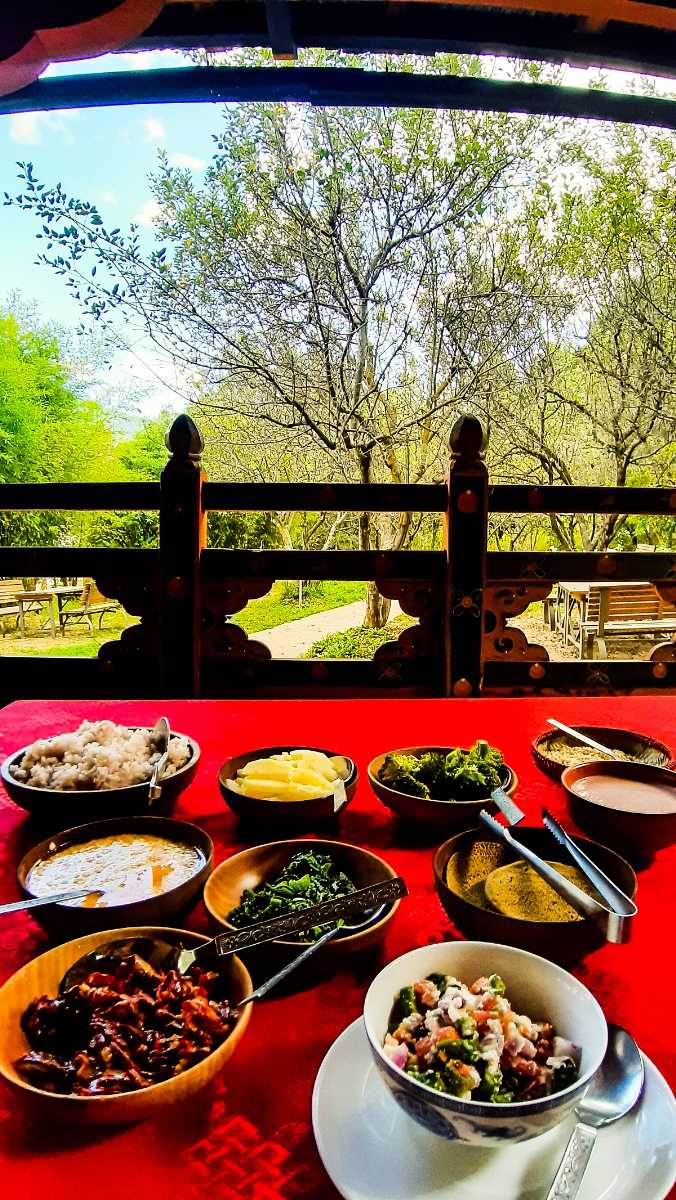 Folk Heritage Museum- This beautiful small museum is also famous for serving exotic Bhutanese meal. 
National Library of Bhutan – It houses the world's most massive published book known as "A Visual Odyssey" across the Last Himalayan Kingdom". 
Heavenly Punakha!
Punakha is a small Himalayan town covered in pristine greenery and rivers all around.  
Punakha Dzong- Once inside the Dzong, I was mesmerized by its celestial aura. It has a divine presence to it, and you can peacefully sit hours together meditating or just enjoying the calmness of the place.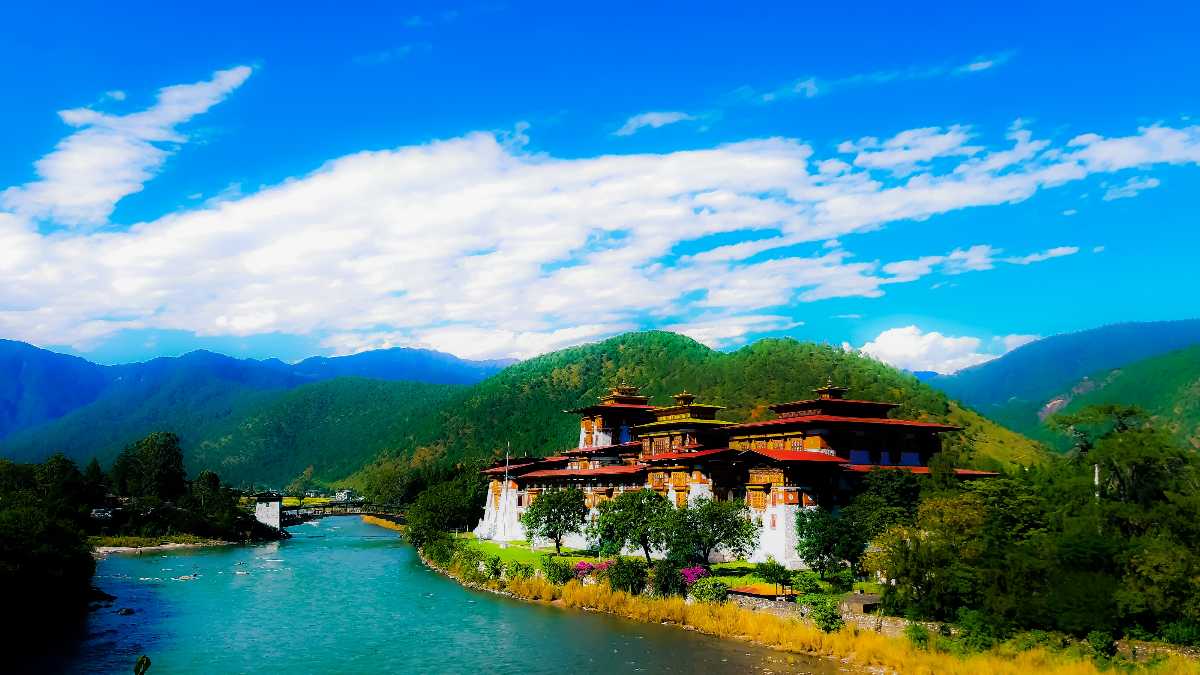 Punakha Suspension bridge– It is the longest suspension bridge in Bhutan. It offers spectacular views of the river and Punakha valley. 
Chimi Lhakhang- It's a fertility temple. You can find Phallus paintings & statues all around the village and inside the temple.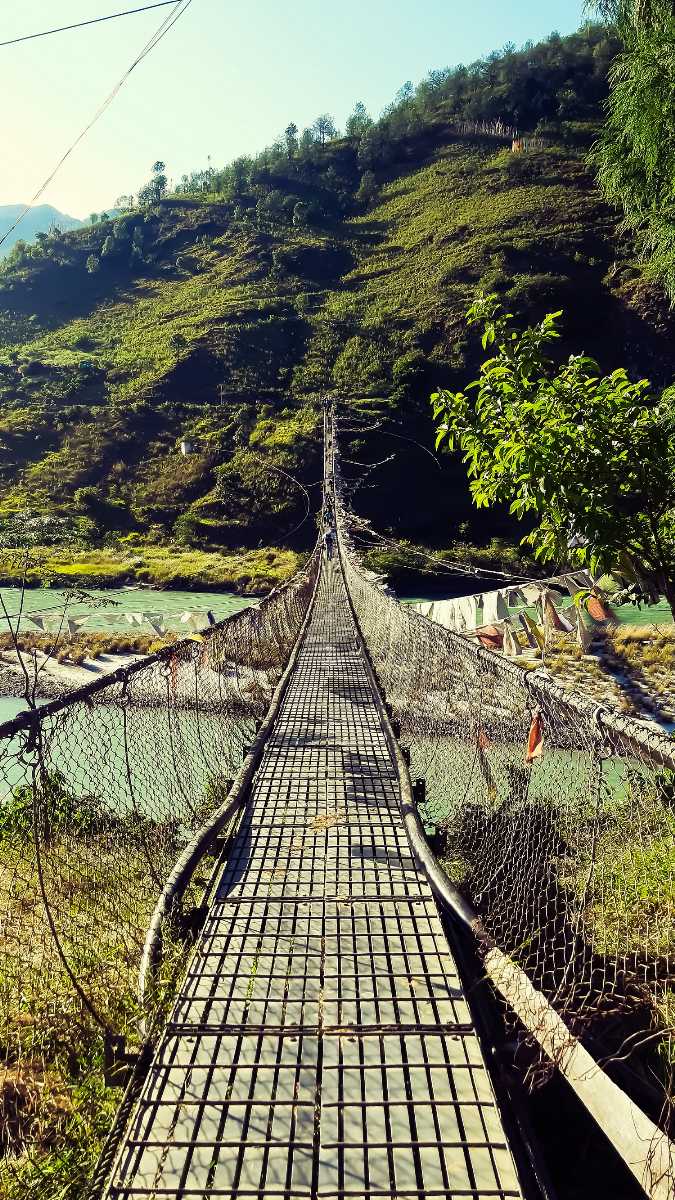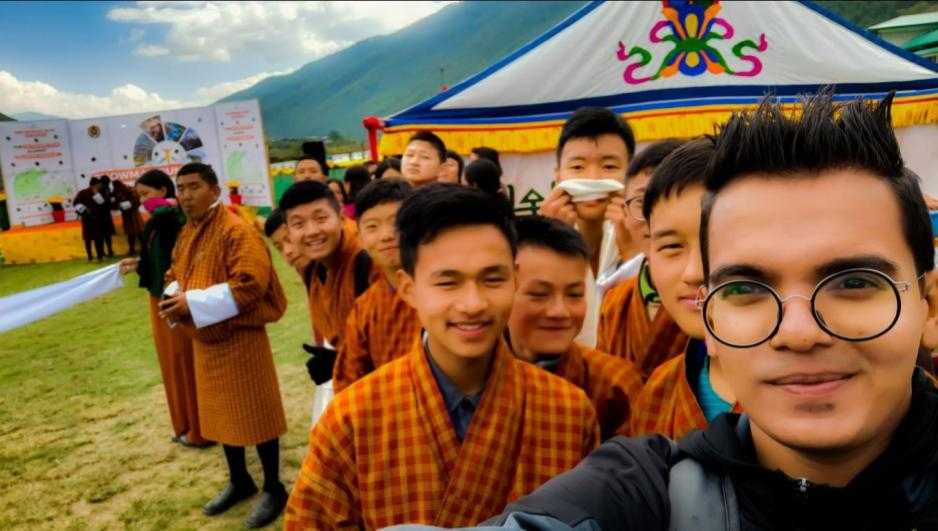 Frosty Bumthang!
Bumthang district is situated in the middle of four mountain valleys. The human population is sparse here and has its own cheese and beer brewing factories. A tour inside these factories is available for a fee of INR 150. Also, I was lucky enough to witness the closing ceremony of the first inaugural "Snowman Run Bhutan". It is dubbed as the world's toughest snow marathon, covering more than 300 kilometres.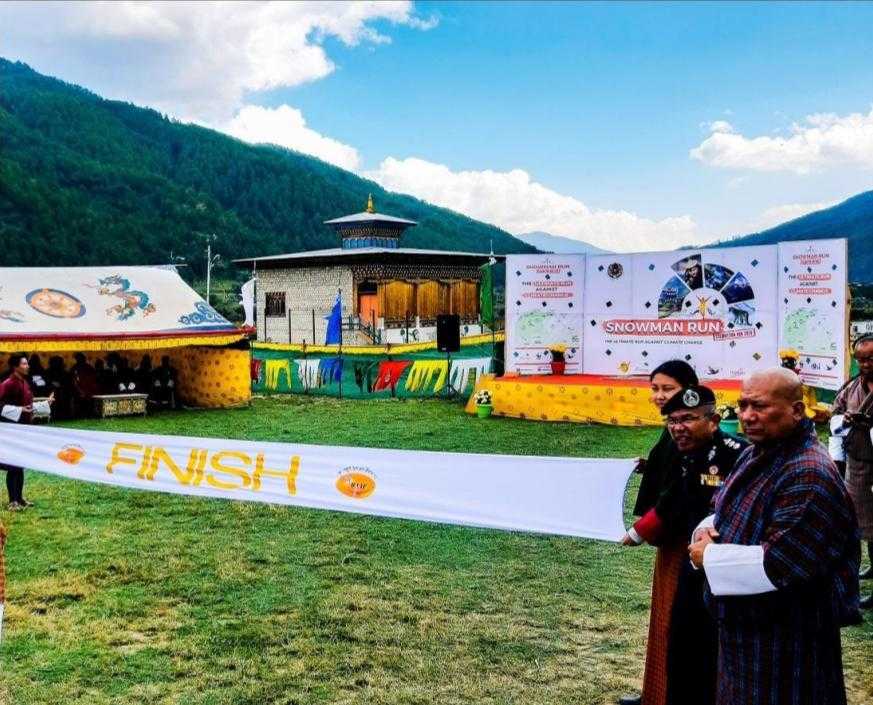 I could find joy all around Bhutan because of their simplistic lifestyle and respect towards nature. Bhutan is the perfect epitome of "Atithi Devo Bhava". After 13 days of solo backpacking, it was time for me to return to the motherland. I decided to go on this journey in a spur of the moment, and it ended up being the best trip that I had undertaken. It taught me the significance of a smile and the vibe it spreads, illuminating happiness everywhere.