A visit to
Bhutan
would be incomplete without experiencing a hot stone bath, and hence this must feature on every visitor's itinerary. A Bhutanese hot stone bath is the perfect way to relax and wind down after a long day of sightseeing and is also believed to have numerous health benefits.
What is a Hot Stone Bath?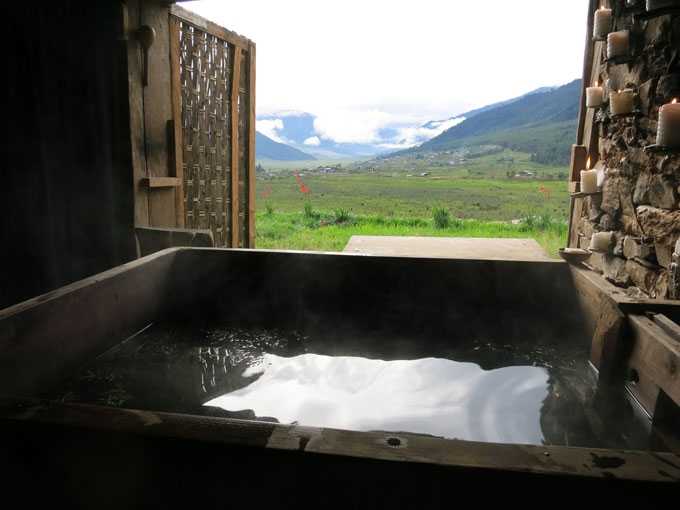 The process of a traditional Bhutanese hot stone bath is unique. It uses Menchu (medicinal water) which is nothing but fresh river water mixed with Artemisia leaves. The water is heated using river stones that are roasted on fire till they are glowing red. The temperature of the water can be increased by adding more heated stones into a wooden chamber via a chute. This chamber is connected to the main tub (also made of wood) which contains the water.
The holes in the chamber allow the heat to be infused into the bath (so there is no danger of being burned by the hot stones) and the stones are said to release key minerals into the water which are believed to have medicinal benefits. One can soak in the water for about an hour or two after a tiring day while sipping a hot beverage. This may also be followed by a salt scrub to remove dead skin cells and an oil massage to relieve tired muscles.
Approximate Cost of a Hot Stone Bath in Bhutan
Being offered in many hotels all over Bhutan, the price of one bath could roughly be around
BTN 640
but may vary as per the facilities and additional services/comfort provided.
Places to Enjoy a Hot Stone Bath in Bhutan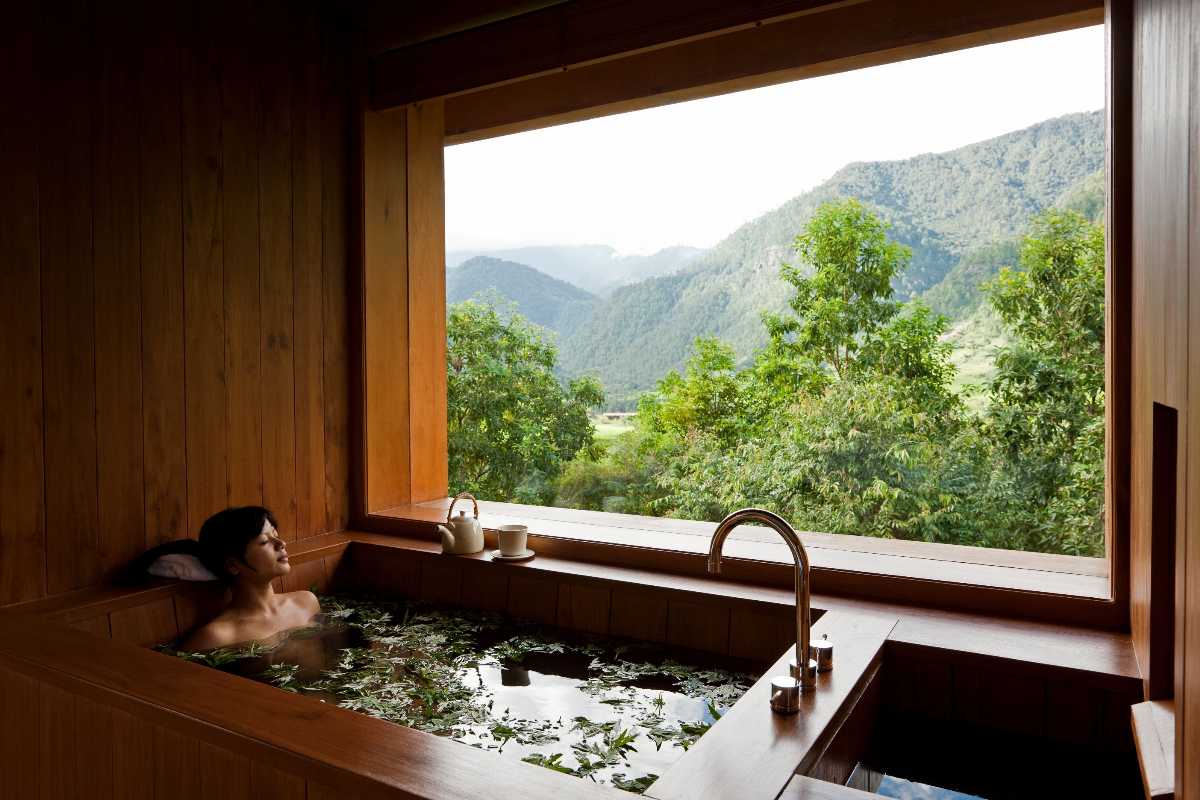 Here are a couple of options from where one could hope to experience a hot stone bath:
Bjagoe Menchu in Paro: This is a bath that is provided close to a local spring and cost-wise, is a more economical option. It is advisable to ask the tour guide or the locals for directions to this place.
Sherab Dema Farmhouse Homestay: This is located in Bumthang and provides the true Bhutanese experience of a hot stone bath as it was done traditionally without the elaborate settings and a picturesque view. One could try asking the host for their beverage made with fermented rice (Ara) which are recommended if one visits this place.
Uma Paro and Uma Punakha: This luxury hotel offers a hot stone bath for 90 minutes in the two locations of Paro and Punakha. With colourful wildflowers in addition to the Artemisia leaves and a beautiful view of the surrounding, it is one of the more expensive options to consider. It provides a Shambala massage as well which exfoliates and softens the skin.
Amankora Gangtey: Another option for those desiring luxury, the Amankora chain of resorts offers hot stone baths in local farm sheds. Complete with candlelight setting, tea and snacks by the side along with a marvellous view of the mountainside, Amankora's hot stone bath promises nothing short of a luxurious healing experience.
Health Benefits and Healing Properties of Hot Stone Bath
Hot stone bath is a traditional healing process which has been in practice for ages in Bhutan and is a very satisfying experience in itself, especially in winter.
In the past, these baths served as a source of relaxation for the families after the long, hard months of farming in winter.
Hot Stone baths have helped in relieving them of bodily stress and was believed to cure any other ailments they might have contracted during their work.
Some families would even consult their astrologer to look for an auspicious day when the bath would have the most beneficial effect.
The heat of the water, the medicinal herbs and the minerals released from the stones, all combined are believed to have many health benefits.
It is said to be very helpful for ailments such as arthritis, hypertension, joint pain, stomach disorders and other deep-set aches.
It is also believed to rid one of over 50 skin ailments. Overall, it has a very relaxing and calming effect both on the body and mind and has no harmful side effects.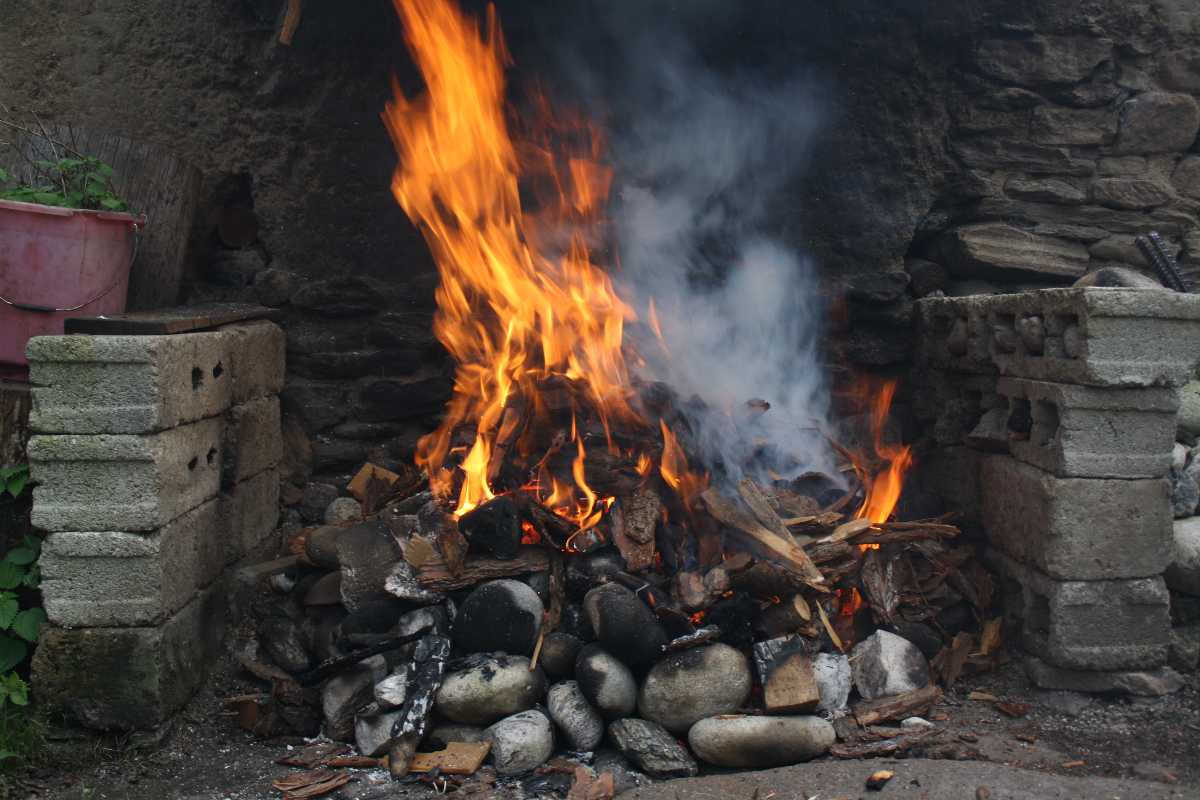 History of Hot Stone Baths in Bhutan
Traditionally, hot stone baths were arranged in a very rustic set up, inside a farm shed or near a river bed where there are plenty of rocks and river water available readily and in the open air, which may also provide a wonderful view of the surrounding landscape. However, this bath is provided as a spa and wellness option in many hotels and resorts which may better suit the standards of the visitor and may also cater to luxurious tastes and preferences.
Be it a tiring day or a day just like any other one; a hot stone bath is a highly recommended activity for anyone visiting Bhutan, especially in winter. Soaking in a Bhutanese hot stone bath for an hour or so shall do one much good.