In this health-conscious decade, smoking is not encouraged by any of the major countries of the world. And when it is not openly allowed in the developed countries, then how can a small traditional country do so. Tucked away between
China
and
India
, the Himalayan kingdom of
Bhutan
is the country being talked about!
Is Smoking Allowed in Bhutan?
Bhutan is the only country in the world where the sale and production of Tobacco are banned. So, smoking is, by law, prohibited in the country as per the
Tobacco Control Act of Bhutan 2010.
However, you're allowed to take a certain number of cigarettes to the country and hotels and a few indoor bars have smoking room facilities.
Tobacco Control Act of Bhutan 2010
The law, passed on 16th June 2010, prohibits smoking and use of tobacco in any other form in public areas such as dzongs, chortens, parks, hotels, restaurants, markets, cinema halls etc. Public transports, such as buses, are also under non-smoking zones.

The act not only bans the use of tobacco products but also bans its cultivation, harvesting and sale in the country. No one is allowed to produce tobacco products in the country. Imprisonment of three to five years is subjected to anyone who is found using or selling tobacco in public. This has been done in an effort to become the first smoke-free nation.

However, the government has the power to designate a smoking zone in some public area. Hotels, bars and restaurants can also have a separate smoking zone where people can smoke as per their wish. The owners have complete authority to set up these areas for public convenience.


Why was the Act Imposed?
Before the enactment of this act, the National Assembly of Bhutan had banned the sale and consumption of tobacco products in public places in 2004. But this could not be enforced strictly and the sale and consumption continued throughout the country, even after that. Before 2004, 20 districts of Bhutan declared themselves smoke-free regions autonomously. This happened in 1990.
But the efforts did not begin in 1990. They started way back in 1729 when Shabdrung Ngawang Namgyal, the then leader, passed a law against tobacco use. By passing this law, Bhutan became the world's first country to have made an effort to become smoke-free.
Effects of Tobacco Control Act of Bhutan 2010
After the enactment of this law, there were 59 arrests in the country because of the sale or possession of tobacco products in almost a year. The first major arrest was of a monk named Sonam Tshering in Haa who was found guilty of possessing 480 grams of chewing tobacco. And following this, there were many arrests that took place.
This led to a pool of controversies and an outrage among the public. An online social media group named "Amend the Tobacco Control Act" was started by a group of young men, who were against the severity of punishment. They believed that the extremity of this crime was almost similar to that of the serious crimes like robbery, rape and abduction. It was said to be unfair and they demanded an amendment to the existing law.
So, in January 2010, certain amendments were made to the act. The amount of permitted tobacco a person can own was increased.
Permissible Limit
Now, people can possess more amount of tobacco products, with less penalty being imposed on them. A person can now own maximum 300 cigarettes, 400 beedis, 50 cigars and 250 grams of other tobacco products in a month at a time. Before the amendment in law, the maximum allowed limit was 200 cigarettes, 200 beedis, 30 cigars and 50 grams of other tobacco products.
Where to Get it From
Consumers in Bhutan get the required tobacco products by importing them from India or any other foreign country.
100% sales tax is applicable on the tobacco product being imported from India.
100% sales tax and 100% customs duty is applicable on the tobacco products which are being imported from any other country than India.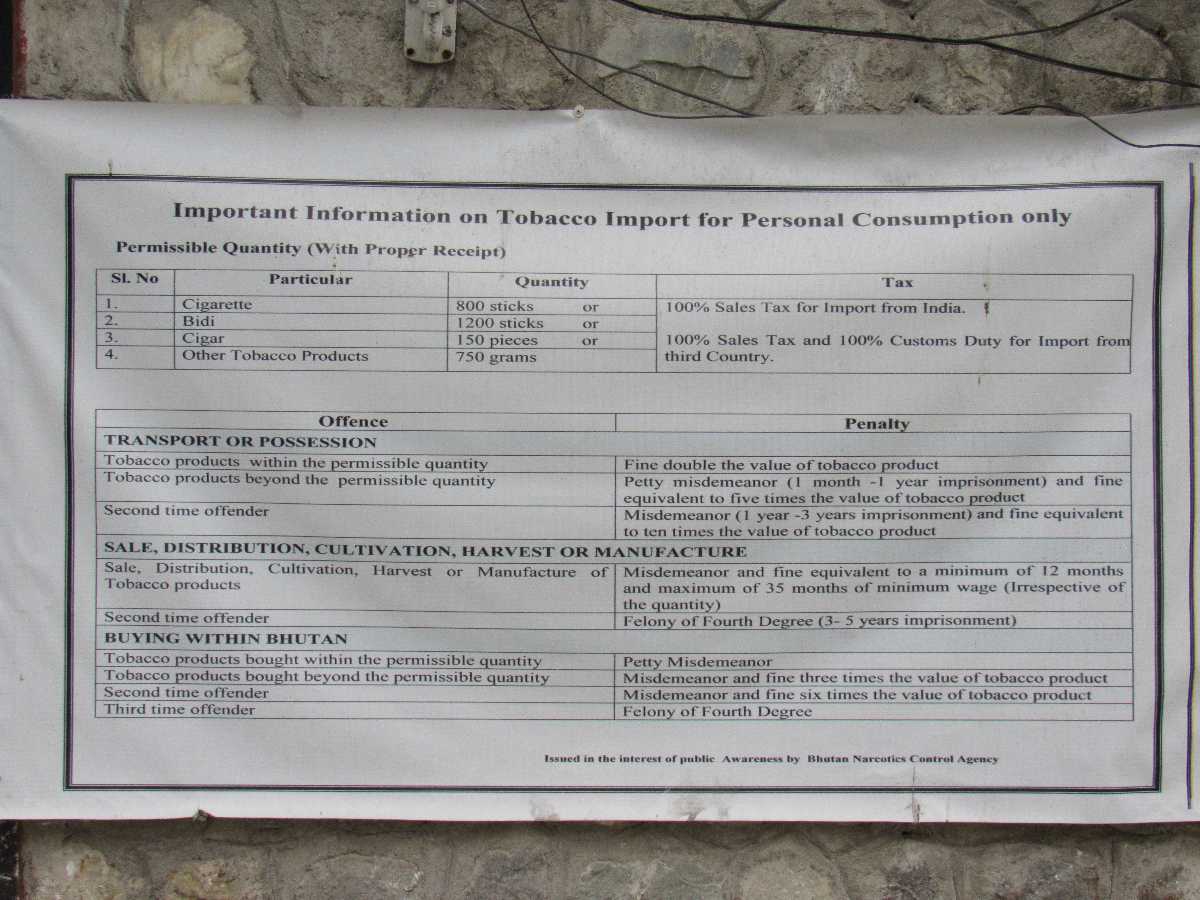 Information for Visitors
While you are in Bhutan, then make sure to bring the tobacco only within the permissible limit. You are required to show the receipt of where you got it from and the date when you bought the product. It is to be kept in mind that smoking or chewing tobacco is banned in public places. One can be subjected to a heavy penalty or even imprisonment if found breaking the law in any form.
Sale of Tobacco in Bhutan
Although sale and production of tobacco is strictly banned in the country, there are a few people who sell tobacco products in black to the consumers. This is done to increase the profitability. Everything is done under the conditions of discretion. However, due to the severity of the law, high risks are involved in such activities. Many people are actually caught red-handed selling or using tobacco illegally.
Words of Lawmakers
Those who support the law say that this has been a good step in making Bhutan a happy nation. Smoking or use of tobacco, according to them, is extremely injurious to health, which is a major barrier towards making Bhutan a happy nation.
Non-smokers both support and oppose the verdict. While some appreciate the move of making the streets and public areas smoke-free, there are others who believe that the reach of the black market has increased after imposing a ban on the sale and production of tobacco.
Limitations of Law
Although the law was imposed with the mission to reduce the number of smokers in the country, high intake of tobacco was noticed in Bhutan in the year 2012-2013. According to National Health Survey reports, the intake of smoking tobacco was made by 4% population of the country, while as much as 48% people consumed smokeless tobacco. The Global Youth Tobacco Survey in 2013 reported that 30.3% of the country's population consumed tobacco.
Such high figures of tobacco consumption after imposing a strict ban on its sale and usage raises concerns from people. This shows that there is a prevalent market where tobacco is sold in black.
While the government is doing its best to tackle such issues, it is still a long way for Bhutan to become 100% smoke-free.