When you are visiting the land of Thunder Dragons, happiness and monasteries following Vajrayana Buddhism, there is hardly any doubt regarding the travel experience. But, if you forget the basic rules and regulations, the etiquettes while visiting a place or miss out on the necessary details about the accommodation, weather, places and food, your trip might become a nightmare. You should get help from a certified and reputed tour operator so that getting permits and planning an itinerary becomes easier.
Here are the essential tips that will come in handy during the planning of your Bhutan trip:
1. Getting A Bhutan Visa And/Or Travel Permit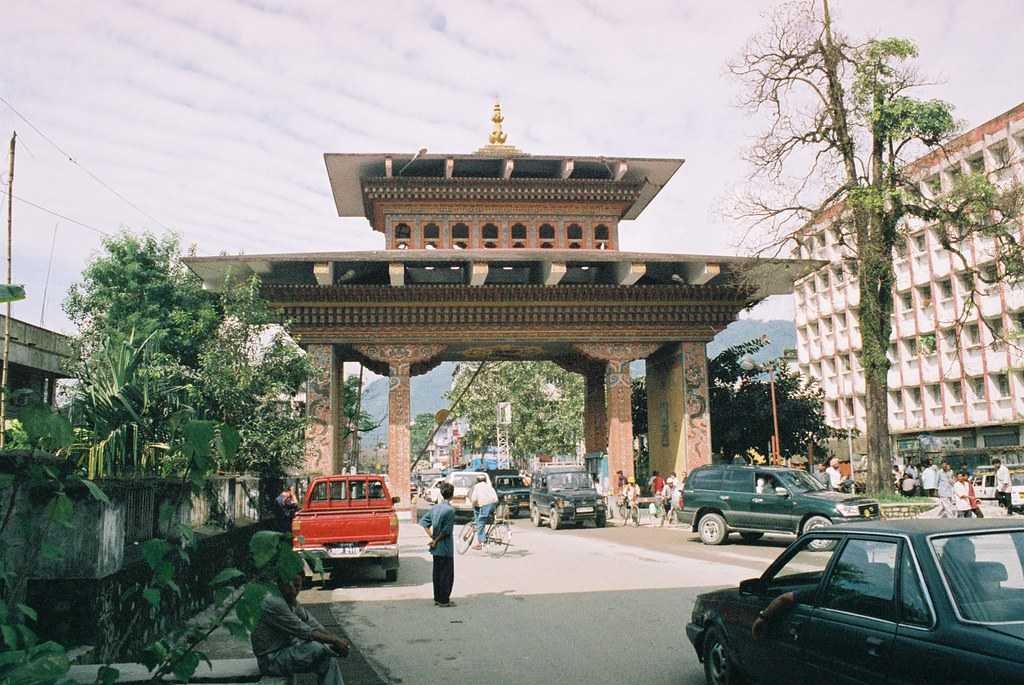 Unless you are an Indian, Maldivian or Bangladeshi visitor, an essential thing to acquire before you set foot in Bhutan border is to get your visa without which you would be instructed to return. The above-mentioned three-country visitors can get permits during the port of their entry.

The Tourism Council of Bhutan based in Thimphu processes the visa applications of the SAARC countries in exchange of USD 40 as processing fee, and the duration is 72 hours at the most. Once approved, you will be given your visa and clearance letter to be presented at the entry port. In case you are flying to Paro, you can acquire a permit from the airport.
The documents that you need to verify are
Original and photocopies of your passport or voter ID card

Duly filled visa form (clearly state your occupation with designation and the sector –business, private job or government service, where you work)

Compact and fully legible itinerary on A4 papers

At least one voucher i.e. confirmation of hotel booking from any hotel in Paro or Thimphu

Undertaking letter (applicable for those travelling alone)

Passport size photo(s)

The Tourist Permit is mandatory for all country citizens and it is available free of cost but when you are getting it through the trip operator, you might have to pay a particular amount. The Tourist Permit only covers the areas in Paro, Thimphu and Punakha. You need separate permits for other places like Phobjikha, Punakha, Haa, Bumthang, etc.
It is better to arrive at the Immigration Office of Phuentsholing early morning at around 8 AM so that there is not much queue and you are done early enough to catch a bus or taxi to Paro or Thimphu which are situated at around 5-6 hours distance from Phuentsholing. From Monday through Friday, the Immigration Office remains to open up to 5 PM, and the lunch break is one hour from 1 PM.
2. Plan Your Average Visa Cost
Sustainable tourism with a controlled number of tourists and offering premium service are the two essential factors the Bhutanese Government emphasises on. Although it might sound a bit expensive, the average 250 USD visa cost per day comes with exclusive experience including 3-star hotel accommodation, a driver with private transportation, guide, entrance fee (where applicable) for the tourist spots mentioned in the itinerary, meals, water and tea/coffee. Soda, beer, insurance, tips, souvenirs, insurance cost and additional expenses are not included in this visa.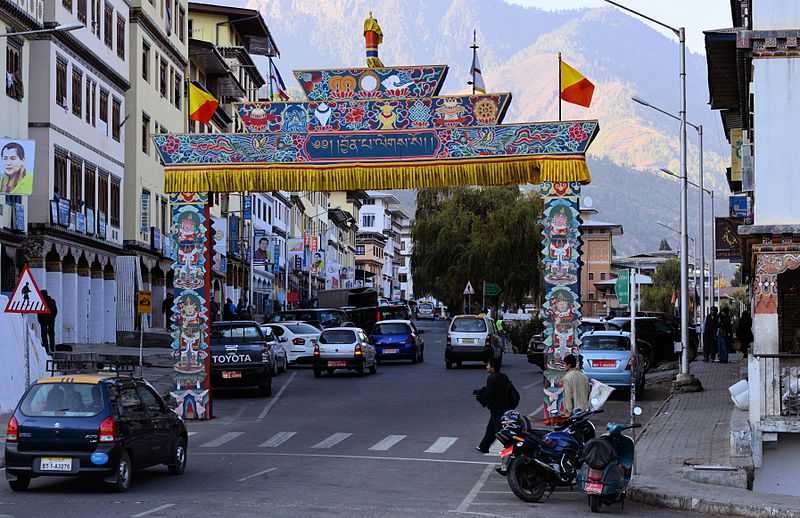 If you want to stay in 4-star and 5-star hotels, which cost 400 USD per night, excluding the 50 USD from the visa, you have to pay 350 USD additionally, i.e. in total 600 USD. According to the hotel or season, the cost might increase. You cannot downgrade to 2-str or 1-star hotels to save some bucks from the visa cost. However, budget travellers can join in large groups to save more (around 10% discounts) than that of private tours. Solo travellers have to pay 40 USD extra to the visa fee, i.e. 290 USD and couples have to pay 30 USD, i.e. 280 USD extra to the visa fee.
3. Pay Additional Cost For Last Minute Changes in Itinerary
You either get a tailored itinerary for your trip where the tour operator plans the places to visit, or you customise the trip according to your choice of the places you wish to visit. There is no bound on exploring any section of the country, and especially if you plan on exploring a special area, planning should be done before you get the zonal travel permit. However, if you make last-minute (same day or the next day) changes, be prepared to pay cancellation fees for the hotel and extra costs in case you are extending the visa.
Besides, if you decide to visit a different zone at the last moment, a significant charge will be needed, and you have to wait for at least two days till the operator rearranges everything, starting from getting the zonal permit for this new zone.
4. Choosing Transportation To and In Bhutan

To reach Bhutan on a flight, there is only one international airport in Paro which is connected to Kathmandu, Bagdogra, Kolkata, Mumbai, Singapore, Dhaka, Bangladesh, Thailand and Bangkok via direct flights run by Druk Air and Bhutan Airlines. If you are planning an easy trip, the flight option will be better, but those looking for affordable options would have to rely on Phuentsholing on the Bhutan border which is connected to Jaigaon in West Bengal.

There are trains up to Hasimara, and from there a taxi or bus will take you to Jaigaon. On reaching Phuentsholing, you will get private and government-run buses and taxis to explore Bhutan. However, you can also take your car with driving license, insurance and car permit to visit Bhutan at your own accord. If you do not get a train reservation for Hasimara, Siliguri Junction and New Jalpaiguri Junction railway stations are there connected to Hasimara (on train or bus) and Jaigaon (on bus or taxi). Significant cities like Kolkata, Patna, Delhi, Mumbai and Guwahati are connected to Hasimara, Siliguri and New Jalpaiguri.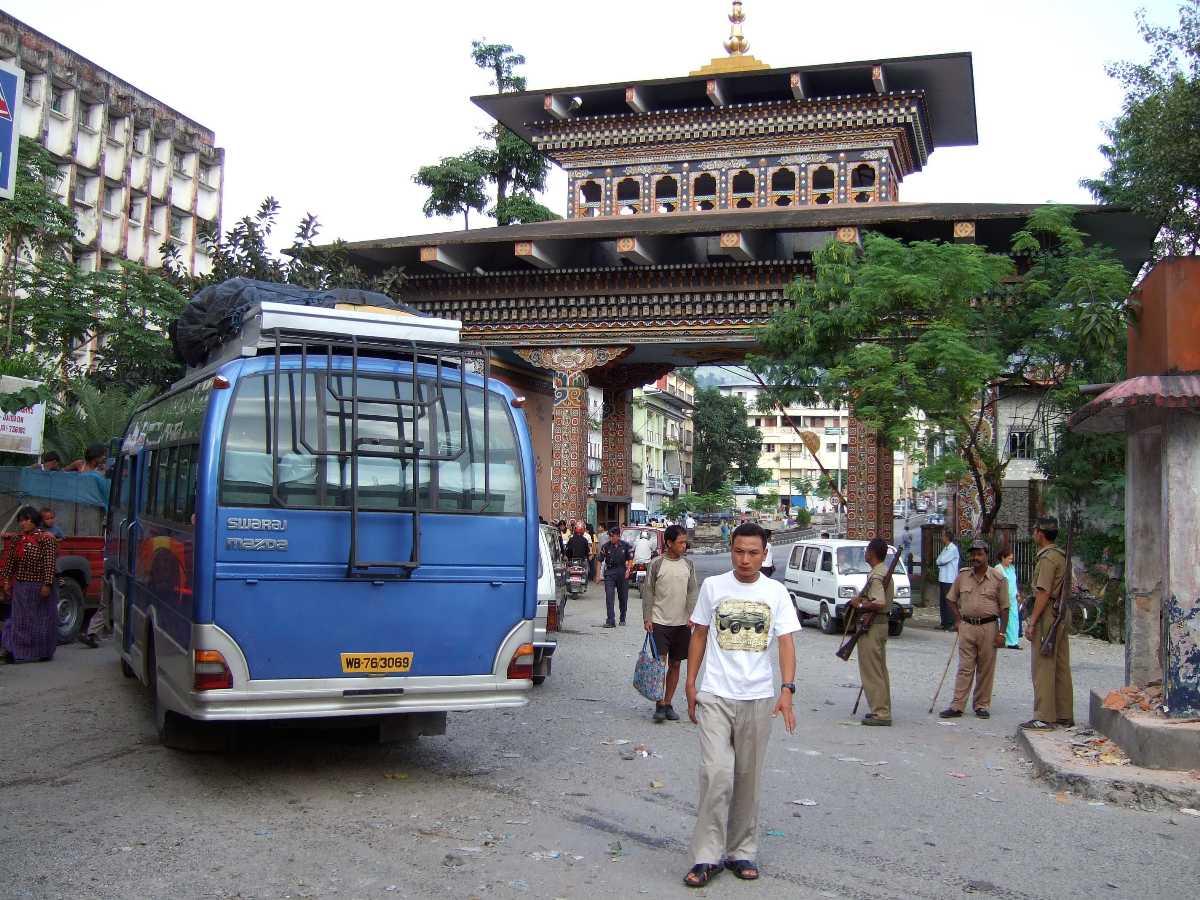 If you are travelling on the road, the most convenient way would be to enter Phuentsholing through Jaigaon on private car or taxi services. From Bagdogra Airport, you will get prepaid cabs and taxis while Siliguri and New Jalpaiguri bus stations have interstate buses up to Phuentsholing. Phuentsholing offers bus service to various cities like Paro, Thimphu, Wangdue, etc. Private 11-seater, 15-seater and 20-seater buses like Eicher are more comfortable but costly while the bumpy government-run buses are significantly cheap.
From cosy homestays to 3-star hotels –Bhutan has it all when it comes to accommodation. The government has also dictated the average cost of travel including lodging, meals, transportation, tourist guide and the royalty fee (sustainable tourism fee) of USD 65 which is utilised in running healthcare and educational programs and poverty alleviation programs at free of cost.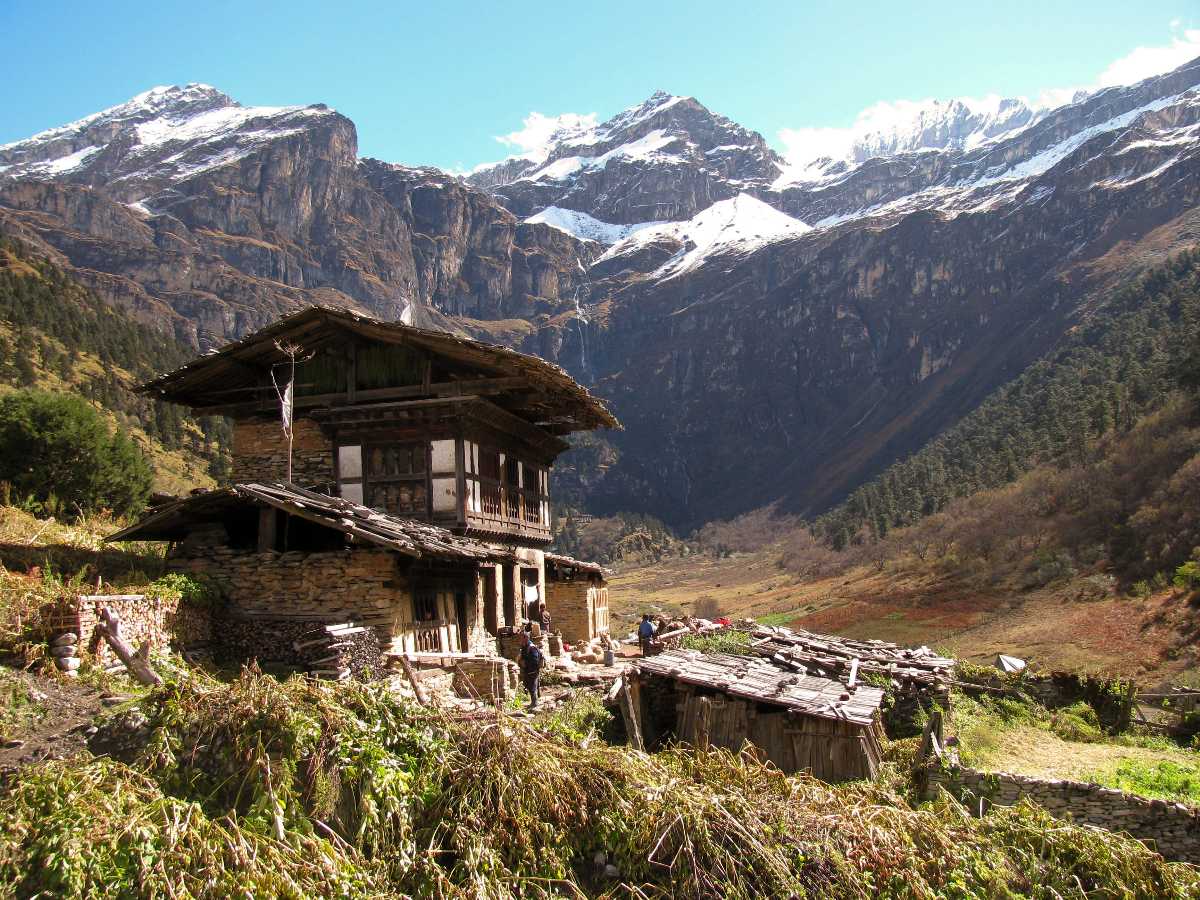 Check the accommodation selected by the tour operator and its reviews online. If you are booking on-spot, make sure to check the rooms properly as many travellers complain about bed bugs and mosquitoes.
During peak season, you can expect a decent accommodation at around 2,500 BTN while the same accommodation is available in shoulder or off-season at 1,300-1,500 BTN. If you are planning on less time indoors and more time outdoors, the basic hotels at around 500 BTN will also work as affordable options, although not many luxury amenities will be available.
If you are planning on staying in camps during multi-day hikes, it is better to get a guide, cook (if you are not up for cooking) and porter or mules for carrying the stuff. Even if you are not hiking, you can easily opt for 'glamping,' i.e. staying in the traditional Bhutanese tent with luxury amenities as available in any hotel. Homestay, hotel or camp –for any accommodation, the visa cost remains the same.
6. Using Bhutanese And Indian Currency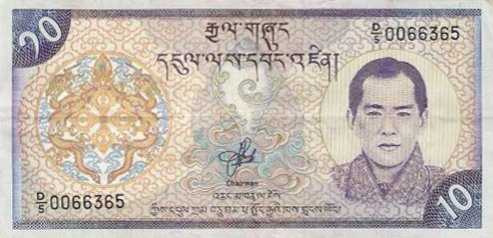 Bhutanese Ngultrum
is the official currency of Bhutan which is equivalent to Indian Rupees. Hence, Indian notes of Rs 5, 10, 20, 50 and 100 are accepted all over Bhutan. After demonetisation in India, Bhutan does not accept Rs 500 and Rs 2,000 in Indian currency. To the interior places, you will get Ngultrums as a change against Indian Rupees, but in the urban areas, you would get Indian currency as change. Credit cards are not accepted in any small shop but most hotels and large handicraft stores. US dollars are also accepted, but if you are an English citizen or come from some other country, it is better to get your currency exchanged at any bank or the airport. Take help from the tour operator to avoid long queues at the currency exchange.
7. Pack Your Clothes According to Tradition And Weather
In terms of clothing, especially in monasteries and shrines, Bhutan is quite conservative. Regardless of men and women, always make sure you have covered your legs, chest, waist, shoulders and back –carry a sarong, jacket, shawl, shrug or scarf to do so. Take an umbrella and raincoat if you are travelling in monsoon. If you are trekking or cycling, carry comfortable hiking or cycling shoes and flat trainers with sufficient traction. Winter caps, muffler, gloves and socks are to be kept too.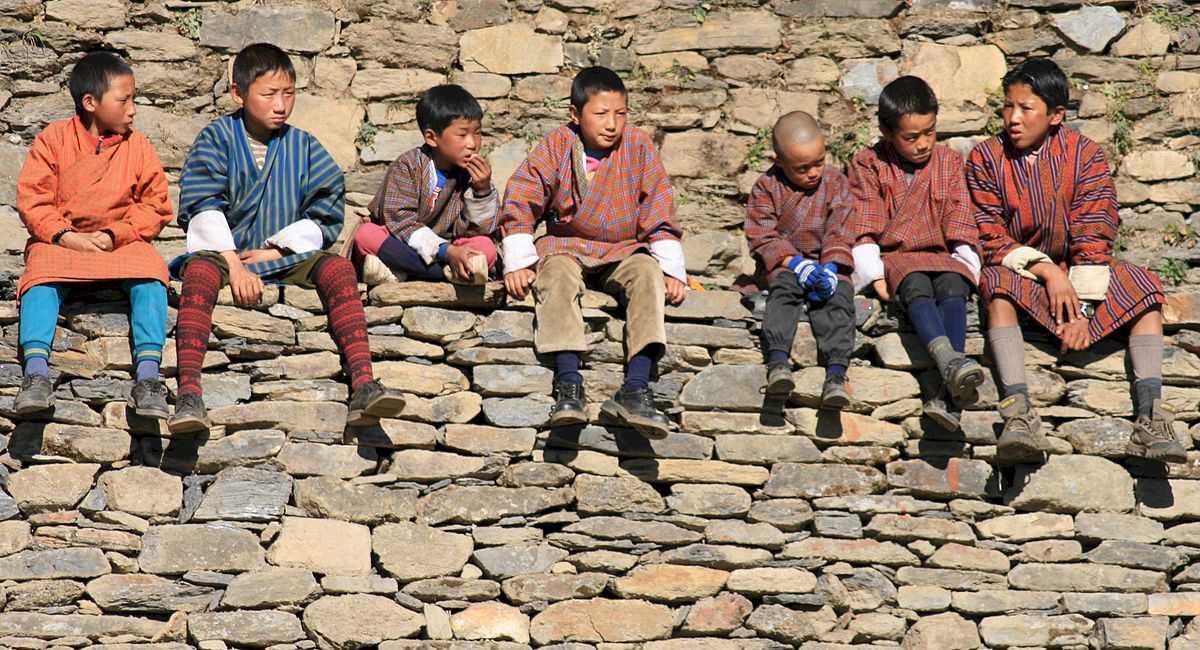 West and East Bhutan are seasonal in terms of weather and climate –get light sweater and jacket while visiting in summer. Carry heavy woollen garments and fleece jackets if you are travelling from November to March. Jeans, long skirts, leggings, cardigan, sleeved blouse or t-shirts are your safe choices of clothing.
Full-length jeans and tops covering your arms, waist, back, shoulders and chest are allowed
Shoes should be closed on toes (pack sneakers, pumps or boots)
Caps, bandana and hats are allowed on dzong courtyards or outdoor areas, not inside.
Jackets should be buttoned up or zipped and not tied around the waist or dangling from the shoulders.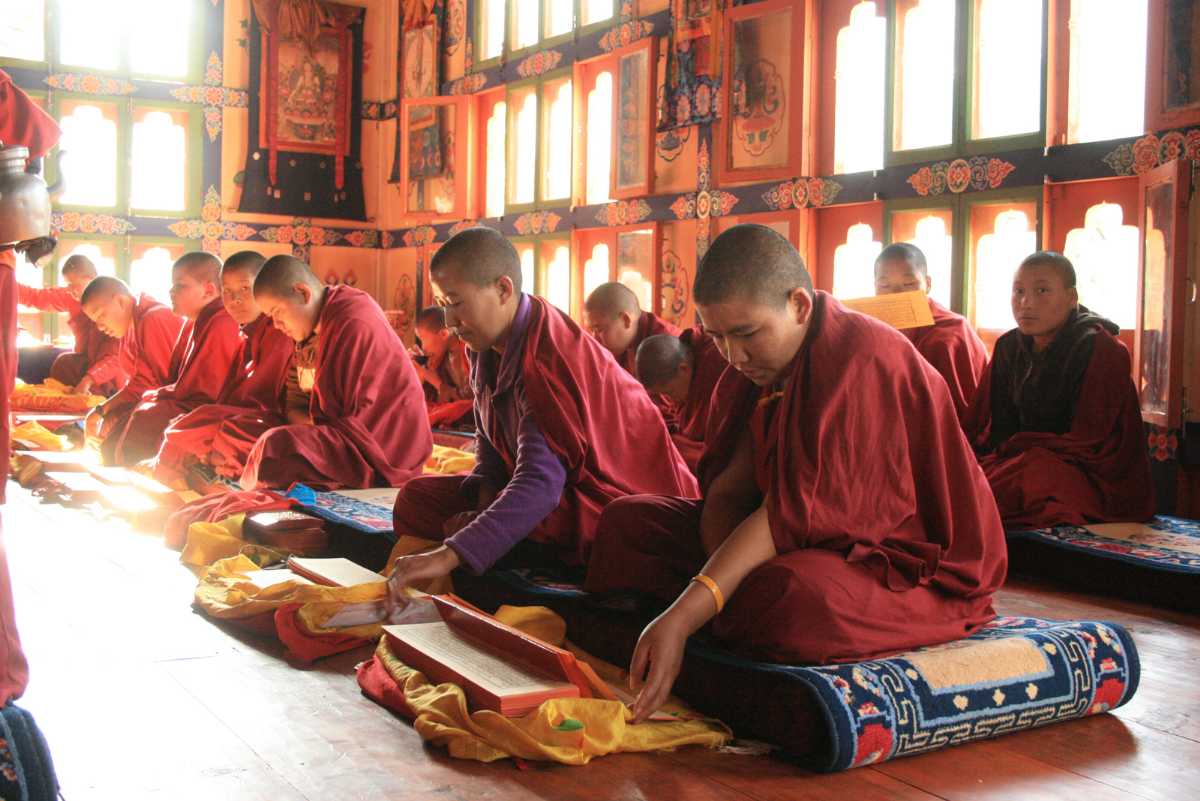 Dzongkha is the official language of Bhutan, and although you will be accompanied by an English-speaking tour guide, learn a few words and phrases to interact with local people. 'La' is a word used to show respect while addressing someone, and the phrase 'Kuzoozangpo La' means 'hello' while 'Kaandinchey La' means 'Thank you'. 'What is this' is translated as 'Ani Ga Chi Mo' and 'How much is this for' is translated as 'Dilu Gadem Chi Mo' –these will be useful while buying something. While bidding farewell, you can say 'Log Jay Gay' meaning 'see you again'.
Monsoon remains in Bhutan from June to August, and due to heavy rain, high humidity and windy conditions, it is not recommended to travel during that time. From September to November, the autumn season is comfortable with sunny weather and decent snowfall at the higher elevations. From November end to January, the weather is chilly with snow, but this is the peak festival time, and most people prefer visiting at this time. February-March is spring and April-May is summer while the pre-monsoon showers start during May end.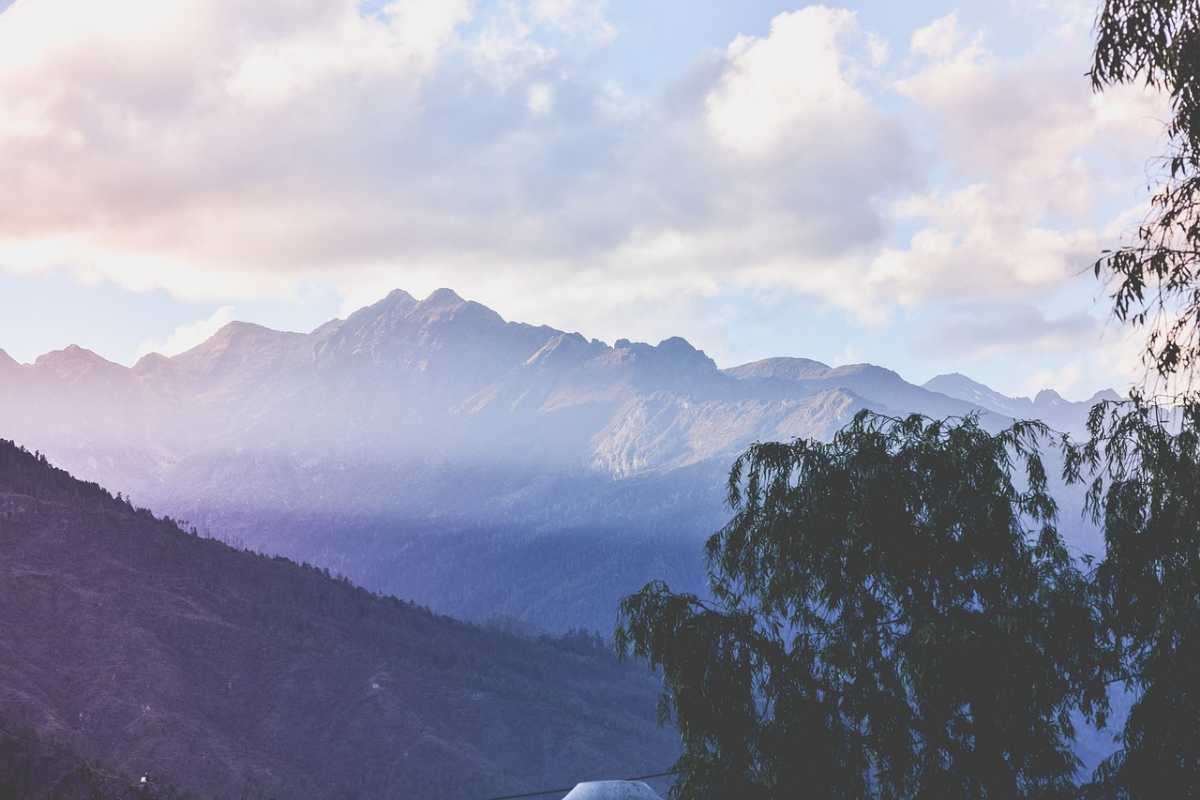 From March to May, you will find the valleys full of flowers, especially the Rhododendrons. October to January is an excellent time for travelling as the mountain peaks are visible and trekking is enjoyable under sunny weather.
Those planning to catch the festive grandeurs of Bhutan, here are the timing of the festival for 2020–
Thimphu Tshechu -26th September to 28th September. It generally occurs during September end to early October.

Paro Tshechu -4th April to 8th April. It generally occurs to mark the arrival of spring.

Haa Summer Festival -11th and 12th June

Punakha Drubchen And Tshechu -2nd March to 4th March and 5th March to 7th March respectively.

Gasa Tshechu -1st April to 3rd April

Gangtey Tshechu -28th September to 1st October

Jakar Tshechu -23rd October to 27th October

Chhukha Tshechu -24th October to 26th October

Jambey Lhakhang Drup -31st October to 3rd November

Black Necked Crane Festival -11th November. Visit during November to see the arrival of the elusive Black-necked cranes in the Phobjikha valley. The cranes depart in December.

Trashigang Tshechu -22nd November to 25th November

Trongsa Tshechu -10th December to 13th December

Lhuentse Tshechu -21st December to 24th December
10. Get Mobile Connectivity By Buying A Tourist SIM Or Accessing Wi-Fi
Most mobile network providers do not work in Bhutan, and those do so with roaming facility, are still weak. Almost all the hotels in Bhutan have their comprehensive Wi-Fi facilities –ask at the reception to provide you with the password. If you want to make a call or have an internet facility while exploring outdoors, get tourist SIM cards from B-Mobile (Bhutan Telecom) or Tashi Cell. The signal strength and connectivity of Tashi Cell is better than the other. All you need to show is the Visa or tourist permit, and the passport copy and the SIM will be provided.
The lowest cost for top-up with B-Mobile is 100 BTN, and this offers you the same value of talk time, and for mobile data, you have to ask the shopkeeper. Internet charges are generally according to pay-per-use and range around 0.0003 BTN per Kb.
Tashi Cell SIM card is available at 600 BTN that includes 300 BTN as talk time and messaging with 203 GB data.
11. Taste The Unique Bhutanese Dishes That Can Be Spicy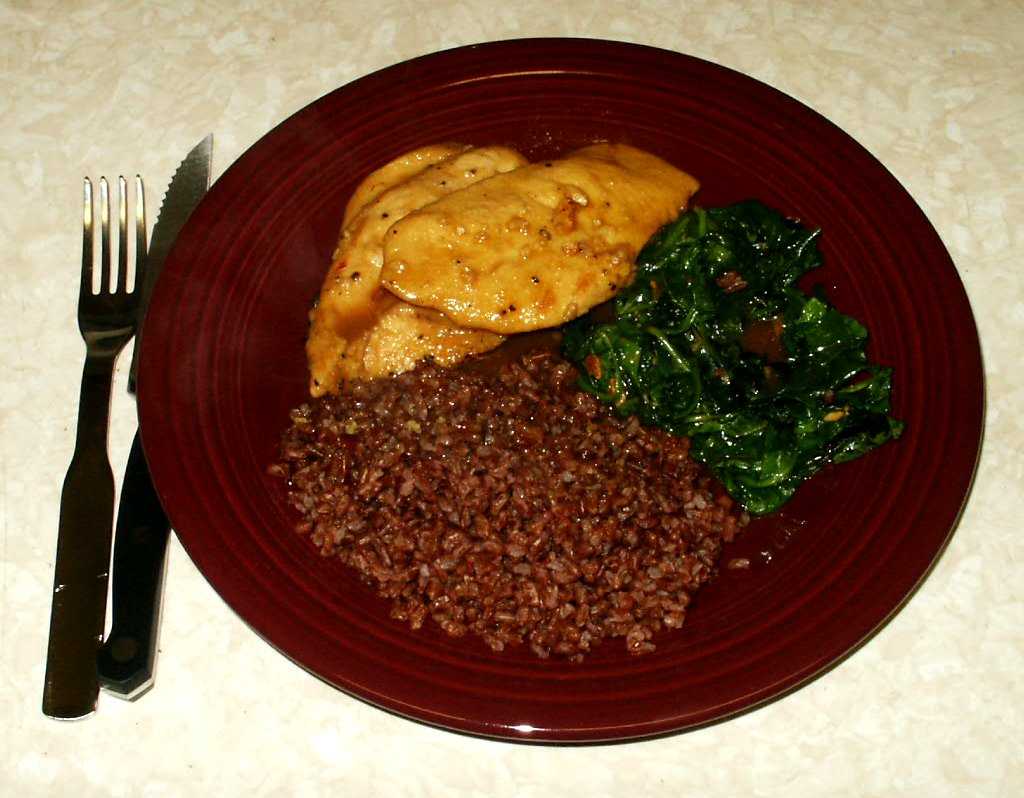 Rice, homemade cheese and lots of chillies are the staples in Bhutan. Make sure to taste the red rice along with chilli cheese (ema datshi), mushroom cheese (Shamu datshi) and potato cheese (kewa datshi), especially when you are in a homestay or having food outside. The non-vegetarian dishes are cured and dried pork (paksha pa) and Jasha maroo, which is made of minced chicken, tomatoes, onions and green chillies. Fast food is not much available, but you will get several Indian dishes such as the puri and aloo paratha. The cost of basic breakfast consisting of eggs, bread, jam and fruits can range between 300 and 500 BTN.
12. Shop Freely But Sensibly – No Antique Is Permitted
The handicrafts bearing Buddhist symbols are the souvenirs you can purchase from the roadside shops or emporiums, but in both cases, you can bargain a bit for some discount as clothing and shoes tend to be two times as that is priced in India. Check out the singing bowls, Dapas or wooden bowls, woven baskets made of bamboo or cane, carved masks, Thangka artworks, paper products, paintings, Buddha statuettes, prayer wheels, postage stamps and flags and the wall hangings. Bhutan has a strict rule of not buying and selling any antique material –abide by these rules no matter what, if you don't wish to pay a significant penalty.
13. Be Respectful Towards Astrology And Phallic Tradition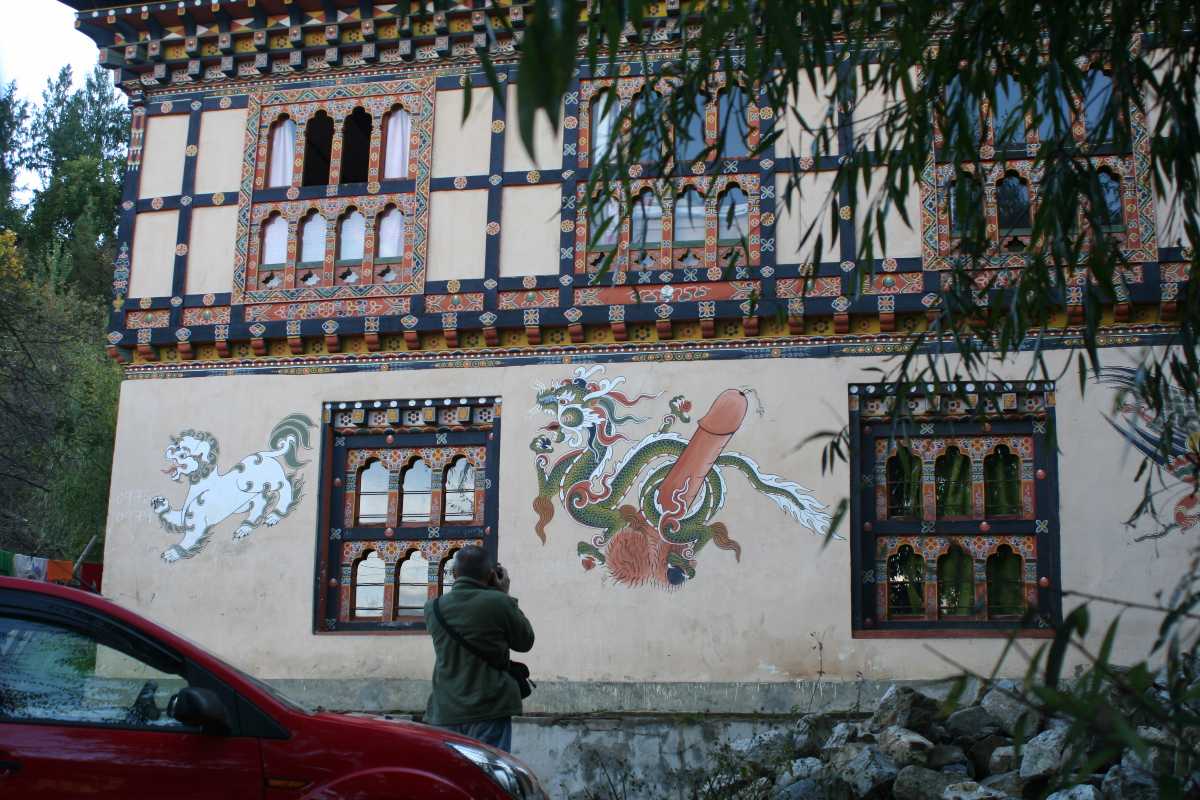 Just as you are expected to cover your body while visiting a dzong or any religious shrine, you should also respect the tradition of phallic painting on walls, doorways and also phallic sculptures as part of the teaching of the saint, Drukpa Kunley. Even if these traditions make no sense to you, do not insult your guide and any devotee are visiting the Chimi Lhakhang, especially those holding a 2-feet wooden male genital structure close to their chests like a baby. Childless women often revolve three times around the temple holding the wooden genitals. Astrology is another matter that Bhutanese feel sensitively about, and you should never interfere with any astrological ritual performed by any local.
14. Do Not Indulge In Mountaineering (Climbing Above 6000m)
The Bhutanese government permits hiking or trekking up to 6000m elevation, but anything beyond that is 'forbidden' as mountain peaks are considered as 'sacred'. This is why mountaineering is not practised here. However, you can get in touch with the only rock climbing club named Vertical Bhutan Climbing Club or VBCC which has easy to challenging climbing routes along "The Nose".
15. Abide By Tobacco And Weed Restrictions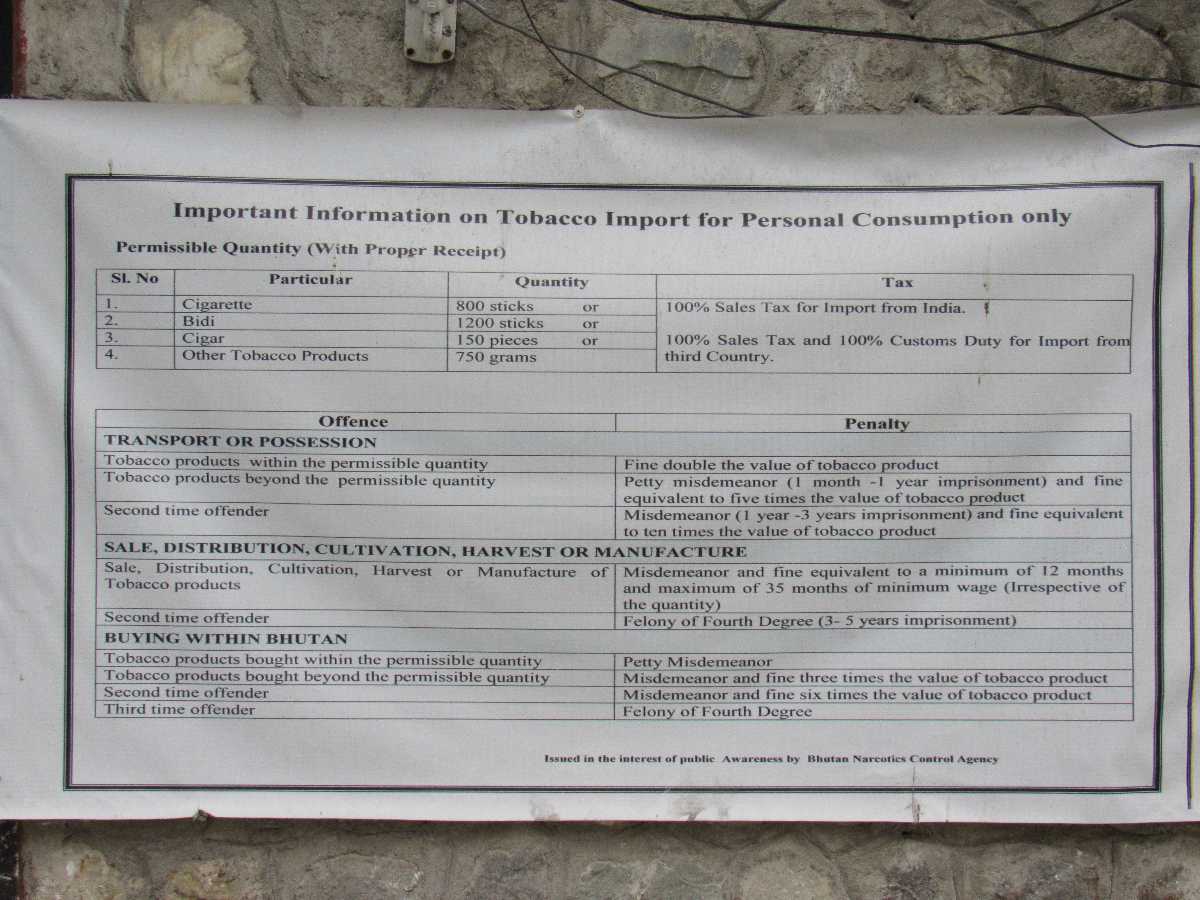 Production and sale (or smuggling) of any tobacco product is prohibited in Bhutan –engaging in such activities might cause a considerable penalty or 3-year imprisonment. You can bring as much as 200 cigarettes (no weed) and smoke in private places where allowed –you need to pay tax and 200% import duty. Better ask the guide to take you to a private smoking place to avoid getting into trouble. Some hotels, nightclubs, bars and restaurants might allow smoking indoor discreetly. Although cannabis is grown everywhere like weeds, and it is illegal to have it in possession. Don't try to smuggle it to your country as it would get you 5-year of imprisonment.
Additional Tips

There are not many petrol pumps on the outskirts and getting a garage or mechanic is also tricky. If you are travelling in your car, get your vehicle inspected before starting the journey. Carry basic tool kit, spare tire and fill the tanks at the main town.
Tuesday is 'dry day' in Bhutan. Do not try to get alcohol in any store on that day.
Bargaining in shops will give you a maximum 10% discount, and the prices in the two shops do not differ much.
Offer tip to your guide so that he/she can take care of that on your behalf at the restaurants and to the driver.
Do not take pictures in restricted areas of a monastery, dzong or temple. Ask your guide beforehand whether filming or photographing is allowed. Also take off shoes while entering any monastery, if instructed.
Those having vertigo, mountain sickness and motion sickness tendencies should carry medicines and opt for private cars or buses instead of government buses or shared taxis. Take a break at regular intervals to freshen up. Carry dry food and water for long journeys.
For banking purposes such as withdrawing traveller's cheque or exchanging local currency, get in touch with banks like Bank of Bhutan, Druk PNB, Tashi Bank and Bhutan National Bank.
Cross your legs while sitting and don't point your feet at someone if you wish you avoid offence.
Get insect repellent for mosquitoes, ticks and bugs. Avoid tap water, ice cubes and cut vegetables or fruits. Get travel health insurance and carry sufficient fund for emergency medical assistance — dial 112 for an ambulance.
Homosexual people should be discreet as homosexuality is illegal here.
Carry torch if you must travel at night and beware of frequent power-cuts.
Don't insult the royal family who is considered as the reincarnation of gods.