Kathmandu
, the capital city of the peaceful nation
Nepal
is among the most popular backpacking sites across the world. It is often frequented as an additional trip before preparing for the Mount Everest Base Camp backpacking. However, even in its entirety, Kathmandu is the perfect haven for backpackers who seek tranquillity, serenity and fantastic adventure. Bubbling with a multitude of culture, heritage and nature's best, backpacking in Kathmandu is the perfect destination for novice backpackers to pack and set off to a memorable journey!
Best Time for Backpacking in Kathmandu
Kathmandu features a pleasant weather pattern stabilizing at 19 degrees C - 35 degrees C in the summers and 2 degrees C - 12 degrees C in the winters. Backpackers find the best time to visit Kathmandu to be during the September to November bracket. The skies part ways to reveal the glorious mountain ranges and views. Another great time to visit is around spring (March- April). This, however, is the peak tourism time and you're likely to not enjoy the complete experience. Avoid backpacking in the months of June to October, when rainfall is abundant. in Kathmandu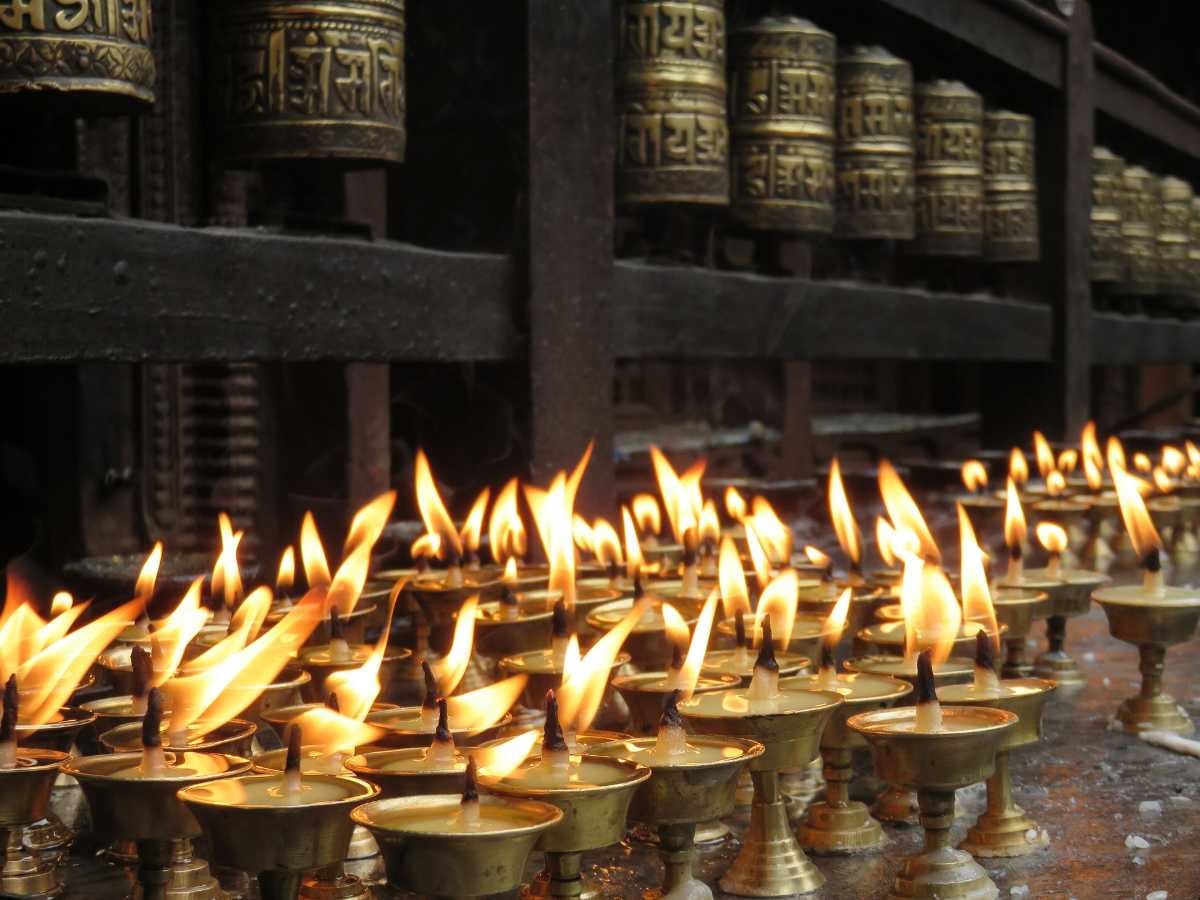 Ideal Duration
Kathmandu is an inevitable destination to come across as you enter Nepal, being the capital city. You can spend as much as a week here feeling completely at home. We would recommend you to spend at least 3 days backpacking across the city covering major heritage sites, food joints, treks and nightlife.
While the Nepalese have mastered some form of English, their native language is Nepali widely spoken throughout. However, you should not have any problems in communicating with the locals as most of them would know English. You can pick up some basic phrases from locals, like 'Namaste' as a form of greeting, 'Hajur' to say yes, 'Chaina' to say no. You can refer to our guide for some basic phrases.
Travel Costs and Backpacker Budgets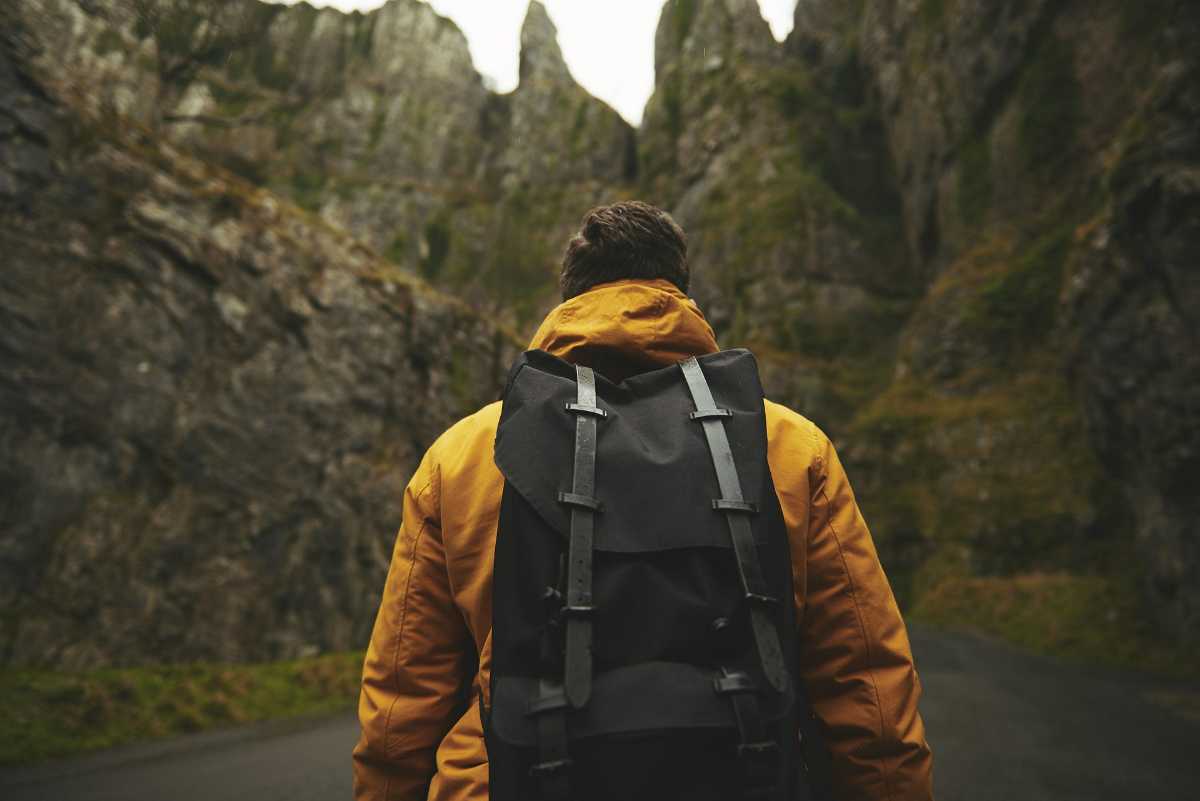 Kathmandu is among the cheapest cities across the world and a perfect beginners' start at backpacking. You can start from a basic budget of USD 10-15 per day ( INR 500-1000), covering dorms, historical sites and street food all on foot. However, you can extend your budget to USD 30 (INR 2000 and above) and upgrade to better hotels, travel in public transport and visit all historical sites with money left to spare. Don't forget to haggle for items you buy, but offer a decent, deserving price. Negotiation skills help a lot in places you think you're being ripped off. Be confident and choose to walk away if you aren't getting the price you think the item/service deserves.  
Some basic costs are:
1. A dorm bed in a hostel: USD 4 -
2. Airbnb room/entire apartment: USD 10- 50+
3. 10-minute rickshaw ride: USD 2
4. A meal in a budget Thamel restaurant: USD 3-6
5. Momos (Nepalese Dumplings): USD 1-3 per plate
Visa Details and Border Crossing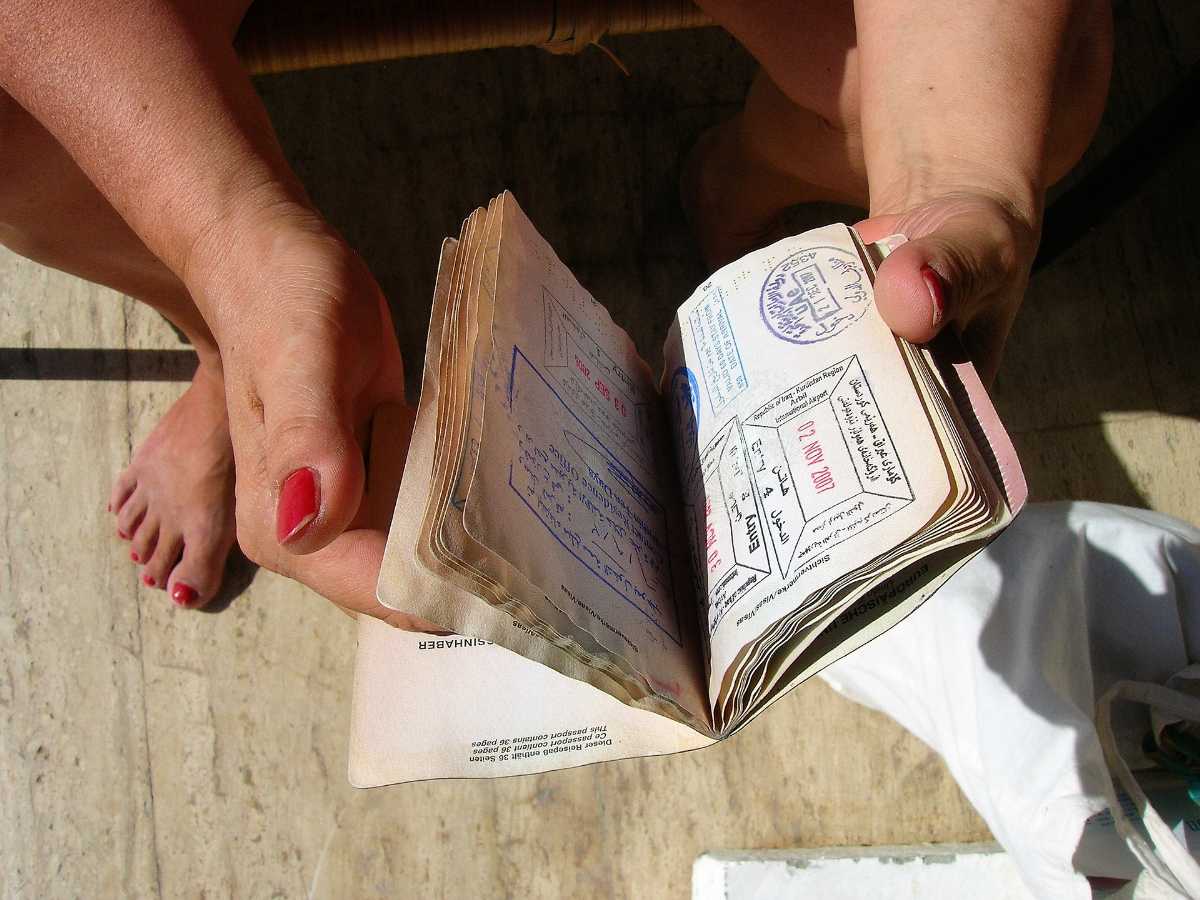 Indians enjoy free movement in Nepal, while the citizens of SAARC nations receive tourist visas free of cost upon arrival. These include
Sri Lanka
, Bangladesh,
Bhutan
,
Maldives
and Pakistan. Additionally, citizens of
China
,
Brazil
,
Thailand
and
Russia
don't require a visa due to diplomatic agreements.
However, if you're a citizen of any other country, you can
easily avail visa upon arrival
at Tribhuvan International Airport. Overstaying is charged as USD 5 per day with detention until you pay. 
The visa fees are:
15 days – USD 25  
30 days – USD 40 
90 days – USD 100
Staying in Kathmandu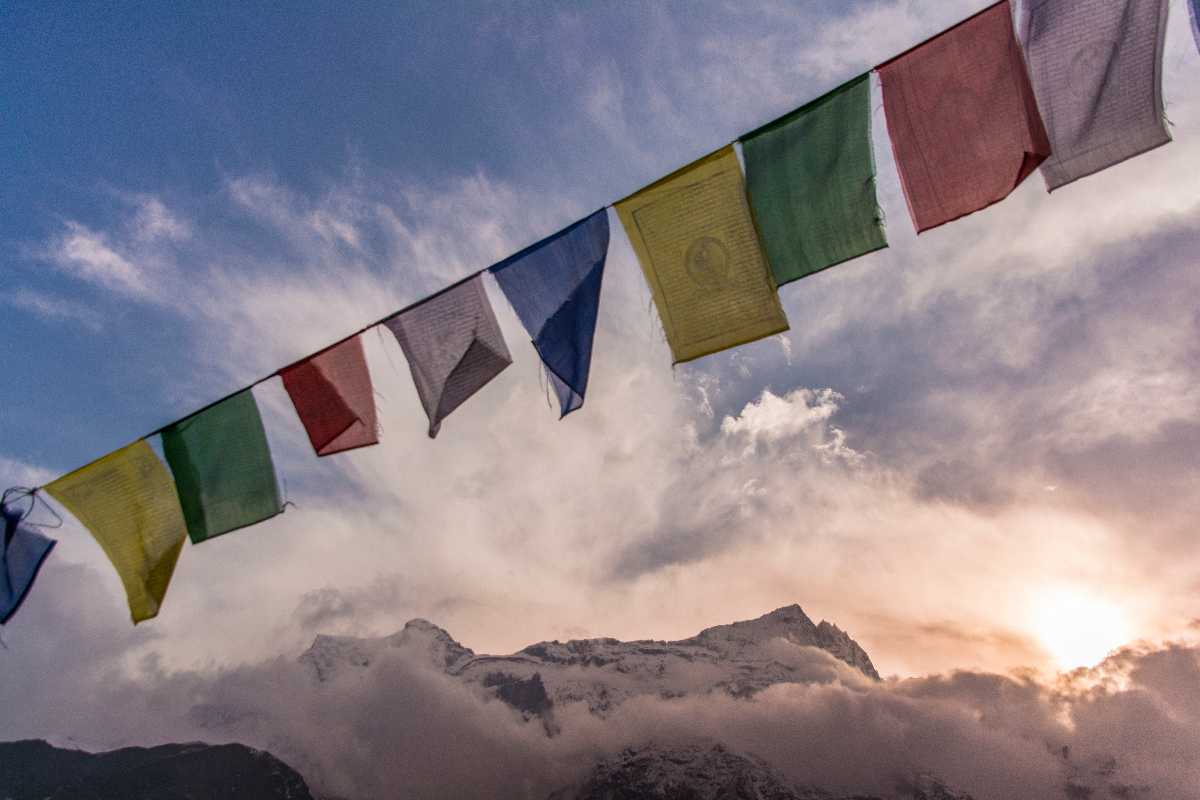 Kathmandu welcomes all tourists and backpackers in its warm embrace with a variety of options that suit your needs and pocket ranges. In fact, backpacking in Kathmandu is a haven for backpackers as well as tourists is a cultural hub called the Thamel neighbourhood. Thamel, located at the heart of Kathmandu, is the backpacker's retreat and source all in one. The Nepali population realised the abundance of backpackers and tourists and to cater to their needs. This hub is a centre for all items needed, from affordable accommodation, locally available food, gear and bars. Most backpackers decide to settle in this region spoilt for choice from basic dorm room facilities starting at USD 2- 3 to private accommodation at USD 10- 15 per night.
You can also choose amongst a wide variety of other options like Airbnb where you can choose from different price ranges and stay. Another favourite of backpackers is the 'Couchsurfing' accommodation, where you can choose to stay at a host's place who has listed himself and experience the city like a local. You can check the host's profile and after scrutiny can send them a message listing your dates of travel. However, since accommodation is available for cheap here, you can consider either for your stay.
Best Budget Hotels and Accommodation for Backpackers
 1. The Alobar1000 Hostel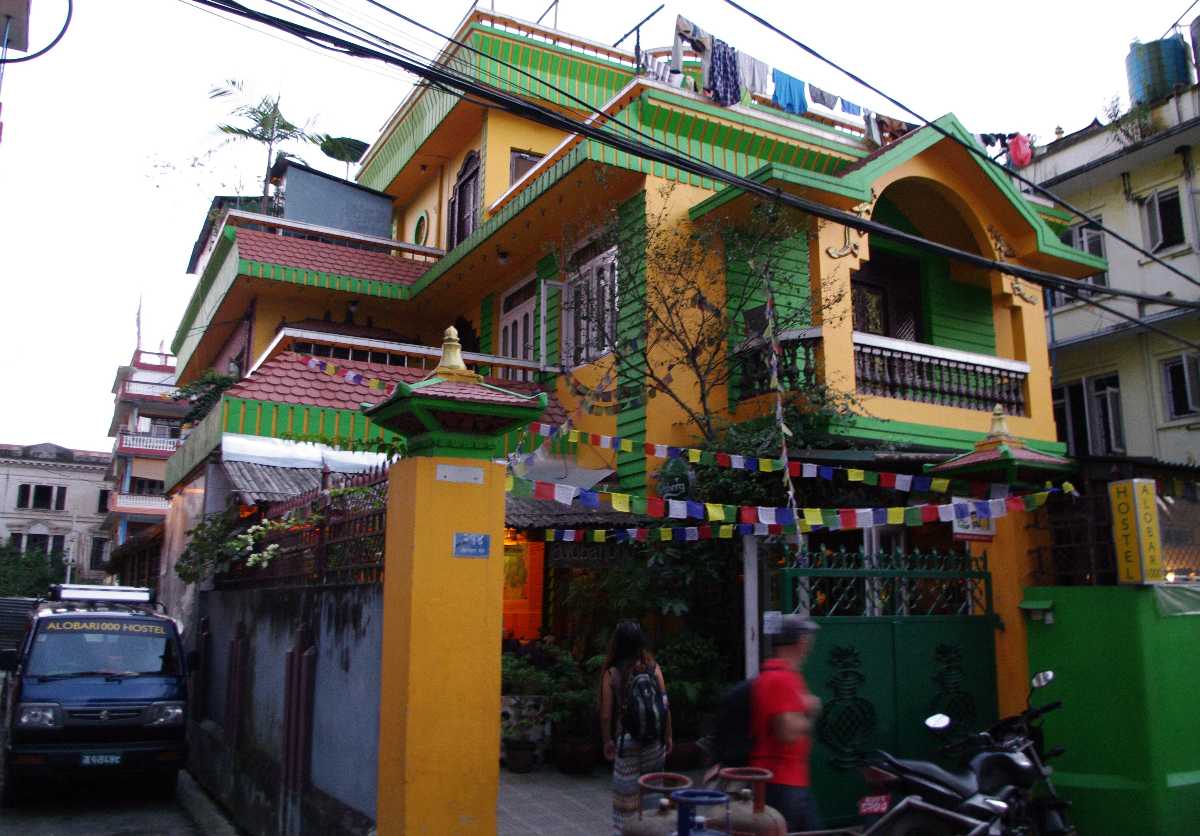 Known for its friendly vibe and hikers retreat, this hostel provides great accommodation at an even better price. A perfect place to meet other potential hikers and backpackers, this hostel has provisions for private and dorm rooms to choose from. It maintains its commitment towards cleanliness, tourist-centred activities and hospitality. Other features include free individual lockers, covers, internet access, travel guides, city maps and satellite TV.
2. Zostel Kathmandu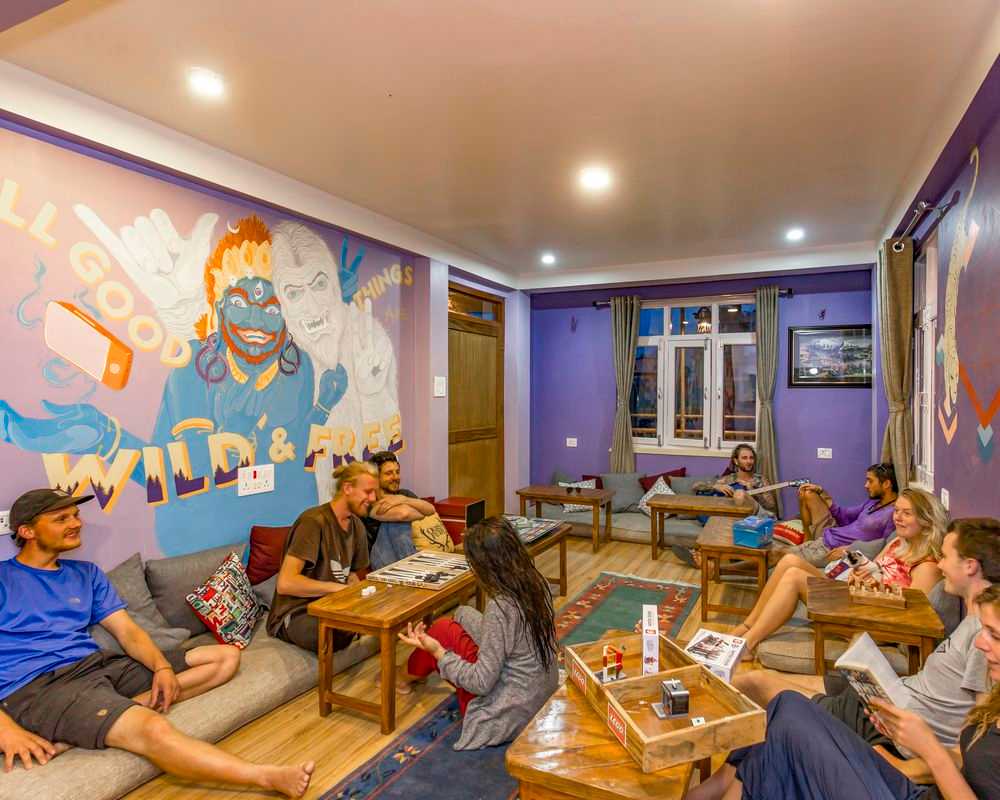 Located at Thamel, this hostel is perfect for solo backpackers. Engaging in the vibes of cosy, spirited hospitality, this backpacker hostel is among the best in class. It features a rooftop bar overlooking the city and a garden cafe alongside a rooftop hammock to take in the evenings. Dorm room costs are a little over the usual rates due to the culture and services they provide but completely worthy for the pay.
3. WanderThirst Hostel
Another safe and clean hostel, this is perfect for people on a budget who want basic facilities for the best price. Resplendent with feature wall paintings in each room, this hostel provides for a game room, restaurant and bar along with other basics like laundry services and good Wi-Fi. It offers a great value for the buck and doesn't compromise on the hospitality.
Travelling and Getting Around in Kathmandu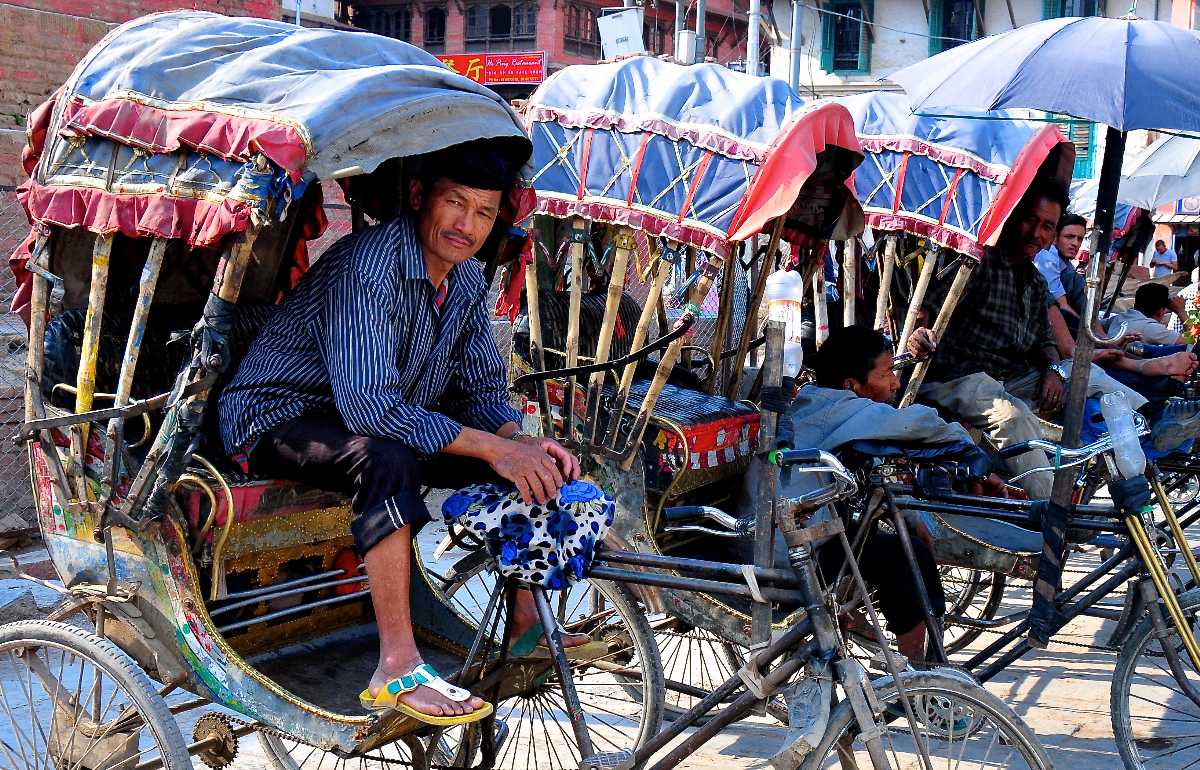 Getting around in a foreign city is always a task. Especially when the city is a labyrinth of shops and culture with the constant hustle-bustle of people on the streets. Local transportation is often the most reliable in cases of
getting to places in Kathmandu
 while you can also hire private drivers. 
First things first, always carry an offline map, either on your phone (via the Maps.me app or Google Maps) or physical maps of the city. Localities are identified mostly through their landmarks than names, which makes navigating a little hard.

Most facilities and places are best reached and absorbed walking around the city. But when you're out on a longer journey, taxis or rickshaws are the best means to get places. A reliable network of local transportation promises to get you almost anywhere at the best rate, provided you drive a hard bargain and only accept the ones with a running meter.

You can also commute through the public buses, however, it's not an experience for everyone. It's one of the most common means to commute, with the general public preferring it for longer distances. Yet, an experience is always valuable!

Private mode of commute include motorbikes, which again are to be driven only if you're an experienced driver. The roads and people behind the wheel aren't the best for drives.

Maintain safety measures like wearing a helmet gear and driving really safely.

Private hiring services like Ola and Uber are currently not in operation in Kathmandu.
Food in Kathmandu
Kathmandu is a cultural hub of the best Indian and Nepali food that is available in the cheapest and mid-range costs. You'll find various small and big restaurants with wafting fragrances of homely meals along the roads. The locals' staple includes portions of lentils and rice known as Dal Bhaat. You will also find the inclusion of potatoes and buffalo meat on the menu.
But what Nepal's cuisine is incomplete without, is their mouth-watering momos. So when backpacking in Kathmandu, make sure to try the best of food in Kathmandu. Choose amongst a variety of steamed or fried, vegetables or meat with a dollop of cheese!
Must try dishes
1. A prominent Tibetian cuisine includes the Thupka (noodle soup) available for NPR 350-400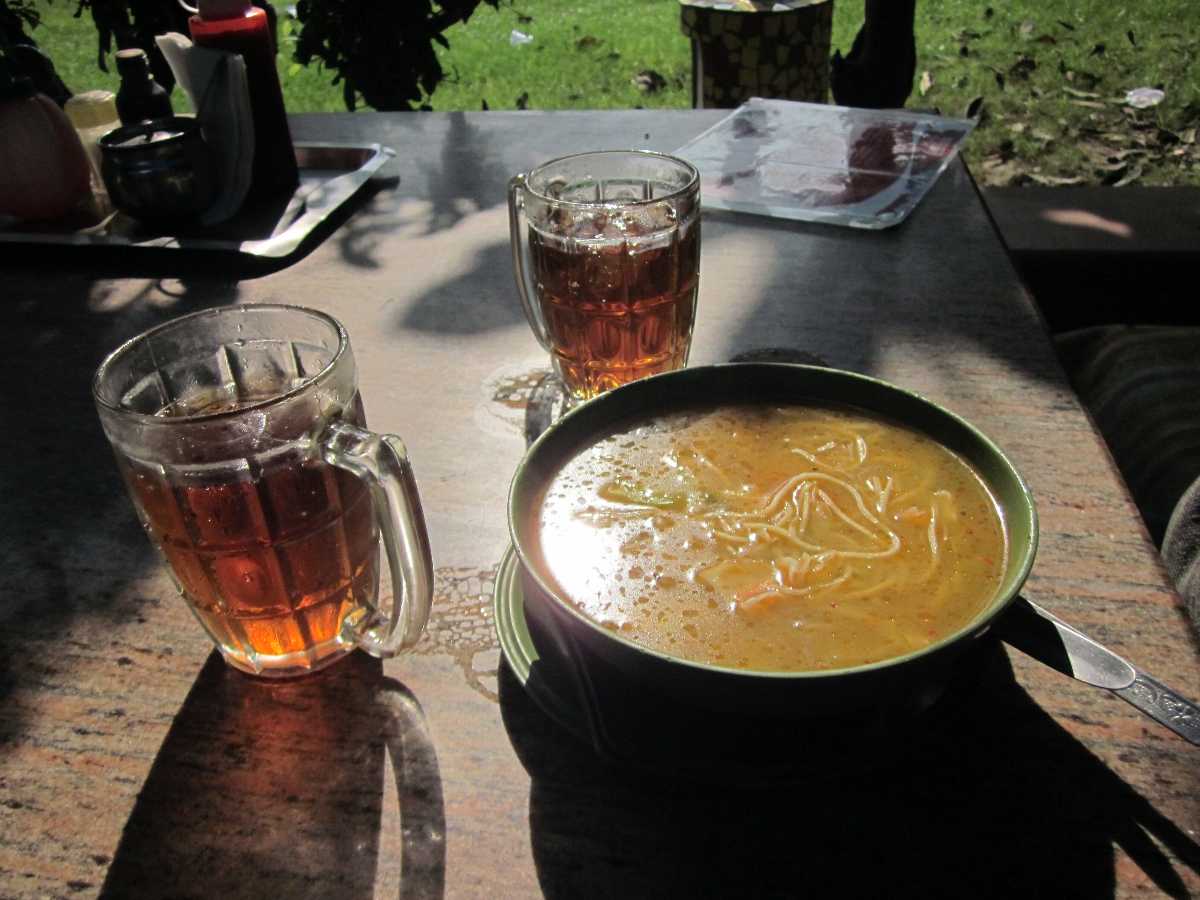 2. Thalis (a wholesome platter of rice, salad and curry), a common Indian-Nepali cuisine option promises to cater to your hunger at a price of just NPR 550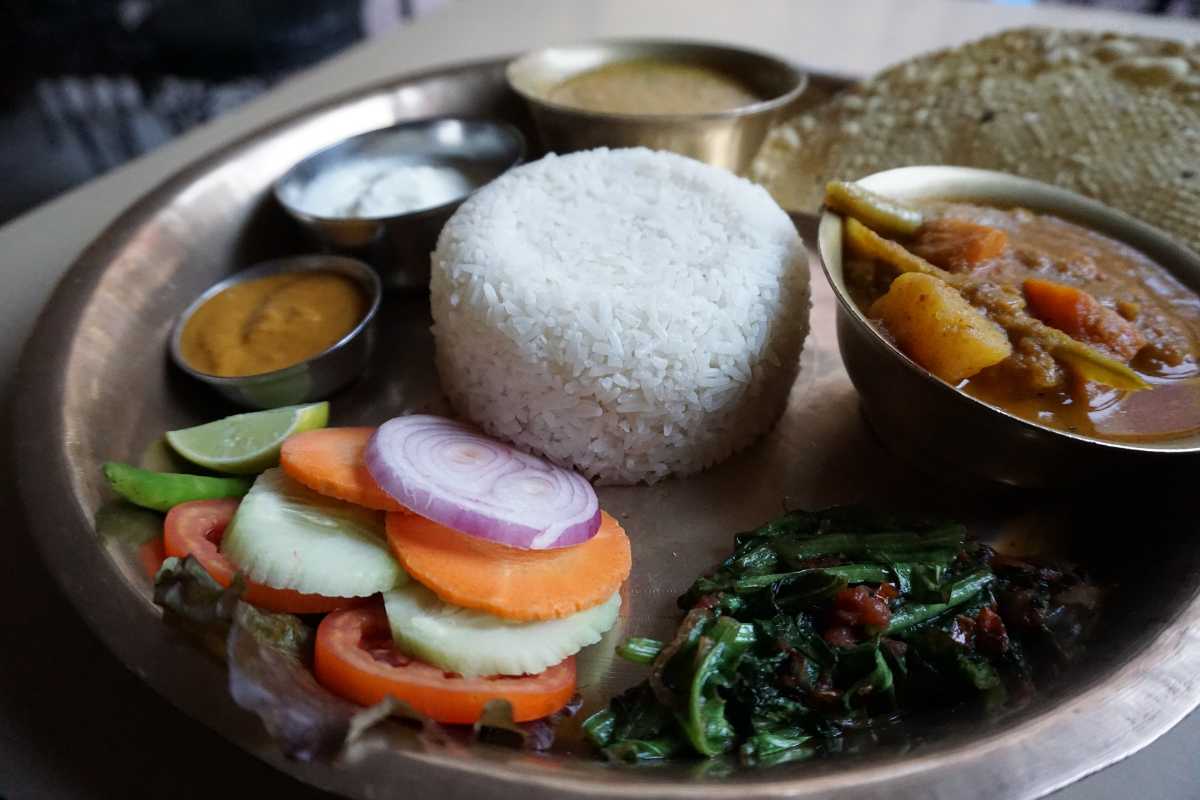 3. You can find a variety of cuisines in and around the Thamel area at cheap. It is a melting pot of the best food in Kathmandu and we highly recommend you to visit it when the hunger pangs start. You are sure to witness the best Indian and Tibetan food for cheap here.
4. Momos are the staple of Nepalese food with small stalls set up all across the town. With options ranging from cheap to expensive, you'll be spoilt of choice and taste. 
Kathmandu has something for everyone to do throughout the day- from shopping to heritage sites and street food. Everything around is just a short walk or ride away with no dearth of activity and fun!

While there are three Durbar squares in Kathmandu - Basantapur (Kathmandu) Durbar Square,
Patan
Durbar Square and Bhaktapur Durbar Square, the most famous is the Basantpur Durbar Square. A UNESCO World Heritage site, this is amongst the most popular places of tourist footfalls in Nepal. Strung across the entirety of it, tiny prayer flags in white, blue, green and reds adorn the area swarming with stalls of food, souvenirs and people offering prayers. You can come early in the morning to receive the best bargains at shopping stalls, with vendors selling items at a lower price as the first purchase of the day is considered lucky. This area is the best for great souvenir shopping, religious items (like the meditation bowl) amongst others.
Can be easily accessed via foot or a short rickshaw ride.
Entrance fees are as follows:
Nepali and Indians: Free
SAARC nationals: INR 140
Foreigners: USD 8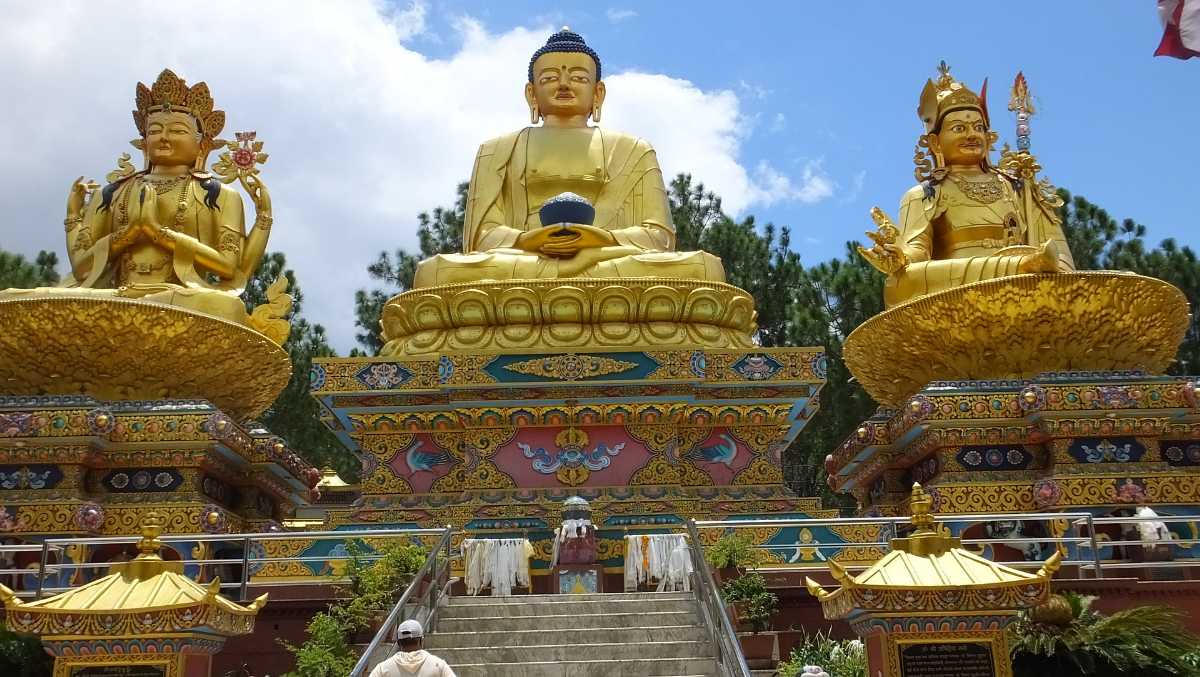 Commonly known as the Monkey Temple, this is Nepal's most religious site. A Buddhist stupa, perched upon a hill, this temple is famous for the monkeys all around it. You will have to climb around 360 stairs to get to the top, a small sacrifice for the panoramic view of the city and the surrounding mountains. A UNESCO site again, it features delicate stone carvings that take the breath away. It represents cultural unity, with people of all religions offering prayers here. Relish momos and drinks after offering your respects, overlooking the mountainous serenity.
You can walk from Thamel (around half an hour) or take a pedal rickshaw. You will have to climb the stairs yourself.
Entry Fees: Free for Nepali and Indians.
SAARC Nationals: INR 30 
Foreigners: USD 2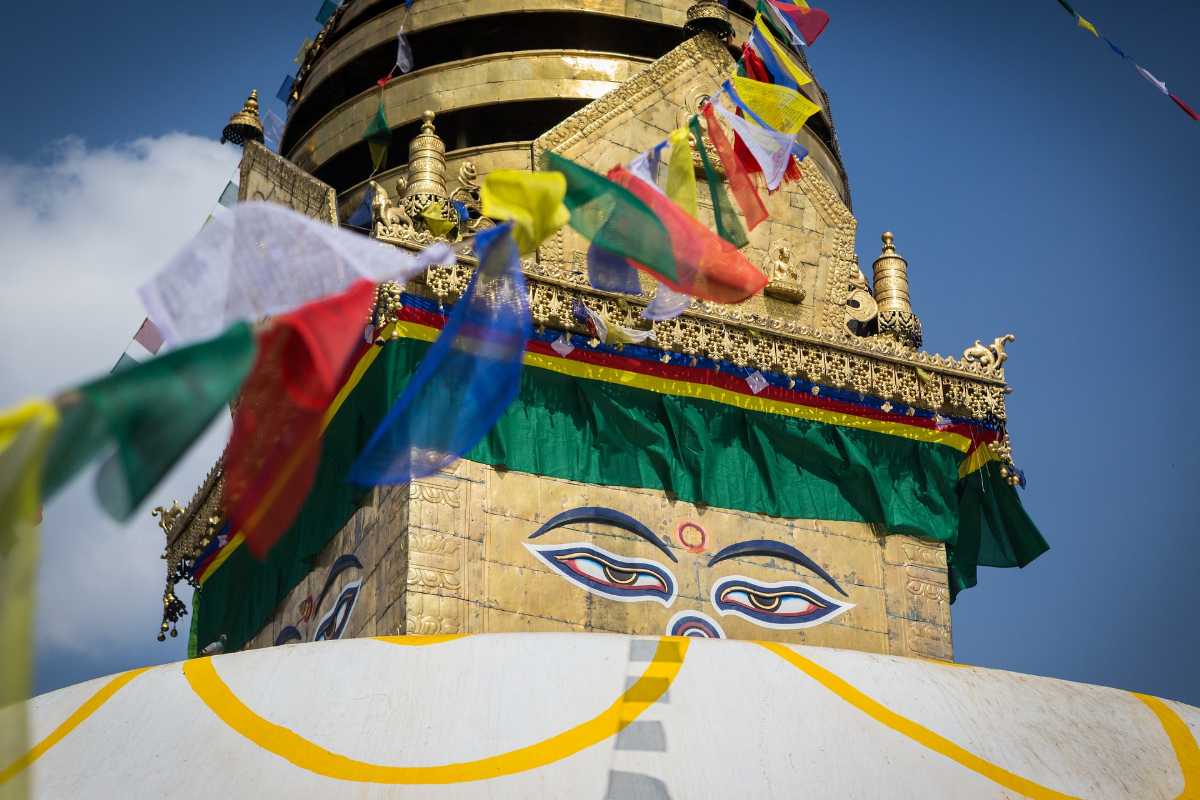 A colossal heritage structure, The Boudhanath Stupa is a pillar of religious faith and anciency established in Kathmandu. A historical landmark of Nepal, this is an architectural marvel, resplendent with religious symbols, carvings and writings. Warmth and religious tranquillity radiated off the surroundings with an overwhelming urge. Featuring a gargantuan dome, the largest in the continent, people offer 'Kora' or religious circumnavigation as prayers. Take a breather by chatting up with the local sages and people learning the history and myths surrounding the temple. A definite must visit for all tourists.
At the northern outskirts of Kathmandu, travelling to this stupa is through rickshaws or local buses plying.
Entry Fees: Free for Indians and Nepalis
SAARC citizens: INR 80
Foreigners: USD 4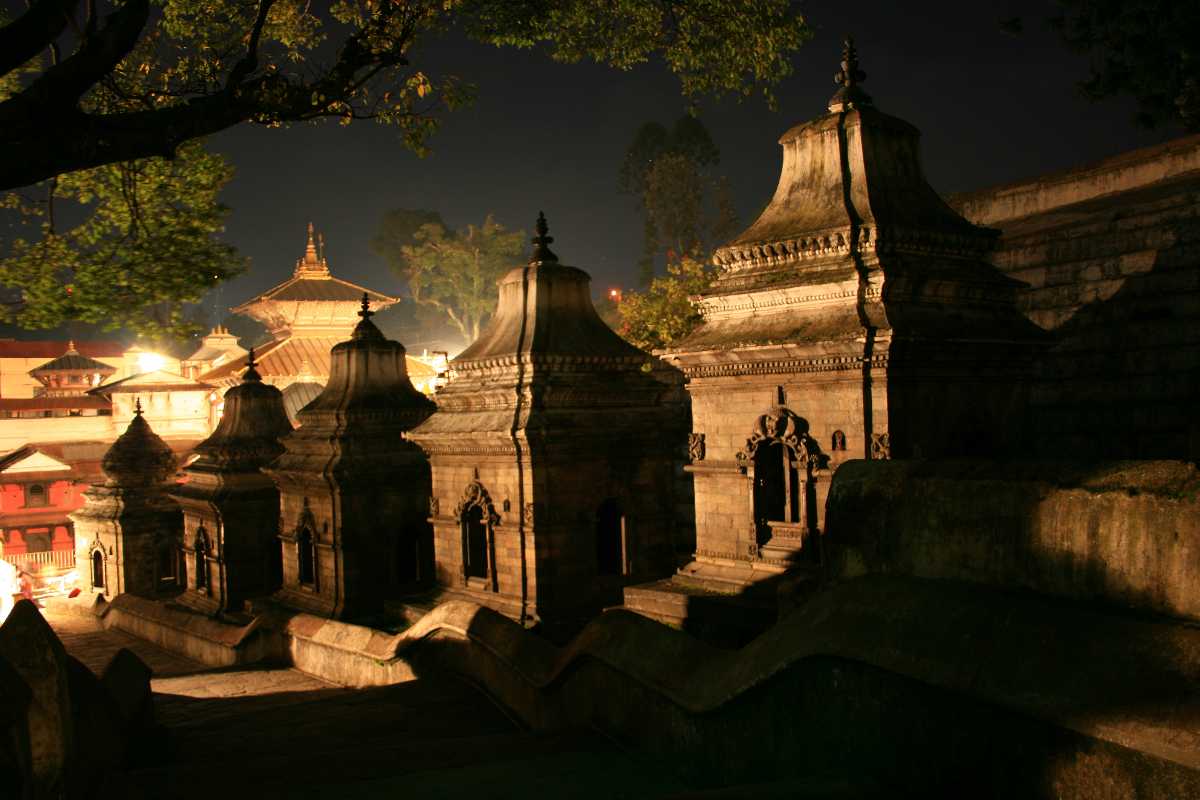 A revered Hindu site at Kathmandu, the Pashupatinath Temple encompasses you with an aura of holiness, serenity and complete peace. This temple is devoted to Lord Shiva, who is venerated in the form of a linga. Pashupatinath is the pinnacle of the twelve jyotirlingas spread across the expanse of India. Located at the banks of River Bagmati, this religious site is thronged by Hindus who seek salvation and also the desire to be cremated at the banks of the temple. The inner temple complex cannot be accessed by non-Hindu or non-Nepalese devotees, and no one except the priests is allowed to touch the diety. Even with these restrictions, the temple's architecture, serenity and devotion draw tourists to pay their respects and encase the holy aura.
Located on the outskirts of Kathmandu, you can reach the temple by a rickshaw or bus/taxi taking you about 15 minutes. Taxis might overcharge, so be sure to bargain at a rate of NPR 200- 250.
Entry Fees: Free for Indians and Nepalese
SAARC citizens: INR 80
Foreigners: USD 8
Overshadowing the political scenario of Nepal, this palace is witness to the rise and fall of the monarchy in Nepal. An architectural marvel, this palace features the reception, royal chambers and Throne Room. The highlight of the palace is the horrific chambers where the royal prince killed his family in 2001 bearing bullet marks on its walls.
Entry Fees: Nepali and Indian: USD 1
SAARC nationals: INR 140
Foreigners: USD 5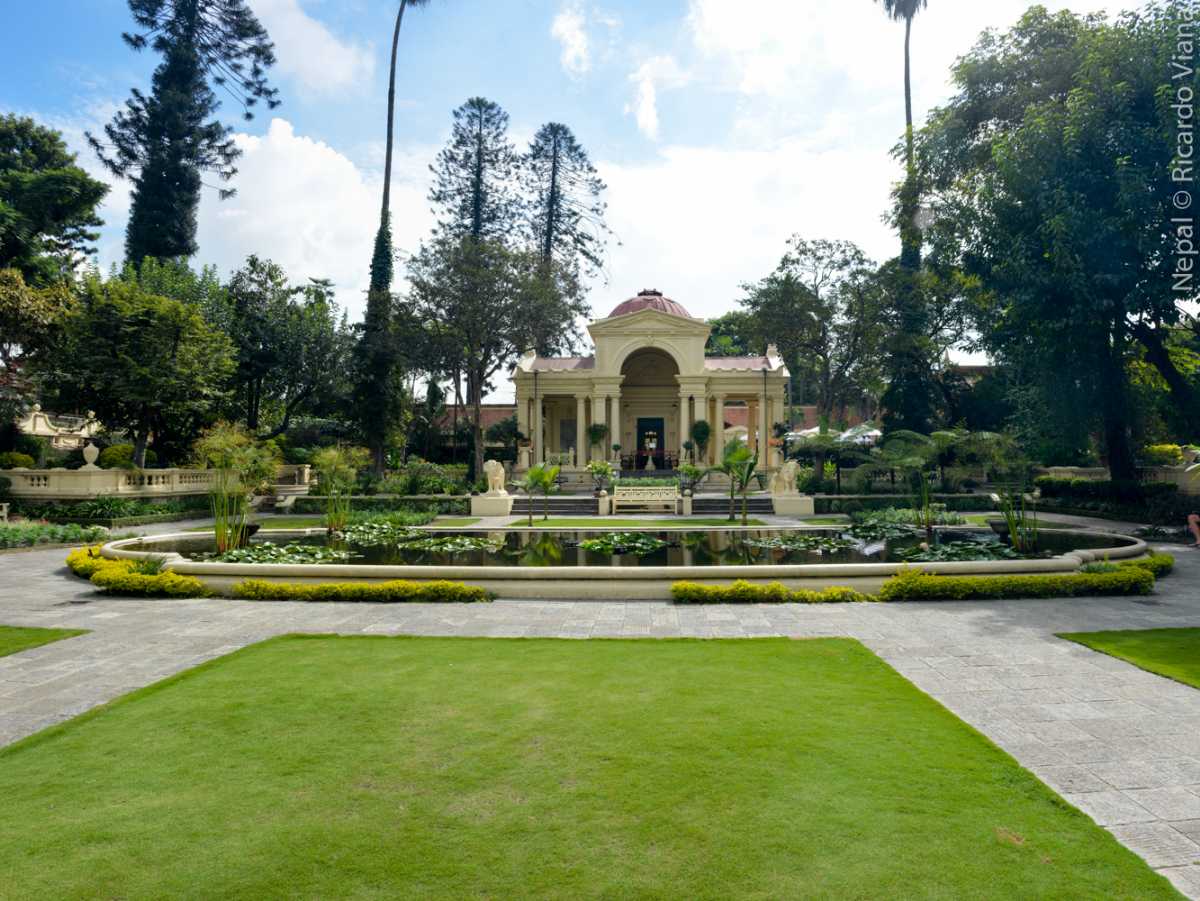 Swapna Bageecha or the Garden of Dreams is a picturesque garden at the heart of the city nestled away from the rubble and hullabaloo of the city. Featuring an Edwardian style of architecture, this garden packs solace and tranquillity amongst nature's best elements. It also caters to being the backdrop to many concerts, private and cultural programmes. It also features Kaiser Gallery and Café that combines artefacts and delectable food.
Entry Fees: Indians and Nepalese: USD 1
SAARC citizens: INR 140
Foreigners: USD 2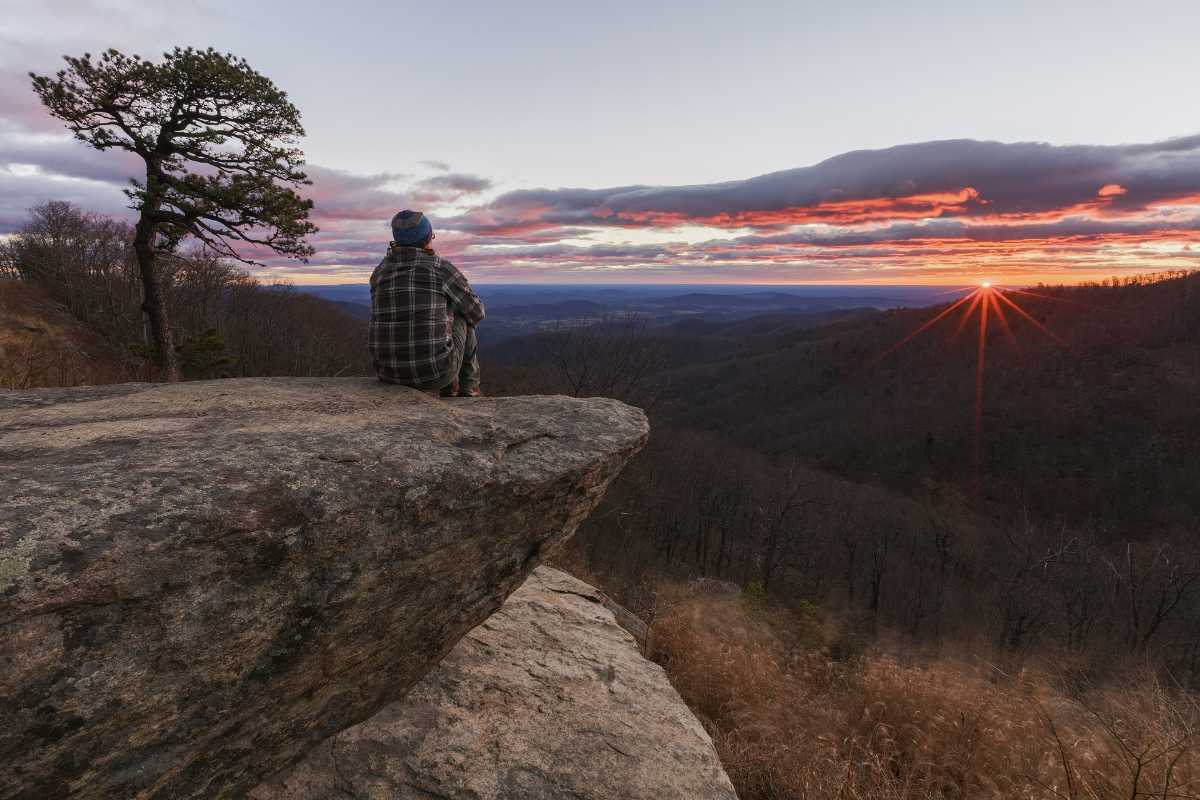 While Kathmandu city is a hotspot for culture, it is surrounded by mountainous ranges with amazing hiking and trekking opportunities all within an hours drive. If you're the adventurous kind, these will make for your day trip adventures.
Phulchowki Hike (at Godawari):
A clear winner, this is a full day hike that will enthral you with sights of mountains and forests. It features botanical gardens, scenery and if you're lucky- The sight of Annapurna range.


Nagarkot Area:
With an intoxicating sunset point, we'd recommend you to leave in early from Kathmandu catching a ride to Nagarkot. You can tour around the village early in the day while trekking in the mid-afternoon, setting you up for the perfect sunset spot in the evening. Rest a day and return to Kathmandu with a full belly and vivid memories.


Shivapuri National Park:
Again, a drive away, this is a worthy trek that rewards you through the views of the national park.
Safety Tips When Backpacking in Kathmandu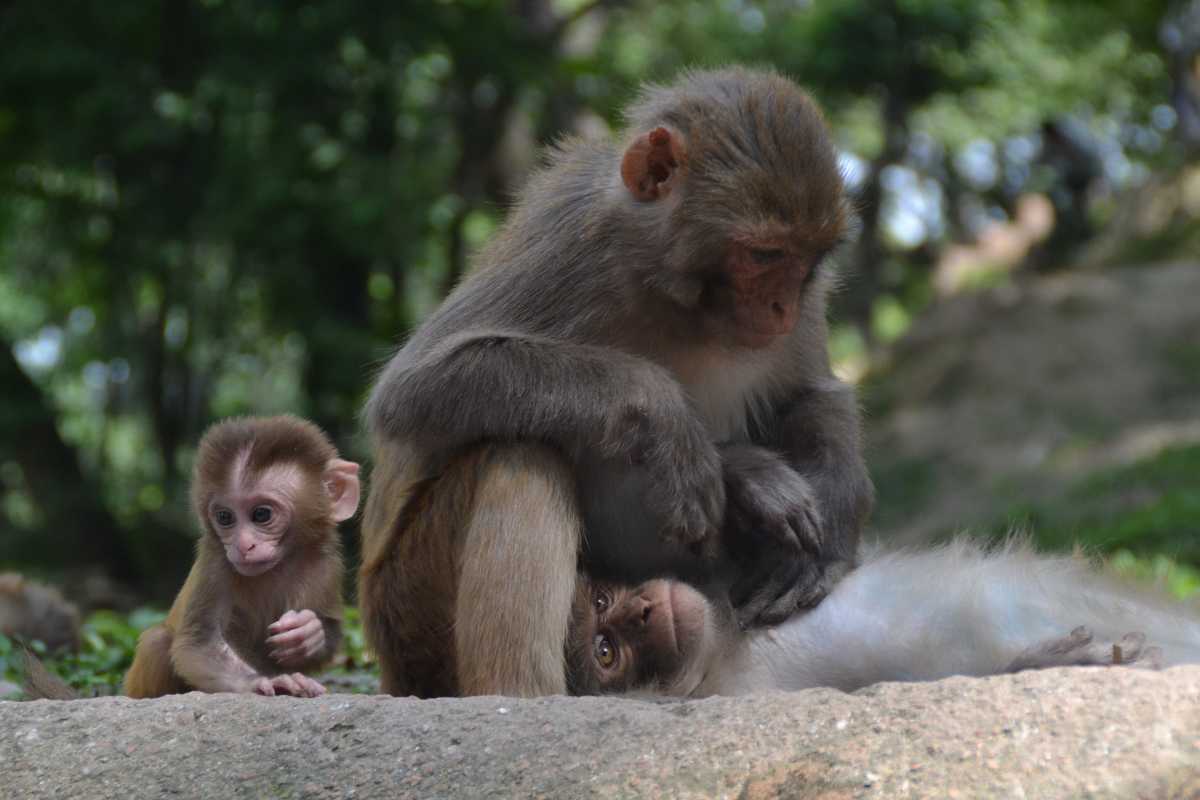 1. Monkey Business: Beware of monkeys lurking around temple complexes or markets. Notorious for their unforeseen plunders from unsuspecting tourists, you're better off giving up your belongings than having them back.

2. Stay Lit: Power cuts are frequent in Nepal. Always carry a headlamp or a head torch while travelling.

3. Insurance Ready: Ensure to secure travel insurance irrespective of your trip duration.

4. Cautious Crossing: Traffic in Kathmandu is brutal and very real. You won't find roads marked properly and definitely missing pedestrian paths. Be careful when crossing busy roads and driving.

5. Unlawful 'Deals': Kathmandu and the entirety of Nepal sees hash dealers in aplenty. Drug penalties in Nepal are severe to tackle the menace of hash dealers. Dealers usually target tourists, so be extremely careful and harsh with hash purchase or indulgences.

6. Put Your Mask on: Pollution is a real problem in Kathmandu. Make sure you carry a scarf, bandana or masks (available locally too). Heat and pollution can make visits unbearable if you don't protect yourself against it.

7. Keep Your Money Close: Beggars and thieves are common. Please be careful about your belongings and think twice before giving your money to others.

8. Have a 'App'y Journey: Useful apps worth your download:XE Currency: Saves you a lot of time when struggling with Exchange Currency Rate.Google Translate: Provides you with ease of communication with locals.Maps.Me: Maps can be used offline once downloaded while you backpack and Trek Nepal.
Backpacking in Kathmandu is among the best journeys one undertakes, bringing you closer to nature, tranquillity and self. Pack, Lace Up and Explore!