Kathmandu does not have any international chains like Starbucks or Costa Coffee. But, locally sourced coffee is a hit among tourists and locals too. Those who have earlier visited the place will know the obsession of the localities with tea, but slowly coffee has made its way to become one of the most demanded beverages. The growing culture of theme cafes serving drinks and light snacks on the side has turned out to be delightful for many tourists. So, listed below are the 15 best cafes in Kathmandu.
1. Himalayan Java Coffee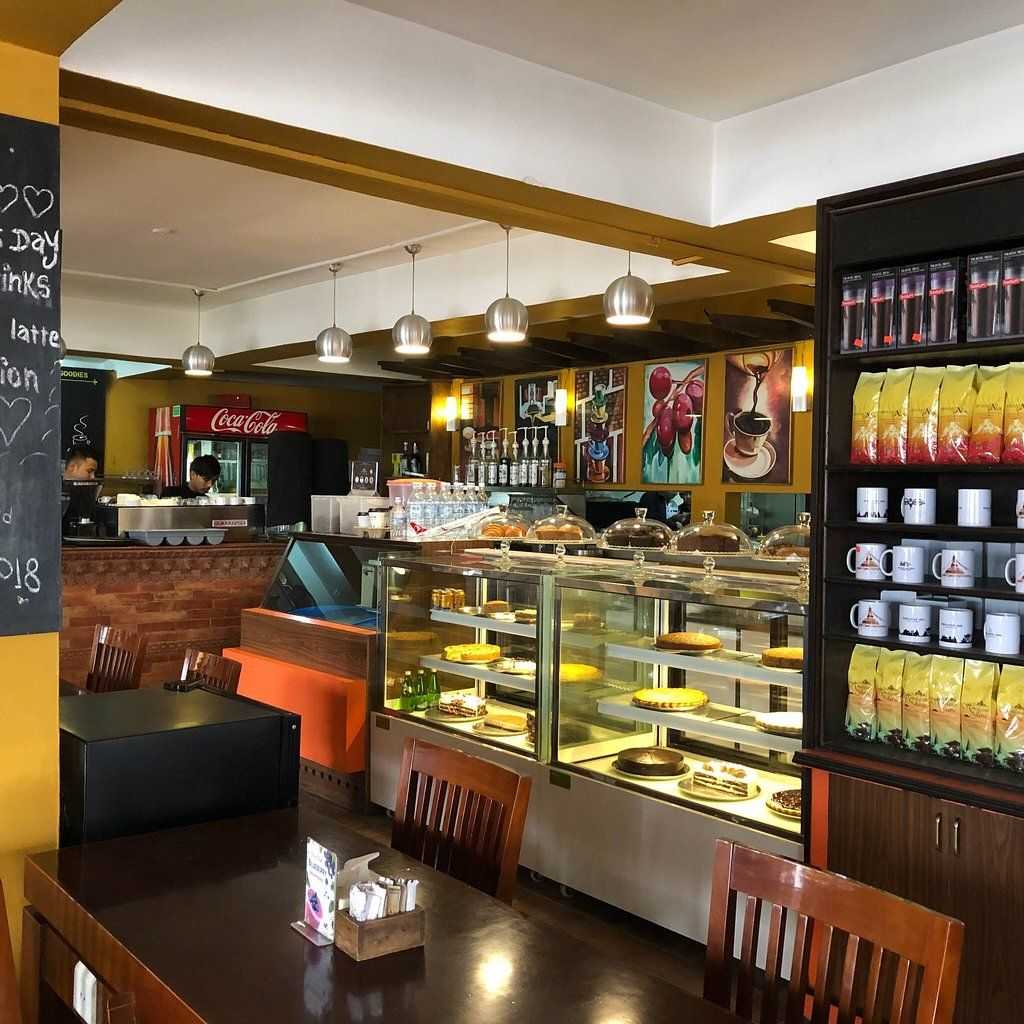 This cafe in Kathmandu serves freshly brewed coffee from locally cultivated beans since 1999 and is the country's largest coffee retailer. This franchise has many outlets, three of them in Kathmandu itself. Its elaborate menu is dominated by a variety of beverages, both hot and cold. Food items are derivatives of American, Italian and Asian cuisines. Vegans can customise their meal from the choices available. And no meal can end without trying something from their assorted collection of freshly baked homemade cakes.
Location: Thamel, Patan Durbar Square and Basantpur Durbar Square
Opening hours: 7:00 AM - 8:30 PM every day
Specials: Iced coffees, Shakes and Grilled Italian Panini Sandwich
2. Cafe Soma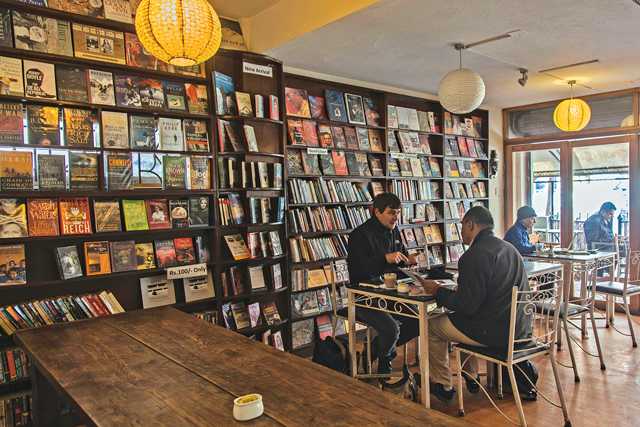 Moving down the restaurant Road near Patan you will come across a small and cosy cafe with the aroma of its coffee coming till its doorstep. This cafe with a Bohemian style with a Nepali touch serves one of the finest breakfast and brewed coffee combos in the region. Bookworms will especially love this place for the large collection of books decked up on the shelf by the wall. And some of them can even be purchased! So, pick your book and spend a day reading while you indulge in a freshly brewed cup of coffee and a crunchy burger. And don't worry about the service or the ambience. They are as delightful as the food. And yes, try a little something from their range of pastries too.
Location: Jhamsikhel, Lalitpur (Patan)
Opening hours: 7:30 AM - 7:00 PM every day
Specials: Cappuccino and European breakfast
3. Cafe Swotha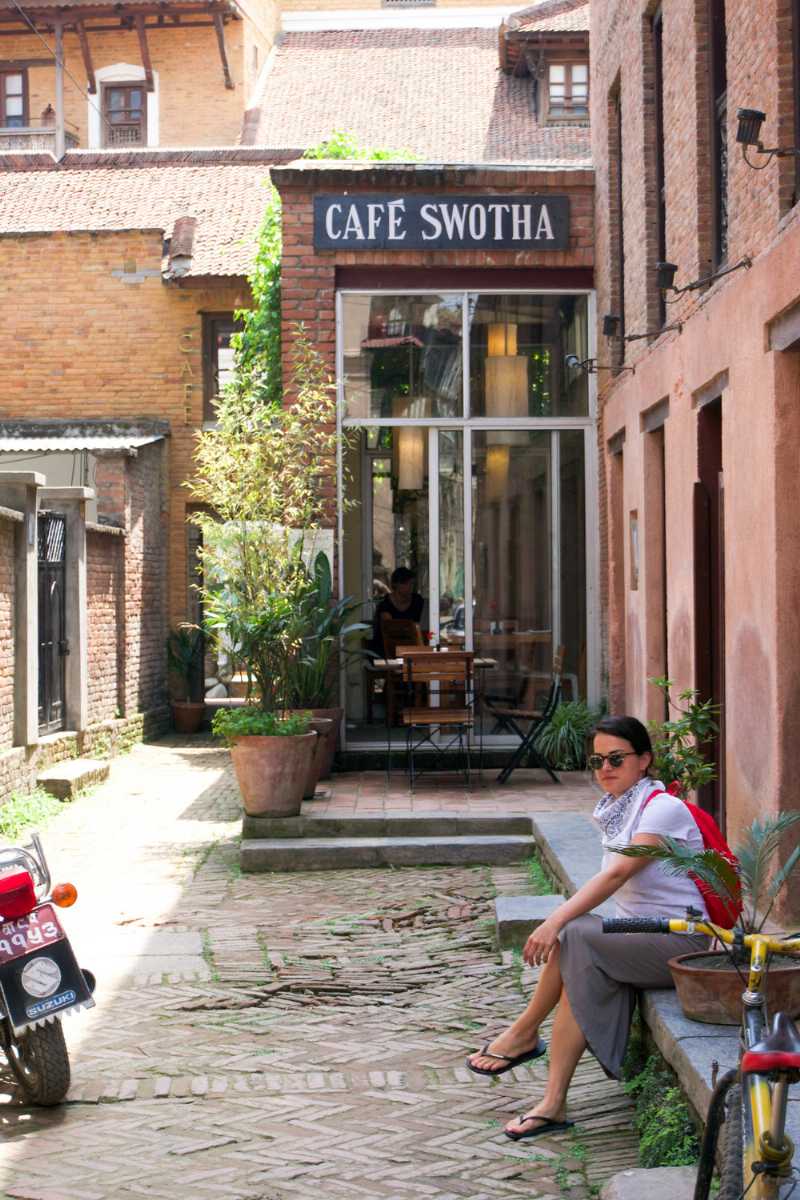 A small eatery adjoining the boutique of Traditional Homes Swotha is this quaint cafe in Kathmandu. Its small size is what makes it comfy, especially for couples on a romantic date. A petit courtyard in the back encloses a verdant garden lined with tables and chair for a refreshing alfresco meal. The menu is small, but the dishes offered do justice to the reputation it has earned over the year. The service is excellent, the aroma of the food makes the mouth water, and the quiet ambience is friendly. Newari dishes and continental cuisine is its forte. From leafy sandwiches and salads to divine soups and coffee, this little cafe serves the finest. Folks on a diet can customise their meals as per their desire. There is a special soup every day, and there are happy hours in the evening.<
Location: Swotha Tole, Lalitpur (Patan)
Opening hours: 10:30 AM - 7:30 PM every day
Specials: Cauliflower soup, French press coffee and Café Swotha Nepali Thali
4. Cafe Mitini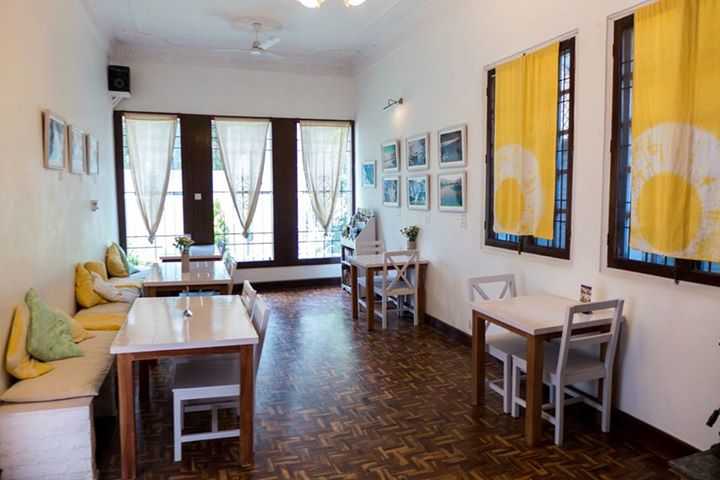 Along with serving homemade delicacies made entirely from local ingredients, the cafe trains local Nepali women the art of sewing, barista, sandwiches, and design. So, it's not just a normal cafe - it's a cafe with a purpose. The snug decorated interior of this cafe and amicable staff at your service will give you a warm homely feel. The setting may be modern, but the menu is traditional. Homemade cakes, hand dripped coffee, crunchy sandwiches, and apple tea are some names from its small yet complete menu. The plus point is its prices which are value for money and pocket-friendly. People come here for a nice cup of warm coffee as they work busily on their laptops or read their novels. Operated by a social enterprise based in Korea, this cafe aims to improve the economic status of the disadvantaged people in the city.
Location: Lekhnath Margh, Thamel
Opening hours: 7:00 AM - 8:00 PM every day
Specials: Chia Tea Latte and Hand dripped coffee
5. Kaiser Cafe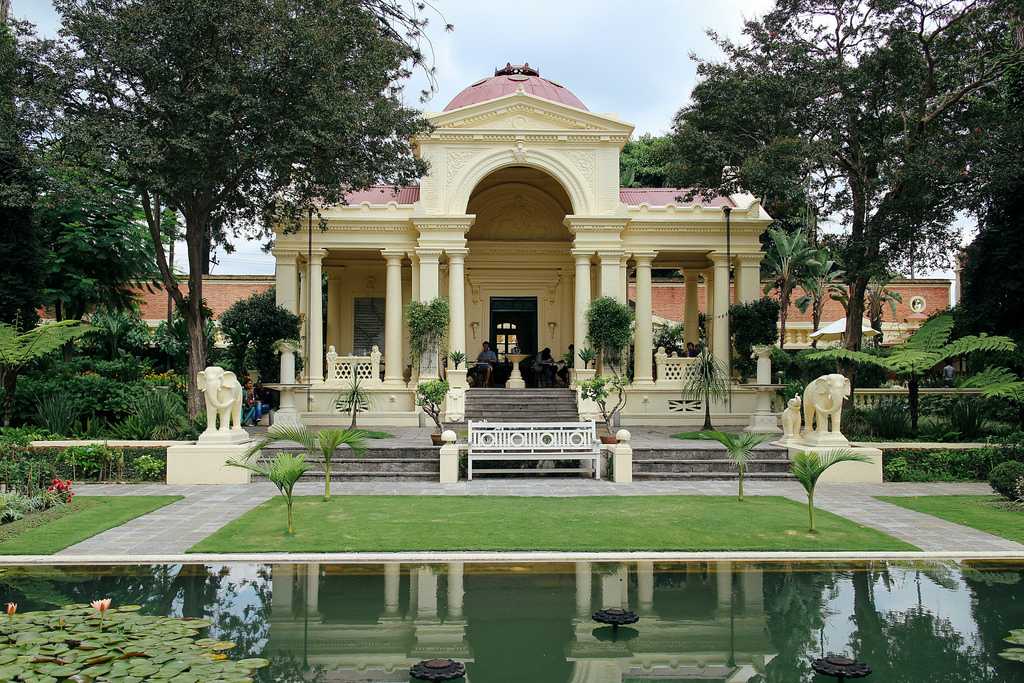 The moment you enter this cafe in Kathmandu, you'll realise how the place oozes royalty. Posh interior overlooking lush gardens makes the venue impeccable. Situated elegantly in the Garden of Dreams near a ravishing old palace, Kaiser Cafe is acclaimed for its benevolent service and extensive range of delicacies. Away from the chaos and commotion of the city, the tranquil setting of its verdant gardens makes it a popular relaxing spot and favourite choice of couples.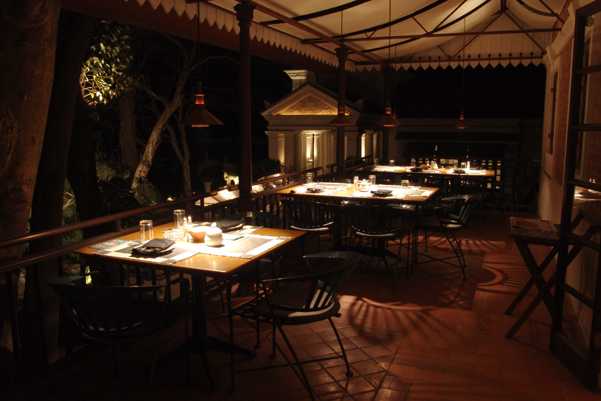 The menu is of European, International and Nepalese gourmet and has many innovative options for vegetarians too. Most customers cherish seafood and steak. Even if it's just a cup of coffee you order, you will feel delighted. Though the prices are on a higher side, the heavenly dishes that you get to taste will make it worth. The well-lit interior of this cafe is decorated in a modern style while the alfresco dining in the gardens is the best during the night. The warmth and politeness with which the staff welcomes its guests will make you feel royal and want to come over and over again. Definitely, must-visit cafes in the city if you can loosen the strings of your purse.
Location: Kaiser Mahal, Garden of Dreams Thame
Opening hours: 8:00 AM - 10:00 PM every day
Specials: Kaiser Lamb Chomps and Steak à la King 
6. Kar.ma Coffee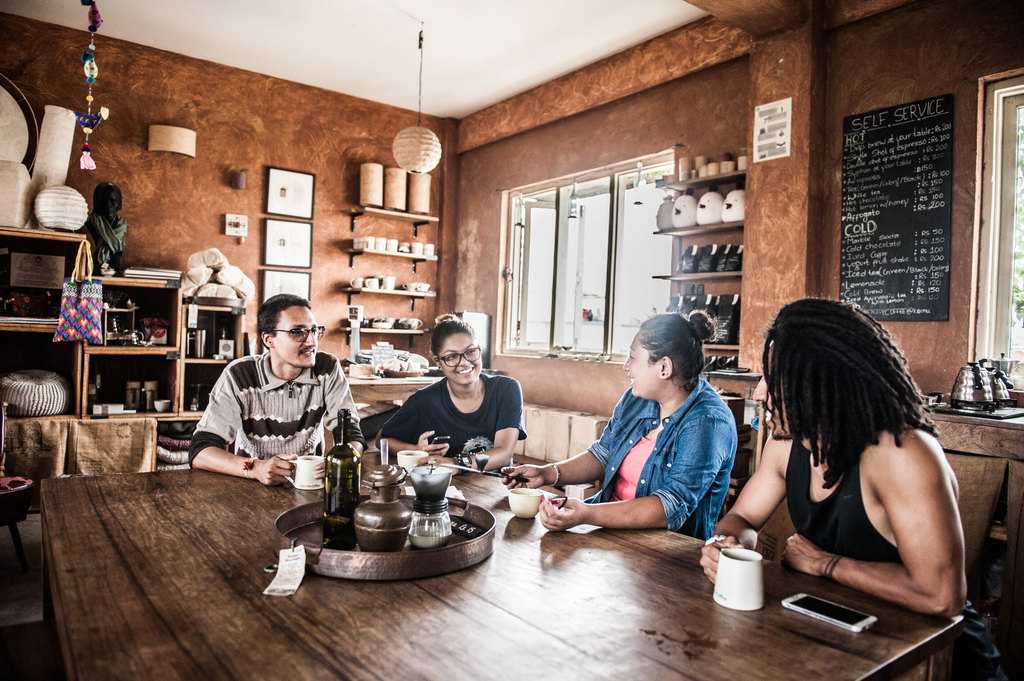 The innovative decor of the cafe inside has chic wooden furniture sprawling across its floor and an open kitchen which invites coffee enthusiasts to watch the process of their coffee being brewed. Locally produced Nepali coffee beans are ground in an eco-friendly brewing system, the same process used for brewing their special tea. The cherry on the top is the amicable way in which the staff welcomes you and serves you through your stay.
Apart from the open kitchen, there is a mini gift shop on the corner. Organic coffee scrubs and soaps, handcrafted mugs, handmade lanterns, diaries and many such cute little things on sale. Interestingly, all of these have been made using the recycled leftovers of the cafe itself. And one Friday of every month is selected as the gala day. Sparkling wine is offered along with homemade cakes and snacks with live music playing in the background.
Location: Gyan Mandala level 2, Jhamsikhel, Patan
Opening hours: 8:00 AM - 8:00 PM every day
Specials: Hot chocolate, carrot cake and chocolate lava cupcake
7. Roadhouse Cafe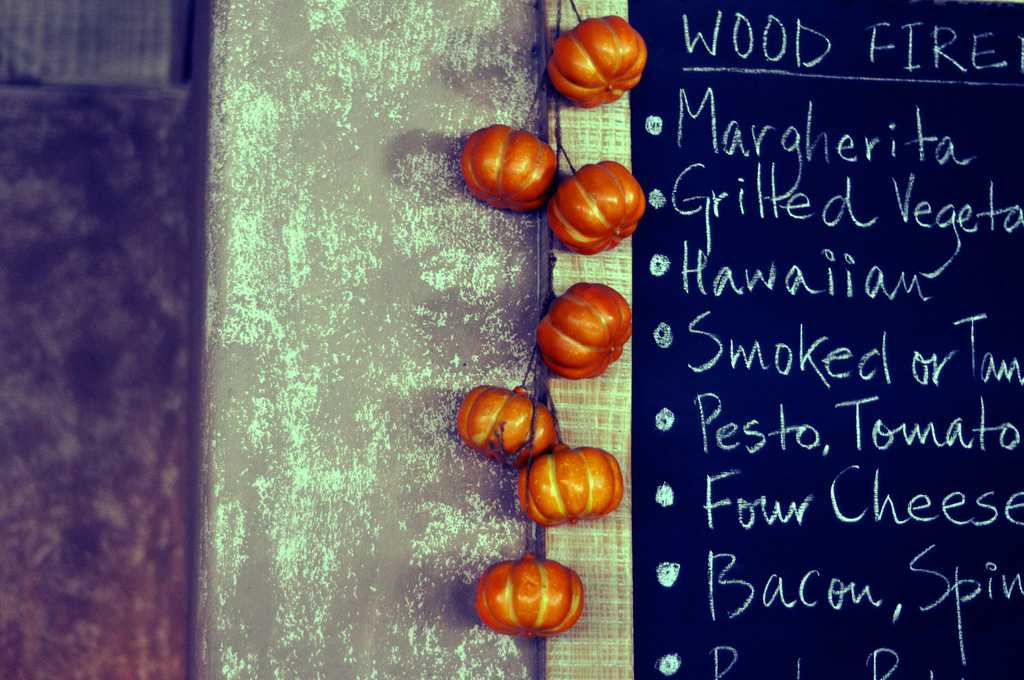 This cafe in Kathmandu is more famous as a pizzeria than a coffee outlet. Appetizing the taste buds of Nepal since 1992, Roadhouse Cafe specialises in Italian and European gourmet, serving kinds of pasta, salads, burger and drinks. The food chain has four outlets in Kathmandu itself, seven in Nepal. The interior of the cafe is filled with mosaics decking the walls and wooden furniture giving a classy decor. The menu may seem limited, but each item will be prepared with the most care to satisfy your hunger. And all this is made possible by the cordial staff of the cafe.
Location: Thamel, Jhamsikhel, Bhatbhateni and Boudha
Opening hours: 11:00 AM - 10:00 PM every day
Specials: Pizzas and burgers
8. Gaia Coffee Shop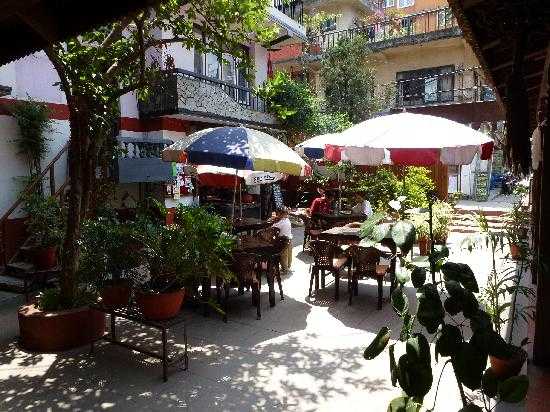 Hidden behind a charming garden courtyard, in the heart of Thamel, is the little Gaia Coffee Shop. Serving an assorted range of European and Asian gourmet, this cafe is beloved mostly for its pleasant atmosphere and its well-lit interior, as well as exterior seating. Coffee enthusiasts are in for a treat because coffee here is brewed from locally cultivated organic coffee beans and that accounts for the mellow aroma it gets after its ready. An extensive menu filled with choices for breakfast, dinner, light meals, snacks and beverages has been carefully prepared. Hygiene is the top priority for this cafe, and hence you will find people complimenting it about the same. You can hang out with your group or sit in the reading room and bury yourself in a book. There is free wifi for those who wish to carry out their work while sipping a cup of coffee.
Location: Jyatha, Thamel
Opening hours: 7:00 AM - 9:30 PM every day
Specials: Asparagus salad, Chicken momos and Apple pies
9. The Bakery Cafe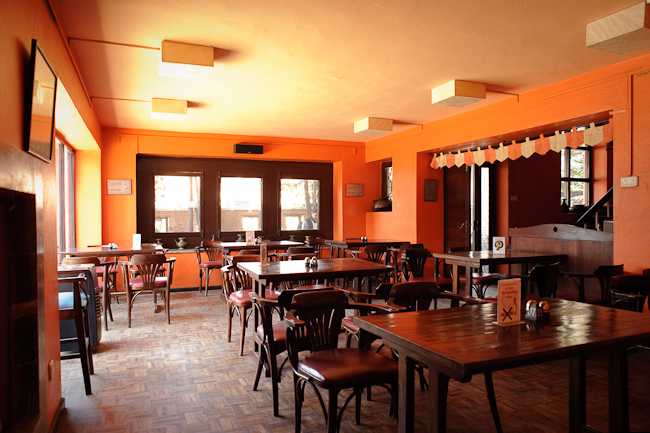 The promise to serve quality food in a fine ambience has been kept by the people at The Bakery Cafe since 1991. Having opened nine outlets around the city, this cafe in Kathmandu is appreciated for employing local people with hearing disabilities as servers and helping them establish a source of livelihood, which would otherwise be impossible given their condition. To order, you point out to the item you like or write down your request. However, if you know how to communicate via sign language that will be the best. So, not just the food but the service is also impeccable.
The menu consists of tastes from Nepal, India and Europe, all at a very affordable price. So, don't let the name make you believe its an outlet for cakes - it has much more delicacies than desserts. There are momos, sizzlers, pizzas, salads and a myriad of options- basically, it's a mini restaurant in every sense. To hang out and have a drink or two, there is a bar in the corner. For kids to play, there is a small children section as well. And lastly, the free Wi-Fi and its excellent speed are there to make your meetings via technology easier.
Location: Boudha, Bhatbhateni, Dharahara, Gwarko, Jawalakhel, Maharajgunj, New Baneswor, Pulchowk, Teendhara and Teku
Opening hours: 11:00 AM - 9:00 PM every day
Specials: Momos and platters
10. Cafe Nina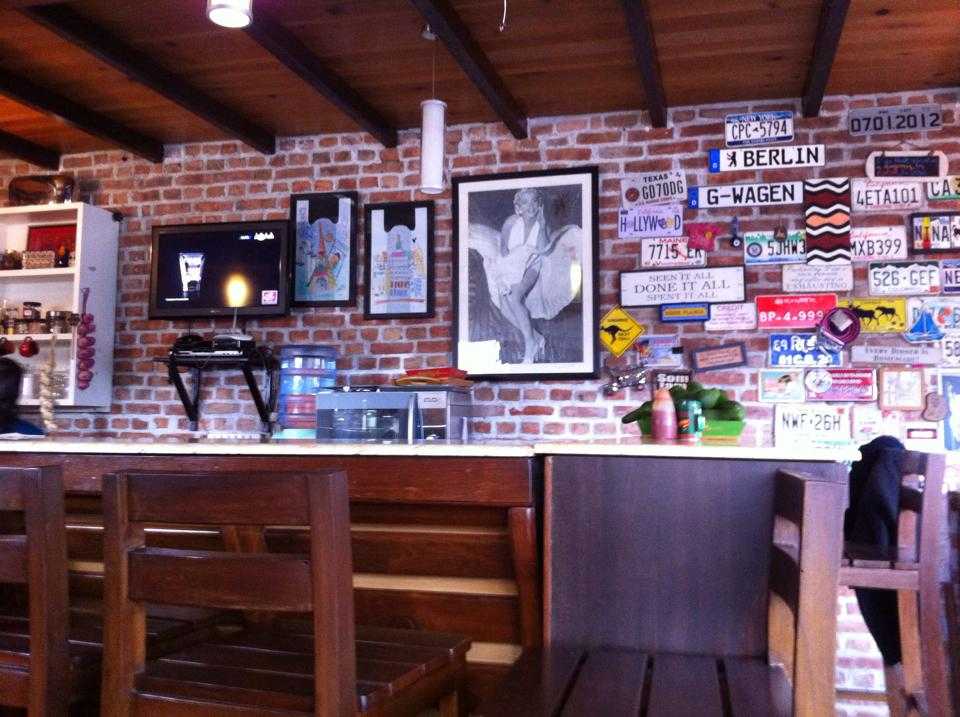 Perfection and class are synonymous with the neoteric approach at Cafe Nina, and all its credit goes to its visionary founder, Nina. Just a few minutes' walk from the American embassy, you will see a lot of Americans indulging in breakfast sets during the morning or having a relaxing brunch here. The interior is lined in such a way that gives you the opportunity to make pleasant conversations with strangers or relax quietly in your own space. The food is spectacular with many options and the local coffee is simply amazing. With the help of a professional and attentive staff catering to your needs, you will feel totally at home here. Coming to the menu, it is dominated by burgers, desserts and countless options of coffee. The American-inspired cuisine will be a good change from the local and Indian spicy food.
Location: Maharajgunj Road
Opening hours: 11:00 AM - 8:45 PM every day
Specials: Burgers and Philly Cheese Steaks
11. Lakuri Cafe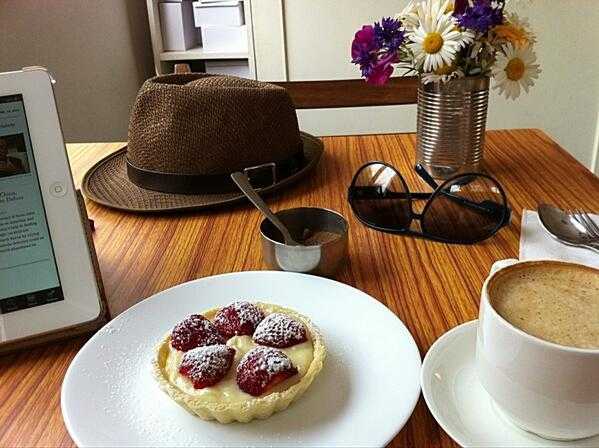 Ask for the best bakery in Kathmandu and 9 out of 10 people will name this cafe in Kathmandu. Positive vibes and a relaxing atmosphere greet you as you enter through the doors of this breezy cafe, which also has a fine outdoor garden seating that can be covered during monsoon. The indoor seating consists of big comfy sofas and a well-lit lounge with large French windows. Now opened close to the Russian Embassy, this cafe is visited by many brownie and cupcake lovers, looking to taste the most divine cakes in the town along with their cup of coffee. Every morning, after 9:00 AM, the cakes are freshly baked and decorated on the counter. Hence, it is best to go to this cafe in the afternoons. However, pancakes and eggs Benedict are served in the morning as well, which make a fine English breakfast.
Location: Bhatbateni - Baluwatar road
Opening hours: 11:00 AM - 6:00 PM
Specials: Devil's chocolate cake, burgers and Eggs Benedict
12. Dhokaima Cafe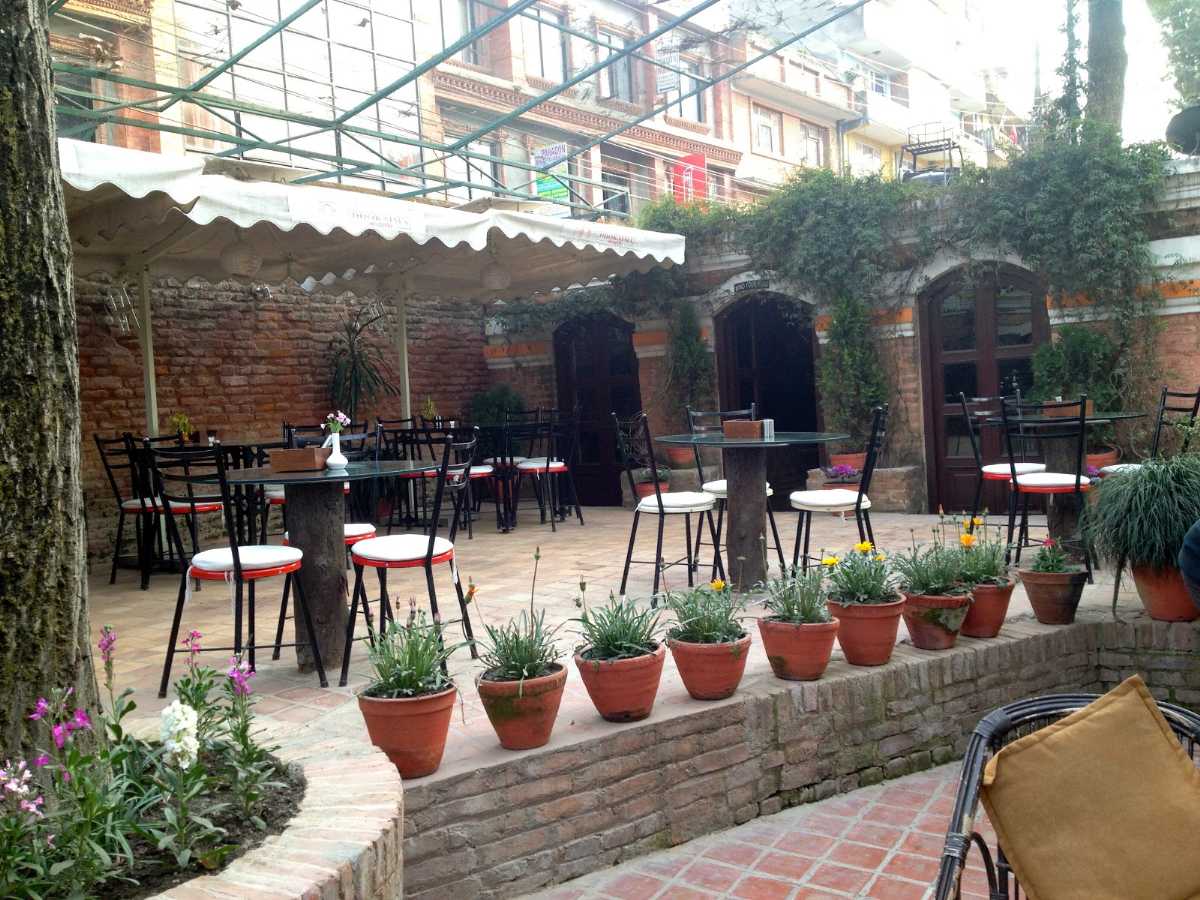 Originally used as a store by the royal palace of Rana kingdom, this building is now revamped as one of Nepal's oldest cafes in the middle of Patan. Serving some of the finest Newari dishes in a traditional decor is Dhokaima cafe. A huge crowd gathers in its small bright lounge during the lunch hours. Hence, it is best to have either breakfast or a quick bite in the evening here. The menu is limited, but the dishes are well prepared. The ambience is excellent. You can grab a newspaper or a magazine to read while you eat or can even visit the bookstore adjoining the cafe.
Location: Old Town, Patan (Lalitpur)
Opening hours: 8:00 AM - 10:00 PM
Specials: Chocolate cake, burgers, sandwiches and Dhokaima omelette 
13. Bricks Cafe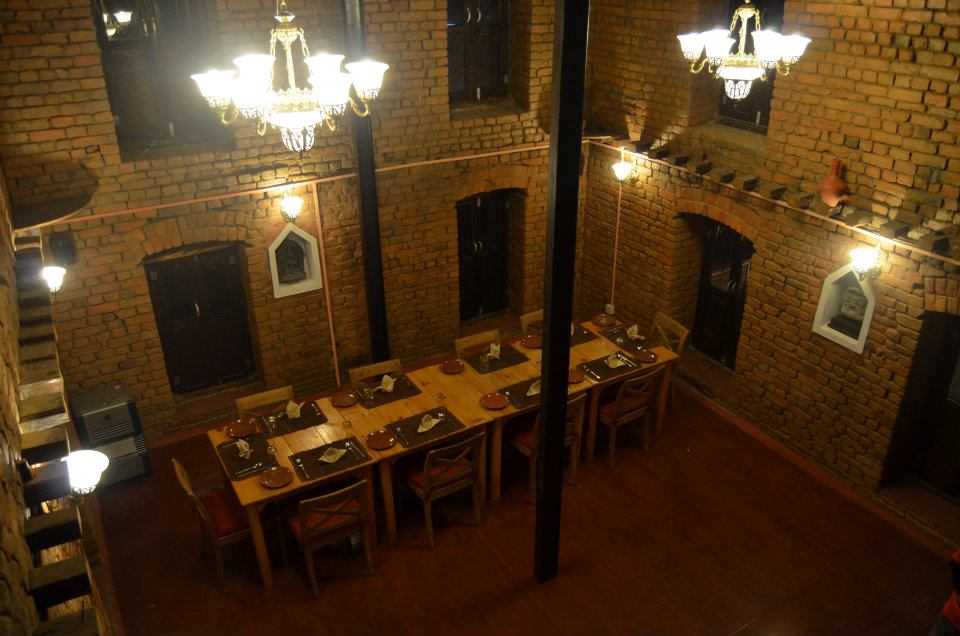 From birthday celebrations to small family gatherings, this Cafe in Kathmandu is equipped to cater to your needs and tastes in its traditional ways. With a red-bricked structure and ancient styled facade, the cafe gives traditional vibes as you enter its premises. There is a garden in the front, and a terrace in the back, both have seating for alfresco dining. A detailed menu, with many Nepali, Italian and Indian dishes available as choices, is designed after much thought and care. Entertainment is an integral part of your meal as you can listen to a professional musician play soothing serenades or lively songs on his guitar every Friday. Special traditional Nepali dances also take place every evening to keep the guests entertained.
Location: Kupondole, Lalitpur
Opening hours: 12:00 PM - 10:00 PM
Specials: Pizza, sizzlers and mushroom choila
14. Chikusa Cafe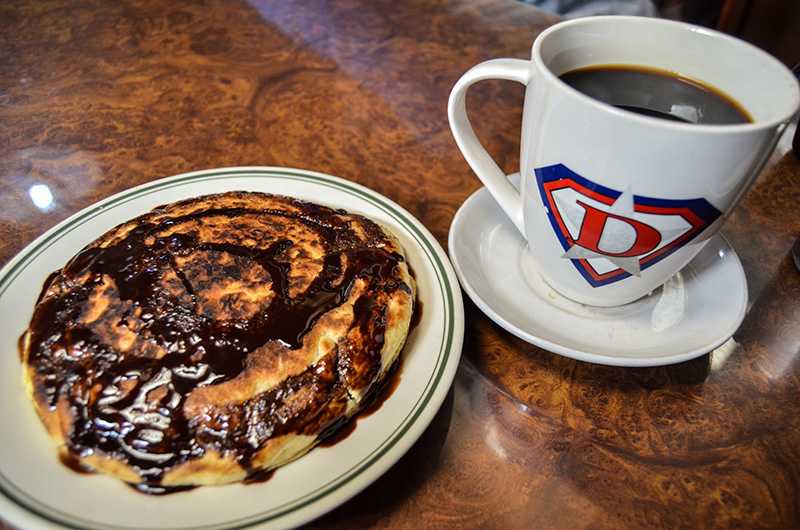 A small coffee house in a busy corner of Thamel is the Chikusa Cafe. Known for serving a freshly brewed cloth-filtered coffee instead of the conventional machine one, this cafe is prefered by many localities for a lovely early morning meal. Don't let the petite size betray you as the menu has a range of options to choose from. Black coffee, Milk coffee and Espresso are some of the names from its category if coffee, Nepali milk tea, Black tea, Ginger tea, Milk masala tea and Jasmine tea are from the array of special tea brewed here. To begin with breakfast, there are special breakfast sets like Chikusa Special and English breakfast to relish. The cafe is budget-friendly and has a pleasant atmosphere.
Location: Jyatha, Thamel
Opening hours: 7:00 AM - 6:00 PM
Specials: Banana pancakes and Nepali chai (tea)
15. Sum Cafe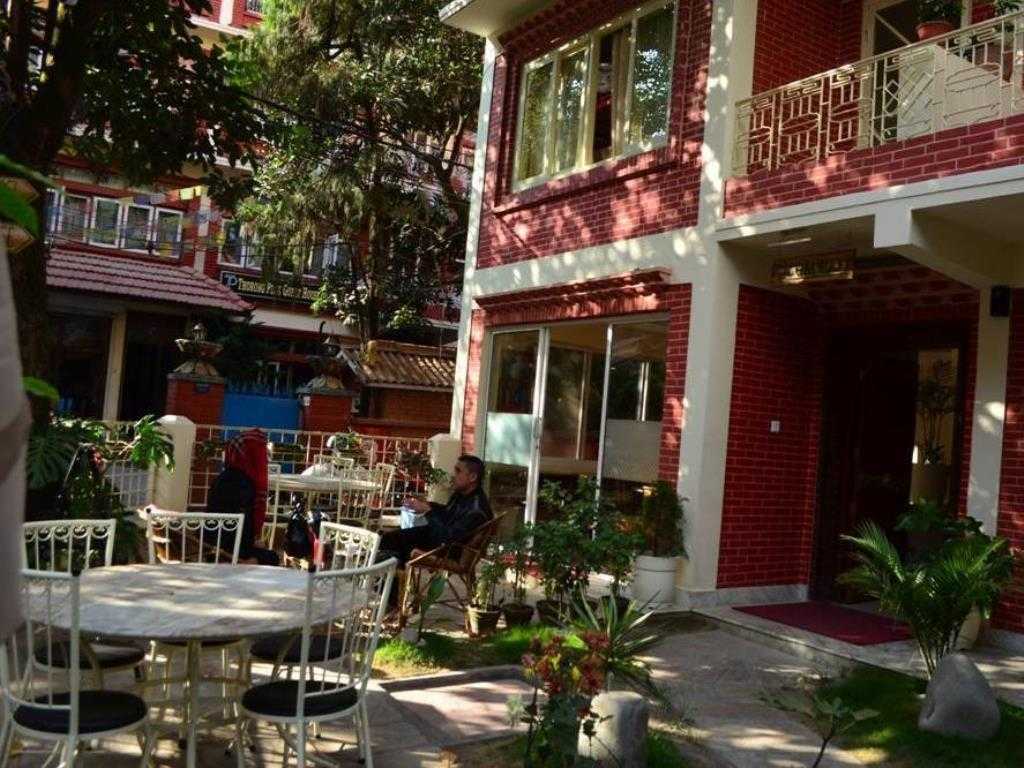 In the heart of Thamel's busy 
lanes, just as you take a turn into a side street, you'll find the homely red and white exterior of the Sum Cafe. With a cute little garden outside for open-air dining and a cordial staff working to fill your appetite, you will feel welcomed in the warm ambience of this serene cafe. Cuisines from Asia, Korea and other countries fill up the menu, but the most recommended is the finger-licking Korean food. The coffee is a lovely drink to begin your day with, but do try their special tea which they make with care and passion. All this comfort and excellence is luckily available at a very reasonable price. Accompanying this is good Wi-Fi connectivity for the techies who wish to work while having their meals.
Location: Thamel Marg
Opening hours: 7:00 AM - 10:00 PM
Specials: Kimchi stew and an ice-cream sundae
Foodies are in for a treat at the many cafes in Kathmandu. The eclectic mix of local taste and international delicacies at these cafes will make you binge your food in the blink of an eye. And even though the culture of coffee is slowly winning the hearts of people in the country, you can also visit one of the tea cafes because the tea here is organically produced and freshly brewed in a traditional way.